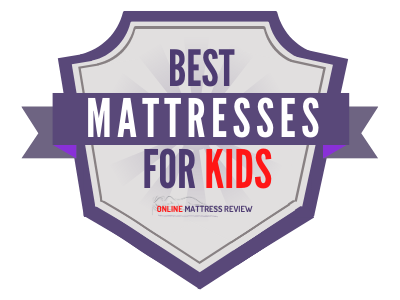 When choosing the best kids mattresses, we really need to understand that what our children sleep on matters as much as what environment they sleep in!
Saying "goodnight" to your child is the send off at the end of a long, exhausting day that most parents are looking forward to for their own peace of minds. But, most importantly, we also want our little ones to be comfortable and safe.
***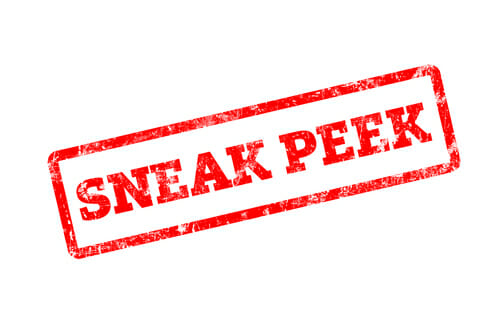 OMR'S PICK FOR THE #1 BEST MATTRESS FOR KIDS' BEDS:
SWEETNIGHT OCEAN BLUE HYBRID MATTRESS
Choosing the best mattress for kids' beds should then be given careful thought since it directly impacts how well and how long they can sleep at night and how successful naptime will be during the day. In this article, we review the best kids' mattresses!
Essential Matters of Sleep in Children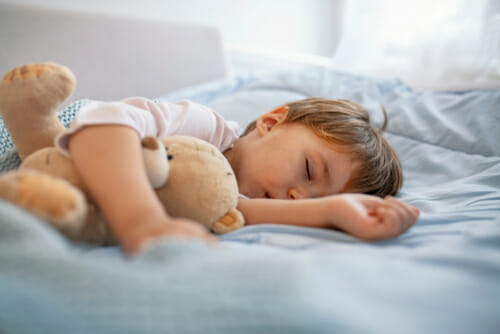 Indeed, sleep is as vital as food, shelter, and clothing in the welfare of children! But it isn't just any kind of sleep either – it must be healthy sleep with its essentials including:
A sufficient number of hours spent sleeping at night. Getting it means optimal alertness for children; optimal alertness means being in a state where a child is most interactive and receptive to his environment and other people.
An uninterrupted quality of sleeping. Sleep deprivation can still occur with restless sleep or frequent getting up for any reason, such as having nightmares or using the toilet.
A sleep schedule according to the child's natural circadian rhythm. Newborns sleep more frequently and for longer hours than teenagers, for example.
An adequate number of naps according to the child's age. Napping aids in optimizing a child's alertness and, thus, impacts learning, social interaction, and overall development.
The American Academy of Pediatricians has a recommended amount of sleep for each age category:
Infants under one year: 12-16 hours
Children 1-2 years old: 11-14 hours
Children 3-5 years old: 10-13 hours
Children 6-12 years old: 9-12 hours
Teenagers 13-18 years old: 8-10 hours
What happens when children experience sleep disturbances or sleep deprivation?
Sleep issues don't only lead to unhealthy disruptions in a child's night – these can also disrupt his days by making him more inattentive, less mentally alert, and less able to concentrate, even be more distracted. These issues can also make him either lazy or hyperactive, sometimes even physically impulsive with little regard for possible dangers.
The bottom line: You, the parent or guardian, must ensure that your children have the best mattresses possible! With healthy sleep every night, your children will be physically and mentally healthier for it.

Vital Factors to Consider When Choosing Mattresses
But with dozens upon dozens of choices in mattresses for kids, what's your best choice? There's no right or wrong answer because you must consider several factors unique to each child and universal factors. Here are the best factors and their impact on your final choices.
Level of comfort and support
Children also benefit from proper comfort and support, particularly spinal alignment, when they sleep. But finding the proper balance between comfort and support is a Goldilocks issue – too hard, and your child won't be comfortable; too soft, and your child won't get optimum support. In both cases, your child will likely wake up with body aches, from the shoulders to the lower back, due to the uneven spine alignment.
What then can you do? The best thing about online mattress shopping… free trial periods!
You may want to look into free trial periods that will allow your child to determine whether he sleeps well on the mattress or not. If a free trial period isn't available, you can check out the mattress's firmness level, a piece of information typically provided by manufacturers.
In most cases, a medium firmness is a happy balance between soft and firm or comfort and support. In general, stomach sleepers benefit from medium-firm mattresses, while side and back sleepers appreciate firm mattresses.
But keep in mind, too, that firmness level is a personal preference when it comes to a mattress for kids. You can observe your child's sleeping preferences and ask him about them, an easier matter for older children who can already express their likes and dislikes.
Type of materials used
Manufacturers of mattresses use three primary materials in their products:
INNERSPRING OPEN-COIL MATTRESS
The innerspring open-coil mattresses are more common than memory foam mattresses, partly because of their more affordable prices. These innerspring mattresses are designed with a network of connected coils that come in two types – the standard coils that provide support to the spine while allowing pressure points to sink in; and the innerspring pocket coils with springs working independently from each other, which eliminates motion transfer.
Standard coil mattresses are the better choice for children who tend to sleep hot since these mattresses won't trap body heat. Pocket coils also provide maximum airflow aside from encouraging restful sleep through reduced motion transfer. Both types of innerspring mattresses, nonetheless, are great for children.
Memory foam mattresses are also popular choices despite their more expensive prices. Memory foam contour to the body's shape and, thus, provide optimum support and pressure relief. Manufacturers use memory foam as a layer, with other foam types like latex and gel foam to ensure maximum comfort, including a cooler feeling at night.
Latex mattresses also provide excellent comfort and support, and durability since these can last up to 30 years. These are also more affordable than memory foam mattresses, but be sure to look for certified all-natural latex for the best value for your money.
And, then there are the hybrid mattresses that offer the best of both worlds! These mattresses for kids' beds offer the comfortable plush experience of latex or memory foam while also providing the optimum support and long-term durability of innerspring coils. Most of these hybrid mattresses have an innerspring support core and one or more foam comfort layers.
Level of durability
Children will take their mattresses to the limit, from rough-housing on their beds to getting into accidents, such as being sick, urinating, etc. Durability is then a vital factor when choosing the best mattress for your children, and it can be determined by considering the materials used and the type of construction.
If you're choosing an innerspring mattress, look for the coils' type and gauge – the lower it is, the firmer and stronger the mattress will be. If you're buying a memory or latex foam mattress, ask about its density and thickness – the denser and thicker, the more durable it will likely be. Check that the covers and toppers for either of these foam mattresses are of the highest quality possible.
Standards of safety
Children are more vulnerable to unsafe materials and construction and, thus, extreme care must be made in choosing their mattresses. We suggest looking for CertiPUR-US certified foam and other non-toxic materials, checking for coils poking through the mattress or foam with an undesirable smell, and asking about a warranty.
Room to grow
Children grow up fast; it seems like a waste of money to buy separate mattresses as they grow older. We suggest a crib mattress for a toddler bed for younger children and then transition to big beds as they grow older, typically between two and three years old.
The choice in size of a kids mattress will depend on your child's height and weight as well as your budget. Here are common sizes to consider when looking at children's mattresses.
A twin kids mattress (39×75 inches) is an economical choice and is suitable for smaller kids or younger school-age children. It's also suitable for lighter kids or kids with smaller bedrooms. Obviously, it is the next step up from a toddler bed.
A twin XL mattress for kids (39×80 inches) isn't common, but a twin XL can be a better investment for children expected to grow taller or taller than their peers. But a twin XL can be less comfortable for larger children due to less space.
A full-size kids mattress (54×75 inches) provides long-term value since it allows for more room to grow. But it isn't ideal for small bedrooms, and it tends to be more expensive than a twin mattress. Twin and full sizes are a whopping 15 inches difference in width!
Last, but not least, is the foundation on which the mattress will be placed on. For longer use, a mattress must not be placed directly on the floor! We suggest a simple platform bed regardless of the mattress's type and size since it's an economical, yet safe choice.
Here are the best mattresses for kids that we highly recommend. We selected these mattresses based on their:
exceptional comfort and support,
durability and longevity,
ease of setup and maintenance,
and, indeed the best value for money you will find!
See our Methodology regarding how we score the products on Online Mattress Review.
---
Finding a mattress for kids may seem simple enough; however, when you think about how important it is to find the correct support for their growing and developing body, it shines a whole new light on the subject.
As parents, we want the best for our kids, even after they go to sleep. You're in good hands with our list of the 10 Best Mattresses for Kids' Beds. We've done the research for you!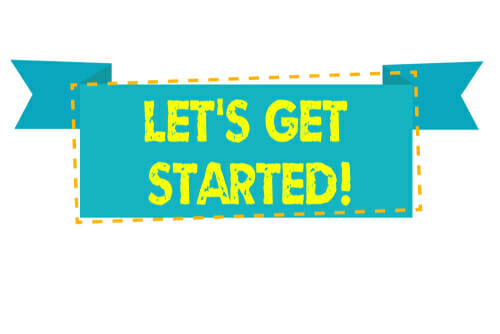 The 10 Best Mattresses for Kids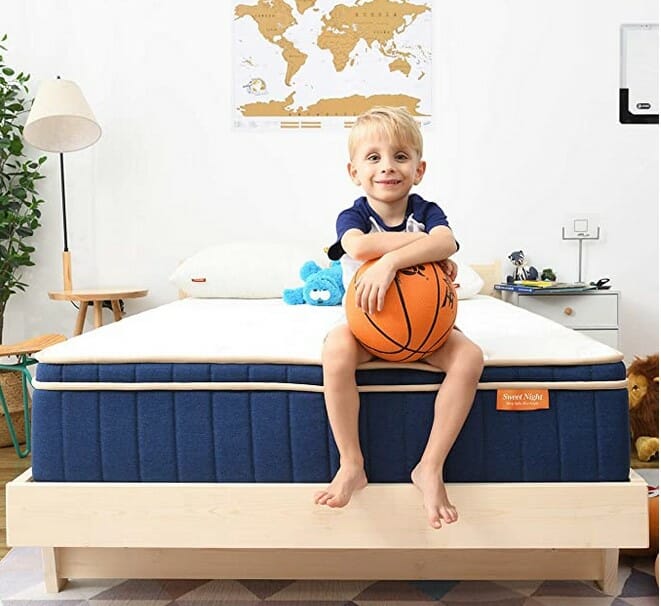 Size: Full (54 x 75 x 8 inches)
Construction Type: Hybrid mattress
Firmness Level: Medium
Weight: 65.12 Pounds
Product Highlights
Combination of individually-wrapped coils for support and high-density foam for comfort
Comes with a quilted knit cover
With 10-year warranty
This is a mattress in a box, so it's shipped in a compressed and rolled form for shipping. Once it's opened from the box, the Sweetnight Ocean Blue Hybrid Mattress will take 72 hours for it to get to its intended size and shape, as well as to dissipate the subtle odor.
While it can be used as-is, thanks to its 8-inch thickness, you may want to place it on top of a flat platform, box spring, or a slatted base; doing so will protect its bottom and, thus, prolong its use while also bringing the mattress to a more comfortable height.
Be sure to read the instructions manual before rolling out the mattress. While it's easy enough to roll it out, it doesn't hurt either to know the proper steps. Within an hour or so, the hybrid mattress should air up quickly with little human interference.
Once it's ready for use, it provides the best balance between comfort and support due to its hybrid design. The individually-wrapped pocket coils provide optimum support even for larger and taller children. This is a must, considering that their spine needs maximum support in every sleeping position.
The coils are also designed to move independently and, thus, eliminate motion transfer between children sleeping on it; the less motion transfer, the less likely sleep disturbance can occur between bedmates.
The gel memory foam and high-density foam layers provide maximum comfort, especially for restless sleepers who toss and turn during the night. The combination contributes to quality sleep in different ways, too – gel memory foam contours to the body while also keeping the body cool; the high-density foam brings a certain bounciness to the table. The combo also contributes to the medium-firm feel of the mattress even from the first use.
The gel memory foam and the high-density foam are CertiPUR-US certified foam, the best and safest in the market since these are free from harmful substances like heavy metals, mercury, and formaldehyde. Even the coils are made from durable, corrosion-resistant carbon steel with individual coverings for maximum protection (i.e., no protrusions even after years of regular use).
These exceptional features make the Sweetnight Ocean Blue Hybrid Mattress for kids the best on our list! Your children will enjoy hours of restful sleep on it because it's just right – neither too firm for their developing bodies nor too soft for their roughhousing.
Strengths We Love:
The breathable quilted knit pillow top cover is so soft that it feels like sleeping on top of clouds. It's also easier to clean with a damp cloth when it's stained provided that it's cleaned up immediately.
The gel memory foam layer moves both moisture and heat away from the body so your child won't feel too hot or sweaty, even without the air-conditioning on. Plus, children won't likely feel the innerspring coils when they lie down on the mattress.
This mattress for kids can fit two children so it's a space-saving bed, too. Due to the individually-wrapped innerspring coils, your children will sleep through the night with little disturbance even with changes in sleeping position. This is known as motion isolation resulting in minimum partner disturbance.
The mattress may well last until your children are in their teenage years. Think of it as the best value for your money!
Things to Consider:
A few adult users say that there's an area where one or two of the coils seem to poke into them. (This may be because of their combined heavier weight).
Some say that the bumps and curves on top may be bothersome to kids due to their large size. (A simple solution would be to place the appropriate size padding)
On the pricier side, especially when it isn't on sale, but the exceptional comfort, support and durability are well worth the price.
OMR ADVANTAGE SCORE: 9.5/10
---
Size: Twin (75 x 38 x 10 inches)
Construction Type: Layered foam
Firmness Level: Plush
Weight: 38.9 Pounds
Product Highlights
With a 30-day trial and 10-year warranty
Provides a soft, plush feel but with sufficient comfort and support for children
Sometimes, a single layer isn't enough! With the Perfect Cloud Ultraplush 10-inch Memory Foam Mattress, comfort, support, and luxury come in three layers – and it means that your child will likely enjoy better nights from day one.
The first layer is a 1.5-inch plush memory foam topper, a soft material that provides luxurious comfort while also protecting the layers underneath. The soft, luxurious feel is complemented by the premium velvet cover, while the cover feels so snuggly soft that linens may seem unnecessary, we suggest placing linens on top of the mattress for practical and aesthetic purposes.
The second layer consists of a 2-inch memory foam with an egg tray-shaped design. Its main function is to ensure maximum airflow between the layers and provide a cooling effect. It's a vital layer since children tend to toss and turn when sleeping hot, but the cooling effect can reduce such restless sleep.
The third layer is the thickest – a 6.5-inch charcoal-infused polyfoam base designed to provide the best possible support for the shoulders, spine, and hips, as well as the pressure points. Children who sleep with proper spine alignment wake up in a better mood because there are little to no body aches and pains, thanks to sufficient support for these areas. With better sleep quality, children are also more attentive and alert during the day.
The multilayered design means that the Perfect Cloud mattress hits the Goldilocks spot – it's neither too soft as to provide little support nor too firm to be uncomfortable. Children will likely find that it's just the right memory foam mattress for their daytime naps, nighttime sleeping, and roughhousing. The hypoallergenic aspect is just as important because children often are plagued with allergies.
Furthermore, this mattress for kids has excellent water-repellent property, not to mention that it's easy to clean it after your child experiences an accident on it. But just to be sure, we suggest putting a water-resistant mattress cover on top since multiple accidents can mean more difficulty in cleaning. Take note, too, that the removal of the original cover will void its 10-year warranty.
As for the setup, the Perfect Cloud memory foam mattress comes tightly rolled inside a box, but it's easy enough to cut through the packaging and let the mattress roll out on its own. It should be full-sized within four hours or so and without a chemical smell, although airing it out first before use is a good idea.
Strengths We Love:
The mattress itself comes with a 30-day trial period. This is a great opportunity for parents to see whether their children will sleep better on it or not.
The mattress materials are CertiPUR-US certified, which means that these are free of ozone depletes, PBDE flame retardants, heavy metals like lead and mercury, formaldehyde, and phthalates. Plus, these are low VOC materials so your home's indoor quality doesn't suffer.
This mattress for kids has a covering that comes in blue and pink so boys and girls will have a choice.
The mattress hits the perfect balance between soft on one hand and comfortable and supportive on the other hand.
Things to Consider:
This mattress for kids can only accommodate one child, but it's a minor setback since it's designed for older children who want more privacy.
It's also slightly pricey although its durability makes it worth the price.
OMR ADVANTAGE SCORE: 9/10
---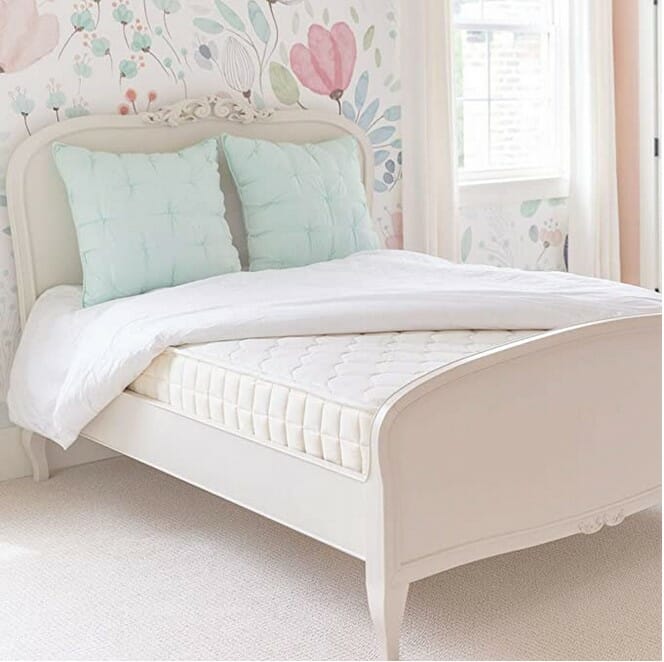 Size: Twin XL (40 x 82 x 11 inches)
Construction Type: Hybrid mattress for kids
Firmness Level: Medium
Weight: 30.7 Pounds
Product Highlights
Made of safe materials including organic cotton and wool
The hybrid design of innerspring coils and cotton designed for healthy sleep
No potentially harmful chemicals used in its manufacture
Safety is a primary concern when choosing the best mattress for kids, even taking precedence over comfort and support. Parents don't want their children being exposed to potentially harmful substances, such as formaldehyde, PBDEs, and heavy metals, used in typical mattresses. These chemicals may cause a wide range of adverse health issues, including watery eyes, wheezing and coughing, and severe allergic reactions, even increasing cancer risk.
Fortunately, there's Naturepedic Verse Organic Kids Mattress, an excellent choice in an all-natural mattress that provides optimum comfort and support and 100% safety. Naturepedic makes 100% GOTS-certified mattresses that also pass UL/Greenguard certifications' stringent standards, thanks to the company's use of certified organic materials. These materials aren't treated with chemicals like flame barriers, flame retardants, and polyurethane foam encasements, not even glue and adhesives.
Instead, only organic cotton fabric and filling and organic wool batting are used to provide maximum comfort! These materials were neither treated with chemicals nor produced gases (off-gassing), resulting in children's safest sleep. There's little to no need to air out the mattress for several hours to remove any unpleasant smells, a convenient feature for parents who want their kids to immediately use the mattress after it has attained its full size.
Furthermore, organic wool is an effective moisture-wicking material, so it provides a cooling effect while also preventing moisture buildup in the mattress. It's also used in this mattress for kids because of its natural fire-retardant property and its natural crimp, a waviness in the wool's hairs that give the mattress added softness, body, and bounce. In other words, the combination of organic cotton and wool makes for a comfortable surface on which children can enjoy sleeping at night and then bouncing up and down during the day.
But it isn't just the outstanding level of comfort that Naturepedic excels in! This kids' mattress has a bottom layer made of a premium inner individually-encased steel coil innerspring for increased support and decreased motion transfer. Most parents say that their children slept like babies on the first night on this mattress.
Children will not mind these features, but they will love the quilted finish's luxurious feel. Such is the plush feel of the cover that they may not even want to have it covered by linens. Of course, linens are suggested to prevent pee, poo, and puke, as well as bodily fluids from staining the mattress.
Strengths We Love:
Made largely of organic cotton and wool with no chemicals used in its processing so it's the safest mattress on our list.
The hybrid mattress can stand up to multiple uses during the day (roughhousing and lounging) and night (sleeping), thanks to its exceptionally durable construction.
Children report enjoying restful sleep from their first use on this kids mattress, especially when the bed is placed in a conducive environment.
Things to Consider:
This mattress for kids may be too firm for some children but it all boils down to personal preferences.
There's no mattress protector on it but it's easy enough to buy one for it, not to mention that most children's mattresses don't come with the accessory.
OMR ADVANTAGE SCORE: 9/10
---
HONORABLE MENTIONS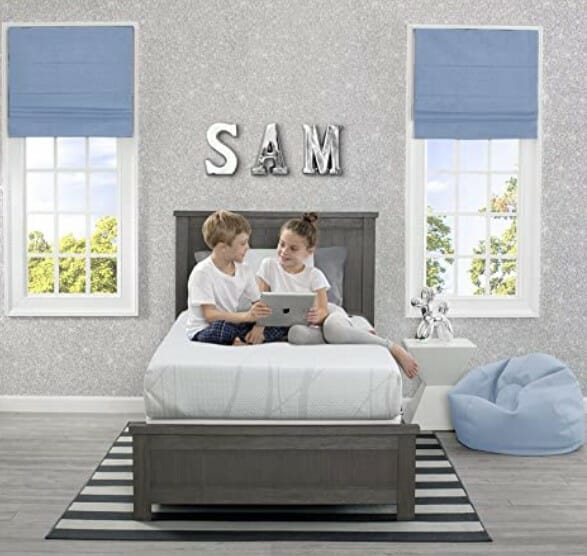 Size: Twin (75 x 38 x 6 inches)
Construction Type: Layered foam
Firmness Level: Firm
Weight: 31.4 Pounds
Product Highlights
Made with a 6-inch layer of CertiPUR-US certified foam
With 5-year limited warranty
Compatible with all beds for children
Twin-sized beds are highly recommended for children because of their excellent durability, quality, and versatility. This is true for the Delta Home twin mattress, just the right size for most children's bed types, including trundles, bunk beds, and daybeds.
Since many families already have one of these beds, it's easy enough to buy the mattress. (When you're looking for a crib, look for a convertible crib that can function as a crib, toddler bed, daybed, and full-sized bed with a few adjustments.)
This memory form mattress has two layers of foam, each designed to complement the other and ensure deluxe comfort and support. The topmost layer is a 2-inch premium memory foam that evenly distributes weight and relieves pressure on the pressure points.
This is because memory foam detects body heat and conforms to body shape within a few minutes after contact. Even children who have bad posture will find the comfort and support provided by the mattress pleasurable – no body aches and pains in the morning, thanks to the proper shoulders, spine, and hips alignment. This is true whether your children are side or back sleepers, too.
The bottom layer, or the supportive base, is made of 4-inch premium foam. It provides a strong base for the memory foam and adds to the body and bounce of the mattress, and increases its durability. Not even their roughhousing, such as bouncing like jackrabbits or wrestling on it, will make it prematurely flat so let your children enjoy their bed aside from sleeping on it.
Indeed, durable materials and construction make for a durable product! Yet another notable feature is the waterproof backing that prevents accidents from seeping through to the mattress.
But like any other premium mattress for kids, parents are well-advised to place a waterproof mattress cover and bedlinens over the mattress for extra protection against accidents. Keep in mind that it's easier and faster to wash stains from bedlinens than to deep-clean a mattress – and a white mattress, to boot.
The Delta Home kids' mattress comes compressed and rolled inside a carton, a common packaging method for mattresses. But it's fairly easy to remove from the carton and let it expand to its fullest size, which takes 24 hours or more. Just let it be since it will rise on its own. Once it's full-sized, it can be arranged on top of a platform by two persons – it's light enough at 31 pounds not to require herculean strength.
---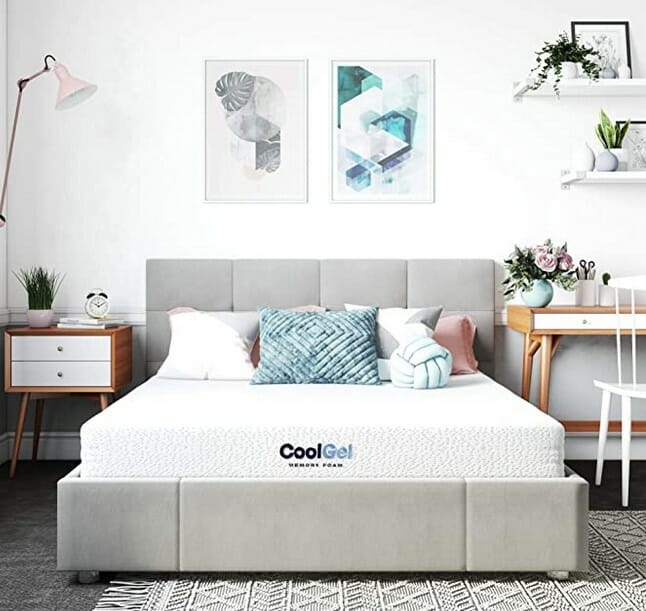 Size: Full (54 x 75 x 6 inches)
Construction Type: Layered foam
Firmness Level: Medium
Weight: 34 pounds
Product Highlights
Made with two layers of foam
With 5-year warranty
Results in cool, comfortable sleep due to cooling technology
The Classic Brand Cool gel memory foam mattress is an excellent choice for your child, as well as, for any bedroom in your home, recreational vehicles or dormitories. With its full-sized dimensions, it can comfortably accommodate two small children or one tall teenager, which means it can be used from your child's elementary-aged years to his teenage years.
While this mattress for kids is more expensive than a twin-sized mattress, it's outstanding durability and versatility means you're getting the best value for your money.
Its 6-inch thickness consists of two layers that contribute to better sleep quality for its users. First, the topmost layer of gel-infused memory foam provides the comfortable sleeping surface children look for in their beds. Gel-infused memory foam is a step up, so to speak, from traditional memory foam since it has triple benefits – cooling, contouring, and comfort.
This is because gel-infused memory foam has a more open structure than conventional foam with its closed-cell structure. As a result, it has a more breathable quality – due to its self-ventilating feature, air can travel better throughout the material instead of trapped.
It then dissipates body heat away from the mattress and the body that, in turn, means a cooler sleeping surface and experience – and children are more likely to sleep well in cooler temperatures, particularly as it will decrease the restless movements at night.
Gel-infused memory foam also provides medium-firm support that children prefer and benefit from, thanks to the fact that it acts like standard memory foam, too. When it detects heat from the body, it slowly but steadily adjusts to the body's weight and temperature, resulting in optimum support from neck to knee. It reshapes itself, in a manner of speaking, to whatever shape the body takes on depending on the sleeping position.
Second, the bottommost layer is a 4-inch-thick high-density base foam that provides the top layer's strength and support. Without it, the gel-infused foam will be a thin mattress with subpar comfort and support provided to its user. With it, the mattress as a whole is the platform on which children can enjoy restful sleep every night and great naps during the day.
Combining these two types of foam results in a luxe mattress that children can use for several years with proper care and maintenance. Plus, its natural resistance against mold, allergens, and dust mites, among other creepy-crawlies that build their homes in mattresses, makes it an excellent choice for children with hypersensitivity issues.
This mattress for kids also comes in other sizes, namely twin, twin XL, and queen. No matter the size, it comes shipped in a compressed and rolled (i.e., vacuum-packed) package about a third of its fully-inflated size.
---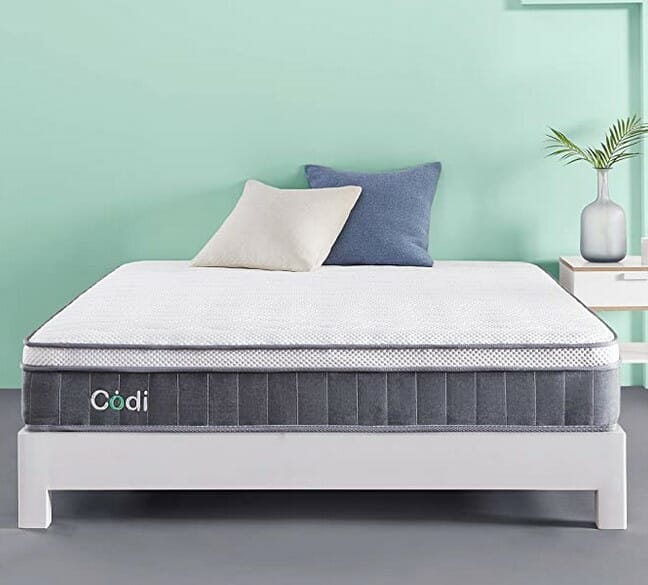 Size: Queen (80 x 69 x 10 inches)
Construction Type: Hybrid
Firmness Level: Medium
Weight: 103 pounds
Product Highlights
Rated to support up to 285 pounds
Made with safe materials, including innerspring coils and hybrid memory foam
Hypoallergenic with no latex and fiberglass parts
Keeping a neutral spine can be a challenging goal to achieve without the proper mattress for kids, and it's particularly true for children who aren't aware of its importance. With a neutral spine, your muscles feel long and loose instead of flexed and stressed, which decreases muscle tightness and soreness the morning after.
Fortunately, the Codi Signature innerspring hybrid memory foam mattress's medium firmness makes it easier for children to maintain a neutral spine while they sleep. Its use must be coupled with the use of supportive pillows and the adoption of spine-friendly sleeping positions.
According to chiropractors, the best sleeping positions are flat on your back followed by lying on your side; the worst are fetal and sleeping on your stomach. Its medium firmness is the result of its hybrid construction. The topmost layer consists of a thick gel memory foam, a material widely used in mattresses for its outstanding comfort and cooling properties.
While many standard memory foams tend to run hot, especially during the summer months, gel memory foam remains fairly cool even after hours of use. Such superior breathability becomes even more obvious with the Tencel cover, a special type of material that wicks excess heat and makes the mattress cool to the touch.
Children sleeping on this mattress won't wake up as often as they used to due to the excessive heat generated by the top layer, and parents will have one less thing to worry about – molds caused by the buildup of sweat and other bodily fluids.
The bottom layer consists of two parts of innerspring coils: first, a network of pocket innerspring coils that provide maximum support necessary to keep a neutral spine; and second, a perimeter of reinforced innerspring coils around the former.
The former provides support so that children sleeping on the mattress won't experience sagging in the middle. The latter keeps the inner network of coils stable and ensures the mattress can take a beating.
The reinforced innerspring coils of this mattress for kids are also surrounded by thick premium foam, which keeps the coils inside the mattress instead of spilling out and possibly causing injuries. The entire mattress is then wrapped in thick, sturdy fabric chosen for its durability and aesthetics.
The result of these thoughtful design details: A medium-firm mattress that provides ideal comfort and support for children and built for durability and quality.
More importantly, there are no toxic substances and materials on the mattress! There's no sign of latex fillings, fiberglass parts, and chemical smells on it, even after its first opening.
---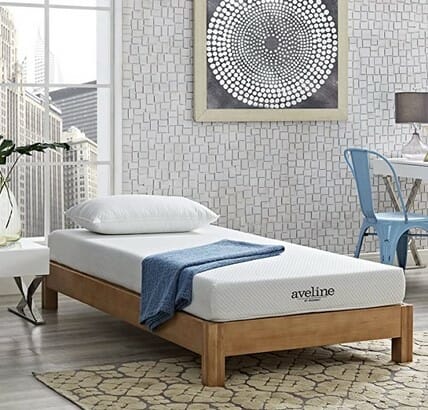 Size: Twin (75 x 39 x 6 inches)
Construction Type: Layered foam
Firmness Level: Medium
Weight: 26 pounds
Product Highlights
Gel memory foam combined with supportive base results in a great mattress
Made with safe materials without toxic chemicals, including flame retardants
Lightweight mattress for kids lasts for several years
With 10-year warranty
The Modway Aveline mattress' all-foam construction contributes to its lightweight – at just 26 pounds, it's easy enough to bring it to an upstairs bedroom, remove it from its carton and plastic packaging, and let it fully inflate on its own. Wait for 2-3 hours to expand most of the way and then another 20 hours for its full expansion.
Keep in mind that while it's thicker than a futon, it's best placed on top of a box spring or a platform to prolong its useful life. If you're placing it on a platform, check that the slatted bases are at least 3 inches apart to prevent premature sagging.
The 6-inch foam consists of two distinct types of foam. First, the 1.5-inch gel-infused memory foam provides the optimum balance between comfort and support on one hand and cooling property on the other hand. Since it has a more open cellular structure, gel-infused memory foam doesn't run hot – instead, it's known for its cooling effect.
Your child will likely not complain about his usual hot feeling when sleeping on a traditional memory foam or latex foam. You will observe him enjoying better sleep quality than before, which means better nights for you, too.
Second, the 4.5-inch responsive base foam strengthens the mattress's structural integrity while also adding its support level. The thick foam acts as an absorber of the stress and pressure placed on the gel-infused memory foam, too. These properties mean that the mattress has a slightly firmer feel without being too firm, which will otherwise turn off children.
Children will find that it's the kind of mattress that allows them to sleep for hours on end, with less tossing and turning, thanks to its maximum comfort and support. Parents like yourself will also observe the positive changes in their children, such as waking up in a better mood and being more alert early in the morning.
Are you the type of parent who worries about the chemicals that your children are inhaling as they sleep? If you are, you will find that this Modway Aveline mattress for kids is 100% safe, even for hypersensitive children! As verified by independent tests, the CertiPUR-US certified foam doesn't have heavy metals, formaldehyde, and flame retardants aside from being low on VOCs.
This mattress for kids also comes in other sizes – narrow twin, queen, king, and full – as well as in other thicknesses (8 inches and 10 inches).
---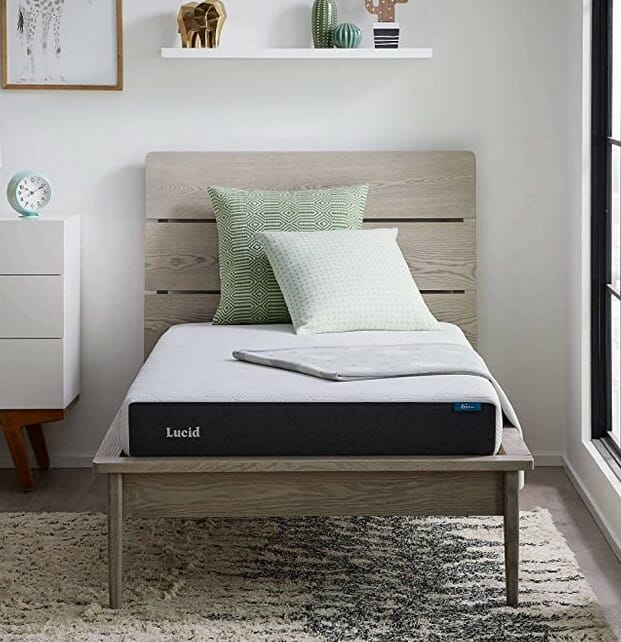 Size: Twin (75 x 37.5 x 6 inches)
Construction Type: Layered foam
Firmness Level: Firm
Weight: 15.6 pounds
Product Highlights
Two types of foam in one mattress
Removable cover
Easy to assemble and maintain
The Lucid memory foam mattress for kids has two distinct layers that must be assembled when both are fully inflated. The bottommost layer is a 5-inch dense bamboo charcoal infused foam, the mattress's support layer that provides extra stability to the entire structure. Without it, the topmost layer will be of little to no use, comfort-wise.
This second layer also serves another purpose – to provide full-body support so that every part of your child's body will be fully supported. Keep in mind that support is a must for developing bodies since it can make or break, so to speak, proper spine alignment during sleep. Since children sleep for 6-8 hours every night, improper spine alignment will take its toll on your child's physical and mental health.
The topmost layer is the fairly thin 1-inch gel-infused memory foam, a common material in many of the best mattresses on this list. Children benefit from gel-infused memory foam because it provides a cooler experience in comparison with traditional memory foam. This is made possible through better air circulation, thanks to its more open cellular structure and moisture-wicking properties.
While these two types of foam inflate independently, these should be used as a pair. Just place the thicker foam on top of a well-ventilated base, such as a slatted base, a box spring, or a metal grid base, which will prolong its useful life. Then place the thinner foam on top and adjust until a perfect alignment is achieved.
This Lucid mattress has a removable cover that's fairly easy to remove due to the zipper's strategic placement. But while its cover protects the foam underneath, it isn't sufficient where children and their inevitable accidents are concerned. You are well-advised to place a mattress protector over the entire mattress as extra protection.
Some users say there was a slightly unpleasant chemical smell when the gel-infused memory foam is first opened. This is quite normal, but it isn't a cause for concern because it will dissipate within a few hours, usually as soon as the foam has fully inflated. Afterward, there's no smell emanating from the memory foam, particularly with a mattress protector and layers of linen already in place.
---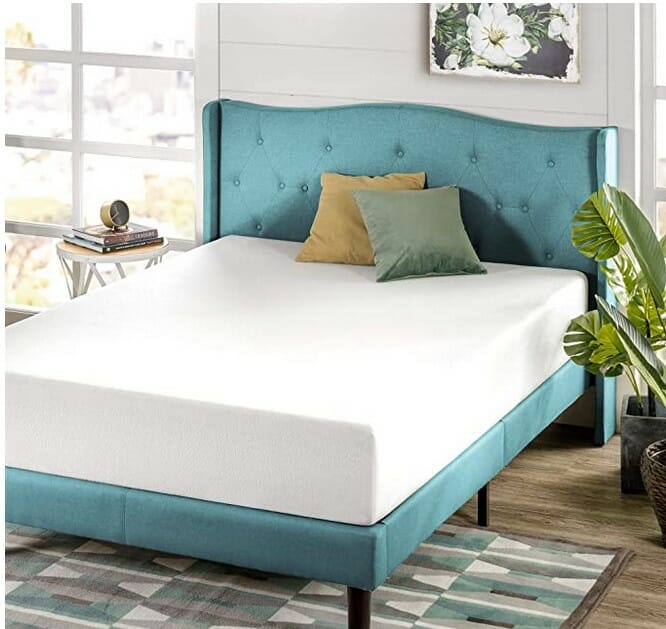 Size:: win (75 x 39 x 10 inches)
Construction Type: Layered foam
Firmness Level: Firm
Weight: 33.1 pounds
Product Highlights
Foam with green tea and active charcoal infusions
Three layers of foam for the best possible comfort and support
With 10-year limited warranty
Who would have thought that green tea and active charcoal can be infused into the foam for their beneficial properties? But that's what exactly happened with the memory foam layer of this Zinus mattress!
Green tea is known for its rejuvenating property, so it makes sense to infuse it into a product designed to refresh the mind and body through restful sleep. Active charcoal absorbs excess moisture and, thus, its infusion into memory foam reduces moisture and mold buildup.
Of course, the green tea and active charcoal infusions are secondary in importance to memory foam benefits, a material is known for its pressure-relieving property. Memory foam works by conforming to the body's shape, a process stimulated by the body's natural heat, and providing support in the pressure points – the shoulders and neck, spine and hips, and knees and legs.
The 2.5-inch memory foam, which acts as the topmost layer, is complemented by the 2-inch comfort foam. This second foam layer makes the first foam layer more supportive by being firmer to the touch. The relative softness of the memory foam contrasts with the comfort foam's medium firmness, which means a great sleeping surface.
The 5.5-inch high-density support foam is the third and last layer in this mattress. This isn't just thicker – it's also denser and, thus, firmer and stronger than the upper two layers. The resulting 10-inch mattress isn't just thick, but it's also comfortable to lie on, provides optimum support in all the right areas, and lasts for years with proper care and maintenance.
The twin-sized mattress can support up to 250 pounds of weight placed on it. The larger sizes – full, queen, and king – can accommodate heavier weights of up to 500 pounds. Nonetheless, all sizes hit the golden spot – just right in terms of softness for comfort and firmness for support, the Goldilocks zone.
All three layers are tightly packed through vacuum technology when it's delivered to your home. Just remove it from its carton, which should be easy since it slides right off, and remove its plastic packaging with a sharp tool. Then, let it inflate in a well-ventilated room and wait for 72 hours, which should be enough to let it get to its fullest size.
---
Size: Twin (74.02 x 38.19 x 7.17 inches)
Construction Type: Foam
Firmness Level: Firm
Weight: 25 pounds
Product Highlights:
Affordable price and great value for the money
Mattress and pillow combo
Simple yet effective mattress design
Not every excellent mattress for kids has to be complicated in its materials used and overall design. Case in point: The Ashley iKidz firm memory foam mattress doesn't have multiple layers of foam or layers of foam and innerspring coils, but it works just as well! The twin-sized mattress comes with its pillow, a combo that increases its usability factor.
The high-density support pad provides enough support for the spine and other pressure areas, while the soft foam provides sufficient comfort for a great night's sleep. These two types of foam create a yin-and-yang effect that ensures a child sleeping on it will enjoy the mattress's softness without sagging in many places.
The pushback is just enough for your child to sleep "on the bed" instead of "in the bed." This is vital for spinal health in children since sleeping "in the bed" means that it's too soft and, thus, doesn't offer the essential amount of support.
The mattress's four-way stretch knit cover acts as the first layer of protection for the foam. But while it's beautiful to look at, it shouldn't be the only protection for the mattress! Be sure to use the right mattress protector and bed linens, which will serve an aesthetic purpose and prevent stains from dirtying up the foam.
Like all of the mattresses for kids on this list, this one also comes bundled up inside a box. But it's easy to unroll – just unbox it, cut its protective plastic wrapping, and unroll it. Leave it for 48 hours or so to let it expand on its own. Once it's in its fullest size, you can place it on top of your child's bed, place bed linens, and voila!
---
Frequently Asked QuestionS about Kids' Mattresses
Should a child's mattress be soft or firm?
The fact that a child weighs less than an adult (not to mention the lack of aches and pains most of us adults feel with an improper mattress), a kid's mattress can be softer and more comfortable with a medium firmness than an adult's mattress.
Should I start my child on a larger mattress?
To answer this question somewhat depends on your available space and the money you are willing to invest. It makes sense to purchase a full size bed if the room allows so that your child can grow without feeling constrained. On the other hand, a twin size bed offers more space in a small room. A twin XL size mattress and bed frame can accommodate your child as they get taller without causing too much of a space issue.
At what age does a child transition to a "regular" bed?
Every kid is different. We recommend that you wait until somewhere between the ages of 2 to 3 yeas old, so that your child's transition will be at a time that is more understandable to them. Changing sleeping arrangements for a toddler can be problematic. Including the child in the process of replacing their current bed with a new one will help them to understand the transition. Baby bed goes and big kid bed arrives!
CONCLUSION
In conclusion, the best mattress for kids are an investment in their health because of the importance of sleep in their physical and mental development. If possible, avoid scrimping since you and your child will enjoy the returns on investment on the first night they use their new mattress.
With every night that your children enjoy restful sleep, you're also benefiting as a parent – you're less likely to be woken up in the middle of the night because your little one feels like being the main character in the Princess and the Pea!
ADDITIONAL RESOURCES: