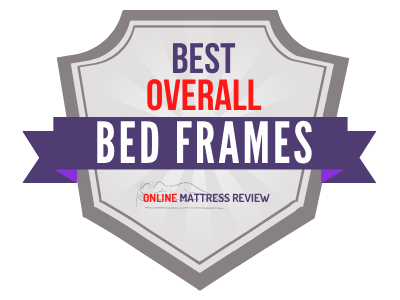 Your bedroom just isn't complete without the perfect bed frame. The right mattress can help you feel healthier, but choosing the right bed frame–or the best bed frame–will make you want to show other people why you always look so well-rested.
Bed frames come in all shapes, sizes, and styles. The first thing you need to do when you look for a new bed frame is determine what you want, and then also what you need.
Maybe you need more storage space for your clothes, or a foundation that folds up and out of the way for a multifunctional room. Maybe you want a snazzy new headboard to make yourself feel like royalty as you climb under the covers. 
***
OMR's PICK FOR THE BEST BED FRAME:
Olee Sleep 14 Inch Heavy Duty Steel Slat Bed Frame
WHY? This frame has over 18,000 reviews with a 4.7 star rating on Amazon! With reviews stating how strong the bed frame is to the product's excellent customer service, we felt this frame would be a "win-win" for most!
***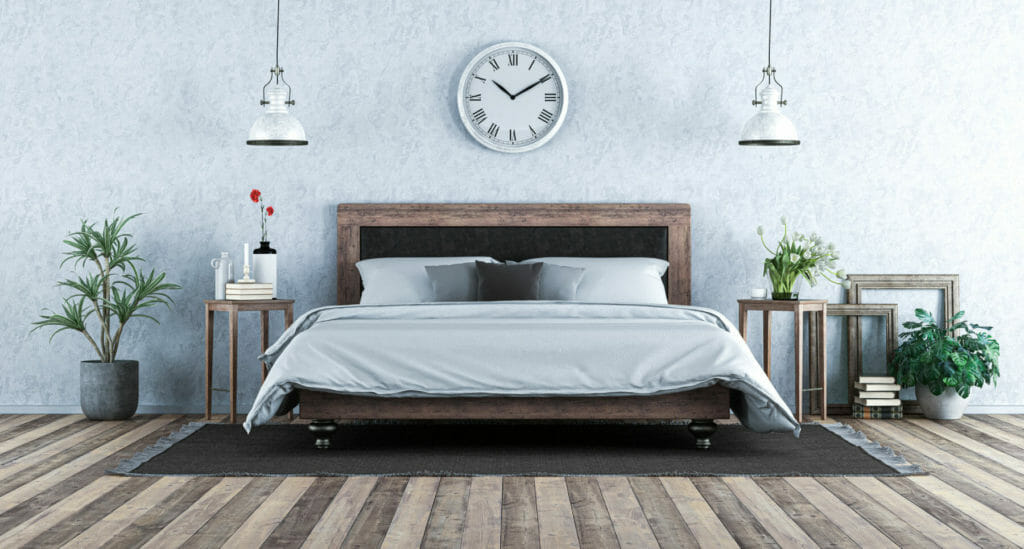 For whatever you need and desire in a bed frame, we have all the options you could want below in our top 10 Best Bed Frames. We've listed the best of the best, now it's time to choose the frame that fits your fancy.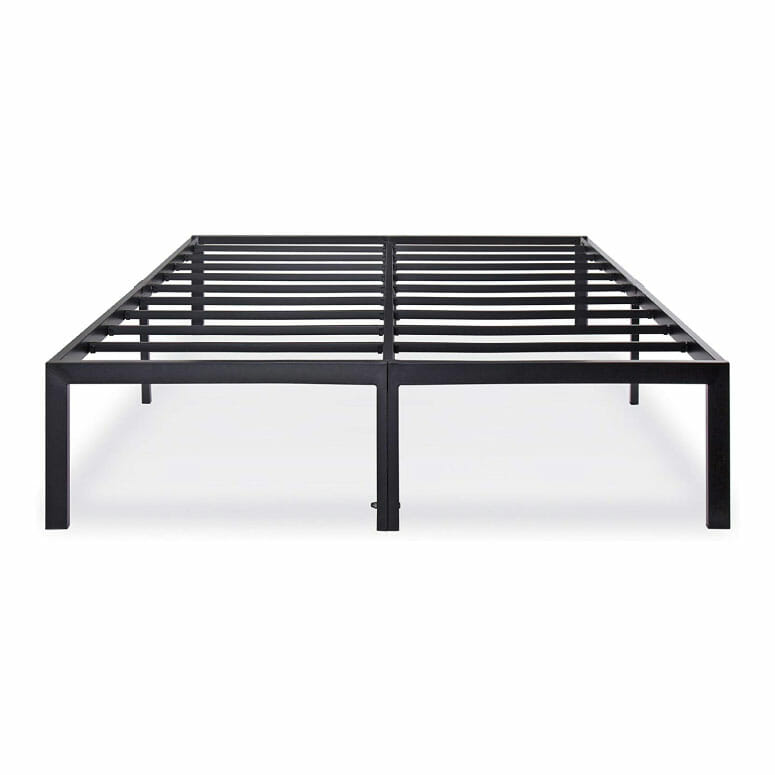 Bed frames can vary quite a bit due to the different types of steel used, whether there is a storage space under the bed, the bed's specific assembly, and other miscellaneous factors. The Olee Sleep 14-Inch Heavy Duty Steel Slat bed frame stole our number one spot because it can do it all.
The Olee Sleep bed frame is constructed of durable steel that can support up to 1,200 pounds. You can basically pack as many people as you want onto this solid foundation without fear of it bending or breaking. Assembly is easy with the included Allen wrench, taking only minutes whether it's just you putting everything together or if you're joined by helpful friends and family.
Storage is another excellent feature of this bed frame. There is enough room to pack eight carry-on suitcases under the steel storage compartment. You can also add a headboard of your choosing since the bed frame does not include one. Olee Sleep also designed this bed frame to be silent, so you won't wake your sleeping bedtime partner with squeaking as you get into and out of the bed.
Stats
Size: Twin, Full, Queen, King
Warranty: 5-year limited warranty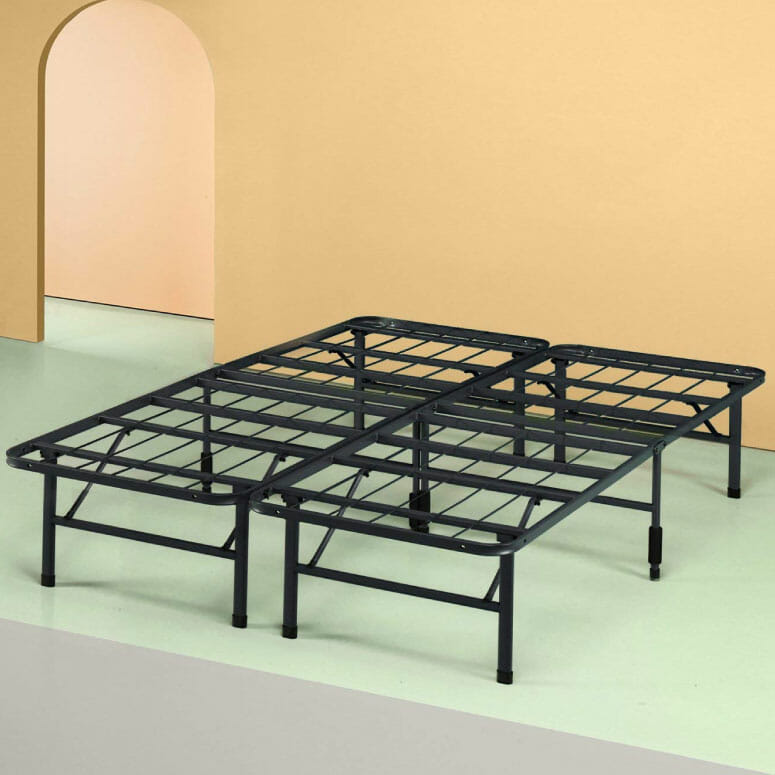 Want to skip the hassle of assembling your bed frame? Have you ever been frustrated by missing pieces while assembling a piece of furniture? That will never happen again if you purchase the Zinus Shawn 14-Inch SmartBase Mattress Foundation. This bed frame comes pre-assembled — all you have to do is unfold the legs and place your mattress on top.
Sitting at just 14 inches in height, this bed frame is perfect for any member of your family that has moved past sleeping in a crib. Underneath, you can store objects 13 inches tall and under, whether that be books, suitcases, or boxes of your winter clothes. In addition, the sleek black steel of this bed frame will complement any bedroom style.
Skip the box spring and place your innerspring or latex mattress directly on this frame. Each leg features plastic caps to protect your floors from scratches. If you plan on attaching a headboard to this bed frame, you will have to purchase the SmartBase headboard brackets separately. If that's not a deal-breaker for you, this bed frame is a great choice, and reasonably priced.
Stats
Size: Narrow Twin, Twin, Twin XL, Full, Queen, King
Warranty: 5-year limited warranty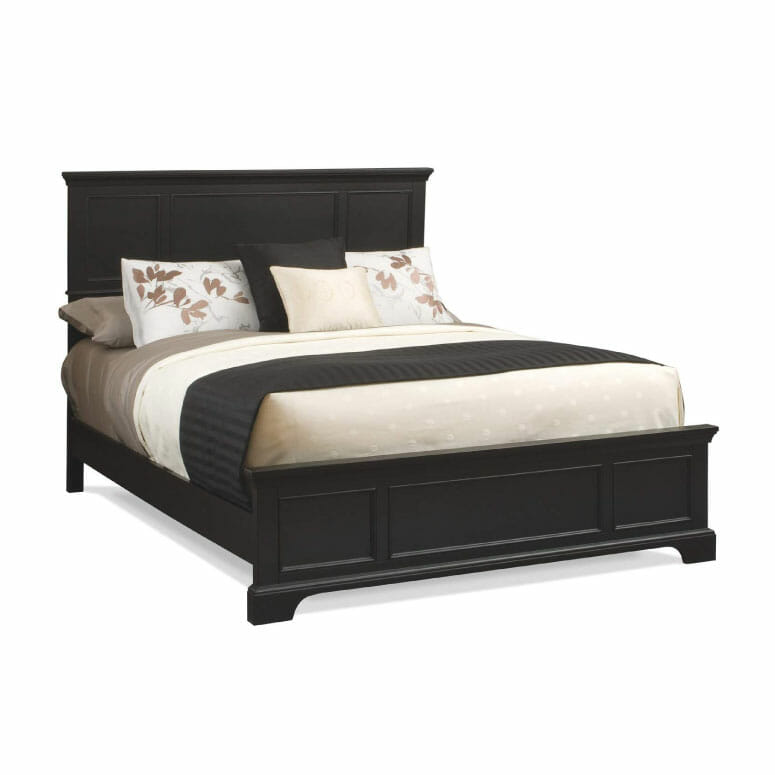 If contemporary styling makes you feel at ease and more comfortable to fall asleep at night, then our number three pick for best bed frames is worth taking the time to check out. The Bedford Black King Bed by Home Styles gives a sleek, elegant design that would fit perfectly in a flat in London or a house in the suburbs of Maine. The black finish allows the bed to pair well with almost any existing decor naturally.
The bed itself is constructed of hardwood that will ensure it stands the test of time without becoming nicked by every bump of a shoe. The wood used in this bed is engineered hardwood, which means that only a thin slice of hardwood covers the surface and is glued to a high-quality plywood core. If you've ever seen plywood, you may know two things for certain about this product: first, that plywood is exceptionally durable and can stand up to almost anything you can throw at it, and two, that plywood lacks aesthetic appeal. This is exactly why Bedford added a hardwood finish.
The combination of hardwood finish and the plywood core makes for an extremely durable bed. This bed set includes a headboard, footboard, and rails. A boxspring should be used with this bed frame, so make sure that you pick one up if you're switching from a platform bed to this bed. Amazon also includes the option to purchase a 5-year warranty.
Stats
Size: King
Warranty: Optional 5-year warranty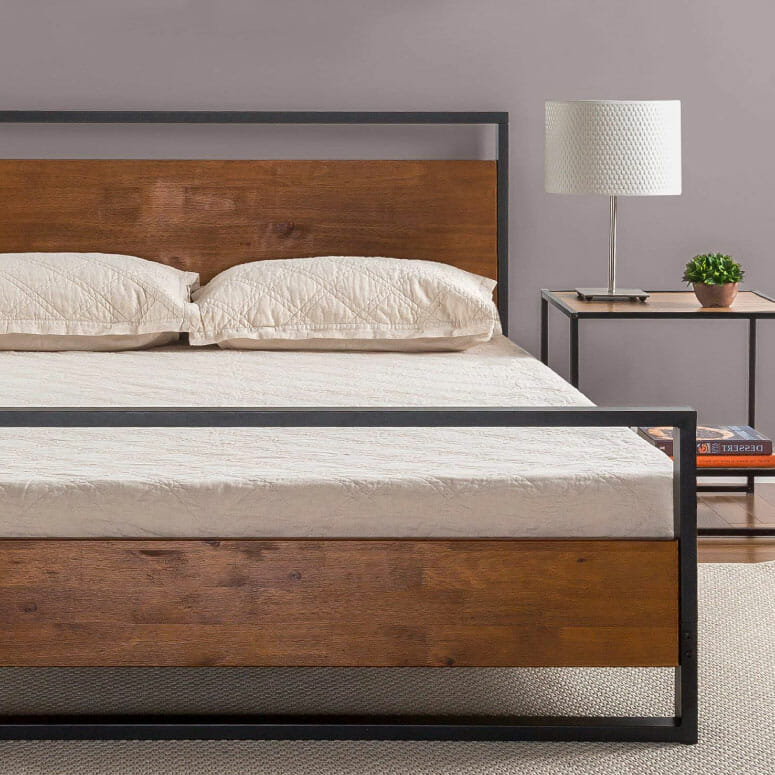 Bachelors and those looking for a natural modern look will rejoice at the Zinus Suzanne Metal and Wood Platform Bed. This bed frame evokes modern smart homes with a trendy, sophisticated air. Minimalists will also find this bed appealing as there are no drawers or much room for cluttered storage underneath. This bed also pairs perfectly with dark wood floors.
Composed of pinewood with a cherry finish, the headboard sits about a foot and a half above the supportive wooden slats. If you use this frame without a box spring, there will still be a few inches of space between your mattress and the bottom of the headboard (for most mattresses at least). But you can always add a boxspring if that bothers you.
Black painted iron supports the bed slats as well as the cherry varnished head and footboard. Plus, foam-padded tape on the slats eliminates any squeaking and keeps your mattress from slipping. Some reviewers complain that parts of the frame do not fit together during assembly, but this issue is not common.
Stats
Size: Twin, Full, Queen, King
Warranty: 5-year limited warranty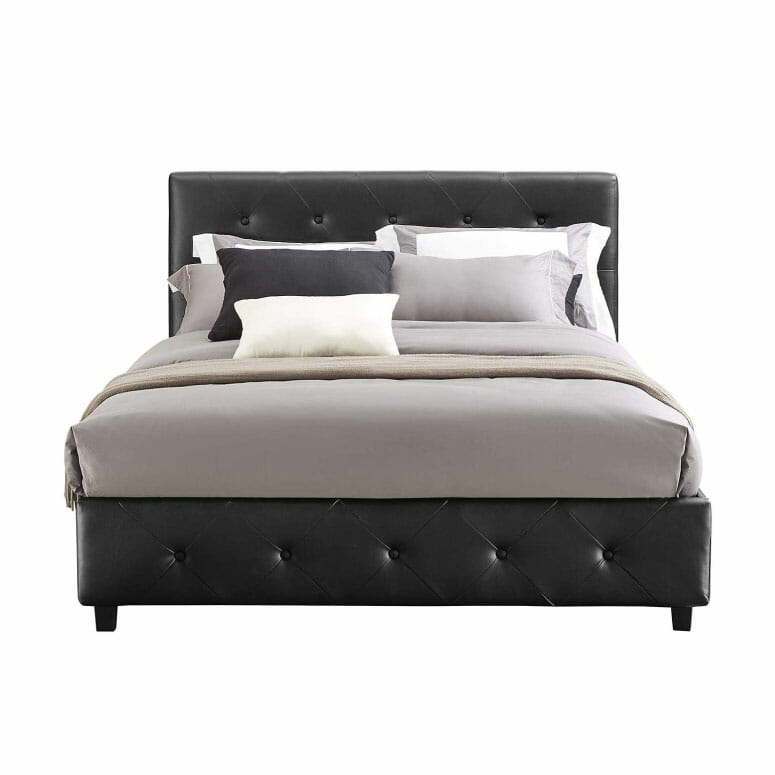 Adding a chic, sophisticated look to your bedroom can be as easy as purchasing a new bed frame. Choose our fifth best bed frame if you want to add elegance to your bedroom at a reasonable price. Whether you are a middle school teacher or an executive at a Fortune 500 company, you will appreciate the DHP Dakota Upholstered Faux Leather Platform Bed. The only thing to decide after purchasing it is if your current mattress is good enough to place on this gem.
You can choose between brown and white faux leather, both of which are a breeze to clean by simply wiping the surface with a wet paper towel. The button-tufted diamond pattern gives this bed a subtle elegance that will have you feeling like royalty when you go to bed. The regular model is low to the ground with little to no storage space, but you can purchase another version of this bed with two drawers on each side. This option is only available in brown.
This bed frame is solidly made with durable metal side rails and legs, and the supportive wooden slats are included with your purchase. The manufacturers built this bed to last, using an all-metal construction. Even the leather-covered headboard is constructed with a metal frame underneath.
Stats
Size: Twin, Full, Queen, King
Warranty: 5-year limited warranty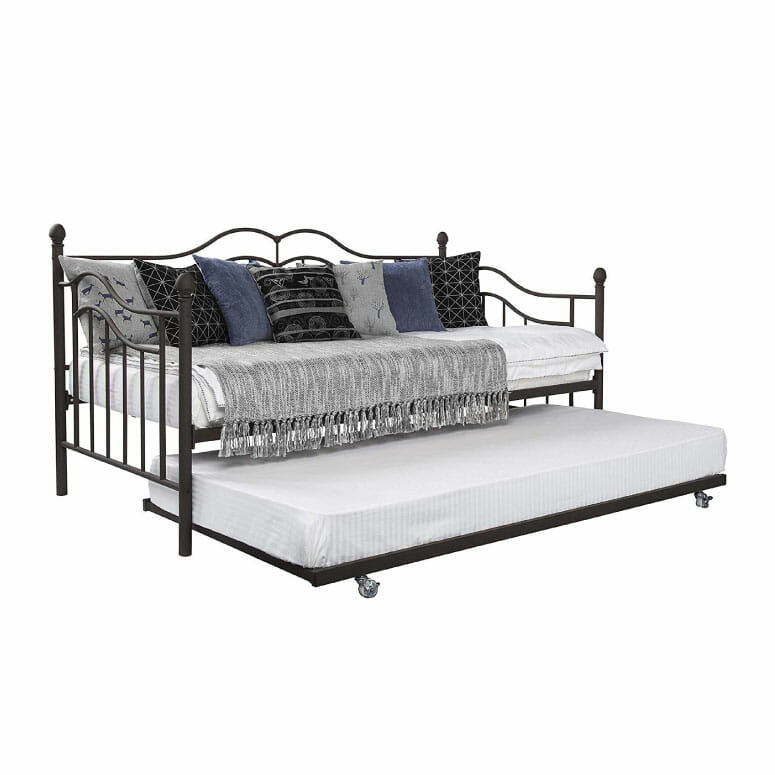 Daybeds are the original swiss army knives of furniture. They can act as a couch for guests to sit on during the day, or as a bed at night. Daybeds are perfect for small apartments or when you want some extra sleeping space when family and friends appear at your door. That said, it's hard to beat the DHP Tokyo Daybed and Trundle with Metal Frame.
This bed has an elegant Victorian design available in either bronze or white, and it pairs well with both contemporary and country-inspired furniture. The frame is well-built and has a 400-pound weight limit. You can either assemble the bed yourself or have an expert assemble it in your home for an extra fee. For an additional price, you can also purchase this daybed in full size.
The DHP Tokyo Daybed comes with a twin size trundle for guests that show up suddenly, needing somewhere to crash. Two of the trundle bed wheels lock so that it does not move when it's being used. If you purchase this bed in the full-sized option, the trundle bed is still a twin size. Overall, customers say they are delighted with the build quality and look. The only concern is that two people are needed to assemble the bed, unless you purchase the professional assembly.
Stats
Size: Twin
Warranty: 1-year limited warranty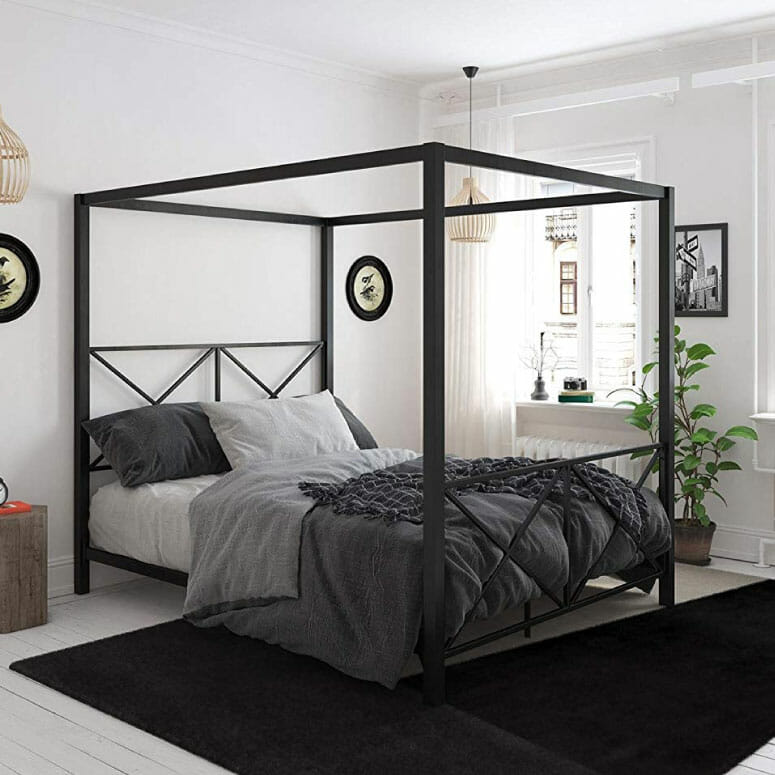 Canopy beds are wonderful if you want to add drapes to block out sunlight. While you might not think that canopy beds are "masculine," you may reconsider when you see our seventh best bed frame, the DHP Rosedale Metal Canopy Bed. "Simple" and "Modern" are two words that perfectly describe this bed frame.
This Rosedale bed is available in black, gold, or white. You can put your personal touch on into the bed by adding drapes to match the seasons, or leave the bed undraped for a cleaner look. The bed frame is sturdy and made of steel, including the slats that support your mattress.
Speaking of the mattress, it has a real fan following with customers that rave about its quality and design. You may need one of your friends to help you assemble it. The bed frame comes with a 1-year manufacturer warranty, but 3-year and 5-year warranties are also available.
Stats
Size: Full, Queen
Warranty: 1-year limited warranty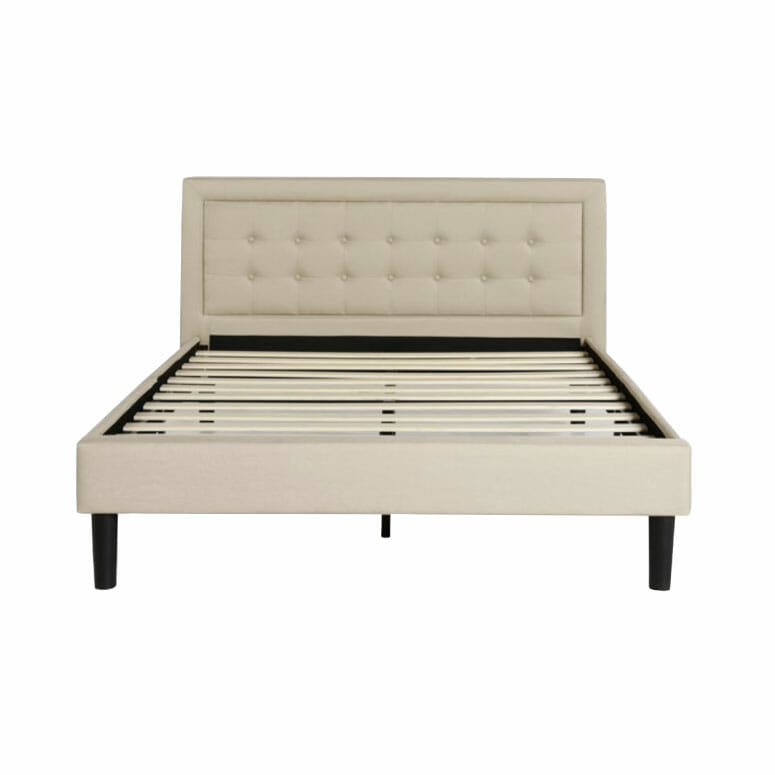 Adding a contemporary warm feel to your bedroom is as easy as purchasing our number eight pick for the best bed frames, the Nectar Bed Frame With Headboard. Nectar's mission is to create a relaxing sleep environment, and this bed frame can definitely help you do that.
Too much leather and wood can make a room feel cold and uninviting, but this tufted fabric headboard is sure to add warmth and comfort to your bedroom. The dark gray color is easy to match to other fabrics and bedroom furniture. There is also a neutral linen color, but if you have messy children, the light color could stain easily.
Wooden slats run the length of the bed frame, supported by an all-metal structure. In need of a mattress as well? Add a comfortable Nectar mattress for an additional price. But if you just want the bed frame, try it out risk-free with a 50-night home trial. This bed frame comes with a decent 3-year warranty that covers any manufacturer defects.
Stats
Size: Full, Queen, King
Warranty: 3-year warranty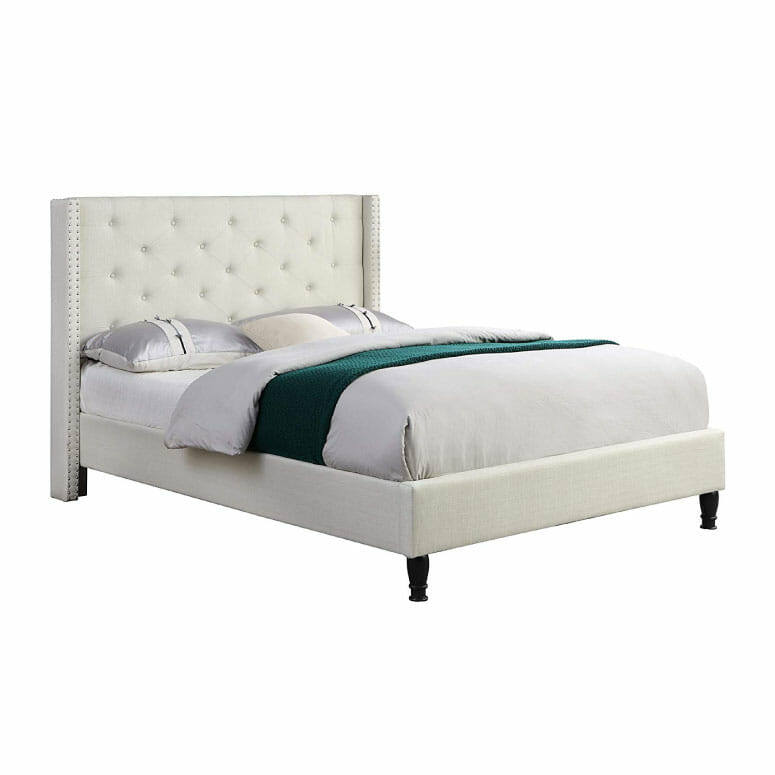 There is something incredibly comforting about climbing into a bed covered in fabric. Our number nine pick for the best bed frame will make you feel like taking a few more sick days, just so you can relax in bed. The Home Life Platform Bed may be perfect for single or married couples without children, but those with children may find it challenging to keep this bed clean due to the light-colored cloth covering.
The bed is covered in a cream-colored linen fabric that will be able to soften even the coldest feeling rooms. This bed would also be a great addition to a guest room as the fabric covering imparts a sense of comfort and home that other beds are unable to achieve. The bed comes with a headboard, footboard, and metal slats that allow you to skip the bulky box springs.
While we were unable to find a manufacturer warranty, Amazon does offer 30-days to return your purchase if you are unsatisfied. Amazon also offers a 5-year warranty for an additional fee. If you desire an extended warranty, you can purchase the five-year warranty which is reasonably priced.
Stats
Size: Full, Queen, King
Warranty: 30-day Amazon return policy
The Swedish are known for two things: being neutral in international skirmishes, and for their sleek and modern designs. The Nomad Plus Platform Bed by KD Frames is an original Swedish design reminiscent of a minimalist cabin high up in the Alps. You won't find a better option than this bed frame if you want to zen out with furniture that does not distract from the real purpose of a bedroom — to sleep.
While this bed has a minimalist design, it can still handle quite a bit of weight, up to 600 pounds. There is also a separate trundle design available. The trundle does not have wheels and looks more like a wooden platform with wooden slats running the width. You can also add two drawers underneath for extra storage.
The wooden slats that run horizontally across the main bed are flush with the wooden bed frame, making it a true platform bed. It has a light oak varnish, but the manufacturer does not specify the type of wood used. There is minimal information about the beds on KD Frames' website, and the warranty information required some searching to locate. But, overall, this is a solidly built bed frame from a company that specializes in platform beds.
Stats
Size: Twin, Twin XL, Full, Queen, King
Warranty: 5-year warranty
Conclusion
Whatever bed frame you choose, be sure that you pay attention to your wants, needs and personal preferences. Your bed frame should entice you to spend time in your room, go to bed early, and show off your new sleeping set to friends. While all of the above choices are recommended by us, we encourage you to pay close attention to, well, you and choose the best bed frame that speaks to your heart and soul.
Additional Resources: