The new BedJet 3 mattress cooler heater is the third reiteration of the BedJet Climate Comfort product. Like its two predecessors, the BedJet 3 Climate Comfort promises an end to sleepless nights. Users can sleep faster and sleep all night long, and it is targeted toward hot sleepers and people that suffer from night sweats or hot flashes.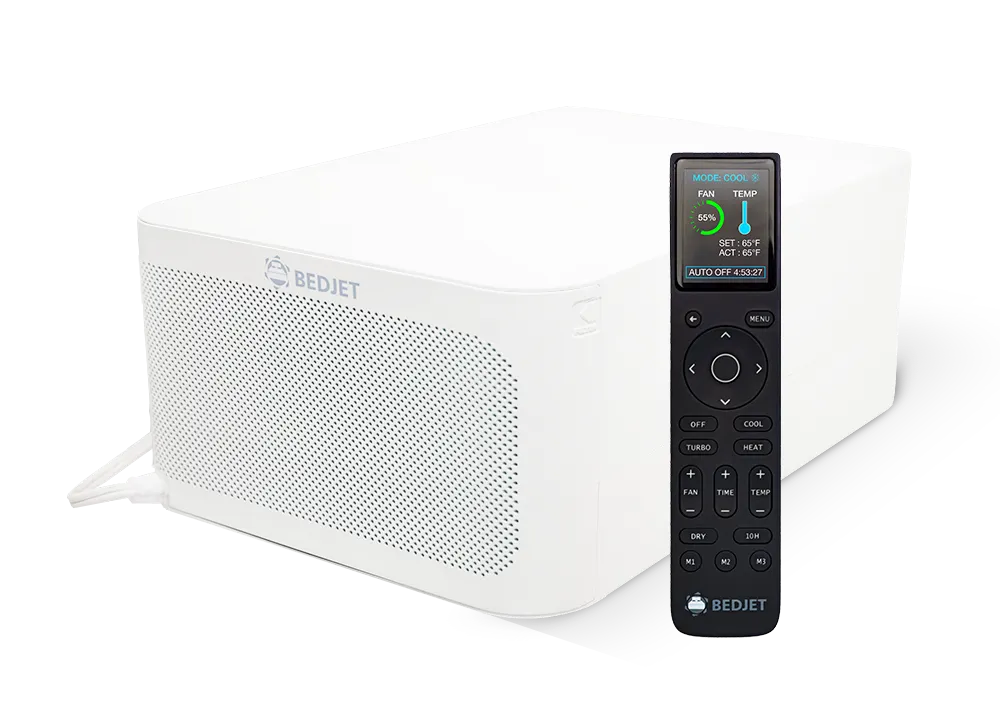 Or, will they actually enjoy these benefits? Let's take a look!
Brand Overview
In 2015, Mark Aramli first introduced his BedJet climate control unit in Shark Tank, a reality show for entrepreneurs and investors. But the celebrity investors rejected BedJet.
Aramli then started a crowdfunding campaign on Kickstarter, and it became successful and started the BedJet success. Today, BedJet Climate Control units are sold on its official website and on well-known retailers like Amazon.
The BedJet 3 Climate Comfort was made available on June 20, 2022, and it represents the company's thrust toward continuous refinement of a successful product. Note that the first two BedJet Climate Control models are still being sold alongside the BedJet 3 Climate Comfort. 
Many features are similar, if not the same, in all three iterations. But there are also significant differences in price and current upgrades, such as the overall size, remote control, and cooling and heating functions. 
Product Overview
The BedJet 3 Climate Comfort is a climate control system limited to cooling and heating mattresses. With its advanced technology, it offers customized temperature settings that can be controlled via remote control. The sleep temperatures can range from turbo heat to cool air, usually for single temp use.
The BedJet 3 Climate Comfort is available in two options – a single-size bed (i.e., Single Zone) and a king-size bed (i.e., Dual Zone Bundle). The Single Zone setup comes with a single BedJet 3 Climate Comfort unit. This is appropriate for a single sleeper and for couples with the same single temp preference. 
The Dual Zone Bundles are great for couples who want different sleep temperatures in the same bed. Each Dual Zone Bundle comes with two BedJet 3 Climate Comfort units. Each of the BedJet 3 Climate Comfort units can be operated independently, thus, allowing for different sleep temperatures.
The BedJet 3 Climate Comfort unit works by blowing breathable air into the bedding, via a hose resting directly on top of your mattress. The duration, temperature, and intensity of the warm air or cool air can be adjusted via remote control.
There's no need to change your mattress and beddings when installing a BedJet 3 Climate Comfort unit, too! The on-demand cooling unit works with any size bed, mattress and bed frames, even adjustable beds.
Major Features
The BedJet 3 Climate Comfort has many changes in it that users of its two predecessors will notice with closer inspection and night-long use.
Size and Appearance
The blower unit for the BedJet 3 Climate Comfort is about half an inch smaller than its predecessor. This means the blower unit can fit under a bed with six inches of clearance from the bottom of its frame to the floor. The smaller dimensions mean more people can fit it under their beds and benefit from its cooling and heating functions. 
The aesthetics of the BedJet 3 Climate Comfort are also better than its predecessors. Where the first two BedJets blower units looked like Star War props, the BedJet 3 is more streamlined. While it looks like a white shoebox, it's still fine since it will be tucked out of sight anyway. 
The padding at the base is an improvement, too, since it holds the blower unit in place. With it, the hose and air nozzle are also likely to stay in place.
Ease of Setting Up
The BedJet 3 Climate Comfort comes with detailed instructions manual for its assembly and maintenance. Be sure to read the BedJet 3 manual even if you have already used the other two models. 
Setting up the BedJet 3 system is easy. It will take about 10 minutes from unboxing to using it. 
The clearly marked mattress mounts prevent confusion about which part goes where, too. Your mattress should have a top sheet that will ensure even airflow distribution, and that the airflow stays trapped underneath the covers.
Place the mattress mount base underneath the mattress, particularly where you want maximum airflow. Putting it right in the center is a good idea. 
Attach the hose and nozzle. 
Attach the mattress mount to the hose. 
Place the BedJet 3 beneath the mattress mount. 
Attach the hose's bottom to the BedJet 3's circular opening. 
Plug the BedJet3 into an outlet and use the remote control to adjust the settings. 
The BedJet 3 Climate Comfort system can be used with your own top sheet or with a Cloud Sheet cover. If you're using a Cloud Sheet cover, it has three holes where the hose will go through.
The BedJet 3 Climate Comfort system can also be synced to your smartphone! Download the BedJet 3 app from the official website and follow the instructions. 
If you have issues with assembly and use, the BedJet 3 helpline is responsive and helpful.
Cloud Sheet
The BedJet 3 Climate Comfort will work with your own top sheets and other existing bed sheets. But if you want the best performance from your BedJet cooling and heating unit, you should consider the Cloud Sheet. This is sold separately for a Single Zone unit but comes with a purchase of a Dual Zone BedJet 3 system.
As previously mentioned, the Dual Zone Cloud Sheet allows different sleep temperatures on either side of the bed. The Single Zone Cloud Sheet only has a single temp for the entire bed, whether it's cool air or warm air.
The Cloud Sheet is made from 100% cotton so it feels soft and comfortable on your skin. This can also be washed like ordinary bedding in the washing machine. Use a mild detergent, wash on a gentle cycle, and tumble dry on low heat. 
The BedJet 3 Climate Comfort Single Zone and Dual Zone Bundle has different prices for the Cloud Sheet. For the Single Zone, it's between $79 and $159 depending on size. The Dual Zone Cloud Sheet, it's more expensive at $139-$159 but it's worth the investment. 
The BedJet 3 Climate Comfort Functions
Remote Function
The BedJet 3 Climate Comfort system comes with an advanced remote control with backlit keys. The advanced remote control not only looks better but has more functions, too. 
There are quick-access buttons for the sleep temperatures – turbo heat, cool and dry, among others – as well as up/down toggles for temperature, fan speed, and auto-off timer. With its backlit keys, it's easy to use even in dim or dark conditions. Plus, it lights up when it's moved, thus, making it easier to make temperature control adjustments in the dead of night. 
The BedJet 3 advanced remote control also features a large color LCD screen that displays the temperature settings, fan speed, and other information. But it may well be the largest remote control on your bedside table. 
The BedJet 3 Climate Comfort has a memory function, too, where it can store up to three customized sleep temperatures.
Cooling FunctionS
Even though the BedJet 3 Climate Comfort system provides both cooling and heating functions, the cooling function seems to appeal most to the majority of users. Even with less than ideal room temperature air, the on-demand cooling can bring awesome relief for hot sleepers and night sweats. Heating mode is also welcome during the cool and cold days and nights. 
How does the BedJet 3 system work in terms of its cooling function? Fresh ambient air is directly injected onto the mattress. The powered ventilation effectively wicks away your body moisture and body heat trapped by your mattress and bed covers.
The cooling mode power ventilates your body and mattress without emitting annoying sounds like a noisy alarm clock. Many users say that the quiet stream of air even feels like white noise!
The powered ventilation spreads cool air evenly throughout the bed so there's less risk of cold feet or cold legs. Hot sleepers and individuals suffering from night flashes and sweats benefit the most from the cooling function.
Plus, there are several sleep temperatures to choose from, namely:
Fan speed ranging from 5% to 100%
Cool air with the coldest temperature being 66°F (19°C)
There's also the option of blowing cool air between the comforter and top sheet or directly onto your upper body. The BedJet 3 Cloud Sheet is recommended for even distribution of cool air.
The dry function is also perfect for hot sleepers since it delivers sweat drying comfort. The BedJet 3 blower unit blows temperature-neutral air that wicks away body moisture.
The BedJet 3 is then a better option than cooling mattresses that don't pull body heat and sweat away. Users who experience night sweats and hot flashes—especially in stuffy bedrooms—get instant relief!
Heating FunctionS
The BedJet 3 Climate Comfort system's heating mode is just as useful as its cooling mode, particularly in the winter months. The warm air emitted once the heating mode is turned on brings on warming comfort in just seconds! The warm air is great therapy for cold feet and cold legs at any time of the day and night.
The BedJet 3 has several heating settings, too, within its heating mode function. The heat settings can be chosen from the remote control, meaning ease of use. Don't worry as the heating air temperature won't result in burns, irritations, and other skin damage. 
The main heating temperatures are:
Turbo heat is the highest heat setting but it only lasts for 10 minutes as a pre-warming heat burst 
Heat setting (22°C to 40°C) delivers strong warming comfort lasting up to four hours 
Extended heat setting (22°C to 33°C) provides moderate warm air for up to 12 hours 
A dry setting is a midrange temperature (31°C) that keeps night sweats to a minimum 
If you live in areas with cold spells or high electricity rates, then the BedJet 3 is an excellent option. Your electric consumption will be less in comparison with an air conditioning or central heating system.
You will also be safer when using a BedJet 3 unit than with heated mattress pads, mattress toppers, and electric blankets. This is because the BedJet 3 has no wires and other electrical connections inside your mattress or top sheet.
Dual Zone Functions
The BedJet 3 Climate Comfort's Dual Zone allows couples the option of setting different sleep temperatures. If you experience night sweats, you can set a lower temperature than your partner's side of the bed. Such excellent temperature control is the best-selling proposition of BedJet 3.
As with the Single Zone, you can also use normal bedding or a large Single Zone Cloud Sheet if you and your partner agree on a single temp. But you may also want a Dual Zone Cloud Sheet if you want different sleep temperatures.
Biorhythm Feature
The BedJet 3 Climate Comfort system features biorhythm temperature technology. This is intended to provide BedJet 3 users with better sleep – faster, deeper, and more restorative sleep – thanks to customized temperature schedules. 
BedJet prides itself on being the pioneer behind the biorhythm temperature technology, too. Basically, you can pre-program the heating and cooling settings for every hour. The gentle and quiet stream won't disturb your sleep even if the BedJet 3 blower unit cycles through different sleep temperatures all night long.
On a cold night, you can start with turbo heat for preheating your bed. Then, switch it to an extended heat setting with varying fan speeds for the next few hours.
Other Top Bedjet 3 Features
Ease of Maintenance
The BedJet 3 Climate Comfort is so easy to maintain, too! Just wash the filter about once every three months. There's a button on top of the BedJet 3 blower unit – press it to release the grill and remove the filter. Rinse the filter with cool water, let it dry for a few minutes, and put it back in.
Even the Cloud Sheet is easy to maintain since it can be washed like normal bedding.
Shipping Policy
The BedJet 3 Climate Comfort system is shipped free of charge to customers across the United States and Canada. Returns can also be shipped free of charge. The BedJet 3 is always in stock and, thus, can be shipped as soon as it's ordered and paid for.
Warranty and Return Policy
The BedJet 3 Climate Comfort system comes with:
Free two-year warranty with full coverage of all parts and the Cloud Sheet, if you buy it
60-day return guarantee provided that the system is in one piece
Customer Service
The customer service for the BedJet 3 Climate Comfort system is accessible, too, from the advanced remote control! Just hit that button with a question mark (?) label. The customer service information, such as the telephone number and email, will be displayed on its color screen.
Price
The BedJet 3 Climate Comfort unit's price may seem pricey at first. But when you factor in the reduced electricity cost of an air conditioning or central heating system, then it's a worthwhile investment!
There are two price points for the BedJet 3 Climate Comfort system.
First, the Single Zone is currently priced at $399 (discounted). The regular price was $569 per unit. But you can buy it on installment for as low as $37 per month via Affirm financing.
Second, the BedJet 3 Climate Comfort Dual Zone Bundle for couples can accommodate a king-size bed. The discounted price is $949 from the $1,289 regular price. Affirm financing is also available for $87 per month.

Pros and Cons of the BedJet 3 Climate Comfort System
The BedJet 3 Climate Comfort system has its share of pros and cons that you must consider before making a purchasing decision.
Pros
Wide range of temperature settings 
Keeps an even airflow distribution of cool air or warm air all night long 
Stops night sweats and hot flashes 
Fully adjustable fan speed 
Responsive remote control and smartphone app
Single zone and dual zone selections are available 
Biorhythm temperature technology for different sleep temperatures throughout the night 
Easy installation 
Durable parts and construction 
Easy maintenance 
Cons
Not a replacement for central heating and air conditioning system
Quite pricey for a small heating and cooling unit
Cannot fit under beds with low clearance
You must consider factors specific to your situation!
Who Will and Will Not Likely Benefit from bedjet 3
Despite its benefits, the BedJet 3 Climate Comfort system isn't for everyone.
You might benefit from it if you:
Experiencing hot flashes or night sweats (i.e., hot sleeper)
Don't have an air conditioning unit in your bedroom 
Like cool air over your body 
Like tech products 
You might not benefit from it if you:
Already have an air conditioner or thinking of installing one in your bedroom
Are watching your budget
Want 100% silence while sleeping
You may have to discuss these benefits, too, with your partner in bed as their personal preferences will influence your final decision.
BedJet 3 vs. ChiliPad
The BedJet 3 Climate Comfort has a similar intention as the ChiliPad in that it's a climate control system for sleepers.
Let's explore the significant differences between the two products:
Temperature Control and Range
The BedJet 3 blows cool air or warm air for temperature regulation. The ChiliPad uses water that flows through internal microtubes in the mattress pad.
The BedJet 3 has less temperature range than the ChiliPad. But if you're looking for a more powerful cooling and heating function over your entire body, the BedJet 3 is a better choice.
Design
Where the ChiliPad is placed beneath a fitted sheet, the BedJet 3 is placed below the top sheet.
Size
The BedJet 3 is smaller than the ChiliPad, aside from it being less cumbersome to install and easier to use.
Maintenance
The BedJet 3 is easier to clean and maintain than the ChiliPad. The latter requires regular refills of distilled water, too.
Price
Both the BedJet 3 and ChiliPad are sold at a similar price range.
The Final Verdict
Should you buy a BedJet 3 System?
Based on our review, yes! You will enjoy the best night's sleep whether it's during a hot and humid night or a cold and icy night. Your quality of life will be better, meaning your investment isn't just in a product but in your health.