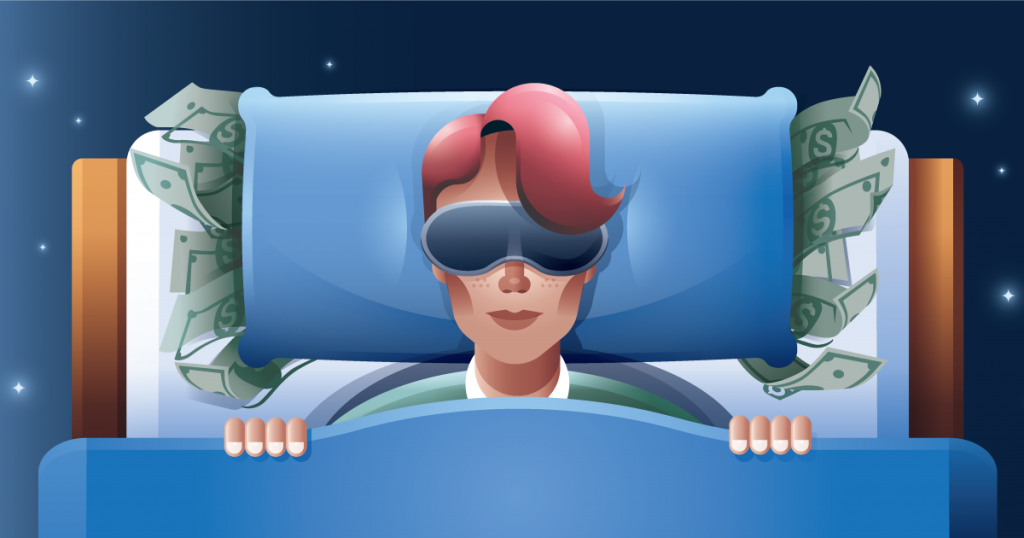 Share this Image On Your Site
The world's highest earners consistently prioritize sleep
The World's Biggest Earners Are Already Sleeping More
Jeff Bezos, founder of Amazon

Net worth: $195 billion
"Eight hours of sleep makes a big difference for me, and I try hard to make that a priority. For me, that's the needed amount to feel energized and excited."

Whitney Wolfe Herd, founder of Bumble

Net worth: $1.5 billion
"Nothing is more nourishing to your mind, body, and soul than a good night sleep."
Many successful people get the necessary 7-8 hours of sleep a night:
"…vacations shouldn't have to be earned… Time off isn't a trophy you win for burning out. The pursuit of happiness is a right, not a reward." – Adam Grant Organizational psychologist at Wharton
The Sleep Routines Of Successful People
No two sleep schedules are alike
Greta Thunberg: 9 hours of sleep
Marie Kondo: 8 hours of sleep
Serena Williams: 7 hours of sleep
Michelle Obama: 6 hours of sleep
Warren Buffett: 8 hours of sleep
Tim Cook: 7 hours of sleep
Elon Musk: 6 hours of sleep
The economic impacts of insufficient sleep cost Americans more than $411 billion in lost productivity every year
The True Cost Of Insufficient Sleep
Poor sleep leads to:

13% higher mortality risk

On average, people sleeping six hours or less per night have a 13 percent higher mortality risk than those who sleep at least seven hours

A loss of 1.2 million working days per year
2.28% less on the American GDP
0.42 units of BMI gained per hour of sleep lost
Reduced ability to make wise financial decisions
2x greater chance of being in a car accident
Lack of sleep is correlated with:

Impaired coordination and fitness
Lower quality of life
Poorer education
Depression & anxiety
People who regularly get between 7 and 8 hours of sleep are 29% more productive than those who sleep less than 5, increasing their chances of success
Scientific Ways That A Good Night's Rest Will Make You More Successful
Improve memory

Regular sleep improves declarative memory (fact retrieval) and procedural memory (how to accomplish certain tasks)

Enhance creativity and problem-solving skills

REM sleep is one the biggest factor of nurtured creativity

Reduce errors and potential accidents

Sleep dramatically reduces clerical errors and mistakes

Stay healthier for longer

A greater amount of sleep leads to a stronger immune system

Better productivity and performance

Well rested persons save companies up to $1,976 per year
"Sleep deprivation is an illegal torture method outlawed by the Geneva Convention and international courts, but most of us do it to ourselves." – Ryan Hurd, independent researcher and founder of DreamStudies.org
How To Practice Better Sleep Hygiene
Definition: Optimizing habits, environments, and behaviors to maximize sleep efficiency
Launder your bed sheets often

73% of people say they are more excited to sleep with fresh sheets

Reduce alcohol consumption

2+ servings of alcohol a day reduces sleep quality by 39.3%

Increase exercise time

75 – 150 minutes of exercise increases sleep and decreases daytime sleepiness

Limit blue light exposure

Blue light from phones, computers, and televisions inhibit melatonin by up to 200%

Do away with all-nighters

Adults going without sleep for 48 hours have similar impairments to a blood alcohol level of 0.1%

Try a weighted blanket

People with moderate insomnia who used the blankets for 2 weeks reported a calmer night's sleep with fewer movements

Get a more comfortable mattress

93% of people say that a comfortable mattress is what contributes to their best quality of sleep
Above all, aim for the recommended amount of sleep between 7 to w8 hours per night
Sleep is one of the single biggest life improvements you can make. Here's to your success!
Sources