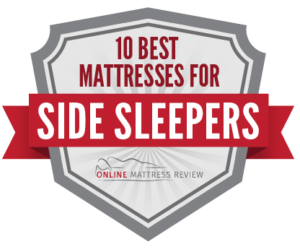 We all have our favorite ways to fall asleep after a long day. But if you sleep on your side, you may want specific features in a mattress. Side sleepers require different support than those who travel to dreamland in various positions, but with so many kinds of mattresses available, it can be difficult to know which one will provide the necessary features for healthy and restful slumber. That's why we've compiled a 2018 list of the top 10 best mattresses for those who sleep on their side. It will serve as a helpful guide in your next mattress shopping adventure.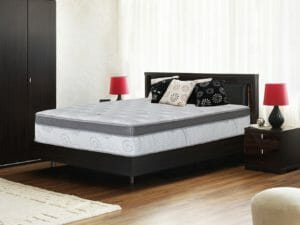 While this model is based on the strength and form provided by heat-treated steel springs, it brings new technology to the art of sleep. Atop the base of springs are several layers of memory foam. First, two inches of extra-firm foam provides support. An inch-thick layer of special thermal gel mitigates excess heat typically trapped by memory foam. Then, 1.5 inches of ultra-soft memory foam cradles you, conforming to your body's curves. Atop it all, is a two-inch layer of specially woven open-fiber jacquard for beneficial ventilation.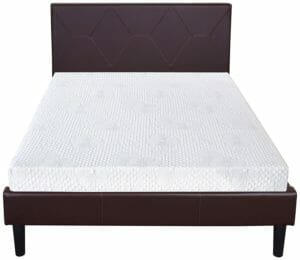 For individuals seeking a more minimalist profile, this mattress is both streamlined and supportive. With multiple layers of foam in varying densities, it offers essential support while also cradling the points that bear most of our weight in repose. Side sleepers must be conscious of the accumulated stress on shoulders and hips. Traditional mattresses support the body but can lead to restless sleep as we seek to relieve pressure on these stress points. Ventilated fabric keeps you fresh while alternating soft and firm memory foam layers conform to your body and support healthy joint alignment.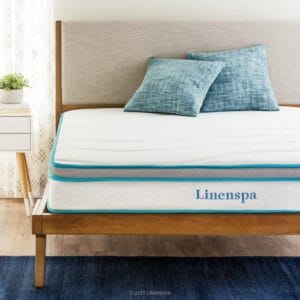 Those who prefer to sleep on their sides know the struggle of too much softness. If you're in need of a space-saving twin hybrid, with all the support of an innerspring model and the comfort of ventilated memory foam, this mattress checks all the boxes on your list. While its quilted top layer and a core of firm foam cushion your sleep, traditional steel coils provide the firmness side sleepers require for restful and refreshing slumber.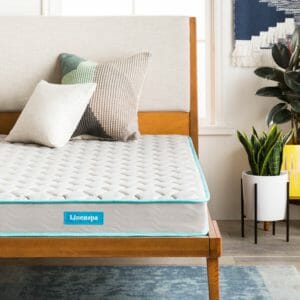 While it's important to note that some innerspring mattresses can be a nightmare to sleep upon, this streamlined twin from LinenSpa has the added perk of a quilted memory foam layer. Whether you love the look of a platform bed or just need a replacement mattress for an existing box frame, this model provides both support and the cradling comfort of memory foam without the bulky profile.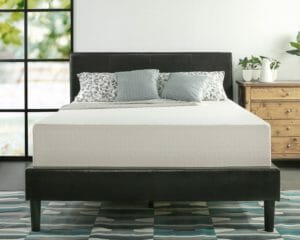 If you had to imagine a luxurious night's sleep, this mattress might figure into that image. It brings all the benefits of foam technology to the table. Wrapped in a quilted jacquard covering, 3.5 inches of ultra-stable support foam form a base, specially crafted to provide ventilation. Atop this, you'll find another layer of firm foam with ventilation. Then, 3 inches of comfort foam is topped with two inches of soft, supple memory foam. All of Zinus' foam is infused with the essence of naturally anti-microbial green tea, providing a long-lasting freshness to every night's sleep.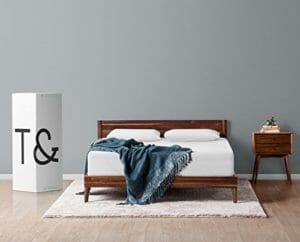 If mattresses were bespoke, they might look something like Tuft & Needle. Rather than relying on standards of existing memory foam, this model brings something new to the table—adaptive foam. It provides more bounce than its counterpart and is also infused with graphite and special cooling gel specifically intended to diffuse excess heat trapped by typical foam models. This unique layer rests atop a sturdy support foam base for restful and beneficial sleep.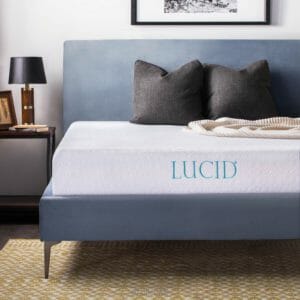 Atop a sturdy 7.5-inch base of densely constructed foam, the layer of gel-infused memory foam is designed to provide fresh, comforting slumber to all without sacrificing necessary firmness. It's also protected by a 25-year warranty and certified CertiPUR-US for premium performance. Wrapped in a breathable, specially designed cover for ventilation and maximum moisture wicking, this model provides a medium firmness that is ideal for comfortable rest and joint health.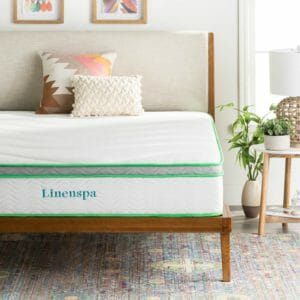 Latex, both natural and synthetic, has been proven to provide excellent support during slumber. It's also temperature neutral, which means a more refreshing night's rest than you might experience with other types of hybrids. LinenSpa designed this hybrid model specifically for individuals who crave the springy support of latex, but also want the traditional durability and comfort of a wrapped steel coil mattress.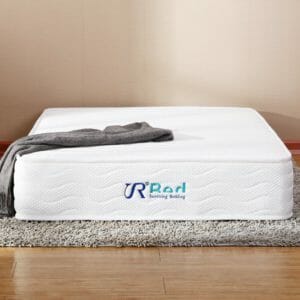 Latex is lauded for its supportive bounce, but it also brings added benefits to sleepers with allergies. It won't harbor dust mites or other indoor allergens. However, the added support of a traditional, individually wrapped steel coil base provides support and longevity to this model that will keep your nights restful and relaxed.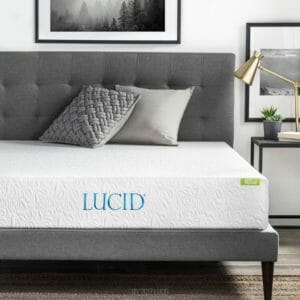 With a 25-year warranty, this LUCID model offers sleepers the firmness and support essential for healthy slumber. Situated atop a substantial base of resilient support foam, the latex layer provides you with a springy and supportive experience that's also hypoallergenic. Latex, whether natural or synthetic, is durable and will continue to offer a superior experience for the lifetime of the model. As with all their products, they encase the layers in a specially-designed woven jacket that ensures breathability and airflow while also adhering to the industry standard for fire safety.
Additional Reviews of Sleeping Products for Side Sleepers
Best Hybrid Mattresses For Side Sleepers
Best Mattress Toppers for Side Sleepers
Best Memory Foam Mattresses for Side Sleepers
Best Pillows for Side Sleepers