Ghostbed is one of the largest online mattress retailers. Started in 2015 as a division of Nature's Sleep, Ghostbed has grown to be one of the most beloved "mattress-in-a-box" companies alongside the likes of Casper, Leesa, and Purple.
Like all of the major "mattress-in-a-box" providers, Ghostbed has its own unique take high-tech mattress construction, as well as a number of standard high-end customer service and delivery components.
Click here to purchase Ghostbed on Amazon.
The Ghostbed Mattress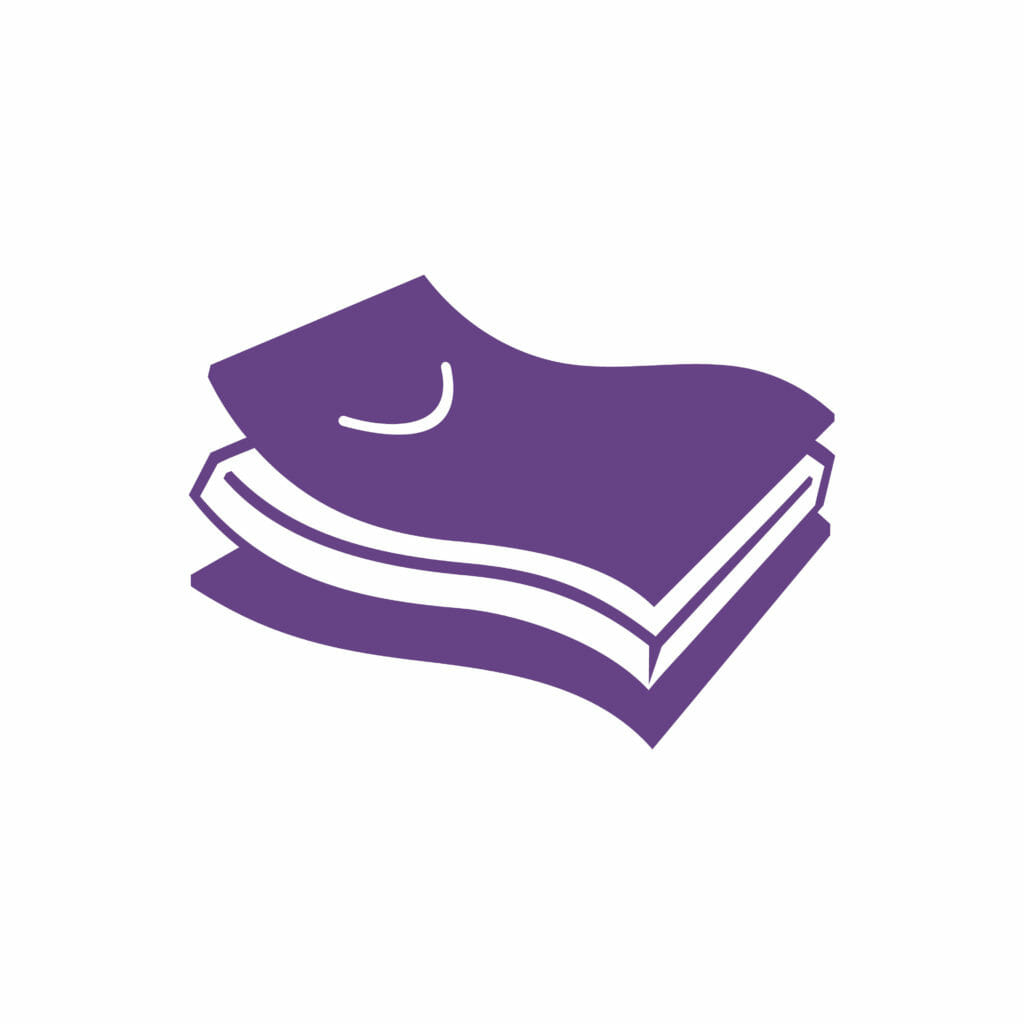 Ghostbed mattresses are created with a unique blend of gel memory foam and latex foam, and are noted for providing excellent pressure relief, temperature regulation, as well as "bounce." Most sleepers rate Ghostbeds at 6-7 out of 10 on the firmness scale.
Coupled with their unique comfort layer, this leaves Ghostbed as a great choice for a wide range of customers, whether they like firm or soft mattresses. As many reviewing customers note, a soft latex foam layer at the top is the first impression, followed by generous support for pressure relief below. In a sense this makes Ghostbeds both "soft and firm" though ever so slightly more firm overall.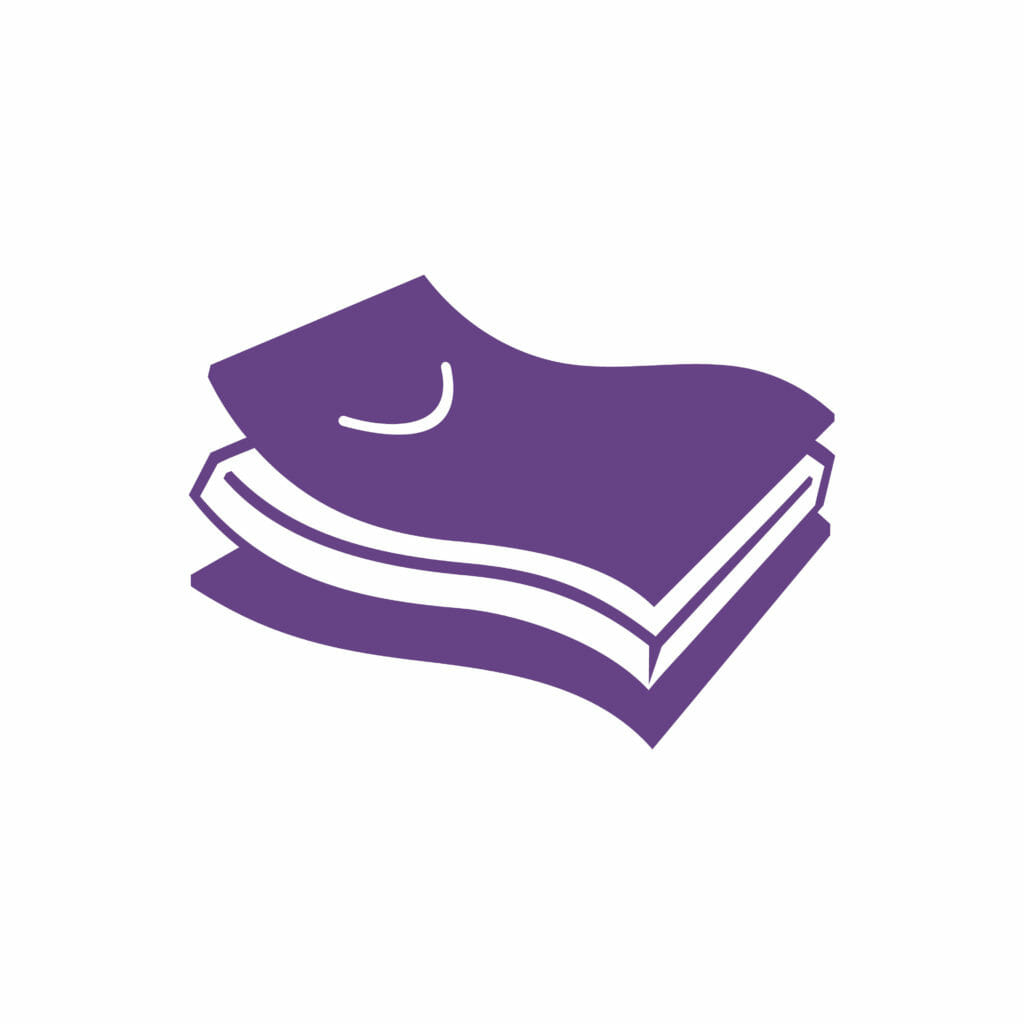 What began as the original Ghostbed mattress in 2015 has now expanded into an entire product line. The range of products all created with Ghostbed's unique design philosophy include the Ghostbed, the Ghostbed Luxe, mattress bases, pillows, sheets, and a range of sleep-related accessories.
Ghostbed's products present a unique opportunity for customers to gain a number of higher-end mattress features at a comparatively low price point, with the Queen-Sized Ghostbed selling at $895 and the higher-end Ghostbed Luxe selling for just $1,275.
This allows Ghostbed to not only occupy drastically lower price points than many traditional mattress makers, but to edge in at prices slightly lower than other "mattress-in-a-box" providers.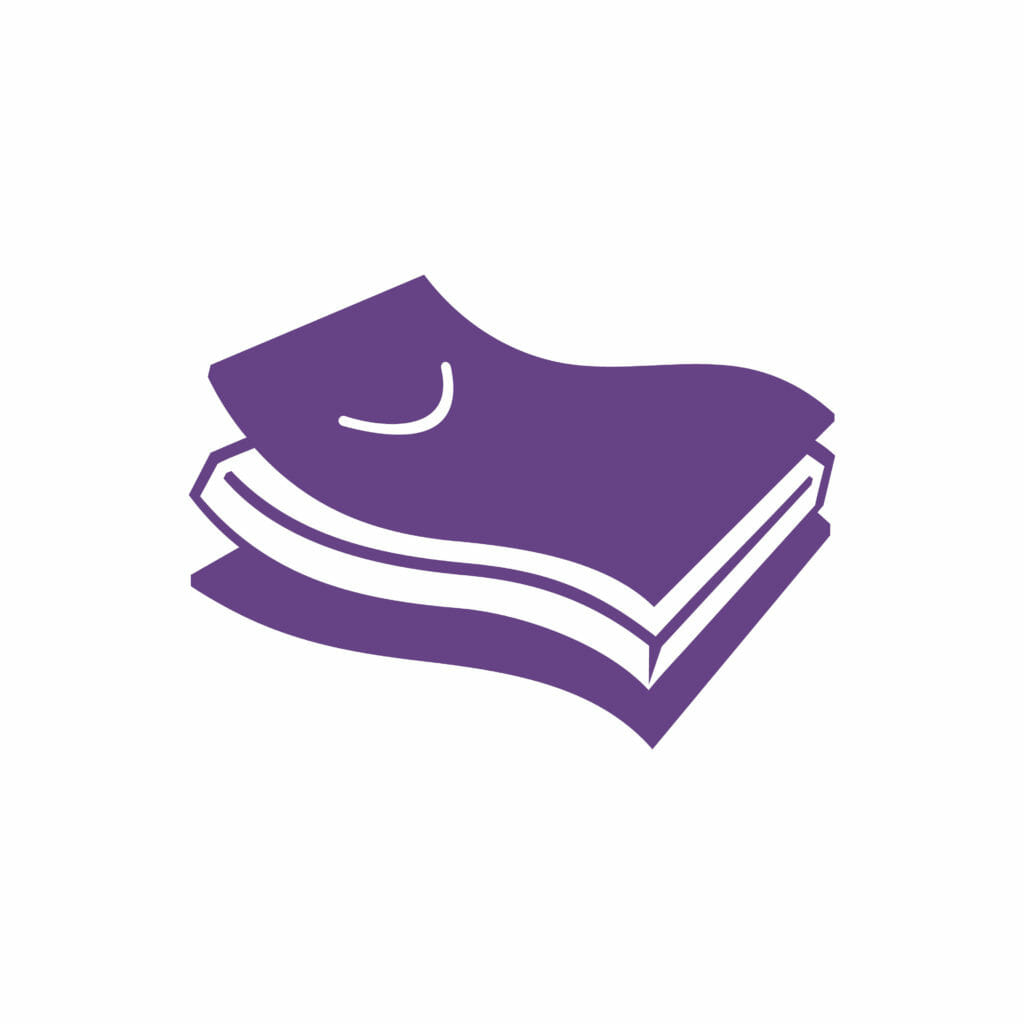 In addition to the product itself, Ghostbed's unique buying process will be a welcome surprise to many customers who have never utilized a "mattress-in-a-box" service. Generally "Mattress-in-a-box" services offer free shipping, an extended trial period, and free returns. Ghostbed is no exception.
Ghostbed provides free shipping of their products to your door, a risk-free 101 night trial, and free returns on un-damanged goods. To make getting your new mattress even easier, Ghostbed also provides opportunities for financing as well as the ability to pay for mattresses with Bitcoin.
The Good: The Best Ghostbed Reviews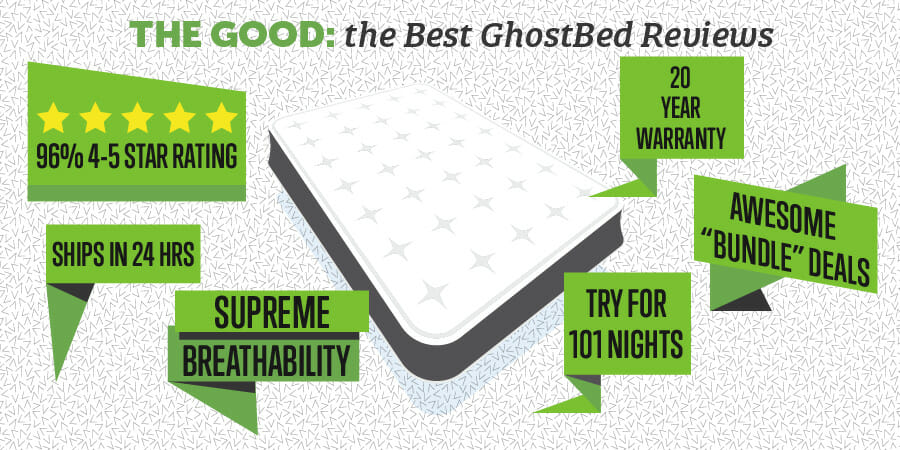 There have been over 13,000 positive reviews left by Ghostbed customers over the last three years. An astounding 86% of the reviews collected by Google Verified Shopper Reviews rated their Ghostbed product or experience with 5/5 stars.
96% of Google Verified Shopper Reviews responded with 4 or 5 out of 5 stars. We've collected some of the most common reviews relating to what makes Ghostbed appealing below.
What Customers Like About the Buying Process
Super fast shipping turnaround
Easy to Unpack and Set Up
"Bundle deals" occur regularly leading to more savings.
Free shipping in the contiguous United States.
Try out for 101 Nights.
Ghostbed mattresses are a great value for features, undercutting other "mattress-in-a-box" competitors.
Excellent customer service
What Customers Like About the Product
Great temperature regulation in Ghostbed and Ghostbed Luxe.
Compression layer allows for some "sinking in" for side sleepers.
Feels "soft and firm."
Covered by industry-leading 20-year warranty.
Industry-leading 101 risk-free trial.
Good motion transfer (you won't feel your partner moving on the bed much).
Solid edge support for a foam mattress.
100% designed and manufactured in the United States.
Matching, stylish foundation.
Many lovers of Ghostbed Pillows.
What Customers Like About the Sleeping Experience
Amazing temperature regulation (one of the coolest sleepers on the market).
Great for side sleepers.
Works for partners who like mattresses of different firmness levels.
Manages to be firm where needed, soft where needed.
Many customers noted obtaining better sleep from night one on Ghostbed.
Many customers with back injuries noted success using Ghostbed and mattresses.
The Bad: Minor Ghostbed Complaints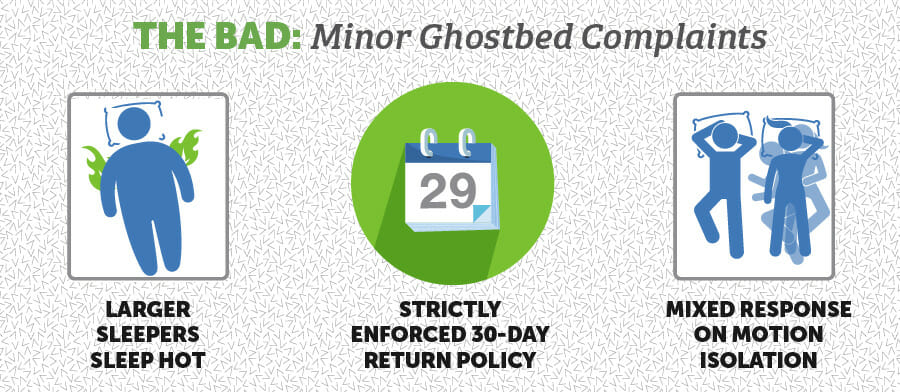 While Ghostbed has overwhelmingly positive reviews posted over three years, not every mattress is going to be right for every sleeper. And that's what we're trying to tease out here. Through combing through Ghostbed's 30,000+ reviews, we've found the most common minor complaints or sleeper types for whom Ghostbed mattresses don't work (or work, with a small caveat).
Additionally, we're looking at hiccups that occasionally occur in the shipping process, customer service, or problems with Ghostbed's product package. With that said, reviews marked three or below stars (out of five) are a very small minority of total reviews left for Ghostbed products.
A small percentage of reviewers noted it's hard to know if you like a mattress before trying it.
About 10% of users noted that they needed to add a topper due to the mattress being too firm.
Edge support lacking for larger sleepers.
Some users report about a two week "break in" time, longer than some mattresses.
The mattress is one sided, not allowing flipping for easy maintenance.
No handles or grips for moving the mattress.
Mixed user response on motion isolation.
Warranty information is misleading.
As a middle firmness mattress it is too soft and too hard for some sleepers.
Strictly enforced 30-day mandatory trial period (no returns before 30 days).
To receive full money back on returns you must deliver mattress to a charity or find one that will pick the mattress up.
The Ugly: Major Ghostbed Complaints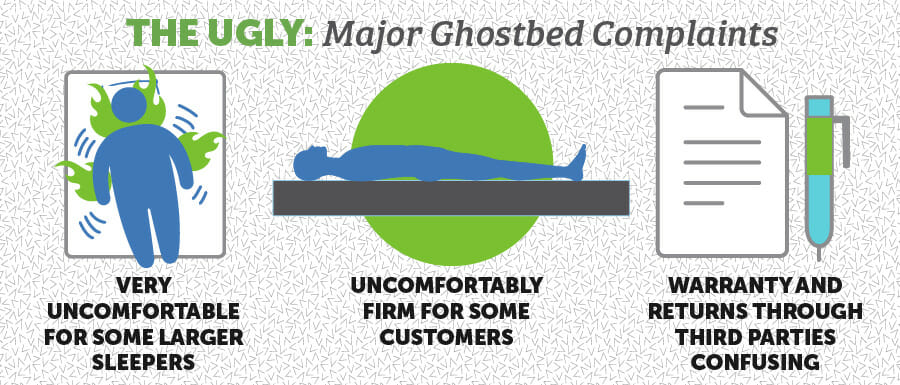 Around 3% of Google Verified Customer Reviews, and 23% of Amazon reviews for Ghostbed rated their Ghostbed or Ghostbed experience between one and two out of five stars. While not every mattress is going to be for every sleeper, it is noteworthy that not all "ugly" reviews are edge cases.
The largest groups of individuals citing significant problems with GhostBed include larger sleepers, those who sleep particularly hot, side sleepers, and those citing difficult conditions for returning the product.
Larger customers report heat regulation issues (sleeps hot).
Can be painful for those who like soft mattresses.
A small percentage of reviewers note there's no additional value compared to low end mattresses.
101 night return policy void when mattress is bought through Amazon or other third-party sellers.
Some reviewers report mattress absorbs heat throughout the day.
Very lacking in support for larger customers.
Costs money to return "free" pillows.
Some partners note motion transfer not adequate.
The Ghostbed Mattress Price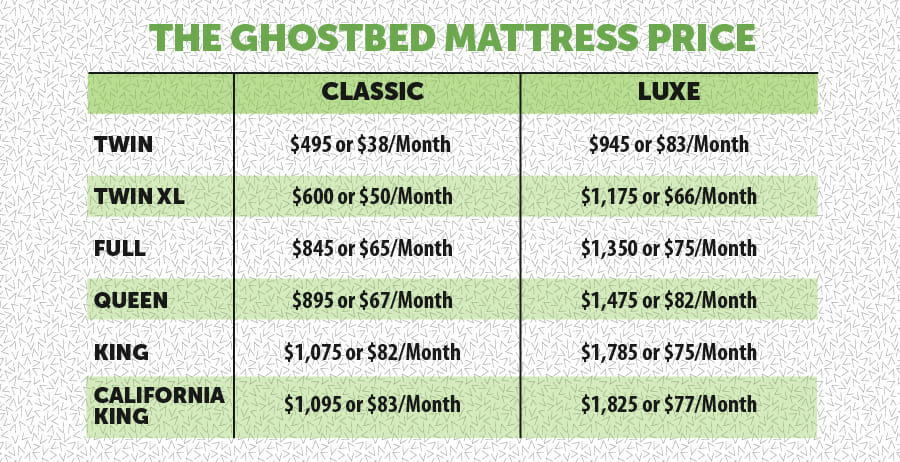 As with many "mattress-in-a-box" producers, Ghostbed began with one model, the Ghostbed. This original model came in at a price point slightly lower though in the same ballpark as other competing brands.
Over time, Ghostbed expanded their mattress lineup to include the Ghostbed Flex and the Ghostbed Luxe which occupies a higher price point, though lower than the high-end models of competitors. The primary differences between the Original Ghostbed and the Ghostbed Luxe may be seen in the proprietary GhostBed "Ice" layer on top of the Luxe, as well as GhostBed "Bounce" proprietary foam for the support layer in the Luxe.
In short, the Ghostbed and the Ghostbed Luxe are close to the same price point, though customers of the Luxe are buying a slightly more high-tech mattress. Both occupy price points solidly in the "middle tier" range of mattresses though hold many features of "top tier" mattresses. Ghostbed 3D Matrix, a slightly higher option, has a heat-transferring gel polymer layer for those that tend to sleep hot.
One additional element that must be included in the price of the mattress is how well it retains its value. Ghostbed has an industry-leading (among "mattress-in-a-box" companies) 20-year warranty, offers free shipping and free returns. This means that though you're going to shell out the cost of a mid-tier mattress, buying the mattress is pretty close to risk free.
Below, we've listed the prices for all Ghostbed mattress sizes as well as accessories. *All prices listed are the current sale prices ON the Ghostbed website and are subject to change. The links provided take you to the Ghostbed Official Store on Amazon where prices are subject to change as well.
Classic Ghostbed Prices
Ghostbed Flex Prices
Ghostbed Luxe (Memory Foam) Prices
Ghostbed 3D Matrix
Twin XL: $1,175
Queen: $1,946
King: $2,246
Cal King: $2,321
Split King: $2,625
Ghostbed also offers a range of complementary sleep-related products including their beloved pillows. Pricing and sizes for non-mattress products offered by Ghostbed may be found below.
Ghostbed 9 Inch All-in-One Foundation (Box Spring AND Foundation, does NOT include the mattress)
Adjustable Base Prices
9 Inch Foundation Prices
GhostPillow Prices
Ghostsheet Premium Prices
Ghostbed Mattress Protector Prices
Ghostbed T-Shirt
Small through X-Large: $23
Ghostbed Adjustable Base Remote
Ghostbed Adjustable Base Headboard Brackets
Ghostbed Adjustable Base 6″ Legs
The Value Proposition of a Ghostbed Mattress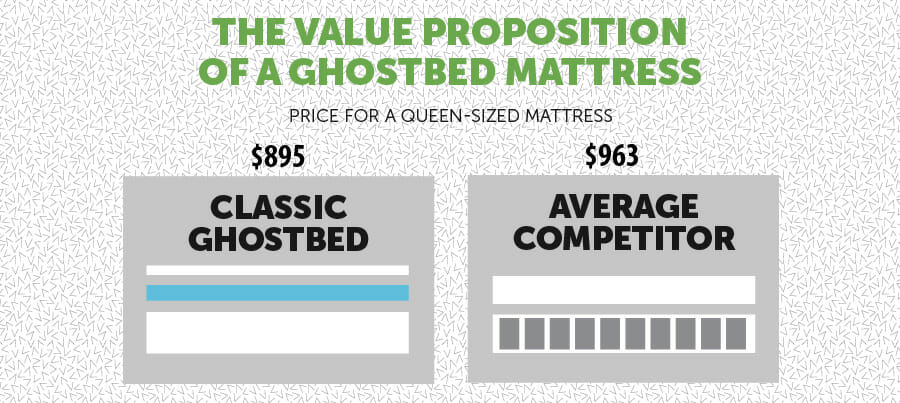 First and foremost one not only needs to look at whether Ghostbed mattresses are a good value, but rather, are they a good value for you? This will depend on many factors such as your price point, the amount of time you're willing to take to search for and try out mattresses, and most importantly what type of mattress you feel comfortable sleeping on.
With that said, Ghostbed mattresses have received overwhelmingly positive reviews. Furthermore, Ghostbed uses materials that many sleepers have already tried and occupies a firmness level that many users are comfortable with. Of course any mattress will have some users that find it uncomfortable, but it is safe to say that Ghostbed mattresses are a good fit for comfort of most users.
Value Proposition of the Original Ghostbed Mattress
The original Ghostbed mattress ranges from $495-$1,095, with the Queen-sized mattress coming in at $855. At this price, users customers should be aware that they're getting an American made, high-tech mattress known for it's good motion transfer, breathability, support, and plushness. Furthermore, customers are getting much lauded customer support, a 101-day trial period, free shipping, free returns, and an industry-leading 20-year warranty.
While many competitors offer comparable mattresses, Ghostbeds are particularly known for their support, warranty, and breathability. If those factors are particularly meaningful to you, then the original Ghostbed should easily stand up to comparable "mattress-in-a-box" makers as well as mid-tier mattress makers.
When looking strictly at pricing, Ghostbed excels even more. Compared to the $895 queen-sized Ghostbed, Purple, Casper, and Leesa mattresses of the same size come in at $150-$200 more expensive. Meanwhile, a traditional "mid-tier" mattress generally starts at around $1,200-$1,300 or approaching double the price of a Ghostbed. Keeping in mind these two comparisons and assuming the mattress is comfortable to you — we can confidently state that the Ghostbed is a strong contender in its class for best value.
Value Proposition of the Ghostbed Luxe
The Ghostbed Luxe ranges in price from $945-$1,825 with the queen-sized Luxe priced at $1,384. What one may first want to consider with the additional cost of a Luxe is, what exactly is one getting that's not in the original Ghostbed? Two proprietary layers imbue the Ghostbed Luxe with some high-tech specs.
First the Ghostbed "Ice" layer provides industry-leading cooling properties that are lauded in countless reviews. Secondly, the Ghostbed "Bounce" support layer is built from a proprietary foam that provides some give with a ton of support. Similarly to the original Ghostbed, the Luxe also provides the same customer support, 101-day trial period, free shipping, free returns, and an industry-leading 20-year warranty.
Undoubtably the Luxe provides some unique innovations not available in the original Ghostbed, but how does it stack up against other brands?
First, it's useful to note that some competing "mattress-in-a-box" brands offer a wider variety of choices in their mattresses. Where Ghostbed has two options, Purple has four, Casper has three, and traditional mattress makers generally have a great deal more than that.
Partially due to the price point (which is just barely into the mid-tier mattress range for traditional mattresses), we'll compare the Luxe to the middle tier of competitor mattresses. That places the Luxe competitively within the "mattress-in-a-box" space when looking at Leesa's Sapira ($1,495), The Purple 2 ($1,599), the Purple 3 ($2,199), or the Casper Wave ($1,995). Specifically, queen-sized Luxe mattresses are between $25 and $724 cheaper than immediately competing models.
The technological innovations in Luxe also lend it credibility as a potential "high end" mattress. Compared to this price, the Luxe is roughly half the price of competing models from traditional mattress makers. Particularly if you're into a trial period, quality customer service, and breathability is important to you, then Luxe is just as strong of a value as the original Ghostbed.
Value proposition of other Ghostbed products
Though there are many locations you can shop for sleep products to accompany your mattress, going with a brand you've already experienced the quality and customer service of can be a great weight off.
With Ghostbed's top of line logistics (quick delivery and pick ups), customer service, and focus on American manufactured products, Ghostbed sleep accessories are ahead of many competitors out of the gate.
Looking at the prices of Ghostbed accessories, Ghostbed sheets, foundation, pillows, and adjustable bases are noticeably more affordable than similar competitor products. Perhaps most notable is the price of the adjustable base when compared to competitors. At current prices adjustable bases for competing brands run between $1,000 and $3,000 (depending on the size of the base). Ghostbed's adjustable base comes in at $599-$1,199, meaning that the largest size of adjustable base is in line with the price of the smallest for competing brands.
With many of the same features, this makes Ghostbed adjustable bases one of the best values in their lineup. Additionally, Ghostbed's pillows are slightly more affordable than competitors and are often bundled for free with larger purchases. As one of the core tenets of their business, Ghostbed provides high quality goods and services that are available to wider audiences than many competing brands.
What Makes Ghostbed Mattresses Unique?

Ghostbed mattresses couple innovative "mattress-in-a-box" offerings like free delivery, pick-up, and great warranties with high-tech mattresses at a good price. But those perks aren't necessarily unique in the online mattress retailer space.
Don't get us wrong, those are all great perks, and may make Ghostbed unique compared to traditional box stores selling mattresses. But what really makes Ghostbed unique comes down to three elements: breathability, a high-tech mattress for a modest price, and a uniquely good warranty, customer service, and logistics.
For mattress seekers who sleep hot, breathability can be at the top of their list when looking for a mattress. And usually memory foam mattresses aren't the best for staying cool when you sleep. That's where the Ghostbed "Ice" layer of the Ghostbed Luxe mattress comes in.
The Luxe mattress employs a number of unique tactics to minimize heat on your sleeping surface. The first has to do with the fabric composing a number of layers in the mattress. Ghost Ice Fabric uses a proprietary Japanese technique through which cooling properties are engaged through the actual technique used to weave the yarn.
The second includes a 1/2″ of cooling fiber beneath the Ghost Ice Fabric. The third involves an inch of gel memory foam (known not to retain much heat) woven into the fabric.
The fourth involves integrating phase change technology into the construction of the mattress. This helps the mattress to grab heat and disperse it. Layered on top of unique "bounce" and "support" layers, the Luxe is as good as it gets for a highly cooling modern mattress.
A second element of Ghostbed mattresses that is unique is the price point. While you can get a "mid tier" mattress for a lower price, it's unlikely that it'll come with all of the perks of a "mattress-in-a-box" company and that it'll be packed with as many unique contemporary design strategies.
At $895 and $1,475 for queen models of the Ghostbed and Luxe, these models undercut most if not all comparable mattresses. Furthemore, Ghostbed nearly always has special offers available offering discounts on mattresses as well as free accessories like Ghostbed's beloved pillows. For the many mattress shoppers that care about cost, Ghostbed is a solid contender within the space.
A final element distinguishing Ghostbed from competitors is the brand's uniquely strong warranty, customer service, and logistics. Where competitors can take close to a week to ship your order, Ghostbed is known for getting your shipment rolling within 24 hours. Their warranty lasts for 20 years, which far outstrips other online mattress retailers. And their customer service is known for being responsive and easy to deal with.
Ghostbed seems to know that buying a mattress is stressful, and to take as much stress and hassle out of that process as possible. This is a definite differentiator in a space where many consumers have bad dealings with mattress companies. One final note on Ghostbed's warranty and customer service is that these elements may differ if you buy their mattresses through third parties. Make sure to check or just buy through Ghostbed itself.
The Ghostbed Brand

Though only three years old, Ghostbed was founded by a longtime entrepreneurial family and has carried those lessons into their brand today. Founder Adam Werner's family has run one of the most popular ladder manufacturing companies in the world for over 100 years.
In 2001, Werner had three neck surgeries and couldn't get a decent night's rest. Determined to fix his own problem (and that of many others), he brought a commitment to American manufacturing and super high quality goods to his first mattress company, Nature's Sleep. Fast forward to 2015 and Ghostbed was born as a subsidiary to Nature's Sleep. Ghostbed's aim was to disrupt the mattress buying process as much as the mattress making process.
Three years in and Ghostbed has differentiated their brand on a number of counts. First, their commitment to making their product available for a wider audience than many other competitors. Second, their commitment to quality manufacturing. And third, through their commitment to state of the art mattress making techniques.
Ghostbed established the first pillar of their brand nice and early. Within their first year of doing business, they had partnered with a number of financing companies. This enabled potential customers to become approved for financing instantly online. Furthermore, strategic partnerships allowed Ghostbed to partner with firms that enabled financing for potential customers with lower credit scores.
Ghostbed is also known as one of the most affordable of the "mattress-in-a-box" companies, particularly among those sporting innovative mattresses. The focus on opening up financing and affordable prices has led Ghostbed to establish themselves as one of the most accessible online mattress companies.
Quality manufacturing and innovation have also been a staple of the Ghostbed brand since day one. And while the Original Ghostbed was noted for its quality construction and 20-year warranty, Ghostbed has built on this legacy with even more impressive offerings since.
The Ghostbed Luxe has earned the title of one of the coolest sleeping mattresses available today, and for a fraction of the cost of high-end mattresses. Through the use of a number of innovative cooling technologies as well as other comfort enhancing features, Ghostbed has continued their charge into the obtainable, souped up mattress space.
History of Ghostbed
Ghostbed was founded in 2015 around the time of many of the "mattress-in-a-box" mainstays. Since then they have expanded their offerings to a full sleep line up and lined up one of the most impressive arrays of happy sleeper reviews of any online mattress retailer.
From day one, Ghostbed has focused on solving specific problems that affect many, many sleepers with business and technology acumen. Their compelling story begins with the Werner family and CEO Marc Werner. With a family of innovators and three neck surgeries behind him, Marc Werner decided he should make a pillow and mattress that worked for him.
Starting in 2001, Werner founded Nature's Sleep to make a mattress and pillow he would like to sleep on. Werner has mentioned this experience in mattresses was invaluable for starting Ghostbed, and allowed the brand to quickly latch on to what was most important: quality. Fast forward 14 years — and through the maturation of e-commerce — and Werner was ready to tackle another issue: how to make not only sleep, but the process of mattress shopping pleasant. Thus Ghostbed was born.
Utilizing high-quality all-American manufacturing, a 20-year warranty, and a 101-night trial period, Ghostbed was an immediate show out in the space. Early moves to partner with Affirm, Klarna, and Zibby helped to open up financing offers for customers, and then to expand their potential buyer base further by offering financing to those with low credit.
A prominent ad presence through Wrappify (ad space on cars in urban markets), among other ad campaigns (and a sharp web presence) helped to solidify Ghostbed's place among the preeminent online mattress retailers.
With the arrival of the Ghostbed Luxe, Ghostbed began to provide some particularly unique technological innovations in their already innovative delivery. Through the use of multiple techniques and proprietary mattress technologies, Luxe has been able to claim the title of "the coolest mattress in America." And for the many sleepers who deal with overheating at night, a quality show out and a top-notch value has been born.
With a full product lineup backed by extended warranties, quality customer service, and contemporary sleep solutions, we can't wait to see what Ghostbed comes out with next.
Ghostbed Mattress Options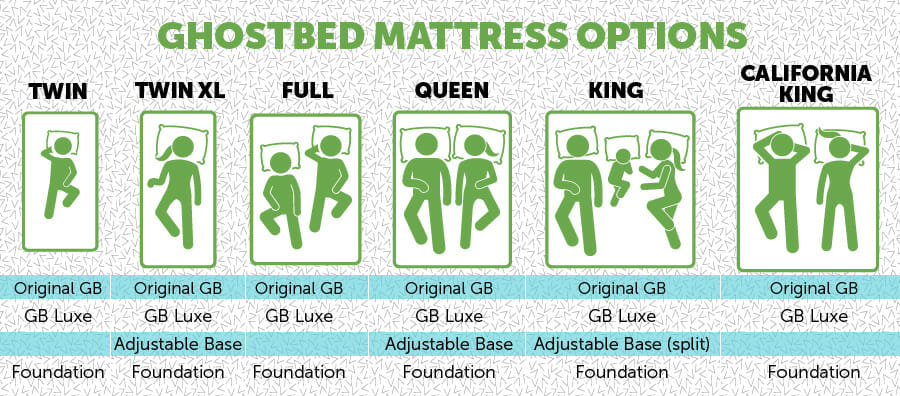 While Ghostbed doesn't offer as many products as a traditional mattress maker, there are plenty of innovative offerings to choose from to fill out your sleep product lineup. Below are the size, weight, and configurations of Ghostbed's main product lines.
Original Ghostbed
Twin: 38" x 75" 58 lbs
Twin XL: 38" x 80" 62 lbs
Full: 54" x 75" 78 lbs
Queen: 60" x 80" 89 lbs
King: 76" x 80" 112 lbs
Cal King: 72" x 84" 112 lbs
Ghostbed Luxe
Twin: 38″ x 75″ x 13″ 76 lbs
Twin XL: 38″ x 80″ 81 lbs
Full: 54″ x 75″ 100 lbs
Queen: 60″ x 80″ 122 lbs
King: 76″ x 80″ 150 lbs
Cal King: 72″ x 84″ 149 lbs
Ghostbed Adjustable Base
Twin XL: 38″ x 80″ x 15″ 122 lbs
Queen: 60″ x 80″ x 15″ 145 lbs
King Split: 76″ x 80″ x 15″ 244 lbs
Ghostbed Foundation
Twin: 38" x 75" x 9″
Twin XL: 38" x 80" x 9″
Full: 54" x 75" x 9″
Queen: 60" x 80" x 9″
King: 76" x 80" x 9″
Cal King: 72" x 84" x 9″
Ghostbed Pillows
16″ x 24″ x 5.5″ 2.86 lbs
Ghostbed Sheets
Sizes:
Twin
Twin XL
Full
Queen
King
Split King
Colors:
Ghostbed Mattress Protectors
Twin
Twin XL
Full
Queen
King
Cal King
Ghostbed Mattress Accessories

As Ghostbed has grown in popularity, so too have their offerings. What started with a pillow and the Original Ghostbed now spread across an entire line of sleep products. While not every bedroom will need the entire range of sleep accessories, interested sleepers can rest assured that all of Ghostbed's collection of goods are created with the same commitment to quality, American manufacturing, and amazing customer service. Check out some of Ghostbed's mattress accessories below:
The Ghostbed Adjustable Base
The Ghostbed Adjustable Base was created with the same commitment to solid manufacturing, affordability, and utility that the entire Ghostbed brand embraces. Innovations present in the adjustable base include unlimited ergonomic positions through fully adjustable head and foot portions of the base, silent massage technology (so as not to wake up your partner), under-bed LED lighting, built-in USB ports, a number of preset positions, and the ability to set positions on a timer.
For those wanting even more adjustability, a split king adjustable base is obtainable by linking two twin adjustable bases. A preset zero-gravity position helps to aid in circulation, breathing, and musculoskeletal health. Additionally, the Adjustable Base ships just as quickly as Ghostbed mattresses, arriving at your door within a few days. An extended warranty may be purchased.
Ghostbed Foundation
The Ghostbed Foundation is a standard, well-built, and affordable base solution for Ghostbed mattresses. At 9″ tall, the base is unobtrusive and allows for the creation of an unobtrusive, modern mattress space. Assembly only requires 10-15 minutes and the foundation is built entirely out of wood to ensure stability and longevity. An industry-leading three year warranty is available on the foundation. And perhaps best of all, the Ghostbed Foundation is very affordable with prices ranging from $175-$275 depending on mattress size.
Ghostbed's Ghostpillow
Utilizing many of the same cooling technologies used in their mattresses, Ghostbed's Ghostpillow may be the most beloved item in their catalog. Patent pending Airflow technology is said to provide a blast of cool air as soon as you lay your head on the pillow. Additionally, wicking technology pulls moisture away from you throughout the night. That's not to mention the level of support and comfort provided.
Perhaps best of all, Ghostbed believes in the longevity of their pillow with an industry-leading 5 year warranty (on a pillow!). Like their mattresses, feel free to try out your Ghostpillow for 101 days before making a decision. And Ghostbed regularly runs special deals providing pillows for free with other larger purchases.
Discounts, Deals and Coupons

There are definite benefits from buying Ghostbed products directly from Ghostbed. Not least of which is access to their very generous warranty as well as logistics for quick shipping. For this reason, potentially the best deals offered on Ghostbed products come through Ghostbed itself. Ghostbed provides regular "bundle" deals and provides ways to both obtain "freebies" with a mattress purchase, and/or obtain your mattress for less. At the time of this writing, Ghostbed has a number of deals available.
Current Deals on Ghostbed.com
The Original Ghostbed Mattress is $50-$100 off (depending on mattress size) and comes with two free pillows.
The Ghostbed Luxe is $50-$200 off (depending on mattress size) and comes with two free pillows.
The Luxe Mattress + a Adjustable Base is $400 off.
The Classic Mattress + a Adjustable Base is $350 off.
The Classic Mattress + the Foundation is $300 off.
Additional Coupons or Discounts on Ghostbed Products
Where to Buy a Ghostbed Mattress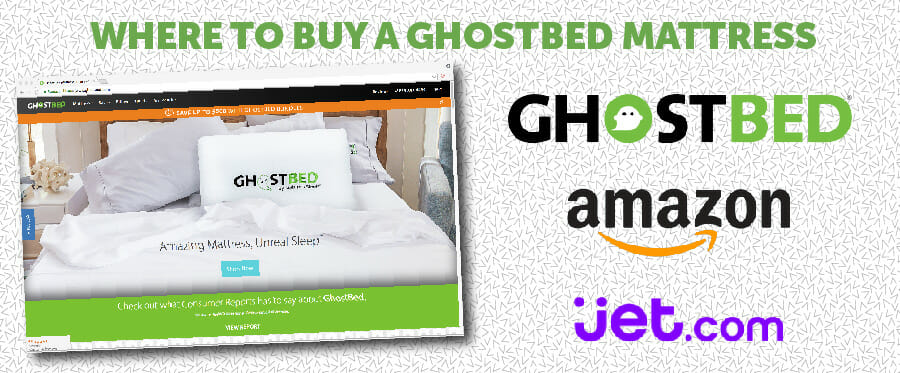 Similarly to other "mattress-in-a-box" companies, Ghostbeds are only available for purchase online. All Ghostbed products are available at Ghostbed.com as well as third-party sellers like Amazon.com and Jet.com. While third-party sellers may offer unique perks such as rewards programs, the ability to use gift cards, or unique financing options, buyers should know that buying from a third party may alter return policies or warranties. As Ghostbed's 101-night trial and 20 year warranty are two of their largest differentiating factors, mattress shoppers will want to make sure to read the fine print before buying from locations other than Ghostbed. With that said — particularly if you know you already love Ghostbed products, or the warranty is not incredibly important to you — there can be benefits from buying through third-party sellers.