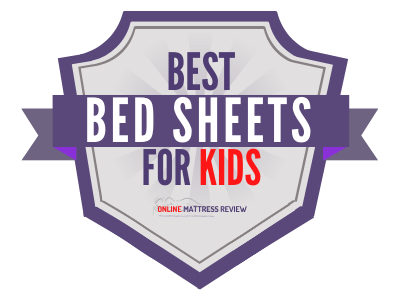 In considering the best bed sheets for kids, a comfortable set of sheets is essential for a good night's sleep – for children, as well as, adults.
Though they may not be able to express just what they want in their bedding, kids wish for many of the same qualities that adults do.
Ideally, kids bedding sets should be soft and comfortable without being slippery or making them feel stuck in one sleeping position.
Light and breathable fabrics are great, especially in the warmer months, for kids who often sleep hot. Otherwise, your child will likely wake up sweaty and uncomfortable in the middle of the night – and will probably wake you up, too.
Every parent wants nothing but sweet dreams for their children!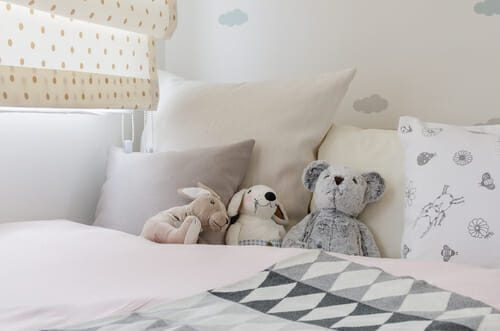 Of course, there are other factors that matter to kids that adults might not care about quite as much. While not a "must," fun patterns and designs in kids bedding that incorporate bright colors and kid-friendly themes can make bedtime and naptime a lot more fun for children.
Many kids have sensitive skin, so it's often a good idea to search for bedding sets that avoid harsh chemicals and allergens.
Selecting the best bedding for your child requires you to weigh many different factors:
Does the sheet set have added safety features like hypoallergenic materials essential for kids bedding?
Is it comfortable, with the right amount of softness, silkiness and breathability?
Will the sheets tear the first time the kids horseplay around it, or will it last wash after wash?
Many parents pay attention to the quality of the materials, including whether the sheet is made of 100 percent cotton or polyester or if there are lower-quality "filler" materials in the fabric. The quality also affects how durable the bedding will be.
Finally, consider practical points like how much you're willing to spend on your kids' bedding and the availability of the sheet in the color, print and size you need from the retailers you trust.
---
Best Kids' Bedding and Sheet Sets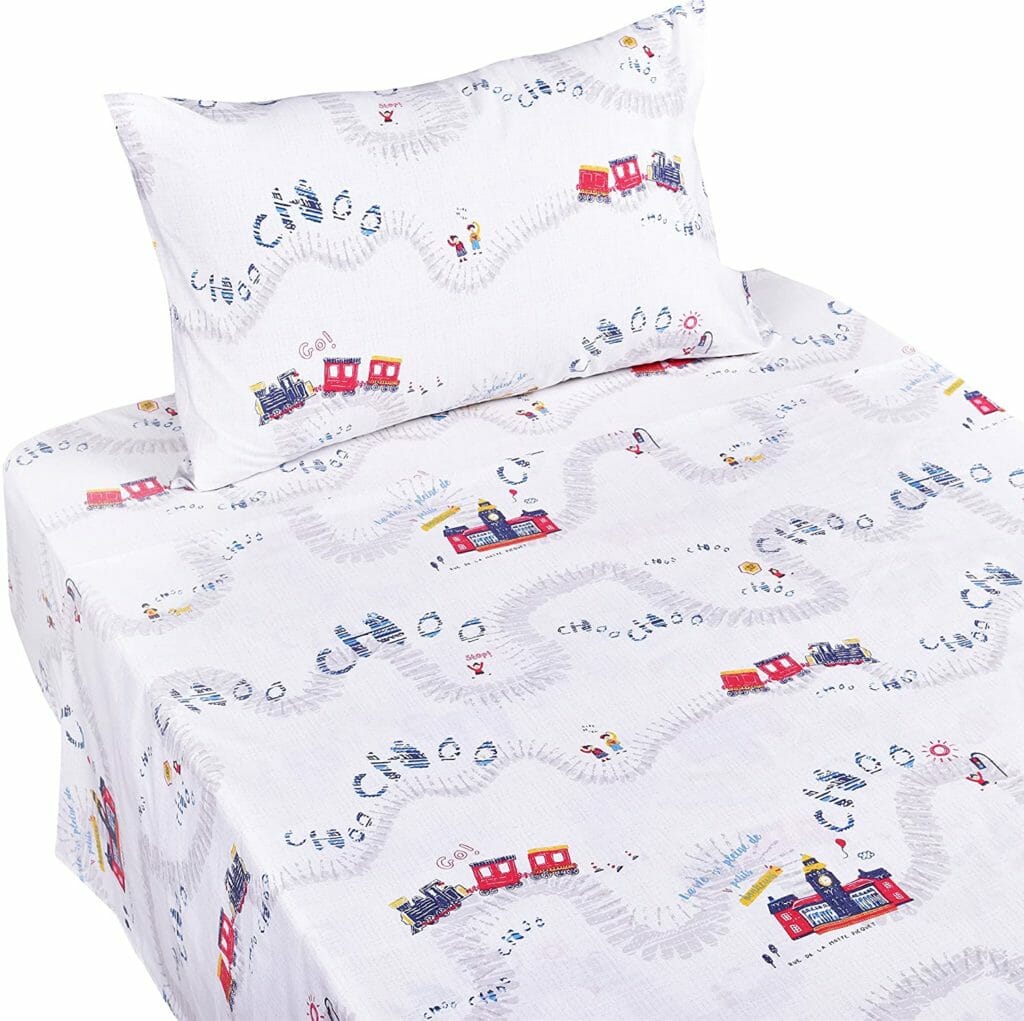 When it comes to selecting the best kids bedding sets, the J-Pinno Twin Sheet Set for Kids is hard to beat. Affordable, fun and made of safe, high-quality materials, this bed sheet set has it all – and praise from dozens of customers to prove it.
This 3-piece set includes a 210 thread count fitted sheet, flat sheet and pillowcase in a variety of bright cartoon prints. Among the 20+ designs, you will find classic and popular looks for traditional boy rooms and girl rooms or for a mixed or gender-neutral bedroom.
Product safety and quality are paramount, but the bedding doesn't skimp on comfort, either, with buyers calling the fabric "super soft." This sheet set for kids also features whimsical prints!
Strengths We Love
It's no mystery what's in these super soft sheets: 100 percent high-quality cotton, hypoallergenic and free of harmful chemicals like formaldehyde.
The lightweight and breathable cotton fabric are ideal for kids who sleep hot – and it may even allow them a better and longer night's sleep when they don't get overheated.
For easy cleaning, the bedding set is meant to be machine washed and dried and is shrink-resistant.
The sheet sets come in 22 fun designs ranging from boats and trains to zoo animals, unicorns, cupcakes, and star constellations.
The vibrant colors of the prints are fade-resistant to keep your kid's favorite new sheets looking just as bright as when they were brand new – wash after wash after wash.
Things to Consider
A few buyers say that the bedsheets are shorter than they expected them to be. The fitted sheet can be difficult to stretch over the corners of a six-inch thick mattress while the flat sheet isn't long enough for tucking under it. This means both bedsheets can slightly come loose when in use, particularly with children who frequently change position in their sleep.
A couple of reviewers assert that the bedsheets are thinner and stiffer for their liking, but this a rare observation. (Perhaps, a matter of personal preference, too)
OMR ADVANTAGE SCORE: 9.5/10
---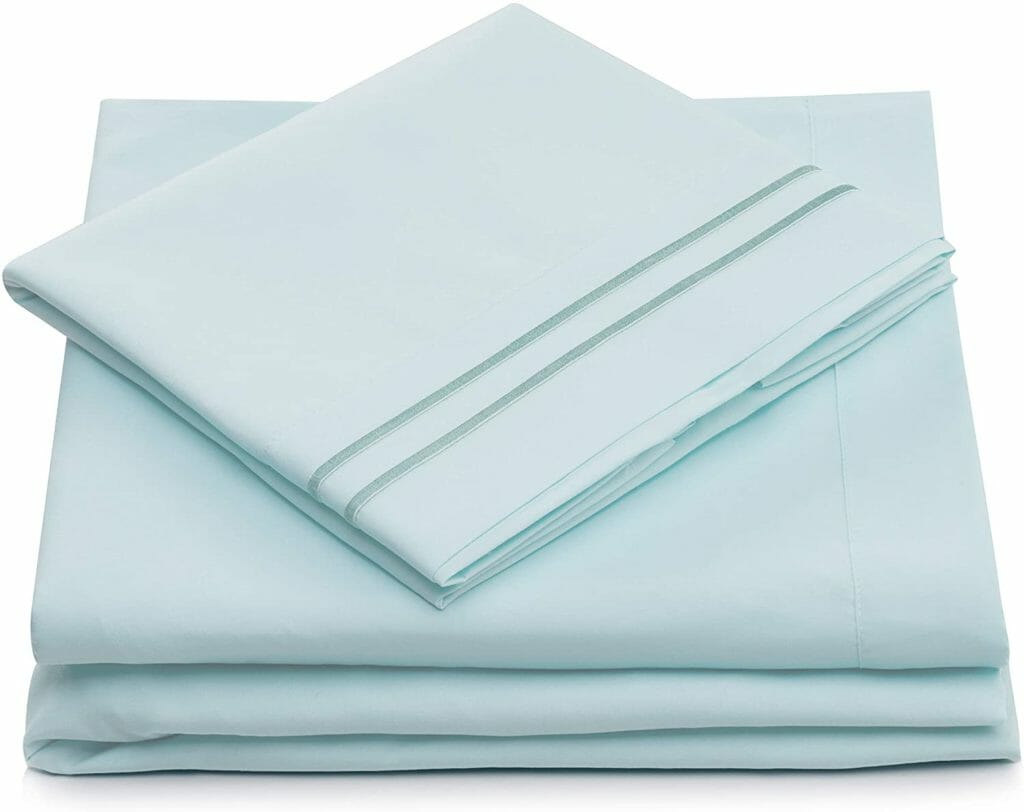 These wildly popular Cosy House Collection Twin Size Bed Sheets aren't designed exclusively for kids, but don't let the lack of cartoony prints fool you. Parents rave about the comfort and durability of this regular 3-piece set.
The premium microfiber fabric can stand up to childhood messes and horseplay along with the best of them. If you worry that your little one can do some bigtime damage to the bedding, let the included Lifetime Warranty ease your mind.
The sheets come in such an extensive rainbow of vivid shades that your child's favorite color is sure to be an option. Buyers expressed that first night sleeping in the new sheets was "their best night of sleep in years." What parent doesn't want that blissful sleep experience for their child – and, for that matter, for themselves, too?
Strengths We Love
The ultra-tight knit premium double-brushed microfiber is at once stronger than cotton and softer than silk for a comfortable feel without sacrificing durability. In fact, although microfiber linens aren't described by thread count, this sheet set is as soft as a 1500 thread count set of cotton sheets.
The fabric is luxurious enough to please all ages, but its super soft feel and durability make it ideal for kids.
Buyers report that the microfiber fabric is more breathable and lightweight than cotton, which makes it a perfect choice if your child tends to sleep hot.
The hypoallergenic and dust mite-resistant features of this sheet set protect your child's health from common allergens like pollen and dust.
The twin size comes in 27 vibrant colors to appeal to kids and grownups alike.
With 7 size options available all the way up to California King, this bedding set is an option even if your child happens to sleep in a larger bed – or if you decide you want a set for yourself.
Thanks to the extra deep design of the pockets, the bottom sheet can accommodate mattresses as large as 16 inches thick.
For easy cleaning, the stain-resistant, fade-resistant, bleed-resistant and wrinkle-resistant sheet set is meant to be machine washed and dried, with a faster drying time so you can finish the laundry and get on with your day quicker.
At a price point of just $36 for twin bedding sets, these highly praised sheets are surprisingly affordable. Amazon offers them with free shipping via Prime.
If you encounter a problem, the very responsive seller stands behind the product with a Lifetime Warranty.
Things to Consider:
The bedsheets may be too lightweight for some buyers, but it's the exception to the rule instead of the norm where reviewers are concerned. The lightweight quality also seems to work for buyers who want bedsheets that don't feel too heavy or too warm during warm nights.
There may be small stains on both the flat and bottom sheet as soon as these are opened from the box. Again, this issue seems to be the exception to the rule, not to mention that the spots are small and in inconspicuous parts, such as the in the corners and outer edges. (This issue may have been due to poor handling and shipping)
The bedsheets have minor stitching issues, such a sloppy stitching in the hem, loose and large stitching in the corners, and loose threads in some places.
OMR ADVANTAGE SCORE: 9/10
---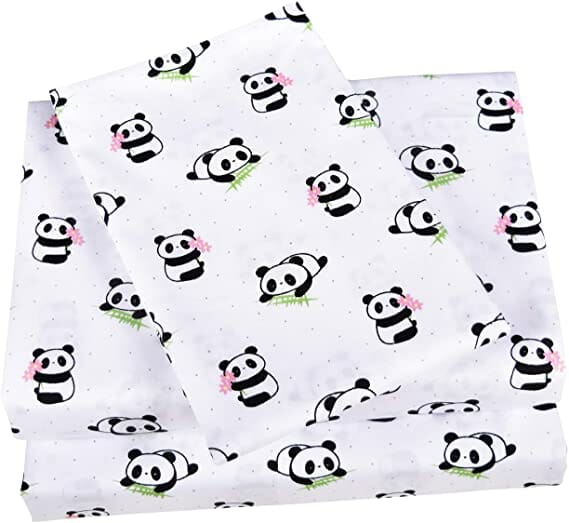 If anyone is anxious to know the science behind a great night's sleep, its tired parents who, some days, are counting down the hours until their little ones' bedtime. Scientific Sleep manufacturers popular twin bed sheet sets in both 100 percent cotton and 100 percent microfiber polyester, so you can choose the material your child likes best.
With 10 fun design options in the cotton variety and 7 in the microfiber variety, you're sure to find a print that fits your kid's interests and personality. The polyester sheets are slightly cheaper than the cotton ones, but both have received glowing praise from customers for being soft enough for the tender, sensitive skin of young children.
Strengths We Love
Whether your child prefers the feel of cotton or microfiber, you can trust that the sheets are high-quality and made of 100 percent of your chosen fabric.
Both materials are hypoallergenic and free of harmful chemicals and synthetic materials to keep your little one healthy and safe.
The polyester microfiber sheet set is antibacterial and anti-mite as well as anti-allergy.
Whether you get cotton or microfiber for your child's bed, you can count on these sheets to be breathable enough for cool sleeping.
The polyester microfiber fabric is manufactured using a special Water Washed Process that increases breathability and softness.
Although many fitted sheets have elastic only on the corners, this sheet includes a band of elastic all the way around the length of the sheet for a better fit on your mattress.
The cotton sheets have the added bonus of being environmentally-friendly and 100 percent degradable.
For easy cleaning, the fade-resistant fabric can be machine washed and dried.
The polyester sheets are available in full size as well as twin.
Things to Consider:
The colors may slightly fade and the feel of the fabric may change after more than a dozen washings, but this is normal for the fabrics used. We suggest using mild detergent to ensure that the prints maintain their bright colors for a longer period.
The hems may not be as wide as expected, which can be problematic when it's used for a thicker mattress or a mattress with a topper.
OMR ADVANTAGE SCORE: 9/10
---
HONORABLE MENTIONS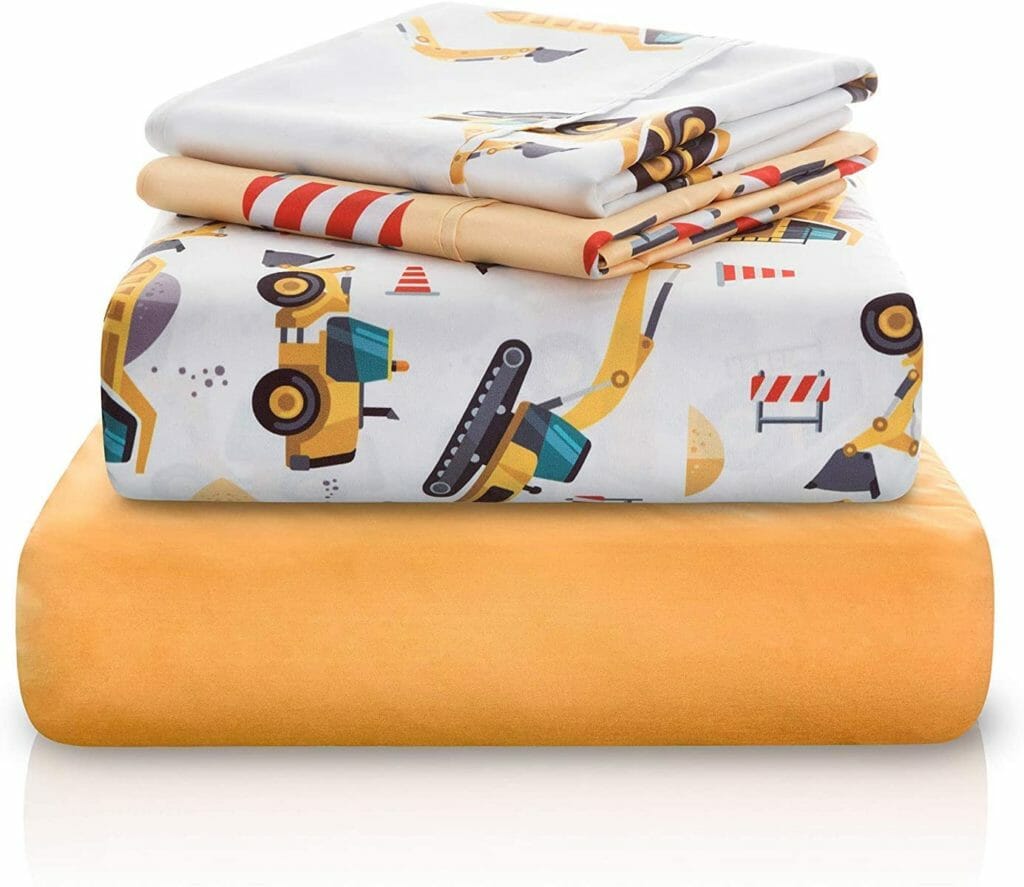 Bed sheets so comfy that kids ask to take a nap – is such a thing really possible? That's what real parents are saying about the Chital 4Pc Twin Linen Sheet Set. It's difficult to pinpoint just what about this sheet set appeals to children so much. They love the super soft feel of 100 percent microfiber.
However, they also love the fun prints that range from traditionally girly, with hearts and butterflies, to traditionally masculine, like dump trucks, along with plenty of great gender-neutral options like clouds, penguins, dolphins, cats, elephants and emojis. We can't promise that if you buy these sheets, your kids will start begging to go to bed early – but hey, it's worth a shot.
---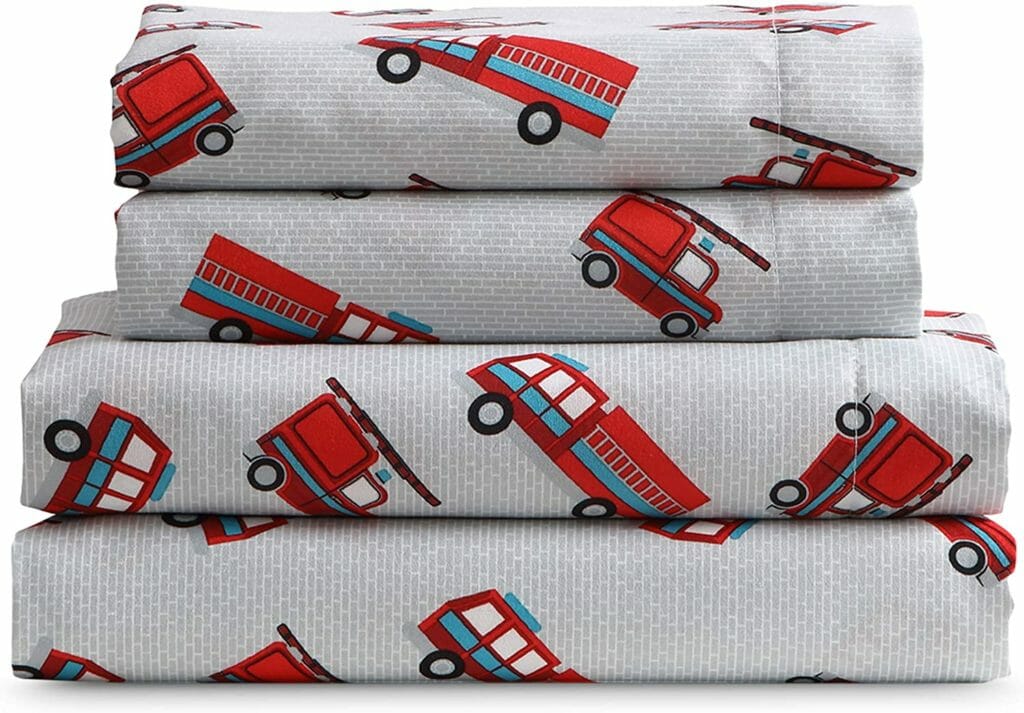 Which fabric do you choose when you want to give your kids the very best? For the breathability of polyester microfiber but the softness of 500-thread count cotton, check out Kute Kids Twin Super Soft Sheet Sets. The 100 percent polyester microfiber is equivalent to the soft feel of high thread count cotton, but far more breathable to keep your child cool throughout the night.
The sheet sets come in so many fun designs – ranging from polka dots and flowers to owls, racecars and fire trucks – that it's hard to choose just one design. At this affordable price, why not pick up a couple of your favorite prints?
---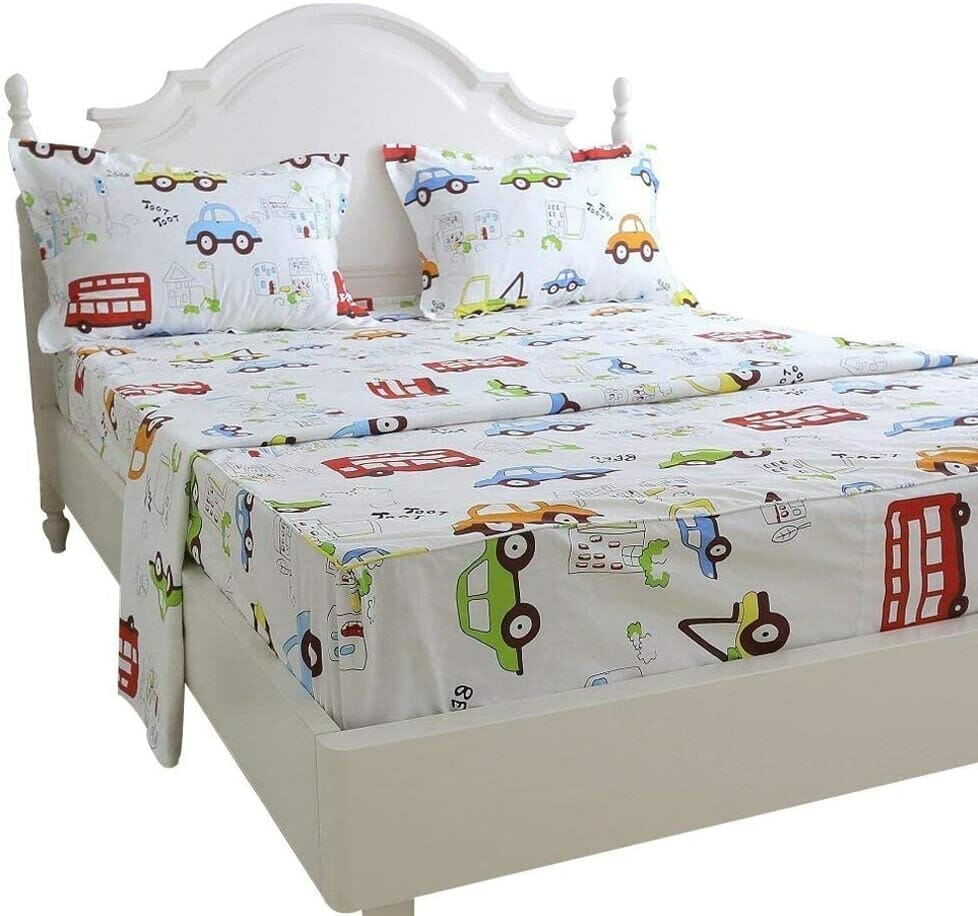 If you're willing to splurge a little – after all, your child (hopefully) spends 8 or more hours a night in his or her bed – then Brandream Kids Printed Cotton Sheet Sets might appeal to you. These higher-end sheets cost two to three (or more) times most of the other entries on our top 10 Best Bed Sheets for Kids list, but they're also ideally soft and safe for little ones, with a high thread count.
The fitted, bottom sheet, with extra deep pockets and plenty of elastic, will stay in place even on very thick mattresses. Make a statement with the colorful cartoon designs of the sheets and the matching accessories available.
---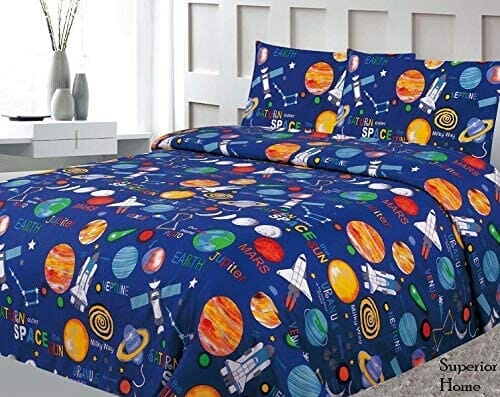 This kids collection from Sapphire Home 3-Piece Twin Size Print Sheet Sets aren't only one of the best kids' bed sheets, they're also the best value.
Kids love the fun, vibrant prints and designs on the soft polyester fabric, and parents love that their children are happy. They may not be fancy, but these sheets will keep your child comfy and cozy – and really, what more could you need from a sheet set?
This collection features whimsical prints and Amazon offers them with free shipping via Prime!
---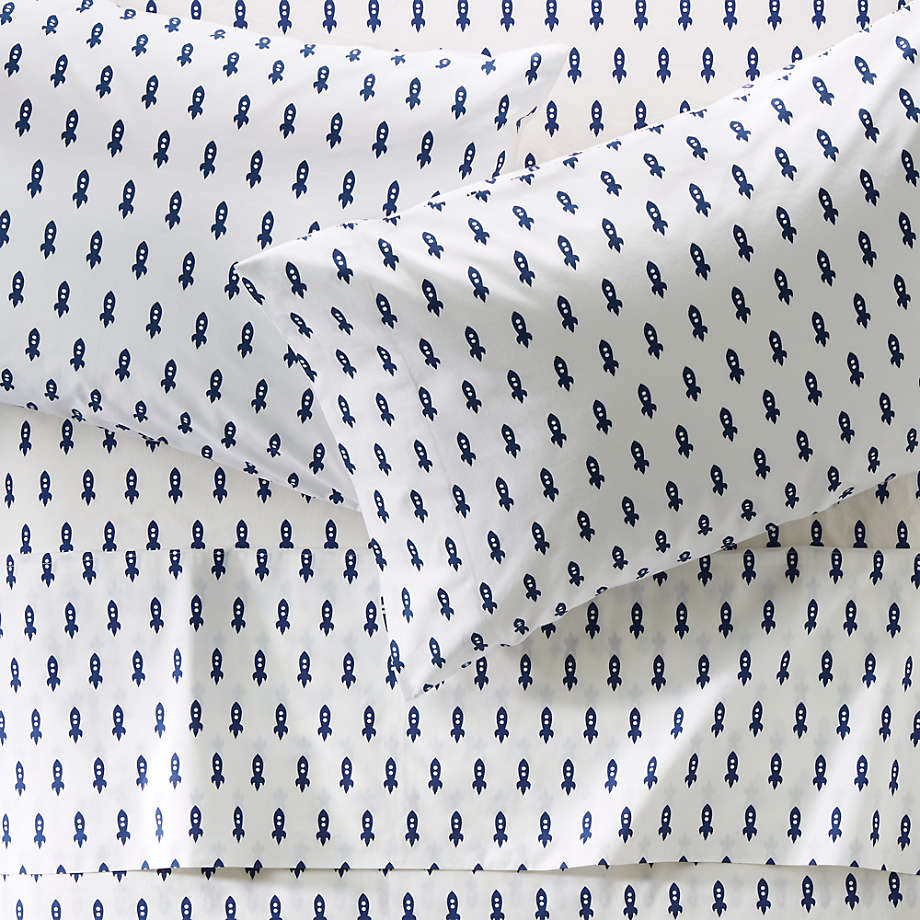 If you're not opposed to paying a little bit more for the very best quality, shift your search destination to Crate & Barrel. The company's line of crib and kids' sheets exclusively uses 100 percent organic cotton, with no synthetic additives.
Crate & Barrel Kids Organic Cotton Sheet Sets come in dozens of vibrant and adorable designs that kids and adults alike will love. Durable and designed to withstand kids' messes and harsh treatment (build a fort, anyone?), these bedding sets may be expensive, but they're made to last.
---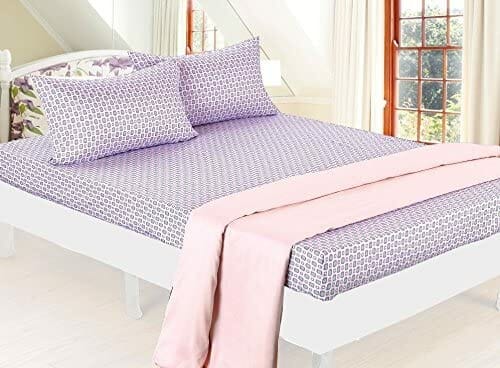 If you're looking for something that's a little bit different, perhaps for a tween or teen, Clara Clark Bed Sheet Coordinating Sets could be just what you're seeking. The designs are a little more mature – no cartoon dinosaurs here – but still amusingly colorful, with flat sheets that coordinate with the print, rather than matching exactly.
Premium microfiber is double-brushed to give it a softer, silkier feel. Extra deep pockets allow the fitted sheet to work with thick mattresses that provide more support to the not-so-little frames of older children. These sheets are durable, breathable, and perfectly priced.
---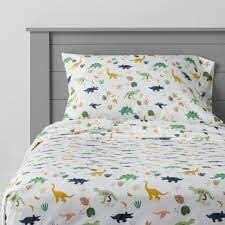 If you're looking for the best variety of charming designs, look no further than Pillowfort. The company offers more than 20 design options in its twin sheet sets, made with a range of materials that include cotton, microfiber and flannel options.
Pillowfort Twin Sheet Bedding Sets are inspired by the same themes that inspire kids – sports, sharks, mermaids, ice cream cones and other fun and funky styles, but this adorable microfiber set is loaded with whimsical dinosaurs!
These sheets, perfect for a child's bedding, might not come with the nice extras like hypoallergenic, chemical-free manufacturing, extra deep fitted sheet pockets or antibacterial features, but these sheets meet all the basic needs for kids' bed sheets.
---
CONCLUSION
Kids bedding sets aren't just wide sheets of fabric used in covering your children's mattresses! These also serve other important functions for your children, such as expressions of their personality, as a way to transform their bedrooms from okay to awesome, and as a tool for their imagination. Most sets features whimsical prints!
So, at a young age, they should be allowed to choose their own bedsheets, particularly when it comes to their colors, patterns and prints. Their room is their sanctuary and making their space their own is very important to their development.
That wraps up our review ranking of the best bed sheets for kids. We encourage you to keep browsing our site for additional reviews of kid-friendly sleep products!
---
Additional Reviews of Sleep Products for Kids