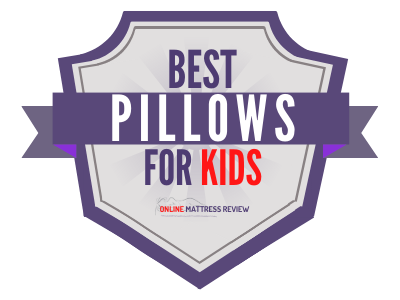 As an adult, it's hard to imagine settling down for a good night's sleep without a pillow. While the youngest of children don't need (and shouldn't have) a pillow, the support of a good pillow is certainly crucial for comfort as kids get older. The best pillows for kids offer the support a growing neck and head needs, the durability to last even in the face of the kind of messes only children can make, high-quality hypoallergenic materials, a reasonable cost and easy availability.
Our Number One Choice for Best Pillows for Kids: LITTLE SLEEPY HEAD PILLOW
Also check out: Our pick for BEST KIDS' MATTRESS of 2021
When does your kid need a pillow? It's not just a question of comfort, but also a question of safety. To prevent suffocation, the FDA, in accordance with the American Academy of Pediatrics, urges parents not to use pillows, thick blankets, comforters or cushions in an infant's bed. The CPSC says it is safe to introduce pillows once your baby is at least 18 months old, but some parents choose to wait until their child is two or three years old. Many parents find that it makes sense to add a pillow to their kids' bedding at the same time children transition from a crib to their "big kid's bed."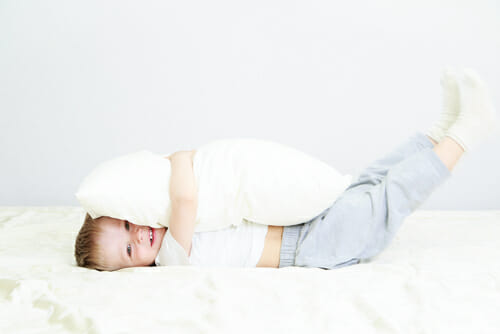 When choosing a pillow for your kids, you might look for different qualities than you would want for your own pillow. A regular adult-sized pillow would be huge in a crib or toddler bed. Make sure you get a pillow that's the right size – little – for your little one. For small children, a pillow with dimensions around half the size of an adult's pillow – think 12" by 16", or the size of an airline pillow – is ideal. For the best support without danger of suffocation, choose a firm, relatively thin pillow, not a lavishly thick and fluffy one.
SAFETY ALERT! Look for memory foam pillows or traditional filled pillows made from a safe and hypoallergenic or organic filling like natural fiber or polyester. Fillings like feathers and goose down can trigger allergies and be too soft to provide enough support, while pellet fillings such as buckwheat could pose a choking hazard or be ingested if the material were to rip and the pellets spilled.
Every entry on our TOP 10 BEST PILLOWS FOR KIDS list is an excellent choice to give your child a safe, comfortable sleeping environment. See our Methodology regarding how we score the products on Online Mattress Review.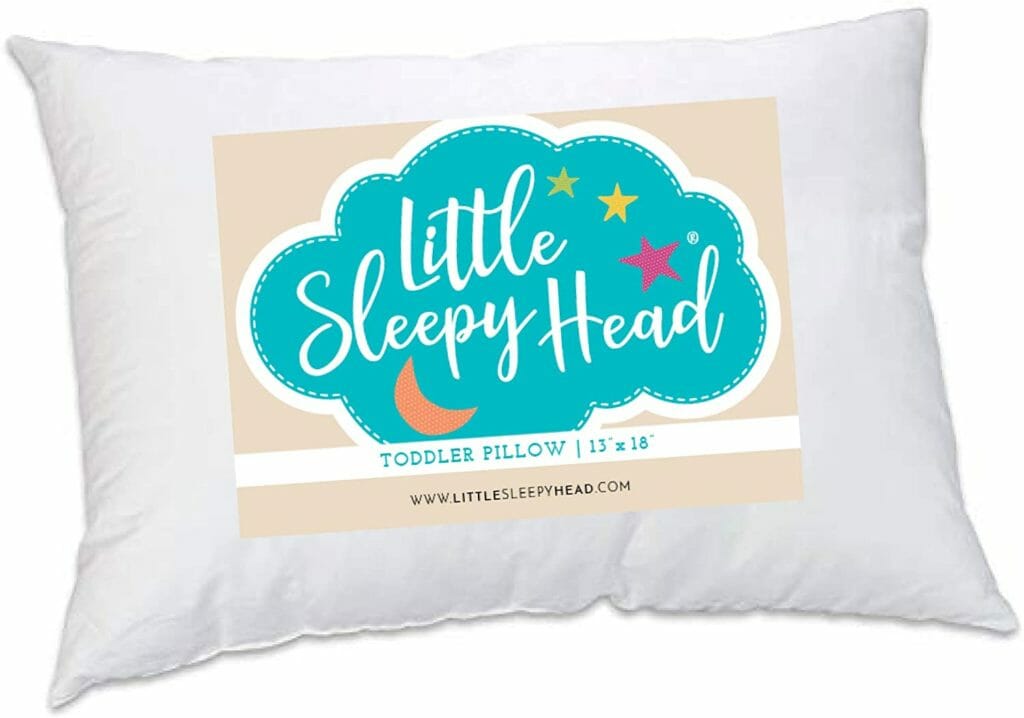 What better choice for your own little sleepyhead than this completely hypoallergenic pillow with thousands of positive reviews, two sizes for kids of different ages, and two filling options? Little Sleepy Head's original toddler pillow, measuring 13 by 18 inches, has a pretty middle-of-the-road price for a pillow made with quality, child-safe materials. For big kids, the company makes a 16 by 22-inch youth pillow – the perfect size for those too big for a toddler pillow but not quite big enough to need a standard pillow. The premium polyester cluster fiber filling beneath a soft cotton cover conforms to let your child get cozy. Parents love that the whole pillow is machine-washable – after all, anyone who is around kids a lot knows that messes happen, even in the middle of the night – and the Love the Fluff guarantee that promises to replace an unsatisfactory pillow with a custom-filled one if needed. Even better, a portion of every sale supports a worthy charitable cause.
Strengths We Love:
Entire pillow is 100 percent hypoallergenic.
A soft, 200-thread count cotton cover.
Like memory foam, the premium polyester cluster fiber filling will conform to your child's body for more comfort and a better night's sleep.
Machine wash and dry.
Moderate price point.
Founded by a California mom who was desperate to get her two sons to finally get a good night's sleep, Little Sleepy Head is a small, family-operated business, and most of its products are proudly made in America.
90-day no-questions-asked guarantee allows your kids to try the pillow for months before deciding to keep or return it.
With the Love the Fluff guarantee, you can feel confident that if the original pillow you receive proves to be too thick or fluffy for your child's preference, the manufacturer will create a custom-filled one perfect for your kid.
A percentage of each pillow sale benefits The Michael Hoefflin Foundation for Children's Cancer, to which Little Sleepy Head also donates pillows for sick children.
Things to Consider
It doesn't have a cover or a protector.
It requires a special case, which means extra cost for parents.
It's a little pricey but if you're looking for an exception pillow for kids, then it's your best choice!
It developed a significant amount of mold according to one parent although the possible reasons weren't explained.
OMR ADVANTAGE SCORE: 9/10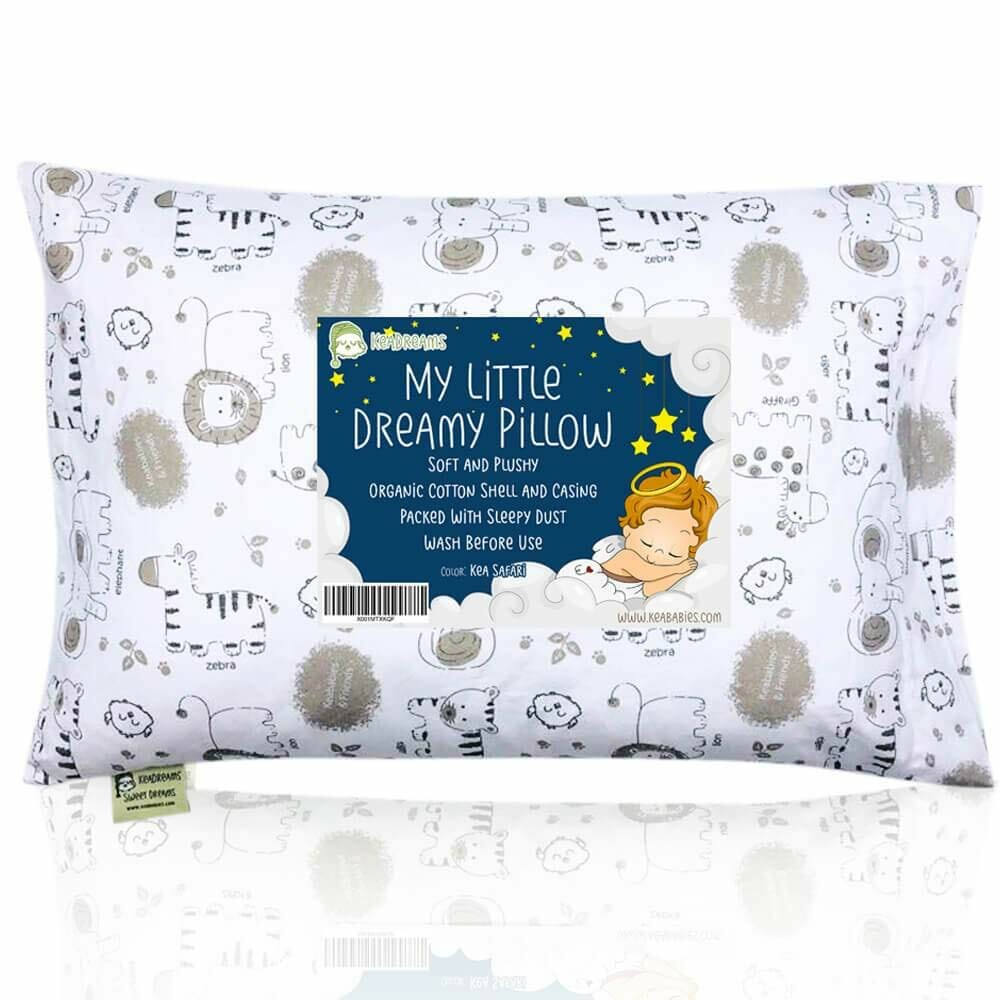 If you're hesitant to commit to a pillow for your child, the KeaBabies Hypoallergenic Pillow could be the perfect place to start. The 365-day manufacturer's money back guarantee gives you an entire year to see how your child likes the pillow and how resilient it is. At a middle-of-the-road price point for the plain white version or a wee bit higher price for the adorable safari print, it's a good value for parents who prize durability. The whole pillow was ergonomically designed in consultation with a children's chiropractor to provide ideal spinal support and comfort for little ones. The filling consists of polyester fiber balls designed with withstand repeated washes without becoming lumpy, covered with a fully hypoallergenic certified organic cotton shell. One plain or safari print organic cotton pillowcase is included.
Strengths We Love:
A chiropractor specializing in children's chiropractic care helped design this ergonomic pillow for superior spinal support for children ages two to five.
High-quality polyester fiber balls make for a more resilient filling that resists the lumpiness and flattening that often occurs when you wash traditional cotton pillows.
The pillow cover is made of 100 percent hypoallergenic certified organic cotton.
One pillowcase included, either plain or safari print option available.
Machine wash and dry the pillowcase and the pillow itself.
Free of harsh flame-retardant chemicals.
365-day sleep trial period with manufacturer's money-back guarantee.
Things To Consider
The pillowcase does not have a zipper (which can be harmful to a child) but folds securely in place with an envelope style end.
OMR ADVANTAGE SCORE: 9/10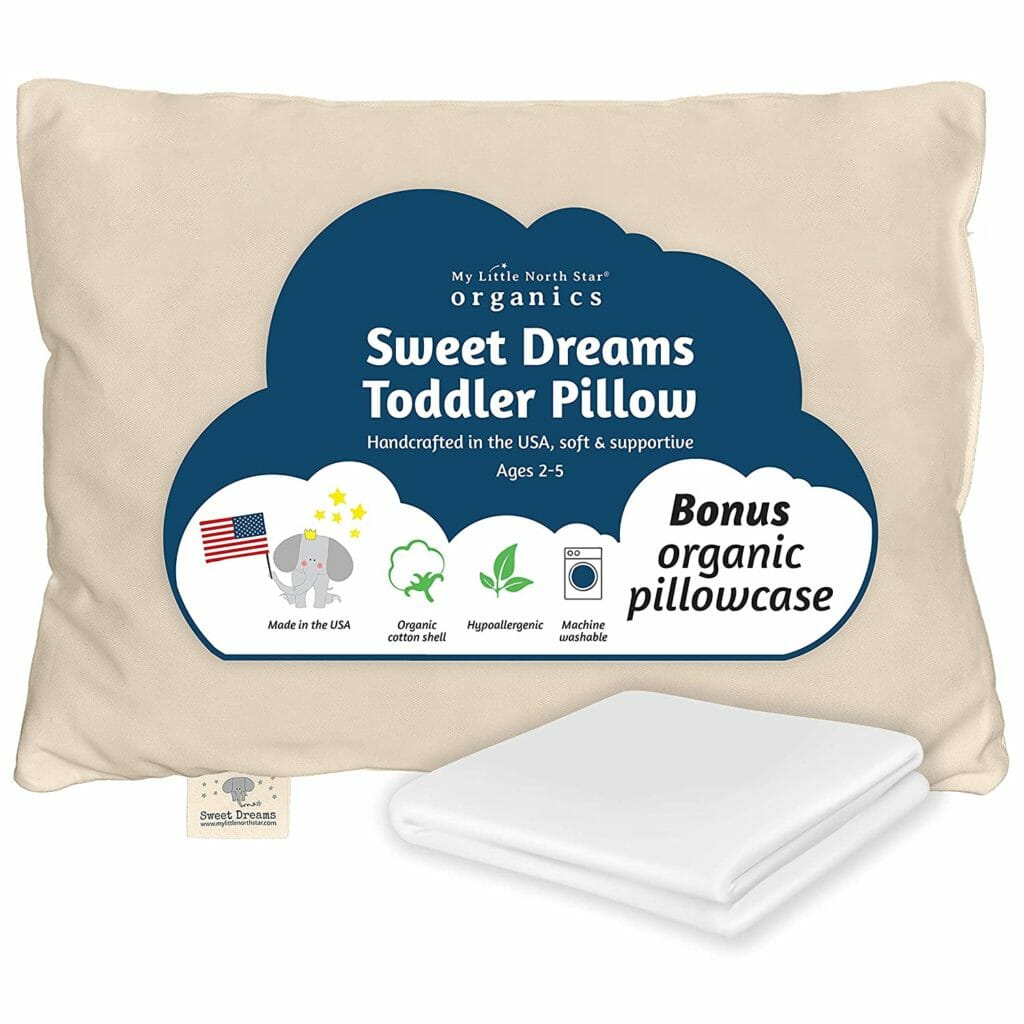 If organic is at the top of your list of must-have's for your child's first pillow, turn your attention to the organic toddler pillow by My Little North Star. The hypoallergenic poly cluster fiber filling has a shell of soft certified organic cotton. A chiropractor had a hand in developing this 13 by 18-inch pillow, so it's no wonder that chiropractors recommend My Little North Star's exceptional head and neck support for children two to five years old. With no pesticides, flame retardants or other harsh chemicals, you never have to worry about the pillow bringing harm to your child. There's no need for a pillowcase, and when it gets dirty, just toss the whole pillow in the washing machine and then the dryer. Like Little Sleepy Head, My Little North Star will replace pillows that are too fluffy or too flat with custom-filled ones, so parents have nothing to lose.
Strengths We Love:
Pillow cover is 100 percent certified organic cotton made from sustainable sources, which makes it better for your baby and for the environment.
The special poly cluster fiber filling is both soft and hypoallergenic for ultimate comfort and cleanliness and is designed to avoid becoming lumpy with use and repeated washes over time.
Chemical-free materials, containing no pesticides, herbicides, fungicides, flame retardants, dust mite repellants, formaldehyde, latex, lead, BPA, phthalate or toxic materials.
Chiropractor designed and recommended for better sleeping posture that supports the neck and head, allowing for a deeper and more restful sleep.
The price is reasonably affordable, especially for organic materials, which often cost much more than conventional materials.
Recommended for ages 2 to 5.
The soft organic cover and washable materials mean you can skip the pillowcase
Machine wash and dry.
My Little North Star is a family-owned small business based in the U.S., with its products proudly made in America from sustainable organic materials.
The company promises complete customer satisfaction and, if you aren't happy with your purchase, will return your child's pillow or replace it with a custom filled pillow that suits your child's liking, no questions asked.
Things To Consider
For many people the pillow kept its fluffiness wash after wash, for some it became lumpy. This could be an issue of how it was washed, i.e. according to instructions by the manufacturer.
OMR ADVANTAGE SCORE: 8/10
HONORABLE MENTIONS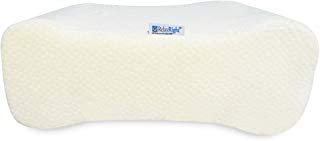 Real memory foam for your little one? Treat your sweet son or daughter to real luxury with the Relax Right Toddler Memory Foam Pillow or the Relax Right Big Kid Memory Foam Pillow. Just like memory foam pillows for grownups, this kid-sized pillow – 15 by 9 ¾ by 3 inches for the toddler size and 19 by 12 by 3 ¼ inches for the big kid size – conforms to the user's body for a perfect fit. The sides of the hypoallergenic pillow have varying degrees of thickness and firmness, making it multi-positional, so your kid can customize the pillow to his or her preferred sleeping position. Doctor-designed for healthy sleeping posture, the patented hollow core inner design combined with the conventional cervical pillow outer design offers better support for the neck and a soft, "hammock effect" feel for your head. Get comfy and fend off illnesses with the washable, antimicrobial soft velour cover made of an 80 percent/20 percent cotton blend.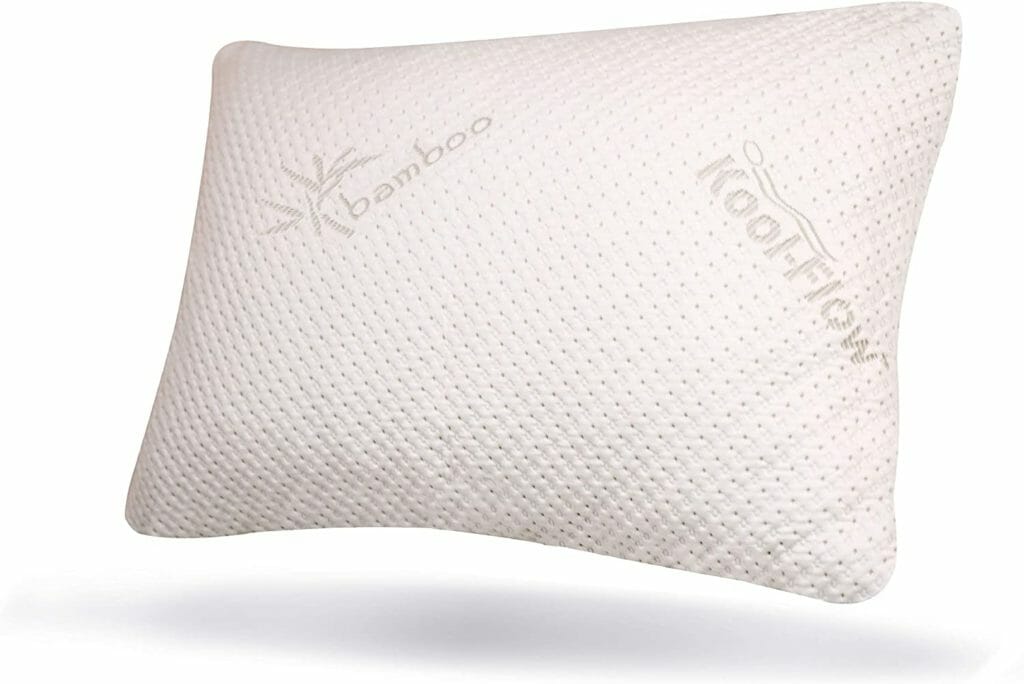 If you're comfortable with a higher price point, this cool-sleeping shredded memory foam-filled pillow is perfect for your snuggly little guy or girl! The Snuggle-Pedic pillow offers the same grownup comforts you enjoy for kids as young as toddlers. Inside this soft and resilient pillow is a proprietary combination of shredded high-end hypoallergenic memory foams intended to support young sleepers no matter how they prefer to sleep. A polyester, bamboo and Lycra blend makes the Kool-Flow® Micro-Vented Cover more breathable than competitors, allowing your child to sleep cool even on the warmest nights. While the kid's pillow is a traditional toddler size, the manufacturer boasts that it adjusts to offer enough support for children of every age to sleep comfortably. The company stands behind this pillow with a 20-year warranty, and if you aren't happy with your pillow purchase, Snuggle-Pedic offers free personal customization so that your child can sleep soundly on his or her perfectly filled pillow.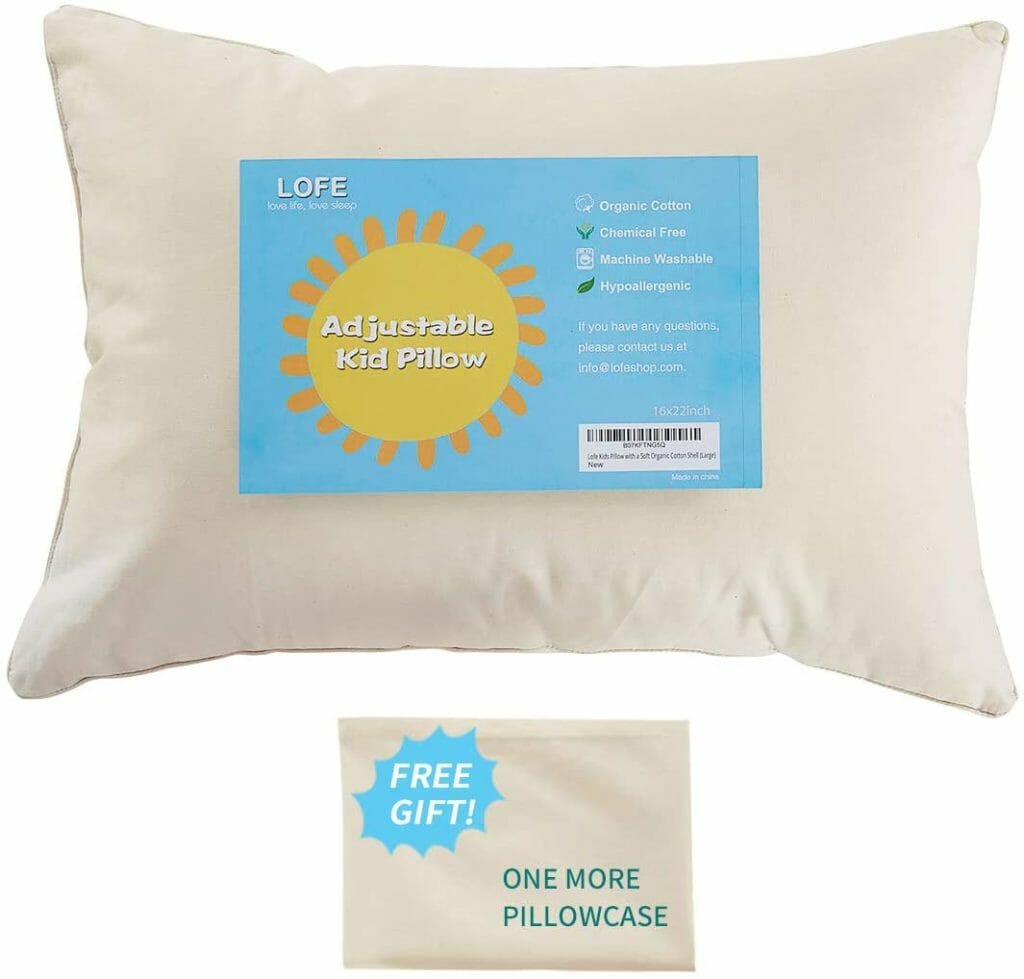 The Lofe Kids Pillow with Pillowcase is a 16×22 youth pillow that is 100% Organic Cotton with a UNIQUE ADJUSTABLE DESIGN for kids and is perfect for children aged from 5 to 10 years. This kid's pillow is fluffy which gives great support for your child's head and neck and never becomes flat. The fill material is non-toxic soft pearl fiber filling. The pillow has a slight tan color because they never put this pillow through the bleaching process. The pillow has a handy zipper to control the amount of fluff to low, medium or high thickness to satisfy your needs for different heights with the adjustable loft design.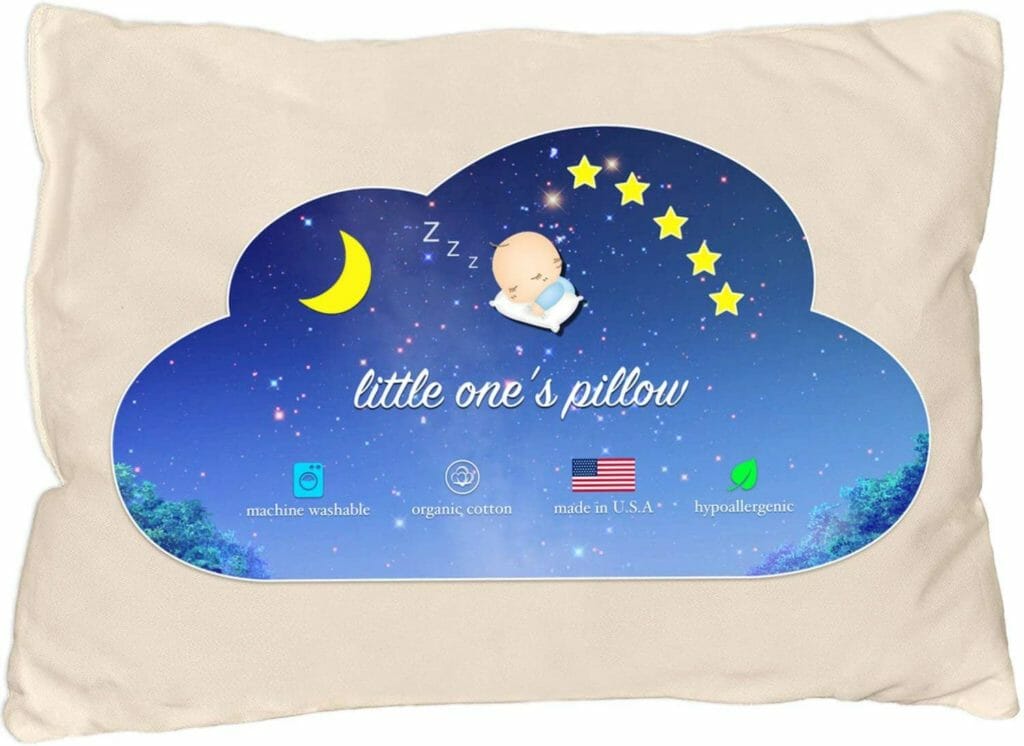 Since 1958, the family-founded, -owned and -operated company behind Little One's Pillow had manufactured pillows of varying sizes with 100 percent American-made materials. Little One's Pillow is the company's organic toddler-sized sleep solution, measuring at 13 by 18 inches. This high-quality pillow has a soft shell of 270-thread count certified organic cotton sourced from American farms and the company's own proprietary poly cluster fiber filling that won't get lumpy even with repeated washes. Parents feel good about the hypoallergenic, chemical-free materials and can rest easy that each pillow is individually inspected for quality. Designed in consultation with chiropractors and pediatricians to achieve the perfect amount of fluff for healthy sleeping posture, the pillow shouldn't strain your child's neck or be too flat for comfort. However, if your kid isn't happy with the amount of fluff included, the company will customize the level of filling at your request.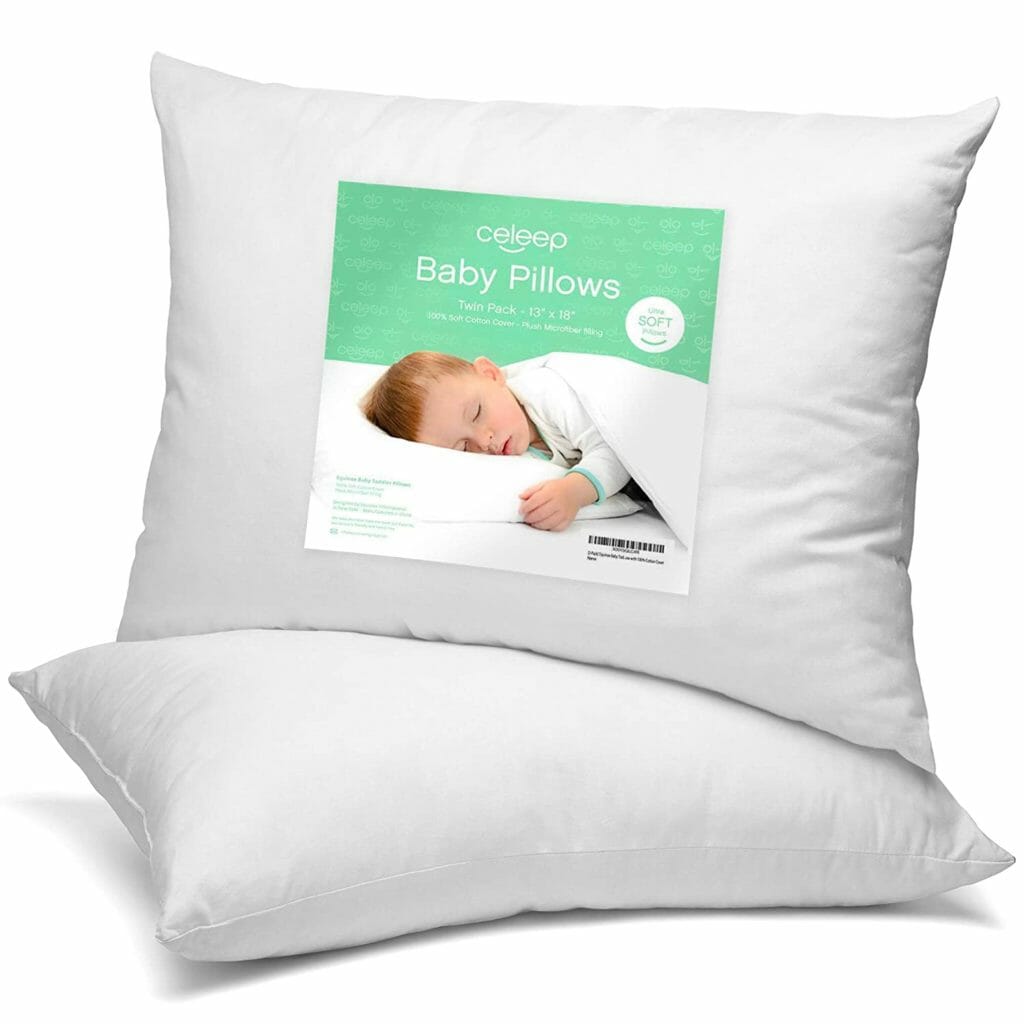 A great option for families on a budget, the Celeep Baby Pillow is affordable for a two-pack but offers features found in pillows twice as pricey. Each 13 by 18-inch toddler pillow is fully hypoallergenic and ergonomic, with the chiropractor recommended amount of 7D hollow siliconized microfiber filling to support little heads and necks. If a mess occurs, throw the whole pillow right in the washing machine and dryer (and you have a backup for your child to sleep on in the meantime). Designed not to get lumpy and to resist mold, mildew and dust mites, you can count on this affordable pillow to be a safe and comfortable choice for your precious toddler. The pillow comes with a 30-day 100 percent satisfaction guarantee and has garnered hundreds of positive customer reviews.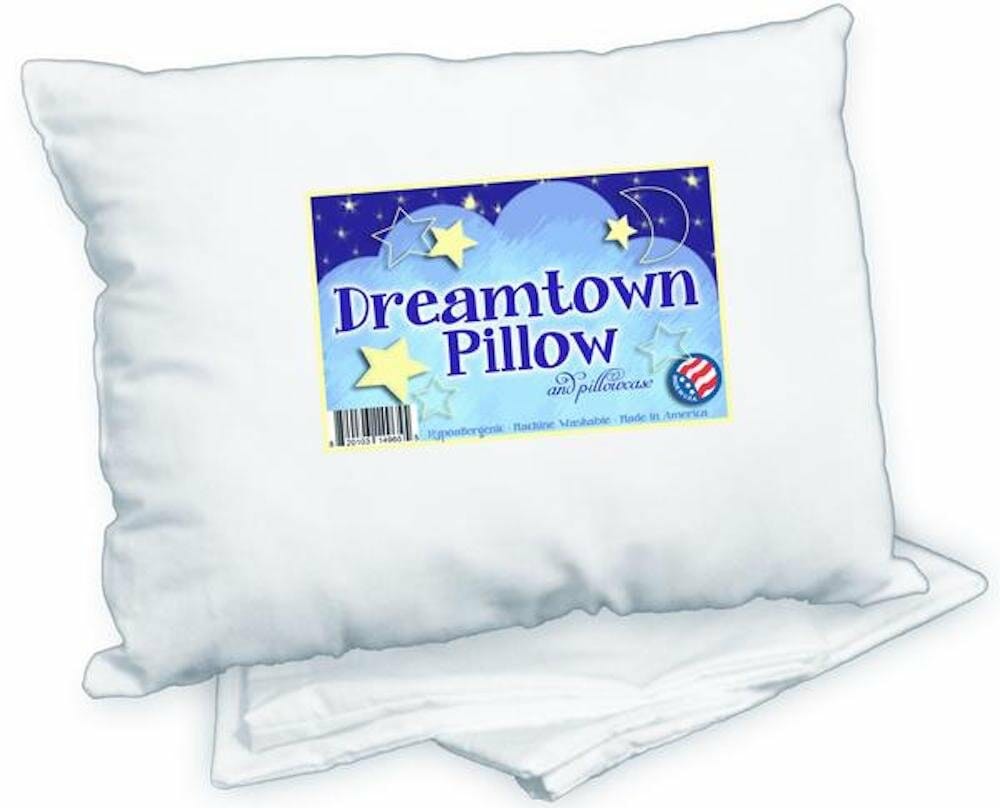 Dreamtown Kids has an option for every budget. The regular toddler pillow, 14 by 19 inches is very affordable while the organic version, slightly smaller at 13 by 19 inches, is just a tad higher in price. The organic pillow is also available in a larger size – 16 by 22 inches, between a traditional toddler pillow and a standard twin pillow. Each option is designed in consultation with a chiropractor and made in the USA by a family-owned and -operated business. A dense polyester fiber filling provides the support your toddler or big kid needs for a comfortable night's sleep and healthy posture. The standard toddler pillow has a soft, 200-thread count polyester/cotton blend cover, while the shell for both organic options is handmade from 100 percent certified organic cotton. All of the Dreamtown Kids pillows are fully hypoallergenic and mold and mildew resistant to and have undergone testing for heavy metals and microbials. Thousands of customers have praised the quality of Dreamtown Kids pillows.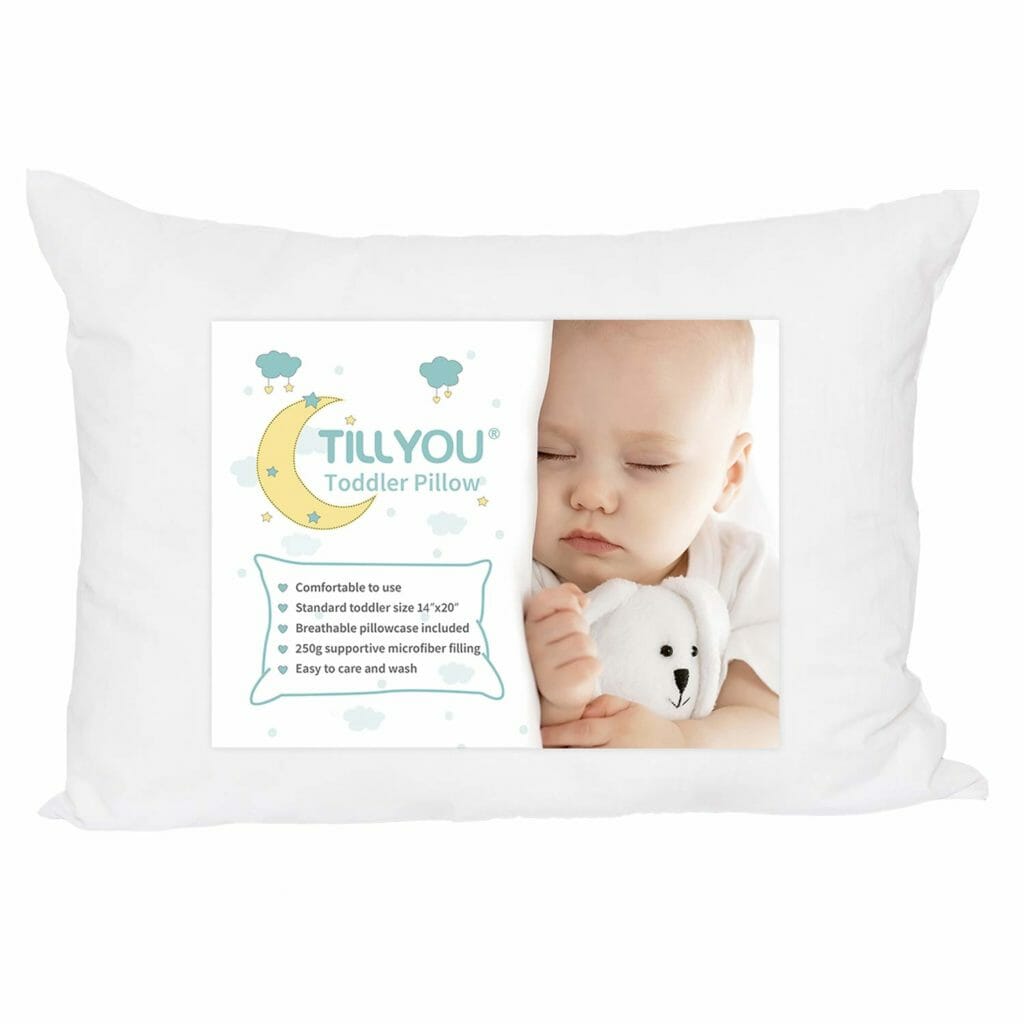 The best value in kids' pillows is TILLYOU. The 13 by 18-inch toddler pillow is available or you could get the value pack of two. Every option includes one pillowcase per pillow purchased, making TILLYOU's children's pillows an even greater buy. The core of the pillow is dense polyester microfiber filling that is thin enough that it won't strain little necks, fluffy enough to be supportive and soft enough to comfortably lay your head on for a good night's sleep. This fluffy down-like fiber filling is encased in a 200-thread count cover made of hypoallergenic 100 percent natural cotton. TILLYOU has more than two decades of experience manufacturing toddler bedding and offers a 30-day refund or replacement warranty.
CONCLUSION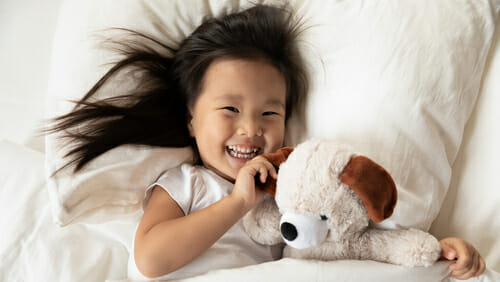 Each of these selections of pillows are excellent choices for your kids. You, the parent, must choose based on your unique personal preferences and circumstances, such as your budget and safety concerns. You may favor one pillow over the other because of its balance of reasonable price and proven durability, for example, or perhaps another pillow for its hypoallergenic materials and soft quality. Just remember that a great pillow is just one part of a whole – your child's bedroom must be conducive to sleep and you must become a role model of healthy sleep-related habits.
Additional Reviews of Sleep Products for Kids