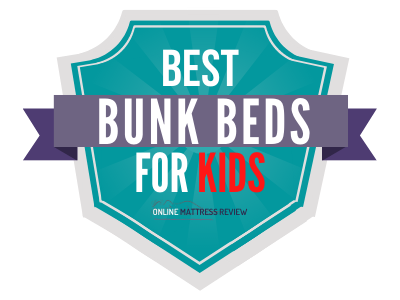 As a parent, you know just how important – and, at times, how truly scarce – sleep is. You want your kids to get the rest they need to grow, and you could benefit from a little extra shut-eye yourself, right? The entire family can get a better night's rest when you feel confident that your kids have a safe, cozy place to sleep.
What should you look for in the best bunk beds for kids? Different families have different needs, but it makes sense to consider what features and options you value most.
Is the bunk bed a long-term investment that your family intends to use for years, or a temporary solution that doesn't have to be quite so hard-wearing? Parents who find themselves strapped for cash might prefer a simpler and more affordable bunk bed, while those for whom storage space is at a premium may be willing to pay more for a model that does double-duty by offering valuable storage space.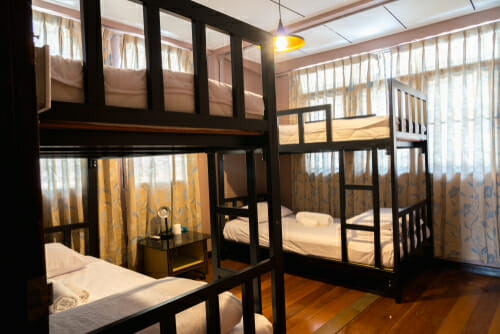 Some bunk beds allow for three or more sleepers. Others come in options for full, rather than twin, mattresses that offer older children a larger and more comfortable sleeping space.
See our Methodology regarding how we score the products on Online Mattress Review.
---
Whatever your family's needs, there's sure to be an option on our list of the top 10 best bunk beds for kids that your children will love.
Our pick for the number-one bunk bed for kids is this sturdy twin-over-twin model made by Bedz King. The wood bunk bed frame is made from solid Brazilian pine, weighing in at a considerable 233 pounds. The rails around the top bunk and on either side of the staircase reduce the risk of falling. The three steps that make up the staircase are drawers, offering plenty of storage space for your kids' clothes, toys, and other belongings.
Dozens of positive reviews highlight the sturdy wood construction and relative ease of putting the bed frame together. If your living situation later changes and your family no longer needs bunk beds, the beds can be converted into two independent twins; however, the top bunk footboard will still have the end-entry gap in it.
Strengths We Love:
High-quality construction with solid Brazilian pine wood and child-safe finish.
A staircase complete with guardrails, rather than a ladder, allows for a safer climb to and from the top bunk.
Three large drawers built into the staircase steps and a small cubby on the side of the stairs offer storage space.
The staircase can be added on either end of the bed, so parents can determine upon assembly which layout best fits their space.
Convertible design allows you to separate the bunk beds into two twin beds if bunking is no longer desired.
The cappuccino finish is versatile enough to go with any color scheme or décor and can easily work for boy's or girl's rooms. It also comes in grey and white.
Most buyers report that the bed is comparably easy to put together within a few hours to a day using the included tools and the predrilled holes.
Offered at a moderate price point.
Things to Consider:
A few reviewers say that the railing for the steps and the top rail on the top bunk seem fairly flimsy, but it may be a matter of personal opinion. A suggested solution is to install extra support to these parts to strengthen them.
There may also be a need for creating pilot holes and installing screws in locations aside from the ones specified in the instructions manual. This won't affect the bunk bed's look, nonetheless.
Many reviewers say that the assembly can take 6 hours or so to complete, even with the right tools and hardware as well as assistance. This may be because of the number of parts that require attaching, tightening and screwing on.
Take note that the clearance from the top bed to the bottom bed may be too low for taller children and adults.
OMR ADVANTAGE SCORE: 8.5/10
---
Though they may be bunking together, you don't want your kids to feel cramped. With this unique full-over-full bed from Coaster Home Furnishings, they never will. The two-inch strong metal tubing supports sleepers up to 400 pounds in both bunks, so your kids won't outgrow this bunk bed anytime soon.
The dark gunmetal color and curved dual built-in ladders give this bed a sleek, contemporary look your kids will love. Side rail slats help protect kids or teens on the top bunk from falling. At its reasonable price point for two full-size beds, this tank-like 150-pound bunk bed frame is a sturdy choice for kids or even adults, and its design adds a bit of whimsy for all ages – not just the little ones.
Strengths We Love:
Sturdy metal construction supports plenty of weight, with each bunk able to hold 400 pounds.
Each bunk is constructed out of 20 pieces of slats that are close enough together that no bunkie board is required for extra support.
Metal guardrail prevents falls from the top bunk.
Your preteens and teens will thank you for the added sleeping space that comes with choosing a full over full bunk bed rather than a traditional twin over twin option.
Ladders built into the bedframe design take up less space than traditional ladders or staircases and allow for a sleeker setup.
Kids, teens, and adults alike love the appearance of the bed, especially the curved ladder design and the dark gunmetal color.
With assembled dimensions of just 65" high by 60.75" wide by 82" long, the bed provides more sleeping space than alternatives like a twin-over-twin bunk bed, making it perfect for the space-conscious.
Buyers found that this bed works equally well for adult guests as for older children and teens, and some reported that it was an ideal choice for those interested in offering homestay rental accommodations through websites like Airbnb, FlipKey, and HomeAway.
Things to Consider:
There may be a need to separately buy all the ¼ hex bolts and corresponding washers for the bunk bed instead of using the Allen bolts that came with it in the box. The Allen bolts may not be as sturdy as expected.
The assembly can be slightly challenging even for mechanically inclined adults. Assistance will likely be necessary for faster assembly.
OMR ADVANTAGE SCORE: 8/10
---
The larger your family, the more love there is to go around. Unfortunately, the same can't be said for space. You can sleep more kids on a budget with Dorel Living's Sierra Triple Bunk Bed. This solid wood triple bunk bed stacks three twin mattresses on top of one another, saving valuable floor space. Two separate ladders offer access to the second and third bunk. Thanks to the included bed slats, there's no box spring needed for any of the bunks. It will be some time before your children outgrow this bunk bed.
However, if you do decide that bunking is no longer necessary due to a change in your living quarters, you can easily convert this triple bunk bed to three standard twin beds, each with its own headboard and footboard, or turn it into a double bunk bed and one day bed or standard twin bed. This triple bunk bed is offered in the mocha finish and is very affordable and ships for free.
Strengths We Love:
The triple-stacked design helps you maximize your living space.
You can skip the box spring or bunk board and place the standard twin-size mattress directly on the slats included with the bunk bed frame.
The middle and top bunks have their own separate ladders.
Convertible bed frames can transition into three separate twin beds or be used as one two-bunk bed plus an additional twin bed or day bed, giving families plenty of options.
You can find the mocha version of this triple bunk bed frame for an affordable price tag, well below the cost of many two-bunk beds.
Things to Consider:
A few buyers say that they received the parts in separate shipping periods. Fortunately, the customer service representatives resolved the issue as soon as it was brought to their attention.
The assembly may prove a bit challenging and, thus, buyers may want to read the instructions manual first and ask for assistance.
Attaching the bed to the wall, usually using L brackets, may be needed to stabilize them, especially when young children will be using it.
OMR ADVANTAGE SCORE: 8/10
---
HONORABLE MENTIONS
If you've got a little more floor space to spare – not to mention, a bigger budget – the Dorel Living Clearwater Triple Bunks can sleep three (or more) people without feeling quite so cramped. Rather than stacking all three beds vertically, the Heartland triple bunk bed arranges the two top bunks in an 'L' setup over a ground-level futon bed. The open space beneath the other twin bunk can easily be used to store a desk, dresser, toybox, or other functional space.
This American-made bed frame is constructed out of solid and composite wood, weighing 183.42 pounds assembled, and able to support sleepers up to 165 pounds per bed. The bed's classic visual appeal will last as long as its sturdy construction in the beautiful espresso finish. Although it's in a higher price range, this combination bunk/loft bed provides for more versatility. This option is great for a guest bedroom as well as for a kids' room.
---
If you need a bunk bed that does more, check out Twin/Twin Bunk Bed with Storage Drawers and Trundle. The twin over twin bunk bed features a staircase at the end of the beds for safe trips to and from the top bunk. Five drawers built into the stairs offer storage space for clothes and other possessions, making use of every inch of the bed's 91.3" long by 42.4" wide by 65.7″ high in dimension.
Beneath the bottom bunk is a trundle drawer that can accommodate a twin mattress up to seven inches thick, offering the perfect sleeping space for overnight guests. The sturdy unit's top bunk holds 175 pounds, the bottom can hold up to 200 pounds and the bottom trundle holds 175 pounds.
Included pine slats eliminate the need for a box spring, bunkie board or specially designed bunk mattress and allow for use with any standard twin-sized mattress. Available in dark espresso, dark brown, grey, milky white and natural white.
---
Another great option for families looking to maximize their storage space is the Bedz King Bunk Bed with Storage. This twin over full bed is perfect for families with a preteen or teen who could use the space of a full mattress and a child over six years old who wants to claim the top bunk. A staircase with guardrails built into the side adds safety and function to the bunk bed frame.
Vertical safety rails fully enclose the top bunk to prevent falls. Two under bed drawers offer even more storage space. The 14 included slats allow you to skip the box spring. Just add a standard full mattress up to 11" high to the bottom bunk and a standard twin mattress no thicker than 9" to the top bunk, and your kids are ready for a great night's sleep.
---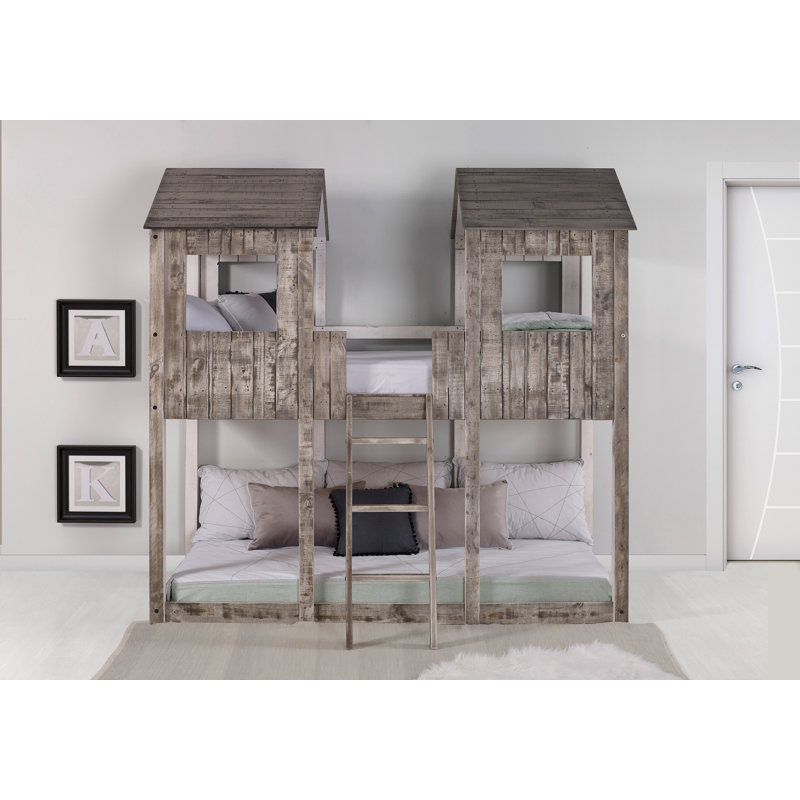 When you're a kid, your bed isn't just where you sleep. It's where you build a pillow fort, listen to bedtime stories, and play. The Scholz Twin over Twin Bunk Bed is perfect for nurturing your kids' imagination. The treehouse-inspired design of the upper bunk, complete with a window and a slanted partial roof, makes this bunk bed the place where your kids will want to hang out day and night.
Solid pine wood construction allows this 194-pound bed to support sleepers weighing up to 160 pounds on both bunks. Included slat kits for both bunks allows children to sleep with a mattress only, no box spring needed.
---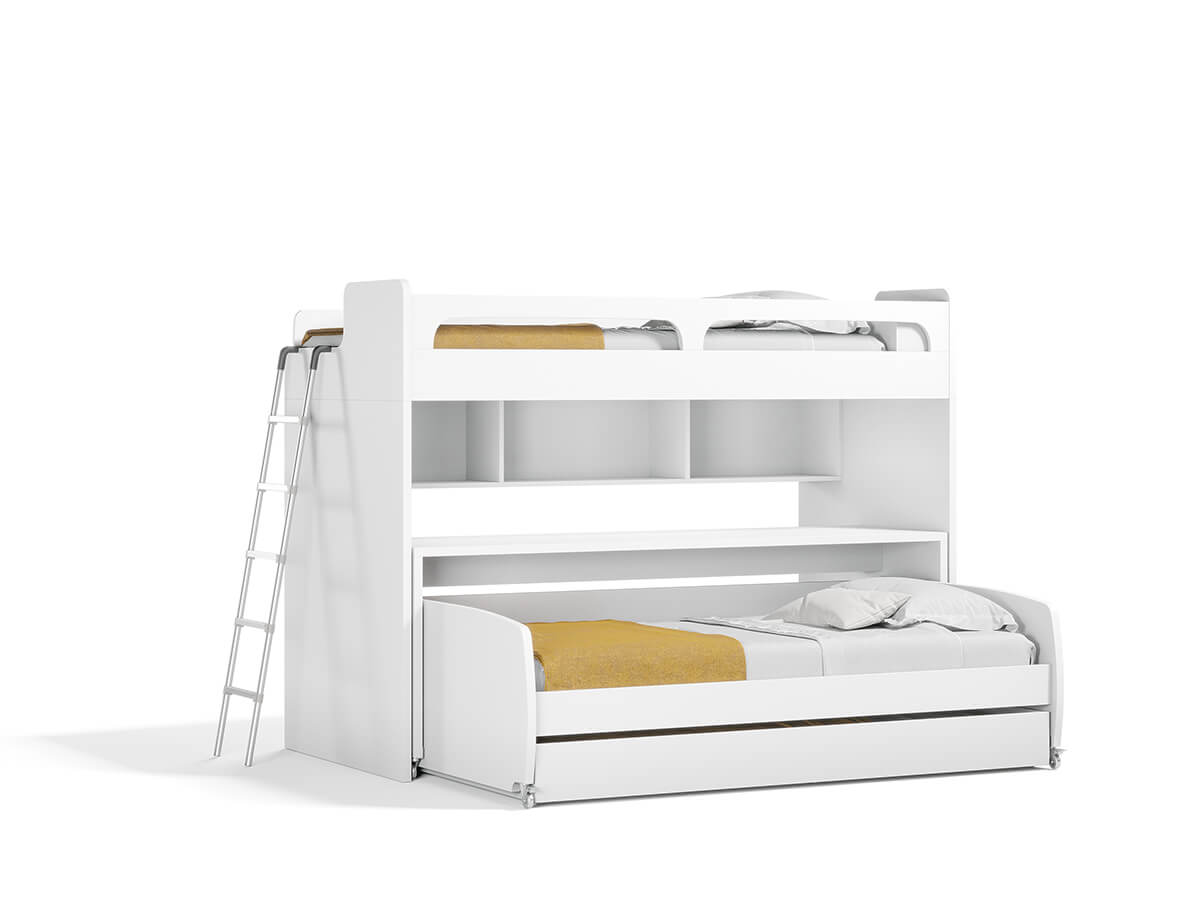 By far the most expensive bunk bed on our list, Multimo's Bel Mondo Twin Over Twin XL Bunk Bed is also the most versatile. If you're willing to spare no expense maximizing your space, then this 4-in-1 bunk bed might be just what you're seeking. The combination daybed, loft bed, trundle, and desk/table, complete with storage space, is everything you need for work, play, and sleep.
Made with hardwood and high-gloss laminated chipboard and assembled with innovative heavy-duty hardware, the 670.9-pound bunk bed setup is suitable for adults as well as children, and the top bunk has been tested to hold as much as 400 pounds.
The top bunk is sized to fit a twin mattress but can accommodate a twin XL mattress simply by removing the hidden storage compartment. The lower bunk is a sturdy twin XL daybed that rolls on silicon wheels that won't scratch the floor, offering at once plentiful couch space and access to the functional desk and internal storage space.
Whether your kid loves crafts, building, or just a place to play with action figures, the desk and shelves are sure to fit his or her needs. With the modular roll-out system, accessing the table and storage space is easy even for the little ones.
The roll-out trundle provides a third sleeping space that's perfect for sleepovers. The bunk bed comes with an aluminum ladder, but if you want the storage-heavy staircase that will maximize your space, you'll have to shell out even more money – with a list price of more than $1,200 for only this optional add-on.
---
For an affordable, no-frills bunk bed, take a look at the Walker Edison Modern Metal Pike Bunk Bed. Their twin over twin bunk bed frame's claim to fame is its ease of assembly. You can put this bed together in no time. The steel frame construction is among the lightest bunk bed frames on our list, weighing just 100 pounds and measuring 80" by 42" by 68".
Despite its relatively small size, the bed frame can hold a sleeper up to 250 pounds on each bunk. Aside from the quick and easy assembly, perhaps the biggest benefit of choosing the Walker Edison bunk bed is cost. It comes in black, silver, grey, and white.
---
If you're looking at bunk beds as strictly a temporary solution to your family's sleeping needs, the Disc-O-Bed Youth Kid-O-Bunk with Organizers is a unique option to consider. Imagine a bunk bed with the convenience of a camping chair that folds up into an easy-to-carry bag. You can assemble and disassemble the bunk bed at will and take it anywhere you want. There's no need for a mattress – just pop a sleeping bag on the cot and you're ready to turn in for the night.
The Disc-O-Bed Youth Kid-O-Bunk is a handy option that's ideal for sleepovers and slumber parties, hosting overnight guests, camping, and outdoor festivals. For its price point, this bunk bed is a great choice if you need bunk beds in your house temporarily but could use the flexibility of on-the-go sleeping options for camping and outdoor activities later.
The bunks can each hold up to 200 pounds, but they're specifically designed for children older than three, and the top bunk should only be used by children ages six to 12. Remember: There are no rails on the upper bunk!
---
Conclusion
Bunk beds can be amazing space-savers, especially if you have a large family or a small home (or both). However, they can also be dangerous. Every year, 36,000 bunk bed-related injuries happen to children in the United States, according to the Nationwide Children's Hospital. Choosing a safe bunk bed is crucial to protecting your children.
Most of these injuries result from falls from the top bunk that occurred either while sleeping or while playing, so you want to make sure that your children's bunk bed is sturdy, constructed of high-quality materials, and includes rails to prevent a fall. Some of the safest models of bunk beds swap the traditional, but somewhat flimsy, ladders for sturdier and more secure staircases.
ADDITIONAL RESOURCES: