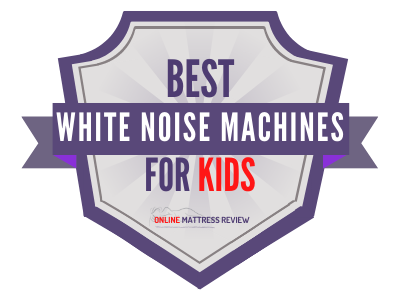 Ask any new parent and they'll tell you that the value of an infant or child being able to sleep at night can't be underestimated. Fussy babies can disrupt a household and fray parents nerves.
There are a variety of reasons a child can't, or won't, sleep and parents need all the help they can get to soothe a cranky baby or child. The amount of sleep needed will vary from child to child.
In general though, infants need up to 18 hours per day, 1-2 months up to 4-5 hours, 3-6 months range from 8-9 hours and 6-12 months around 14 hours. Of course, daytime naps should also be included.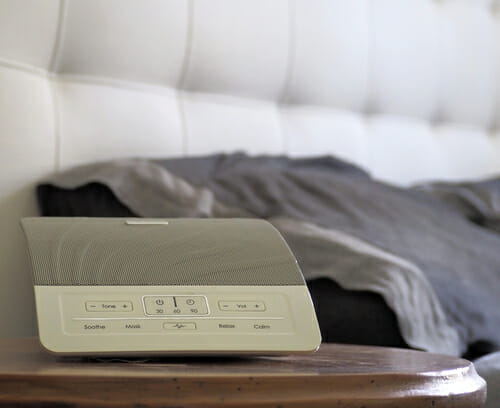 Fortunately, there are steps parents can take to create an environment conducive to help a child sleep easier and longer. Warm baths prior to bed, relaxing activities (such as massage), soft singing, etc. There are also the benefits of using a white noise machine or Infant Sleep Machines (ISM).
There are numerous white noise and sound machines designed specifically for children featuring a range of sounds including, nature sounds (gentle rain, birds, etc.), heartbeats or simple, white noise (created sounds with many frequencies of equal intensities).
The American Academy of Pediatrics published a 2014 study on Infant Sleep Machines in which they tested 14 ISM available.  The study suggests that placing the ISM across the room and set no louder than 50 decibels (dBA) to be ideal for kids. Individual manufacturers provide information on specific products dBAs and distance specifications.
See our Methodology regarding how we score the products on Online Mattress Review.
---
We've researched several top rated Sound Machines for kids using customer and parent website reviews.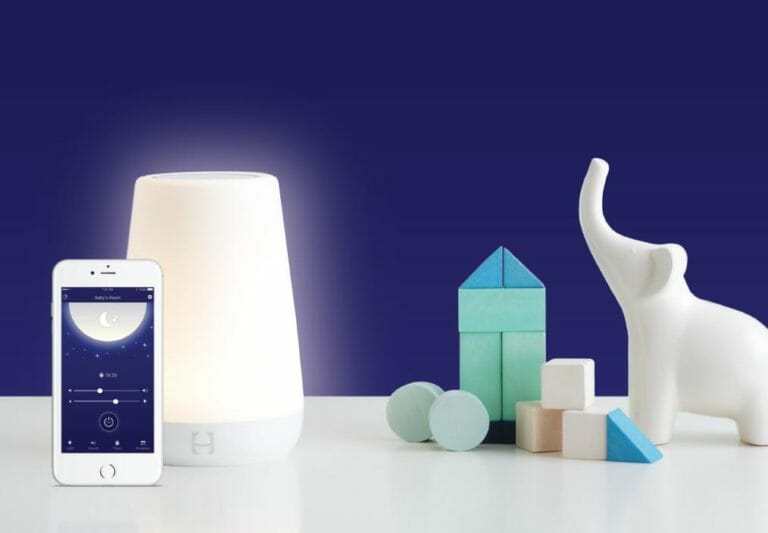 The Hatch Baby Rest is a highly regarded product with multiple smart features including sound, light and time-to-rise functions. These functions make the Hatch Baby Rest a versatile option for infants and toddlers. The product comes with a free app for both Apple (OS9 and higher) and Android (Lollipop or higher) operating with Bluetooth Low Energy. This feature allows parents to operate the device remotely via smart phone or directly on the Baby Rest itself. Made of ABS plastic, the machine weighs 13 ounces and has LED lights. The product offers a variety of 11 sounds ranging from white noise to nursery tunes (using actual music and not computer generated sounds) with adjustable volume and lighting control. The device requires an electrical outlet as it doesn't run on batteries. The Hatch Baby Rest can be purchased on Amazon for $59.99.
Strengths We Love:
The multiple functions allow it to be a combination of three products – a sound machine, a nightlight and a kiddie-friendly alarm clock. Parents agree that it provides great value for the money!
The wide range of sounds means that there's something for every parent and baby's preference. These include rain shower, singing birds and ocean waves, even something that sounds like a whirring washing machine, as well as white noise and melodies. Furthermore, these are actually pleasant to the ears instead of being slightly annoying, as many other sound machines tend to be.
The time-to-get up feature is great for toddlers whose parents want them to learn when it's okay to get up and roll out of bed. Many parents say that it actually helped their toddlers become more disciplined, sleep-wise.
The multiple functions, which include volume level and sound, color and brightness, are also customizable aside from being programmable from your smartphone! It's an awesome feature for parents who don't want to wake up in the middle of the night to change the settings.
The app is surprisingly easy to use despite the numerous features, not to mention that these features grow with your child. Parents use the white noise and soft light for newborns, and then progress to the nightlight and time-to-get-up features for toddlers. This means better sleep for children no matter their age!
It looks chic and contemporary so it's easy to blend in with whatever bedroom décor.
Things to Consider:
Only one device can be used to control it and the range can be fairly short, perhaps in the next room only instead of being from across the home. But keep in mind that it isn't a baby monitor.
A few parents say that the volume level needs tweaking since it can be too low for some sounds.
OMR ADVANTAGE SCORE: 9/10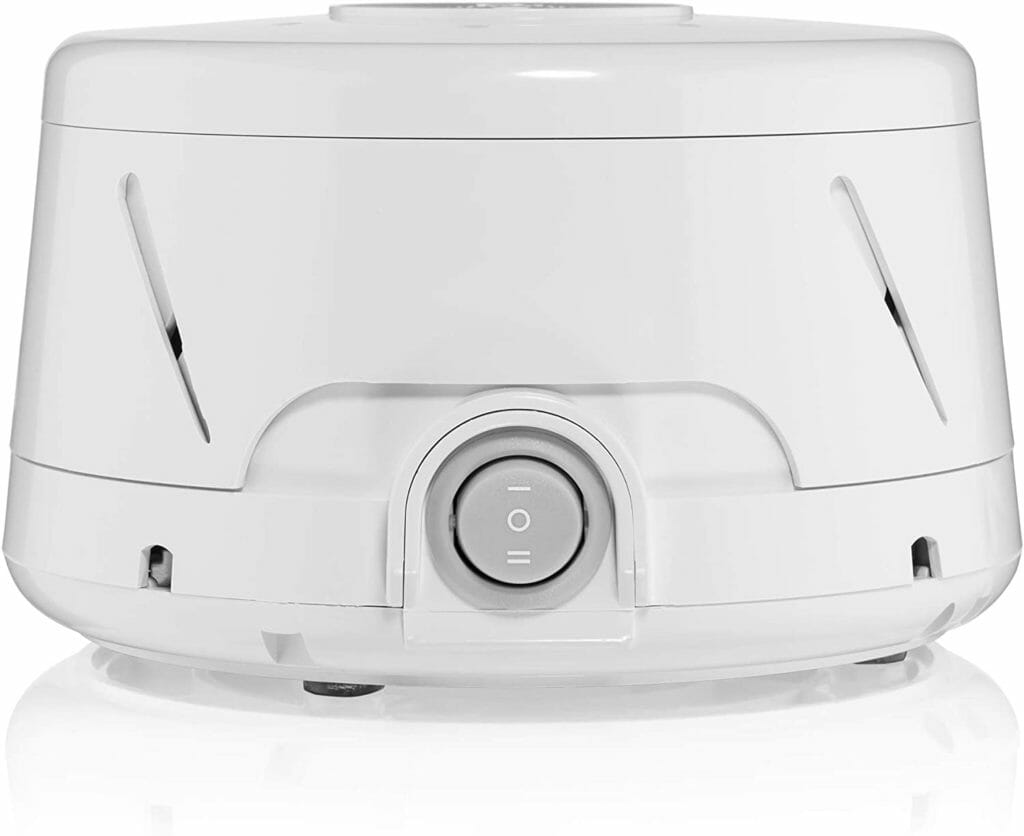 Marpac is one of the oldest sound machine production companies in the U.S., starting in 1962, and has been a leader in the industry ever since. The Marpac Dohm for Babies is a white noise machine that utilizes a fan-based system that doesn't move air but provides the sound of rushing air. The machine has two speeds and allows for adjustable tone control. The product is encased in an acoustic housing and has volume control and comes with a limited one-year factory warranty. This machine is utilitarian in design, and perhaps a bit bulky, but receives high marks from customers as being a reliable, effective sound machine. The Marpac Dohm for Babies is available for purchase on Amazon and retails at around $45.
Strengths We Love:
The sound of rushing air, a natural white noise, will likely soothe fussy infants and toddlers than other sounds. The constant hum also gives a sense of familiarity and safety that stimulates restful sleep throughout the night. This is because external disruptions are blocked from entering the bedroom, a great feature when you live in a busy neighborhood.
The adjustable tone and volume mean more variety to cater to a child's changing needs.
The product comes with a 101-day trial period.
This is simple and easy to use. Just plug it into an electrical outlet, flip the switch to either low or high (noisy environments), and then find the best sound by rotating the cap and collar.
Also, its simple yet elegant design won't distract from its primary function. The unit comes in white, camo, black, tan, pink and gray.
Things to Consider:
It may produce inconsistent sound after a couple of years of regular use.
It may produce a subtle rattle, too.
OMR ADVANTAGE SCORE: 8/10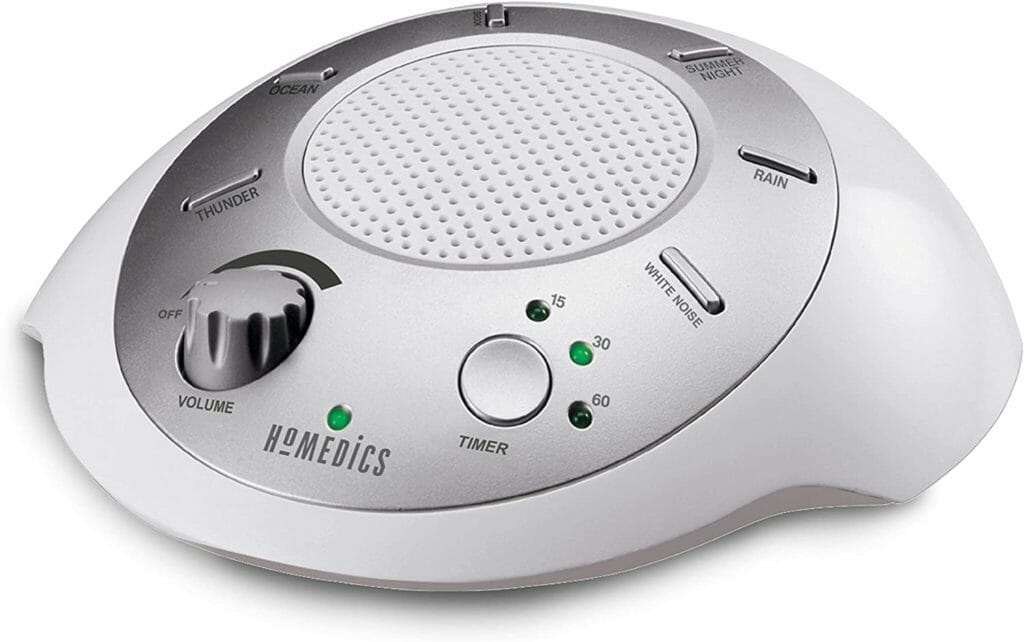 The HoMedics My Baby SoundSpa is a versatile ISM offering six sounds from heartbeat, ocean, brook, white noise and sounds described by the company as being "cradle" and "summer night." This reasonably priced ISM is volume adjustable and has the ability to be timed for 15, 30, or 60 minute intervals and operates on either AA batteries or via the AC adapter. This item has been awarded the National Sleep Foundation Official Sound Conditioner seal and has a 30 day money back guarantee. HoMedics offers a wide range of sound machines that are also suitable as baby sound machines, such as the HoMedics SoundSpa Sleep Machine which is one of Amazon's best selling sound machines. The HoMedics MyBaby SoundSpa Portable is available on Amazon for around $20.
Strengths We Love:
The sounds mimic those in the natural environment and, thus, are pleasant to the ears. Children are then more likely to sleep faster and sleep throughout the night, which contributes to their good overall development.
This is small and lightweight machine that can easily fit into a small bag. Parents can then be assured of their children's restful sleep no matter where they are – a hotel room or in camping grounds, for example. The machine adds a sense of the familiar to strange environments.
This can be used for many other purposes, such as when kids are studying, thanks to its noise-blocking feature.
Things to Consider:
The battery compartment seems looser than it should be, which results in batteries falling out more times than expected.
There may be a loop in the rain setting, which can be distracting instead of relaxing.
OMR ADVANTAGE SCORE: 8/10
HONORABLE MENTIONS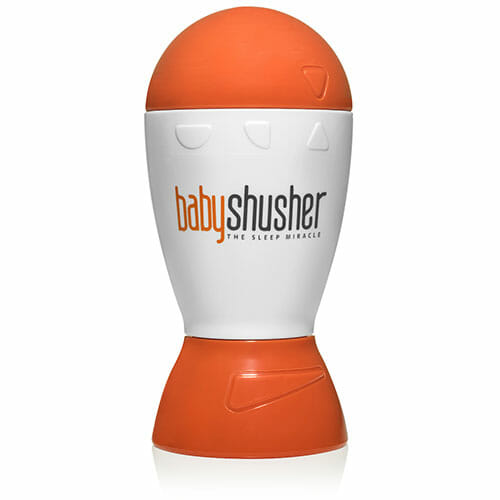 The Shusher is a versatile, Infant Sound Machine (ISM) which has a 15-30 minute timer, adjustable volume control, BPA, Lead and Latex free and operates on batteries (10 hour battery life). The Shusher uses a real human audio recording and was designed based on recommendations from the popular book by Dr. Harvey Karp, "The Happiest Baby on the Block." The compact, lightweight (3.2 ounces) Shusher is easily transportable and can be used anywhere. You can buy The Shusher on Amazon and costs $34.99.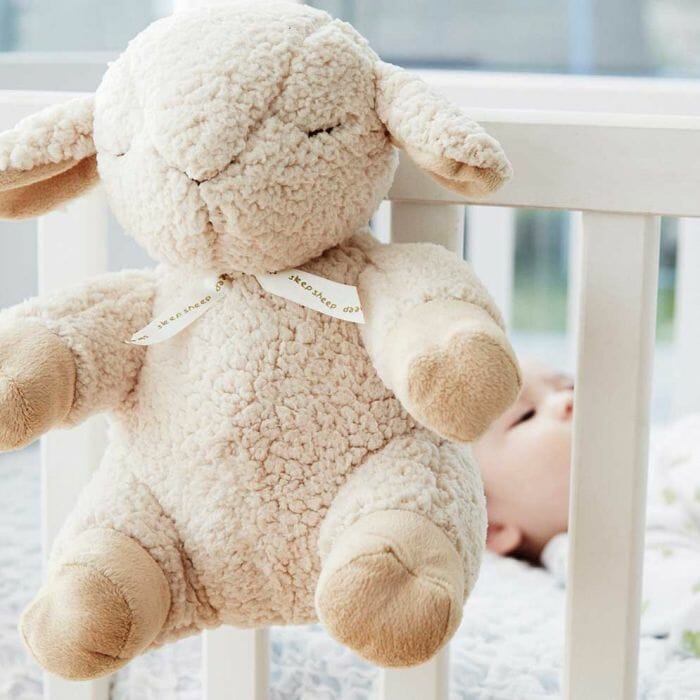 This is an award winning ISM, having been recognized by National Parenting Council's Seal of Approval and the iParenting Media Award. The Sleep Sheep has long been a favorite among new parents and was developed in consultation with sleep experts and pediatricians. The hidden sound machine offers 8 sounds including heartbeats, gentle Spring showers, ocean, whale songs, and lullabies. Features of this ISM include a shutoff at 23 and 45 minutes, adjustable volume, a removable sound machine for easy washing and drying, and is phthalate, latex, lead and BPA free. This product is perfect for newborns and easily attaches to baby's crib with Velcro tabs. Sleep Sheep operates on AA batteries (included) and with the sound machine removed, can be used as a cuddly toy. The Sleep Sheep is available on Amazon for around $25.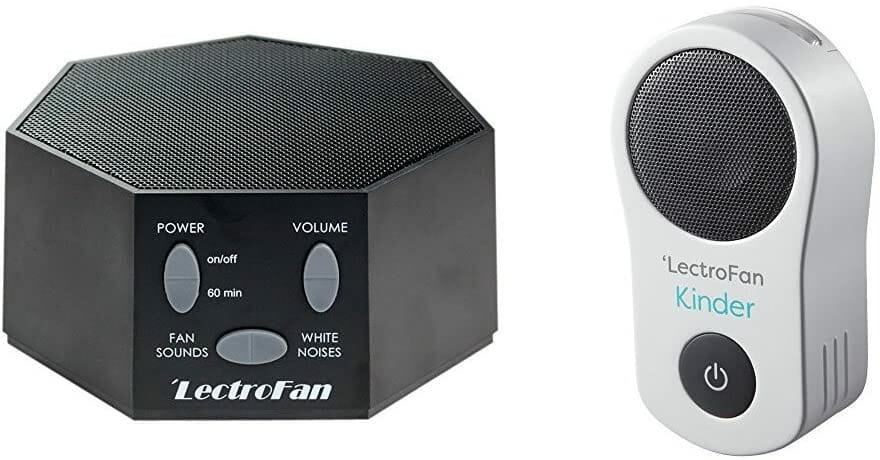 A product of Adaptive Sound Technologies, the LectroFan Kinder Sleep Sound Machine has received high reviews from sleep experts and parent forums. This unit can be operated with a smartphone without requiring Internet nor WiFi connections and offers non-looping ambient noises, nature noises, and lullabies. The sound machine plugs directly into the wall and the nightlight on the sound machine offers a wide range of soft colors. This product has been highly rated on AmazonMommyhood 101 baby forum. This sound machine may be purchased on Amazon or the company website for around $75.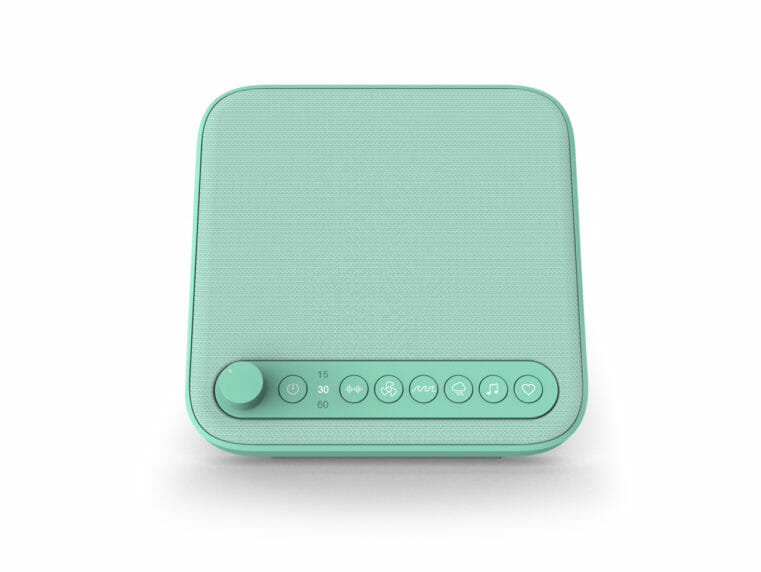 The Pure Enrichment Wave Baby Premium Soothing Sound Machine is a budget friendly ISM which offers 6 calming sounds including white noise, sea sounds, rain, heartbeat, low fan noise, and lullabies. The product includes volume control and an automatic timer shut off in 15, 30 or 60 minute intervals. The unit requires an electrical power source (it also includes a USB port), comes with a stand, and has a 5-year warranty guarantee. Mommyhood 101 rates this sound machine in its "Best Baby Sound Machines" and it receives positive Amazon customer reviews. The Wave Baby Premium Soothing Sound Machine is available on the company's website and on Amazon at around $30.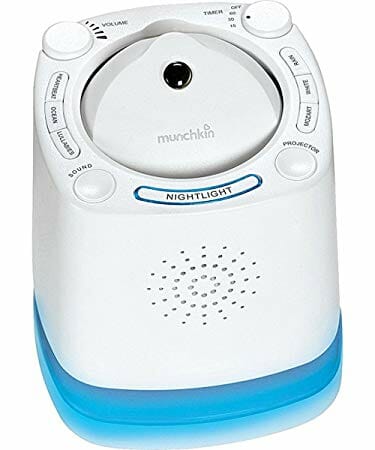 Munchkin's Nursery Projector & Sound System is a combination sound machine and LED nightlight. The nightlight is capable of projecting 3 images of either, "Sleepy Sky," "Calming Rainforest," or "Soothing Sea." Sounds available on this machine include 4 sounds (white noise, ocean sounds, rain or heartbeat) and there are songs including 2 Mozart songs and 3 lullabies. The timer can be adjusted for 15, 30 or 60 minutes. There's an interactive voice feature that allows parents to respond to baby cries and activate sounds or images to sooth babies and infants. This is a budget friendly item for the features provided and has been recommended by Baby List as one of its "Best Sound Machines." This product is available on Amazon for around $25 and comes with a limited 1-year warranty.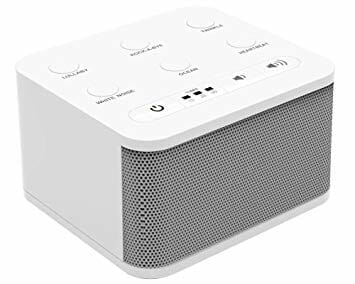 The Big Red Rooster Baby White Noise Machine rates highly by Amazon customers. At a budget friendly price, this unit provides six lullabies as well as sleep sounds such as white noise, ocean sounds, heartbeat, etc. There is no information, however on whether this machine has a volume control option; but, it does offer an automatic timer for 15, 30 or 60 minutes. The unit operates on either electrical power or AA batteries which make it easy to use for travel. The Big Red Rooster ISM is portable, weighing only 5.9 ounces and costs around $20 on Amazon.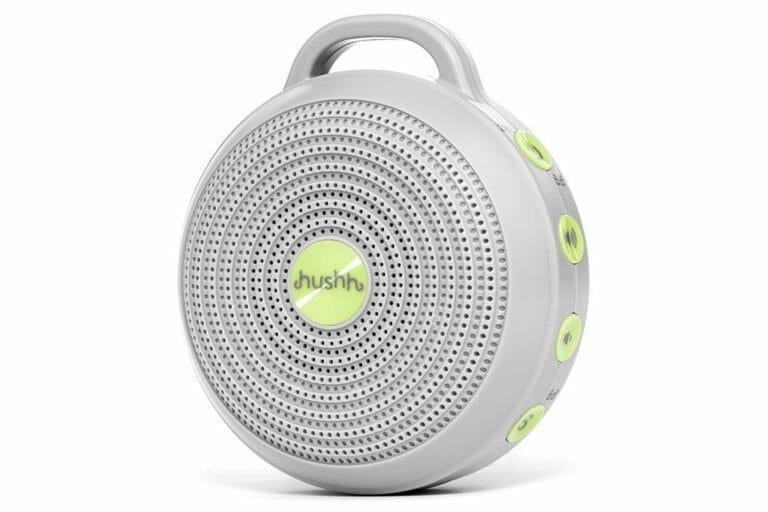 One of the most cost effective sound machines on our list, the Marpac Hussh Sleep Machine, this product has also received positive reviews from Baby List as well as Amazon customer reviews. This product is portable and comes with 3 sounds ranging from ocean surf, deep or bright white noise. The volume is adjustable but there is no timer included with this product. There is a soft, amber LED nightlight and it comes with a one-year limited factory warranty. Operating on batteries, the Marpac Hussh is USB rechargeable. The small, compact machine is perfect for travel or outings when babies may need to sleep. The cost for this machine ranges from $26 on Amazon..
CONCLUSION
The ability to hear and enjoy external sounds is among life's pleasures for both children and adults. But there are times when external sounds are unpleasant and unwelcome, especially during bedtime. This is where the abovementioned white noise and sound machines come in – choose one and let your kids enjoy better sleep! In so doing, you will also enjoy better sleep and that's a win-win situation.
Additional Reviews of Sleep Products for Kids