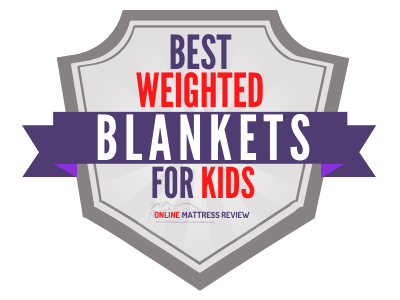 Every parent knows the struggle when children aren't able to sleep. There are a variety of causes for a child not being able to sleep, such as a medical condition, anxiety, difficulty staying asleep and on and on. And face it, a sleep-deprived child is a cranky child.
We all know there's nothing quite as calming as a comfortable bed, a soft pillow, and a soothing blanket. A new addition for parents to help soothe an uneasy child is the weighted blanket. Consider it a night long hug.
Over the past few years, the idea of a weighted blanket to help with sleep disorders has become popular, and an active market has developed for a new sleep aid for, not only adults but children as well.
What Are Weighted Blankets?
Weighted blankets (sometimes referred to as gravity blankets) use deep pressure stimulation to promote calming and minimizing anxiety and has frequently been used by therapists as a soothing alternative to other remedies for children with sleep problems.
These specialized blankets are typically made of a variety of fillers: plastic poly pellets (non-toxic), micro glass beads, sand, smooth pebbles, or heat treated steel shot beads. These fillers are usually encased in a minky fabric (a luxurious microfiber fabric) or cotton and can weigh between 5-20 pounds.
Safety
The formula for determining the proper weight of a blanket for children should be calculated as 10% of the child's body weight plus 1 or 2 pounds. Parents should check with their child's doctor to determine the exact weight that's appropriate. Weighted blankets are not recommended for children under the age of two; but, can be helpful for toddlers, children or adolescents who have problematic sleeping habits.
These blankets are safe and are designed to be used on top of the mattress. Parents should make certain that the child can remove the blanket on his or her own.
What Are the Pros and Cons For Children?
Weighted blankets have been used by healthcare professionals for many years. However, scientific research on the usefulness of weighted blankets for children and adolescents is in its infancy. What studies have been conducted on weighted blankets have primarily focused on children with a variety of neurological disorders such as Autism Spectrum Disorder (ASD) and/or children with Attention Deficit Hyperactivity Disorder (ADHD), poor sleep habits or anxiety. While research is inconclusive on the scientific benefits of a weighted blanket, a majority of those tested preferred the blanket overall for providing a restful night's sleep.
We've researched and ranked, according to online customer reviews and parent websites, "10 Best Weighted Blankets for Children." This ranking is on a 1-100 scale (10 being excellent) which looks at effectiveness, durability, and cost.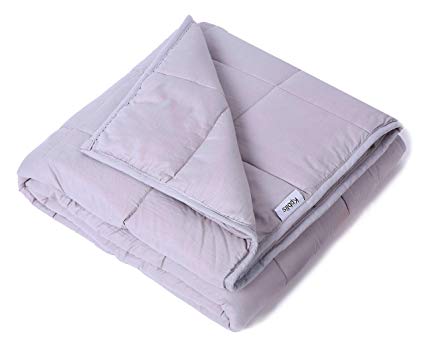 The Kpblis Weighted Blanket 2.0 is sized at 36″x48″ and weighs 5 pounds. This blanket is constructed with a 100% cotton, quilted design and is filled with glass beads eco-friendly. This quilted construction assures the blanket will not crack nor have the beads leak. The blanket may be hand washed as machine washing is not recommended. There is a blanket cover you may buy for an additional charge. This Kpblis Weighted Blanket 2.0 comes with a 5-year warranty with free mending should the blanket become damaged. Amazon offers this blanket for $59.
Quality: 90/100
Durability: 70/100
Cost: 90/100
Overall: 80/100
---
2. Tranquilt by Special Supplies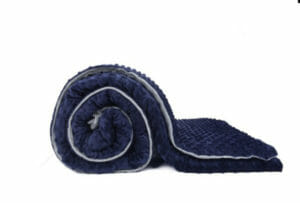 The 12 lb. Sensory Weighted Blanket provided by Special Supplies comes in four colors and is designed for weight versatility. Called the Tranquilt, users can use this 60″x80″ blanket at full size (12 lbs), half (6 lbs) or third (9 lbs) and it may be used by both adults and children. Designed with an outer cover for easy cleaning and is made of a dotted, ultra-plush minky fabric the blanket provides even-pressure to enhance the calming effect. The product is offered online at the company's website and costs approximately $130.
Quality: 80/100
Durability: 90/100
Cost: 40/100
Overall: 70/100
---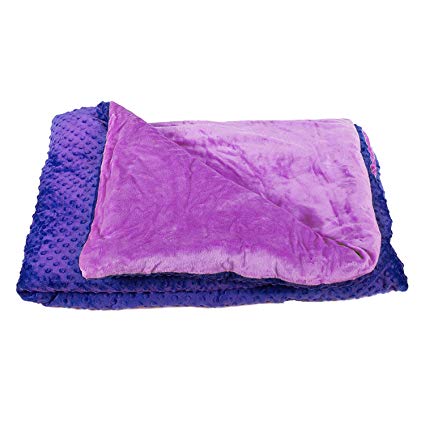 Harkla has a variety of weighted blankets for children. Ranging from 5-25 pounds, this blanket has a minky, dotted duvet cover and comes in three colors. This blanket is filled with tiny glass beads and hypoallergenic cotton stuffing. The company advertises that this blanket is beneficial for anxiety, ADHD or autism and is offered on Amazon as well as the company website. The blanket costs around $130. This company, on a monthly basis, donates 1% of every sale to the University of Washington Autism Center.
Quality: 80/100
Durability: 70/100
Cost: 40/100
Overall: 60/100
---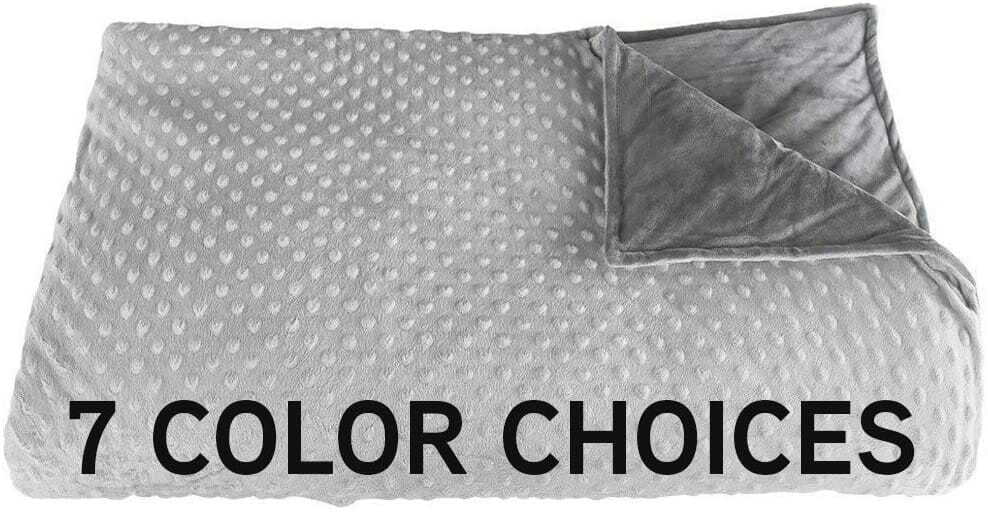 The Platinum Health Premium Weighted Blanket comes in 12 and 15-pound weights in a 60″x80″ dimension. Designed with a 100% glass bead system, this blanket has a machine washable, reversible cover with a luxe minky fabric which is soft on one side. The other side has and cool, dotted design to help with fidgety hands and fingers. This blanket comes in a wide range of colors from bright and vibrant to more subdued color schemes. Weight size can be adjusted by using either half or three-quarters of the blanket. The blanket is available for purchase from the company's website or Amazon for around $168.
Quality: 80/100
Durability: 70/100
Cost: 40/100
Overall: 60/100
---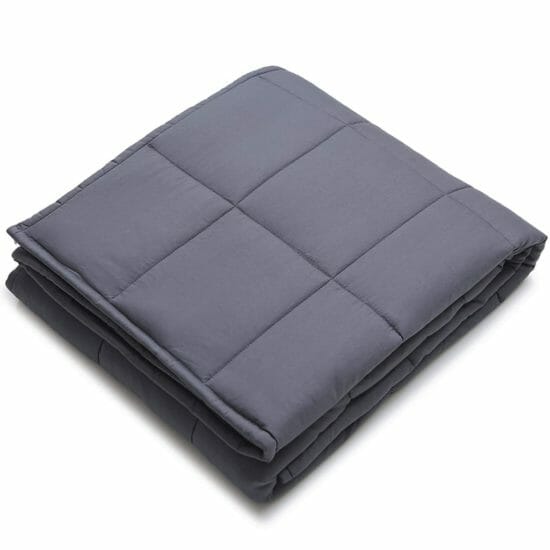 YnM offers weighted blankets for kids that range in weight from 5-25 pounds. Made of 100% cotton and filled with glass beads, this blanket has a 7-layer system which better contours to the child's body and provides better temperature control. The company offers a 100% customer satisfaction guarantee and will offer free mending repair for unexpected damage to the blanket up to three years. This blanket does come with a removal duvet, but one can be purchased separately. YnM blankets may be purchased on the company's website or Amazon and can range $65-$85.
Quality: 70/100
Durability: 40/100
Cost: 70/100
Overall: 60/100
---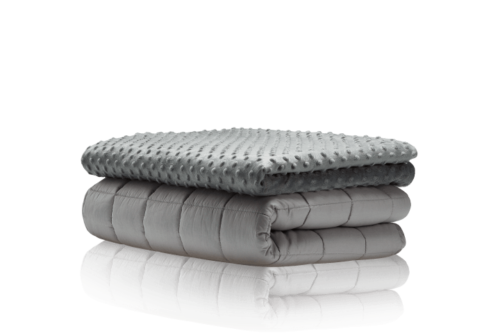 The child's weighted blanket from Snuggle Pro features a reversible cover which is machine washable. One side of the cover is made of a cooling, hypo-allergenic bamboo side and the other side is a warm, plush minky fabric. This blanket, which comes with a free bag, is filled with small, non-toxic glass beads and comes in 5-7 pounds. The blanket comes in twin or full bed sizes and is available on the Snuggle Pro website and Amazon. Prices range from $47-$127. The product is not recommended for children under the age of 3.
Quality: 50/100
Durability: 50/100
Cost: 60/100
Overall: 50/100
---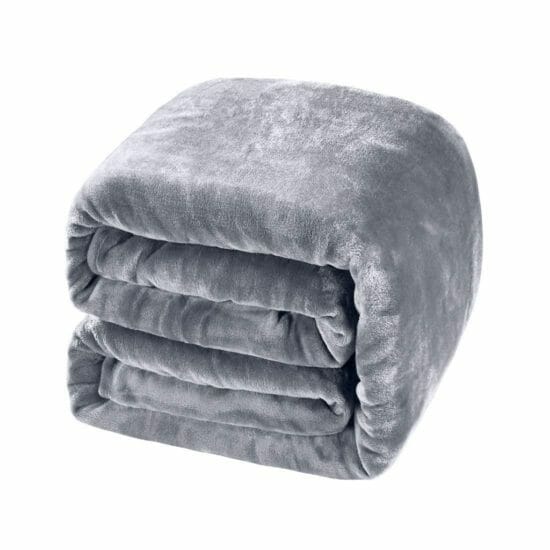 Hiseeme produces a variety of weighted blanket which comes in a 41″x60″ size and is filled with high density, non-toxic and hypo-allergenic, poly-pellets. The blanket is made of 100% cotton, minky fabric with reinforced double stitching to strengthen the blanket integrity. The blanket is machine washable, but handwashing is recommended. The company recommends a duvet cover for easier cleaning. There are five colors from which to choose, and the blanket is available for $69-$89 on Amazon.
Quality: 60/100
Durability: 50/100
Cost: 50/100
Overall: 50/100
---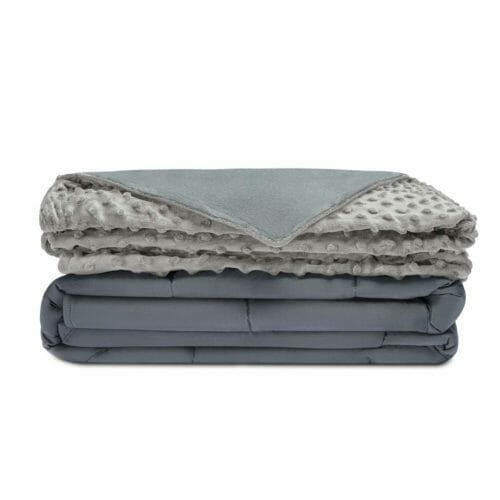 This weighted blanket for children ranges in weight from 7-25 pounds and is made of 100% natural cotton and has a removable cover. Filled with non-toxic hypo-allergenic plastic poly pellets encased in small pockets to prevent leakage and covered with a grey, minky fabric. Each blanket includes a removable duvet cover for easy cleaning. The manufacturer does not recommend this blanket for children under five years of age and is suitable for children 50-90 pounds. The Quility Premium Weighted Blankest for Kids is available on Amazon for around $90.
Quality: 50/100
Durability: 70/100
Cost: 60/100
Overall: 50/100
---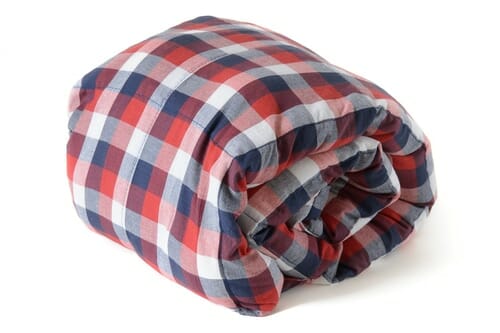 Mosaic makes hypo-allergenic, 100% cotton blankets for kids that are filled with non-plastic, BPA-free pellets. Blankets are available in bright kid designs for both boys or girls, such as action characters, cartoons, animals, etc. These blankets come in variable weights from which to choose from 5-20 pounds. Additional products include weighted vests and travel blankets. Handmade in Texas, Mosaic Weighted Blankets are machine washable and can be dried in a dryer (it is recommended that blankets over 12 pounds be cleaned in a commercial-sized washer and dryer). Blankets may be purchased from the company website and range in price from $100-$200.
Quality: 60/100
Durability: 50/100
Cost: 40/100
Overall: 50/100
---
That wraps up our ranking of the top weighted blankets to help kids sleep better!
Additional Reviews of Sleep Products for Kids