Approved by Joselyne John, RN

Purple is one of the most beloved and easily identifiable mattress companies in the "mattress-in-a-box" space. Purple Mattresses are easy to identify through their slick design or through touch due to their unique purple-colored "Comfort Grid." This trademarked "Hyper-Elastic Polymer" product is the result of over 20 years of sleep research. And while no single mattress type will work for all sleepers, Purple mattresses check many of the boxes for discerning shoppers today.
Purple mattresses are lauded for their lack of toxicity, anti-allergenic properties, temperature regulation, pressure-releasing comfort, motion transfer, and moisture prevention properties. Purple also occupies a unique price point. Most sizes of the original Purple mattress sell for around $1,000. And while this may seem like a lot, mattresses offering similar features often go for 3-5 times the price.
Today, Purple offers a wider range of mattress products through their original Purple Mattress and their newer Purple 2, Purple 3, and Purple 4 models. Where the original Purple Mattress was a "fit" for sleepers largely based on whether they enjoyed the feel of the mattress' unique comfort layer, newer versions allow for greater customization regarding firmness levels.
An additional aspect of the Purple Mattress experience comes from it's buying process. Mattress customers who have never utilized a "mattress-in-a-box" service, may be in for some surprises. Generally "mattress-in-a-box" services offer free shipping of a mattress product to your door as well as free pick-ups and returns if you are unsatisfied with your mattress. Purple Mattresses show up in a 70-140 pound "log" where the mattress has been rolled into a shape more easily transported (with a handle). Once the mattress arrives, you can try it out for 100 days. If you're unsatisfied with your mattress at any point during those 100 days — and the mattress is clean and undamaged — just contact Purple and they will pick up the mattress and issue a refund. Purple recommends that new mattress users sleep on the bed for at least 30 days to acclimate. But yes, you can try out their state-of-the-art mattresses for over 3 months, risk free.
Even risk free, we realize buying a mattress can be daunting. Quality mattresses are big investments that you'll (hopefully) be spending years of your life on. We look at all sorts of mattresses here at Online Mattress Reviews, and are all about helping consumers make well informed decisions. Sleep is important! And many people are trying to figure out the right complement to their sleeping situation. To aid in this process, we present our guide to Honest Purple Mattress & Bed Reviews: The Good, The Bad and the Ugly.
The Good: the Best Purple Mattress Reviews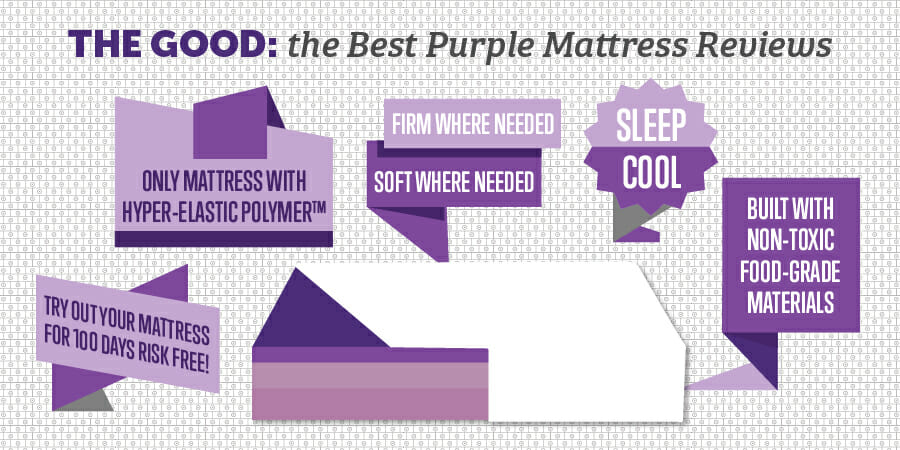 There have been thousands of happy Purple Mattress customers spanning over 2 decades. That's a lot of time to formulate an opinion of (or on) your mattress. We combed through hundreds of Purple Mattress reviews to find what happy campers find most appealing about their Purple Mattress.
What Customers Like About the Buying Process
Try your mattress out 100 days risk free.
Free shipping in the contiguous United States.
Great customer service, even if the mattress isn't for you.
Purple Mattresses are a great value for the features.
When your purple mattress is delivered, your old mattress can be removed.
What Customers Like About the Product
Purple Mattresses are a US brand that makes their mattresses in the US.
Purple Mattresses are made from non-toxic, food-grade materials. No volatile organic compounds (VOCs) and no outgassing of fumes. CertiPUR-US­® Certified so you can rest assured mattress materials are non-toxic.
Purple's unique Smart Comfort Grid means there's not another mattress like a Purple Mattress.
Purple Mattresses come with a ten year warranty.
Wide range of supporting products to round out your sleep experience: from specially fitted sheets to Purple pillows, to a state-of-the-art PowerBase to put your bed on.
Naturally antimicrobial.
No need for box springs or supporting layers. Can be laid on any firm, flat surface.
What Customers Like About the Sleeping Experience
Relieves pressure points for stomach, back, and side sleepers. Many report "feeling like they're floating."
Extremely breathable. Sleeps significantly cooler than memory foam mattresses.
Scores highly on motion transfer tests. Isolates motion so you won't feel when your partner, children, or pets move on the bed.
Manages to be firm where needed and soft where needed.
Great for mid-firmness level sleepers where one partner likes slightly firmer and the other slightly softer mattresses.
Good for individuals needing firmness for one part of their body and plushness for other parts.
Many customers with back injuries reporting greater comfort while sleeping.
Not dimpled or divet-ed in the morning like many memory foam mattresses.
Newer generations (Purple 2, 3, and 4) offer quality edge support.
The Bad: Purple Mattress Complaints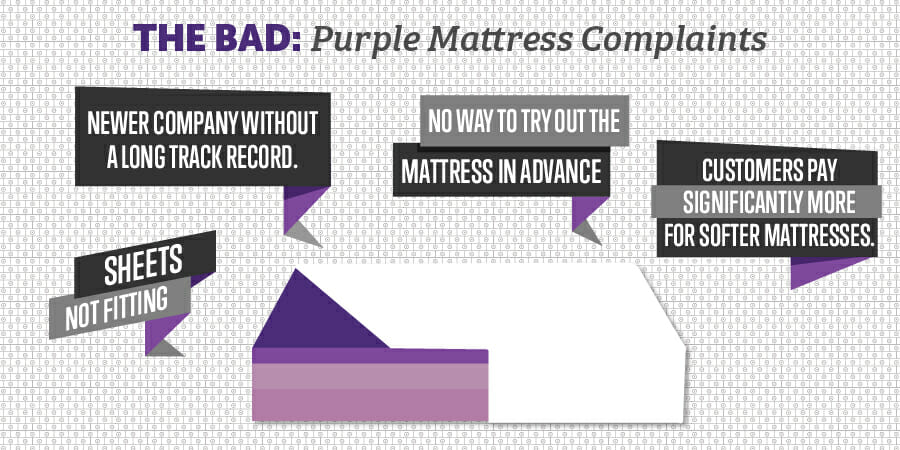 While many more shoppers reviewed the Purple Mattresses with positive than negative reviews, no one mattress works for every sleeper. There are close to 15,000 reviews of Purple Mattresses on Amazon, Purple's own site, and by mattress reviewers. Below we've taken a look at common mild to moderate complaints serious enough to warrant 2-4/5 star reviews on Amazon or Purple's own site. For context, 21% of Purple Mattress Reviews on Amazon and 22% of reviews on Purple's site rated the product of Purple experience between 2 and 4 out of five stars. Below are the most common mild to moderate Purple Mattress complaints from these reviews.
Some shoppers noted the shift to a material never tried before hard to get used to. If you're already fully sold on a memory foam or innerspring mattress, this may not be the bed for you.
Poor edge support on the Original Purple Mattress.
Only available online, so no "trying the mattress out" in advance.
Customers pay significantly more for a softer mattress.
Low profile without added layers below. This may be problematic for shoppers with limited mobility.
Customers in Hawaii, Alaska, and Canada must pay additional fees for shipment.
Historically only one firmness setting. Today there are three new models with different thicknesses, but still many fewer firmness settings than many mattress companies.
Relatively heavy, with larger mattress sizes weighing up to 140 pounds.
Some couples prefer bouncier, more responsive beds.
The most firm Purple mattress option is about 6/10 on the firmness scale. For customers wanting medium-firm to very-firm mattresses, Purple may not be the right choice.
As a newer company, no prolonged track record of mattress longevity.
Oversized customers may want to try out the bed first to ensure it fits their needs.
Some side sleepers report discomfort due to pressure points.
Some reviewers with "hourglass" shaped figures report discomfort due to the mattress not being giving enough.
Some reviewers report mattresses taking up to 48 hours to fully "inflate" from flattened transport state.
Some reviewers report needing to buy new sheets to fit their Purple Mattress.
The Ugly: the Worst Purple Mattress Reviews

A small but notable group of Purple Mattress customers greatly disliked their Purple Mattress shopping or sleeping experience. For reference, at the time of this article's writing 22% Purple Mattress reviews on Amazon and 6% of reviews on Purple's own site rated their product or experience with 2 or less stars (out of five). The most common reviews by customers entirely discouraged or regretful of their Purple Mattress purchase may be found below.
Customers who buy the Purple Mattress on Amazon or other third party sellers note that the 100-day trial period does not apply. Customers buying the mattress on Amazon must return within 30 days if they are not pleased with their purchase.
A small portion of owners reported their bed permanently "deflating" within a year of purchase.
Some owners wishing to return larger mattresses reported difficult process of "repackaging" their mattress.
Many particularly small and oversized customers tend to report great discomfort with this mattress.
Depending on body shape, some customers report one part of their body sinking deeply into the mattress while surrounding body parts are elevated. Reports note this leads to great misalignment.
Many side sleepers report discomfort.
Purple Review Overview
Below, we've listed where Purple Mattress has ranked in various popular mattress rankings:
Other rankings:
– Best Mattress under $1000 from Mattress Clarity
– Best Mattress for Pressure Relief from Sleepopolis
– 79% Brand Rating from Sleep Like the Dead
– Best Soft Mattress With Good Support from Business Insider
Our rankings:
– #21 for Best Online Mattress Companies
– #20 for Most Innovative of 2018
– #8 for Softest Mattresses of 2018
The Purple Mattress Price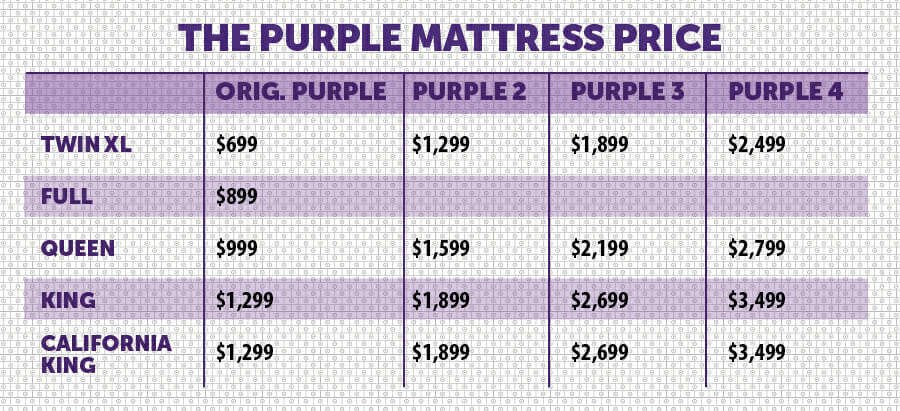 Traditionally, Purple Mattresses have come in one model known as (surprise!) the Purple Mattress in sizes from an XL Twin through a California King. Today, Purple offers the Purple 2, Purple 3, and Purple 4 in the same sizes (with the exception of full). These new generations of Purple Mattresses differ in the thickness of their "Comfort Grid." At 2, 3, and 4 inch Comfort Grids — respectively — the newer generations of Purple mattresses provide additional "plushness" with each successively higher numbered mattress softer than those before it. Additionally, Purple 2, 3, and 4 mattresses have enhanced edge support and 7.5″ pocketed coils for better distribution of weight. As of the time of writing of this article the price of Purple's mattress products may be found below.
Original Purple Mattress Price
Twin XL: $699 or $117/Month
Full: $899 or $150/Month
Queen: $999 or $60/Month
King: $1,299 or $79/Month
California King: $1,299 or $79/Month
Purple 2 Mattress Price
Twin XL: $1,299 or $79/Month
Queen: $1,599 or $97/Month
King: $1,899 or $115/Month
California King: $1,899 or $115/Month
Purple 3 Mattress Price
Twin XL: $1,899 or $115/Month
Queen: $2,199 or $133/Month
King: $2,699 or $163
California King: $2,699 or $163
Purple 4 Mattress Price
Twin XL: $2,499 or $151/Month
Queen: $2,799 or $169/Month
King: $3,499 or $211/Month
California King: $3,499 or $211/Month
Purple also offers a range of complementary products. Many of these products utilize the same trademarked "Hyper-Elastic Polymer" (the Comfort Grid) or play another role throughout the bedroom. Prices for complementary products offered by Purple are listed below.
Purple Pillow: $99
Purple Sheets: $99-$129
Purple Mattress Protector: $49-$69
Purple Seat Cushion: $39-$129
Purple PowerBase: $1,399-$2,798 (monthly financing available)
Purple Platform Base: $129-$189
Purple Pet Bed: $129-$229 (currently on Kickstarter)
Financing for Purple Mattress Products is available through Affirm at checkout. Input a few pieces of information to receive your financing decision in real time. Financing is available for those who quality and would like to make monthly payments on 6, 12, and 18 month plans. APR varies from 0-30% based on credit score. Down payments may be required for items of over $50. Estimated monthly prices above assume a 12 month repayment period at 10% APR. Checking to see if you qualify for financing through Affirm will not affect your credit score.
The Value Proposition of a Purple Mattress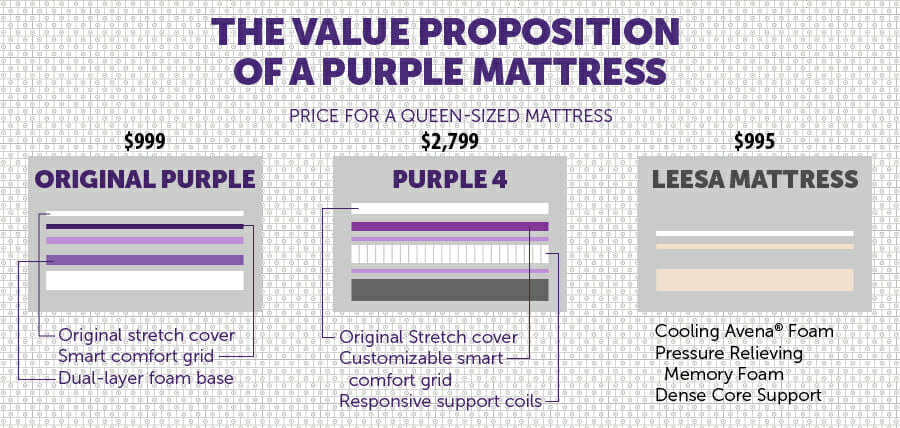 To truly discern whether or not a Purple mattress may be a good value for you, you need to know whether or not you'll find the product comfortable over an extended period of time. While trying a Purple Mattress out is risk free for 100 days, you will need to "put down the cash" for the purchase on the front end. With that said, a vast majority of Purple Mattress reviewers find their Purple purchase quite comfortable. So, assuming you are satisfied with the feel of a Purple mattress, are Purple Mattresses a good value?
Value Proposition of the Original Purple Mattress
Purple mattresses are non-toxic, antimicrobial, hypoallergenic, sleep cool, have great pressure release, are durable, and offer an innovative "mattress-in-a-box" experience. Many of these qualities are shared by top-of-the-line mattresses. But depending on the brand your seeking, prices can vary widely. A "typical" mid-tier queen-sized mattress costs around $1,200-$1,300. High-end queen-sized mattresses typically start at about $1,800. This is where the Original Purple Mattress really shines. At $999 the Queen-sized Original Purple Mattress provides great value through it's range of high-end features and well-liked customer experience. This holds true for the king-sized Original Purple Mattress as well. At $1,299, king-sized Original Purple Mattresses are roughly half the price of king-sized Sealy and Bed in a Box kings, and close to $500 more affordable than the Serta Perfect Sleeper. Tempur-Pedics — at least partially known for their temperature regulating properties — can go for more than $5,000!
Again, this is assuming that you truly thrive on the firmness level and particular feature set of Original Purple Mattresses. If you need a bed that is extra firm or softer than 6/10 firmness, then many traditional mattress makers will offer a wide range of competing products that might be a better fit. Additionally, lacking edge support on the Original Purple (not newer generations) make this less of a deal if you can't stand mattresses that dip some on the edges.
Value Proposition of Purple 2, Purple 3, and Purple 4 Mattresses
As we've mentioned earlier in the guide, the newer generations of Purple mattresses include the Purple 2, 3, and 4. These mattresses offer additional softness through increased depth of the comfort layer. The numbers correspond with the depth of the comfort grid. So the Purple 2 utilizes 2 inches of comfort grid and is the firmest of these three models, with the Purple 4 being the softest. Additionally, the edge support in these mattresses is reworked from the original Purple and 7.5″ pocketed coils have been added. These coils help to distribute pressure even better.
The price point of newer Purples jumps quite a bit. Where a queen-sized Original Purple is on the lower end of prices for mid-tier mattresses, a queen-sized Purple 2 is on the expensive size of the mid-tier mattress range. If you jump to the Purple 3 or 4, the queen-sized models are solidly in high-end territory for mattresses. High-end traditional mattress makers generally offer a much wider selection, and will also include many of the features of Purple mattresses. For this reason, we feel that while Purple 2's still represent a good value for those already sold on the Purple "feel," that Purple 3's and 4's represent a worse value. For those with some "wiggle room" in their budget and who are looking for a Purple that addresses a few of the issues with the original Purple, go with the Purple 2. For shoppers with budgets that extend up to the king-sized price of the Purple 4 ($3,499) you'll find a wide selection of soft, medium, and firm mattresses of almost every material available from other sellers for below this price. With that said, Purple mattresses have a feel unlike any other mattress on the market. If you're already sold on Purple mattresses, the 2, 3, and 4 offer some additional choice when it comes to firmness levels.
Comparing Purple to Other Bed-in-a-Box Services
The most popular Bed-in-a-box services include Casper, Leesa, Purple, and GhostBed. All of these mattress providers offer dynamic foam (and Polymer in the case of Purple) construction, modern design, and similar delivery and return policies. While the mattresses of these providers differ in terms of mattress response-time (the time before a mattress "adjusts" to your weight), firmness levels, "hug," and cooling levels, newer generation Purple Mattresses cost significantly more than competitors.
There are many differences to the "feel" of these competing mattress companies. They differ in terms of response-time, or the amount of time before a mattress adjusts to your position. They provide different firmness levels and "hug." However, in the grand scheme of things mattresses from these four mattress makers are relatively similar. They all utilize dynamic foam construction, are all CertiPur-US certified for non-toxicity, and all offer similar warranties, delivery, and returns. Originally, all four of these brands also occupied a similar price point as well. When comparing the Original Purple with mattresses from Casper, Leesa, and Ghostbed, the best value would likely be the mattress that is most comfortable to you!
Prices of Queen-Sized Bed-in-a-Box Mattresses
Casper: $950
Leesa : $940
Original Purple: $999
Ghostbed : $795
Over time, all of the above bed-in-a-box manufacturers have released additional higher-end models. The Purple 3 and 4 however, are significantly more expensive than higher-end models from others in this space. With that said, Purple is known for having perhaps the most unique "feel" through their use of gel-like comfort layers. Additionally, Purple's new models complement each other in a way other bed-in-a-box competitor's offerings don't by giving users a range of softness to firmness in mattress choice. So while — in the end — you're going to want the mattress that provides the best night's rest for you, you have to really love the Purple 3 or 4 to justify the price difference between bed-in-a-box competitors.
Prices of Most Expensive Queen-Sized Bed-in-a-Box Mattresses
Casper's Queen-Sized Wave Mattress : $1,850
Leesa's Queen-Sized Sapira Mattress: $1,495
Ghostbed's Queen-Sized Ghostbed Luxe: $1,475
Purple's Queen-Sized Purple 3 : $2,199
Purple's Queen-Sized Purple 4 : $2,799
What Makes a Purple Mattress Unique
Purple mattresses are lauded for their motion transfer, support, non-toxic nature, cooling nature, and response time. To cut to the heart of nearly all of these aspects, one must understand how Purple mattresses are constructed. Unlike competitors, the top layer of Purple mattresses isn't latex foam, memory foam, or a proprietary foam blend. Purple mattresses are topped with a trademarked gel-like material called Hyper-Elastic Polymer. This (purple) material is built into a grid like structure (called the comfort grid) that provides a number of benefits for sleepers.
Benefits of the Comfort Grid Layer of Purple Mattresses
Hyper-Elastic Polymer cools sleepers by allowing airflow through it's open grid. This keeps the mattress temperature neutral all night long.
Hyper-Elastic Polymer adjusts quickly providing quality "response time" for sleepers. Here's where the "elastic" bit comes in handy. Unlike foams that slowly regain their shape, this stretchy polymer pops back into position quickly providing a bounce. In Purple 2-4 models, an additional unit of support coils allows for some areas of the bed to remain depressed while others retain full firmness.
Hyper-Elastic Polymer dampens motion through the ability of one portion of the polymer to stretch while another remains firm. Many commenters have noted that Purple mattresses have the best motion transfer rate of any mattress they've seen.
Hyper-Elastic Polymer provides alignment for the spine in any sleeping position, back, side, or stomach. The comfort grid achieves this through adapting to pressure points while keeping support elsewhere.
The Hyper-Elastic Polymer Comfort Grid of Original Purple and Purple 2 mattresses has a depth of 2 inches, with a greater proportion of the mattress composed of supportive foam base layers. This makes the Original and Purple 2 mattresses the most firm mattresses in the Purple collection. Purple 3 and 4 models have 3 and 4 inches of Comfort Grid, respectively. While the increased depth of the Comfort Grid generally leads to a less firm feel in these models, the newer models (2, 3, and 4) also integrate 7.5 inches of responsive support coils. These coils are individually encased meaning, theoretically, one coil could be depressed while the surrounding coils are in their original position. This synergizes with the comfort grid layer by providing additional support both where the comfort grid is depressed and flat. This means that movement on one part of the bed will not disturb other portions of the bed. And that Purple 2, 3, and 4 models are known for having some "bounce." The additional support for the comfort grid leads many Purple owners to describe the feeling that "Purple is soft and firm where it needs to be."
Other reasons why Purple is Unique
While all foam-based mattresses outgas some, memory foam is known for the longest outgassing process. By avoiding the use of memory foam in their product, Purple mattresses outgas less than practically all of their competitors.
Unlike memory and latex foam mattresses, Purple mattresses provide support at levels closer to spring mattresses. Purple also avoids the annoying pressure points that can occur over time with spring mattresses.
With many benefits that aren't found in memory or latex foam mattresses, Purple mattresses manage to keep some of the most beloved foam mattress features: movement absorption, and "hugginess."
The Purple Brand

While the founders of Purple have been in the sleep materials space for close to 20 years, Purple only emerged in 2015 after the completion of a wildly successful Kickstarter campaign. Using clever bylines such as "there's a problem with the mattress industry, the mattress" and "if it sounds a little science-y, that's because it is," Purple immediately found a cadre of hopefuls looking for sleep salvation in slick new sleep technology.
After this promising initial showing in the sleep space, Purple teamed up with The Harmen Brothers to create a series of videos explaining the science in their "space age" mattresses. These videos (quite entertaining for ads) were viewed over 100 million times. Drawing on this success, Purple set up another Kickstarter, this time for a pillow based on the same technology. After one month the Kickstarter had more than met its $25,000 goal, and netted the young company $2.6 million.
Purple has built on their initial web following with over 10,000 positive reviews, a great looking presence online, clear differentiation from competitors, and a customer experience that many say they'll never give up. Just three years in, many reviews cite sleepers who have bought into the Purple brand fully. Many Purple shoppers who bought a first mattress early have gone on to outfit their entire house with Purple technology.
Purple has continued to refine their marketing materials that many cite as a central reason they were willing to try a new technology in the first place. The brand has also applied their trademarked Hyper-Elastic Polymer to a range of other products including pillows, seat cushions, and even a forthcoming Pet Bed (currently on Kickstarter). By rounding out their product lineup with a simple and advanced base for their mattresses (the advanced features full body massagers and plugs built into the bed) as well as sheets, Purple has transformed their "science-y" appeal into a lineup that can take care of your entire sleeping experience.
Besides the Hyper-Elastic Polymer Comfort Grid, the Powerbase for Purple mattresses is perhaps the most differentiated product offered by the brand. Controllable from your smartphone or a remote, this base allows both sides of the bed to choose from an (almost) infinite array of positions. Pre-sets include a "zero gravity" mode that utilizes NASA discoveries regarding the best position for lowering the impact of G forces on the human body. Additionally, an "anti-snore" position positions sleepers for best breathing through the night. To top it off, massagers and power outlets are built into the bed base.
The History of Purple Mattresses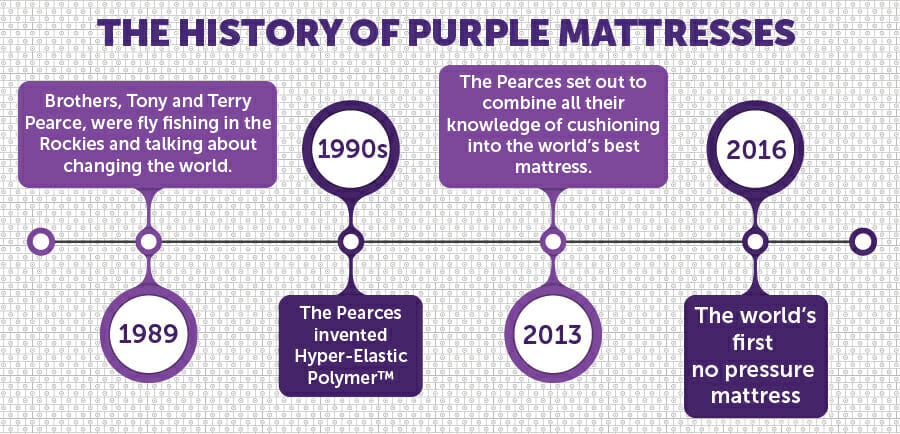 The history of Purple Mattresses can't be told without first touching on the history of two brothers — its founders — Tony and Terry Pearce. In 1989, Tony — an expert in advanced aerospace materials — and Terry — a leader in manufacturing, design, and project management — teamed up to create high-tech sporting goods and wheelchairs. As their products began to be distributed, however, one problem seemed to surface again and again: wheelchairs needed better cushioning. In an effort to decrease the number of pressure sores obtained by wheelchair users, the brothers created the science fiction-sounding Floam, the world's lightest weight cushioning fluid.
Floam was a big deal, ended up being placed into all sorts of pressure-bearing products (even those used for premature babies). But it wasn't until further research was done that the brothers discovered a material that really took a load off. Hyper-Elastic Polymer was an amazingly strong, soft, and durable material. It could stretch up to 15 times its resting size, didn't break down, and did not take impressions when put under pressure. Perhaps most notable, Hyper-Elastic Polymer can "relax" under pressure points, taking on the load of weight without compromising support to other areas. This is what really makes for unique high-tech mattresses that leave sleepers feeling like they're "floating on air."
The story doesn't end there, however. And it actually took the brothers several years to craft a machine that could craft large enough sheets of Hyper-Elastic Polymer at a more reasonable price. The Mattress Max — as this machine was called — enabled the brothers to start their initial offering of mattress technologies. In 2015, the brother's created a Kickstarter for a mattress topper that utilized Hyper-Elastic Polymer. Seeking a trial run of $25,000 in backing, the Kickstarter hit its goal within five days. Two months later, some 320 backers had pledged $171,560 to the team.
Running on the success of their Kickstarter, Purple teamed up with The Harmon Brothers to create a number of videos explaining their innovative new sleep tech. These videos have been watched over 100 million times. A second Kickstarter released in 2016 for a Purple Pillow surpassed it's $25,000 goal by even more. One month after the start of the Kickstarter, 17,000 backers had pledged over $2.6 million for the project.
Since their initial discoveries and Kickstarters, Purple has only grown even more. After a merger with Global Partner Acquisition Corp (GPAC) in 2017, Purple was valued at over $1 billion. With greater infrastructure, backing, and a larger fan base than ever, Purple has expanded their product line to 4 mattresses in most traditional sizes, mattress bases, pillows, sheets, seat cushions, and even a forthcoming dog bed.
Purple Mattress Options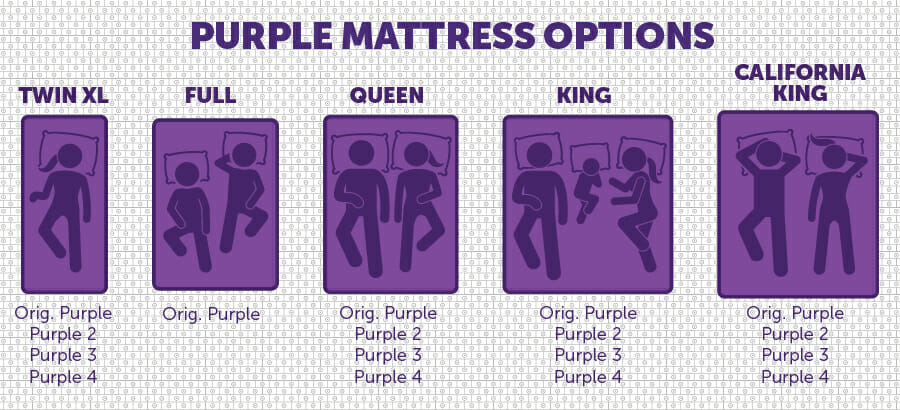 Purple does not offer as wide of a range of products as other longer-established mattress brands. With that said — for customers who love the feel of Purple products in particular — there are more than enough products to fill out all of the sleeping areas in your home. Below you'll find the current sizes available in Purple Products.
Original Purple Mattress Options and Sizes
Twin XL: 38″ x 80″ x 9.5″
Full: 54″ x 76″ x 9.5″
Queen60″ x 80″ x 9.5″
King76″ x 80″ x 9.5″
California King72″ x 84″ x 9.5″
Purple 2 Mattress Options and Sizes
Twin XL: 38 x 80 x 11
Queen: 60 x 80 x 11
King: 76 x 80 x 11
California King: 72 x 84 x 11
Purple 3 Mattress Options and Sizes
Twin XL: 38 x 80 x 12
Queen: 60 x 80 x 12
King: 76 x 80 x 12
California King: 72 x 84 x 12
Purple 4 Mattress Options and Sizes
Twin XL: 38 x 80 x 13
Queen: 60 x 80 x 13
King: 76 x 80 x 13
California King: 72 x 84 x 13
Purple Powerbase Options and Sizes
Twin XL: 38" x 80" x 7.11"
Queen: 60" x 80" x 7.11"
Split King: 76" x 80" x 7.11"
Purple Platform Base Options and Sizes
Twin XL: 37.5" x 79.5" x 16.5"
Queen: 59.5" x 79.5" x 16.5"
King: 75.5" x 79.5" x 16.5"
California King: 71.5" x 83.5" x 16.5"
Purple Sheets Options and Sizes
Sizes

Twin/Twin XL
Full/Full XL/Queen
King/California King

Colors
Purple Cushion Options and Sizes
The Everywhere Cushion
The Portable Cushion
The Royal Cushion
The Ultimate Cushion
The Back Cushion
The Simply Purple Cushion
Purple Mattress Accessories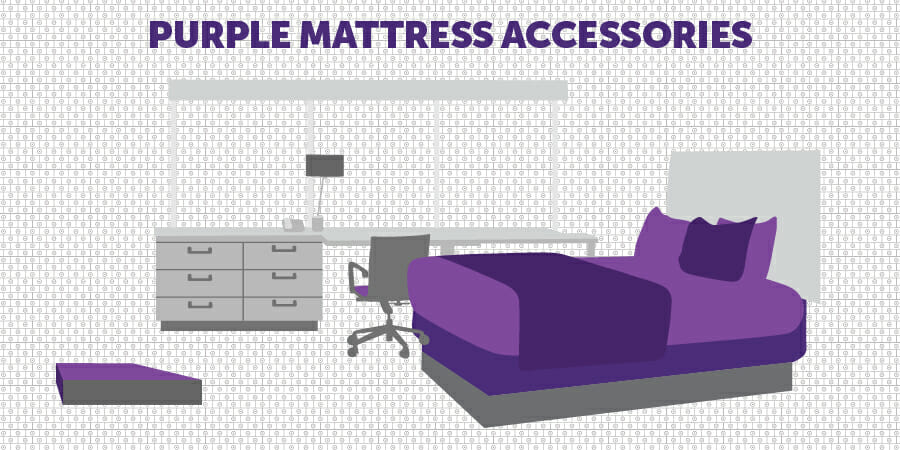 Purple's innovative approach doesn't stop at mattresses, a wide range of Purple Mattress accessories cater to many sleep and rest-related needs. Below we'll dive into the good, the bad, and the ugly about Purple's mattress accessory collection.
The Purple Pillow
Purple's second product after a mattress topper was actually their pillow collection. This crucial sleeping accessory utilizes the same Hyper-Elastic Polymer technology used in Purple mattresses to create a cool sleeping, hypoallergenic, and pressure point-reducing pillow. In fact, these pillows — which raised over $2 million on Kickstarter, are probably unlike anything you've ever seen.
Purple Pillow Features
Free shipping to the contiguous 48 states.
100 day risk-free trial period. If you don't like the pillow, Purple pays for return shipping and you get a refund.
Innovative Hyper-Elastic Polymer technology arranged in head-support specific triangles.
Firm edges for supporting your neck, head cradling center for support no matter how you sleep.
Free airflow through the pillow center keeps it temperature neutral. High airflow also cuts down on moisture.
Super durable with 1 year warranty.
Easy to wash.
Non-toxic and hypoallergenic.
Purple Sheets
Well, they don't only come in purple. But you may want a purple pair when you stock up on these high-tech, completely re-thought sheets. Meant to complement the unique way in which the Purple mattress moves as well as the cool, breathable nature of the mattress, these sheets were actually created with super-stretchy bamboo. Check out some of the great features of these sheets below.
83% more breathable than popular Egyptian Cotton sheets.
Softer and cooler than Jersey knit sheets.
Remedy the common complaint that some sheets do not fit Purple mattresses.
Seamless in construction, leading to less irregularities in touch.
Four color options: white, sand, slate, and purple.
Purple Powerbase
Purple's Powerbase incorporates just as much science and sleep know-how as any of the other accessories offered by Purple. These space-age bases include over 1,000,000 positions with adjustable upper and lower body portions. A number of pre-set positions include a position meant to minimize snoring as well as a position discovered by NASA to minimize G forces on the body to the greatest extent. Additional features include plugs and USB plugs built into the bed, as well as built in massagers down the length of the body.
Purple Powerbase Options and Sizes
Twin XL :38" x 80" x 7.11"
Queen :60" x 80" x 7.11"
Split King :76" x 80" x 7.11"
Purple Mattress Discounts, Deals, and Coupons

From time-to-time discounts, coupons, or "freebies" from Purple pop up. One of the best ways to learn about these opportunities is to check out Purple's discounts page which essentially directs viewers to follow their social media for special announcements. As of the time of this writing, Purple mattress purchases also include a free Purple seat cushion (while supplies last). Other sleep product review pages also occasionally have offers for their viewers. In the past or currently the following sleep product review sites have discounts, deals or coupons for Purple products:
Where to Buy a Purple Mattress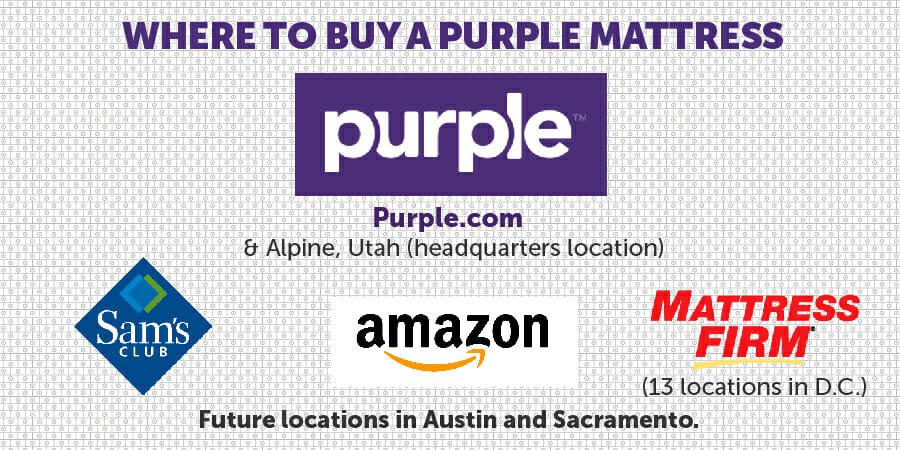 Purple is a bed-in-a-box company, meaning you order a mattress that is delivered to your home. In staying with this model — that allows Purple to offer amazing 100 day trials, and free returns — Purple sells almost all of their mattresses online. With that said, there are still a few options. The most highly recommended location to buy a Purple mattress is from Purple.com. Here you will gain full access to the companies 100 day risk-free trial period on mattresses and pillows as well as full access to Purple's customer support. A second option for buying Purple mattresses is through 3rd party vendors such as Amazon.com. While you may have a specific rationale for ordering through a third party (such as a rewards credit card), please note that third-party sellers of Purple products do not offer the full 100 day trial period offered by Purple itself.
A handful of in-person buying locations are also available for Purple. Some products may be tried out and purchased at Purple's headquarters and showroom in Alpine, Utah. Some third-party vendors allow for in-store pickup such as Sam's Club. And at the time of the writing of this guide 13 Mattress Firm locations in Washington, D.C. will also carry the mattress. Future placement of Purple mattresses is expected beginning in Austin, Texas, and Sacramento, California.