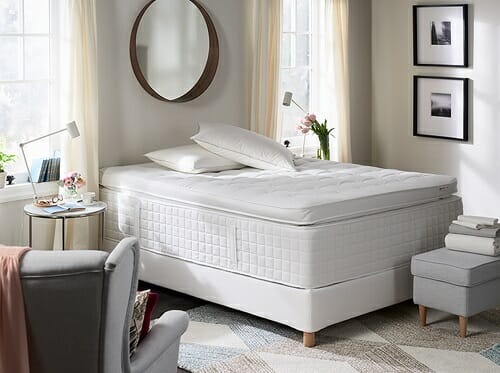 In order to boost health and overall well-being, it's so important to get the right amount of good-quality sleep. After all, studies have linked sleep deprivation not only to decreased cognitive function, but also to depleted immune system issues and a higher risk of suffering from type II diabetes and heart disease.
It's therefore crucial to try and get the best night's rest possible – and purchasing a suitably soft mattress is the perfect place to start. What's more, now there's no need to head to a brick-and-mortar store to make the right selection, as a host of exceptional models with top-of-the-line features are obtainable at the touch of a button. Here, then, are the 30 best soft mattresses available online – all of which should aid in that quest for perfect sleep.
Methodology
In the interest of establishing which mattresses were included in this list, our editors referred to Consumer Reports' "Mattress Ratings & Reliability" review, focusing exclusively on models deemed to be among the softest available to purchase online. Each of the relevant mattresses was then allotted six different Total Scores corresponding to their performance in a set of metrics, as follows:
• Versatility: How well the mattress provides for sleepers' needs, taking into consideration different body types and sleeping positions.
• Durability: How well the mattress maintains its size, shape and measures of firmness and support after being put through tests proportional to eight years of continual use.
• Comfort Factor: A combination of the following, as defined by Consumer Reports:
• How well the mattress resists bounciness: To what degree "the mattress can absorb impact, minimizing the bouncy feeling [potentially encountered] while changing sleep position."
• How well the mattress eases movement: To what degree "the mattress has enough resilience to allow easy changes in sleep position."
• How well the mattress retains warmth: To what degree the mattress insulates and "trap[s] body heat, making [the sleeper] feel warmer."
• The stability of the mattress: "A measure of how much vibration is transmitted across the mattress."
• Quality and Innovation: The caliber of the mattress' manufacture and materials and whether it incorporates any particularly groundbreaking features. Satisfaction guarantees and extended warranties were also factored in.
• User Rating: The score applied to each mattress by Consumer Reports as derived from testing and wide-ranging customer feedback.
• Value: The cost of the mattress when compared with the average for corresponding products on the market at this time. The price of the queen-sized version of the mattress was used to determine this.
The Total Scores were subsequently given weightings stemming from how well the mattresses performed in each metric. It should be noted, though, that a low weighting was attributed to the Durability metric, since there wasn't much distinction between mattresses in this area. Likewise, the Value metric received a low weighting, because it would have distorted the final ranking to the advantage of low-cost mattresses that didn't do as well when it came to the other criteria used.
Finally, the Total Scores for each metric were calculated to yield each product's Total Metric Score, and it was on these that the final ranking was based.
30. Tempur-Pedic – Tempur-Flex Prima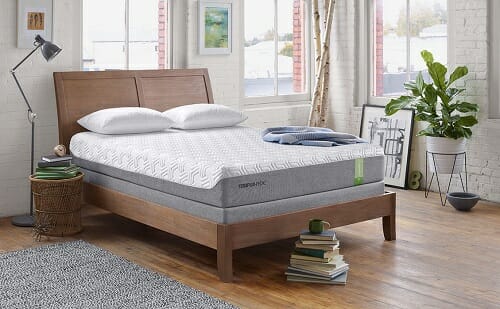 Tempur-Pedic's Tempur-Flex Prima model features a proprietary "SmartClimate System" that the company claims should work to wick away any moisture and keep sleeping temperatures fresh. The antimicrobial properties of the mattress ought to keep it smelling sweet, too. But that's certainly not all, as the Tempur-Flex Prima contains an impressive five layers in total – one of which is made from the company's patented TEMPUR-ES material to help ensure exceptional softness. Meanwhile, an array of pocketed coil springs function in conjunction with the responsive layer of foam above to react accurately to movement and give support just where it's needed. The queen-size version of the Tempur-Flex Prima is available online for $1,999, and it additionally comes with a ten-year warranty.
29. Novosbed – The Novosbed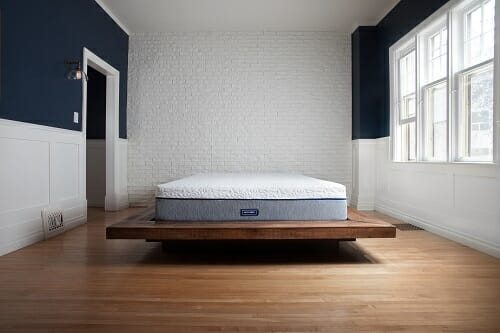 As Novosbed founder Sam Prochazka explains on the company's website, "We live to design elegant solutions to hard problems and, by doing so, to improve people's lives in clear ways." The Novosbed mattress certainly seems to have benefited one customer, who claimed in their review of the model, "[My partner and I] both are well rested, and [we] don't wake up with pain or numb limbs anymore." Such kudos could be down to the mattress' six distinct layers, which work in balance to dispel excess heat, provide support and create an apparently plush feeling of comfort. Potential customers may also appreciate Novosbed's no-waste manufacturing scheme: in short, any materials not used in the mattresses produced by the company are reused or recycled. And if that all appeals, then The Novosbed can be bought for $1,099 for the queen-sized version, while there's also a 120-night trial period on offer.
28. Modern Sleep – Pillow Top 14" Hybrid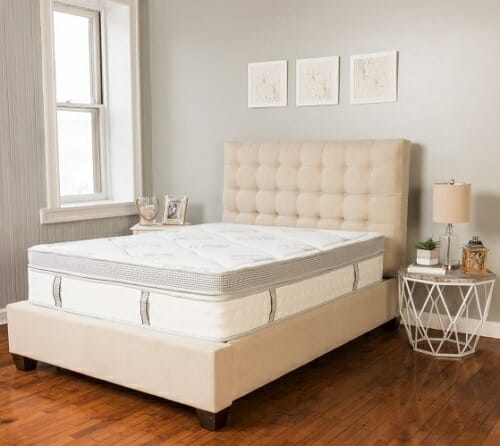 Modern Sleep's queen-sized Pillow Top 14" Hybrid mattress is available online from Walmart for a very reasonable $433. For this price, moreover, customers will receive a mattress model that combines both gel-filled memory foam and an innerspring arrangement of wrapped coils. And each of those mattress technologies are intended to serve distinct purposes. The coils act both as support for the body and limit mattress movement – hopefully thereby making nighttime disturbances by sleeping partners a thing of the past. Meanwhile, the memory foam ought to help ensure that pleasant temperatures prevail under the covers and provide just the right amount of softness for that ideal eight hours of rest. The foam is hypoallergenic, too, and it should also keep bacteria and dust mites at bay.
27. WRIGHT – W1.27 Mattress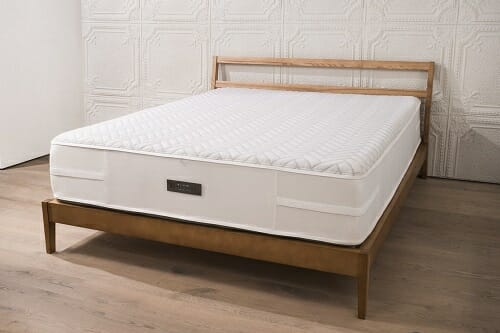 WRIGHT makes its mission statement clear on its website: the business aims "to build the world's best mattresses and bedding." And a lot of work has been put into making that goal a reality. The W1.27 mattress, for example, was only perfected after over two years of research and 27 cycles of testing; now, however, it "[delivers] deeper and better sleep than anything else," according to the company. Perhaps that's down in part to the mattress' use of "3BELOW" foam, so called because its ability to absorb and dispel heat is said to make the W1.27 three degrees cooler to sleep on than other mattresses on the market. The model also contains not one but four sections of memory foam that altogether should, so WRIGHT claims, "provide the perfect balance of comfort, support, responsiveness and breathability." In any case, the queen-sized W1.27 sells for $1,795 and comes with a 15-year guarantee.
26. Sleep Science – Ara Memory Foam Mattress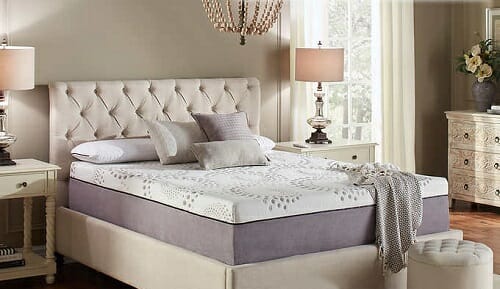 Sleep Science's Ara Memory Foam Mattress is available to buy online from Costco, with the queen-sized version selling for $1,099.99. And for anybody in need of a little more space in which to spread out at night, the Ara might well be worth the money, since the mattress includes a so-called "Patented Wedge Support System" that, it's said, gives sleepers 20 percent more room for snoozing. Frequent over-heaters, meanwhile, may feel the benefit of the air channels contained in the model's foam base; these are intended to dispel excess warmth and so create the perfect sleeping temperature whatever the climate. Plus, the Ara's CertiPUR-US certification ought to put minds at rest, as it means that the mattress' foam contains no fire retardants, phthalates or toxic heavy metals.
25. Bob's Discount Furniture – Bob-O-Pedic Hybrid Mattress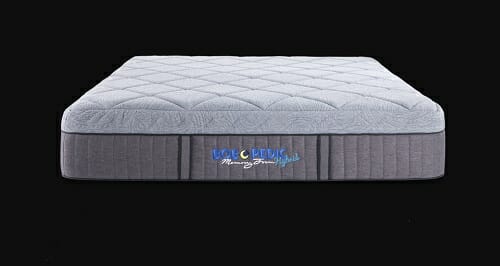 According to Bob's Discount Furniture, "gel-infused Bob-O-Pedic memory foam plus independent coil spring technology equals magnificence." Anybody wanting to prove the validity of that math can pick up the Bob-O-Pedic Hybrid Mattress from the company's website for $899 for the queen-sized version. And whether or not they draw the exact same conclusion, customers will find that the mattress also includes a stretch-knit cover intended to promote breathability. This cover, it's said, works in conjunction with the gel memory foam layer to provide efficient temperature control during the night. The combination of support foam and coil springs, meanwhile, ought to help deliver the ideal amount of firmness. Furthermore, Bob's Discount Furniture offers an impressive non-prorated warranty of 20 years on the Bob-O-Pedic Hybrid Mattress, so the model should be able to withstand whatever users choose to throw at it.
24. Zinus – Pressure Relief Euro Top Pocketed iCoil Hybrid Mattress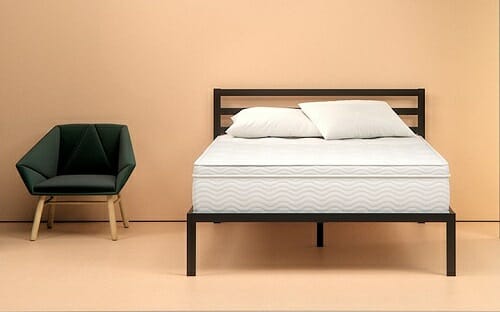 At just $312 for the 13-inch queen-sized version, the Pressure Relief Euro Top Pocketed iCoil Hybrid Mattress from Zinus is certainly affordable. But despite this, the model doesn't lag behind the competition when it comes to quality. It's a hybrid mattress, too, boasting both memory foam and iCoil springs – the latter of which, the company claims, is so good at reducing motion transfer that the user "can do jumping jacks on [their] side and not wake up [their] partner on the other side." If that sounds a little too energetic, then rest assured that the mattress' comfort foam meanwhile helps both ensure softness and relieve any pressure on the body – so that, Zinus says, sleepers should "wake up with magically less aches and pains." It all adds up to make a mattress that has received rave reviews from some of its owners; one enthusiastic customer even went so far as to dub it their "best online buy ever."
23. IKEA – Holmsbu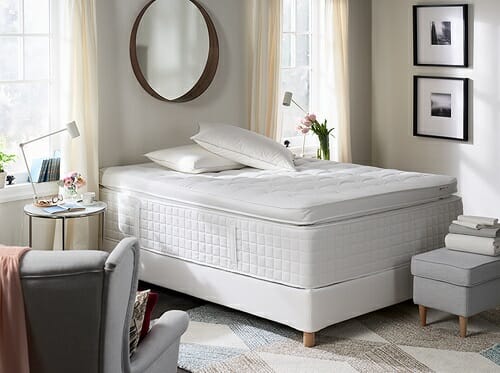 IKEA promises "quality home furnishing products at affordable prices" – and accordingly, the Swedish company's Holmsbu mattress retails at a more than reasonable $799 for the queen-sized version. On top of which, because the Holmsbu is a hybrid model, customers will receive a mattress that not only includes gel-infused memory foam – intended to both cradle and cool the body – but also no fewer than three sections filled with pocket springs to help give enhanced support and comfort. There's additionally what IKEA terms "a generous layer of soft filling," which might appeal to potential purchasers looking to really sink into their mattress at night. And anybody choosing to buy the Holmsbu may also be pleased to know that the mattress doesn't need to be flipped at all – while the generous 25-year warranty on the model isn't to be sniffed at, either.
22. Tempur-Pedic – Tempur-Flex Supreme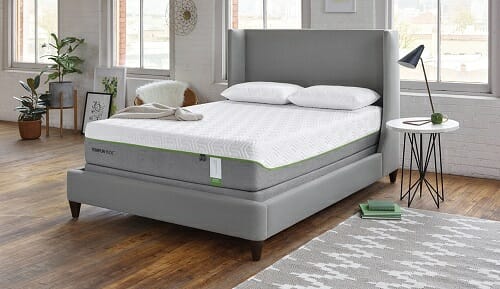 At $2,799 for the queen-sized version, Tempur-Pedic's Tempur-Flex Supreme may be among the higher-priced mattresses available to buy online. However, the model does come recommended by none other than Serena Williams, who has said of her own Tempur-Flex Supreme, "This is the only mattress that adapts to my body, relieving pressure points so I sleep deeply and wake up ready to perform on the court and conquer whatever the day might hold." And while there's no guarantee that customers will automatically become champion tennis players by purchasing the mattress, Tempur-Pedic does at least promise that the Tempur-Flex Supreme is allowed to be returned within 90 days if it's not deemed up to scratch. What's more, before this point, users can see whether the mattress' four-layer structure – with specific zones for comfort, response and support – helps in getting that perfect night's rest.
21. Tempur-Pedic – Tempur-Contour Supreme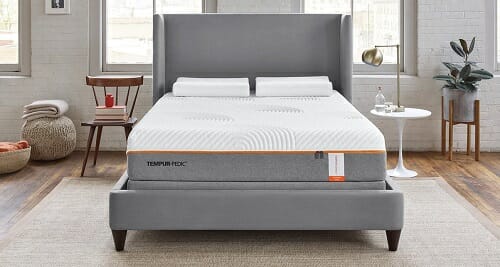 As with the Tempur-Flex Supreme, the Tempur-Contour Supreme is towards the more expensive end of the market: the queen size costs $2,599. Still, for this money, buyers get a mattress that, according to one happy customer, is "worth every penny." The Tempur-Contour Supreme is innovative, too, with the SmartClimate system contained in the cover serving both to wick moisture away and provide a temperate environment for the sleeper. Meanwhile, the patented Tempur material in two of the mattress' layers is custom designed to help give comfort and support where it's needed and uniformly distribute the weight placed upon it by the user. And if the model proves to be not so durable, then customers can simply take advantage of the ten-year warranty on the mattress to get it either repaired or replaced.
20. Brooklyn Bedding – Brooklyn Signature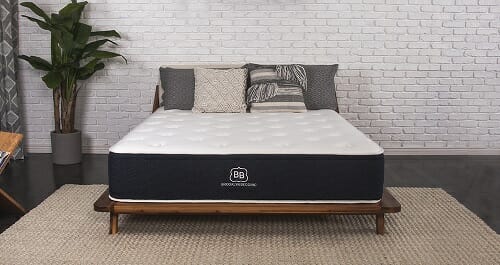 In 1995 Rob Merwin started signature Brooklyn Bedding by "unloading every mattress in his inventory at any house in the Phoenix, Arizona, valley, day or night." A lot has changed for Rob and his co-founder brother John in the interim, however. Now, for one thing, the pair create their own highly-rated mattresses. And certainly, many of their customers are more than happy with the Brooklyn Signature – judging, that is, by the multitude of five-star reviews given to the model. Perhaps this satisfaction is down in part to the mattress' proprietary TitanFlex foam, which, the company claims, aligns itself to every body movement and curbs overheating during the night. The pocket coil base included, meanwhile, helps keep the mattress in good shape and should provide exceptional support during naptime, too. The Brooklyn Signature queen size is available for $949 and comes with a 120-night trial period.
19. The Saatva Company – Saatva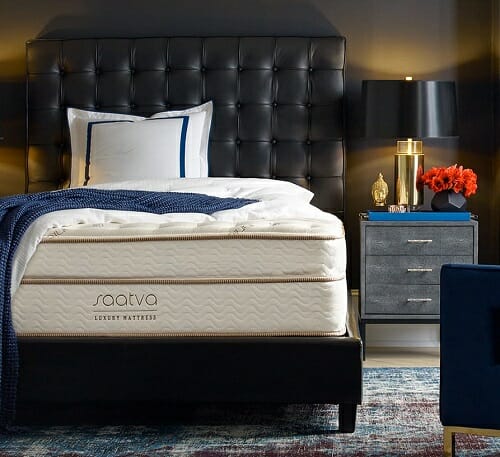 The Saatva Company uses what it calls a "coil-on-coil construction" in its signature Saatva mattress. What's more, that feature ought to not only help support the body during sleep but also help eliminate motion transfer – meaning the user shouldn't be rudely awoken if a sleeping partner decides to leave the bed. The Saatva model also comes complete with extra lumbar support – hopefully making rising with a bad back a thing of the past – and a reinforced edge to boost its durability. And if there's an issue with the mattress, then The Saatva Company encourages buyers to get in touch. According to one reviewer on the company's website, any queries will be expertly handled, too, since they've stated, "I give Saatva's customer service an A+." The queen-sized version of the mattress sells for $999 and comes in "plush soft," "luxury firm" and "firm" varieties.
18. Leesa – Leesa Mattress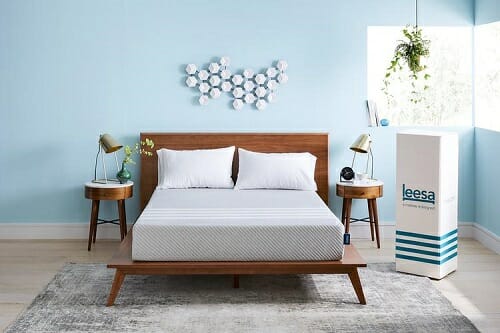 Leesa proves its commitment to philanthropy by giving away its goods to organizations that help the homeless; so far, in fact, the company has donated more than 23,000 mattresses to good causes. What's more, Leesa's link with the Arbor Day Foundation means that a tree is planted for each mattress purchased. Anybody choosing to buy the Leesa Mattress can therefore go to bed each night knowing that they've helped do their bit to better the world. And they may also rest well thanks to the model's memory foam, which both provides softness and acts to alleviate pressure points. Users shouldn't overheat, either, as the mattress is topped off with a foam layer formulated to maximize air flow and keep sleeping temperatures suitably mild as a result. The queen-sized Leesa Mattress retails for $995 and comes with a 100-night trial period.
17. My Green Mattress – Natural Escape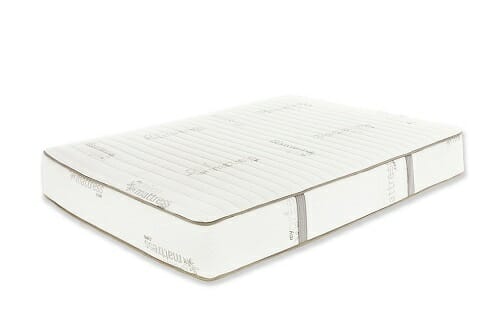 There's a compelling story behind My Green Mattress, as the company's website explains. In short, founder Tim Masters was moved to produce more sustainable wares after his daughter Emily was found to be afflicted by allergies and eczema. Natural products seemed to help relieve Emily's symptoms, you see, and to that end she now sleeps on an artificial material-free mattress handmade by her father. Others battling against allergies may also benefit from My Green Mattress' Natural Escape model, which is constructed from organic latex and cotton and sells for $1,199 for the queen-sized version. The mattress is furthermore topped by wool that adds both softness and acts as an environmentally friendly flame retardant. Altogether, then, customers should, the company claims, experience "the perfect combination of contouring support and springy bounce."
16. Bob's Discount Furniture – Black Label Gel Mattress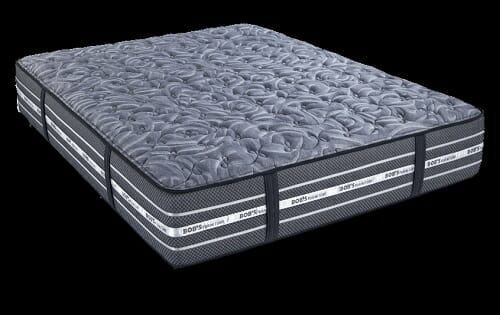 While Bob's Discount Furniture aims to sell its goods affordably, the business' Black Label Gel Mattress is nevertheless said to be "loaded with features of mattresses that cost twice the price." Those features include a layer of what the company calls its "Bob-O-Pedic" memory foam, which is infused with gel intended to dissipate excess heat and provide just the right amount of lumbar support. The coils contained in the Black Label Gel may supply the reinforcement needed to achieve the best night's rest, too. But perhaps most reassuringly of all, the mattress comes with a non-prorated warranty of 20 years, making it a decent purchase for anybody who's concerned about the amount of wear and tear that they put their bed through. The Black Label Gel Mattress retails for $849 for the queen-sized version.
15. WinkBeds – The WinkBed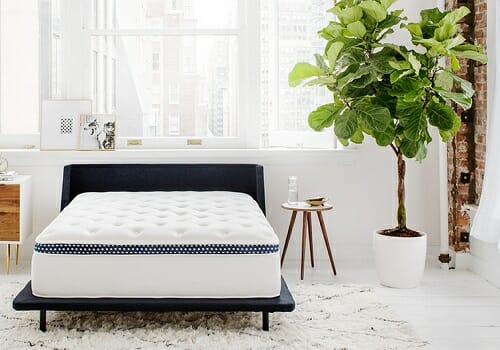 Probably the most striking statement on the WinkBeds website is "We're in the mattress industry because we don't like the mattress industry." That's not as strange an assertion as it may initially seem, however, for the company was actually founded to help provide an alternative to both the overpriced mattresses found in brick-and-mortar stores and low-cost but low-quality online products. Instead, WinkBeds states, its wares are handmade in Wisconsin by artisans using top-class materials sourced from within the U.S. And in the case of The WinkBed, those craftspeople have created a mattress that blends plush, comforting memory foam with supportive, pressure point-relieving pocket coils. The model is also topped by a cover made of Tencel – a material touted as being "softer than silk, cooler than linen and more absorbent than cotton." Convinced? The queen-sized version of The WinkBed costs $1,299.
14. Luxi – The Luxi 3-in-1 Adjustable Mattress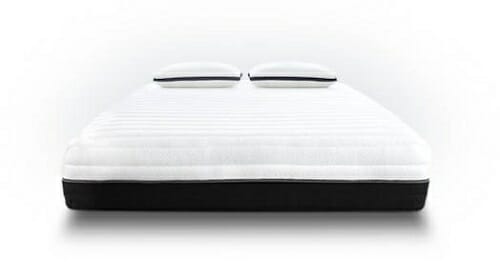 The Luxi 3-in-1 Adjustable Mattress certainly scores points for innovation. That's because, as its name suggests, the user can alter the firmness of the mattress according to their tastes – simply by removing the cover and rearranging the layers of foam within. Both sides can even be adjusted separately, making the model a savvy choice, perhaps, for anybody with a partner who prefers a firmer mattress to a softer one. So, while the Luxi 3-in-1 is a little pricier than various other mattresses on the market – it sells at the company's website for $1,299 – it may just be worth it to avoid those bedtime arguments. Also of note is Luxi's pledge to assist owners well after the 100-night trial period is up. Indeed, if there are still issues with the mattress after 1,000 nights, the company will advise on any adjustments needed in order to best achieve ideal sleep.
13. Drömma – The Drömma Bed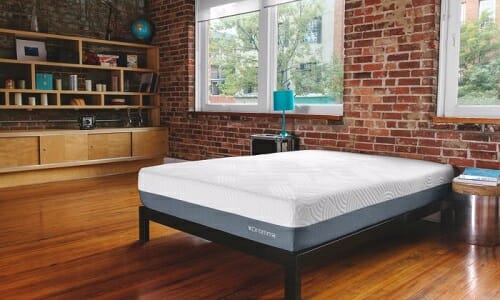 Drömma touts The Drömma Bed as providing "12 inches of superior comfort for less than most companies charge for just 10 inches." In lieu of testing that assertion to the letter, it's worth noting that the model is certainly competitively priced: the queen size sells for $799, for example. And for this amount, customers can purchase a mattress with a memory foam layer that, it's claimed, provides the right amount of comfort to the sleeper regardless of their size or the way in which they choose to snooze. The gel foam contained in The Drömma Bed should also help give support to the user's back, neck and hips while simultaneously keeping them from overheating. Nevertheless, if buyers find that the mattress isn't quite to their liking, they can simply exchange it or get a refund through Drömma's generous 200-day trial period.
12. The Saatva Company – Loom & Leaf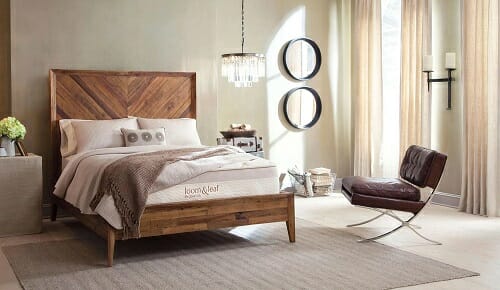 While speaking about the Loom & Leaf mattress, The Saatva Company founder Ron Rudzin has said, simply, "We wanted to create a masterpiece." It's an environmentally friendly piece of work, too, containing low-emission foams made from renewable oils and topped by organic cotton. The company hasn't sacrificed comfort in its quest for green credentials, mind you, as the Loom & Leaf in addition features a plush memory foam layer that should cradle the body and help provide both softness and resistance where they're respectively needed. Meanwhile, the mattress' "Spinal Zone Gel" section is intended not only to keep sleeping temperatures at a pleasantly cool level but also to make sure the spine stays properly aligned during the night. The queen-sized Loom & Leaf sells for $1,099, and a 120-night trial period is also available on the model.
11. Eight – The Jupiter+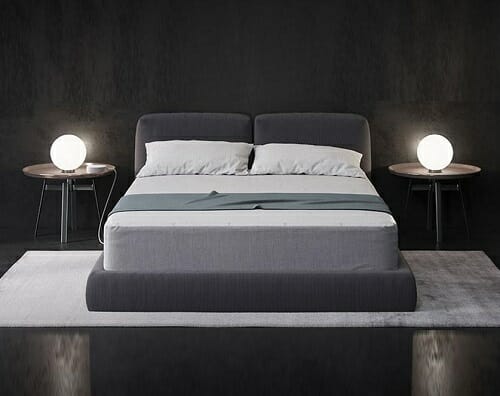 According to Vogue magazine, The Jupiter+ is "sort of like having an invisible butler." And while the mattress may not be quite as exceptional as this image suggests – unfortunately, it can't bring breakfast or answer doors just yet – it nevertheless boasts a host of highly impressive features that may just help lead to a better night's sleep. The Jupiter+'s smart cover can keep track of vital signs during rest, for example, or heat up the bed to preferred sleeping temperatures. The mattress is even able to be linked up to other technologies in the home, meaning lights can potentially be turned on and off without ever having to move from under the covers. Maybe The Jupiter+'s most appealing aspect, though, is its capacity to sense when the user is sleeping lightly; that ability then allows it to set off any alarm at the point where an individual is more likely to awake refreshed. The queen-sized version of The Jupiter+ retails for $1,099 – a figure that the customer can claim back, if needed, through Eight's 100-night guarantee.
10. Leesa – Sapira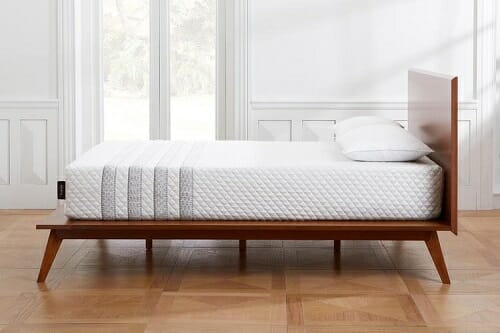 Fans of Leesa's signature mattress may be just as enamored with the company's Sapira model. Why? Well, simply put, the Sapira not only includes the plush, pressure-relieving and temperature-regulating foam that goes into all of its mattresses, but it also contains a pocket spring arrangement intended to provide supreme support. All in all, then, the hybrid model "gives reliable yet luxurious sleep," according to Leesa. Certainly, many Sapira owners seem to be more than pleased with their purchases – given, that is, the high number of five-star reviews afforded to the mattress on the company's website. And anybody wishing to see whether those plaudits are justified can buy the queen-sized version of the Sapira for $1,475, safe in the knowledge that they'll be able to get their money back during the 100-night trial period if the mattress isn't right for them.
9. Brentwood Home – Sequoia Mattress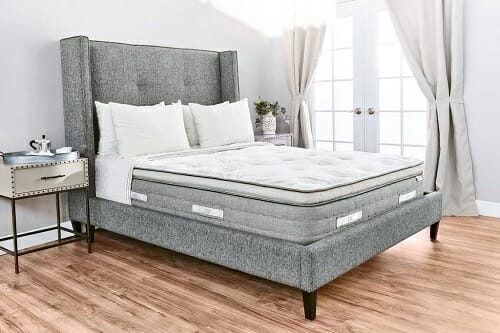 Brentwood Home's Sequoia Mattress is available to buy online from Costco, with the queen size coming in at $1,149.99. The mattress got its name, for the record, by being apparently "firm to support a delicate back, yet plush to cradle [the] joints." Its naturally produced latex, meanwhile, is said to give the sleeper "a feeling of weightlessness," while the use of New Zealand-sourced wool helps keep the mattress both feeling and smelling fresh. Potential customers tempted by those claims may be further encouraged to know that the mattress' memory foam meets CertiPUR-US certification requirements, meaning that it contains no heavy metals, flame retardants or formaldehyde. Plus, Brentwood Home offers a 25-year warranty on the Sequoia, which points to the company's confidence in the overall durability of the model. There's also a 120-night trial period during which buyers can return their purchases if need be.
8. Purple – The Purple Mattress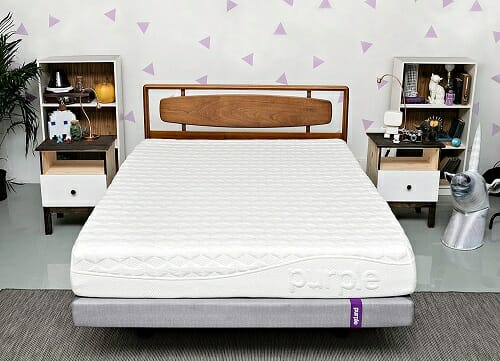 Purple claims that The Purple Mattress uses the least toxic foam available out of any business selling memory foam mattresses. In fact, the "Hyper-Elastic Polymer" used is even said to be up to food-grade standard – good news, naturally, for potential customers who are conscious about their health. But, according to Purple, that's not all that marks this particular model out, for the company also boasts of having the "World's First No-Pressure Mattress." As a result, there's no memory foam to be found there; instead, what's used is a so-called "Smart Comfort Grid," which pledges to effectively cancel out pressure points altogether after the individual has settled down for a snooze. The queen-sized version of the Purple Mattress sells at $999, and buyers can also benefit from the 100-night trial period available. Check out our full review of Purple.
7. Casper – The Casper Mattress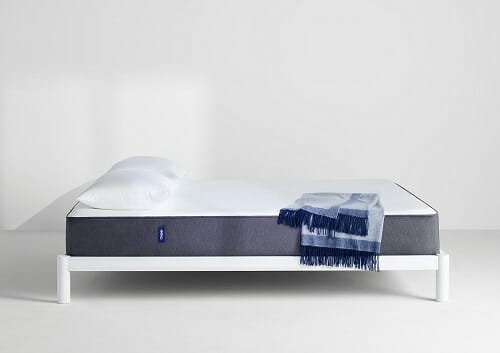 Of The Casper Mattress, Casper itself claims, "Our customers say it's like sleeping on a dreamy cloud." Any such fanciful feeling is likely down at least in part to the mattress' memory foam layer, which adds softness and aims to counteract any pressure points. The "zoned support" on offer may help sleepers, too, as it takes into consideration the varying levels of support needed for different parts of the body. That particular innovation should therefore mean that the mattress both shores up the hips and yields to the shoulders. Meanwhile, the open-cell structure of the foam used in Casper's signature model ought to assist in keeping users cool and comfortable during the night. And if that all sounds sufficiently enticing, then the queen-sized variety of The Casper Mattress can be purchased at the company's website for $1,175.
Read our full review of Casper.
6. Ashley HomeStore – The Perfect 10 Mattress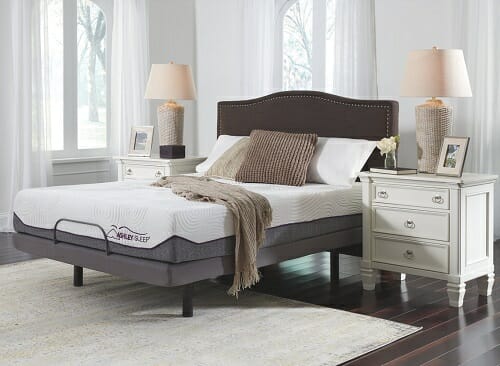 Arguably one of the most appealing features of The Perfect 10 Mattress is its price; the queen-sized version is available for a very reasonable $499, for instance. Potential purchasers may also be encouraged to hear that the mattress doesn't need to be periodically rotated or turned in order to get the best out of it, either. And anybody who tends to get overly warm at night might benefit from The Perfect 10, too, for the model's channel-cut center layer has been designed to boost airflow and so help promote cooler sleeping temperatures. The mattress' knitted cover, meanwhile, provides a touch of "cloudlike softness," according to the Ashley HomeStore website. Plus, customers who find that The Perfect 10 doesn't quite stand up to everyday wear and tear can take advantage of the ten-year limited warranty on offer.
5. Reverie – Dream Supreme II Hybrid Mattress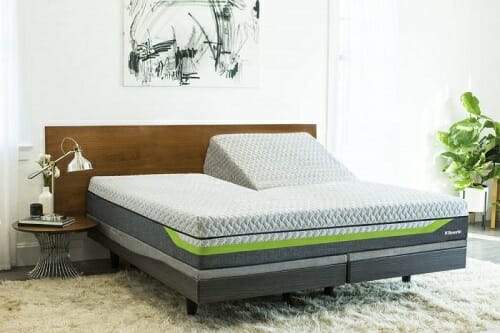 At $3,499 for the queen-sized option, Reverie's Dream Supreme II Hybrid Mattress is far from a budget buy. For that money, though, customers get a mattress that can actually be adjusted at home to give firm, medium or soft support simply by repositioning the internal springs. Each side can even be calibrated independently, neatly solving the problem of sleeping partners having completely different preferences when it comes to mattress firmness. Further comfort arrives care of the cashmere-blend cover, which also features a moisture-wicking element to help keep the sleeper cool and the mattress fresh. And as the Dream Supreme II Hybrid's name suggests, it combines two mattress technologies in one: as well as the foam springs, there's a memory foam layer that, through its ability to mold itself to the user's body, should help provide exceptional comfort.
4. Tuft & Needle – The T&N Mattress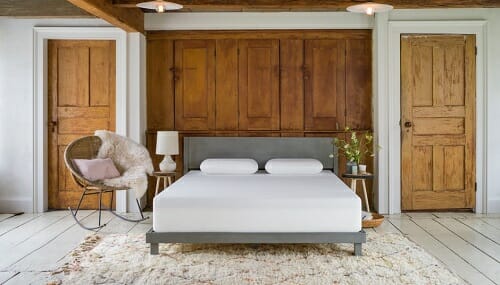 Tuft & Needle seems to have taken the "less is more" approach when it comes to The T&N Mattress. Indeed, in marked contrast to other mattresses, the T&N contains only two layers – and yet, according to Tuft & Needle, they're all that's needed for a great night's sleep. Softness, for example, is provided through the proprietary adaptive foam section of the mattress; and this, the company claims, was modeled with user feedback in mind and "captures the best benefits of memory foam and latex while leaving their negative attributes behind." The 7-inch bottom layer, on the other hand, furnishes essential reinforcement since, as Tuft & Needle states, "without support, a mattress may only be comfortable for a few hours." The queen-sized T&N Mattress is available at the competitive price of $575.
Click here to read our full review of the Tuft & Needle Mattress.
3. Denver Mattress Company – Doctor's Choice Plush Mattress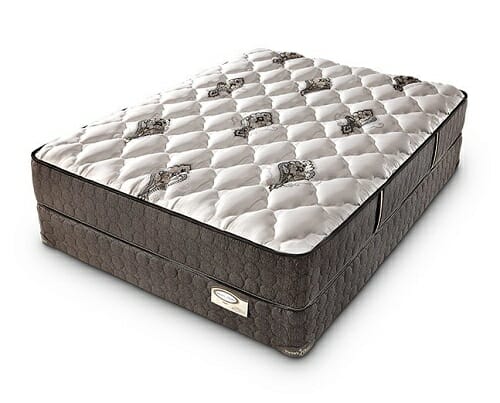 Denver Mattress Company's Doctor's Choice range of mattresses have been given the seal of approval by a real medical professional. According to the retailer's website, Dr. Brian Wieder even recommends the mattresses to those whom he sees on a professional basis. Perhaps, then, some of the Wyoming-based neurosurgeon's patients have since gone on to purchase the Doctor's Choice Plush Mattress. This particular model sells for a highly reasonable $579.99 for the queen-sized version – but even given that relatively low price, the mattress contains a plethora of features designed to help ensure a good night's sleep. Among them is a layer of high-density foam which, the company boasts, is considerably thicker than that contained in many other mattresses on the market – and which thus provides both exceptional comfort and pressure point relief. The foam should make the mattress a durable one, too, although if that doesn't end up being the case, then the 15-year non-prorated warranty offered on the Doctor's Choice Plush may be of use.
2. Casper – The Wave Mattress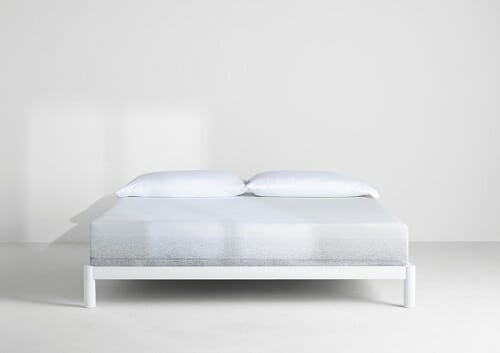 Casper's The Wave Mattress is a five-layered affair structured to maximize comfort while still offering the support needed to avoid any morning aches and pains. In fact, the Casper website goes so far as to promise that the top of The Wave is "so soft and sensitive [that] it lulls you to sleep." And while users snooze, they may also benefit from the mattress' "Hyper-Targeted Support" structure, which is intended to echo the various curves of the body at 36 distinct points. It's said that this innovative system helps keep the spine aligned regardless of sleeping position. Meanwhile, the open-cell foam used in the model should help keep temperatures between the sheets sufficiently cool. But if The Wave doesn't turn out to live up to expectations, buyers can rest easy in the knowledge that they are able to return their purchases for full refunds during Casper's 100-night trial period. The mattress sells at $2,400 for the queen-sized option.
Read our in depth Casper review
1. Sleep Number – i8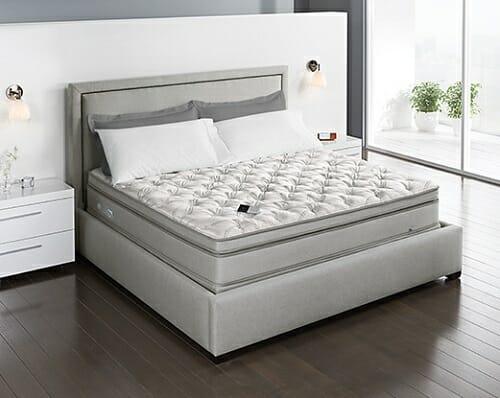 Sleep Number's highly innovative i8 is one for tech lovers, because it works in sync with a bespoke app that can be connected to the mattress via Bluetooth. Sensors embedded in the i8 help the mattress monitor a sleeper's motions, heart beat and breathing patterns, too. But perhaps most impressively, the app uses data collected during the night to produce what's been termed a "SleepIQ Score." This score reveals how well the user rested, and it can even make recommendations on how to better achieve flawless sleep. The mattress doesn't skimp on comfort, either, as its Plushfit layer has been specially modeled to provide exceptional softness, and pressure is also relieved on the body through what Sleep Number terms "seven layers of contour support." And while the i8 isn't among the cheapest mattresses of its kind on the market – it comes in at $3,499.98 for the queen-sized version – it should nevertheless be durable, since a limited warranty of 25 years is offered on the model.
Additional Resources on Mattresses and Beds
Best Mattresses for Heavy People