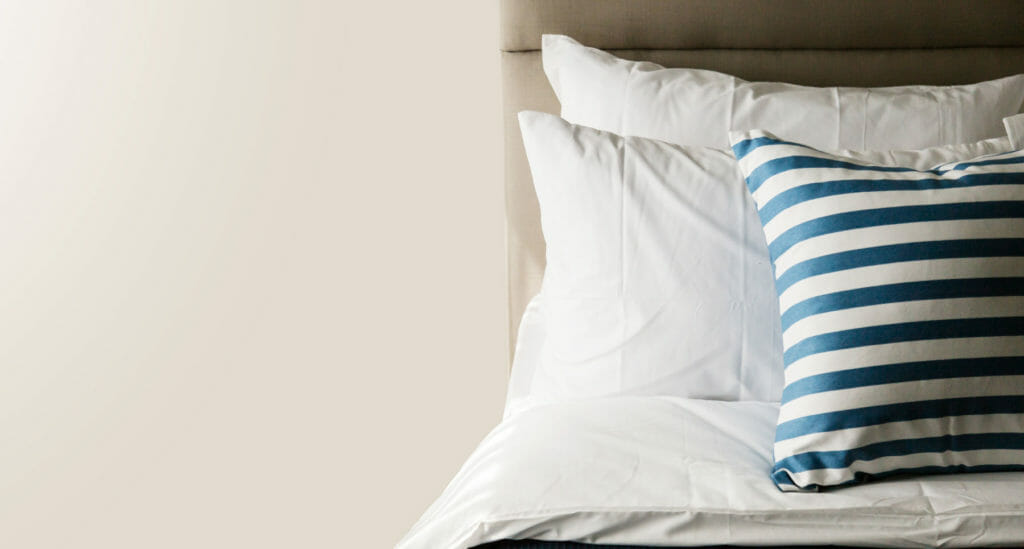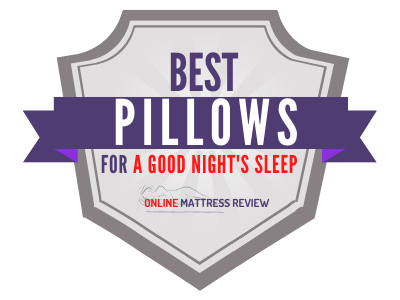 If getting a good night's sleep seems like an impossible dream, your pillow could be to blame. The best pillows are those that offer optimum comfort and strong support, as well as being wholly suited to the way you sleep.
But if your pillow's not doing its job, and you've already found a mattress that suits your needs, you'll likely find yourself tossing and turning throughout the night—and waking up with aches and pains.
You might wonder how a simple pillow can wreak havoc on your slumber and affect your well-being, but it can. Catching quality ZZZs is essential for human health. According to the Sleep Association, a whopping 50-70 million U.S. adults have a sleep disorder, with insomnia being the most common. And while there are many reasons stopping you from sleeping soundly through the night, a pillow that doesn't properly support your spine, size, or sleep style is one of the top culprits.
So how do we find the best pillows for our own particular bodies and comfort levels? In her book, The Good Sleep Guide, physiotherapist and sleep expert Sammy Margo suggests asking ourselves three questions:
What position do you sleep in? (Hint: It's usually the one you wake up in.)
How big or small are you? (Be honest! Your answer will determine whether you wake each morning groggy, moody, and with a stiff neck, or refreshed from grade-A shut-eye.)
What's your preference?(Are you a fan of feathers? Or do you love your latex? Or dream of sinking into memory foam?)
Once you know the answers to the above questions, you'll be able to buy a pillow based on more than whether it feels good when you plump it in the store. And, lucky for you, we have 8 of the best pillows for all body types and sleepers right here!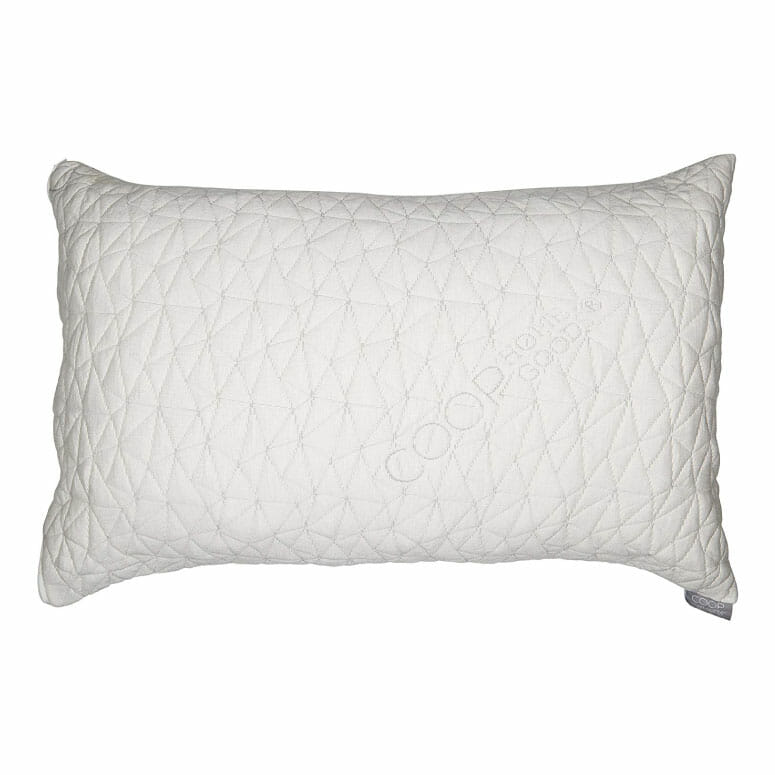 This best-selling pillow from Coop Home Goods ticks a number of boxes in terms of what most shoppers typically look for in a pillow.
Soft and plush-feeling, the Original also offers sturdy neck support. That's due to an inner core containing the brand's proprietary blend of hypoallergenic, shredded gel-infused memory foam and microfibers. It conforms closely to the head, neck, and shoulders, easing pain and enhancing spinal alignment. This filling combo also boosts airflow and cooling, as does the pillow's soft-knit surface layer of bamboo, viscose, rayon, and polyester blend.
A further plus is the fact that you can add or remove fill from the pillow, which effectively adjusts it to your sleep position and your overall preference for a flat or loftier pillow.
The pillow comes in Queen and King sizes, and both the pillow and removable outer cover are machine washable. The competitive price point for a pillow of this quality and its 100-night sleep trial adds to the Original's overall desirability.
Stats:
Size: Queen (20" x 30") or King (20" x 36")
Filling: Gel-infused memory foam
Cover: A soft blend of bamboo, viscose, rayon, and polyester
Sleep Style: All sleep styles
Body Type: All types
Lifespan and Warranty: 3-year lifespan (more than most memory foam pillows), 5-year limited warranty and 100-night sleep trial
Special features: Adjustable filling
BEST PILLOW FOR SIDE SLEEPERS: Layla Sleep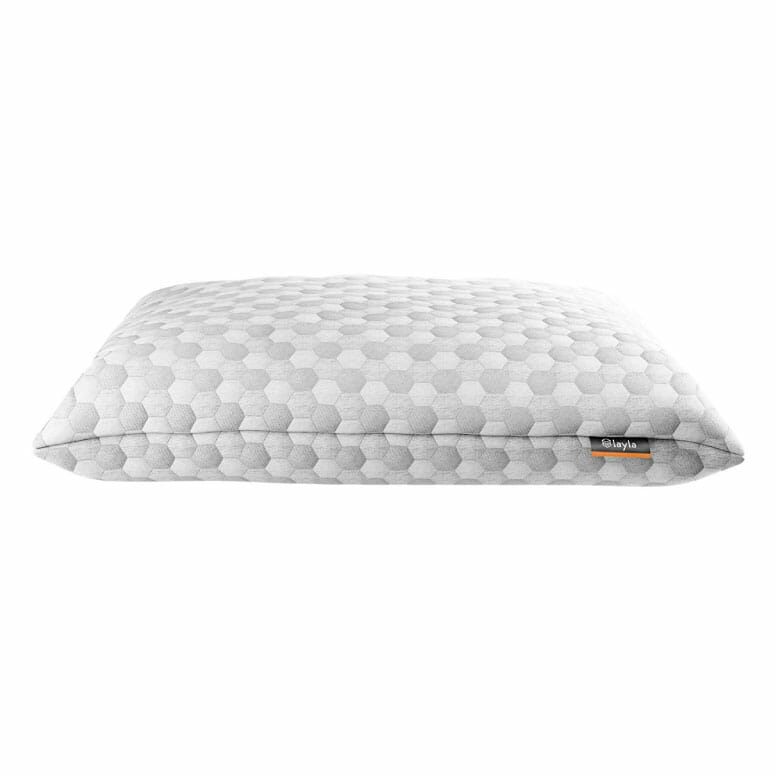 Whether curled up in the fetal position or slumbering with legs straight, a startling 50% of American sleepers choose to snooze on their sides. That's according to the National Sleep Foundation, which claims that while this position is good for snorers as it keeps airways open, those with lower back pain may find themselves stiff and sore if they don't have a supportive bedding system. Of course, while the right mattress is crucial, the right pillow helps provide proper spine alignment.
One of the top pillows for side sleepers is the Layla Pillow. The pillow's core contains natural, organic, and pesticide-free plushy Kapok fibers along with responsive memory foam. With a side zipper, you can remove as much of the fill as you like and manipulate the pillow's thickness to ensure it comfortably supports your head and neck.
The cover is a soft blend of polyester, rayon, viscose, and Lycra, woven through with copper fibers. This adds coolness and antimicrobial protection, and even helps remove and replenish dead skin cells while you sleep!
Stats:
Size: Queen (18.5" x 28.5") or King (18.5" x 36")
Filling: All-natural, pesticide-free Kapok fibers plus responsive memory foam
Cover: Woven with CuTECⓇ copper-infused yarn that improves hygiene and helps you sleep cool
Sleep Style: Side sleepers
Body Type: All types
Warranty: 5-year prorated warranty and 120-day trial
Special features: Removable, copper-infused cover, Adjustable filling
BEST PILLOW FOR BACK SLEEPERS: Saatva Pillow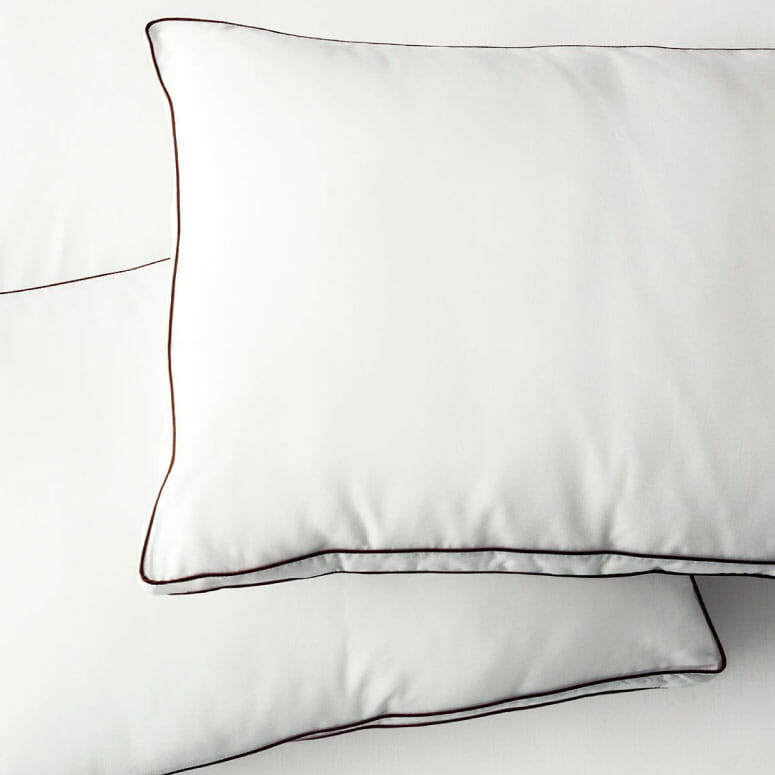 The Saatva Pillow comes out on top for many reasons. It's a luxurious-feeling, highly durable, and eco-friendly pillow that's super supportive for back sleepers, but also gives comfort to petite-sized side sleepers.
This pillow has an innovative three-layer construction of an outer cotton layer, a fluffy inner layer, and a firmer core. The 100% organic cotton cover also features a silky-soft sateen weave that is naturally moisture-wicking and breathable, keeping snoozers cool while sleeping.
The pillow's inner layer is generously filled with fluffy, down-like microdenier fiber, that keeps it light but lofty. The core of the pillow is stuffed with shredded American Talalay latex. This firm latex feels more lush and less bouncy than you would expect, and it completely conforms to the sleeper's head, neck, and shoulders. Naturally hypoallergenic, it also allows for good airflow—which helps keep surface temperatures in check.
Available in Queen and King sizes, the Saatva's cover and outer pillow are machine washable. An added bonus is that the company offers free shipping and a 45-day return policy to all buyers living in the contiguous U.S.
Stats:
Size: Queen (18" x 28") or King (18" x 34")
Filling: Down-like microdenier fiber with an inner core of shredded American Talalay latex
Cover:100% organic cotton with sateen weave
Sleep Style:Back sleepers and petite-sized side sleepers
Body Type: Average to petite
Lifespan & Warranty: Lifespan is about 3 years; 1-year limited warranty and a 45-night sleep trial
Special features: Three-layer construction offers optimum head, neck, and shoulder support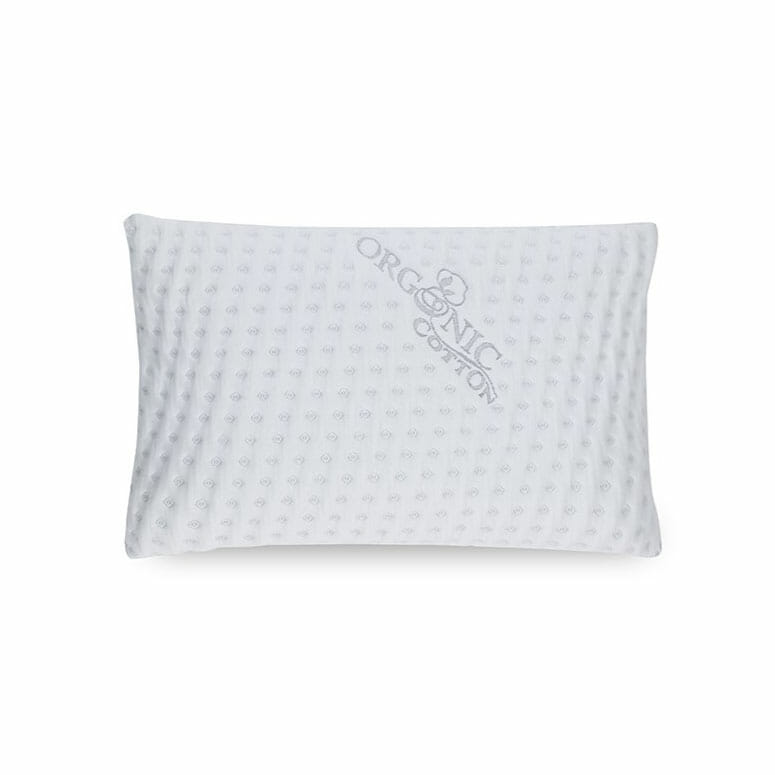 There are relatively few stomach sleepers, which is a good thing—medical experts say that sleeping on your stomach can put a nasty strain on your neck and spine. However, if this is your preferred position, it's vital that you have the best pillow to help you achieve quality ZZZs.
Brooklyn Bedding's Talalay Latex Pillow is a good bet for stomach sleepers because not only is it available in both high- and low-level lofts, but its moisture-wicking, antimicrobial, and oh-so-cozy to touch cover makes it highly breathable and hygienic for folk who sleep face-first into their pillow.
As a latex foam pillow, it's also hyper-responsive. This buoyancy ensures excellent contouring for the head and neck, helping stomach sleepers of all weights achieve healthy spinal alignment.
Stats:
Size: Queen or King
Filling: Sustainably sourced Talalay latex
Cover: Soft blend of polyester and cotton; antimicrobial
Sleep Style: Stomach sleepers
Body Type: All types
Lifespan & Warranty: Lifespan is about 3 years; 10-year warranty and a 120-night sleep trial
Special features: Available in plush and firm
BEST PILLOW FOR COMBINATION SLEEPERS: Casper Pillow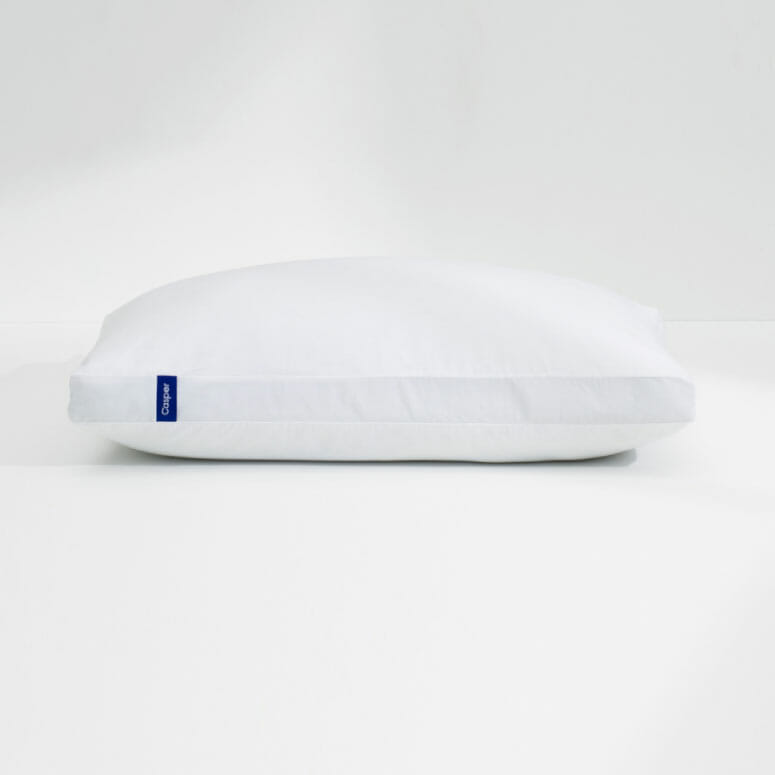 A combination sleeper shifts into different body positions as they slumber. That means the best pillow for a sleeper like this is one that feels comfy whether they're curled up on their side or spread out on their back. An impossible find? Not at all. Enter, the Casper Pillow.
The Casper's innovative "pillow within a pillow" design offers a superb balance of softness and support for people with a tendency to toss and turn throughout the night.
The inner pillow is chock-full of polyester-based, silky microfibers that offer strong head and neck support. The outer pillow is padded with longer, softer fibers that give the pillow an overall fluffy feel.
A two-inch gusset that stretches around the outer perimeter helps this pillow hold its shape and maintain loft. So even if you find yourself flip-flopping into different positions as you sleep, the pillow's filling stays evenly distributed.
The Casper's cover is made of 100% pima cotton and has a gorgeous percale weave, which enhances the pillow's breathability and ensures you sleep cool through the night. Additionally, both the inner and outer pillows are machine washable and can be dried in a conventional dryer.
Stats:
Size: Standard (18" x 26") and King (18" x 34")
Filling: Inner and outer pillows are made with polyester microfiber of different lengths
Cover: Pima cotton-percale
Sleep Style: Combination sleepers
Body Type: All body types
Lifespan & Warranty: Lifespan is about 2 years; 3-year warranty and a 100-night sleep trial
Special features: "Pillow within a pillow" design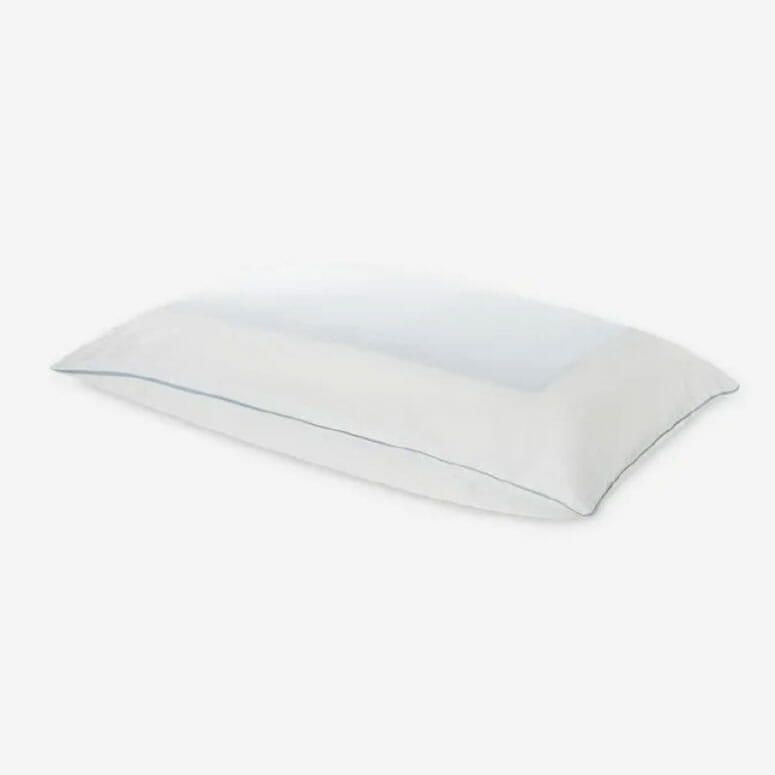 The TEMPUR-Cloud Breeze Dual Cooling Pillow is one of the best pillows for sleepers who want luxurious comfort and a cooler night's sleep.
Made of pressure-relieving material (formulated by NASA, no less), it's constructed from a single piece of medium-firm memory foam that conforms cozily to your head and neck for exceptional support.
But what makes this pillow a super star for the super hot is the layer of Tempur-BreezeⓇ cooling gel on both sides of the foam, which helps give heat the heave-ho as you sleep.
The pillow's cover is made with a 300-thread count, quilted cotton that is as refreshing as it luxurious. And this breathable, super-soft cover can be removed and machine washed.
Stats:
Size: Queen (19" x 27") or King (19" x 35")
Filling: Memory foam and Tempur-Breeze cooling gel
Cover: 300-thread count, quilted cotton
Sleep Style: Back, side, or stomach sleepers
Body Type: All types
Lifespan & Warranty: Lifespan is about 2 years; 5-year limited warranty
Special features: Tempur-Breeze gel to cool hot sleepers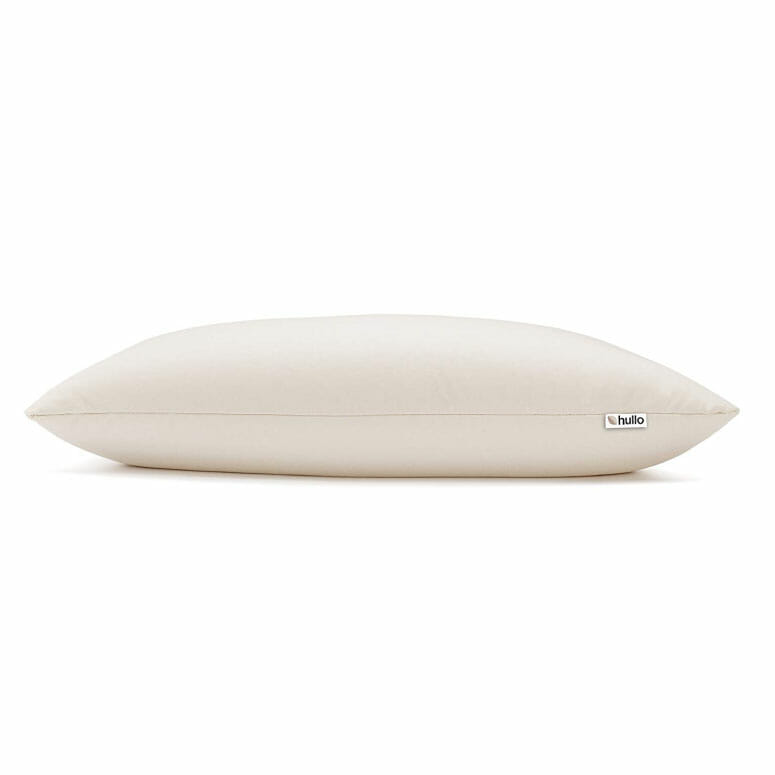 A growing trend in the U.S. over the last few years, buckwheat pillows are filled with the hulls, or shells, of buckwheat kernels. This type of filling provides naturally firm but flexible pillows. They're typically encased in eco-friendly covers with no chemical fillings, which makes them attractive to environmentally conscious shoppers.
One of the best of the bunch is the Hullo buckwheat pillow from Hulltex. This totally U.S.-made pillow is encased in a 100% organic cotton twill cover. The soft, breathable fabric doesn't hold heat—which, in addition to the great air circulation within the pillow's interior, means you don't need to worry about waking up with sweaty bedhead.
If you're used to using a soft pillow, it may take some time to get used to a pillow that feels hard and heavy. But this is actually one of the Hullo's main strengths—its solid shape supports proper spinal alignment. And as the packed-in hulls are malleable, the pillow conforms quickly and closely to the shape of the neck and head.
The Hullo's loft is also completely adjustable, as an auto-locking, hidden zipper ensures you can scoop out as many shells as you like. One of the downsides is that, as with all buckwheat pillows, there can be some noise. However, the gentle rustling you hear as you drift off to dreamland will decrease over time as the hulls become more supple.
Stats:
Size: Small (14" x 20"), Standard (20" x 26"), or King (20" x 36")
Filling: Natural, American-grown buckwheat hulls
Cover: 100% organic cotton twill
Sleep Style: Combo sleepers (and anyone who sleeps hot)
Body Type: Heavy-sized sleepers
Lifespan & Warranty: Lifespan is about 10 years if you treat the pillow well; No warranty; 60-night sleep trial
Special features: Free shipping (ships only in the U.S.)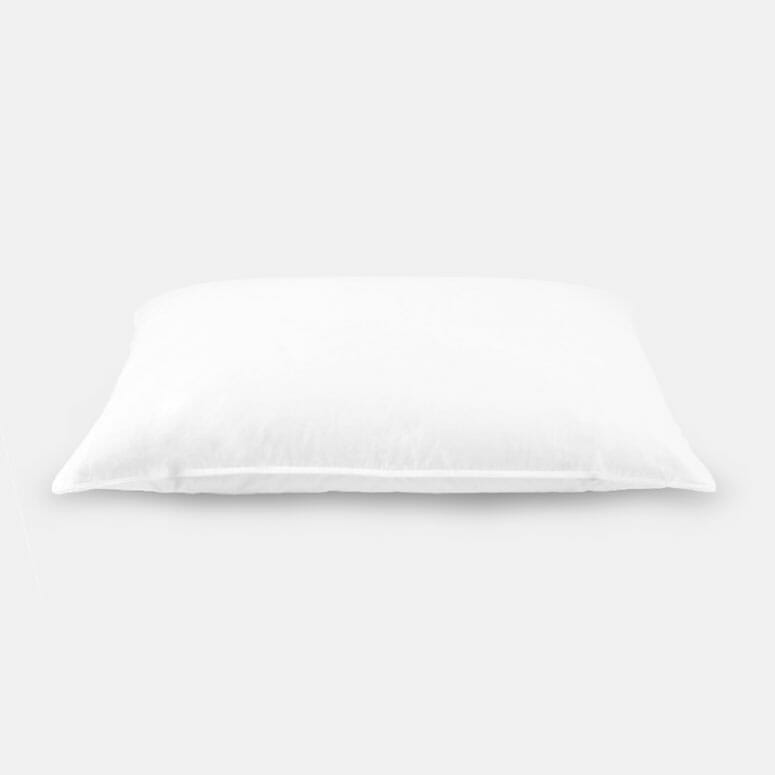 If buckwheat hulls are tops for those who like hard pillows, then down feathers hit the sweet spot for those who love their pillows soft.
However, with a super-soft pillow it's important to ensure it's not so slack that your head starts to tilt downward as you sleep. This could cause your neck muscles to strain and inhibit proper blood flow to your brain.
The Down & Feather Pillow from Helix kicks this concern to the curb. Its unique three-chamber design offers an inner core of down and feather blend to maintain a stronger, more supportive center, along with two outer chambers of luxurious, soft, white down.
The smooth outer cover is 230 thread-count cotton cambric. Not only does this give the pillow added plushness, but it increases the breathability the pillow already boasts through its feathery interior. A reinforced double-stitched edge also helps the pillow maintain its shape.
A further plus is its price point, which is below-average compared to other down pillows. On top of that, Helix offers free shipping for all customers in the contiguous U.S. The pillow is backed by a 100-night sleep trial and a 1-year warranty.
Stats:
Size: Standard (20" x 28") or King (20" x 36")
Filling: Down and feathers*
Cover: 100% cotton cambric
Sleep Style: Stomach sleepers
Body Type: All Types
Lifespan & Warranty: Lifespan is about 5 years if you treat the pillow well; 1-year warranty, and a 100-night sleep trial
Special features: Supportive 3-chamber design, Free shipping in the contiguous U.S.
(*In case you're wondering what the difference is between down and feathers, down is the light and fluffy underside of a bird, and does not contain any quills, while feathers typically refer to the tougher, outer plumage of a bird.)
Additional Pillow Reviews