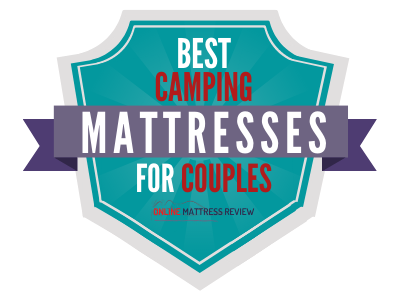 While camping can be fun, no one wants to end up sleeping on the ground due to a leaky air mattress. That's why it's important to choose a quality air mattress.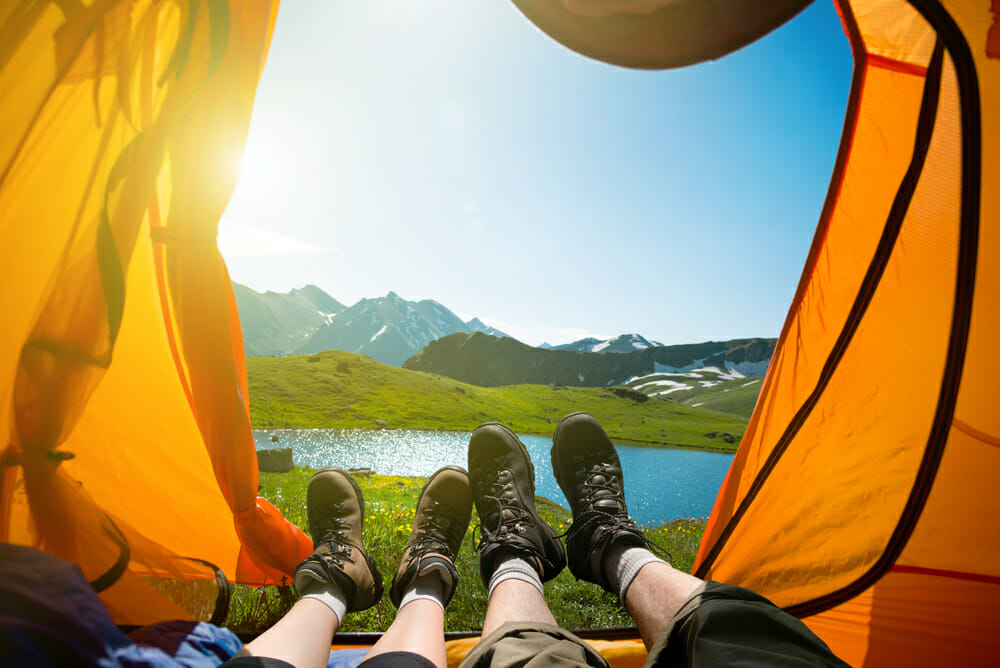 And if you're going to share your tent with a partner or friend, it's worth choosing one of the best camping mattresses for couples to make sure you enjoy your night out under the stars.
The Best Camping MattressES for Couples
While there are lots of camping mattresses available, picking the best air mattress for a couple is a little more complicated. First, you need to consider how much space you'll need to sleep comfortably — do you need a queen-size mattress, or one that will fit in your backpacking tent?
Next, you'll want to think about your budget, as well as the kind of camping you'll do.
Considering these factors makes it easier to make the right choice for you. With these choices in mind, we analyzed some of the top-rated air mattresses to narrow down the field. Here's our guide to the best camping mattresses for couples.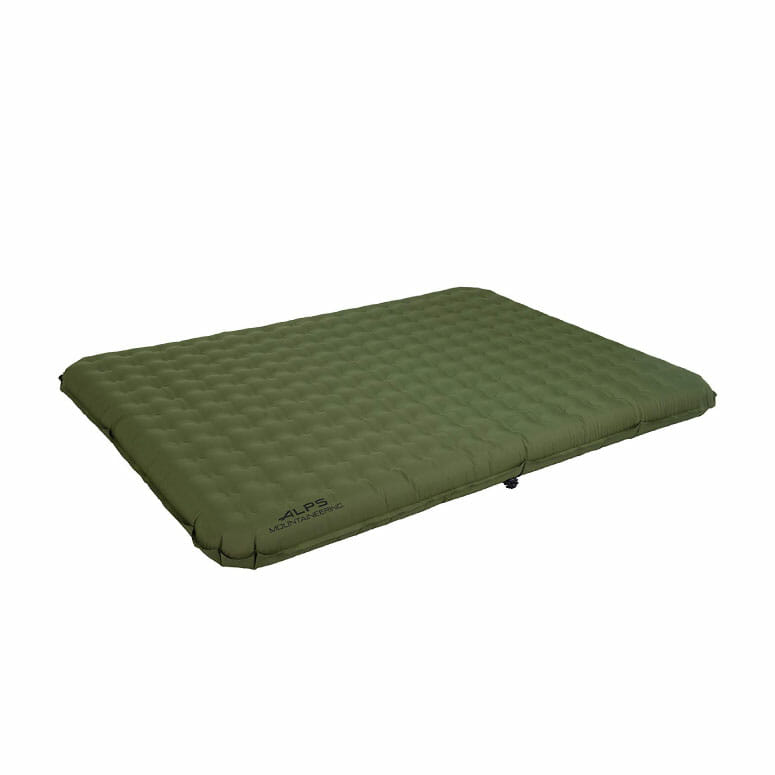 The ALPS Mountaineering Velocity Air Bed is our pick for the best camping mattress for couples. It offers outstanding performance in terms of quality and durability as well as comfort, especially when compared to some of its competitors.
The ALPS Mountaineering Velocity Air Bed uses a special type of technology to reduce the risk of air escaping during the night. That means that you and your partner can be confident that you won't wake up on the ground in the middle of the night, a sure way to ruin a camping trip. The price of this particular air mattress is on the higher side, but its quality makes it worth the investment.
Plus, while it's an ideal camping mattress, the Velocity Air Bed also doubles as a comfortable mattress for when guests visit your home, saving you from having to maintain a guest room or futon.
Stats
Materials: Synthetic/Polyester Oxford fabric, Extremely Lightweight
Lifespan and Warranty: n/a
Special features: Includes pump with car and wall chargers
Inflates with just a flip of a switch
Special offers: Free shipping, 30-day return policy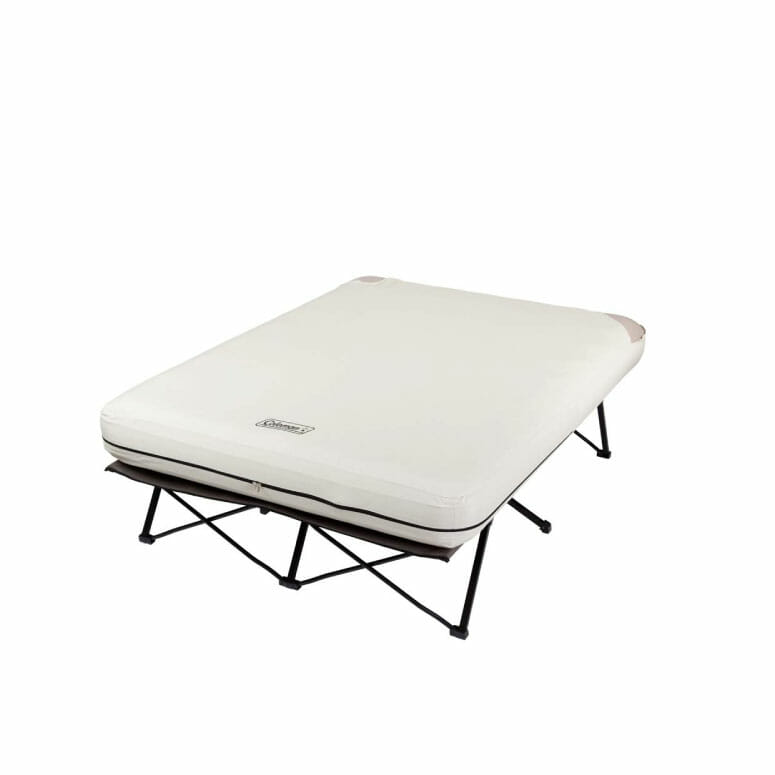 If you're looking for a camping mattress that comes with a built-in base so you sleep at the same height as a regular bed, the Coleman Camping Cot might be the perfect one for you and your partner. While its price tag is also on the higher side, this air mattress' quality and overall features are worth the cost.
The durable steel frame can provide support for a total weight of 600 pounds, making it an ideal camping mattress for many couples. However, if you're low on space for a car camping trip, you can also remove the mattress from the frame and leave the frame at home.
The Coleman Camping Cot has a special airtight design guaranteed to keep all air in the mattress for the entire night. It includes a battery-operated pump, which makes camping easier, and comes with a one-year limited warranty.
Stats
Materials: Strong, Steel Frame, Supports up to 600 pounds
Lifespan and Warranty: 1-year limited warranty
Special features: Includes base system
Special offers: Free shipping, 30-day return policy
3-piece combo: Includes cot with side tables, air mattress, and battery-operated pump (4 D-cell batteries sold separately)
Superior support: Air bed's coil construction contours to body for better support
Leak-proof: Factory-tested to ensure air mattress stays firm all night
Sewn-in cover: Keeps air mattress in place on cot
2 side tables: Pull-out design for easy storage includes cup holders
Carry bag: Included for easy storage
Versatile design to sleep indoors or outdoors
Airbed and cot for elevated sleeping support
Cot and airbed separate for double the sleeping space
The FDY Air Mattress Airbed measures a whopping 80 x 60″ with a 9″ height. It is one of the more affordable camping mattresses for couples. It's the same size as a standard queen mattress, so you can use the same sheets you might use on your mattress at home. According to the manufacturer, this particular airbed can accommodate either two adults or up to four children, making it a great camping mattress for families, too.
The FDY Air Mattress Queen Size Airbed can inflate fully within just three to five minutes, which is great if you get to your campsite late at night. Deflation also takes just over three minutes, making for quick packing. The mattress can be used indoors and outdoors, so it's a good option for camping trips or road trips to visit friends and family.
Stats
Materials: Eco-friendly PVC material
Lifespan and Warranty: n/a
Special features: Indoor and outdoor use
Special offers: Free shipping, 100% satisfaction guarantee
Holds up to 550 pounds
Very affordable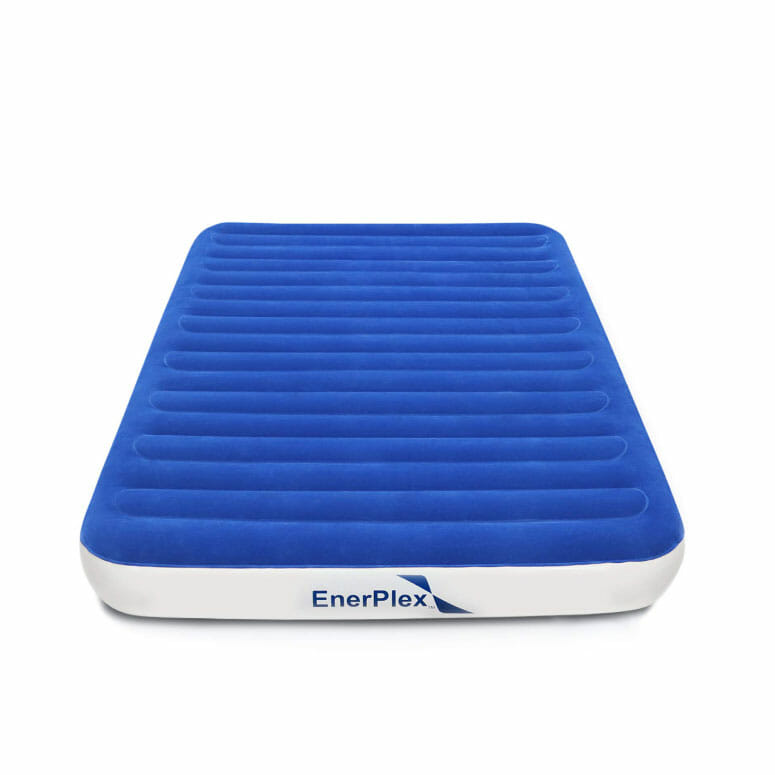 Yep… this is. indeed, a twin size air bed… "for couples".Whatever do I mean? If you are like some of us, you can get a better night's sleep in your own bed. Your significant other can have their own placed side by side with yours. At under $100 for two beds, check out the EnerPlex Never-Leak Luxury Twin Air Mattress. The manufacturer guarantees that this air mattress will never leak, and offers the customer a two-year warranty.
You also get 30 days to try out the mattress and see whether it truly is the best camping mattress. If you don't think so, you can return it for a full refund.
The EnerPlex Never-Leak Luxury Twin Air Mattress uses a special never-leak technology to retain air and keep your mattress at your desired firmness all night long. Plus, inflation only takes 60 seconds.
The custom coil-beam technology mimics the experience of sleeping on a normal foam or coil-based mattress, so you'll feel like you're sleeping in your bed at home. And the material is waterproof, so you can even use it to sleep outside your tent under the stars.
Stats
Materials: Luxury Flocked Top
Made in the USA
No need for an outlet! The wireless pump can blow up the airbed up to 6 times with one charge!
Coil-Beam Technology
Carrying Bag: Portable and Compact
Leak-Free Seal
Lifespan and Warranty: 2-year manufacturer warranty period
Special features: Custom coil-beam technology
Special offers: Free shipping, 30-day money-back guarantee
The Etekcity Camping Air Mattress Queen Twin Airbed is another excellent option that offers great value for your money. It's accompanied by a two-year warranty period. The first year warranty is provided automatically after purchase, and you can get an additional year warranty by registering your mattress with its manufacturer.
The Etekcity Camping Air Mattress Queen Twin Airbed can support up to 650 pounds, making it a sturdy air mattress for couples. It uses materials that have been tested to be free of phthalates, cadmium, and lead. The PVC used in the construction of this air mattress is also thicker than standard PVC material, providing improved durability so it will last for many camping trips.
Stats
Wireless Rechargeable Pump & Quick Inflation: Inflates in 90 seconds!
Fourth-Generation Technology: the Inflatable mattress can support up to 650 lb.
Safe Materials: Materials pass Official US CA prop 65 tests on lead, cadmium, and phthalates, so the air mattress is non-toxic and Safe for the whole family.
The multi-layer flocked top is puncture-resistant andwaterproof
Inflated bed size: 80 x 60 x 9 in. Deflated: 13 x 7 x 15 in
2-In-1 Valve: Quick inflation with the inner valve and an outer one for blowing up the mattress in small increments to reach your level of firmness.
For Travel & Camping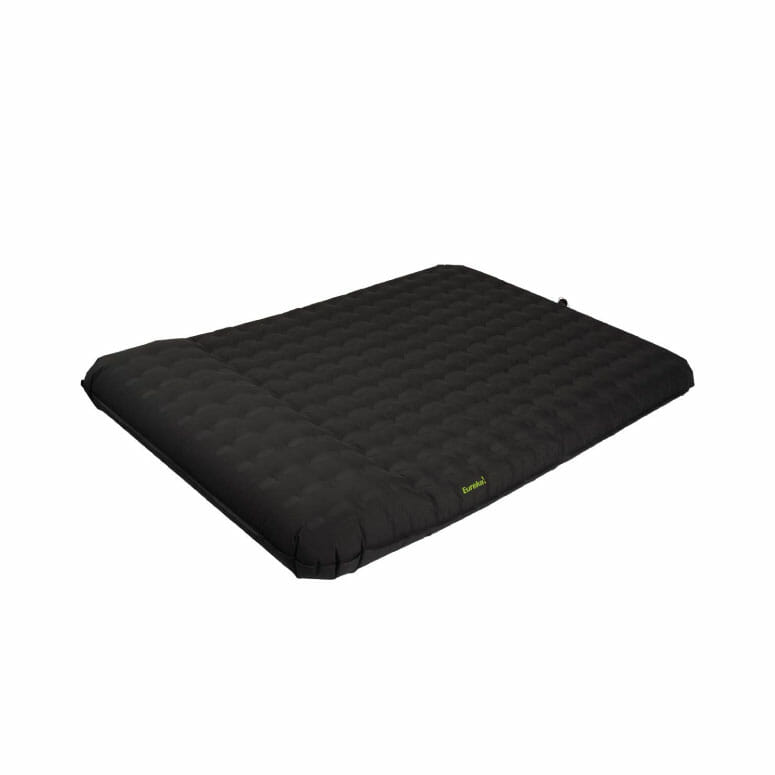 Next up is the Eureka! Rio Grande Camping Queen Air Bed. This air mattress has a higher price tag, but it also features the latest technology to make your camping trip more comfortable.
An internal stabilization system helps to absorb movement, making this the best air mattress for couples who are easily disturbed when their partner rolls over in the night. A raised pillow is also integrated into the mattress for added convenience, so you don't have to pack your pillow from home (although if you have one of our picks for the best pillows, you might want to bring it, too).
The Eureka! Rio Grande Camping Queen Air Bed features a soft, suede-like cover that helps keep your sheet or sleeping bag from moving around. On the bottom, there's a stealth-grip system that helps keep the mattress from sliding around on your tent floor. A rechargeable pump is included, too.
Stats
Eureka's, a Johnson's Outdoor patent-pending Camp Comfort Sleep System, the Stealth-Grip super-soft, suede-like fabric on the top and bottom of this mattress keeps the bed stable during your snooze.
Rechargeable pump (120V AC + 12V DC) with the large reversible inflate/deflate valve.
This bed features an Internal Stabilization System that absorbs movement
Integrated raised pillow.
Measures 79 x 55 inches with a 6-inch height, packs down to a 9 by 20-inch stuff sack (included), and weighs only 5 pounds, 3 ounces.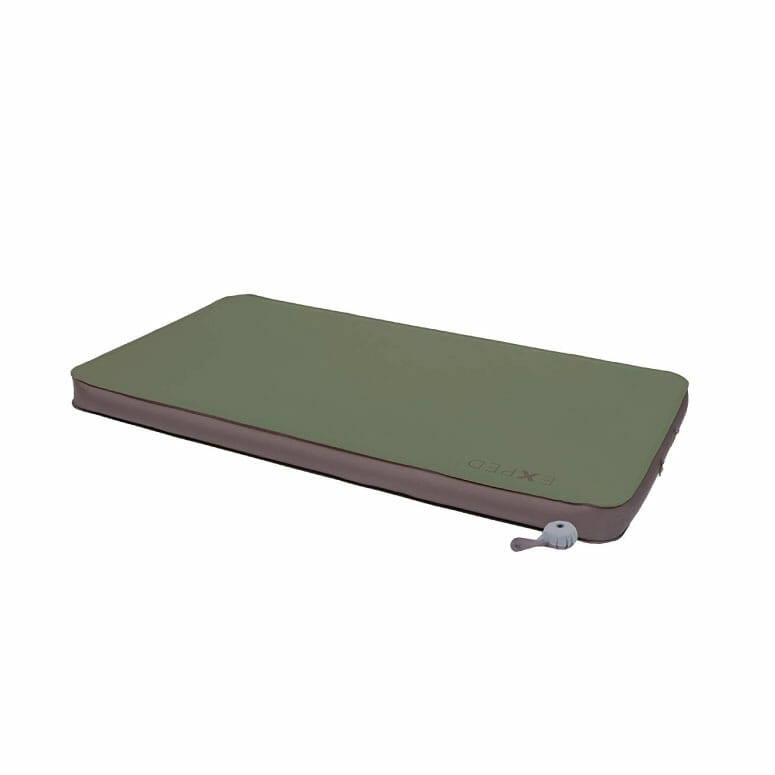 Do you want to feel like you're back home while you're sleeping in the woods? You should definitely take a look at the Exped MegaMat Duo 10 Insulated Self-Inflating Sleeping Pad.
It's one of the more expensive camping mattresses for couples that we've seen, but its sturdy construction makes it feel like a real bed. If your partner isn't sure about camping, this mattress might convince them to try it.
The Exped MegaMat Duo 10 Insulated Self-Inflating Sleeping Pad inflates on its own but includes a mini pump as well so you can customize the firmness level. It also comes with a five-year warranty for any defects.
Stats
SUPERIOR BASE CAMP PAD – It's more like a double bed than a sleeping pad; 3.9 inches loft
SELF-INFLATING W/ MINI PUMP (LW) – Self inflates in minutes; Easy firmness adjustment with compact Mini Pump
Designed for all season comfort, features Bluesign-certified insulation that keeps you warm in temperatures down to -54 degrees F
INNOVATIVE CARRY SACK (LW) Packed size is 27.6 x 11.8 dia.; Weight of 9.9 lbs.; Inflated dimensions of 72 x 41 in.
HIGH-QUALITY BUILD & 5 YEAR WARRANTY – 3D construction; Oeko-Tex 100 Certified materials are free from harmful chemicals; Hydrolysis-resistant,
Polyester top and bottom with TPU laminate; Honeycomb-embossed top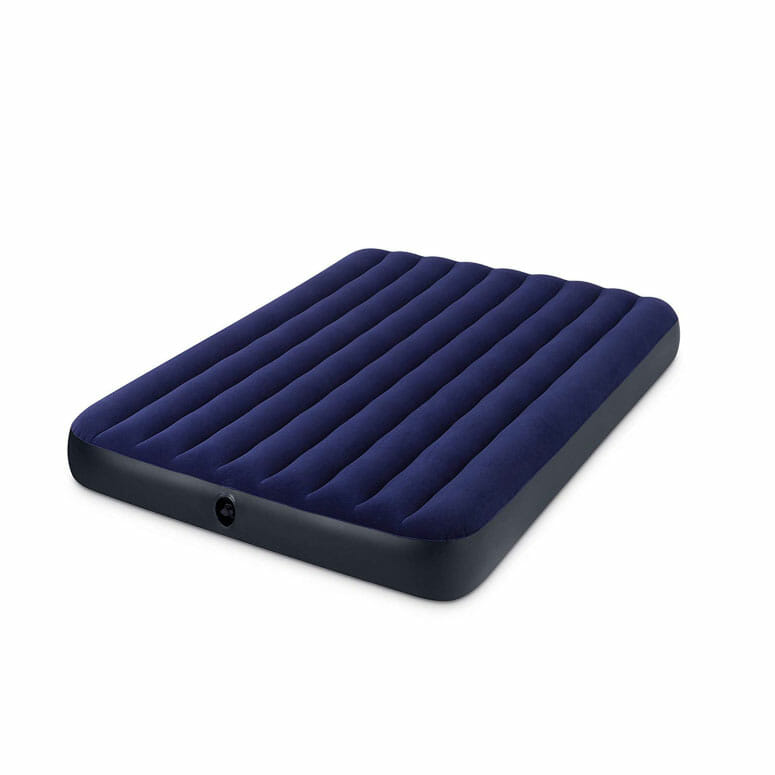 If you're on a tight budget but you still need a good camping mattress to share with your partner, consider the Intex Classic Downy Airbed. This air mattress comes at an exceptionally affordable price tag, yet still delivers both quality and comfort.
The Intex Classic Downy Airbed features a waterproof design along with a flocked top to make it more comfortable. It also features a two-in-one valve for easier inflation and deflation. The mattress fits any standard queen-size sheets, so it's easy to bring your sheets from home.
Stats
Dimensions: 60 x 8.75 x 80 inches (W x H x L), 600-Pound capacity
Indoor or outdoor use
Plush, waterproof, flocked top with wave beam construction.
New airbeds can take up to 72 hours to fully stretch or "break-in"
PUMP NOT INCLUDED: 2-in-1 valve. Inflates with most manual or electric air pumps (Pump not included)
Standard queen size fitted sheets fit perfectly.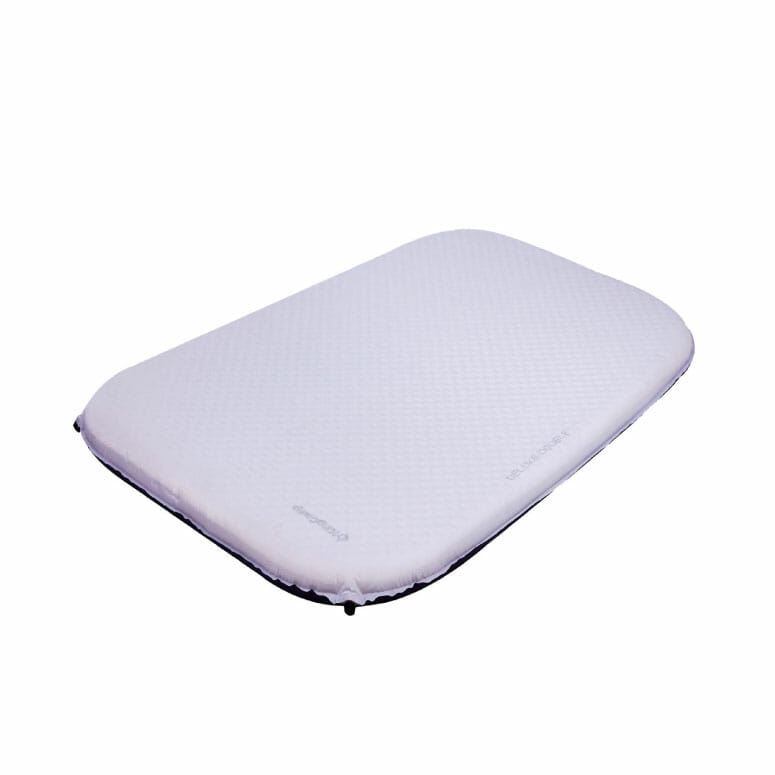 Next up is quite a unique sleeping pad for couples. The KingCamp Deluxe Series Thick Self Inflating Camping Sleeping Pad takes advantage of jet stream foam to provide a comfortable sleep, as well as faster inflation and deflation. Instead of using a pump, simply open up its valves and it'll inflate on its own while you finish setting up camp.
The KingCamp Deluxe Series Thick Self Inflating Camping Sleeping Pad comes in a variety of colors, as well as various size options, so you can choose the one that works best for you and your partner. Polyester 150-denier oxford material offers maximum durability, so it stands up to the roughness of camp life.
Stats
Jet stream foam for faster inflation and deflation;
100% Polyester 150D Oxford,
Damp-proof
Inflated size is 77.95 × 51.18 × 2.95 inches.
Package Size is 26.37 × 12.59 × 12.59 inches, which weighs 5.2 kg/11.5 Ibs.
Each pad has two durable non-corrosive brass valves, for fast, easy inflation and deflation. Convenient to adjust the comfort level of this self-inflating camp pad.
Compression straps, an oversized oxford carrying bag and repair kit included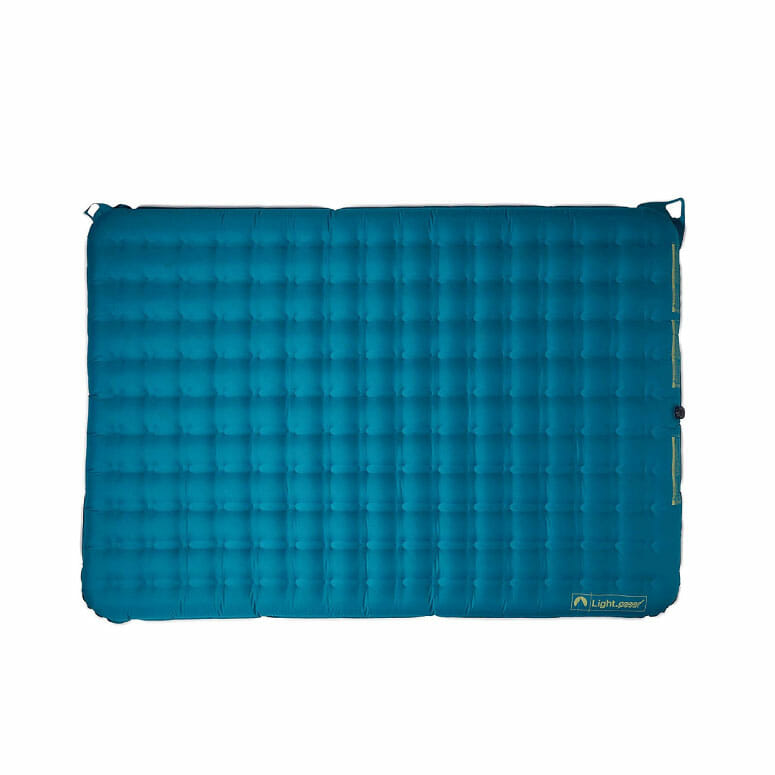 Finally, we have the Lightspeed Outdoors 2 Person PVC-Free Air Bed Mattress for Camping and Travel. This moderately priced air mattress comes with everything you need for a comfortable night out camping.
It includes a battery-operated pump, so it's easy to use it off the grid or pick up new batteries while you're out on the road. When it's time to pack up, the single-cap valve makes deflation quick and easy.
The Lightspeed Outdoors 2 Person PVC-Free Air Bed Mattress for Camping and Travel comes in five colors: Aqua, Marsala, Light Blue, Green, and Blue. The Marsala option includes a special Flexform system for added durability.
This couples' air mattress is made from thermoplastic polyurethane, which makes it lighter than many other air beds, as well as easier to fold up and store. The included storage bag keeps the mattress and pump contained and organized when not in use.
Stats
2-Person Aqua PVC-free air bed
Features Lightspeed's patented stabilizer system
Single cap valve
Fits standard queen-sized sheets; measuring 80″ X 55" x 7″ (Lxwxh); packed size: 16. 5″ X 8. 9″ X 8. 9″; weighs 5. 6 pounds.
Comes with battery operated pump (4 D-batteries are not included)
Roomy storage bag.
TPU (thermoplastic polyurethane) material
More temperature stable, abrasion resistant, and durable than PVC air beds.
No unpleasant plastic odors.
Conclusion
While camping, comfort is key, right? It can make or break a camping experience, especially if you're new to camping. Even if you are roughing it… a cranky camper will make it worse; therefore, a restful night's sleep is important for couples to enjoy their quality time together. One of these air mattresses are sure to be just what you need for your next camping excursion!
Additional CAMPING REsources