A comfortable sleeping bag is your best friend when spending the night outdoors. When staying in the wilderness, having one of the market's best sleeping bags wrapped around you is comparable to sleeping on a comfortable mattress in your home — you can definitely tell the difference the next morning.
A quality sleeping bag can mean the difference between freezing at night and having a warm, restful sleep.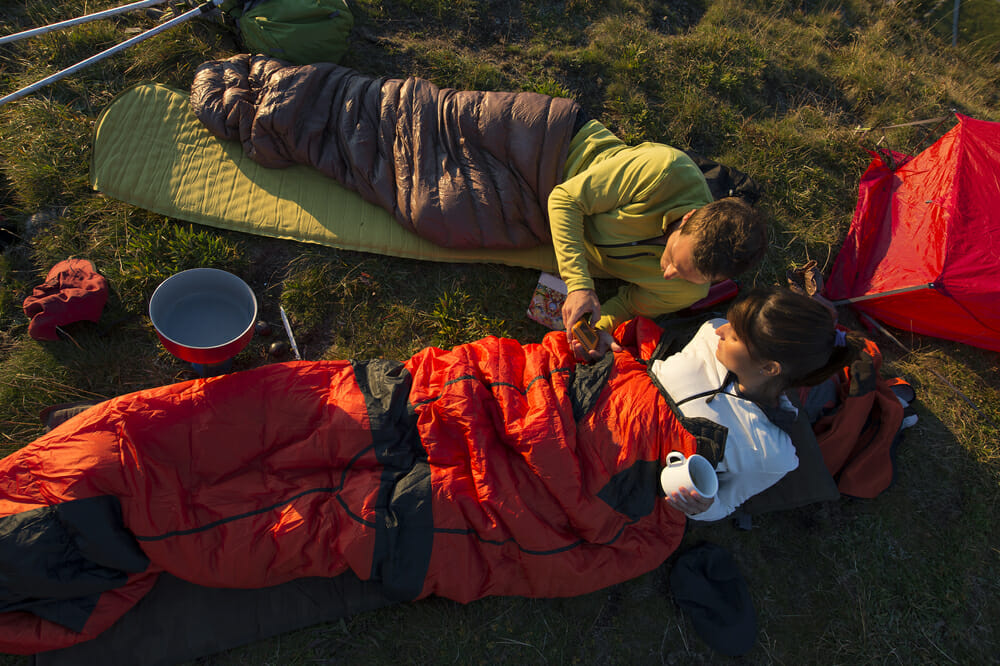 But who has the time to compare dozens, or hundreds, of sleeping bags for only a few nights out of the year camping? There are so many factors to consider: the type of materials, the fill power, filling material, and more. To make this easier on you, we've done all the necessary legwork and research on sleeping bags.
Now, choosing a quality sleeping bag that's right for you has never been simpler! Below, are our reviews of the 10 Best Sleeping Bags we found on the market today.
Whether you're hitting the backcountry for a week-long expedition or spending a relaxing weekend at the local campground, the Hyke & Byke Katahdin Sleeping Bag will keep you warm and comfortable on your adventure.
This sleeping bag compares with 625 fill power down and has a water-resistant shell that will ensure you stay dry and warm in temperatures as low as 10-15 degrees Fahrenheit.
This sleeping bag is designed with a mummy shape that's ideal for trapping body heat. The trapezoidal foot box keeps your feet comfy, and the toe box baffle is positioned downward to trap heat and provide warmth.
The hood is designed to retain warmth while providing enough space for a low-profile camping pillow. The heat within the hood can be regulated by two drawcords that allow for adjustment depending on your heat wants and needs. This sleeping bag is available in a long size for just a few extra bucks. The regular sleeping bag length is 72 inches. The long length is 78 inches.
Customers who have purchased this sleeping bag rave about the warmth. They agree that the temperature rating of these bags is accurate. This is a lightweight sleeping bag that's made for backpacking, so using a sleeping bag ground pad will aid in keeping you warm.
Stats:
Length: 72 inches
Minimum Temperature Rating: 10-15 degrees (F)
The Kelty Unisex Cosmic 20 Degree Sleeping Bag is a three-season bag that's made to last many seasons. The 600-fill Cosmic DriDown provides warmth down to 20 degrees Fahrenheit. , and with water-resistant filling, this bag is made for backpackers who are ready to tackle adventures in rain or shine.
This sleeping bag includes a zippered draft tube that prevents cold air from entering the bag through the zipper enclosure.
The Cosmic 20 comes in two sizes: long and regular. The long size measures 78 inches and is filled with 17.3 ounces of down. It's also about $30 less expensive than the regular size, which is 72 inches long and has 15.9 ounces of down fill.
Those who have purchased the Kelty Unisex Cosmic 20 sleeping bag agree that it keeps them warm and cozy down to the rated temperature. There are some concerns surrounding the zipper construction, as they have come apart for a small group of customers. Overall, the quality of this sleeping bag is top notch. And with its affordable price, deserves a high spot on our list of the best sleeping bags you can get.
Stats:
Length: 72 inches
Minimum Temperature Rating: 20 degrees (F)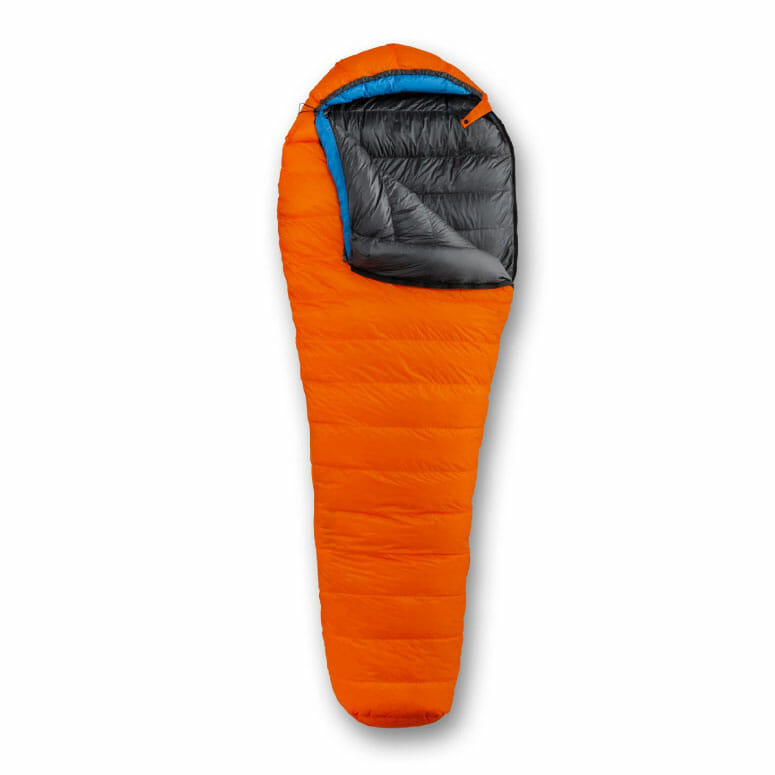 The Swallow UL Sleeping Bag may seem like it's just a more expensive option compared to the first two sleeping bags in this list, but this one has a goose down stuffing of greater than 950-fill power. That's significantly more than what the other bags have, and it means the Swallow UL sleeping bag traps and retains heat extremely well.
The collar of this sleeping bag has extra down that not only provides a cushion around your neck, it traps heat as well. Of course, the hood can be opened wide to allow heat to escape if you become overheated. A trapezoidal foot space allows your feet to fall into a naturally comfortable position.
Extra-tall campers only have to pay $20 more for a sleeping bag that will accommodate them, and with the long sleeping bag option, you get an extra 6 inches of length and 8 more ounces of down fill than the regular length.

The Swallow UL 20/30 sleeping bag comes in a 20-degree option as well as a 30-degree option, and they both come in long and regular lengths. Included with the purchase of this sleeping bag is a storage bag and stuff sack, which is great for keeping your sleeping bag dry while backpacking or traveling to your camping destination.
Customers who have this sleeping bag all agree that it's warm and will stand up to your chosen adventure. The bag is durable, light, and does everything it says it does. For a quality sleeping bag that can be used for many years, this is a good investment.
Stats:
Length: 72 inches
Minimum Temperature Rating: 20 degrees (F) or 30 degrees (F)
Here's another sleeping bag that's rated for 20 degrees Fahrenheit and above. The Western Mountaineering UltraLight sleeping bag has 16 ounces of 850-fill down that will keep you toasty warm even on the coldest of nights, and it's seriously made to last.
The water-resistant shell keeps you and the down filling dry from condensation and dampness that may accumulate during the night. The full down collar traps heat within the sleeping bag and also keeps your head warm throughout the night. And anyone who's been camping knows that keeping your head as warm as your body is a must!
The Western Mountaineering UltraLite comes in a bright blue color that will be hard not to spot if you're hitting the sack toward dusk. And you get the option of three different lengths, as well as if you want it to zip on the right or left side.
When it comes time to wash your sleeping bag, which should be done every so often to remove dust and grime that may have accumulated over multiple trips, cleaning it is as easy as throwing it in your washer and letting it air dry.
Western Mountaineering has a true fan following among serious adventurers and outdoorists. People like Western Mountaineering because the company makes quality products that last decades. Some customers have had this particular sleeping bag for more than 20 years, which is a testament to the quality of this product — and with that kind of durability, it's definitely one of the best sleeping bags you can buy.
Stats:
Length: 66 inches
Minimum Temperature Rating: 20 degrees (F)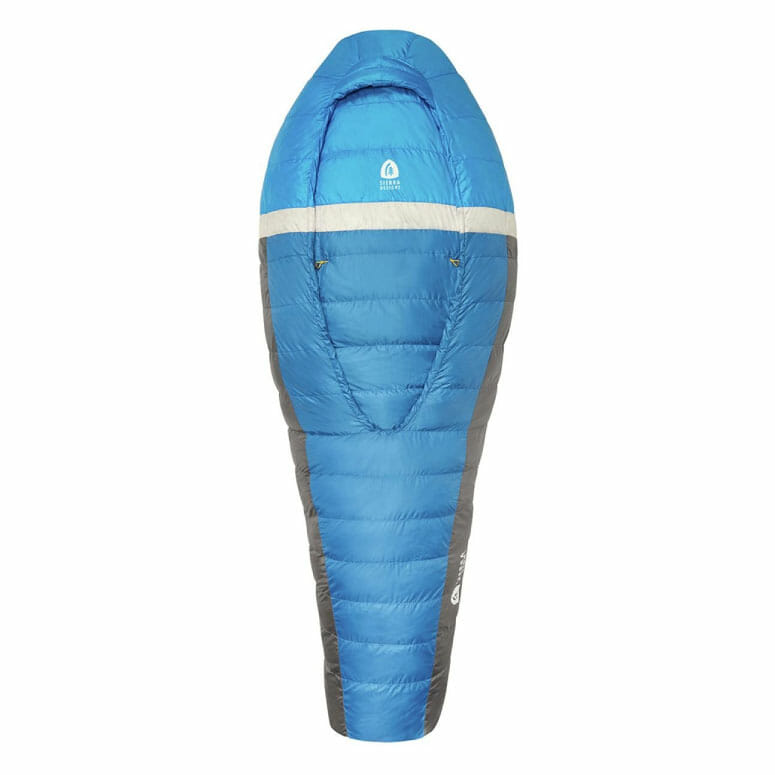 Why even have a zipper on a sleeping bag? If you're tired of zippered sleeping bags, the Sierra Designs Backcountry Bed may be what you are looking for in a sleeping bag. This bag features no zippers, which makes it feel more like a comforter you may have on your bed.
The outer shell of the sleeping bag is made of 20D polyester ripstop that will withstand many nights of camping. This bag is filled with 700 Dridown that is rated for camping temperatures as low as 35 degrees Fahrenheit.
Insulated sleeves in the sleeping bag help eliminate drafts. There's also a sleeve along the bottom that lets you slide your sleeping pad inside the bag, stabilizing the sleeping bag on the sleeping pad.
This sleeping bag comes in two lengths, regular (72 inches) and long (78 inches), so just about anyone should be able to get one that fits properly for those chilly nights outdoors.
Users of the Sierra Designs Backcountry Bed love the versatility of this sleeping bag. The sleeping pad sleeve is a nice feature that other sleeping bag companies should incorporate into their products. The sleeping pad sleeve will fit only a regular 20-inch wide sleep pad, so if you have a larger sleeping pad and have made up your mind to purchase this sleeping bag, consider buying a smaller pad to go with it.
Stats:
Length: 72 inches
Minimum Temperature Rating: 35 degrees (F)
A majority of sleeping bags are designed to keep you warm in the most extreme conditions; however, perhaps you are going camping in the summertime where hot muggy nights just do not call for a sub-zero sleeping bag. The Oaskys 3 Season Sleeping Bag is just what you need.
This option is top-rated and comes in a plethora of colors and sizes; even a double size for couples. These are great for every member of the family… just pick your favorite color! After a long day of hiking, fall into its coziness, which is good down to 32 degrees Fahrenheit, perfect for cool autumn nights.
The Oaskys 3 Season Sleeping Bag also features a half-moon pad with a drawstring to keep your head warm, is made of an Anti-tearing Polyester waterproof fabric, and has a fill material of 100% hollow cotton. It can easily be wiped clean with little effort. A carrying bag is included and is very reasonably priced, especially for families on a budget!
Stats:
Length: 86.6 or 90.5 inches
Minimum Temperature Rating: 32 degrees (F)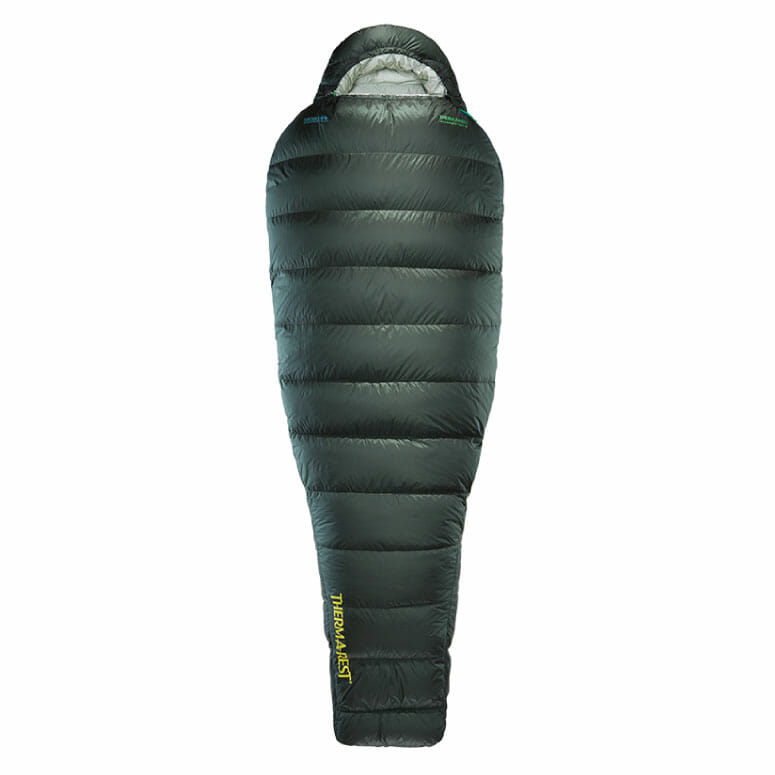 The Hyperion™ 32F/0C Sleeping Bag by Therm-a-Rest is a backpacker's dream. This sleeping bag stands out by being one of the lightest in its class, weighing in at only one pound. Don't let the light weight fool you though, because this bag is stuffed with 900-fill Nikwax Hydrophobic Down™ that is reported to maintain its loft 60 times longer than untreated down.
The Hyperion is covered with 10D RipStop Nylon that is especially durable and water resistant for wherever the great outdoors takes you. Two cords are located on the bottom of this sleeping bag that can be used to secure a sleeping pad for the night.
The Hyperion sleeping bag is also available in small and long sizes. The small size is 66 inches in length, while the long size is 78 inches in length. There aren't many sleeping bags of this quality that come in a 66-inch length, so shorter campers looking for a sleeping bag that will provide a closer fit for increased heat insulation may want to consider the Hyperion.
Backpackers rave about the Hyperion sleeping bag. They are surprised at how well this bag keeps them warm when it only weighs one pound! Shorter users claim that they have finally found a sleeping bag that feels specifically made for them.
Stats:
Length: 66 inches
Minimum Temperature Rating: 32 degrees (F)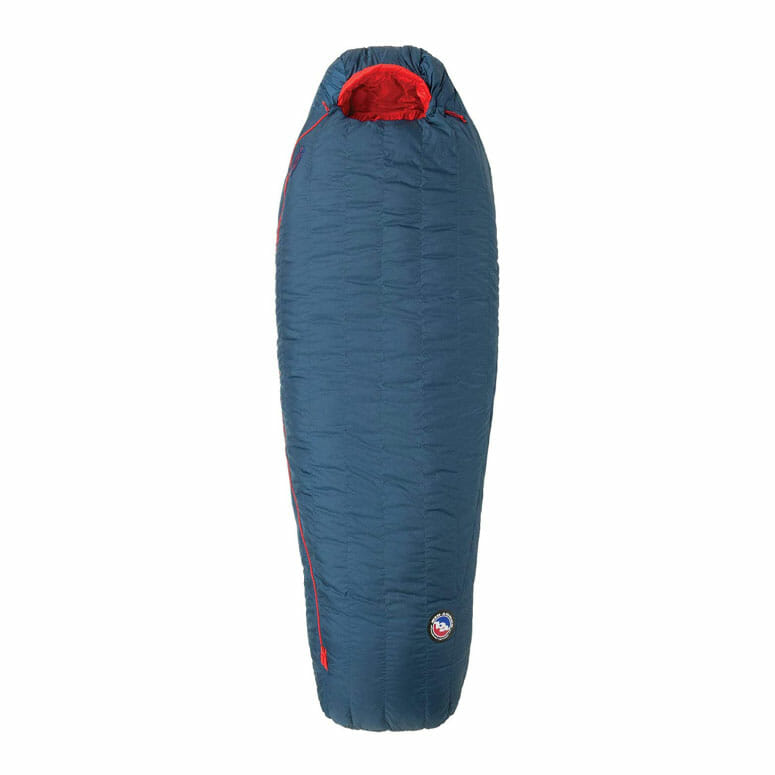 Winter camping enthusiasts need look no further than the Big Agnes Anvil Horn Sleeping Bag — the best sleeping bag for anyone looking to sleep in temperatures as low as 0 degrees Fahrenheit.
This sleeping bag is insulated with 650-fill DownTek PFC-Free Water Repellent Down to keep you dry and warm even at very low temperatures. The polyester ripstop shell is durable and light for wherever your camping travels may take you.
Attached to the back of this sleeping bag is a Flex Pad Sleeve that can accommodate various sizes of sleep pads. Pockets inside the sleeping bag allow you to store your cell phone so it doesn't freeze at night. And a pillow sleeve is inside the hood of the sleeping bag for your portable, inflatable camp pillow.
The Big Agnes Anvil Horn sleeping bag is available in long sizes with both right and left side zippers. The long size is 78 inches in length. If you are not planning on sleeping in temperatures as low as 0 degrees Fahrenheit, this sleeping bag is also available with 15 degrees, 30 degrees, and 45-degree ratings.
Customers who have purchased this sleeping bag are surprised by its roominess when sleeping. Big Agnes is a reputable company in the camping industry that makes quality products, so you can feel confident you are purchasing the best with this sleeping bag. A Lifetime Warranty protects your purchase, which is something not seen in other sleeping bags reviewed in this list.
Stats:
Length: 72 inches
Minimum Temperature Rating: 0 degrees (F)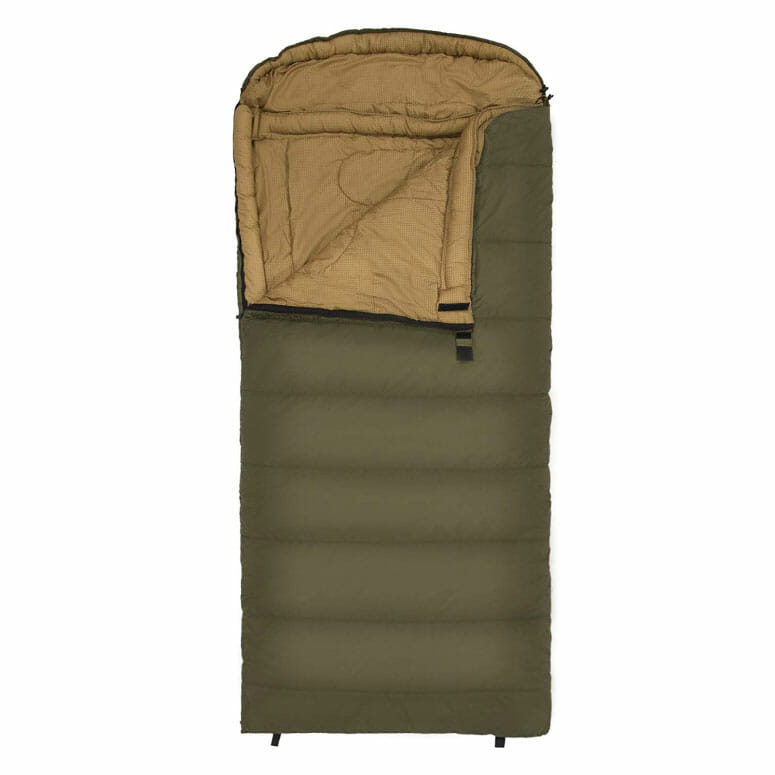 With big and tall clothing sections in stores, it's about time there was a sleeping bag made for big and tall camper!. Bigger campers and adventures will appreciate the larger size of the TETON Sports Celsius XXL sleeping bag. This sleeping bag is also perfect for smaller couples who want to sleep together and don't want to have to zip two sleeping bags together.
The bag is insulated with SuperLoft Elite four-channel hollow fibers that will keep you warm in temperatures as low as 0 degrees Fahrenheit. If you need to keep your electronics from freezing during the night, the sleeping bag's internal pockets provide plenty of storage for electronics and car keys.
Weighing in at 7 pounds, this is not a lightweight sleeping bag, so just be aware of that if you're going to be hiking long distances.
TETON Sports was established in Utah in 2005. While the company is relatively new to the camping industry, they stand behind the products they manufacture with a limited lifetime manufacturer's warranty against defects in materials and workmanship.
Stats:
Length: 90 inches
Minimum Temperature Rating: 0 degrees (F)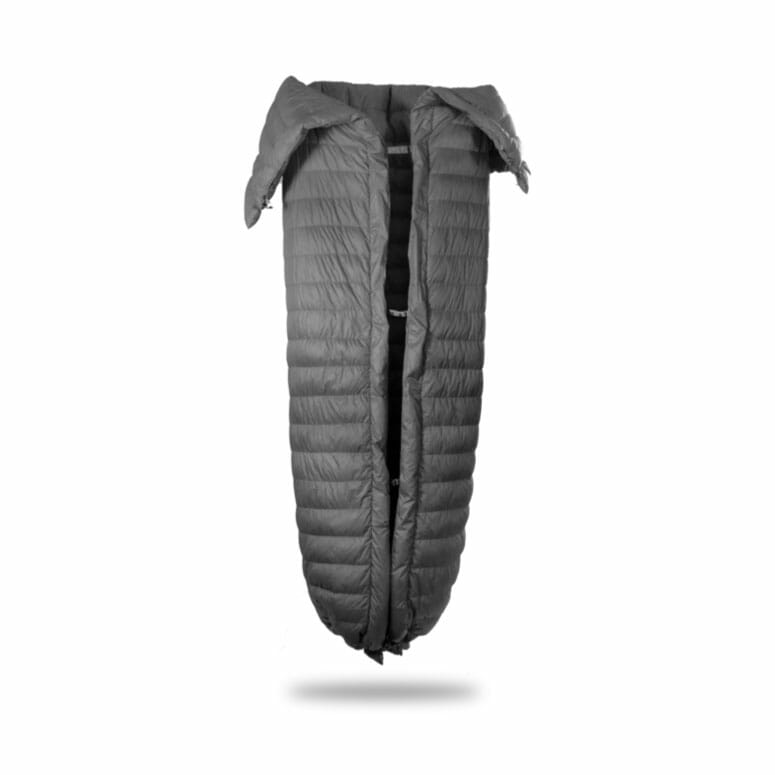 Wrapping up our list of the 10 best sleeping bags, we have the Firebelly 30°F. Have you ever heard of a minimalist sleeping bag? The Firebelly 30°F backpacking quilt is exactly that. This minimalist option would be the perfect sleeping bag for a cool summer night sleeping under the stars.
This blanket is insulated with 750-fill power Downtek™ responsibly sourced, water-repellent down that provides warmth and comfort wherever you go. The bag is covered in ripstop nylon, which will stand the test of time. Weighing only 25 ounces, this camp blanket is perfect for backpackers who want to keep warm but need to keep their packs light. This quilt can be secured to a sleeping pad with elastic straps that are attached to the back of this blanket, and it's available in two colors: ember orange and granite gray.
This is a versatile quilt that can be used to keep you warm while watching sports or other outdoor events. Use it to insulate a hammock or place in your vehicle in case of a winter flat or other vehicle malfunction.
As you might expect, the Firebelly has a following among minimalist backpackers. They rave about the warmth, versatility, and portability of this blanket. Packed into its carrying sack, this quilt compresses into a space 12 inches in length by 7 inches in width. You can pretty much take this thing anywhere you want without sacrificing room for other necessities.
Stats:
Length: 88 inches
Minimum Temperature Rating: 30 degrees (F)
CONCLUSION
Camping is not for everyone, right? But if you go, you must be comfortable or it makes for a miserable trip for the whole family. When you think about outdoor comfort, perhaps a good night's sleep is a key issue that some campers are concerned about. With any one of the above mentioned sleeping bags, you will be cozy and warm after a long day of hiking or other outdoor activity. Today, more than ever, it's important to get out and enjoy fresh air and nurture family time through an affordable outdoor activity through camping. Whether you are sleeping under the stars or in a tent, choosing the right sleeping bag for your family's needs is essential. Happy camping!
ADDITIONAL RESOURCES: