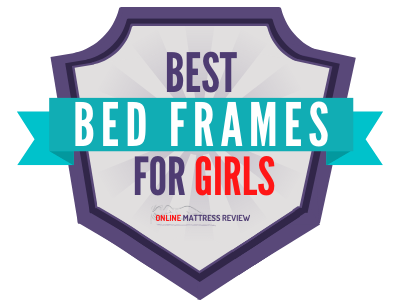 The market is filled with bed frames for girls that promise a better night's sleep. When deciding among best online mattresses, it is important to consider the frame that it will rest on as well.
And when it comes to furnishing your child's room, there are a number of factors to consider such as age, weight, and their interests and preferences, which can make picking one a challenge.
The Best Bed Frames For Girls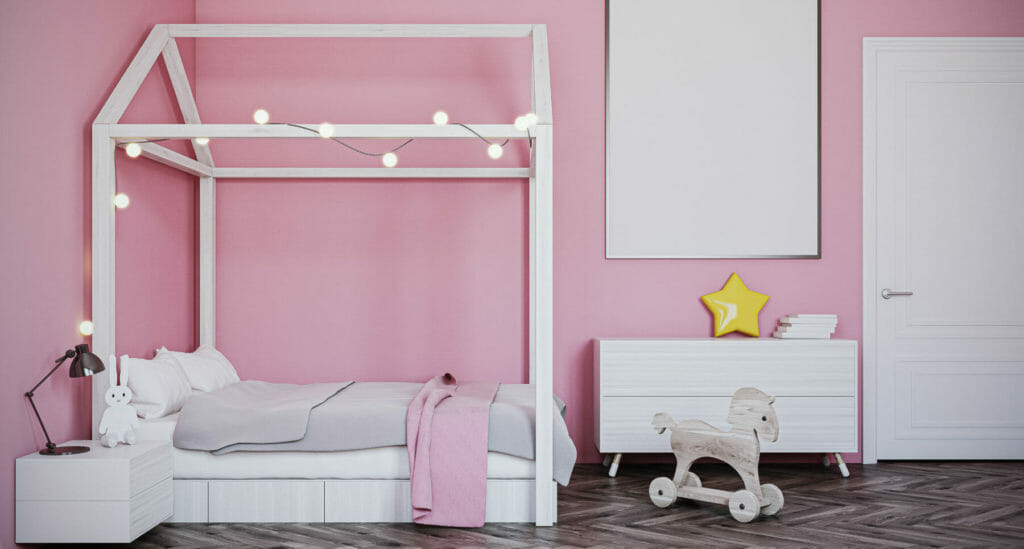 There are a lot of bed frames on the market that are great for girls. We did the legwork to help you find the right one for your needs. Below, are our 10 top picks that you should definitely consider to provide your child with a great night's sleep on a bed frame they will also enjoy.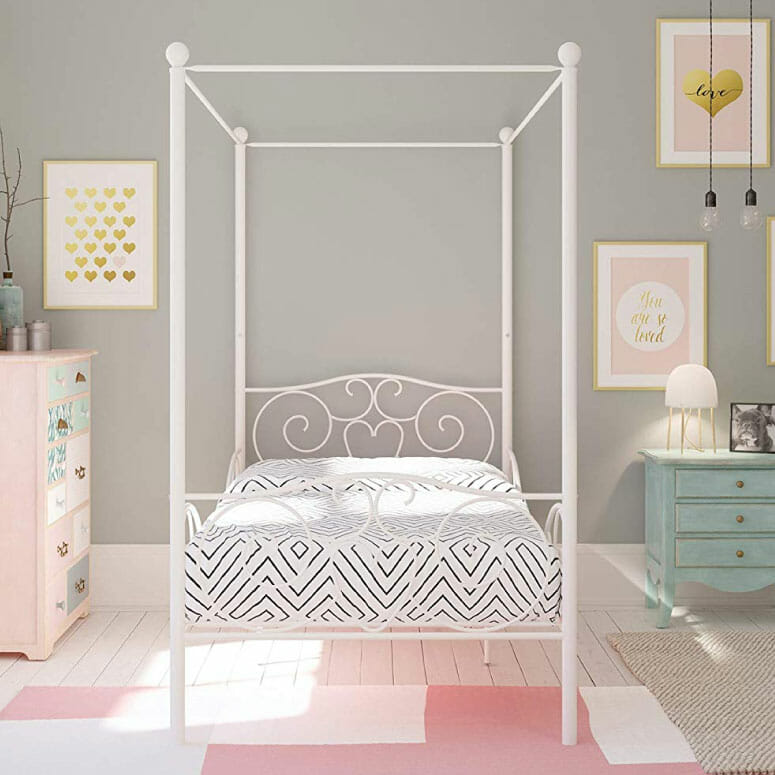 The first option on our list of the best bed frames for girls offers an ideal balance between price and quality. The DHP Canopy Bed with Sturdy Bed Frame comes with everything you need to give your girl a better night's sleep—simply add the right mattress.
The DHP Canopy Bed with Sturdy Bed Frame comes in four different colors (white, pink, pewter, and gold) and two sizes to fit your availabShople space (twin and full). The bed is designed with rounded finial posts and has a metal frame construction with delightful heart-shaped detailing.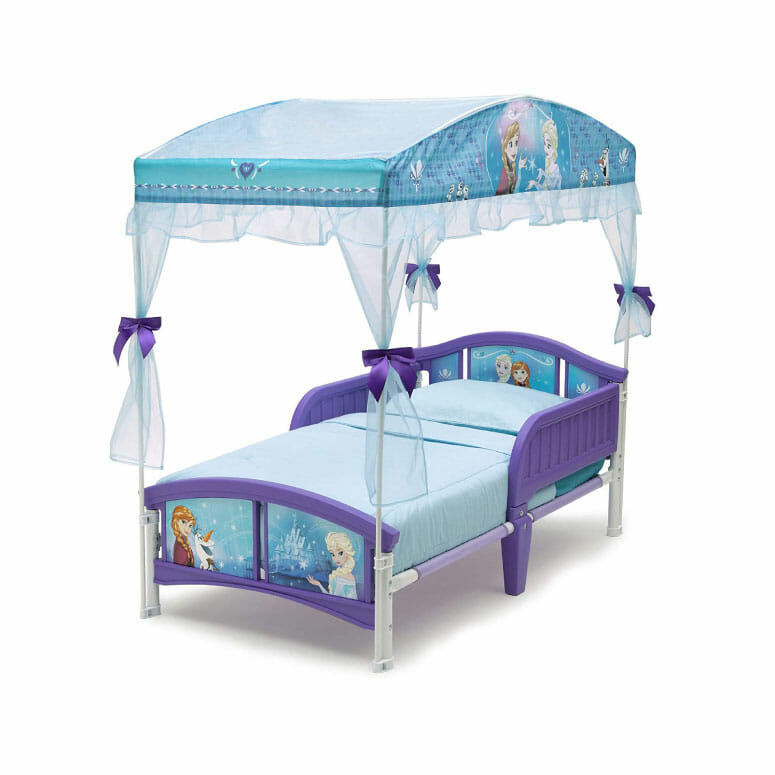 If your toddler is a Disney fan, then the Delta Children Canopy Toddler Bed will definitely give them sweet dreams. This is a complete frame with a canopy that features designs with Disney's most popular characters that are favorites with girls. You can choose a design with the characters from Frozen or a design featuring all of the Disney princesses.
The Delta Children Canopy Toddler Bed also has an attractive price tag making it one of the more budget-friendly options out there. Keep in mind, however, this is a bed designed for children weighing up to 50 pounds and is constructed using a combination of high-quality plastic and steel.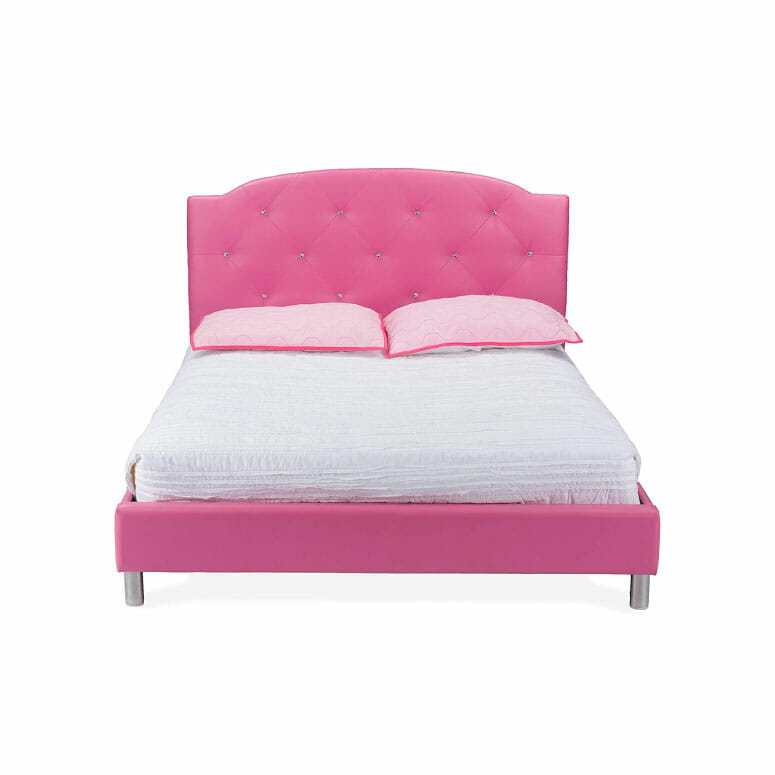 Next on our list of best bed frames for girls is the Baxton Studio Canterbury Pink Leather Contemporary Bed. This one comes in at a slightly higher price and comes in a lovely shade of pink, which any little girl will love. The crystal tufted headboard is so beautiful!
The Baxton Studio Canterbury Pink Leather Contemporary Bed also comes in a full-size option which will be suitable for most children. The frame is made from plywood and hardwood with chrome legs, and it features a faux-leather finish. It also comes with a polyurethane foam padding for added support.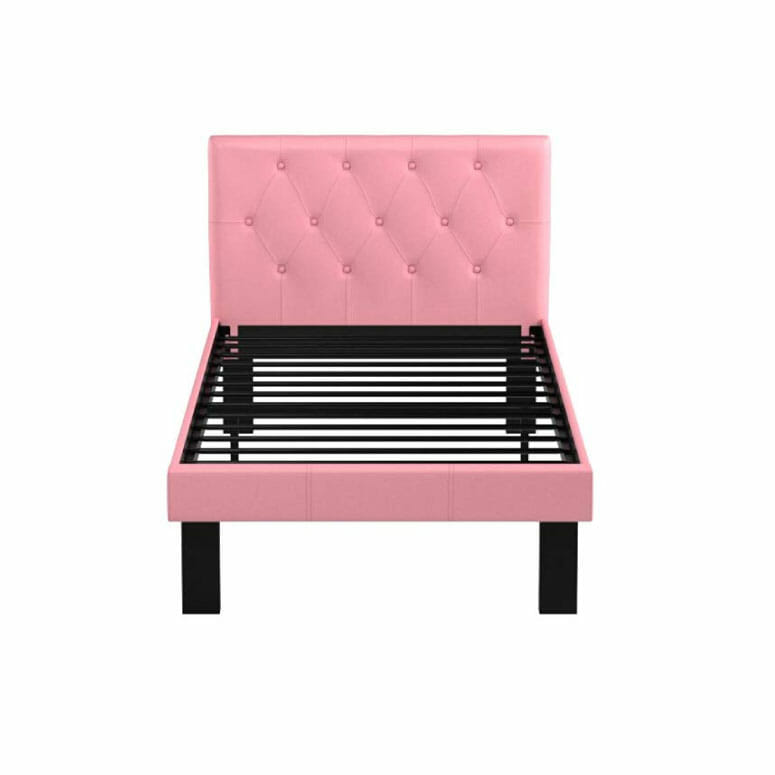 Next up we have the Poundex PU Upholstered Platform Bed. This bed is also priced slightly higher, but the quality and features make it worth the money – it's yet another beautiful pink option, but in a twin size for smaller bedrooms.
The twin-sized bed bed features padding that provides a more comfortable surface close to the frame, and it also has durable legs to keep the bed stable.
If you're looking for a more budget-friendly bed, the Dream On Me Portland 3 in 1 Convertible Toddler Bed might be just the ticket. The frame comes in a wide variety of five colors and is very reasonably priced.
The Dream On Me Portland Convertible Bed primarily focuses on your child's safety, so two built-in safety rails are installed on the sides of the frame. The bed is also lower to the ground than many alternative options on our list of best bed frames for girls. The frame is compatible with children up to 50 pounds.
If your child would enjoy a more traditional style bed frame, then the GIANTEX Full-Size Metal Canopy Bed Frame is one they might adore. The bed frame comes at a moderate price and features a pink finish over a metal frame, which makes this a perfect entry on our list of the best bed frames for girls.
The entire structure, once assembled, includes a canopy, a full-size bed frame, and a footboard and headboard. Stylish metal patterns are also constructed on the headboard. The bed frame also comes in gold and pewter and in two sizes, full and twin. Unfortunately, the bed requires assembly but can be easily constructed in a short amount of time.
If your budget is more flexible and you truly want something unique for your child, then definitely take a closer look at the ACME Furniture Priya II Canopy Twin Bed. This bed was chosen for our list of best bed frames for girls because it features a durable metal frame designed to resemble the shape and appearance of a carriage with a butterfly design. The bed does, however, come with a moderate price tag.
The Canopy Bed is available in twin and full sizes and comes in a beautiful white and purple color. Other matching furniture pieces are available for a matching look, sure to delight any little girl!
Next, we have the Furniture of American Ashley Fairy Tale Carriage Canopy Bed. This one also comes with a price tag that is somewhat higher than other options on our list of the best bed frames for girls, but the design and construction make it worth the cost. The bed frame features a pumpkin carriage framework in a pink and white finish – complete with faux wheels. And as if the princess pumpkin design wasn't enough, a crown has been added at the top of the product's framework.
The Ashley Fairy Tale Carriage Canopy Bed is made from quality metal to help support your child—even as they grow older, and it will easily fit most twin-size mattresses, which means finding the right mattress for your child to pair with the frame should not be a problem.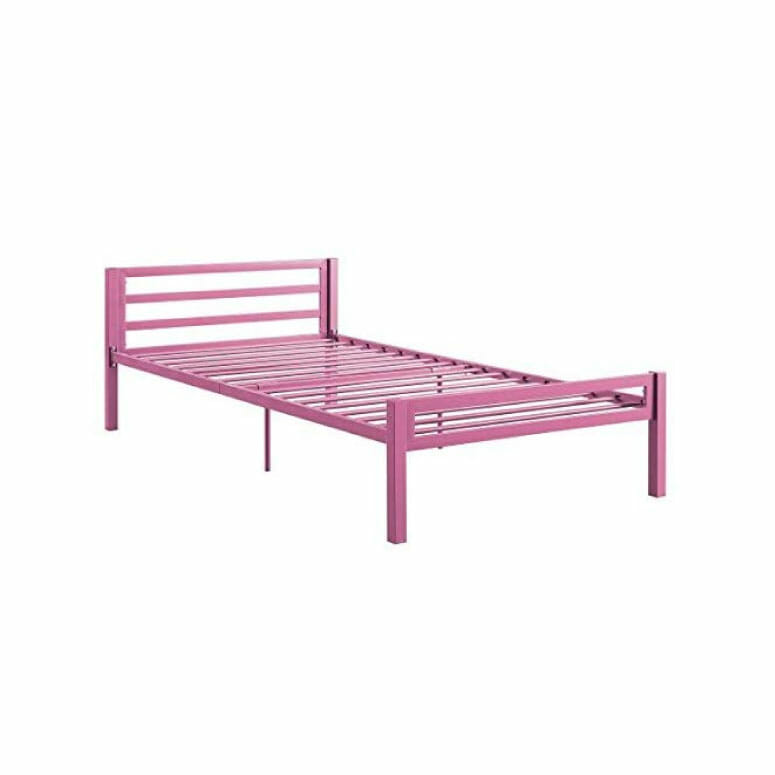 The Mainstays Premium Metal Bed is perfect if you're looking for just a basic but sturdy and durable frame for a child's comfortable sleeping surface. The bed frame was designed to be practical and will fit most twin-size mattresses on the market.
You can pick up the Mainstays Premium Metal Bed and it's affordable, which puts it into the budget-friendly category. The pink color is perfect for girls and features construction from quality metal to ensure it will last as your child grows.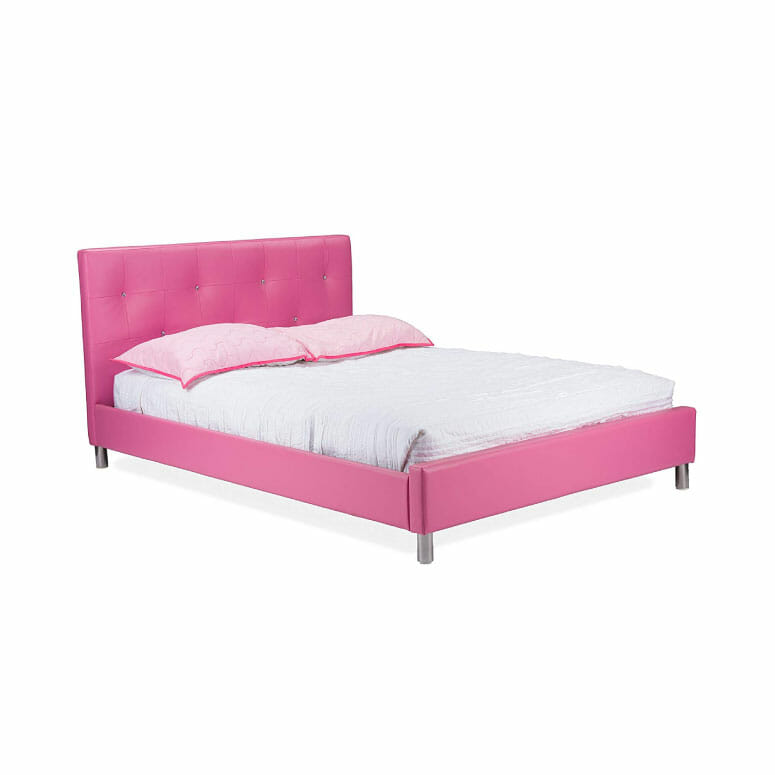 The last option on our list of best bed frames for girls is the Baxton Studio BBT6140-Full-Pink Barbara Leather Modern Size Bed. This bed is not for toddlers but for the growing girl in need of a larger bed to sleep on. It comes in a very attractive pink color.
The bed comes in full size and has a very contempory look. Although it comes with a higher price tag, the quality and aesthetics are sure to please your child.
Conclusion
Parents can spend a lot of time looking for the perfect bed for their child. We looked at the best bed frames for girls that are currently on the market that fit a variety of budgets and styles and sizes—from practical to fanciful—to help you find the one that's just right for your little one.
ADDITIONAL RESOURCES: