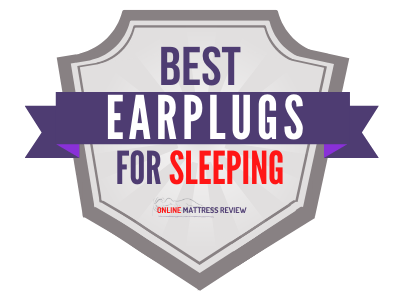 Earplugs are one of those things you don't give much thought to until you need them, and finding the best earplugs for sleeping can seem like an impossible task.
In addition to having snoring bedfellows, visiting loud airports and and gun ranges are few other times when earplugs can feel like a lifesaver. When trying to block sounds of your snoring partner, having the best earplugs can make a huge difference in your sleep quality—much like choosing the right mattress.
On the other hand, there are few things more frustrating than buying some earplugs and finding that they're uncomfortable or don't block out sound effectively. Navigating the various earplug claims can be frustrating and confusing, so to make this process easier for you we have found the best earplugs for sleeping and listed them here.
---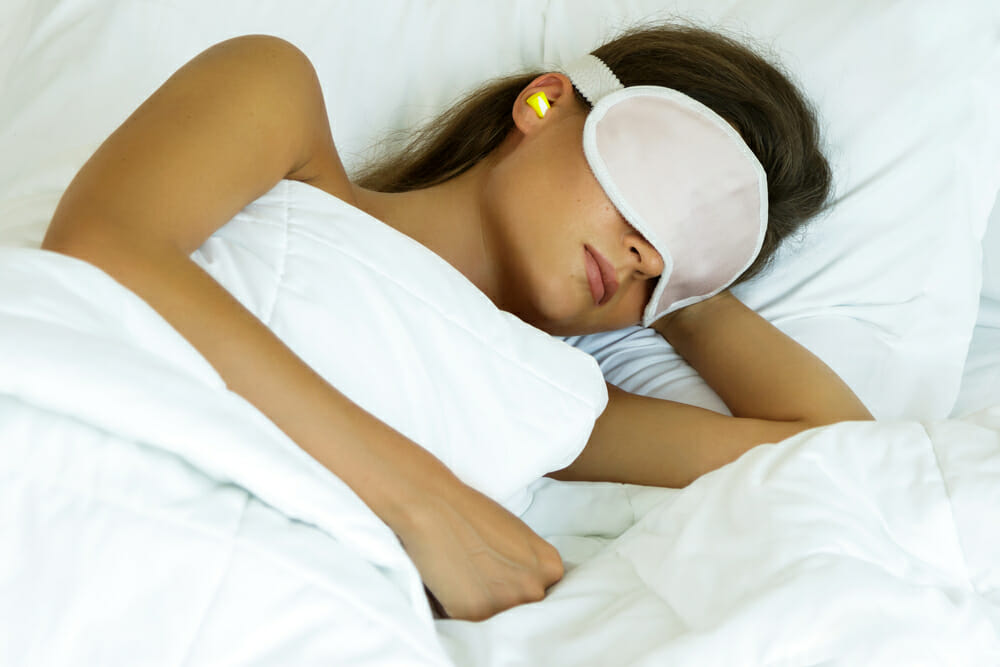 Once you've chosen your favorite, check out our review of the best sleep masks to ensure blissful sleep no matter where you are.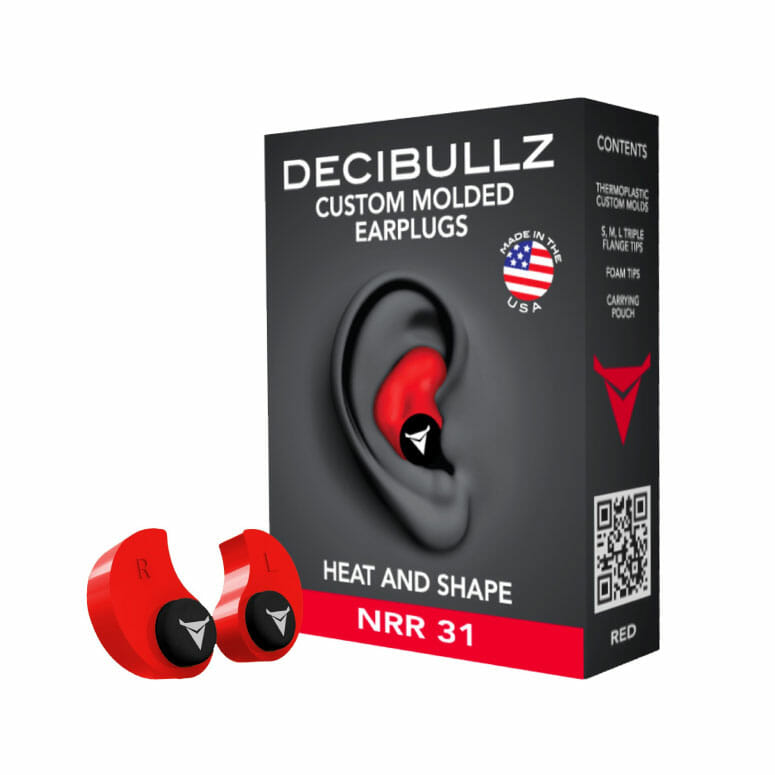 The Decibullz are the epitome of custom-fit earplugs. These earplugs were designed by an Olympic coach who was tired of how other earplugs and earphones performed during training. His answer was to create earplugs made out of thermoplastic—a material that, when heated, will form to the unique shape of your ear.
This material provides the ultimate custom fit, and that translates into better sound blocking-capabilities. The Decibullz earplug has a three-piece seal design. The main body is composed of thermoplastic. The sound plug is rubber, which helps block extra noise, and the ear canal tip is the part that is inserted into the actual ear canal.
One of the great things about thermoplastic is that it can be reheated and formed again if, for whatever reason, you didn't create a good enough fit for your ear the first time. These earplugs also come in five colors and three sizes of ear canal tips (S, M, L) that you put the foam tips on.
Buyers of these earplugs rave about how comfortable they are to wear. Individuals who compete in professional shooting events have found these earplugs particularly good for that activity, so you can just imagine how well they'll perform against your partner's snoring or your noisy neighbors. These earplugs are not complete noise canceling, though, so don't expect complete silence in a busy area where people are talking around you, or in particularly loud settings.
If you approach these earplugs with reasonable expectations, they do what they say they do—and keep you comfortable during the process. And that's what makes the Decibullz Custom Molded Earplugs our top choice for the best earplugs for sleeping.
Stats
Noise Canceling (dB): 31
Colors: Black, Red, Blue, Orange, Pink
Carrying Case: Yes
---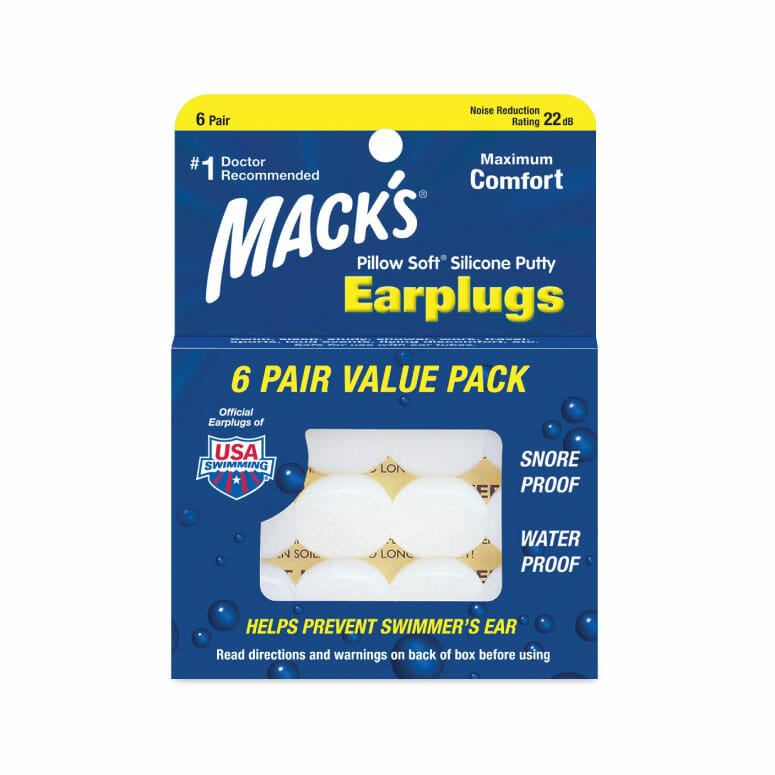 Mack's Pillow Soft Silicone Putty Earplugs are a simple yet effective solution to noise cancellation. These earplugs were invented in 1962 by Ray and Cecilia Benner, and the original silicone formula is still used today—a testament to the effectiveness of these earplugs.
Mack's brand earplugs are so trusted, they're the Official Earplugs of USA Swimming. These earplugs are the #1 selling earplugs in America due to their ease of use and 22 dB noise-canceling ability. Mack's Pillow Soft Silicone Putty Earplugs are perfect for sleepers who need some peace and quiet, because they are soft and don't hurt the ears when tossing and turning throughout the night.
Customers who have purchased these earplugs agree that they are especially useful for blocking out noise while sleeping at night. Some customers have reported a waxy residue in the ear after removal, so you just might want to be aware of that when you try them out for the first time. Comfort, reliability, and price are all factors that bring Mack's in at our #2 spot for the best earplugs for sleeping.
Stats:
Noise Canceling (dB): 22
Colors: White
Carrying Case: Yes
---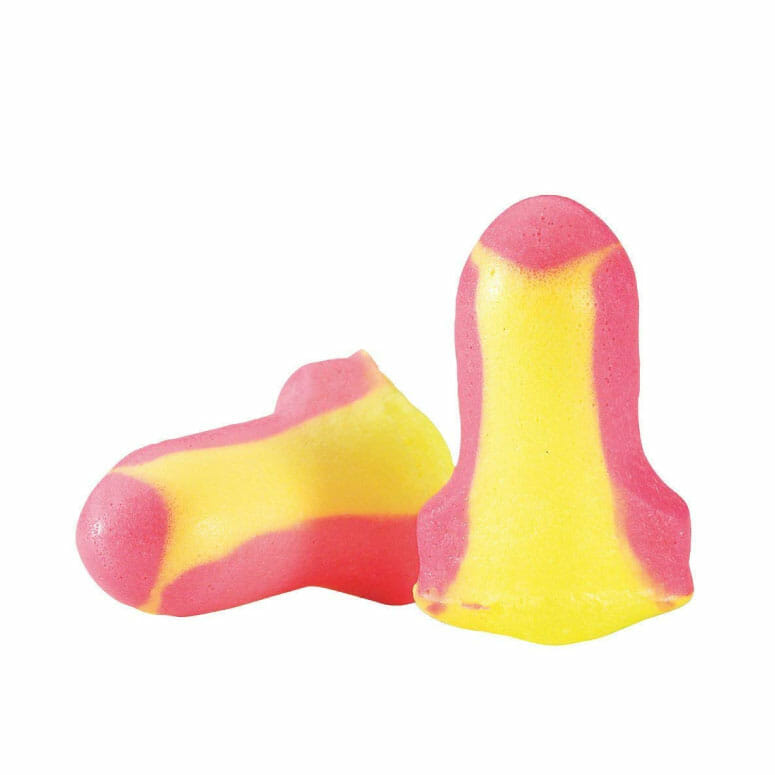 Rounding out our top three choices for the best earplugs for sleeping are the Howard Leight Disposable Foam Earplugs. They're another classic that has stood the test of time due to how well they work, coupled with their affordability.
These foam earplugs provide 32 decibels of hearing protection and form to both large and small ear canals. The closed-cell foam is comfortable and prevents dirt and debris buildup on the outside of these earplugs. One practical (and kind of fun) feature of these earplugs is that they come in a highly visible yellow and magenta color, which makes it easier to find misplaced earplugs.
The Howard Leight Disposable Foam Earplugs cost less than a dollar per pair—so you can actually dispose of these disposable earplugs without feeling like you're throwing money away.
Buyers of these earplugs can't stop telling everyone how well they eliminate noise. Many of the customers are frequent buyers of different earplugs, and they say that they have finally found the earplugs they have always been looking for. That's pretty high praise for earplugs that cost less than $1 per set. Just bear in mind that these are made to be disposable, so they're typically only good for one or two uses.
Stats:
Noise Canceling (dB): 32
Colors: Magenta/Yellow
Carrying Case: Yes
---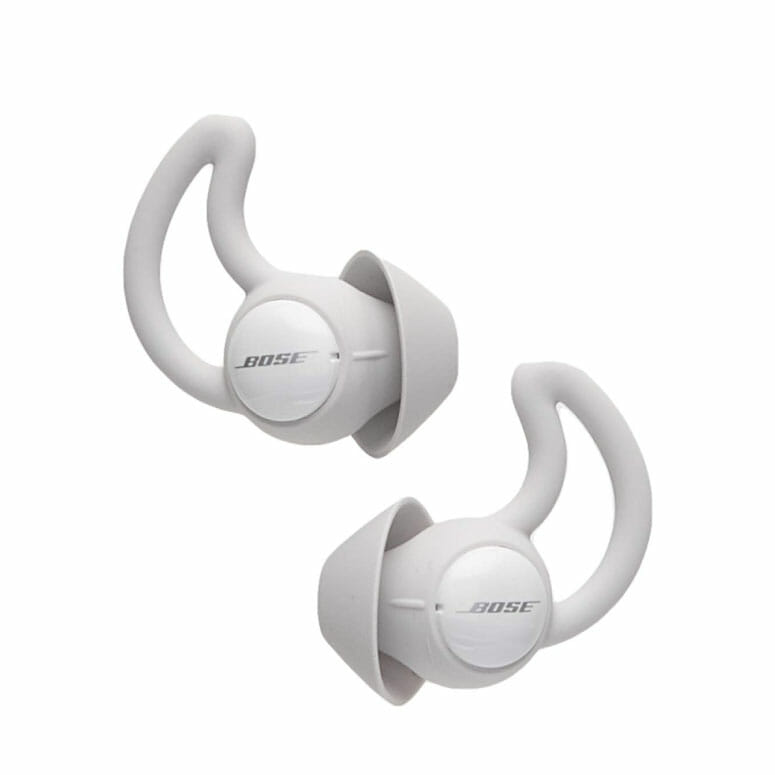 If you're looking for earplugs made specifically for sleeping, the Bose noise-masking sleepbuds may be the solution you're seeking. These are not "noise cancelling," but noise masking, meaning that they use preloaded, soothing sounds tuned to frequencies that cancel out common distracting noises while you sleep.
If you're worried about sleeping through your alarm (like you may be with other earplugs), you don't have to be concerned about that with the Bose sleepbuds. You can set alarms by programming them into your smartphone, and they alarm sound will go through the sleepbuds and right into your ears when the time arrives for you to wake. The best part about that is that you will be the only one to hear the alarm, so it won't wake up the rest of the house.
Placing the sleepbuds in their charging case every morning will ensure that they stay charged throughout the night, with a 16-hour battery life per charge. These earbuds fit snuggly and securely into your ear, so no matter how you move throughout the night your earbuds stay put.
People who have bought these Bose sleepbuds seem to have mixed opinions about them. Most of the negative reviews concern the fact that these are not noise canceling. But Bose does not say they are noise canceling—they are very clear in stating that these are noise-masking sleepbuds.
Another concern voiced by customers is that the sleepbuds can only be operated by your smartphone, which is an inconvenience for those who make an effort to leave their phones in places other than their bedroom at night. So while there are some specific concerns, on the whole, people tend to really like the Bose sleepbuds—especially if they like hearing soothing sounds while falling asleep.
Stats:
Noise Canceling (dB): N/A
Colors: White
Carrying Case: Yes
---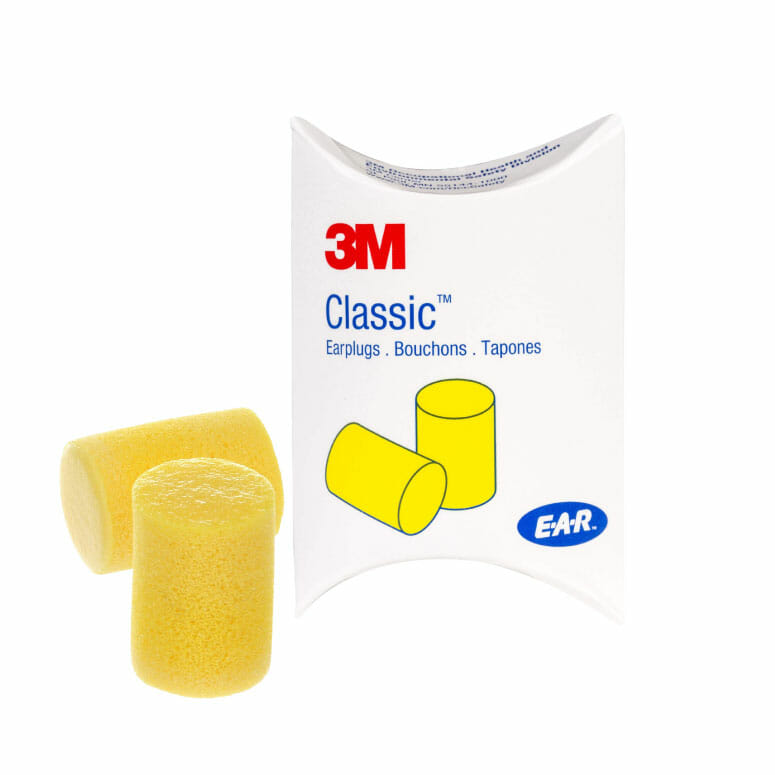 3M is known for making equipment for industrial and manufacturing companies, which means their earplugs are made to last and stand up to the toughest (and noisiest) conditions. The 3M Classic Earplugs are made specifically for U.S. workplace use, but they can be purchased through companies such as Amazon and used for any situation where you need to block out noise—like when you seriously need to sleep!
3M produced the world's first foam earplugs and continues to manufacture foam earplugs through the 3M classic earplug pack. The foam that's used in these earplugs is "slow recovery" foam, which means that when they're placed in the ear there is time to adjust them correctly before the foam expands and makes a seal.
These earplugs have a noise reduction rating of 29 decibels and are flame resistant for welders (just in case you need to spot weld your bedframe or something in the middle of the night). These are sold in quantities of 200, but they're disposable and only made to be worn once, or maybe twice. So you can stock up with one purchase and not have to worry about buying more for several months.
Customers who have purchased the 3M Classic Earplugs have mostly good things to say about them. They are comfortable, cheap, and block out most noise. The negative reviews posted by customers surround comparisons with how these earplugs were made 20 years ago—so if you didn't use them 20 years ago, you can take that for what it's worth.
The bottom line is, even though these are made for industrial use, they'll certainly fill the needs of someone who wants the best earplugs for sleeping. And at such a low price, they're definitely worth stocking up on.
Stats:
Noise Canceling (dB): 29
Colors: Yellow
Carrying Case: No
---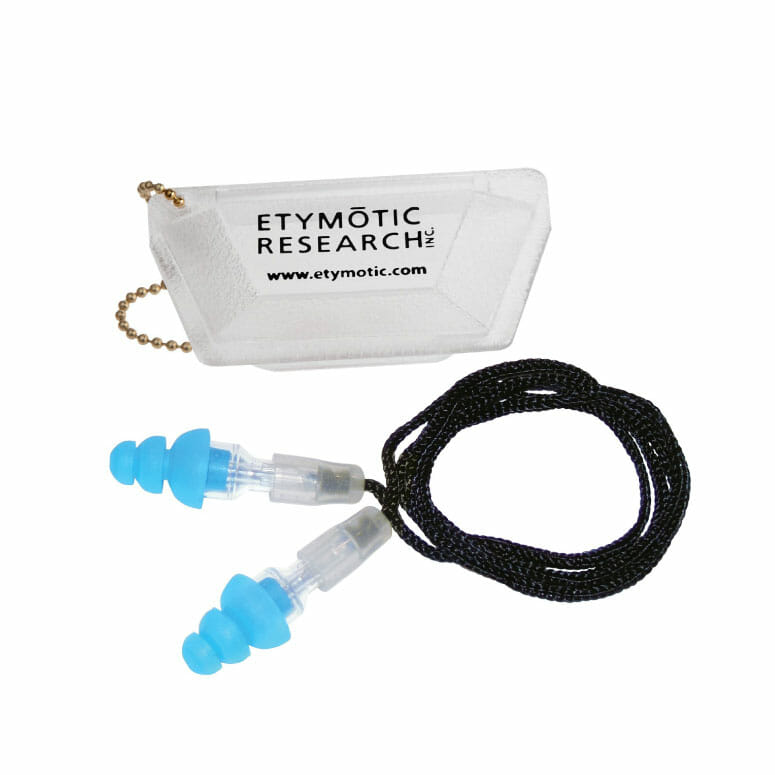 If you're going to a concert, riding a motorcycle, or attending a sporting event, the Etymotic High Fidelity Earplugs will attenuate sound without sacrificing sound quality. These earplugs are not for completely blocking out sound, but for damping loud sounds.
Say you're going to a concert and want to dampen the eardrum-shattering sounds often present near the stage, but you still want to hear crystal-clear vocals. These are the earplugs you want with you. With that said, just think how they would dampen the sounds of a noisy sleep partner or neighbor, yet still allow you to hear your alarm clock when it goes off in the morning.
Included with the purchase of the Etymotic High Fidelity Earplugs are a neck cord and carrying case so that you never lose your earplugs. I wouldn't recommend using the neck cord while you sleep, as it could possibly be hazardous. But if you're going to take them to a concert or into another loud situation, it will come in pretty handy. It is recommended that you replace these earplugs every 3-6 months.
Customers who have bought the Etymotic High Fidelity Earplugs say that these earplugs do what they say they do and are great for concerts. They keep the vocals and music crystal clear while decreasing the volume. And that would make them some of the best earplugs for sleeping, as well.
Stats:
Noise Canceling (dB): 20
Colors: Clamshell, clear stem/white, clear stem/frost tip
Carrying Case: Yes
---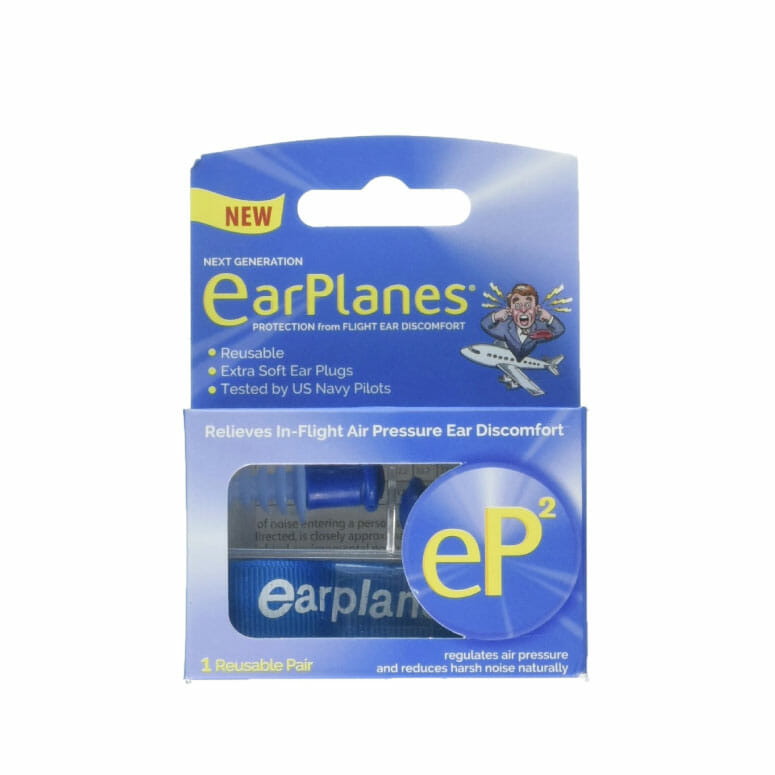 The EP2 EarPlanes Earplugs aren't made for sleeping, but for air travel. But who doesn't sleep on a long air flight? If they work well against the hazards of air travel, it's only reasonable to believe they'd be amazing in your home—where you need the best earplugs for sleeping. So let's take a closer look.
Popping, clogging, and ear discomfort during plane flights is something most of us accept as just part of flying. But maybe it doesn't have to be. The EP2 EarPlanes Earplugs are designed to filter and regulate air pressure so that you don't experience the annoying popping and ear discomfort when flying.
Made of soft silicone, these earplugs are easy to put into and take out of the ear, and they come with a removable cord so you don't lose these precious air companions. Instructions for use of these earplugs indicate to place them in the ears before takeoff and again one hour before landing. When the plane reaches maximum altitude these earplugs can be removed.
The EP2 EarPlanes Earplugs have been tested by Navy pilots with vast experience flying airplanes and using earwear. These earplugs can be reused for up to five round trip flights before needing to be replaced.
Customers who have purchased the EP2 EarPlanes indicate that the earplugs work, but they should be replaced about every two flights. Reviews indicate that the ear plugs stopped working correctly after two flights. Having said that, we're not sure how often you'd need to replace them if they're used for sleeping every night, but if you only need earplugs for sleeping occasionally, these could be a good choice to keep on your nightstand.
Stats:
Noise Canceling (dB): 20
Colors: Blue
Carrying Dase: Yes
---
The CAPZORD Ear Plugs set is another option made for concert-goers and musicians who need noise reduction without altering the actual quality of the vocals or music. And again, we think those same qualities would make them some of the best earplugs for sleeping, while not worrying about whether you'll hear your morning alarm. Are you an avid swimmer? These earplugs are waterproof and keep the ears dry, too!
These CAPZORD Ear Plugs are made of high-grade silicone that's so comfortable in the ear you may forget you're wearing earplugs (and wouldn't that be great for sleeping?). Each package comes with two different sizes of earplugs so you're sure to get one that fits your ear. You also get a carrying case so you always have the earplugs when you need them.
Customers who have bought these earplugs have nothing but good things to say about the quality, style, price, and durability of this product.
Stats:
Noise Canceling (dB): 32
Colors: Green
Carrying Case: Yes
---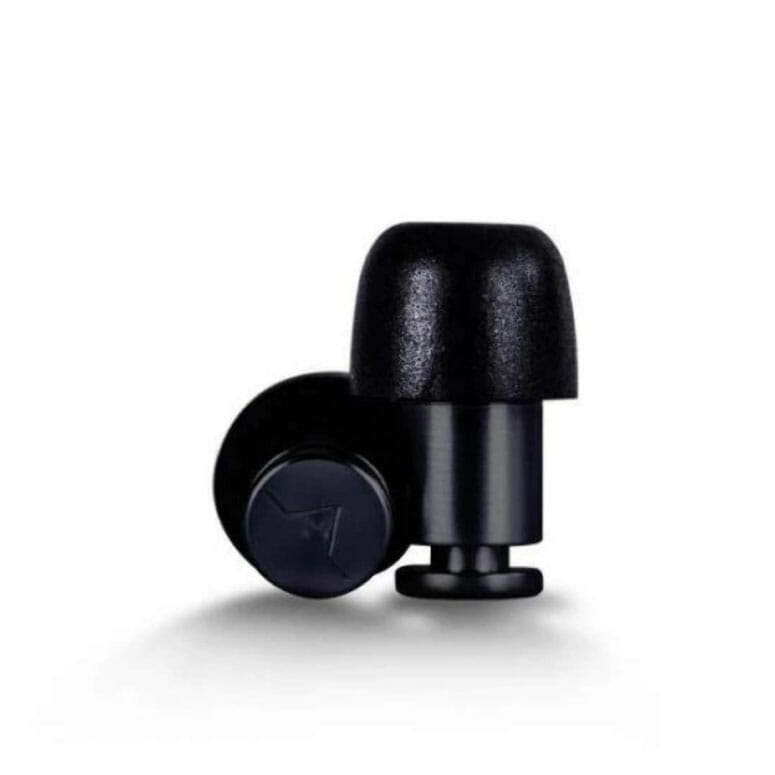 Listen up, musicians and sleepers of all occupations! The Flare Audio Earplugs may have found the solution to your earplug needs. These Flare Audio earplugs are made of aerospace aluminum that blocks high decibel noise while leaving low decibel noise untouched.
Producers and musicians can't stop talking about these earplugs and how Flare Audio has filled an untapped need in their industry. And Flare Audio may have done exactly the same thing for people who need the best earplugs for sleeping. And traveling. And motorcycling. And any kind of activity you might engage in where you want to tone down the sounds of the world around you.
At the end of the aerospace aluminum body is located dense ear foam that rests securely in your ear canal. The ear foam lasts an average of 6 to 8 weeks and should be replaced with another set of ear foam tips that can be purchased separately.
You get a mesh carrying case with these earplugs, and one really nice feature is that they have a "finger grip" that makes them easy to remove from your ears. You don't get that with foam or silicone earplugs. And if you do a quick search on Amazon, you can get them in all sorts of colors and sizes! You can have earplugs that block sound while still looking cool.
Stats:
Noise Canceling (dB): N/A
Colors: Black (Available in other colors and sizes at different prices, just check Amazon!)
Carrying Case: Yes
---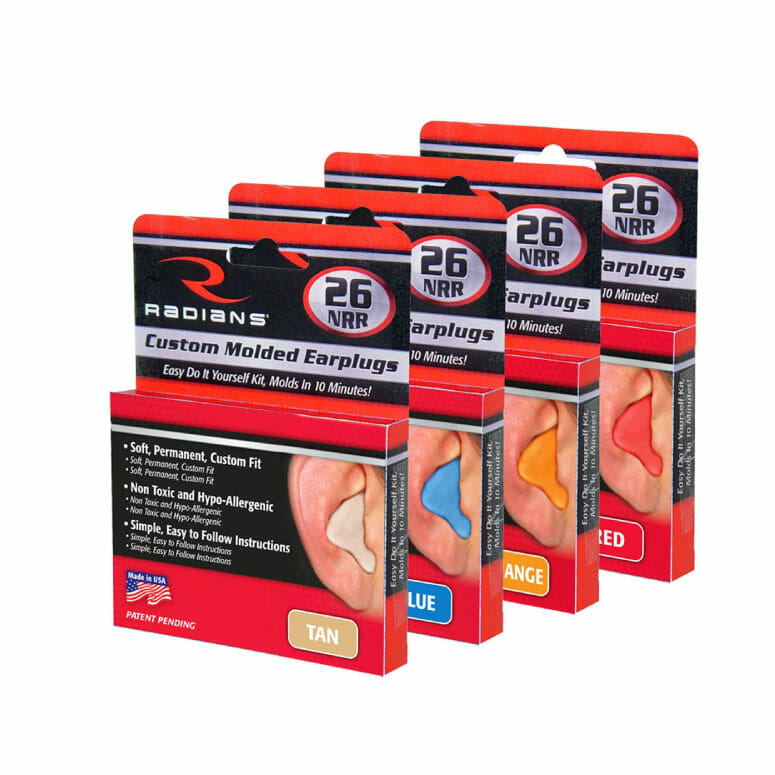 The Radians Custom Molded Earplugs are completely customizable to your individual ear shape, making them very comfortable earplugs for sleeping. They're made of 100% silicone that can be molded to your ear in just 10 minutes. For people who find it challenging to find earplugs that actually fit their ears properly, these are the answer!
Customers who have purchased the Radians Earplugs report that these earplugs work well at blocking out sounds such as snoring or children playing nearby. These earplugs can be used over and over again by simply washing them with warm water and soap. They're also pretty darn affordable, which is why they're on our list, rounding out our choices for the best earplugs for sleeping.
Stats:
Noise Canceling (dB): 26
Colors: Red, Orange, Tan
Carrying Case: Yes
---
conclusion
We get it… finding a pair of earplugs that fit your needs may be a hit or miss; therefore, we've provided you with options that will fit everyone's budget while also meeting your needs, whether it's for sleeping, noise cancellation, or for keeping water out of your ears while swimming. Without a doubt, you will find the best of the best in our selections for the Best Ear Plugs for Sleeping… or anything else!
Additional Resources: