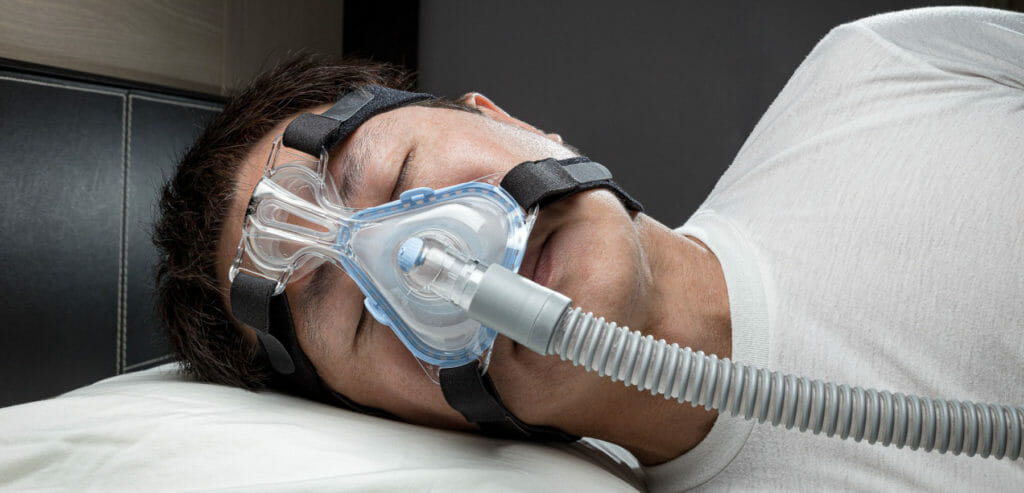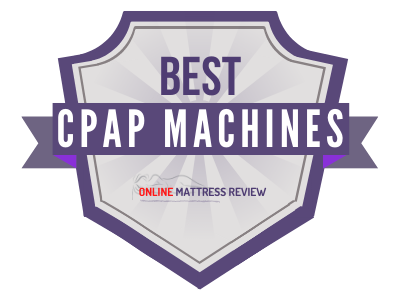 Finding the best CPAP machine is a must for those who have their nightly shut-eye regularly interrupted by fitful breathing caused by sleep apnea. While getting a better night's sleep can often be accomplished making sure you have the best mattress and pillow for your needs (including your sleep position), and sometimes even getting a weighted blanket to cuddle you as you drift off, sleep apnea is a serious sleep disorder that needs a serious solution.
Sleep apnea is a medically diagnosed sleep disorder that causes breaks in breathing as you slumber, and affects close to 22 million Americans. If left untreated, it can increase risks for heart disease, diabetes, cancer, and depression.
That's why continuous positive airway pressure (CPAP) machines have become increasingly popular for helping folk with sleep apnea breathe more easily and regularly. And, because they're so popular, it may be challenging to find the best CPAP machine for you. Rest assured, we're here to help.
What Makes the Best CPAP Machine?
Knowing what to look for in a quality breathing device can be confusing. It must be comfortable enough to wear through the night, as well as match with your lifestyle and personal preferences. Size, noise, portability, and features such as sleep data tracking are key considerations—but so are comfort features such as ramp time, exhalation pressure relief, and added humidity. Plus, CPAP machines rarely come cheap. So, how do you tell the good from the bad before dishing out your dollars?
Well, you can breathe easy; we've done a deep dive into the 10 best CPAP machines on the market so that you don't have to. Our selections are based on verified user reviews, along with thorough product research. And because we know everyone's different, we've included fixed pressure machines as well as auto CPAPs (also called APAP machines), which adjust to different pressures automatically. Depending on the type of mask you use with your CPAP machine, and if you tend to sleep on your side, you may also want to look into getting a pillow designed for side-sleepers.
So, if you've been diagnosed with this sleep-depriving disorder, read on to discover which top-of-the-line CPAP machine can give you the slumber you've been dreaming of getting.
(Remember, a doctor's prescription is always required to purchase a CPAP machine, and components such as breathing masks are sold separately.)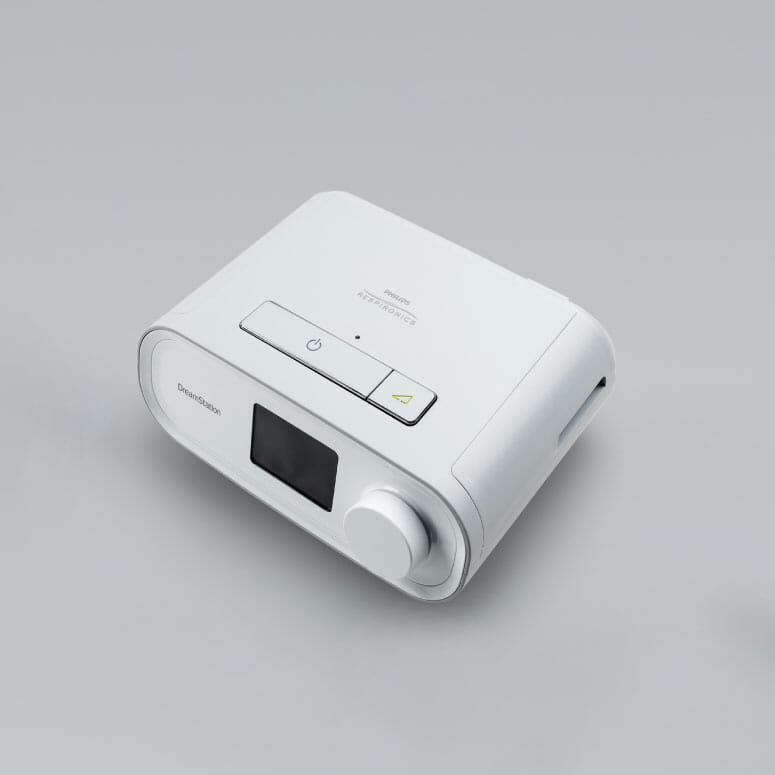 The DreamStation Auto CPAP Machine from Respironics, a subsidiary of electronics giant Philips, is considered one of the best CPAP machines (and more specifically, the best auto CPAP machines) on the market. For starters, the included SmartRamp technology monitors the sleeper's breathing, automatically increasing pressure to support the airway when an apneic event occurs.
The A-Flex Pressure Relief feature goes with the flow in terms of the user's breathing, increasing and decreasing pressure in time with the natural cadence of the user's inhalations and exhalations.
The Mask Fit Check keeps tabs on mask leaks, and can also detect if the mask has slid off mid-snooze, automatically stopping the therapy if that's the case.
Bluetooth connectivity means you've got a wealth of data at your fingertips. By accessing Philips' DreamMapper app, you can effectively track your therapy for everything from leak rate and therapy hours, to where you are on the AHI (the Apnea-Hypopnea Index.) Wifi and cellular modem options also allow for up to 3G data retrieval. Small and light, at 25.8 decibels it is easily one of the quietest machines currently available.
On top of all of this, customers have the option of including a built-in heated humidifier. The heated humidifier option will set you back another few bucks on a machine that's already pretty pricey, but if you've ever used a CPAP without it, you know it can be worth the extra money.
Included in Price
DreamStation Auto CPAP Machine
15mm hose with 22mm ends
Dark blue reusable filter (installed)
Light blue disposable filter (uninstalled)
SD card (installed)
80W power supply
Power cord
User manual
Carry bag
Price & Technical Specifications
Price (as reviewed): $529 (without optional humidifier)
Weight (machine only): 1.56 lbs
Dimensions: 7.6" W x 6.2" L x 3.3" H
Power Consumption: 80W Power Supply: 100-240 VAC, 50/60 Hz, 2.0-1.0 A
Pressure Range: 4-20 cm H2O (in 0.5 increments)
Sound Levels: 25.8 dBA / 27.9 dBA with an optional humidifier
Software: DreamMapper (Android, iOS)
Warranty: 2 years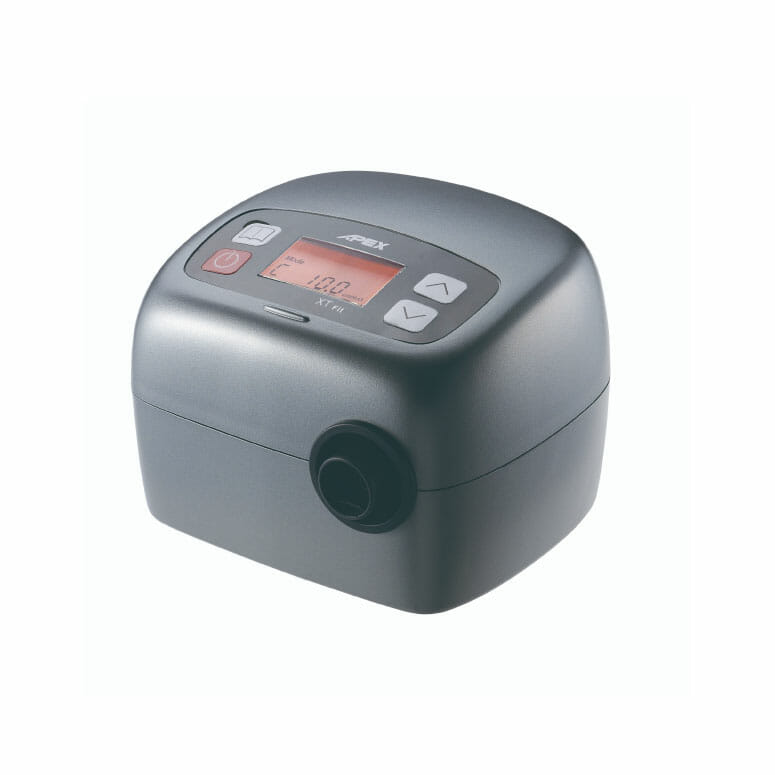 At less than $300, the APEX XT Fit is one of the more inexpensive CPAP machines around. It's also small enough to fit into the palm of your hand. With dimensions of 5.7" x 5.1" x 3.9" and weighing in at 1.76 lbs, this makes for an easy travel buddy as well as being budget-friendly.
But cost and compactness are not the only reason this device sits at the top end of our choices for the 10 best CPAP machines. This single-pressure CPAP machine is whisper-quiet and has a ramp setting from 0-45 minutes, meaning therapy can be eased into as the user sets off for slumberland.
There is also an option for a heated humidifier for more comfortable therapy. In addition, this device has one of the best quality leak compensation features out there.
In keeping with its travel-friendly reputation, the XT Fit has an automatic altitude adjustment, so it's well suited to frequent flyers, business travelers, and country-hopping backpackers. It operates at 100-240V AC power, so it can be used overseas with an appropriate plug adapter. Also, there's no unwieldy power supply to wrap around the XT Fit when you're trying to travel light. The device comes with a simple power cord that plugs from the back into an AC outlet.
Though it does lack certain functions that other big players boast, such as PVA function and auto-adjusting pressure features, the XT Fit still scores high because of its simple, user-friendly interface, which enables you to set and change settings without issue, and it includes a bright, easy-to-read LCD screen.
Included in Price
APEX XT Fit CPAP Machine
Power cord
6' hose
1 Reusable foam filter (installed)
Carry bag
Instructions
Price & Technical Specifications
Price (as reviewed): $249
Weight: 1.78 lbs
Dimensions: 5.8" W x 5" D x 3.9" H
Power Supply: 100-240V, 50/60Hz, Universal power supply
Pressure Range: 4.0c cmH20 to 20 cmH2O
Ramp Time Settings: 0-45 minutes (in 5 min. increments)
Sound Levels: 28dBA
Warranty: 3 years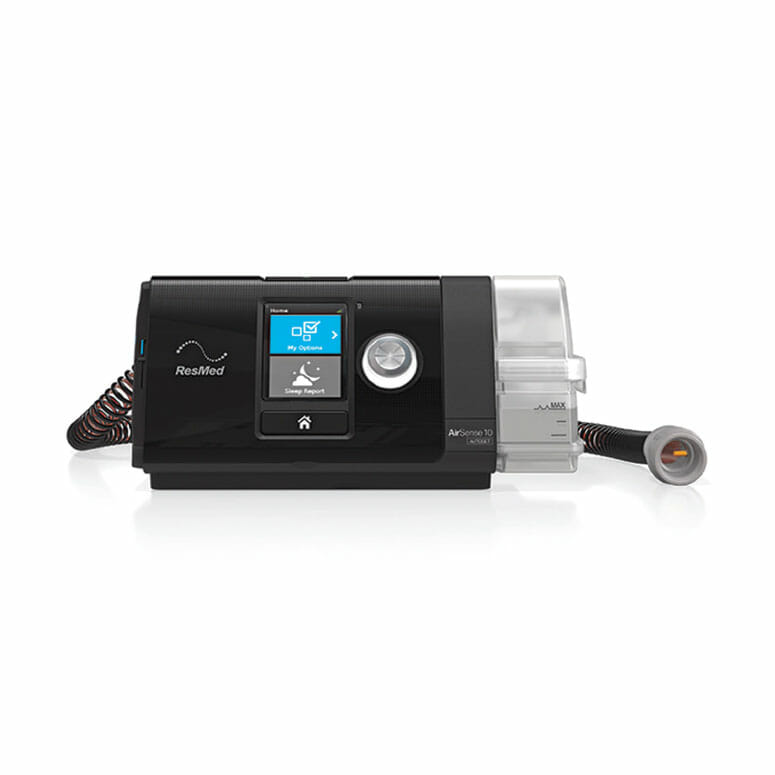 ResMed's AirSense™ 10 AutoSet™ is another heavy hitter in the CPAP machine arena. It boasts a range of excellent comfort features, including an ambient light sensor that adjusts to the room's brightness levels, and whisper-quiet noise levels of just 26.6 decibels.
Its AutoRamp feature boasts sleep onset detection, which means that while it starts by delivering low-pressure airflow, the pressure increases to the prescribed level once the user has fallen asleep. It also provides advanced apnea event detection and, as part of that, can identify other abnormal breathing patterns that occur with the condition, including Cheyne-Stokes respiration.
This top-selling auto CPAP machine has two particular features that set it apart from others in the marketplace. First, this model includes a water-based, built-in humidifier as part of the overall price, which, even at its high price point, adds incredible value to the machine. An optional ClimateLineAir™ heated tube is also available to help your humidifier keep you comfortable and sound asleep.
Second, its free MyAir™ app helps you monitor a host of data, from AHI and leaks to usage hours and the number of events per hour, even when on the move.
The AirSense 10 is relatively light, too, weighing in at under 3 lbs. That said, if you travel a lot and plan to pack your CPAP machine, there are lighter models on the market.
Finally, ResMed has developed a "For Her" model (the AirSense 10 AutoSet for Her), which has a special algorithm developed for women with sleep apnea and the particular ways it affects them.
Included in Price
Auto-adjusting CPAP machine
Built-in HumidAir™ heated humidifier
Standard humidifier chamber
SlimLine tubing (15mm diameter)
Power supply and cord
Travel bag
1 Standard filter (installed)
Filter cover
SD card (inserted in machine)
Patient manual
Hose elbow
Price & Technical Specifications
Price (as reviewed): $883
Weight (with built-in humidifier): 2.75 lbs
Dimensions: 10.04" L x 4.57" W x 5.91"H
Hose Length: 6'
Pressure Range: 4-20 cm H2O
Ramp Time Settings: 0-45 minutes (in 5 min. increments)
Sound Levels: 26.6 dBA
Power Supply: 100-240V, 50-60Hz, 1.0-1.5A, Class II
Therapy Management Software: MyAir App
Warranty: 2 years; 30-days free returns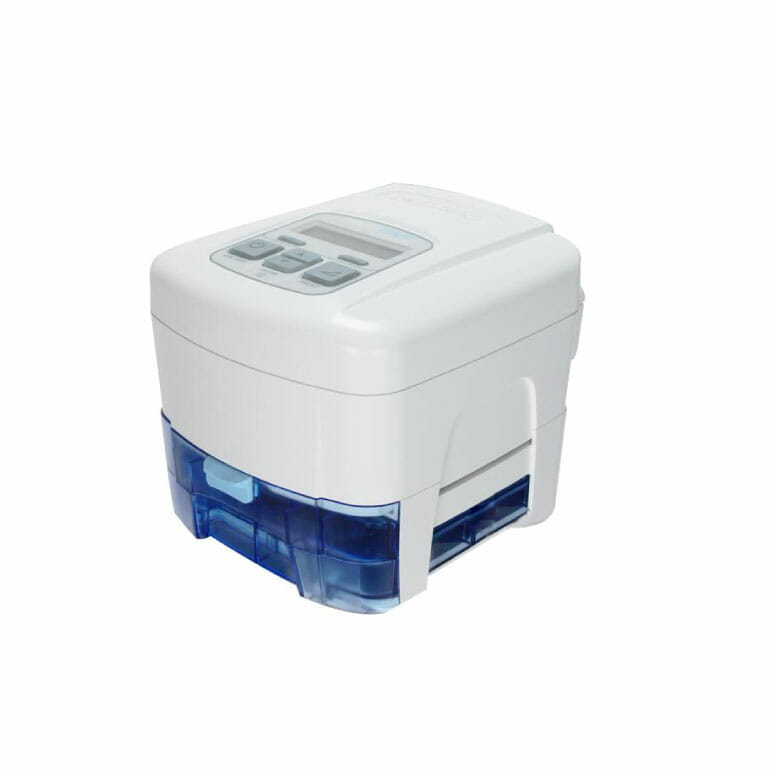 The IntelliPAP® Standard is an affordable, fixed-pressure device from DeVilbiss Healthcare. Though it was the first in the DeVilbiss cutting-edge IntelliPAP series, it still retains a lot of the in-demand details—along with a low price tag. These details include whisper-quiet operation, a "mask off" alert, and an auto ON/OFF feature that's activated once the user starts breathing into the mask, and stops when the mask is removed.
As with many modern models, it has a delayed pressure ramp, which works to ease the machine to the prescribed pressure so that users can fall asleep comfortably and without any sudden pressure changes.
Sleek and simple-looking, its user-friendly design is based around three big buttons that operate the whole device.
Therapy tracking is possible through IntelliPAP Standard's in-built SmartCode software, though its data reporting is not as advanced as other CPAP machines or even the later IntelliPAP models. However, if you want impressive quality for bottom dollars, this is a machine worth looking over.
Also, the DeVilbiss IntelliPAP is compatible with externally heated humidification systems, so users can always upgrade it if they want. Be aware, though, that while the device alone weighs in at 2.7 lbs, with an added humidifier and case, it soars to a less-than-travel-friendly 4.45 lbs.
Included in Price
IntelliPAP® Standard CPAP machine
Carrying case
6' hose
8' power cord
Reusable foam filter
Disposable fine filter
Patient manual
Price & Technical Specifications
Price (as reviewed): $325 (without humidifier)
Weight: 2.7 lbs
Dimensions: 4.2″ H x 6.5″ W x 6.9″ D
Hose Length: 6' or 10'
Pressure Range: 3-20 cm H20 (0.5 increments)
Ramp Time Settings: 0-45 minutes (in 5 min. increments)
Sound Levels: 26 dBA
Power Supply: 100-240 AC, 12volt DC
Therapy Management Software: SmartLink
Warranty: 3 years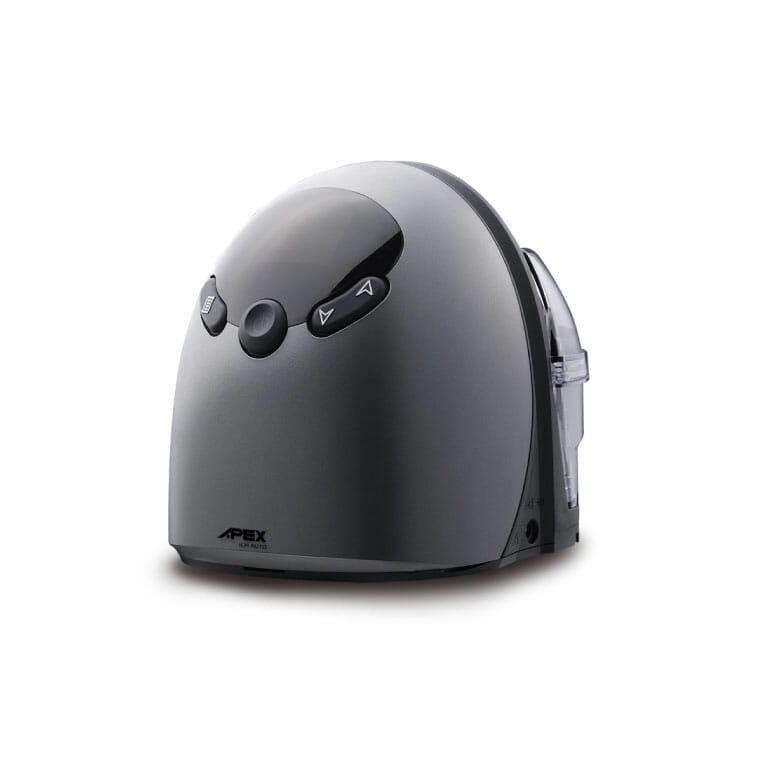 The second edition of Apex Medical's iCH series is a sleek, stylish, and comfortably sized machine. It operates between a range of two pressures, adjusting on a breath-by-breath basis to provide the user with a peaceful night's sleep. It also includes a smart Pressure Variation Algorithm (PVA) to provide a perfect balance in the pressure received, and a ramp feature that allows the user to acclimate to CPAP pressure while falling asleep.
A big bonus with this device is its cost-cutting, built-in heated humidifier. Boasting six different settings and a water chamber that holds up to 300 ml, Apex's iCH II can operate up to eight hours nonstop, enabling users to clock in a full night's sleep before dry throat creeps in.
This handsome little device also includes leak alert and leak compensation features, and a noise level of 28 decibels. A large, easy to read LCD screen displays a clock and also has an alarm function.
Though it's not as small and light as some other APAP machines, it has an elegant handle design that makes it easy to lift and move. It also comes with a DC input for use in a vehicle, and it has a mini-USB input and SD card for sleep data storage.
Included in Price
iCH II Auto CPAP Machine with Built-In Humidifier
60W power supply
Power cord
Hose
1 Foam filter (installed)
SD card
Mini-USB cable
Manual
Travel bag
Price & Technical Specifications
Price (as reviewed): $529
Weight: 2.94 lbs
Dimensions: 8" L x 6.5" W x 6.9" H
Hose Length: 71"
Pressure Range: 4-20 cm H2O
Ramp Time Settings: 0-45 min (5 min. increments)
Sound levels: 28 dBA
Power Supply: 100-240V, 50/60 Hz
Heated Humidifier: 1 (lowest) to 6 (highest); 105°F to 158°F or 40°C to 70°C
Warranty: 3 years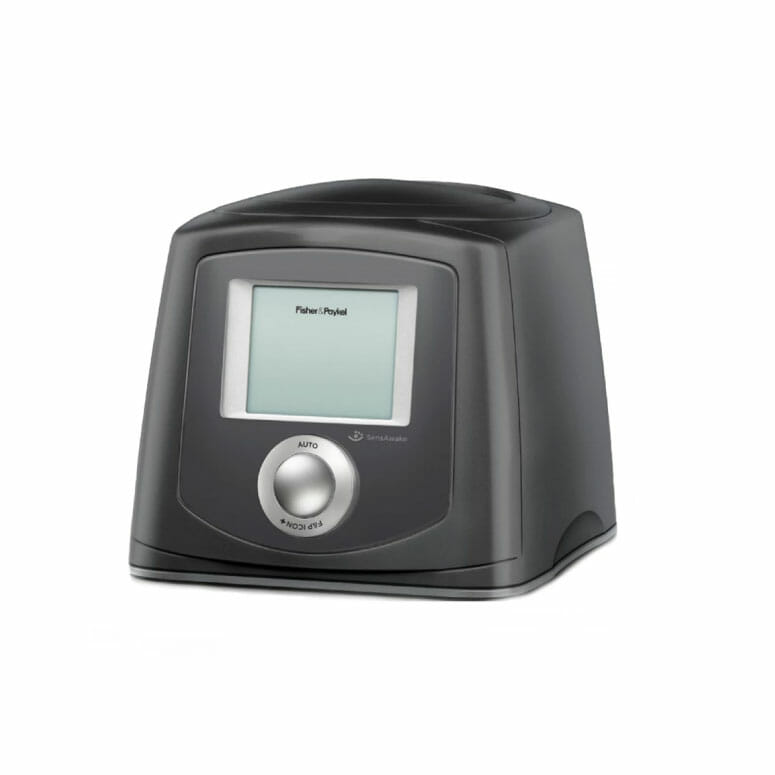 The ICON Auto CPAP from Fisher & Paykel is an upgraded version of the New Zealand-based company's SleepStyle 200 Auto Series. It's a smart, auto-adjusting CPAP machine furnished with some snazzy features that, outside of essential therapy, include an alarm clock and alarmTunes function.
It has an auto algorithm feature that keeps tabs on troublesome occurrences of apnea and hypopnea as you snooze, and reacts by adjusting the pressure accordingly. The device also employs SensAwake technology, which allows it to detect and respond to the user's night-time wake-ups by promptly reducing pressure.
A further top-notch feature of the ICON Auto CPAP is its ThermoSmart heated hose, which delivers condensation-free humidification throughout the night, despite the condition of the air in the room.
It's important to note that the humidifier cannot be removed from the machine. Additionally, this device consumes water faster than a lot of other quality CPAP machines, and there's no easy way of checking water levels at night.
Overall, though, the ICON Auto is very user friendly and offers comprehensive data tracking. The ramp feature, which ramps up for 20 minutes, is also easily controlled using the SmartDial button.
Included in Price
ICON Auto CPAP Machine
Water chamber
ThermoSmart heated hose
2 Disposable filters
Manuals
Soft carrying case
Power cord
SmartStick card
Price & Technical Specifications
Price (as reviewed): $699
Weight: 4.8 lbs
Dimensions: 6.3" x 6.7" x 8.7"
Optional Heated Hose Length: 76.5"
Pressure Range: 4-20 cm H2O
Ramp Time Settings: 0-20 minutes
Sound Levels: 29 dBA
Power Supply: 100-240V AC, 50/60 Hz
Therapy Management Software: InfoSmart Web
Warranty: 2 years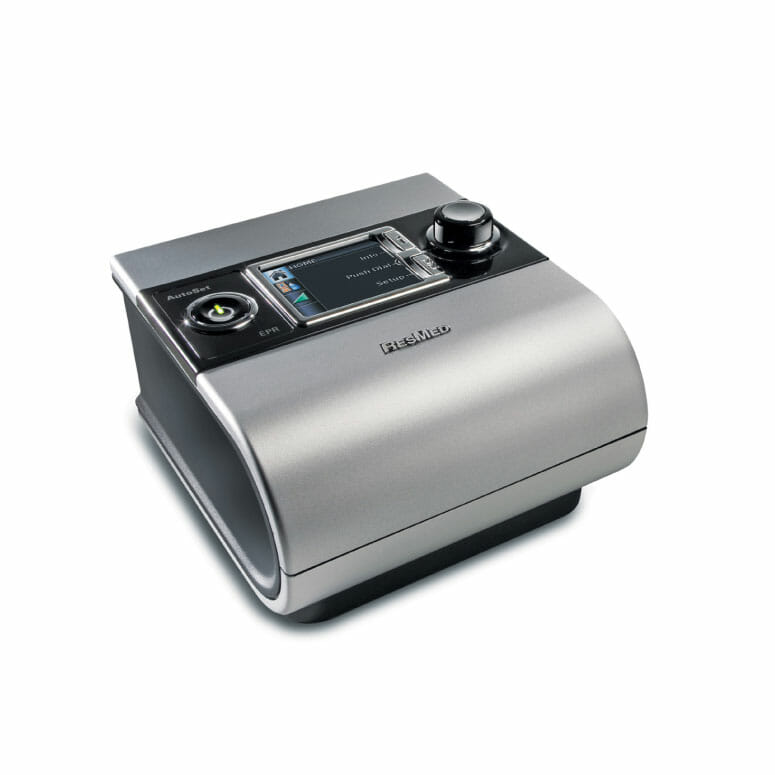 The S9 AutoSet™ is the premium auto-adjusting device in ResMed's S9 series. It has a smooth, ultra-modern design and a host of first-rate features, including Easy-Breathe technology, which dynamically adjusts the pressure to maximize therapy.
SmartStart/SmartStop technology means no need to stretch for fiddly switches; your machine automatically begins when you breathe into the mask, and it stops when the mask is removed. Also, an intelligent mask-fit system allows users to preset a mask type, choosing between nasal CPAP mask, nasal pillows mask, and full face mask, and once you've made a selection, it runs a quick diagnostic to test for leaks. Sweet!
The S9 AutoSet also comes with several advanced add-ons and accessories. One of these is the optional H5i heated humidifier and ClimateLine heated tubing, which uses intelligent humidity controlling technology to offer ideal humidity and temperature levels for maximum comfort.
Other key features include an intuitive interface and a full-color screen with user-friendly controls. Detailed data options allow you to track your therapy to check specifics such as average usage, pressure, leaks, and AHI information.
Included in Price
S9 AutoSet CPAP Machine
SlimLine tubing
Carrying case
Disposable filter
Patient manual
SD memory card
Power supply and cord
Price & Technical Specifications
Price (as reviewed): $820 (with H5i heated humidifier)
Weight: 1.8 lbs
Dimensions: 6" x 5.5" x 3.25"
SlimLine Air Tubing: 6-foot length (15mm inner diameter)
Optional ClimateLine Tubing Length: 78"
Pressure Range: 4-20 cm H20 (.2 increments)
Ramp Time Settings: 0-45 minutes (5 min increments)
Sound Levels: 26 dBA
Power Supply: 100-240V AC, 50/60 Hz
Warranty: 2 years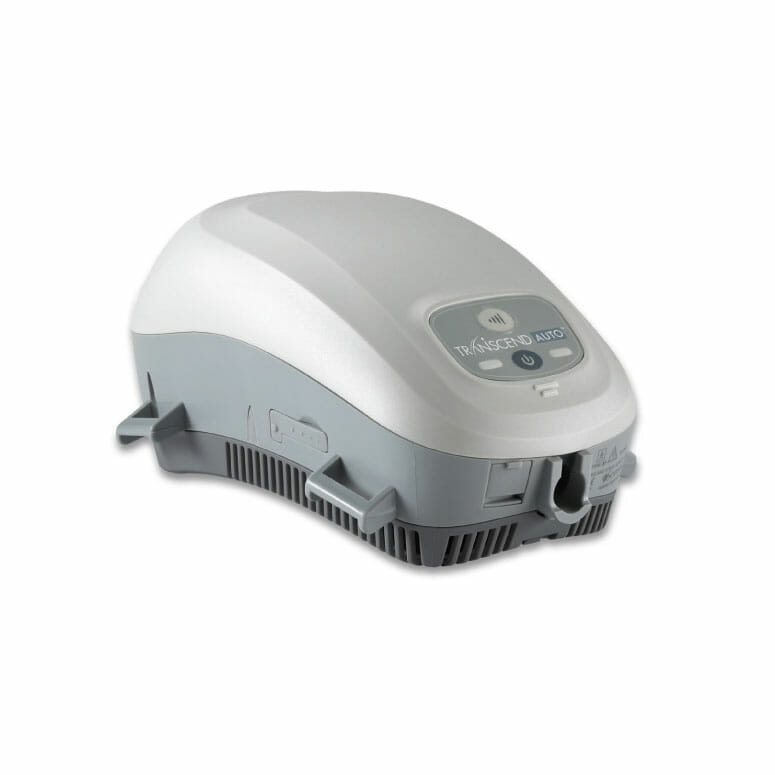 At a little under 7.5" in length, the recently released Transcend Auto miniCPAP™ Machine from Somnetics offers a lot of big features for its small size. These include EZEX pressure relief, an optional humidifier, and an oh-so-easy maintenance feature.
As the first auto-adjusting model in the Transcend series of CPAP machines, users can rest assured that their breathing will be monitored throughout their sleep time with increases and decreases of pressure automatically adjusted in response to events like apneas, mask leaks, and even changes in sleep position.
The EZEX pressure relief feature decreases therapy pressure at the end of each breath, which makes for more natural breathing. There are four settings here: (no relief), 1(some relief), 2 (medium relief), to 3 (greater relief).
The size of this device makes it a must for all types of regular travelers. The included compact travel case can hold the device, tubing, mask, and power cord, and it's easy-clean feature enables the filter frame to be popped out with the push of a button, and the filter to be washed as needed.
The fact that it's compatible with most masks, contains a universal adapter hose, and has multiple power options (including solar power) makes it even more attractive as a travel companion. It also has email-capable data tracking that allows you to retrieve a lot of sleep intel once connected to a Windows-based computer.
Included in Price
Transcend Auto miniCPAP™ Machine with EZEX
1 Filter and base
Universal hose adapter
Standard 6′ hose
Universal power supply with 4 plug adapters
3' USB 2.0 Type A Male-to-Mini B Male cable
Travel case
Quick start guide
Price & Technical Specifications
Price: $629
Weight: 0.9 lbs
Dimensions: 6.1" x 3.5" x 2.8"
Hose Length: 72"
Pressure Range: 4-20 cm H2O (1 cm increments)
EZEX Pressure Relief Settings: Off, 1, 2, 3
Ramp Time Settings: 0-45 min (5 min. increments)
Sound Levels: 26.6 dBA
AC Supply Input: 100-240V, 50-60Hz
AC Supply Output: 19V, 2.6 Amp
Therapy Management Software: InfoSmart Web
Warranty: 3 years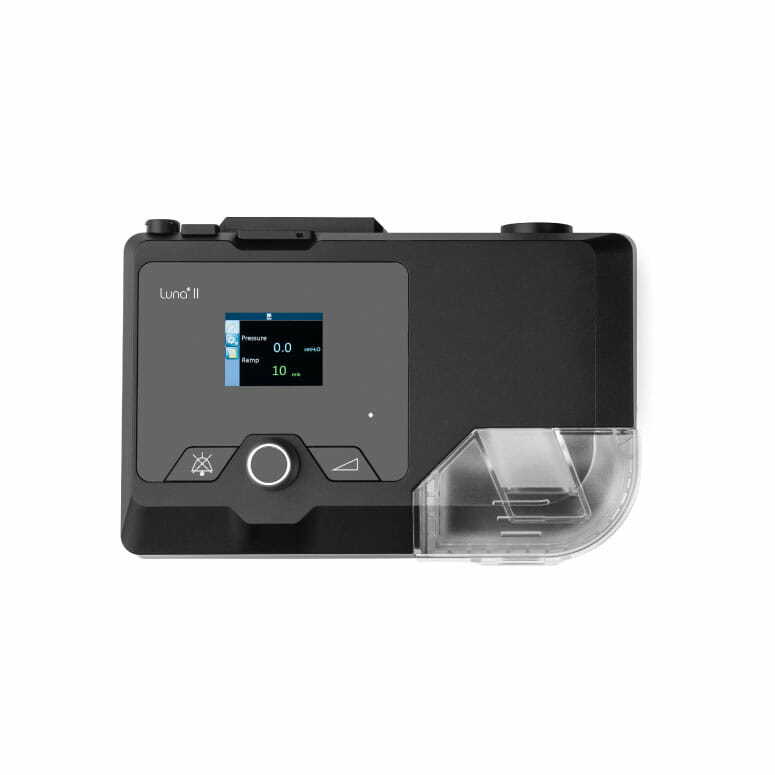 The Luna II AutoCPAP machine was launched in October 2018 as the latest offering in 3B Medical's Luna line of CPAP machines. It combines automatically adjusting therapy pressure and an in-built, dual-chamber humidifier to provide a high level of comfort to users.
Its chief selling point is its exceptional reporting abilities, which were created with real-time data analysis and improved patient-doctor communication in mind. Enhanced wireless connectivity allows M2M (machine to machine) communication over Wifii or cellular, while an included data card also makes it possible to track sleep on a PC or to pass on to your sleep doctor.
Also, if you want to take your therapy stats with you while you're out and about, you can scan a QR code generated by the device after each therapy session to get instant access to the data.
Other notable details make this device one of the best CPAP machines around. For one, its Reslex® Expiratory Pressure Relief feature with three comfort settings makes it easier to exhale during therapy. Alongside that, an auto-start feature means the machine turns on automatically once it detects breathing, while audible alerts signal tubing and mask leaks.
The Luna II also boasts an above-average 5- to 60-minute ramp time too, while easy setting adjustments through the twist of a single dial adds to this impressive machine's appeal.
Included in Price
Machine
Filter
Power adapter
Power cord
Standard hose
SD card
Carry case
User manual
Price & Technical Specifications
Price (as reviewed): $359
Weight: 4 lbs
Dimensions: 10.8" L x 7.24" W x 4.53" H
Ramp Time Settings: 0-60 minutes
Power Consumption: 100-240V AC, 50 / 60 Hz, 2.0 A
Pressure Range: 4-20 cm H2O
Sound Levels: 28 dBA
Data Capabilities: Wifi and Cellular
Warranty: 2 years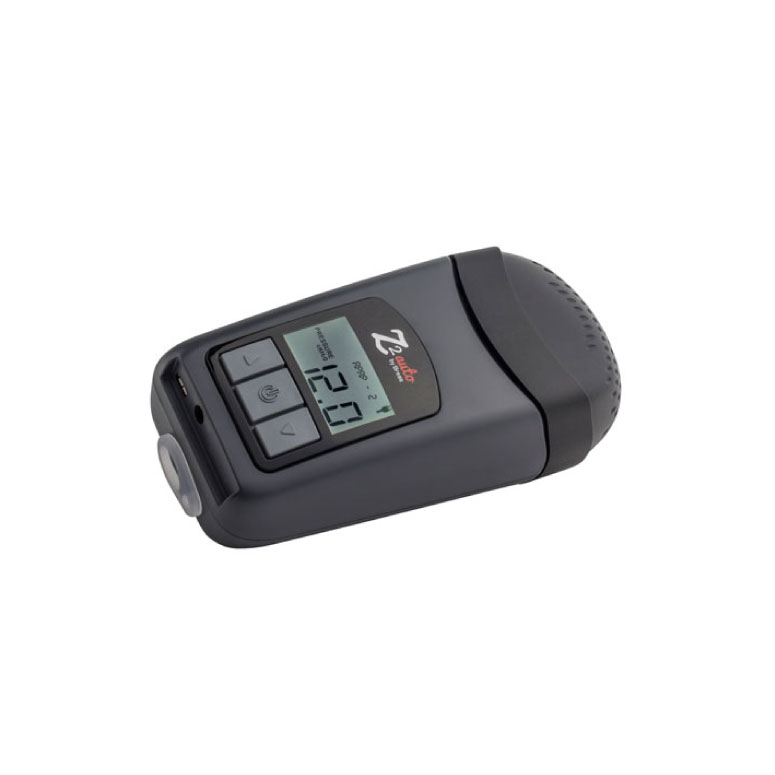 Rounding out our list of the best CPAP machines on the market is the Z2 by Human Design Medical. They say that good things come in small packages, and the Z2 Auto proves that point. An improved version of the Z1 model, the Z2 measures 6.5" in length and weighs just 10 ounces. That makes it about as long and light as the latest iPhone—but a good deal better at ensuring restful shut-eye!
According to HDM, the Z2 is the lightest CPAP machine on the planet, and it has many features you'd expect to find on a larger device. These include pressure relief, leak compensation, a ramp feature, automatic stop and start, and auto altitude adjusting. It also operates at a soft-sounding 26 decibels. And when you purchase this device, you get a free Qtube CPAP muffler thrown in, which is specially designed to reduce machine, hose, and mask noise.
There's also an option to include a removable PowerShell® battery. This can last a full night without being connected to power, which is yet another reason why this tiny machine is a popular pick with frequent flyers, backpackers, and camping fans.
The Z2 comes with an external, disposable heat/moisture exchanger (HME). This acts as a humidifier by capturing exhaled moisture from your breath, which means no lugging liters of purified water around with you as you travel.
To top it off, sleep data is easily tracked with USB and Bluetooth, which enables the use of the Nitelog App for Android and Apple.
Included in Price
Z2 Auto CPAP machine
4' Slim style hose
Heat/Moisture Exchange Unit
Hose adapter
Qtube inline muffler
2 Disposable filters
USB cable
AC Power supply and power cord
User manual
Getting Started guide
Price & Technical Specifications
Price (as reviewed): $589
Weight: 0.65 lbs
Dimensions: 6.48″ L X 3.30″ W X 2.02″ H
Pressure Range: 4-20 cm H20
Ramp: 0-20 minutes
Voltage Requirements: 100-240V, 50/60Hz
Sound Levels: 26 dBA
Data Capabilities: Wifi and Cellular
Warranty: 2 years