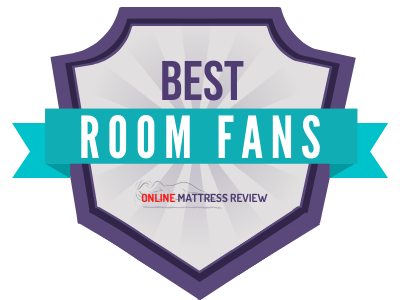 When it's hot at night, you can find yourself constantly waking up in a pool of sweat. It's not only unpleasant, it can also be very disruptive to your life. The ability to get a good night's sleep is key to productivity both at work and at home.
Sure, shopping for one of the best online mattresses made from thermoregulating materials is one way to get a better, cooler night's sleep, but adding a fan to your room adds that extra boost of circulation and coolness.
A good room fan provides a number of benefits. Not only will it help you stay cool during the night, you also won't need to use your air conditioner as much (if you have one). This saves you money on electricity and the cost of installing an AC unit. A fan can also help remove certain smells from your room, create a pleasant white noise, and aid in ventilation.
Even if you already have one of the best mattresses for back pain or side sleeping—or any other purpose—you are sure to benefit further by adding a great room fan. In this post, we share our picks for the best room fans currently on the market.
When looking for the perfect room fan, we highly recommend starting your search with the Rowenta VU5670 Turbo Silence Stand Fan Oscillating Fan. This product is priced somewhat higher than other brands on this list of best room fans, but the powerful motor and the overall quality of this fan set it apart. It has five speed settings, ensuring you get a level of ventilation that is ideal for you.
The product also features Turbo Silence technology, which means there is no need to be concerned about a loud fan interrupting your sleep. There is an electronic control panel built into this oscillating fan along with an eight-hour timer that makes the product more energy-efficient. This fan also comes with a remote control so you don't even have to get out of bed to make adjustments.
Strengths We Love
This fan has been noted by many users that it is, indeed, WHISPER QUIET and doesn't interrupt their sleep.
The POWERFUL OSCILLATING FAN creates an airflow that is perfect for cooling or general circulation year round.
With 5 SPEED SETTINGS available, you can choose the amount of airflow that fits your current needs.
With an ADJUSTABLE HEIGHT option, it doesn't matter how low or high you are to the ground.
The easy to use ELECTRONIC CONTROL PANEL places the options available right at your fingertips.
The COMPACT REMOTE CONTROL stores away in the fan itself so it doesn't get lost.
Things to Consider
The front grill can be hard to take off to clean the blades, according to some reviewers, but tips have been given to make this much easier!
If you like drawings versus reading, the instructions come with pictures for assembly.
If LED lights bother your sleep, you may want to cover the lights on the controls with Light Dims.
Little pricey, but if you are shopping for a GOOD FAN, this is the one.
OMR ADVANTAGE SCORE: 8.5/10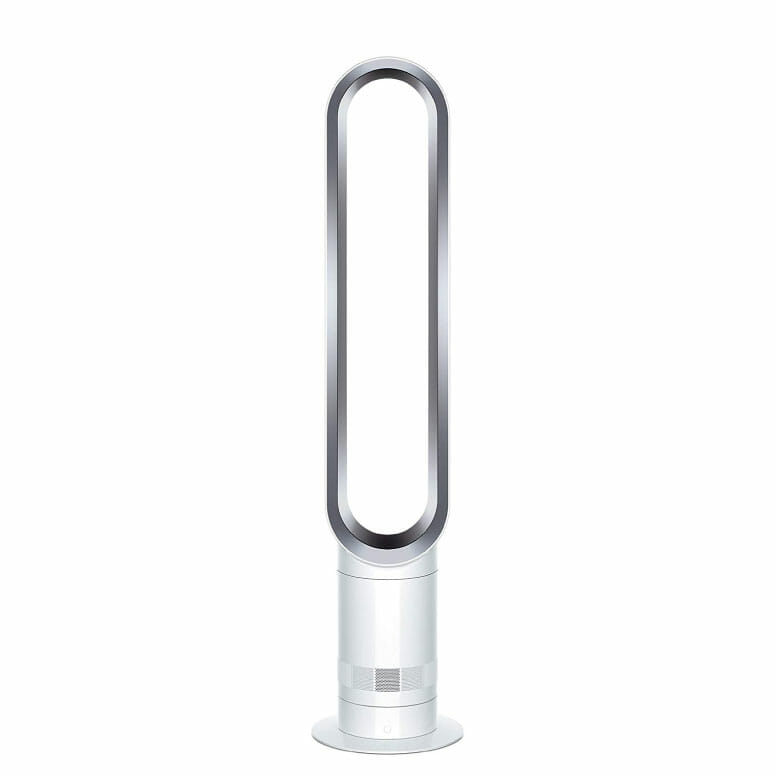 The next option on our list of best room fans is a really unique product: the Dyson Cool AM07 Air Multiplier Tower Fan. The price tag is on the higher side, but this high-end fan comes with features that you just won't find on some of the cheaper models. The Dyson utilizes a patented Air Multiplier technology that doesn't use blades to produce an uninterrupted airflow.
What this essentially means is the Dyson Cool AM07 Air Multiplier Tower Fan is a significantly safer option around children and pets. The fan is exceptionally quiet compared to an oscillating fan, and it also comes with a remote control for convenience and sleep timer that ensures you save on energy costs.
Strengths We Love
INCLUDES AM07 tower fan, remote control and CR2032 lithium battery
SLEEP TIMER allows you to control when the fan comes on and turns off without doing it manually
10 AIRFLOW settings
Approximate MEASUREMENTS: Fan 9″ x 5″ x 34-1/2″; Cord 6-1/2'L
WEIGHS just 6 pounds!
ONE-TOUCH oscillation control
Uses AIR MULTIPLIER TECHNOLOGY which means that the tower fan draws in surrounding air and multiplies it to quickly cool a room
SLENDER, BLADELESS DESIGN makes cleaning easy
Sleek look that ADDS TO YOUR DECOR rather than take away from it
SAFE for children and pets! No BLADES!
Things To Consider
Price is high for a fan, but for safety and the Dyson name, it might be worth it to you.
Pretty loud on level 10, bothersome to some purchasers, not to others.
Could blow just air… not necessarily cold air… assuming it depends on the temp of the room.
The Dyson website "No longer sells this item", but has a HIGH customer satisfaction rating.
OMR ADVANTAGE SCORE: 7.5/10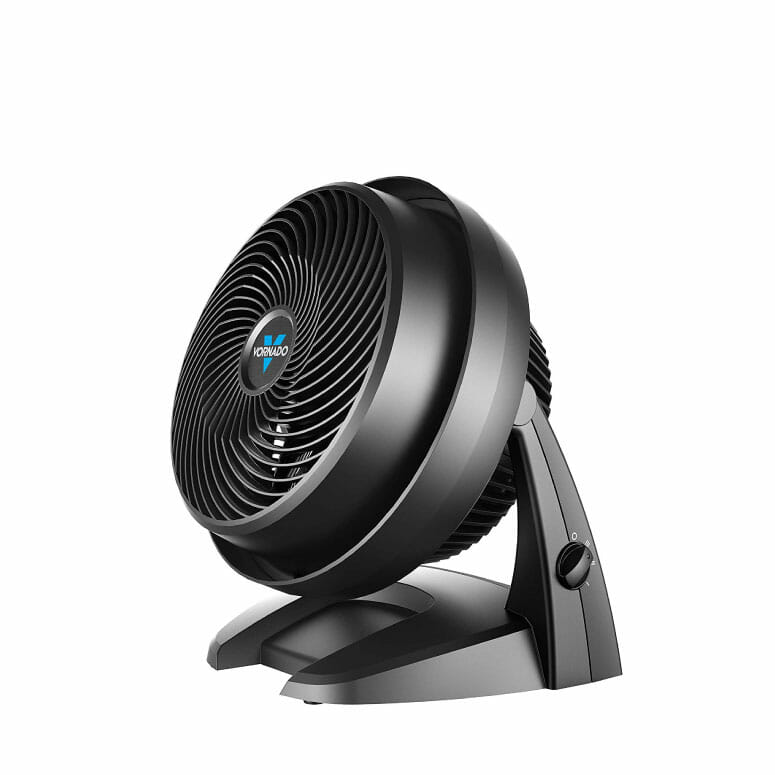 The Vornado 630 Mid-Size Whole Room Air Circulator Fan is an excellent option if you are looking for a product that is portable and affordable, while still providing effective circulation throughout your room. The product comes in a variety of options and colors. This fan is definitely one of the more budget-friendly options on our list of best room fans.
The Vornado 630 Mid-Size Whole Room Air Circulator Fan uses Vortex Technology developed by the company that ensures the entire room gets improved air circulation while maintaining a low noise profile. Air generated by this fan is able to reach a distance of up to 70 feet. There are three different speed settings to choose from, and the fan comes with a five-year limited warranty.
Strengths We Love
Moves air more effectively throughout a room due to Vornado's signature Vortex air circulation
The 3-speed manual controls are simple to use.
Because it has an adjustable tilt head which allows you to direct the air up or down, MULTI-DIRECTIONAL AIRFLOW is a huge plus!
Ah, "deep-pitched blades paired with an inlet guide cone, enclosed air duct, and spiral grill" as it states on the product page, helps to move air, aerodynamically, up to a whopping 70 FEET!
AWESOME, 5 YEAR "hassle-free" WARRANTY and SUPPORT from right here in the good ole USA, Andover, KS to be exact.
Meets U.S. Voltage Requirements
The base of the fan adds to its safety features with added stability when operating from the floor or from a desktop or side table.
Things To Consider
Again, noise is an issue with folks, but what fan doesn't make noise?
Has a 2-prong polarized plug versus a 3-prong grounded plug.
Safety might be an issue to young, inquisitive "fingers" but most found that the slots were small enough to keep children safe.
OMR ADVANTAGE SCORE: 9.5/10
Honorable Mentions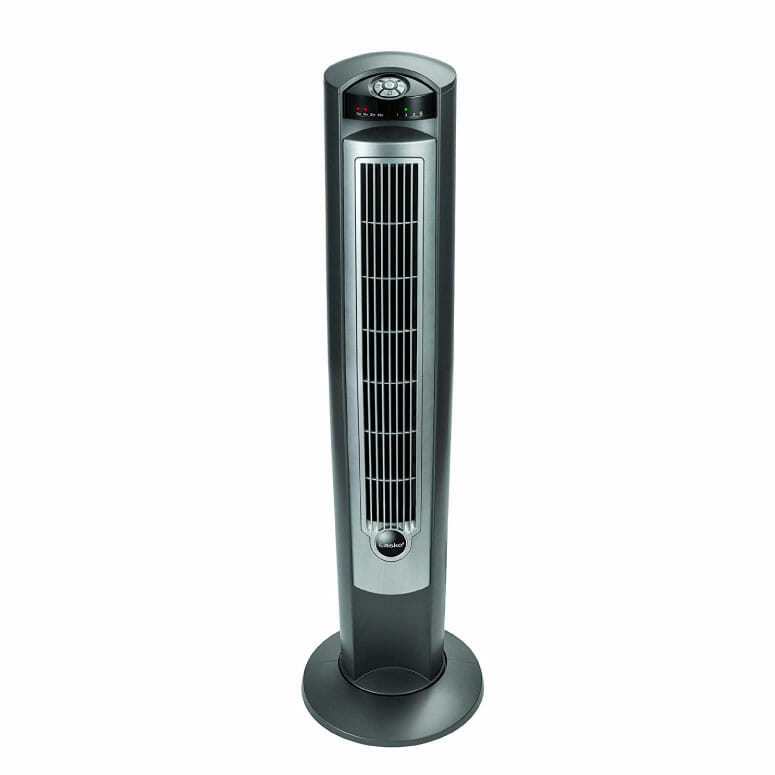 Next up is another affordable fan that provides good circulation and ventilation for the entire room. While the Lasko T4295 Wind Curve Portable Electric Oscillating Stand Up Tower Fan has a low overall profile—meaning it takes up less space that other brands—the fan is powerful enough to keep your room cool during the warm summer months. The product comes in at a great price of just over $60.
The Lasko T42951 Wind Curve Portable Electric Oscillating Stand Up Tower Fan is available in two color options—a silver finish and a wooden finish—and features three different speed settings. It is exceptionally quiet when it's in use, and there is an auto shut-off function that can be programmed according to your preference.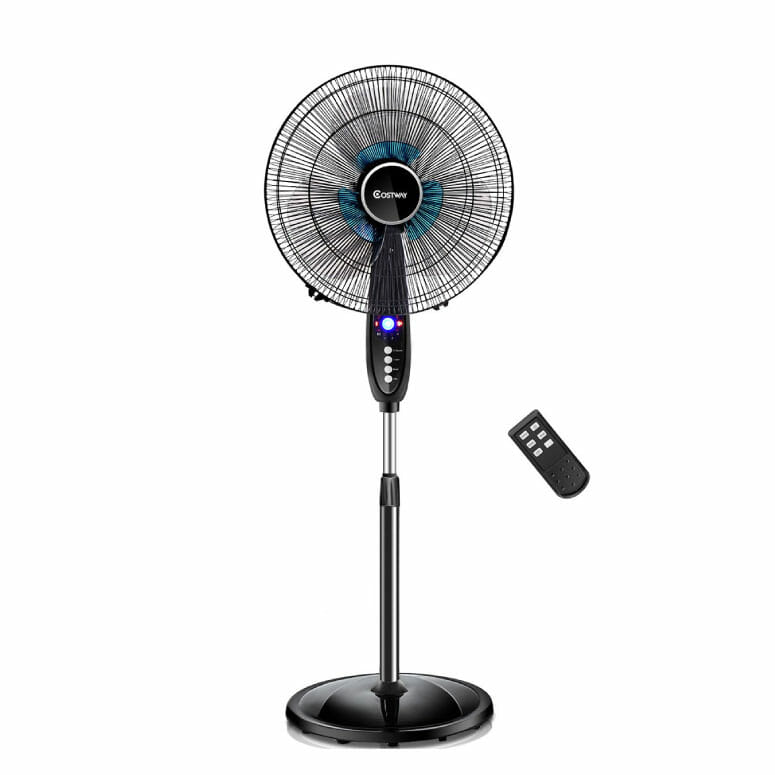 If cost is a concern, consider getting your hands on the Costway Pedestal Fan. This one has a set of features that will certainly be convenient while you are laying down in bed. This oscillating fan features a customizable built-in pedestal, so you can adjust the height of the fan to your comfort level.
The Costway Pedestal Fan also comes with a wireless remote control, making it easy to adjust its settings. It also features a double blade system, providing more powerful airflow. Furthermore, there is an LCD display, along with a digital controller and a timer to further improve your experience with the product.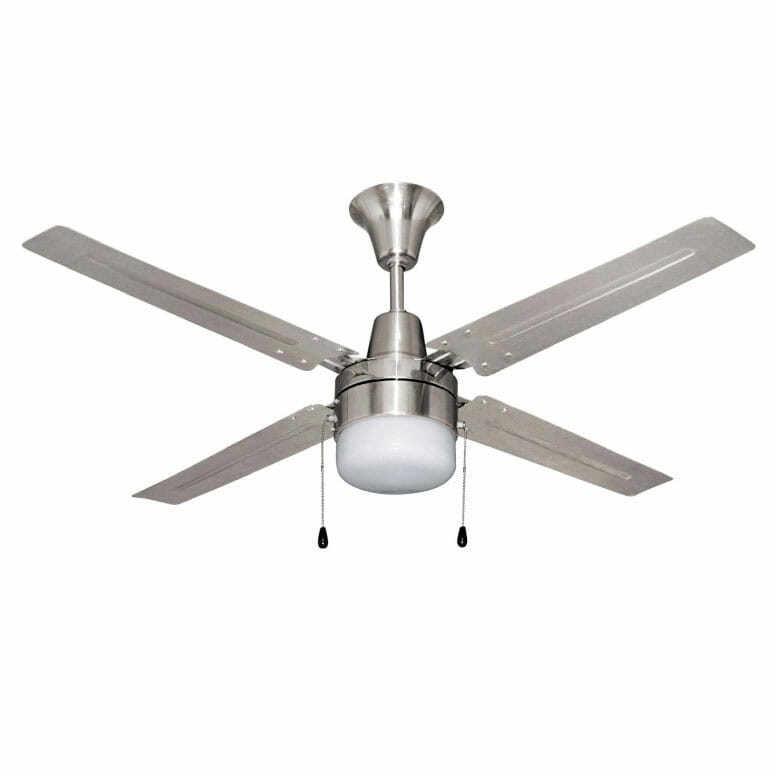 The best room fans do not not necessarily have to stand on the ground. The Craftmade BEA48BNK4C Beacon 48″ Ceiling Fan is an excellent way to save a significant amount of space in your room and still get a fan that can effectively provide air circulation to your entire room. This model, mounted to your ceiling, does double duty as a fan and a lamp.
The Craftmade BEA48BNK4C Beacon 48" Ceiling Fan does come at a price that is higher than some of the standing fans we've featured in this post, but the quality and power of the product makes it worth the buy. The product features four blades and a brushed polished nickel design.
If you like the idea of a fan system mounted to your ceiling—and you have some extra cash to spend—here's another one to consider: the Emerson CF205LGES Ceiling Fan. This product comes in at a price that is average for a ceiling fan of this caliber. You get a fan and a light with this particular option—but this one has blades that measure 54 inches and features a Golden Espresso design as well as a Graphite design, depending on your preference.
The Emerson CF205LGES Ceiling Fan comes with remote control, which is quite unique for ceiling-mounted fans and why it made this list of best room fans. This means there is no need to constantly get up to turn it on or off. The ceiling fan comes with two down rods as well as a no-light plate that can be removed if desired.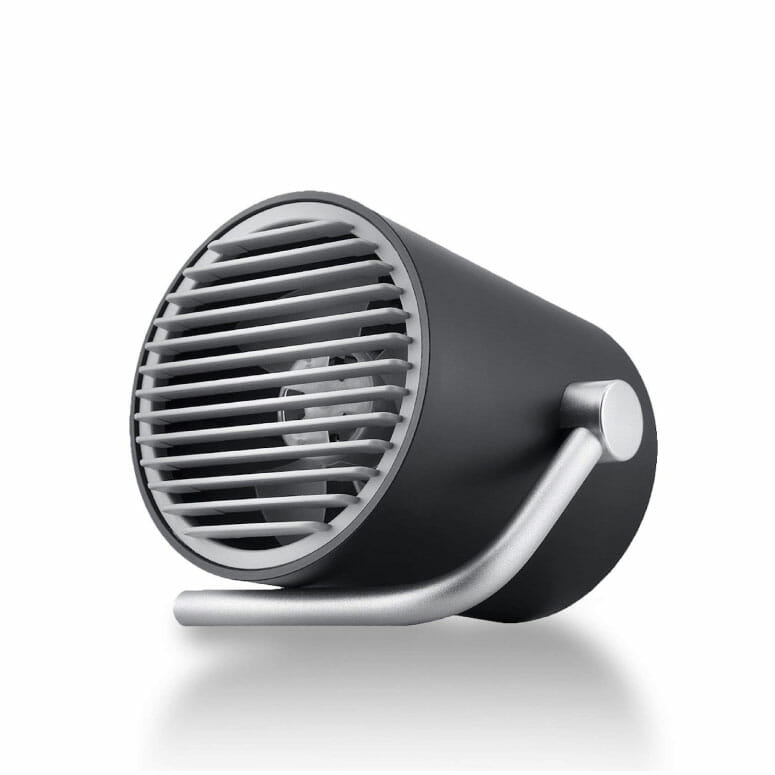 When it comes to getting your hands on a small and portable fan that is perfect for a desktop, it can be hard to find one that will provide you with adequate functionality. This is where the Fancii Small Personal Desk USB Fan comes in. This is one of the best room fans for a nice price and, while it is very small, can still provide adequate ventilation around your desk while you are working or by your bed.
The Fancii Small Personal Desk USB Fan features a twin-turbo blade design, with two different speed settings, along with Whisper Quiet Cyclone Air Technology that makes it not only effective but it also quiet. The fan is available in white or black.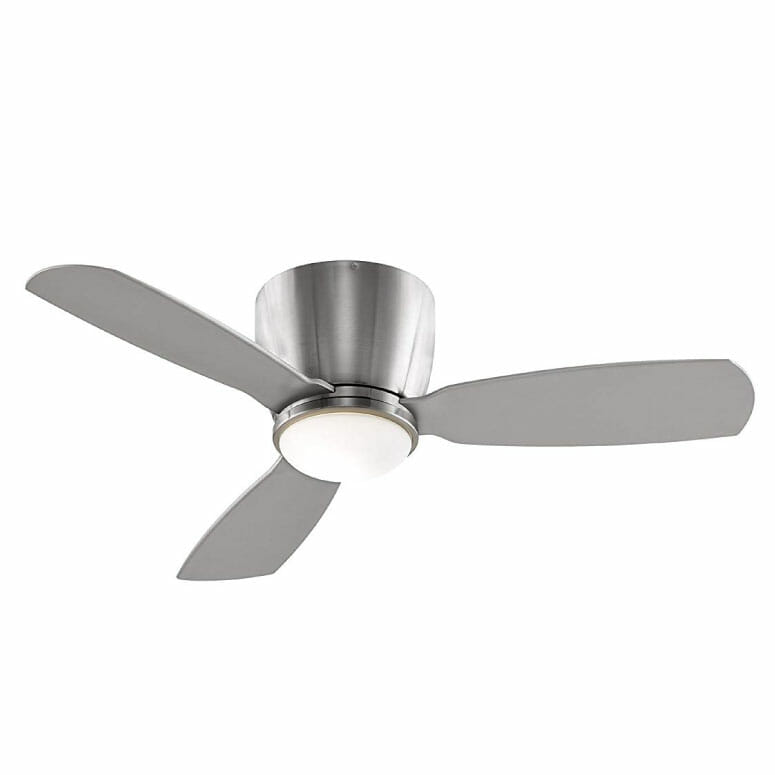 The Fanimation FPS7981BBN Embrace Ceiling Fan is another great ceiling-mounted option with a twist. It requires a Bond Hub because, unlike the other fans, it is compatible with the Alexa virtual assistant system. The Fanimation FPS7981BBN Embrace Ceiling Fan can be controlled directly from any product that is connected to Alexa.
Among the other features that make this one of the best room fans, it has a very modern design that will fit right in with some of the more recent home-design trends. It also has three speed settings, it's quiet, and it comes in a variety of colors and two size options.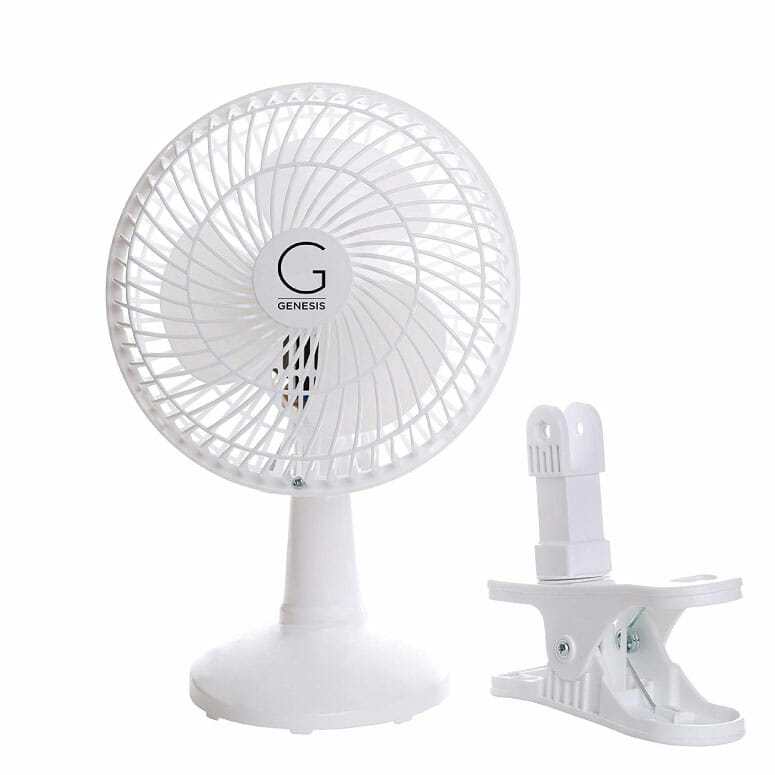 For those on a super tight budget, the Genesis 6-Inch Clip Convertible Table-Top & Clip Fan is probably the most affordable option you can get. This fan costs less than most others and still provides adequate power—as long as it is placed nearby and is blowing in the right direction. It's also very quiet.
The Genesis 6-Inch Clip Convertible Table-Top & Clip Fan comes with a stand at the bottom of the product for stability to ensure you can place it anywhere. It also comes with a clip to attach it to other structures. You can choose between white and black color options, and it comes with two speeds settings.
Conclusion
Any one of these ceiling fans on our list would make a great choice, and all of them will help you enjoy better air circulation for a cooler sleep so you avoid waking up in a pool of sweat. It is important that you do some research so that you buy the one that meets your expectations and your budget. Be sure to look closely at each option we listed in this post to see which of these will be the best room fan for you.
ADDITiONAL RESOURCES: