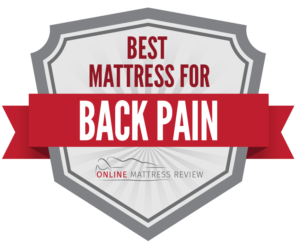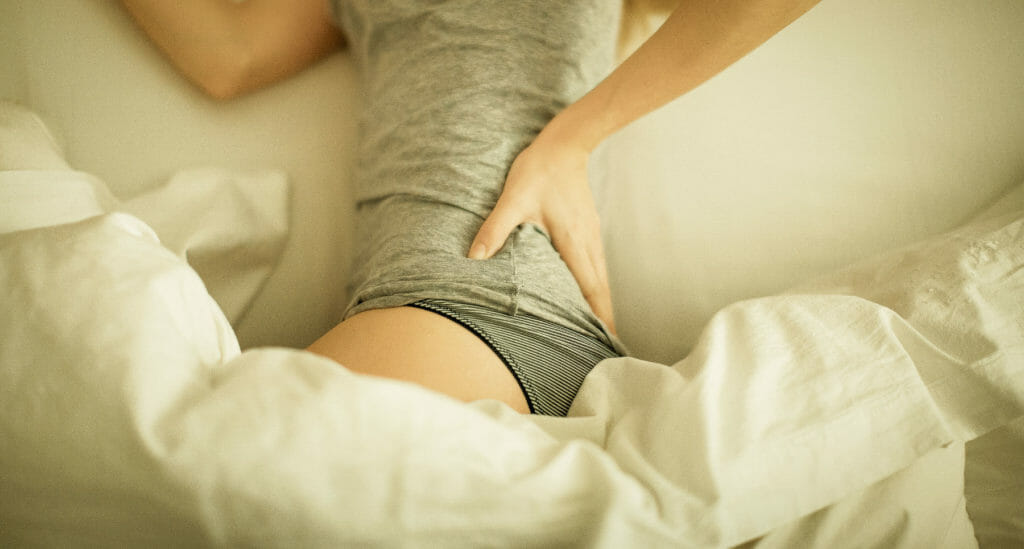 Overview
Back pain can create a vicious cycle: spending the nights tossing and turning in bed hoping to find "the perfect position" to alleviate your pain, then spending your mornings yearning for sleep. I can share with confidence that you are not alone. According to the American Chiropractic Association, chronic back pain accounts for 264 million work days lost each year within the United States.
There are many factors that can contribute to back pain—including ergonomics, posture, injuries, stress, and medical conditions such as arthritis—and back pain thus contributes to a poor night's sleep.
Our Top Picks for Best Mattresses for Back Pain
Restorative sleep is important because it is a time when your body and brain need to rebuild and rejuvenate. People with back pain experience an interrupted or insufficient sleep cycle, negatively affecting many areas of their lives, such as decision making, muscle recovery, and pain management. A few remedies to consider are core-strengthening exercises, complementary and alternative medicine, and a well-made mattress. After all, we spend one-third of our lives sleeping.
A mattress should serve as a rest and recuperation recharging station. The question then arises, "With so many options, how do I choose the best mattress for back pain relief?" When selecting, you'll want to specifically focus on choosing a mattress with the right combination of support and comfort. Support provides spinal alignment, and comfort provides pressure relief for a good night's sleep.
When selecting a mattress, support and comfort are just two criteria to consider. You'll also want to consider sleep position, firmness preferences, temperature regulation, and budget. To assist you in your quest, the following is a list of exceptional mattresses designed to alleviate back pain. The findings are based on customer reviews.  
Best Rated: Nest Bedding Alexander Signature Series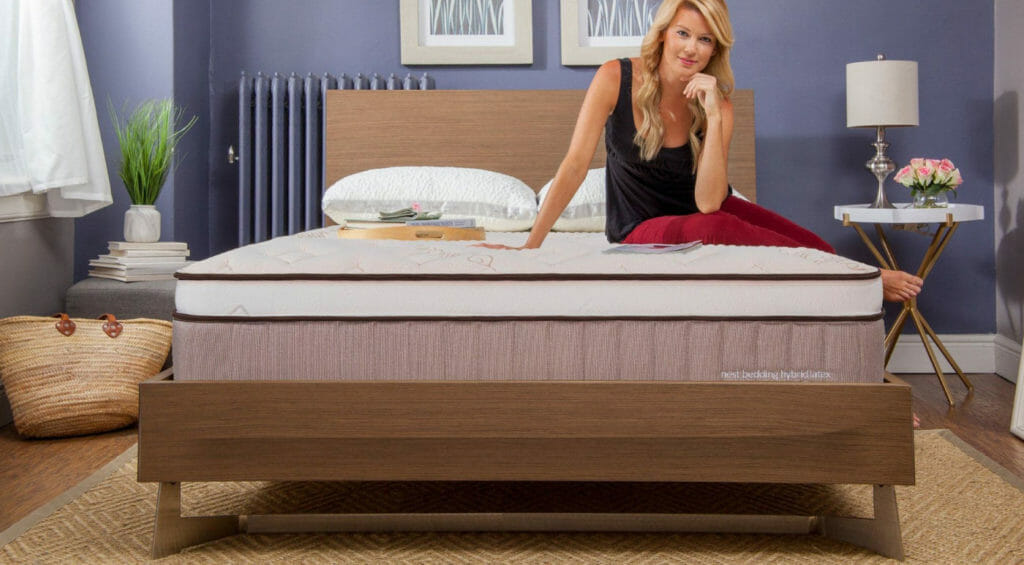 Snapshot
CertiPUR-US® Certified
Dual-sided (medium, firm)
100-night trial
Lifetime warranty
Free shipping except for Hawaii and Alaska
Price: $999-$1,499
Sold online and at select locations
Helping your dreams come true, the Nest Bedding Alexander Signature Series offers a 12.5-inch flippable mattress in two firmness levels: medium or firm. The entire mattress is comprised of four layers of foam and two quilted covers (top and bottom). This model, with a unique dual option, addresses each customer's back pain experience and has received more than a few positive reviews.
The cradling experience on the medium side is due to an additional 3-inch supportive Energex Foam layer. The copper-infused gel memory foam layer pulls heat away from your body. Ideal for side sleepers, the focus is on shoulder and hip pressure relief. If you love that embraced feeling, this is the best choice for you.
Flip!
The firm side has a firm edge-support base foam. This side of the mattress is excellent for back pain sufferers because it keeps proper body alignment by preventing hips and lower back sinkage.
One buyer wrote, "…the bed is divine…no more back aches." Other reviewers comment they love the two-firmness-level option. Several stated Nest Bedding is truly customer-oriented, as caller support was always polite and helpful.
Eco-Friendly: Loom & Leaf Relaxed Firm by Saatva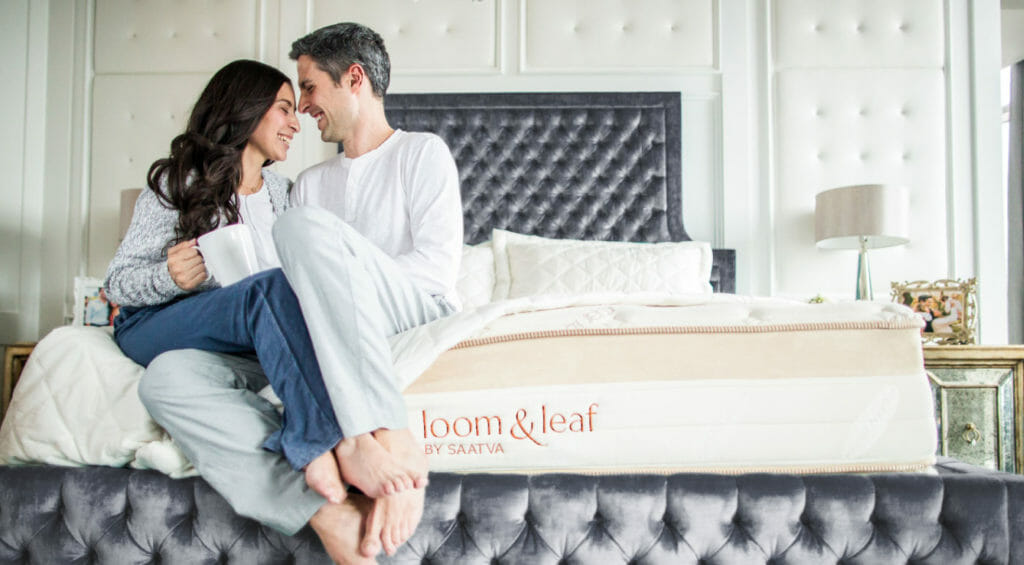 Snapshot
CertiPUR-US® Certified
120-night trial
15-year warranty
Free white-glove delivery and mattress removal
Price: $849-$1,799
Sold online and at Macy's
Made of eco-friendly, multi-layered memory foam, Loom & Leaf Relaxed Firm by Saatva is ideal for spinal alignment, joint relief, improved circulation, and increased energy—making it one of the top beds for back pain. Its patented Spinal-Zone Gel, which uses a cooling agent, and 5-lb. contouring memory foam, provide pain relief for a good night's sleep.
The 12-inch mattress is considered medium-firm, providing neither a feeling of being stuck in quicksand nor a hardwood-floor sensation. It allows for neutral alignment—and even weight distribution. Back sleepers comment that they receive support in the lumbar region and hips, allowing for pressure relief and joint support. Pregnant women emphasize that the mattress gently hugs their bodies while providing needed back support.
Reviews consistently show that customers love this mattress for its luxurious feel, alleviating fatigue, backaches, and hip pain. Some reviewers promise to never go back to a spring mattress!
Cooling Mattress: Layla Copper-Infused Foam Mattress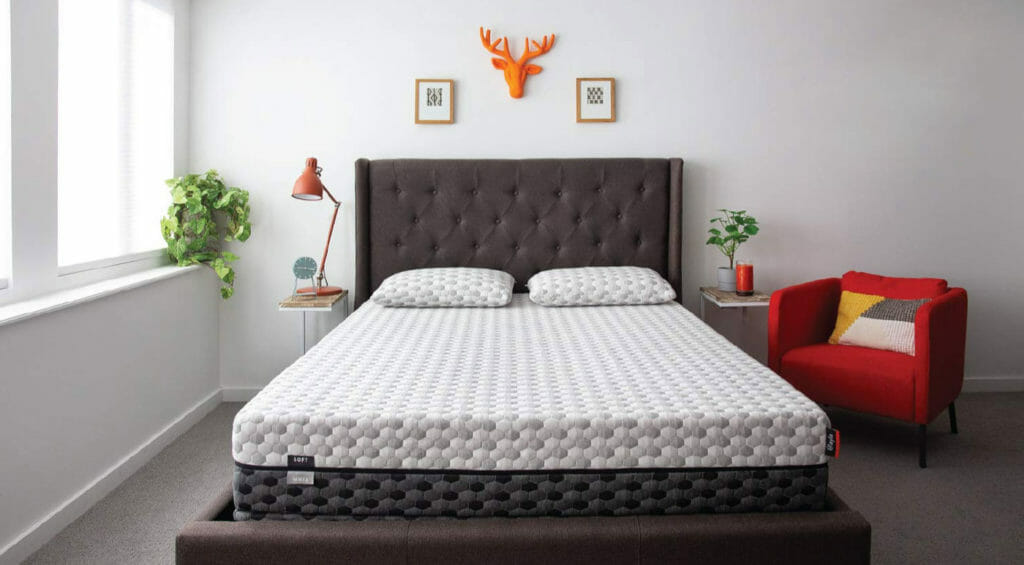 Snapshot
CertiPUR-US® Certified
Dual-sided (soft, firm)
120-night trial
Lifetime warranty
Price: $599-$1,099
Free shipping except for Hawaii and Alaska
Exclusively sold online
Layla's unique double-sided, copper-infused memory foam is a flippable mattress with two firmness levels: soft or firm. The 10-inch-thick mattress contains three foam layers and a convoluted (egg-crate foam) air-flow layer, providing remarkable spinal alignment, pressure relief, and overall comfort. The copper-infused foam pulls heat away from your body so you won't sweat while sleeping.
The firm side is considered a 7 out of 10 (firmness scale)—ideal for back sleepers—as it keeps hips from sinking and prevents back pain by providing alignment.
Flip!
Due to close proximity to the 2-inch convoluted air-flow layer, the soft level is considered a 4.5 out of 10, ideal for side sleepers because it contours to hips, shoulders, and lower back. Many reviewers say this mattress embraces their bodies with little to no pressure sensations.
Comfort Soft Foam: Cocoon Chill Soft by Sealy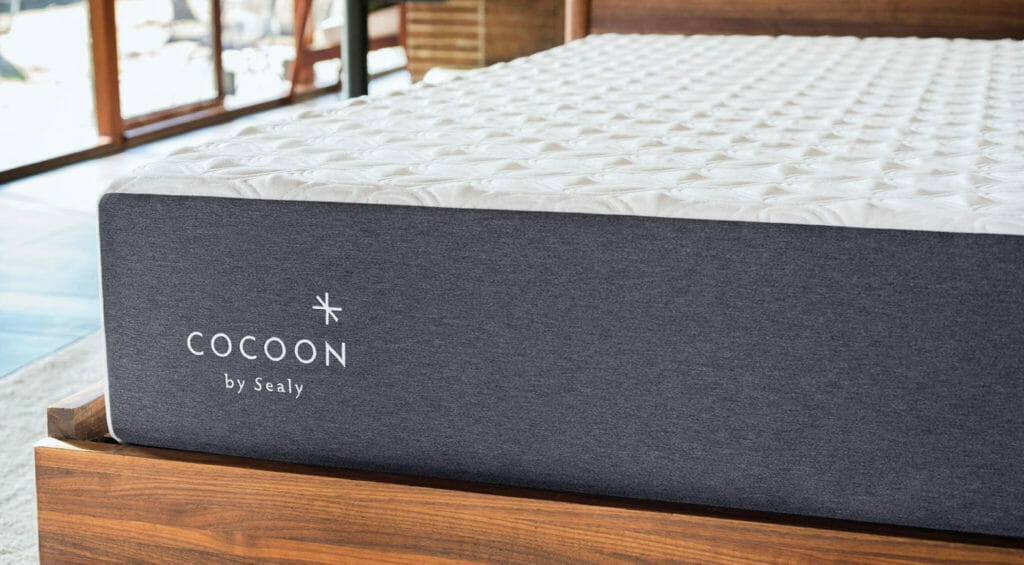 Snapshot
CertiPUR-US® Certified
100-night trial
10-year warranty
Free shipping
Price: $399-$999
Exclusively sold online
Chill and soft. With that description, imagine being carried away on a zen-like cloud. The 10-inch foam mattress is considered medium-firm and offers a spinal alignment solution ideal for back pain sufferers. The stretch-knit fabric covering is infused with proprietary phase-change materials that regulate temperature by absorbing and releasing heat; cooling down when you are hot and warming up when you are cool.
The mattress consists of three foam layers. The Perfect Fit Memory Foam top layer customizes to shape, size, and sleep position, providing pressure relief. Unlike the Chill Firm, the Chill Soft has an added 2-inch Comfort Foam Layer that cradles, not traps you. The durable and resilient Flexible Essential Foam Layer base provides spinal support.
Overall, this mattress excels in creating a relaxing experience through comfort and pressure relief materials for the spectrum of sleepers. "No longer waking up with hip and back pain," is a common rave by many reviewers. If you enjoy a cozy hug with support for your body, this mattress is for you! For such relief, the 2-year scientific research endeavor was well worth the wait.
Best Budget: Zinus Pressure Relief Memory Foam Cloud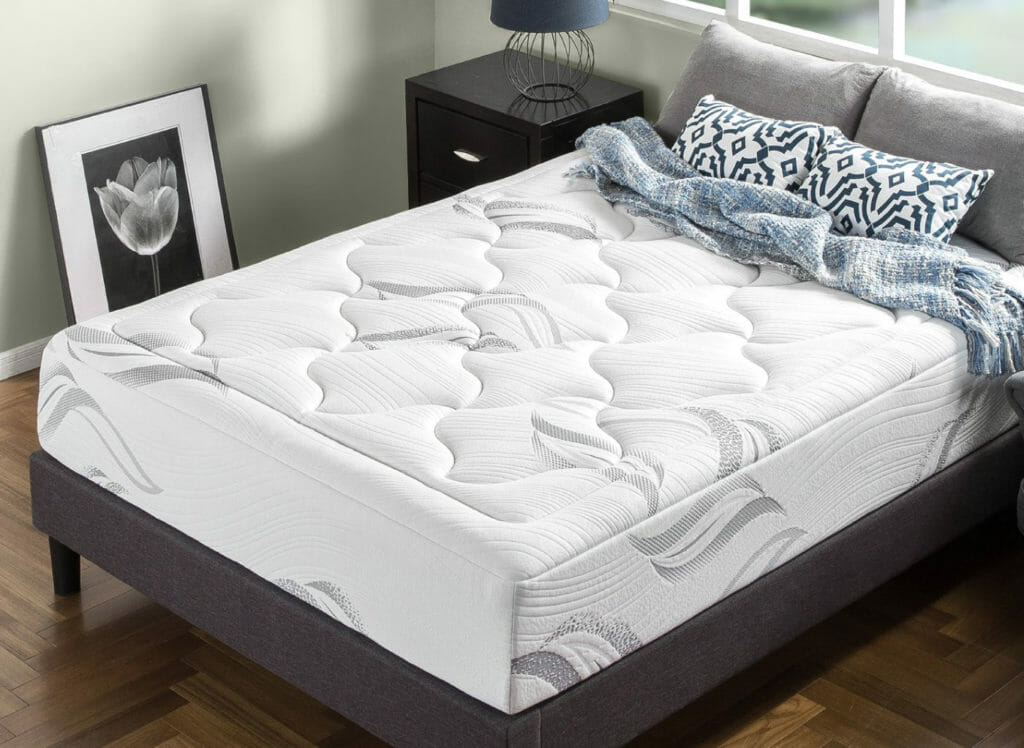 Snapshot
CertiPUR-US® Certified
100-night trial
10-year warranty
Free shipping via FedEx
Price: $169-$411
Sold online, Amazon, and Walmart
Like the other four Zinus foam mattress options, this fluffy bed is available in an 8-,10-, or 12-inch thickness. The cloud-like experience is a result of using customized memory foam and microfiber material. Considered a medium–firm, this mattress provides a restorative sleep by cradling the body and providing spinal alignment. Many reviewers experience the best sleep they've ever had, back and hip pain relief, and even the sensation of being hugged by a giant teddy bear!
The mattress consists of four layers: 1-inch Viscolatex Responsive Foam, 1-inch Memory Foam, 1.5-inch Comfort Foam, and 3.5-inch High-Density Base Support Foam. This combination accommodates changing sleep positions, provides gentle spine and joint relief, and improves circulation.
Zinus focuses on meeting the sleep needs of its customers by reading every review, listening to input, and then adjusting its products and business structure accordingly. An example of this was their introduction of all-natural plant oils, which became a preference among their eco-friendly customers.
Hybrid Mattress: Voila Mattress Medium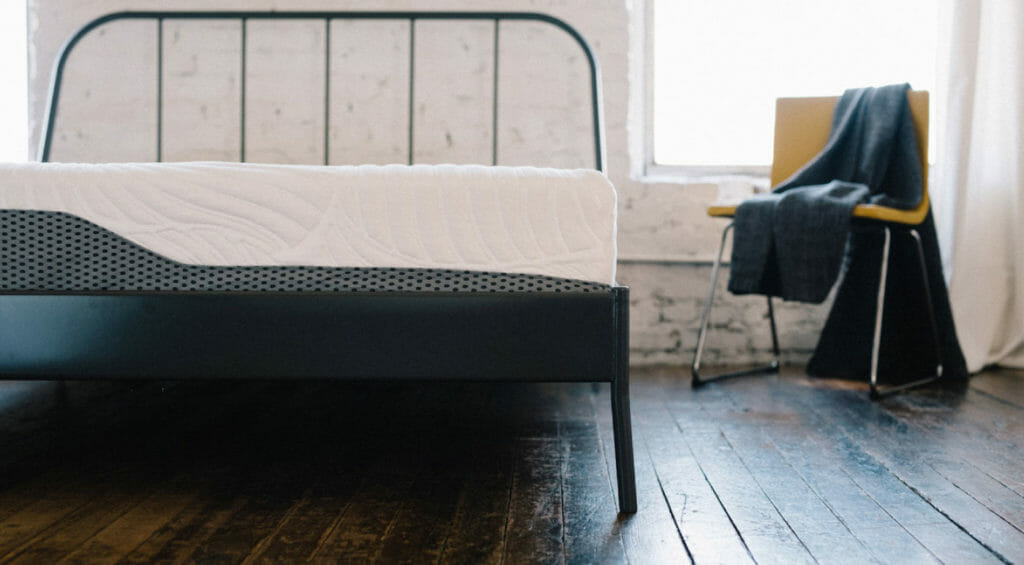 Snapshot
CertiPUR-US® Certified
Hybrid (foam, coils, latex)
100-night trial
10-year limited warranty
Free shipping
Price: $499-$1,299
Sold online and at Amazon
Imagine waking up less grouchy and free of back pain. Reviewers comment this is their experience with the 11-inch hybrid mattress. The medium–firm version consists of 12 layers, including gel-infused comfort memory foam, gel latex foam, five-zoned pocketed coil spring, triple-edge support, and high-density base foam. This combination provides exceptional contouring support to heavier parts of the body and includes pressure relief, cooling, and spinal alignment.
With its multi-layered design and unique 768-count, five-zone pocket coils, there is excellent isolation of motion transfer and adaptation to your body weight while maintaining perfect alignment for the spine. The top cover's blended pad of stretch polyester and breathable mesh side panels facilitate airflow to sleep cool.
Overall, reviewers love the low price point for a luxurious mattress feeling. Additionally, back sleepers say the bed supports the lumbar region. Stomach sleepers do not experience sinkage, and side sleepers experience pressure relief, particularly in the shoulders and hips. One reviewer described a positive difference in their quality of life. Now that's a game changer!
Plant-Based: Amerisleep AS4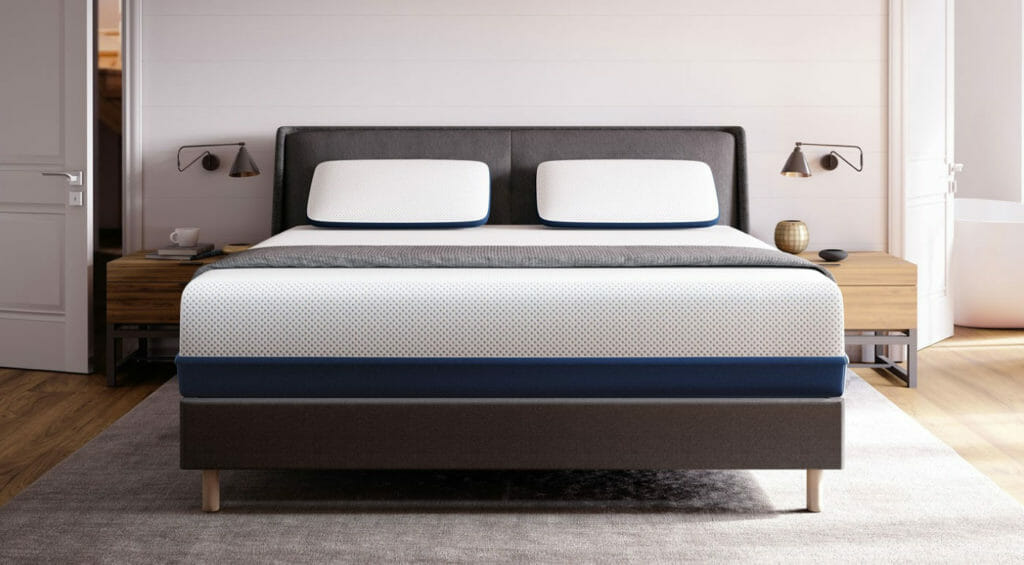 Snapshot
CertiPUR-US® Certified
Eco-friendly, plant-based materials
100-night trial
20-year warranty
Free curbside delivery
Price: $649-$3,498
Sold online and at select locations
Amerisleep is reducing its carbon footprint by using plant-based materials wherever possible. The AS4 (formerly the Colonial) uses medium-soft memory foam, providing pressure relief and contouring the body so that you don't feel trapped. The AS4's 12-inch mattress is their second-softest option, ideal for anyone preferring a plush, supportive feel. The mattress uses a three-foam layered technology that enables air circulation for a healthy body temperature balance.
The open-cell structure layer allows for air circulation. The transition layer has shaped channels that redistribute soft and firm pressure at five precise zones. The base layer supports hips and shoulders, keeping your spine's natural alignment. It's no wonder a reviewer experienced deep sleep, likening it to a "marshmallow" sensation where their neck and back pains were relieved. A side sleeper also commented "… this mattress is AMAZING!"
Lumbar Support and Pressure Relief: Leesa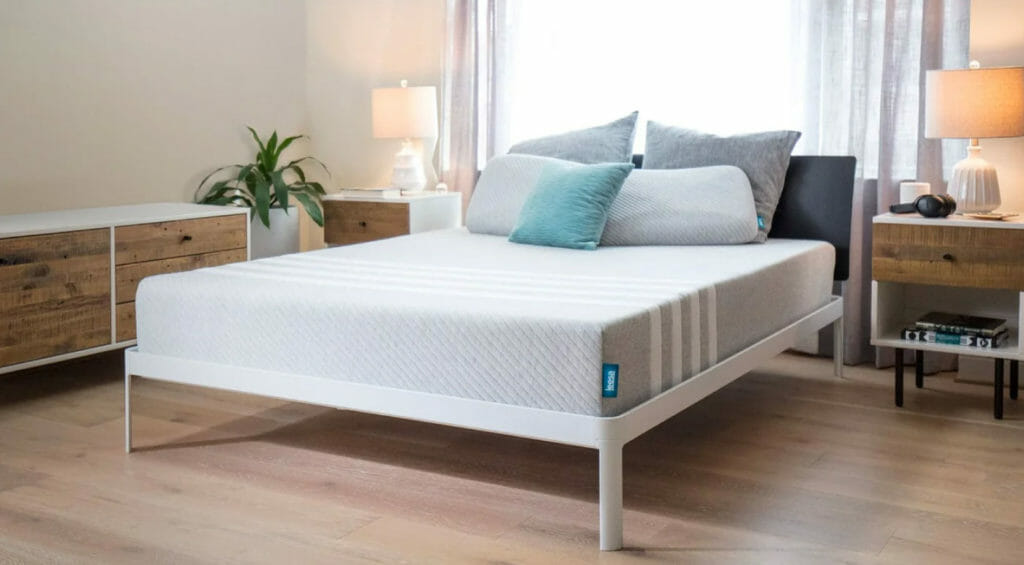 Snapshot
CertiPUR-US® Certified
100-night trial
10-year warranty
Free shipping
Price: $505-$1,015
Sold online and at Amazon
If you're on Back Pain Street, now's the time to take an immediate turn onto Relief Avenue! This mattress focuses on perfect-fit solutions for back pain sufferers. The 10-inch foam mattress is constructed of three layers: 2-inch comfort foam, 2-inch recovery memory foam, and a 6-inch high-density foam. With this design, you will not have a "stuck-in-quicksand" sensation. The foam hugs your body while you sleep cool, and also provides pressure relief and proper spinal alignment.
The bed has a medium-firm feel—supporting your lower back, reducing shoulder pressure, and contouring your body. Reviewer comments include, "Sleeping on [my] back comfortably for the first time in years," "…a significant reduction in lower back pain," and the most "relieving experience" from the "dead arm" sensation felt by many side sleepers.
Leesa is laser-focused on providing back and shoulder pain solutions for troubled sleepers. The company's mission is consistently mentioned throughout their website. The useful Leesa Resource Guide educates potential buyers on popular topics, including mattress selection—especially for back sleepers.
Best for Side Sleepers: The Casper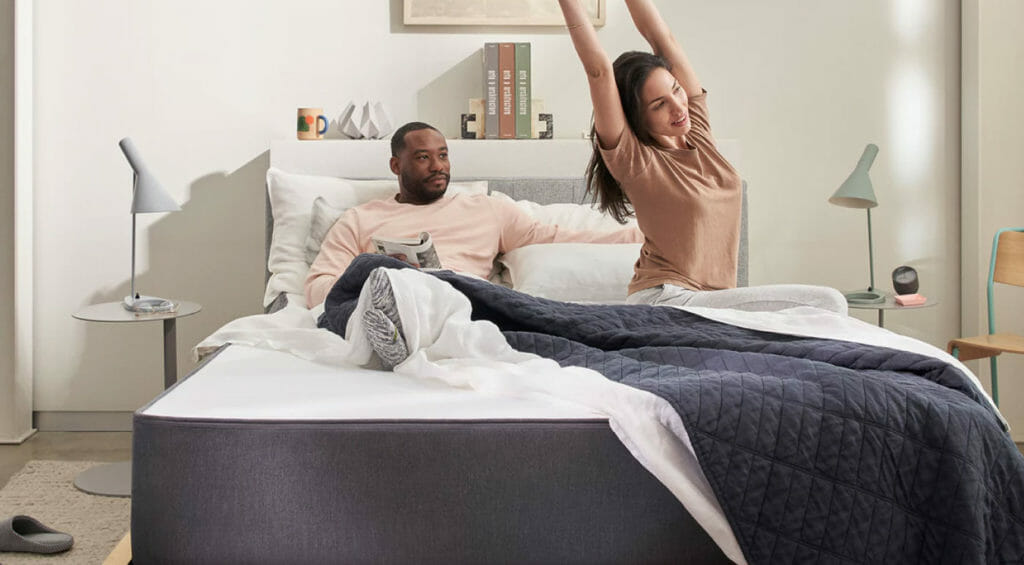 Snapshot
CertiPUR-US® Certified
100-night trial
10-year warranty
Free shipping
Price: $450-$1,555
Sold online, Amazon, and at Target
For side sleepers seeking a back pain solution, Casper's got your back! Literally. The 12-inch mattress is composed of four foam layers, including a zone support layer for alignment. The first layer is an open-cell structure allowing for a cooler sleep. The second layer is a pressure-relief foam for comfort. The third layer is the zone support layer, located at the shoulder and hip regions. The base layer is the durable foundation.
A deeper look at the zone support layer in this mattress reveals that the thickness varies between the center and the end sections. The softer foam is positioned under the shoulders, allowing you to sink a little and find the right amount of pressure relief. The firmer foam rests under the hips and core for spinal alignment.
In a March 2019 Consumer Reports review, Casper was ranked 1 out 27 foam mattresses tested with a score of 85. Many reviewers comment, after extensive mattress research, that Casper's mattress composition consistently stood out for its softness and support, creating that "floating-on-air" feeling.
Customized Mattress: Helix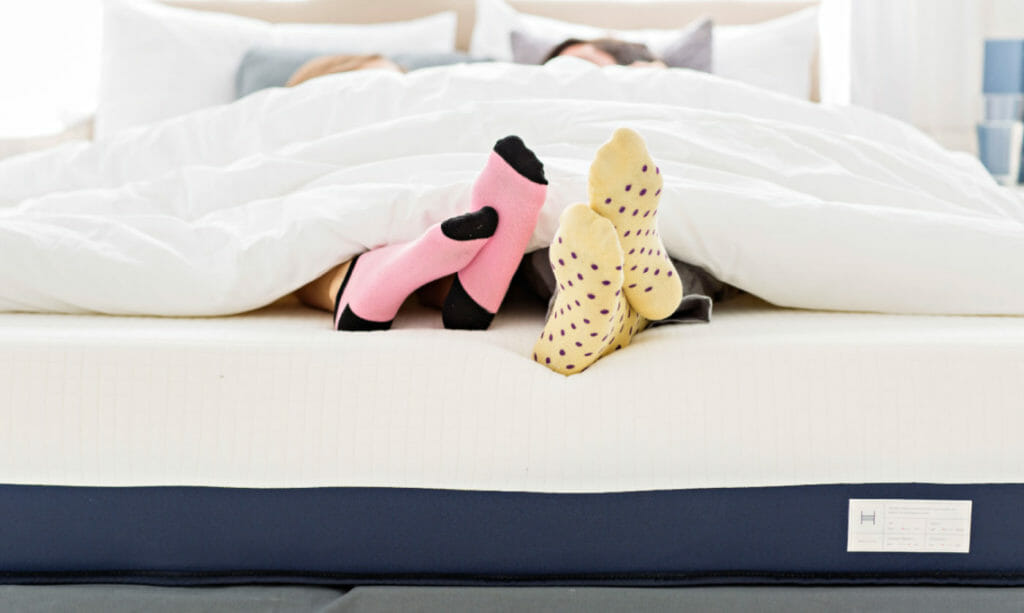 Snapshot
CertiPUR-US® Certified
100-night trial
10-year warranty
Free shipping
Price: $525-$2,020
Exclusively sold online
Selecting the right mattress for back pain can be a confusing process. Helix understands that everyone has sleep requirements and preferences. As a result, they recommend mattresses based on firmness preference and sleeping position. A sleep quiz option is provided at the website that asks customers questions about position, firmness, and partner preferences, as well as whether or not they often wake up in pain. The quiz results then show mattress recommendations from their Helix and Helix LUXE lines.
The Helix mattresses are composed of four foam layers in varying densities for support, comfort, and pressure relief. Individually wrapped coils cradle your body and limit motion transfer. The Helix LUXE mattresses consist of four layers of high-density foam and zoned body-shaped coils for spinal alignment and lumbar support.
Some reviewers write that their "dreams have come true" since purchasing Helix. As a result of accepting Helix mattress recommendations, they have experienced soft support and comfort. Joint pain and back pain are a thing of the past.
Additional Back Pain Resources:
How to Sleep With Lower Back Pain
How To Relieve Lower Back Pain
Can a Good Mattress Help with Back Pain?