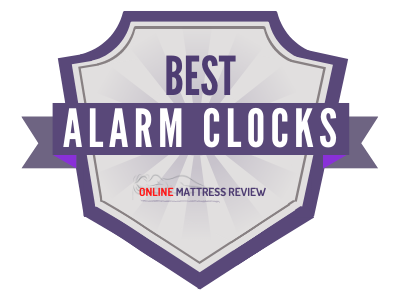 An alarm clock is an object you curse under your breath on some mornings, and you give silent prayer to on others. Often, how we wake up in the morning has a profound impact on our moods and the rest of our day, which is why picking the best alarm clock for yourself is such an important decision.
For some, an alarm clock loud enough to wake the dead is essential, while for others, that same alarm clock will end up smashed against the wall. There are many alarm clocks to choose from, often making it difficult to decide which alarm clock to purchase.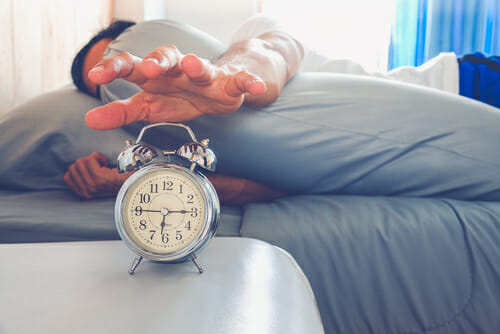 Especially if you're sleeping on one of the world's most comfortable mattresses, you'll need an effective alarm clock to get you out of bed.
---
The top 10 best alarm clocks with different features are listed below so you can find the alarm that fits your individual needs.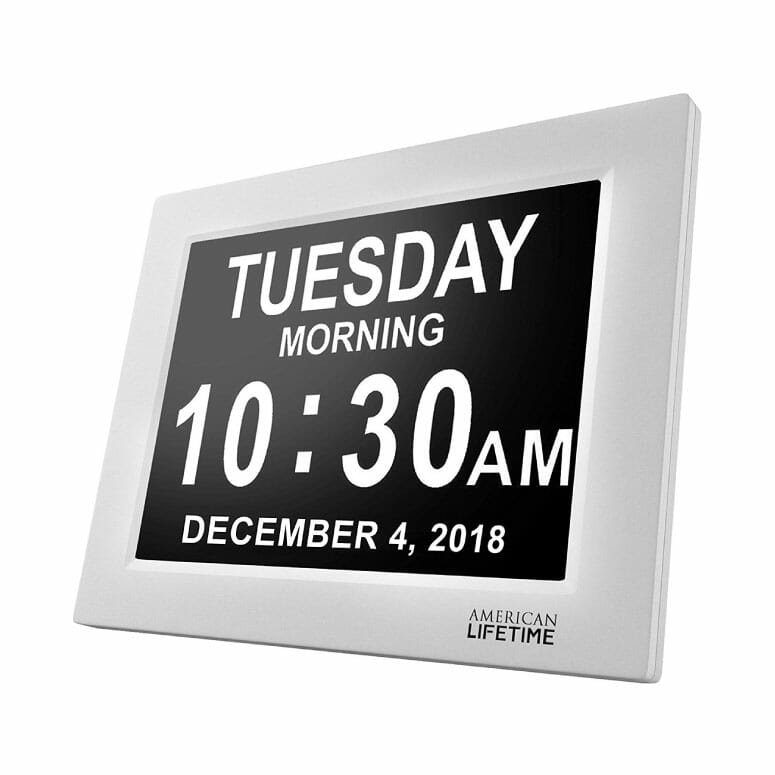 Extra Large Impaired Vision Digital Clock with Battery Backup & 5 Alarm Options
The American Lifetime Day Clock is unassumingly simple, yet packed with features that may be especially enticing to the elderly. The clock comes with a large display, which is especially useful for the visually impaired, and a whopping five multifunction alarms with reminders for times to take medication. This clock automatically increases and decreases in brightness depending on the time of day and amount of ambient light.
While display colors other than yellow or white would be an enhancement, the addition of a battery backup and indication of whether it's morning, afternoon, or night more than makeup for the lack of different color displays.
American Lifetime gives 10% of all its sales to a charity that focus on dementia research, social services, and adult education. You can wake up in the morning feeling good about supporting a company that helps others in need. While this clock was made specifically for the elderly, the features that are useful for this population also add ease and convenience for others.
Stats
Dial: Analog
Multiple Alarms: Yes
Battery Backup: Yes
Lifespan and warranty: 100% money back guarantee and 1-year unlimited warranty. Return the product for free for the first 30 days, no questions asked
Special features: Medication reminders, date display
---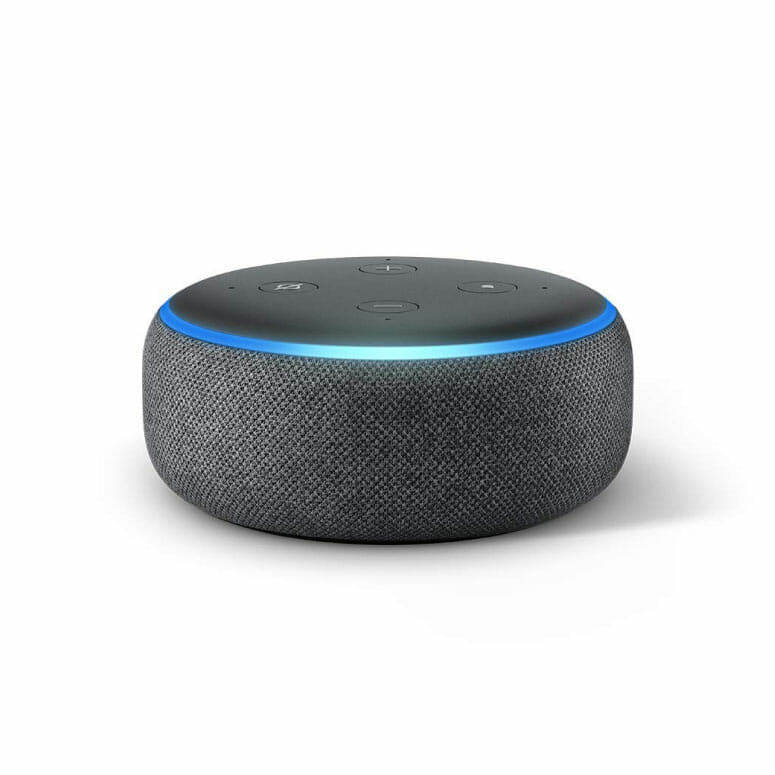 Smart Speaker with Alexa
While not strictly an alarm clock, the Echo Dot is a great option (for the technology savvy) that can be used for other activities besides sleep. Voice activated, ask Alexa to set the alarm or multiple alarms, and you are all set.
Both Android and iPhone users can use the Echo Dot, so don't let that be a barrier to you buying this item. Whether you are listening to music, setting the alarm, or finding out the local weather in your region, the Echo Dot has got you covered.
With all its other features, the Echo Dot is the best alarm clock option for individuals who are well versed in the operation of their phone and other electronics. Unfortunately, the Echo does not come with a backup battery for when the Dot is not connected to a power outlet. Hopefully, a limited backup battery will be a feature added in future models.
Stats
Dial: None
Multiple Alarms: Yes
Battery Backup: No
Lifespan and warranty: 90-day Limited Warranty
Special features: over 50,000 skills and counting
---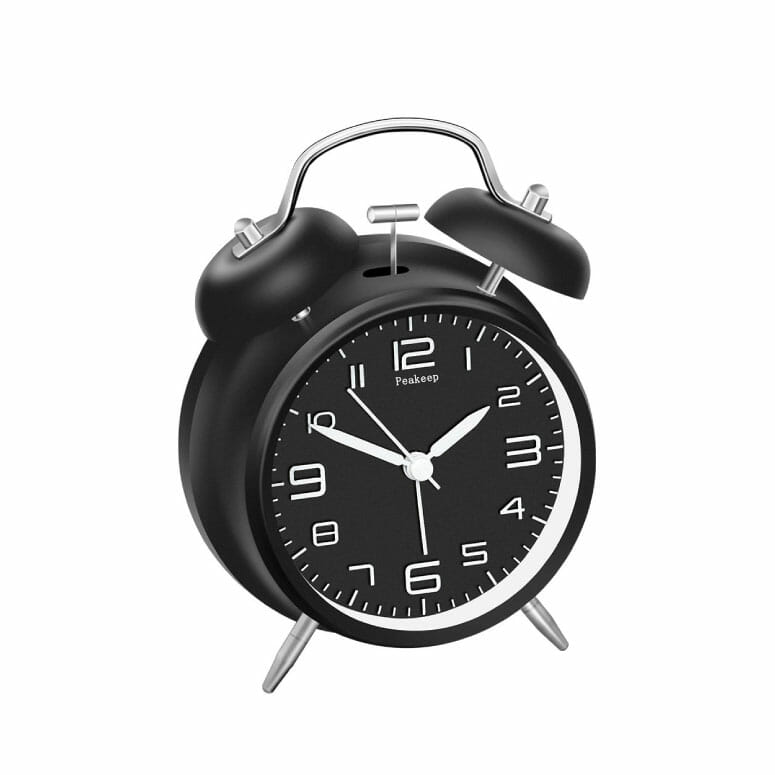 With Stereoscopic Dial, Backlight, Battery Operated Loud Alarm Clock
If you're looking clock that is loud because you're a deep sleeper, this may be the best alarm clock for you to purchase. This alarm clock is advertised for the hearing impaired, making it ideal for even the deepest of sleepers. The Peakeep Twin Bell Alarm Clock is the bare bones of alarm clocks and runs off one AA battery, which can be good for frequent travelers. The clock has a smooth, quiet sweeping motion of the time hands, allowing you to get to sleep and stay asleep until your alarm chimes.
The customer reviews indicate that an AA battery lasts about four months in this alarm clock, but it may be wise to change it more frequently, so you don't end up oversleeping one morning due to the battery dying during the night. The clock comes with a stereoscopic dial, making it less preferable for those inclined toward analog. It's also important to note at the Peakeep clock does not come with a snooze button, just an on/off switch.
Stats
Dial: Analog
Multiple Alarms: No
Battery Backup: No
Lifespan and warranty: N/A
Special features: Backlight button
---
Echo Dot (4th Generation) Alarm Clock with Alexa – Twilight Blue
Possibly the ultimate alarm clock for the technology-savvy individual, the Echo Dot – the 4th Generation – is your ultimate bedtime companion. Not only can you set alarms on this alarm clock, but you can also turn on a timer, and use the snooze on the top of the alarm for those lazy mornings.
If you need some information, just ask Alexa. She will keep updated on the latest news and the weather for the day. Are you ready for some music? Ask your Echo Dot! You can also turn off the lights in your room, lock your doors, and control your home's temperature when using compatible devices—without even getting out of your bed. For privacy, the Echo Dot's – the 4th Generation – microphone can easily be disconnected. If Twilight Blue does not match your decor, this also comes in white to match any color scheme.
Stats
Dial: LED Display
Multiple Alarms: Yes
Battery Backup: No
Lifespan and warranty: 90-day Limited Warranty
Special features: over 50,000 features
---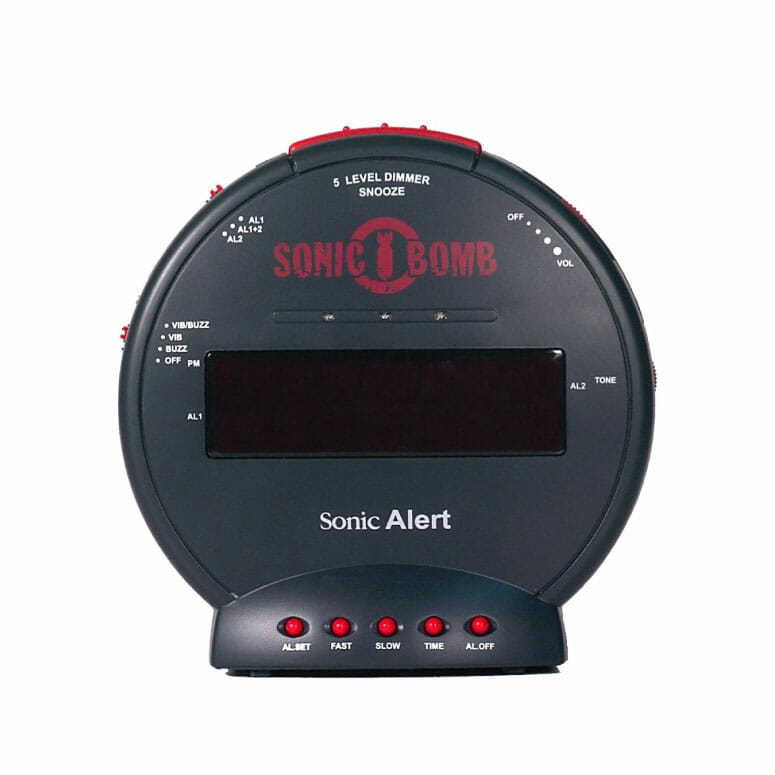 With Red Flashing Alert Lights and a Powerful Bed Shaker
The ultimate alarm to wake the deep sleeper, the Sonic Alert Sonic Bomb Alarm Clock is everything you would expect from an alarm clock that can wake the dead. The alarm clock reaches a screaming 113 decibels and comes with a 12-volt bed shaker you place under your pillow.
The Sonic Bomb does have an adjustable volume control for those who don't need the full 113 decibels. Two alarms can be set on this clock, and the 12-volt bed shaker can be used solo or in conjunction with the alarm sound.
What are customer reviews and users saying about this alarm clock? It's loud, real loud. Review after review talks about how the individual is a very deep sleeper and the Sonic Alert Sonic Bomb is the only alarm clock that wakes them in the morning. The Sonic Bomb even works for the hearing impaired—a fact that is backed up by multiple customer reviews written by individuals with hearing impairments.
Stats
Dial: Digital
Multiple Alarms: Yes
Battery Backup: Yes
Lifespan and warranty:1 Year manufacturer's warranty
Special features: 12-volt bed shaker
---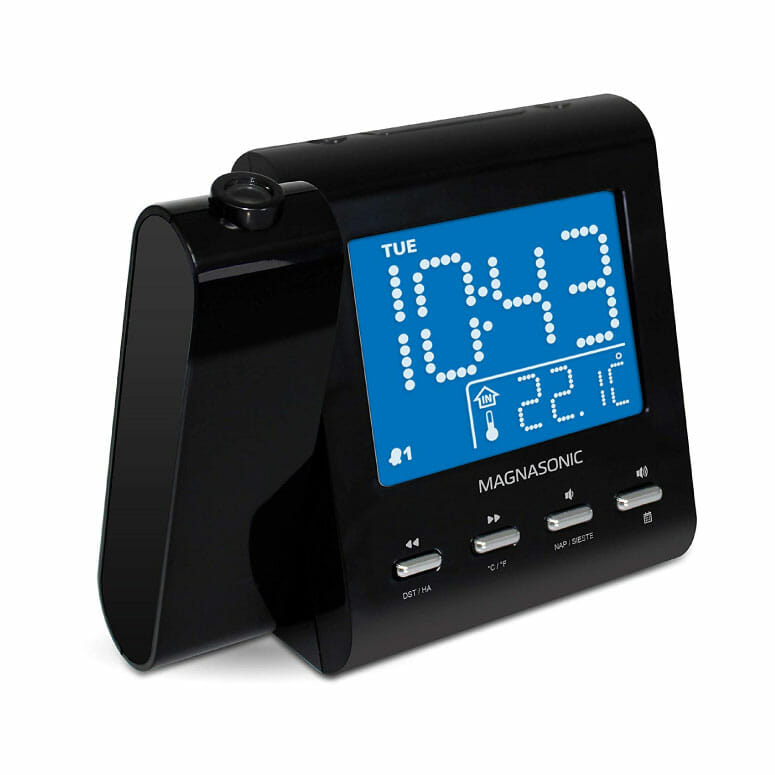 With AM/FM Radio, Battery Backup, Auto Time Set, Dual Alarm & 3.5mm Audio Input
The Magnasonic Projection Alarm Clock can project the time onto your ceiling or the wall so that the time is viewable from multiple angles and positions. The alarm clock can be set to go off at two different times—a feature that's useful if your partner wakes up at a different time than you.
The 3.6'' blue LCD informs you of the current time and the temperature inside your home. Plug in your favorite music device or tune to the radio station of your preference to wake up to music that gets you going in the morning. And don't worry about remembering to set your clock back or forward for time changes; the Magnasonic Projection Alarm Clock sets itself for time changes.
Stats
Dial: LCD
Multiple Alarms: Yes
Battery Backup: Yes
Lifespan and warranty:1 Year manufacturer's parts and labor warranty
Special features: Time projector, Self-setting time
---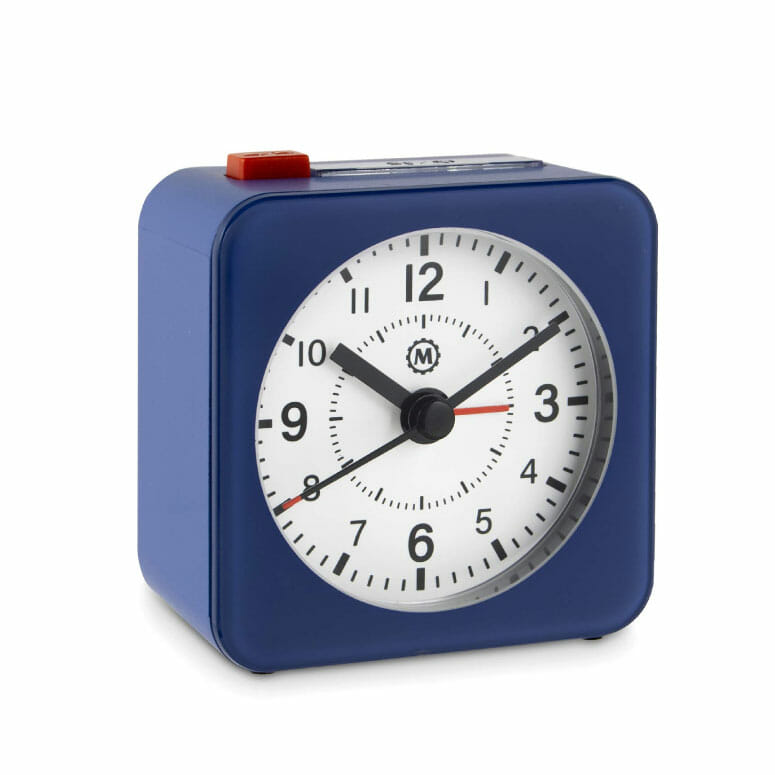 No Ticking, Auto Back Light, and Snooze Function
The Marathon Mini Travel Alarm Clock may be the best alarm clock for those who travel frequently. Measuring in at just over 2.5" wide and long, you can take this little alarm clock anywhere you want to go. You won't hear this alarm clock ticking throughout the night, due to the silent quartz movement. When the Marathon Travel Alarm is placed in low light, the clock emits a soft glow that acts as a nightlight. Two AA batteries power this portable clock.
Stats
Dial: Analog
Multiple Alarms: No
Battery Backup: Yes
Lifespan and warranty: N/A
Special features: Small travel size
---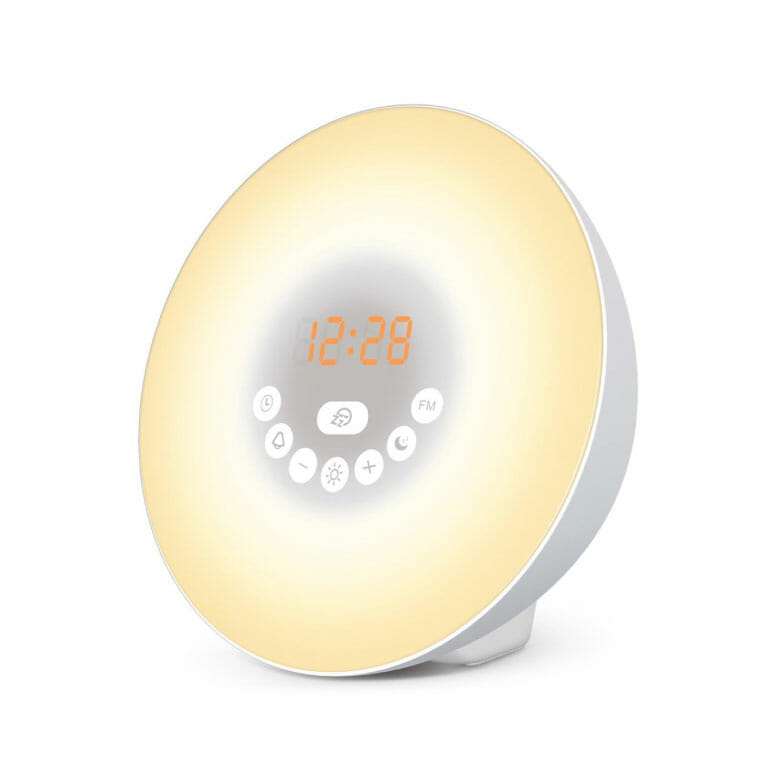 Wake Up Light with 7 Nature Sounds, Digital Clock, FM Radio and Touch Control, Snooze Function
For light sleepers, the Sunrise Alarm Clock gradually increases the brightness of its built-in yellow light before you wake up to stimulate the natural way the human body responds to sunlight. The light varies from 1 percent of illumination in the middle of the night to 100 percent of total brightness when your alarm is set to wake you up. If you are not a fan of the color yellow, you can choose between six other colors to fit your mood and personality. The sunset function automatically adjusts the clock's light level to help guide you into sleep.
You can choose between six different nature sounds to gently bring you out of your slumber, or tune in to your favorite FM radio station. Three different ways to charge this device are possible, including USB, wall jack, and three AAA batteries. With three different ways to keep the clock going, you don't have to worry about waking up late one morning because the power went out during the night.
Stats
Dial: Digital
Multiple Alarms: Yes
Battery Backup: Yes
Lifespan and warranty: 100% satisfaction guarantee
Special features: 7 colors of light and 6 natural sounds to choose from
---
With 6 Levels of Adjustable Brightness, Displays Time, Date, and Temperature
The elegant wood exterior combined with many functions and features makes this alarm clock a must-have for lovers of the outdoors. The JCHORNOR Wood Digital Alarm Clock uses only a USB cord. Do you need to know how to dress for those cold winter nights? Your alarm clock will give you the temperature and humidity level in your room for a good night's sleep.
You can choose between six levels of brightness to customize the amount of light you want in your room while you sleep. This alarm clock comes with a snooze button for those who like an extra five minutes after the first alarm goes off in the morning. If you are a heavy sleeper, the alarm bell lasts a full one minute, sure to get your attention!
This Wood Digital Alarm Clock comes in Brown, Black, and White!
Stats
Dial: Digital
Multiple Alarms: Unknown
Battery Backup: No
Lifespan and warranty: 100% Risk-Free Satisfaction Guarantee
Special features: Wood finish, Adjustable brightness
---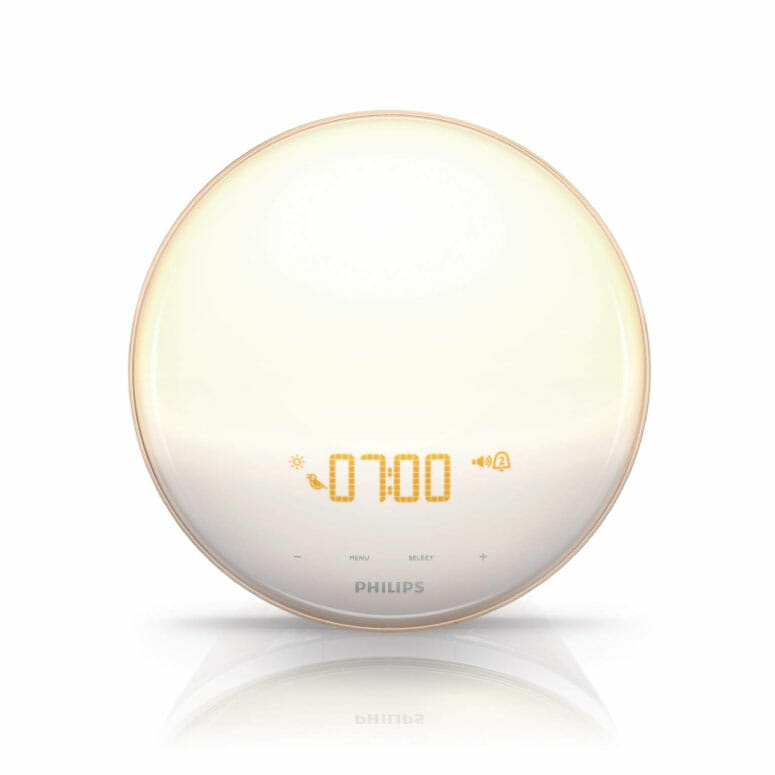 With Colored Sunrise Simulation and Sunset Fading Night Light
Philips, a brand known for producing quality products, has come out with an alarm clock that simulates the morning sunrise. The Philips Wake-Up Light Alarm Clock is branded as the only wake-up light clinically proven to help you wake up feeling more refreshed, which may make it the best alarm clock for many people. You are sure to wake up gently, since this alarm is packed with five soft wake-up sounds and the ability to dial in to your favorite FM radio station.
An added feature of this alarm clock is that it can double as a bedside reading light. Don't worry about this clock being too bright when you are trying to sleep, because the wake-up light comes with 20 brightness levels that you can personalize to your preference.
Stats
Dial: LCD
Multiple Alarms: Yes
Battery Backup: Yes
Lifespan and warranty: 90-day No Hassle Money Back Guarantee
Special features: Clinically proven to help you wake up refreshed, Doubles as a reading lamp
---
CONCLUSION
How do you like to wake? To a loud alarm, soft music, loud music, or perhaps the news. Everyone's taste in bedside clocks is different… and we understand that at Online Mattress Review. So take the time to review the above suggestions carefully to find one that will help you stay in a good mood when you are awaken out a deep slumber. Nobody likes a morning grump!
Additional Resources: