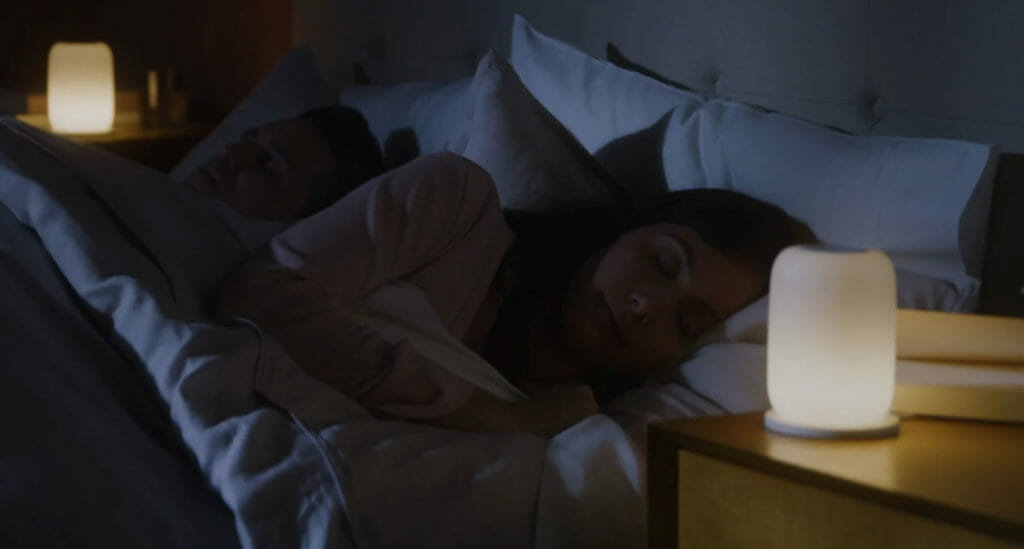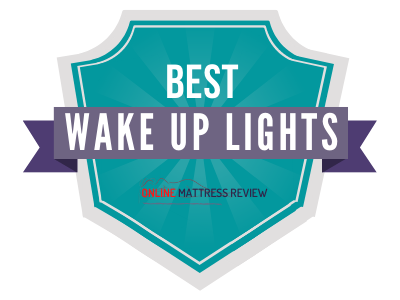 Do you dread waking up in the morning? Many people do. But a few changes to your sleeping environment and morning routine can have a big effect on your ability to wake up and get a better start to your day (and we don't just mean really, really good coffee).
One simple tool that can enhance your ability to sleep well and wake up easily is a wake-up light. Even after a late night, this special type of light can help you feel refreshed in the morning. Combined with a high-quality mattress, a wake-up light can greatly enhance your sleep.
So how do wake-up lights work? Studies have shown that they can assist in supporting the body's cortisol response as morning arrives. They can also assist with improving melatonin balance. Plus, according to some findings, wake-up lights might even be effective at improving symptoms associated with seasonal affective disorder and depression.
The Best Wake-Up Lights
Not all wake-up lights are created equal, so we've reviewed the top ones available on the market. Consider your specific needs and budget and take a look at this list to choose the best wake-up light for you.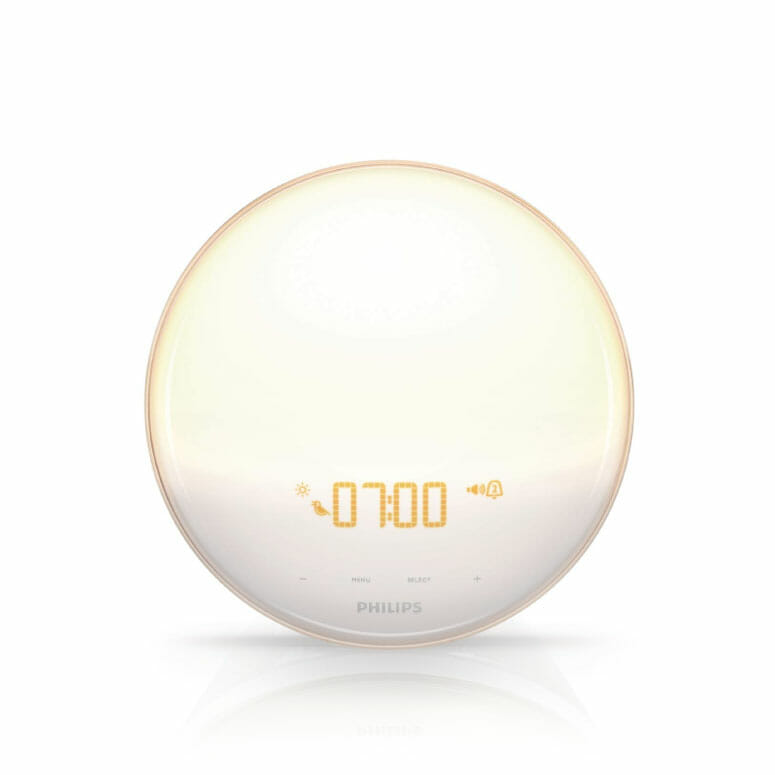 Our pick for the best wake-up light for most people is the Philips Wake-Up Light Alarm Clock. This multifunctional product not only features a high-quality and accurate wake-up light, but it's also an alarm clock.
Yes, Philips Wake-Up Light Alarm Clock is one of the more expensive wake-up lights we reviewed, with a price tag of just over $100, but it's a top-quality option that is sure to last a long time.
The lamp is built with special light-therapy technology. As the sun starts to rise, the light gradually comes on, getting brighter as the morning goes on to help you wake up naturally. The company claims that this product will help boost your energy in the morning.
---
2. Totobay Wake Up Light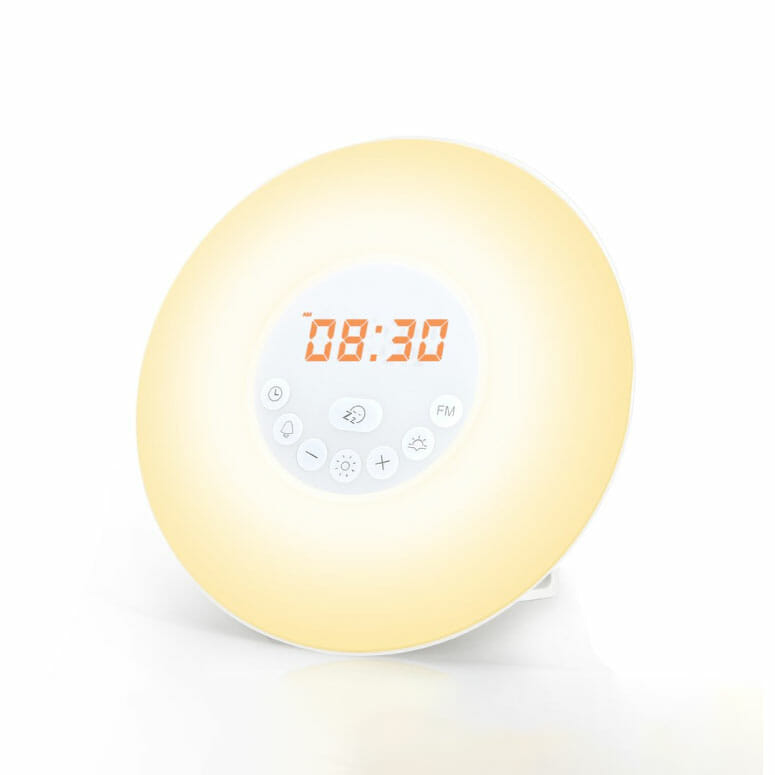 Next up is an option with a series of convenient features, but that costs a fraction of the price of some of the other best wake-up lights. The Totobay Wake Up Light costs less than $30.
Similar to the top selection in our list, this particular wake-up light also has a built-in alarm function as well as a clock display. You can always check the time, even in the middle of the night. It also plays a series of natural sounds to help you fall and stay asleep.
The Totobay Wake-Up Light comes with touch control and uses wireless operation. Once the battery dies, you can easily charge the light with the included USB charger.
---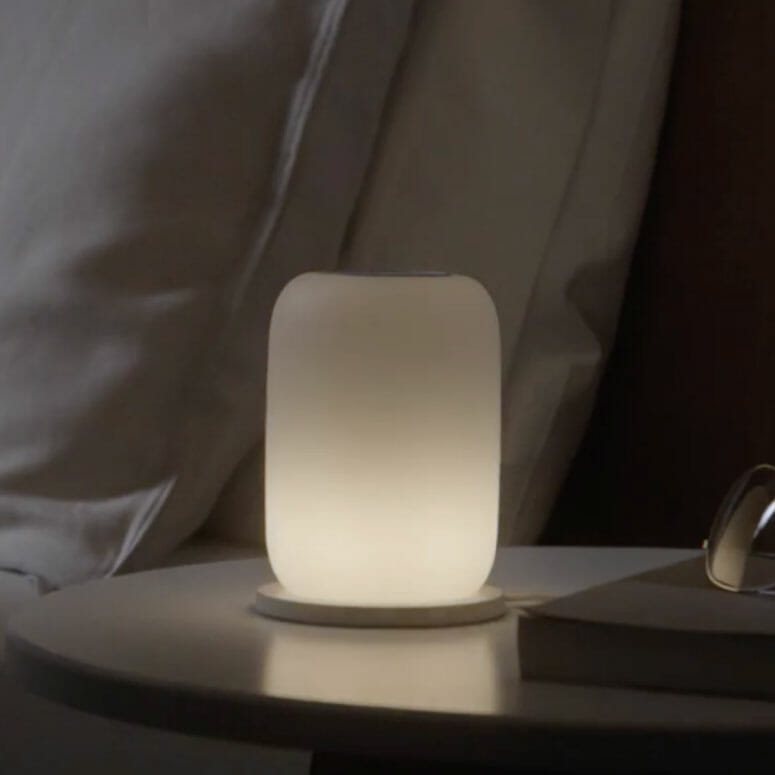 Next up is the Casper Glow Light. Designed by a company that is well-known for its high-quality mattresses, this wake-up light is equipped with technology that helps you sleep better all night.
When you go to bed, switch on the light and it will emit warm light, which will gradually become dimmer. This helps you relax as you lie in bed and gradually fall asleep. During the night, the light stays much dimmer. When morning comes, the wake-up light glows softly and gently increases in brightness as it gets closer to the time you want to get up. This helps you wake up feeling refreshed.
---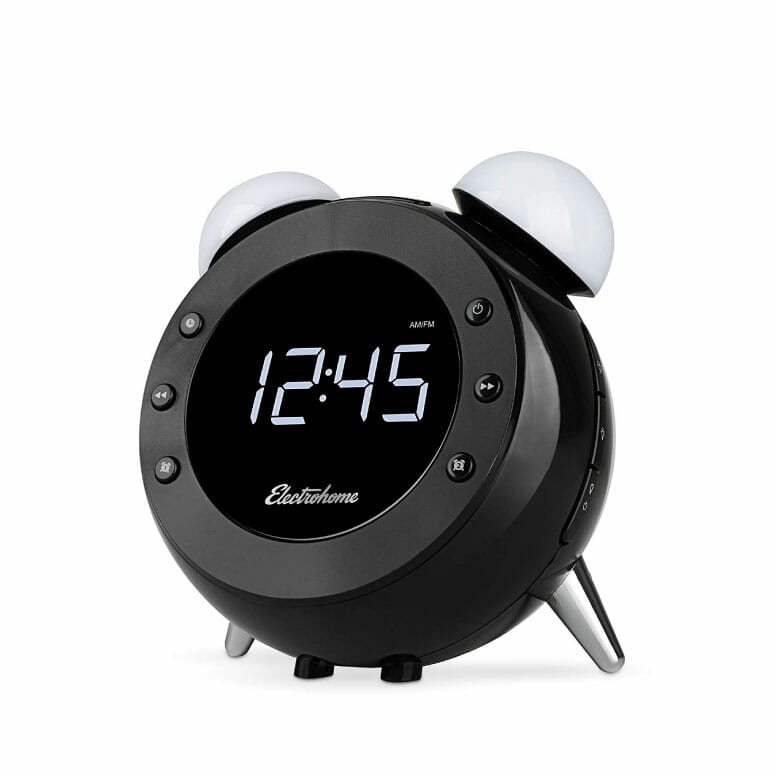 The Electrohome Retro Alarm Clock Radio is another affordable wake-up light: you can pick it up for less than $20. It offers a range of convenient features in one compact device. The modern appearance should fit well with any interior decor, and it comes in either black or white.
The Electrohome Retro Alarm Clock features a motion-activated night light, which can be disabled if you prefer. The wake-up light has a dimmer function, and it also has a built-in thermometer so you can make sure you've chosen the best temperature for sleep.
---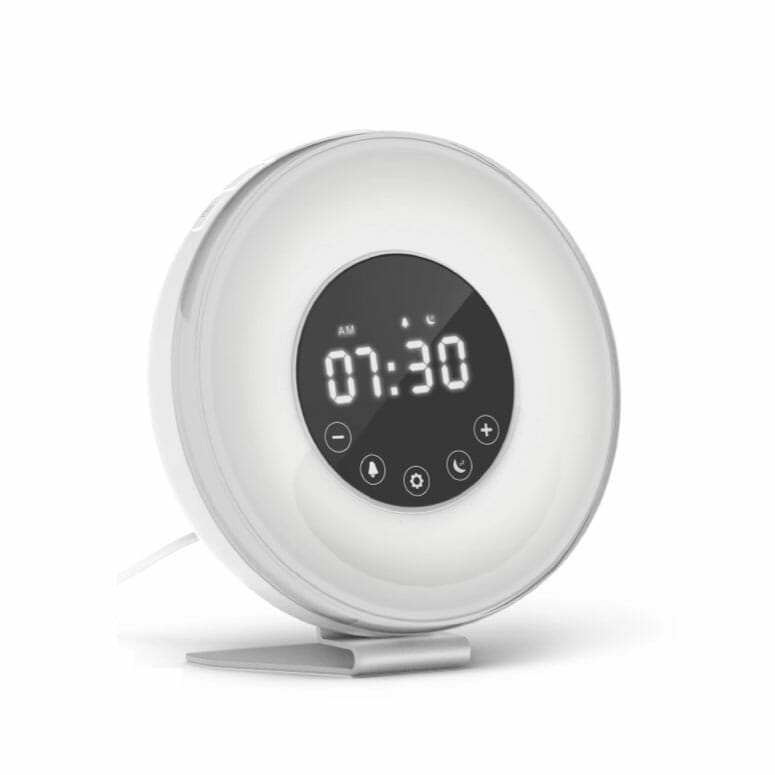 The hOme Sunrise Alarm Clock is one of the better affordable wake-up lights we've seen. It costs just under $20, yet it offers a large number of convenient features. You can set your alarm and choose from several different sound options that will wake you up.
However, 30 minutes before the alarm is due to go off, the hOme Sunrise Alarm Clock will start to emit gentle light. As the alarm time gets closer, the light will gently increase in brightness. This gradual brightening helps you wake you up more gradually.
The touch panel on the front makes it easy to configure all the settings and change your alarm time for different days, such as weekends.
---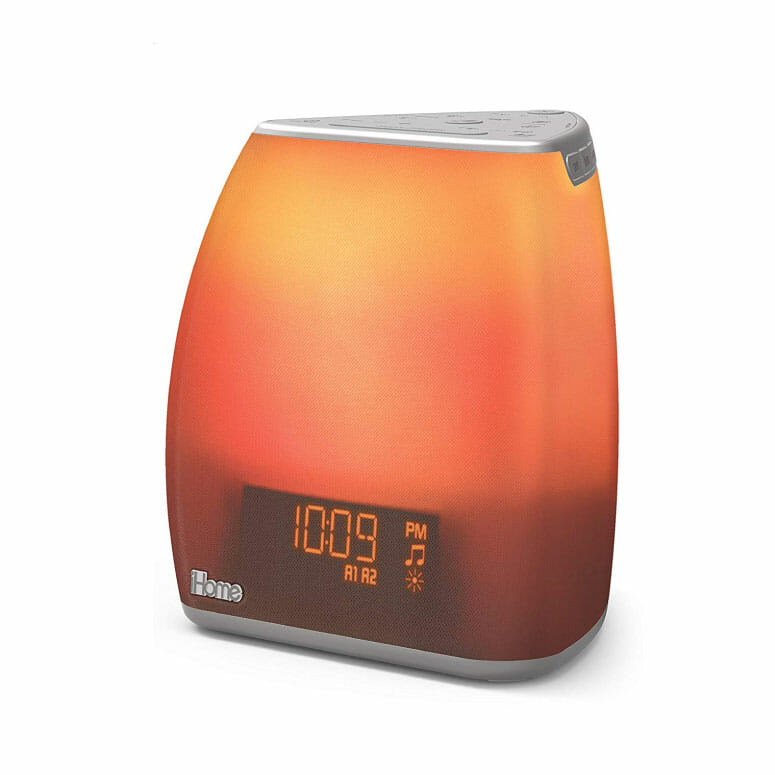 Next on our list is the iHome Zenergy Bedside Sleep Therapy Machine, a moderately priced wake-up light that comes with a range of features to enhance your overall sleep experience. One particular feature we like is the built-in Bluetooth functionality, which allows you to stream music directly to the machine as part of your morning routine.
The iHome Zenergy Bedside Sleep Therapy Machine uses a special sound therapy system and has a built-in white noise machine to help you fall asleep at night. And of course, it features the clock display and alarm settings that you expect from one of the best wake-up lights on the market.
---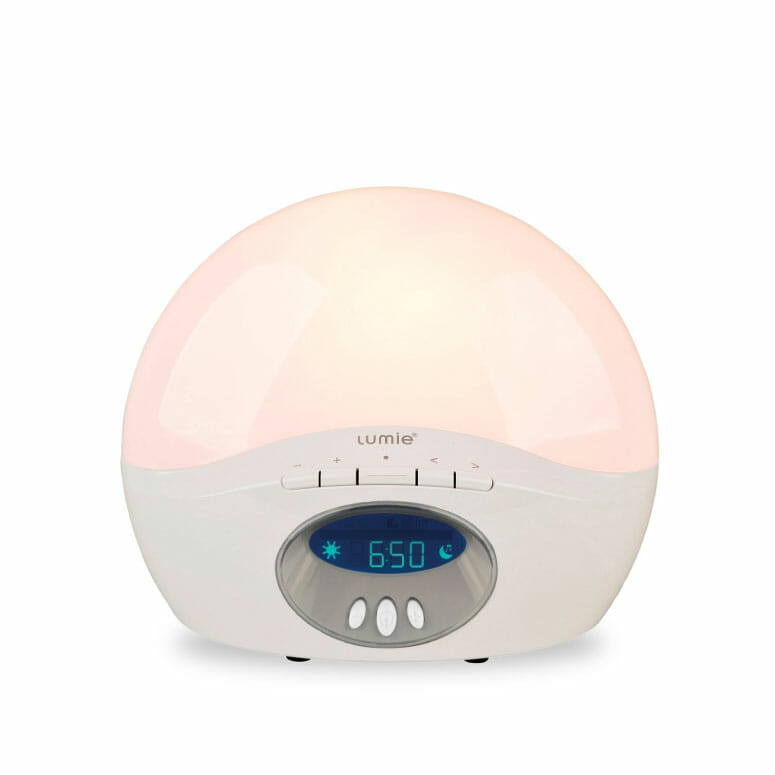 The Lumie Bodyclock Active 250 Wake-Up Light is one of the higher-priced options we've seen, at just over $125. It's a complete bedside device that includes an FM radio, an alarm clock and, of course, the main function we're considering — the wake-up light.
As the sun comes up, the Lumie Bodyclock Active 250 Wake-Up Light automatically increases its brightness. At night, it decreases brightness along with the sunset. This cyclical change in brightness helps to improve the balance of certain hormones in your body, ultimately leading to better sleep.
---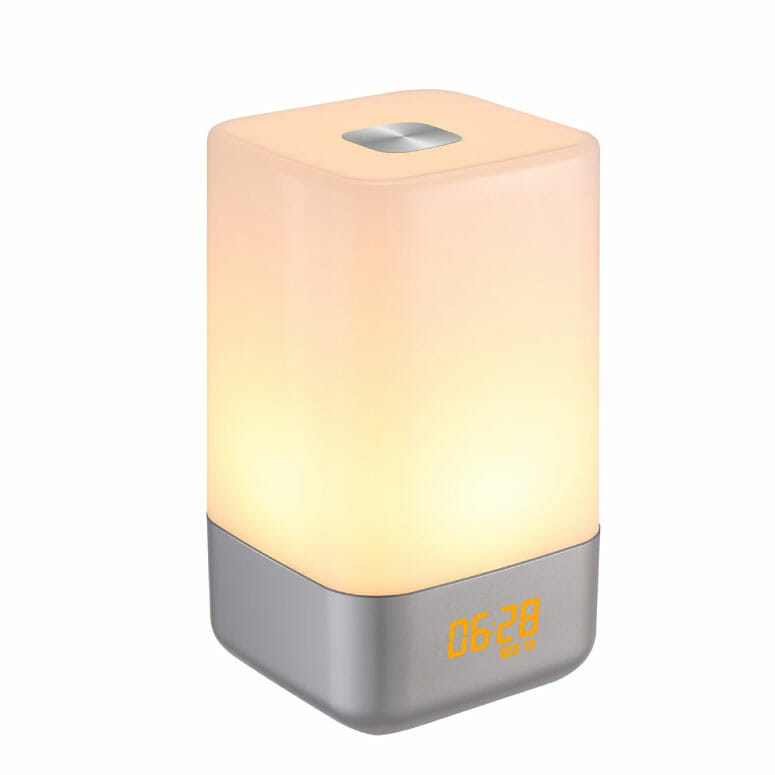 The AMIR Wake-Up Light is another one of the most affordable wake-up lights we've seen, at just $35.99. However, it packs a number of functions into a single device.
This lamp uses a combination of sound and light to help improve the quality of the rest you get during the night. Its built-in touch sensor makes it easier and more convenient to control the device, and it's easy to recharge this light with the included cord.
The AMIR Wake-Up Light has a clock on the front so you can easily check the time. It has a dimmable night light for midnight snacks, and plays five different natural sounds to help you fall asleep. In the morning, it will automatically switch on and become brighter gradually. You can also set the alarm to make sure you wake up in time to get to work.
---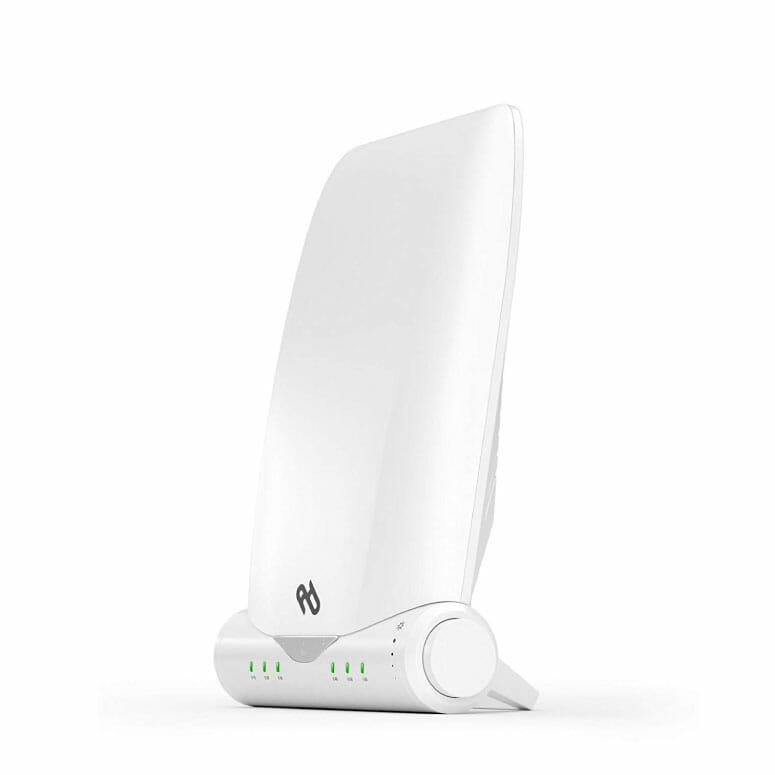 Considering the fact that the Aura Day Light Therapy Lamp was designed based on scientific research, it's actually relatively affordable at just under $90.
The lamp comes with a 10,000 Lux Full-Spectrum light, which means it can provide a significant amount of light in your room. A Lux Dial is included, which makes it exceptionally easy to control the amount of light it emits. When set to automatic, the Aura Day Light Therapy Lamp will gradually get dimmer at sunset, and brighter when morning comes.
This is not just a wake-up lamp, however. The Aura Day Light Therapy Lamp was developed with a clinical-strength light to assist in the treatment of certain conditions, including "the winter blues," shift work adjustment, low energy, and even certain types of circadian sleep disorders. So if you need to change your sleep patterns for any of these reasons, this may be one of the best wake-up lights for you.
---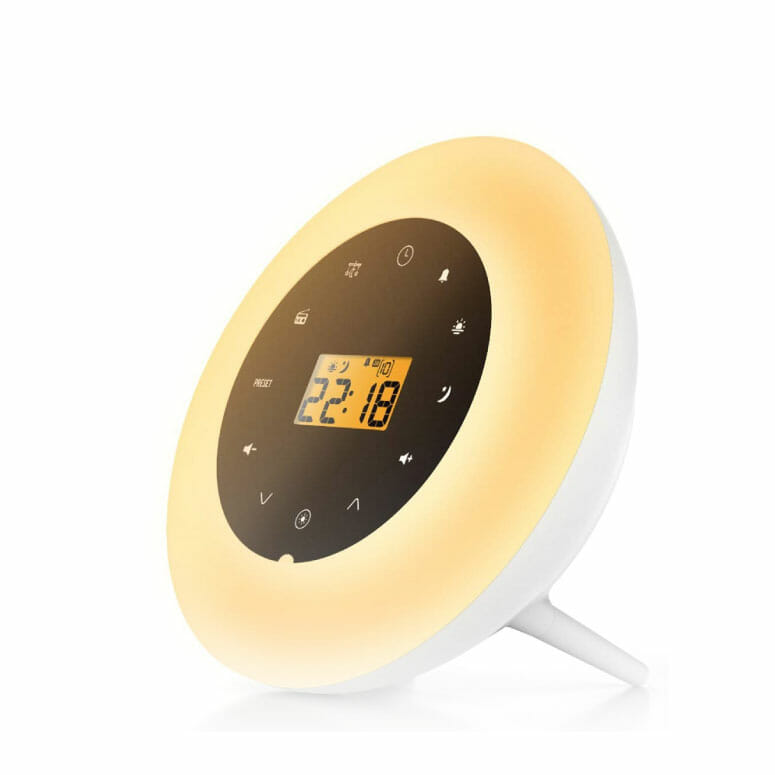 Our final option in this list is the iLyght Wake-Up Light. This is a very affordable option, with a price tag just under $30. The lamp features a built-in clock with multiple touch controls that let you adjust the settings without pushing buttons or going through extensive steps.
The iLyght Wake-Up Light features seven different colors so you can choose your favourite to wake up to. The device also comes with a built-in FM Radio, a number of natural sounds, and a white noise feature. You also get a fading night light, sunrise simulation, and an alarm clock.
Additional Reviews of Wake Up Products