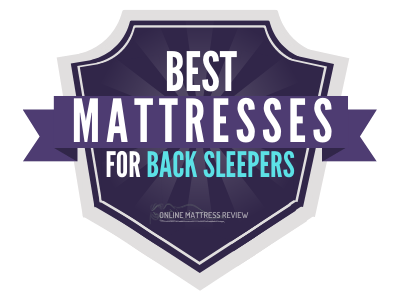 Let your mattress have your back while you sleep by choosing one designed specifically for back sleepers. Waking up with back pain is a common concern for sleepers, but it doesn't have to be.
Sleeping on the right mattress can help you eliminate those irksome aches and pains that are so common in the morning. Back sleepers need specific features in their mattress, such as increased firmness for support with enough cushion on pressure points. If you're not a back sleeper, check out this article to find your perfect mattress. What's your favorite sleep position?
Below, we have listed the top 10 best mattresses for back sleepers, so check them out, pick one, and start dreaming.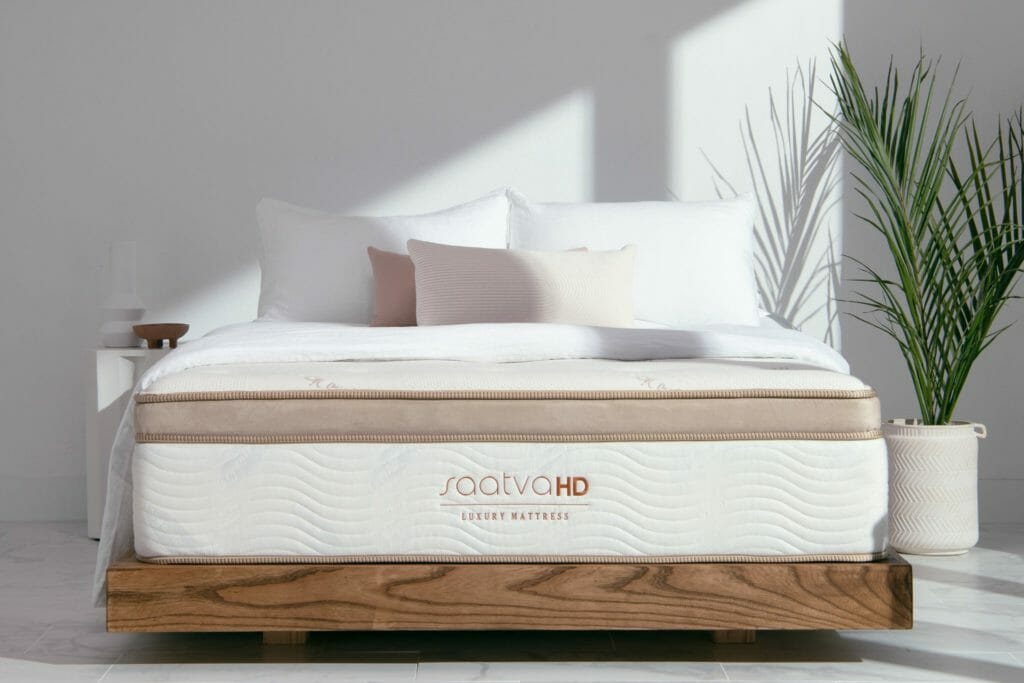 It's easy to see why the Saatva Classic Mattress is our number one best mattress for back sleepers. This mattress is high-tech and, when deconstructed, looks like something NASA has been working on behind closed doors. Exceptional quality aside, Saatva is also a company that implements a sound business model, operating entirely through the internet, which allows them to give you high-quality products at affordable prices. Curious what Saatva means? We were, so we looked it up and found out that it is a term derived from Hindu philosophy meaning purity, wholesomeness, and virtue.
The top layer of this mattress is made of a European pillow top that is ultra-soft and comfortable. Don't mistake this pillowtop for one you can find on just any mattress because it has extra stuffing that allows your body to sink before encountering the rebound of springs. The 100% cotton cover is sprayed with the unique Guardin botanical antimicrobial formula that will ensure you're not sharing your bed with other critters. A firmer memory foam underneath the pillow top supports and conforms to your back and alleviates pain.
The topmost layer of springs is comprised of over 400 12.5-gauge coils that decrease motion transfer and provide a responsive rebound. These coils are thinner than the bottom 13-gauge tempered steel foundational coils, and they are softer and more forgiving toward areas of increased pressure. Did we mention that you no longer have to worry about sinking edges? The Saatva Classic Mattress features higher density foam for perimeter edge support, ensuring that the innards of the mattress stay in place over the years of use.
Stats
Size: Twin, Twin XL, Full, Queen, King, California King
Material: Innerspring
Warranty: 15-year limited warranty
What better mattress for your low back woes than one called the DreamCloud? Take this mattress for a spin and wake up to pain-free mornings. The only question to ask yourself after you purchase the DreamCloud Luxury Hybrid Mattress is, "Why didn't I make this purchase earlier?" We chose this mattress as our second best mattress for back sleepers because of its comfort and unprecedented lifetime warranty. While this mattress is warrantied for life, sleep experts generally recommend replacing your mattress every eight years.
Luxury is in the name of this mattress, and it doesn't disappoint: The European pillow top immediately soothes your aching back the minute you lie down. Underneath the European pillow top is a layer of gel-infused memory foam that cradles your body and any areas of increased pressure. The gel infusion helps you stay cool throughout the night by drawing heat away from your body, maintaining a temperature-neutral environment. Next is a support layer that adds rigidity to what is otherwise pillowy softness.
The fourth layer of this mattress is composed of innersprings that not only provide resilience (bounce), but also allow increased airflow and heat dispersion. With both the innerspring and the gel-infused memory foam, even hot sleepers will find this mattress cooling. All of the mattress layers are supported by a foundational layer that ensures the mattress is not overly soft. The bottom mattress cover keeps your bed together so that you're not picking layers up off the floor when you have to move it.
Stats
Size: Twin, Twin XL, Full, Queen, King, California King
Material: Innerspring
Warranty: Lifetime warranty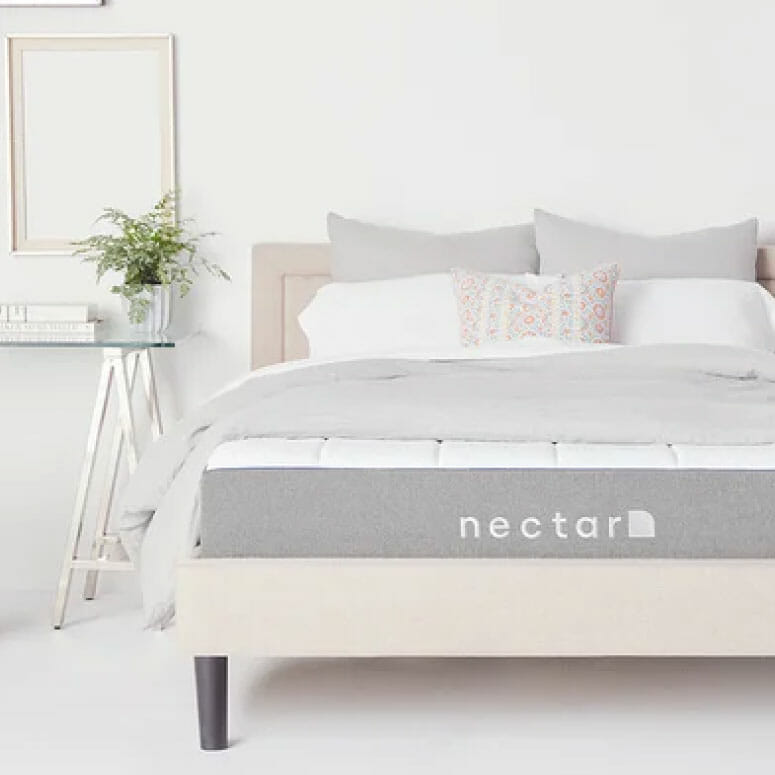 Nectar historically refers to the drink of the gods, and you may be convinced of the Nectar Memory Foam Mattress's divine qualities after sleeping on it. If you are like most sleepers considering an all-foam mattress for the first time, you may be skeptical. Give this back pain-relieving mattress a try with Nectar's 365-night sleep trial. Yep, Nectar is so confident that you will fall in love with this mattress that they give you a full year to sleep with it. At the end of the period, if you are not completely happy with your purchase, you can return it for a refund.
The top pad is made of quilted gel-infused memory foam combined with a cooling cover that keeps you from waking up drenched in sweat. A thicker layer of semi-open gel-infused memory foam sits directly underneath the top cover. Curious about the difference between open and closed cell memory foam? Closed-cell memory foam is one of the first types of memory foam ever created, but it was found to retain heat, making for uncomfortable nights. Open-cell memory foam allows heat to move from your body into and then out of the memory foam so that you don't overheat throughout the night.
The third layer in the Nectar Memory Foam Mattress is a supportive foam layer that provides much-needed rigidity. Finally, a supportive base layer of foam provides a foundation on which the rest of the layers sit. This high-density base layer features channels that allow airflow, so heat is not trapped. The bottom and sides of the mattress are wrapped in an attractive dark gray fabric that compliments any bedroom setup. Because this mattress is made entirely of memory foam, you can use any bed frame with it. Place it on a box spring for added height or skip the box spring entirely for a lower bed that's easier to get out of in the morning.
Stats
Size: Twin, Twin XL, Full, Queen, King, California King
Material: Memory foam
Warranty: Forever warranty
Avocado is a company founded on a dream of providing customers with an organic, comfortable, reasonably priced mattress. The founders pride themselves on the transparency of the materials they use, which is refreshing. Other companies require digging and background research to find the source of their materials. The company also manufactures a vegan option without wool for those who might lose sleep worrying about shivering sheep. This model, which is priced at around $1,400, does not include a pillow top, but you can one for another $400.
At just under a foot in profile, the standard version of this mattress is perfect for back and stomach sleepers who want to alleviate aches and pains. Under the incredibly breathable and soft 100% organic cotton covering, there is a 3-inch layer of GOLS organic certified latex rubber foam. Before you automatically dismiss this mattress, hear us out: Latex, when it's formed into foam, provides combined properties not found in other materials. Latex is body-hugging while simultaneously providing light resilience (bounce). These two properties combine to make a material that many back sleepers find incredibly comfortable.
More than 1,400 coils are located under the latex layer. The innerspring is arranged into five zones with different firmness levels so that each area of your body is optimally supported. Did we mention that this mattress is durable? It is tufted in 32 places, ensuring optimal durability. Tufting essentially makes three or four separate layers (however you decide to count it) into one combined layer.
Stats
Size: Twin, Twin XL, Full, Queen, King, California King
Material: Memory foam, innerspring
Warranty: 25-year warranty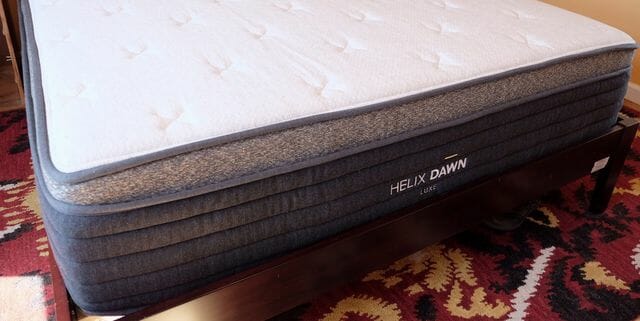 If you're looking for a company that makes custom mattresses to fit your specific needs, look no further than Helix. If you like control over the specifications of your products, you can pick the features that fit you best and have a custom-built mattress delivered to your house. If you don't want to spend time doing that, you can skip the hassle and take their sleep quiz to help you choose the perfect Helix mattress for you.
Now back to the Helix Dusk mattress, which is one of their most affordable options. This hybrid mattress has a medium firmness perfect for both stomach and back sleepers. It is covered by a soft and stretchy fabric that allows optimal airflow to keep you cool and comfortable throughout the night.
The Dusk mattress is topped by a layer of Helix's Dynamic Foam, which has a medium feel, conforms to your body, and relieves pressure points. The transition layer underneath the Dynamic Foam helps firm up the end feel of the first layer. 
Hundreds of individually wrapped coils cradle your body depending on the pressure exerted — because we know that specific areas of your body need extra support. The DuraDense base layer forms the foundation of the mattress. For the price, this mattress is a steal, and Helix offers a 100-night sleep trial. You can sleep easy knowing that you have over three months to decide if this mattress is right for you.
Stats
Size: Twin, Twin XL, Full, Queen, King, California King
Material: Memory foam, innerspring
Warranty: 10-year warranty
The Sealy Hybrid CopperChill Mattress is our number six pick for the best mattress for back sleepers because of the excellent price, comfort, and manufacturer's reputation. Sealy has been making mattresses for over 130 years. The company has sold millions of mattresses to sleepers all around the world, so we can safely say they know what they are doing when it comes to sleep.
The Chill Mattress is covered with Sealy's proprietary stretch-knit Phase Change Material, which helps draw heat away from the body, keeping a temperature-neutral environment. Three layers of foam comprise the Chill Mattress: For the first layer of memory foam, you can choose between a medium-soft "in the bed" feel and a firmer "on the bed" feel option.
You may consider the medium-soft option if you tend to alternate between sleeping on your back and another position throughout the night. If you sleep almost exclusively on your back, the firm option is the way to go. 
Stats
Size: Twin, Twin XL, Full, Queen, King, California King
Material: Memory foam
Warranty: 10-year warranty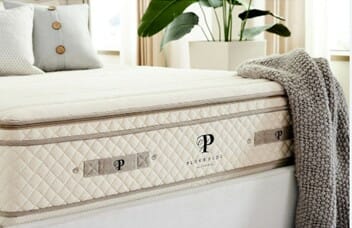 Like our fourth place mattress on this list, our seventh best mattress for back sleepers is also made of latex. This mattress stands out from the crowd by being certified by nine different agencies testifying to its purity. Less than one out of 100 beds can claim to be as clean and environmentally friendly as the Botanical Bliss Organic Latex Mattress. Heavy metals have become public talking points throughout the past few decades, but feel confident about sleeping on this mattress, which promises to be free of these substances.
Doctors specializing in lower back pain often recommend latex mattresses because of their ability to conform to and alleviate burdensome pressure points. With the Botanical Bliss Organic Latex Mattress, you can choose between 9-, 10-, and 12-inch models. One of the unique things about this mattress is that you can change the feel quickly without having to return your mattress for a new one. The 9-inch mattress is composed of three layers of Dunlap latex. In the medium-firm option — which is the most popular — the top layer is made of soft latex, followed by layers of medium and medium-firm latex. If you find that the mattress is not firm enough, swap out the soft layer for the medium or medium-firm layer.
The 10-inch version gives you three layers of 3-inch latex, and the 12-inch version features three 3-inch layers of latex and one 2-inch layer for a total of four layers of latex.
Stats
Size: Twin, Twin XL, Full, Queen, King, California King
Material: Latex
Warranty: 25-year warranty
If you haven't heard about Purple mattresses yet, prepare for your mind to be blown by a company that epitomizes innovation. Although this company has only been in operation for less than four years, the founders of the company have been making products with its patented technology for over two decades. Purple has dozens of patents on its unique cushioning technology, and the company continues to improve its products.
What truly makes Purple stand out from its competition is its Hyper-Elastic Polymer, which looks and feels a little like a mix between memory foam and rubber. This material is arranged in a collapsible grid pattern designed to give in to areas of increased pressure. What you get is an incredibly breathable top layer that optimally cushions your body. You can choose between a 3-inch option with a "weightless" feel and a 4-inch version that offers a "zero gravity" feel. The Hyper-Elastic Polymer layer also provides excellent motion isolation, so you can get into and out of bed without waking your partner (or your dog).
Underneath the Hyper-Elastic Polymer layer, an innerspring layer allows you to have that initial cloud sensation with the rebound bounce of an innerspring mattress. Customers who have purchased this mattress can't say enough good things about their buying and sleeping experiences. Reviewers also generally agree that this mattress gets rid of low back pain and provides a cooling, comfortable sleep. The one concern with this mattress is the edge support, which some customers say is lacking.
Stats
Size: Twin, Twin XL, Full, Queen, King, California King, Split King
Material: Hyper-elastic polymer, innerspring
Warranty: 10-year limited warranty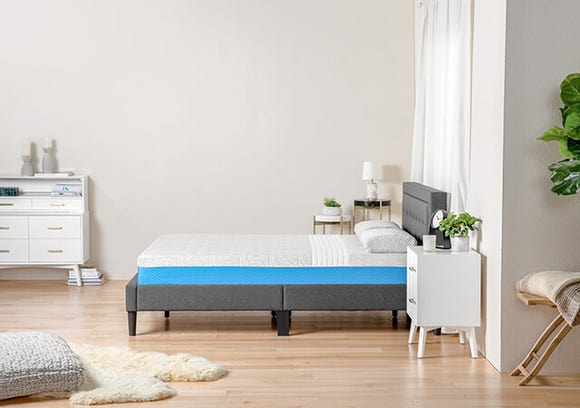 Our number nine pick for the best mattress for back sleepers, the Level Sleep Mattress has been shown to reduce back pain in clinical trials. Most other mattresses can't make this claim. Over 15 years of research went into making this mattress in collaboration with leading sleep medicine experts at respected universities. With the research and expertise behind the construction of this mattress, many practicing doctors in the field recommend it to their patients suffering from low back pain.
So what's so special about this mattress? The built-in three-zone support. Under the shoulder region of your body, the softer foam helps absorb weight from your head, neck, and shoulders. Firm foam under the low back area prevents unwanted lower back pain, and medium foam under the hip area provides support and a tiny bit of give to relieve pressure.
This mattress has a sleek and modern look with a light gray stretch knit cover. High-density foam provides a foundation for the three-zone support layer to rest. Overall, this mattress is 10 inches in profile. If you need a higher profile mattress, you can add a box spring underneath for extra height. You have a year to try out this mattress with a 365-night sleep trial.
Stats
Size: Twin, Twin XL, Full, Queen, King, California King
Material: Memory foam, foam
Warranty: Forever warranty
You might be haunted during the night if you pass up our tenth best mattress for back sleepers, the GhostBed Mattress. According to the company, the idea to name this bed the GhostBed "all started with a simple childhood fear of a ghost" under CEO Marc Werner's bed. It must have been a friendly ghost because the GhostBed strives to give sleepers a good night's sleep.
This mattress is very breathable and cooling with the viscose and polyester blend cover and 1.5 inches of aerated latex. The 2-inch gel memory foam layer allows some conformability without being too soft. GhostBed's unique blend of gel memory foam is created with more significantly sized memory foam cells for increased heat dissipation.
All of these layers sit on a 7.5-inch layer of high-density foam that is firm enough to support your body without being too hard. GhostBed also provides a 20-year warranty to cover excessive sinking. This bed is rated as a 6.5 on the firmness scale (with 10 being the most firm). This mattress is firm enough to provide adequate support for back sleepers, but with enough give in the shoulder and hip regions.
Stats
Size: Twin, Twin XL, Full, Queen, King, California King
Material: Memory foam, foam
Warranty: 20-year warranty
---
Conclusion
Don't let the hassle of comparing and contrasting hundreds of mattresses deter you from a pain-free morning. OnlineMattressReview.com has already done all the heavy work for you. If you are a back sleeper or would like to become one, we are excited for you to check out our selections. Admittingly, back sleepers are rare, but if you have been advised to try it out, here are a few more tips.
additional resources: