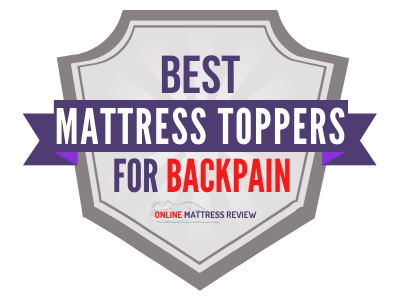 Low back pain is one of the most common concerns people bring to their primary care physicians. Sometimes back pain is not caused by lifestyle factors, but making changes such as losing weight or buying a quality mattress may resolve the problem.
Mattresses can be expensive, which is why a mattress topper may be a better solution to your low back troubles.
Typically composed of memory foam or latex, these toppers can alter the feel and support of your existing mattress and align your spine throughout the night. But researching mattress toppers is also time-consuming and uncomfortable, especially with your back pain. We created this review for you, to take time and effort out of this uncomfortable task.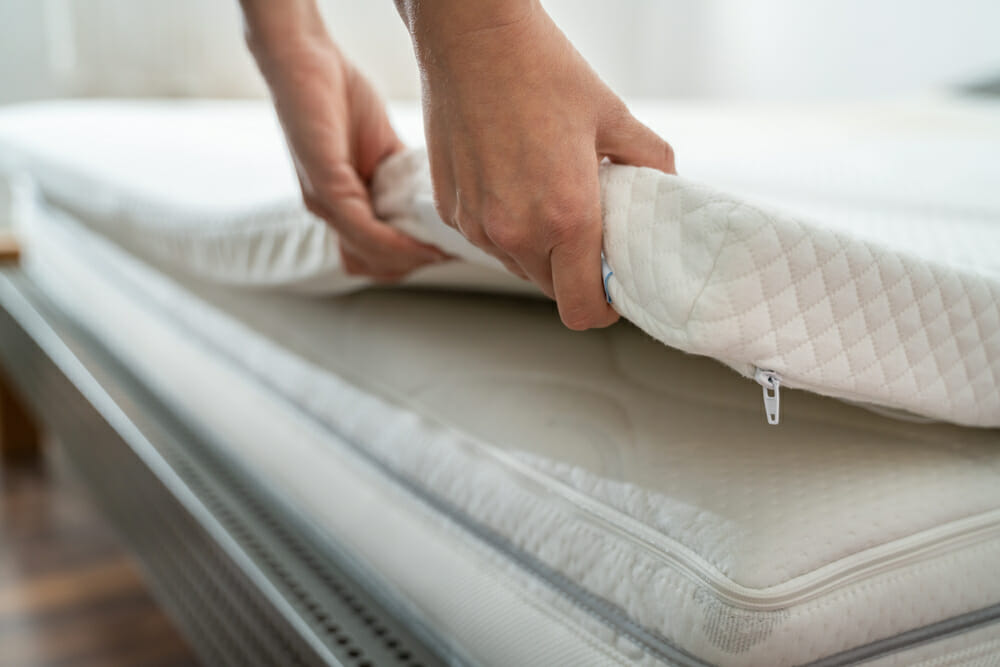 ---
Below, we list the top 10 best mattress toppers for back pain. Pick one and start experiencing life without lumbago (pain in the muscles and joints of the lower back)!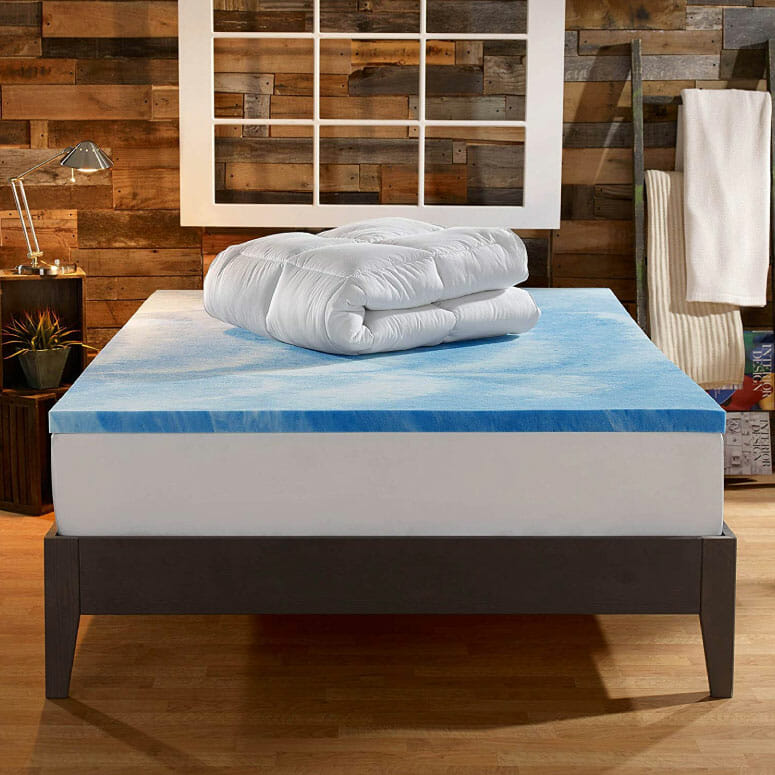 If the thought of drifting to sleep lying on a cloud sounds appealing, you should buy the Sleep Innovations Gel Memory Foam 4-Inch Dual Layer mattress topper. And let's be honest, who wouldn't find that appealing? This mattress topper combines the best of fluffy fiberfill with the comfort of memory foam, which is why it tops our list of the best mattress toppers for back pain.
Whether you are a side, back, or stomach sleeper, this mattress topper will give you pain-free sleep. This topper is constructed of 2 inches of gel memory foam. Unlike regular memory foam, the gel memory foam in this topper helps pull heat away from you, so you don't wake up hot and drenched in sweat. The 2 inches of quilted memory foam combined with the 2-inch layer of fiberfill provide an airy cushion for your back before it reaches the body-conforming memory foam layer.
If you're like many people, you hate waking in the middle of the night and finding that your bedding has shifted off the mattress. Shifting won't happen with the Sleep Innovations mattress topper, as all of the layers are wrapped in a cotton cover to hold them together. Washing the cover is quick and easy, since it doesn't need dry cleaning or other special considerations. Combine all of these features with a 10-year warranty, and you can see for yourself why this topper is our number one pick!
Strengths We Love:
This actually works in significantly decreasing, if not eliminating, the symptoms of back pain caused by sleeping on an uncomfortable bed! Most customers say that they immediately noticed the difference after a couple of nights on it. The combination of gel memory foam for support and soft quilted cover with plush fiber fill for comfort is genius.
The topper is designed to fit over a mattress like a fitted sheet. There's no risk of it slipping and sliding every which way, which means less hassle in fixing it.
This is so easy to clean since it's a removable and washable topper. Be sure to follow washing instructions to preserve its materials.
There's less risk of sleeping hot, too, which is a bonus for people in tropical areas. This contributes to better sleep during the night and a better feeling in the morning.
The hypoallergenic, non-toxic and CertiPUR-US certified materials are the assurance we need that it's a safe topper. Safety should always be a first priority since nobody wants prolonged exposure to toxic materials, and in their sleep, too!
Things to Consider:
This will take at least 48 hours to reach its fullest loft.
A few customers say that it tends to run hot but it's apparently more of an individual preference instead of a general consensus.
OMR Advantage Score: 9.5/10
---
If you have a relatively comfortable mattress already and just want to add a snow-down alternative fill top layer for a little more body conformability, the Leisure Town Mattress Topper will do the trick. Leisure Town is known for making great products, and this mattress topper definitely won't disappoint. This company only uses the highest quality fill.
With its HNN Cooling Technology, it provides a comfy and cushy feel without making you feel overheated and sweaty. the quilted seaming lends to its softness and support. This Leisure Twon Mattress Topper has state of the art fiberfill that is likened to duck and goose down. It also protects your mattress from staining.
In addition, this mattress topper has deep pocket seams to fit up to a 21-inch thick mattress. Leisure Town suggests that you let it spread out for a few days before use so it will return to its glory after being sent to you vacuum-packed. It is machine washable.
Strengths We Love:
The scalloped design gives it a cloud-like surface, which adds an interesting facet to a typical bed. You may even imagine that you're sleeping on clouds, if it makes you fall asleep faster and better.
The topper's 300-thread count, 100% cotton cover feels plush and luxe to the touch, while also being sturdy against friction from human skin. This material is also quite excellent in wicking heat, moisture and sweat away from the filling.
The snow down filling provides a similar sleeping experience as genuine goose and duck down. Plus, it doesn't have feathers so there's no risk of being poked or pierced by a wayward feather.
The topper adds more comfort and support to mattresses that may be too firm or too soft, or perhaps with a few sagging areas. Think of it as a temporary solution to a mattress issue, if you will.
This is so easy to clean but speed is the key! Since it's a thick topper, it can withstand a liquid spill of less than 200ml for as long as it's wiped off immediately. Otherwise, it makes sense to wash it in your typical washing machine.
Getting it back to its original fluffiness after use is easy – just dry it in the sun for a few hours.
Things to Consider:
Washing, drying and spread it before use is strongly recommended.
It may run slightly hot for a few people.
OMR Advantage Score: 9/10
---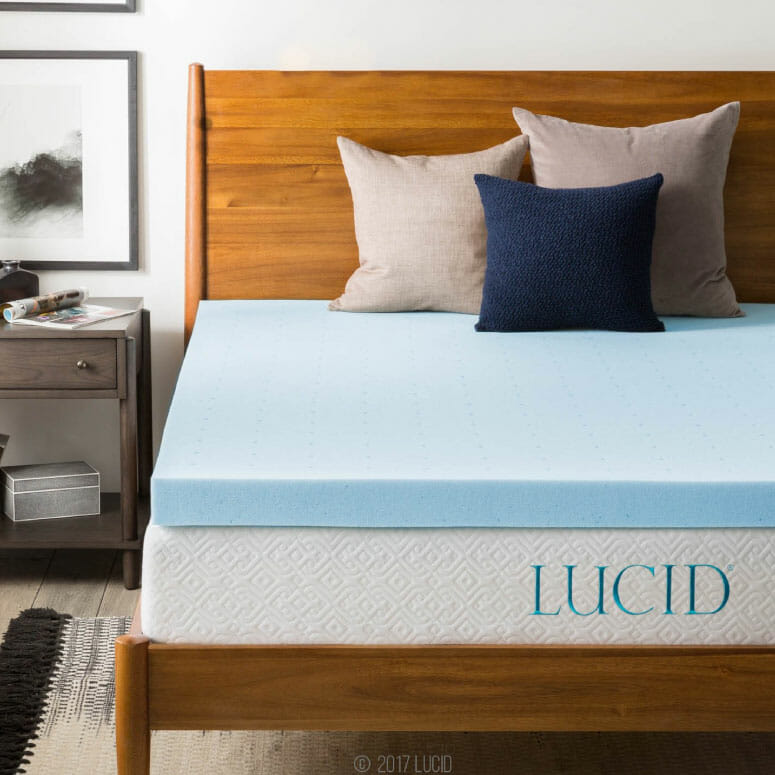 Hot sleepers suffering from back pain will rejoice at our third best mattress topper for back pain, the Lucid 3-Inch Gel Memory Foam Mattress Topper. This topper combines two great features to help keep you cool throughout the night: Gel-infused memory foam excels compared to traditional memory foam in pulling heat away from the body, and the holes punctured throughout allow air to circulate naturally.
Are you looking for a memory foam mattress topper that will wick away sweat during the night? If so, this mattress topper is available in a bamboo charcoal option. You can also choose a lavender-infused version that will have you drifting off to sleep before you even realize it. If 3 inches seems like it would make your mattress feel too soft, choose the 2-inch option for a firmer feel.
The manufacturer does warn that this mattress topper has significant off-gassing and should be aired out for 48 hours before use. It is composed of 1.9-pound density memory foam. You can feel confident in this reasonably priced mattress topper, because Lucid offers a three-year warranty. Unfortunately, there is no sleep trial period, but if you buy from Amazon, they are pretty good about refunding unsatisfied customers.
Strengths We Love:
The topper adds a soft layer of comfort to complement the support that comes with a firm to medium firm mattress. The increased comfort contributes to better pressure relief at the knees, hips and shoulders. This means more restful sleep and a recharged feeling upon waking up.
There's less risk of the topper running hot since it's made with plush gel memory foam. Plus, its ventilated design results in better airflow through the mattress so there's less heat buildup.
Things to Consider:
There may be slight off-gassing, which should resolve on its own after a 48-hour ventilation.
OMR Advantage Score: 8/10
---
HONORABLE MENTIONS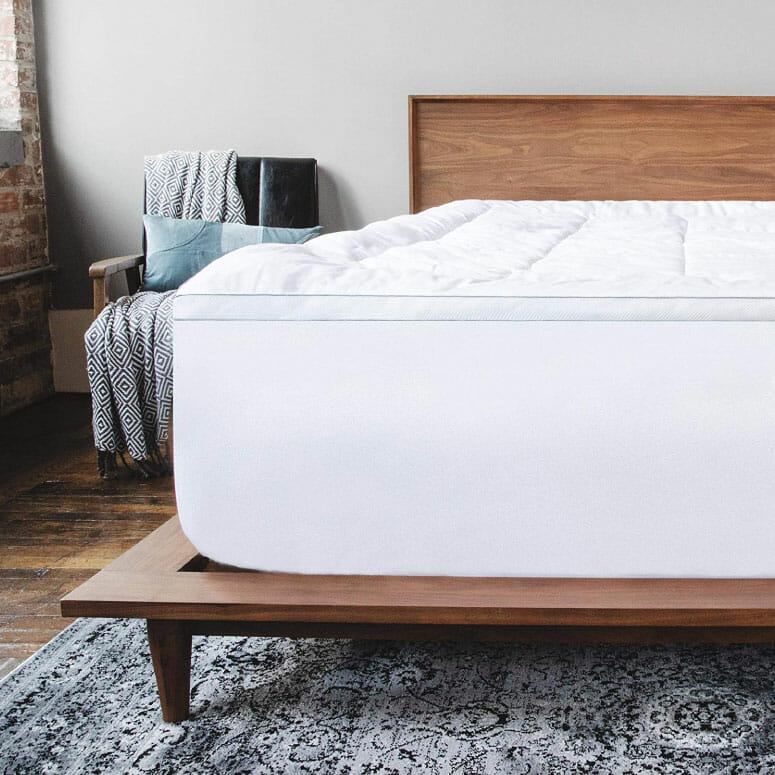 Revitalize an old hard mattress with a 4-inch pillow top memory foam mattress topper from ViscoSoft. Hard surfaces can place unnecessary pressure on your back, leading you to wake up with back aches and pains. This 4-inch mattress topper can be an inexpensive alternative to relieve your back pain. Mattresses are a large investment that you may not want to make right now but, this mattress topper can extend the life and comfort of your mattress for years.
With this mattress topper, you will receive 2.5 inches of gel-infused memory foam covered by 1.5 inches of down alternative to cradle your aching back. That's a lot of padding and comfort in one product. The cover can be removed for washing and has straps on each of the corners to secure the underlying memory foam. The combination of the pillow top cover and the gel-infused memory foam will help keep you sweat-free, even throughout the summer months.
If you are still using an old innerspring mattress, add this mattress topper and you won't have to worry about waking your partner every time you get in and out of bed. The memory foam and pillow top combination is excellent at eliminating motion transfer. Additionally, these foams are made in the U.S., which means they can be produced at a guaranteed quality for a lower price.
---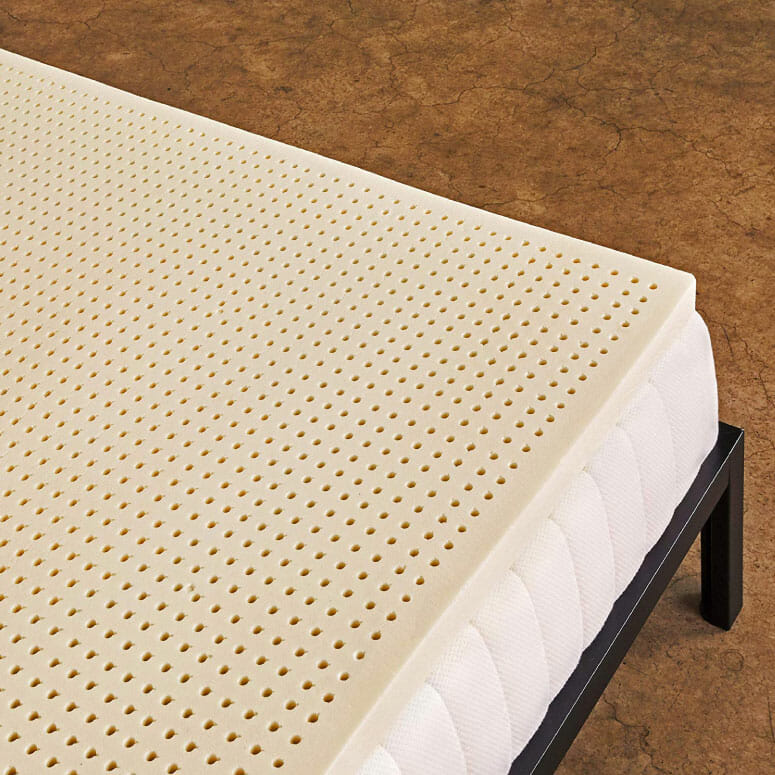 So far, we have only covered ways to soften up a mattress that feels too firm, but what if your mattress feels too soft and is causing your back pain? This is where latex comes in to save the day. Latex is harder than memory foam and retains the ability to hug the body. Since latex is made of a tree extract, it is exceptionally eco-friendly. If you are looking for a mattress topper that was produced sustainably, you've found it in the Pure Green 100% Natural Latex Mattress Topper.
You won't find any synthetic latex in this mattress topper. All latex used is sourced overseas, where most of the latex in the world is produced. You'll likely have to purchase another mattress before you need to buy another mattress topper, because the Pure Green topper is durable. The latex scored a 99/100 in LGA physical properties testing, which measures the durability and strength of materials.
If you are looking for a medium-firm mattress topper, you can't go wrong with the Pure Green. However, if you need a softer or firmer feeling latex, this company also produces other toppers of varying firmness. We almost forgot to mention that these toppers are incredibly breathable due to the rows of holes punctured throughout the entire mattress. When open cell latex is combined with punctures throughout the topper, you get a sleeping surface that is comfortable, even in hot and humid weather.
---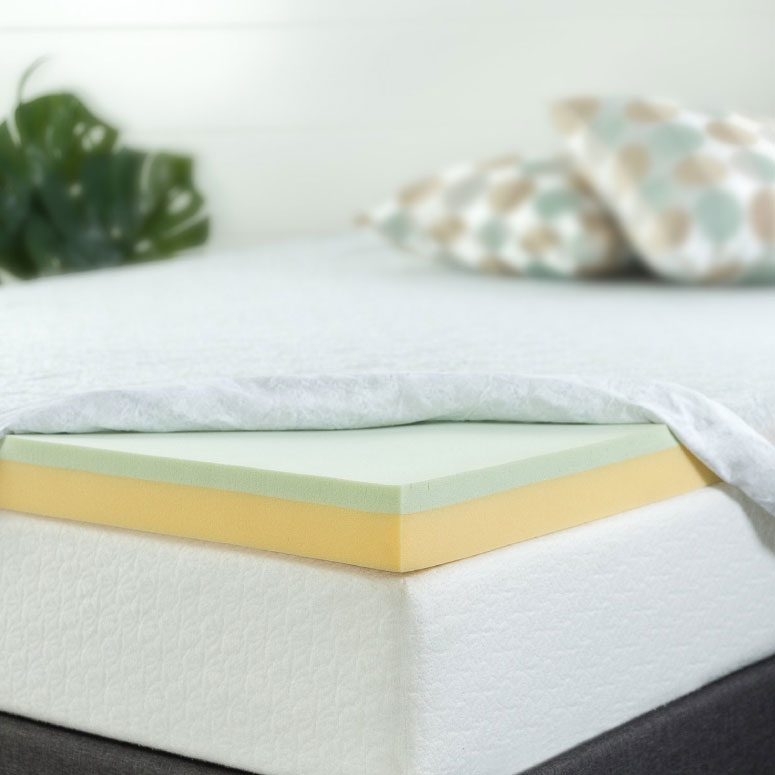 If you're asking yourself if green tea is actually infused into the Zinus Green Tea Memory Foam Mattress Topper, the answer is yes. As strange as it may sound, let me explain the benefits of green tea infusion. It comes down to product freshness: Instead of infusing this mattress topper with petroleum-based oils to keep it fresh, Zinus uses the natural antioxidant properties of green tea. Another less obvious infusion of this mattress topper is charcoal, which helps wick away moisture.
This mattress topper does not come with a cover, because it can fit under any standard or deep-pocketed fitted sheets. This means you don't have to worry about washing an additional item when you clean your bedding.
Although Zinus uses mostly plant-based oils to keep their mattress toppers fresh, they recommend letting your new mattress topper air out for 48 hours before use. Currently, when you purchase any product from the Zinus website, you can try it out risk-free with a 100-night sleep trial. And if you decide to keep the topper, they stand behind their products with a five-year warranty.
---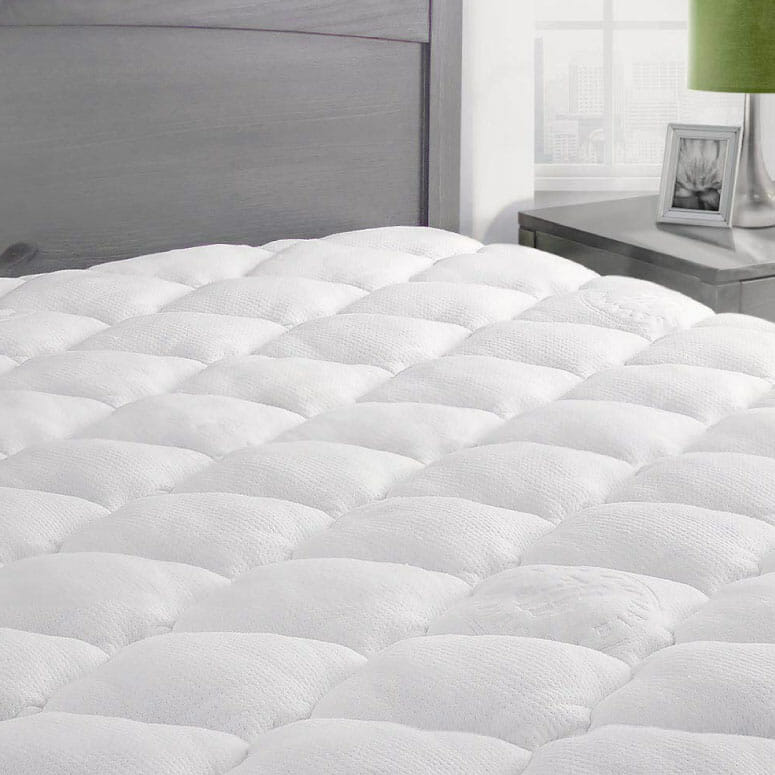 Choose the ExceptionalSheets Rayon From Bamboo Mattress Pad if you want to skip the memory foam and latex, but add a layer of cushion between you and your mattress. Individuals suffering from allergies may also want to consider this mattress pad because all the materials used in its construction are hypoallergenic. Plus, this mattress pad fits any mattress 18 inches deep or less (which is most mattresses).
An extremely comfortable bamboo cover encloses the fill material. Bamboo? Soft? Yep, using rayon, a process that uses the pulp of the plant in the manufacturing of the product, ExceptionalSheets is able to create an ultra-soft, durable, and breathable material, perfect for mattress pad covers.
The bamboo cover is filled with Revoloft, a fiberfill that feels like down without those annoying poking feathers. Because of its breathability and soft down feel, this mattress cover is the perfect addition to a memory foam or latex mattress. 
So, how well does bamboo keep you cool? Bamboo moves heat away from the body 1.5 times better than polyester. That's pretty impressive. According to ExceptionalSheets, their mattress pads relieve over 50% of pressure on specific areas of the body compared to a mattress without a mattress pad. The company is so sure you will love their mattress pad, they offer a 100% satisfaction guarantee.
---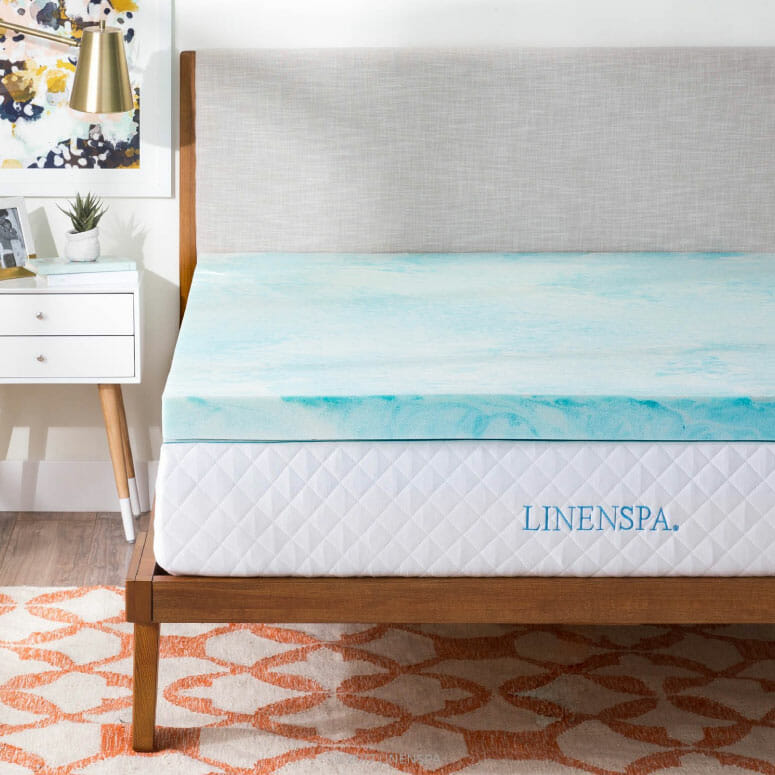 Are you trying to figure out if you should buy a memory foam mattress topper that is open cell or closed cell? Choose an open cell, especially if you tend to become hot while you sleep, since open-cell memory foam is more breathable and less dense than closed cell. The Linenspa Gel Swirl Memory Foam Topper comes in at our number eight best mattress topper for back pain because of its open-cell memory foam, ventilation, and gel swirls. With all three of these features combined, so you won't overheat.
You can choose either a 2-inch or 3-inch version, depending on your mattress needs. This mattress topper is made from 100% polyurethane memory foam gel beads with a swirl design reminiscent of the ocean. This memory foam cradles your spine and relieves back pain caused by pressure points. While the memory foam is soft enough to relieve pressure, it provides enough firmness so that turning over or changing sleeping positions doesn't feel like an Olympic event.
The memory foam used by Linenspa is high quality and certified by CertiPUR-US, which means that it's safe for humans and free of harmful chemicals. Customers rave about the comfort and durability of this mattress topper. Even better, customers who have had issues with their product can't stop praising Linenspa for their excellent customer service. It feels good to do business with companies that care about their products and customers.
---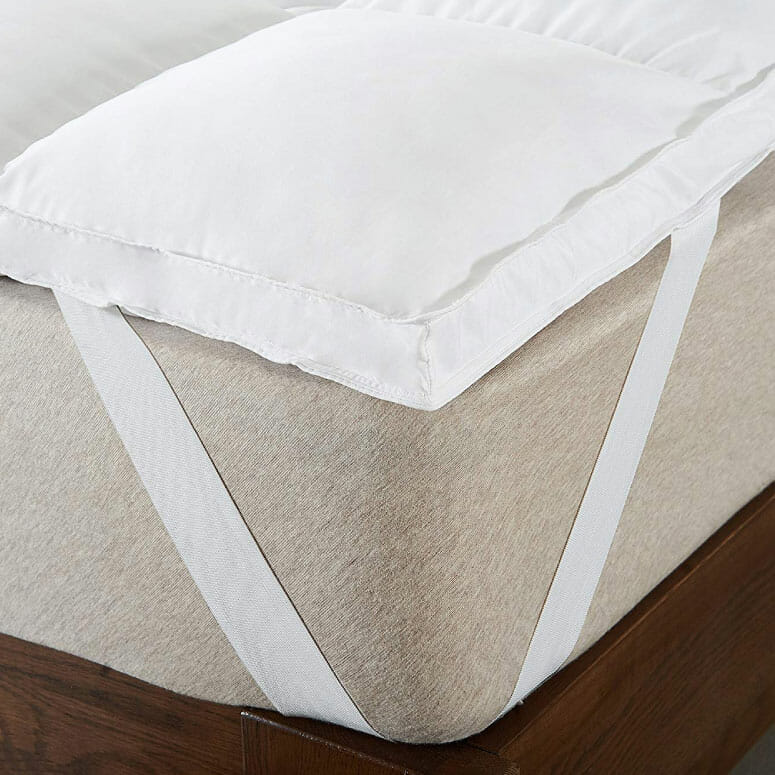 You may feel cheerful after sleeping on this mattress topper. The Cheer Collection Extra Plush Luxurious Down Alternative Mattress Topper is durable, breathable, lightweight, and comfortable. What more could you ask for? Whether you are giving your old mattress a second breath of life or just looking to relieve pressure points that are giving you back pain, this mattress topper is a top contender. If you've ever stayed in a luxury hotel and slept in a bed that allowed you to wake up feeling refreshed, you know what this mattress topper will feel like on your mattress.
Since this topper is composed of both a microfiber cover and microfiber filling, it is light and airy. The fluffiness of microfiber cushions your body and absorbs your curves, keeping your spine in a neutral alignment and your back free of pain. If you are allergic to down, you will have no problem with this topper's hypoallergenic microfiber fill. Unlike some other microfiber-filled products, this one will not lose its shape after washing thanks to its box construction.
The anchor bands on the four corners of this topper ensure that it stays on your mattress throughout the most turbulent of nights. And the light microfiber fill makes this topper perfect for all seasons. Customers confirm that this product stands the test of time and doesn't break down after multiple machine washings. Some reviewers even comment that adding this topper to their memory foam mattress has given them the best sleep of their lives.
---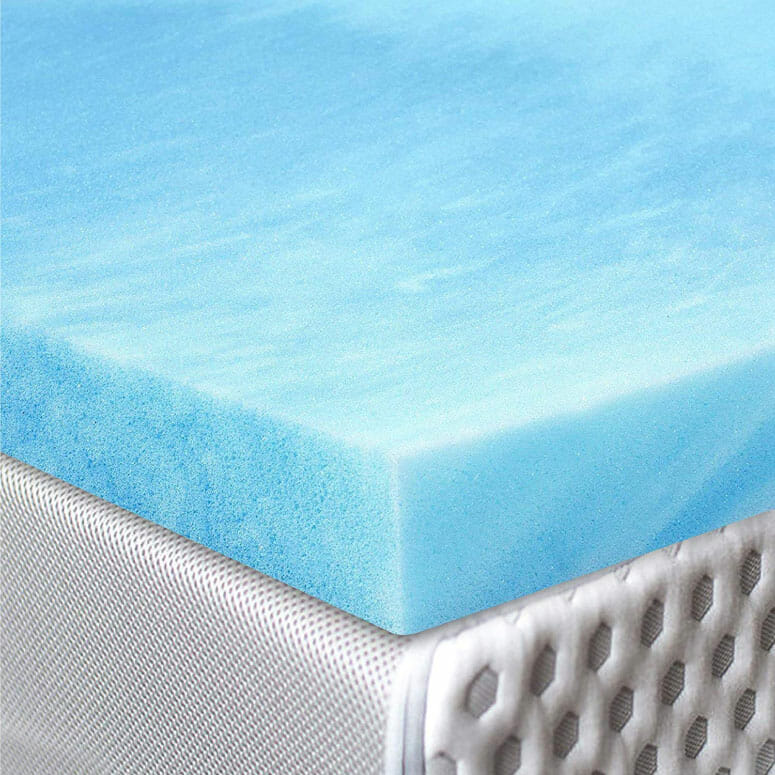 Closing out our list of the best mattress toppers for back pain is the Red Nomad Foam Mattress Pad Bed Topper. The Red Nomad mattress topper is made from high-quality visco-elastic memory foam that will ease any back pain and discomfort caused by your mattress.
Red Nomad uses a unique polymer design in their memory foam called Coolflow Technology, which allows for 95% more airflow than closed cell memory foam. Heat is dissipated and moisture is wicked away three times better than other types of foam. Every Red Nomad foam mattress pad carries a CertiPUR-US certification, ensuring that there are no harmful chemicals. Red Nomad mattress toppers are also made entirely in the U.S.
Interestingly, Red Nomad makes each of their mattress toppers an inch short on all sides so that there is no need to purchase special sheets. If you're skeptical about this mattress topper, customers who have already purchased it urge you not to be. These toppers are very comfortable and keep you reasonably cool. If you are an extremely hot sleeper, you may want to consider our number eight pick, the Linenspa gel memory foam mattress topper.
---
conclusion
If you are not quite ready to buy a new mattress, often a quality mattress topper is the answer, and especially if you are battling back and hip pain. A renewed softness to your sleep surface can take some pressure off of those critical points that cause you pain. When we sleep, we are supposed to wake up feeling refreshed and renewed for the day… not the opposite. Consider a new mattress topper today!
additional resources: