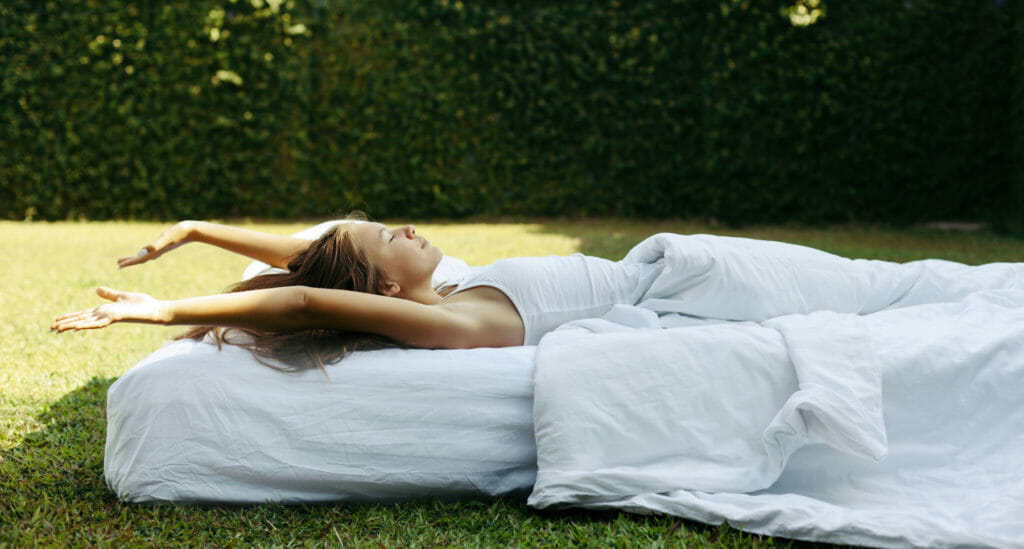 Can you imagine getting into a bed without sheets to buffer your body from your mattress? Whether you sleep under a top sheet or just on a fitted sheet, sheets are part of what makes our beds comfortable, along with our mattresses. Cotton is the perfect fabric for sheets because it is soft, durable, and breathable.
When picking out the best cotton sheets, there are many factors to take into account, including the length of the cotton fibers, thread count, colors, and whether or not the cotton is grown organically. Long-fibered (or long staple) cotton enhances these properties, giving you a more restful night's sleep. Cotton bedding can be purchased in a variety of thread counts. A higher thread count is not always the best choice though, especially if you want more breathability to keep you cool during the night. Additionally, if you are worried about exposure to potentially harmful chemicals, pick an organic cotton sheet.
As you can see, selecting quality cotton sheets is an involved process, and it takes time to compare many different products. We don't expect you to have that kind of time, so we did it for you. Check out our list of the top 10 best cotton sheets on the market.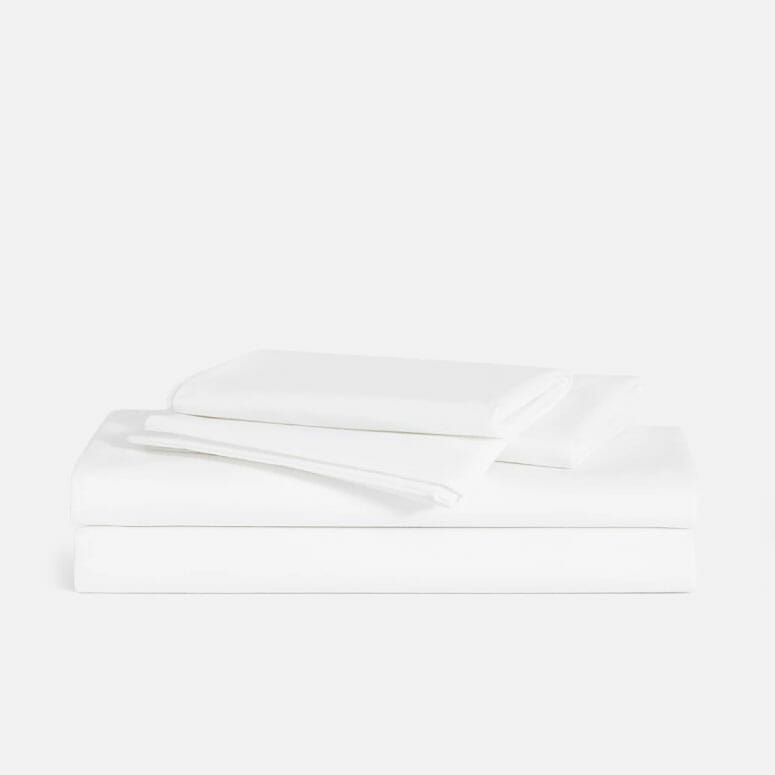 Cruising into our number one spot for the best cotton sheets is the Luxe Core Sheet Set. If you are looking for quality cotton sheets made by a company that backs their products with a lifetime warranty, search no further than these sheets. Rich and Viki, the cofounders of Brooklinen, developed the company to provide quality, responsibly produced products at an affordable price. It's safe to say that these ideals appeal to many consumers, so keep reading to see what these sheets genuinely have to offer.
The Luxe Core Sheet Set has a sateen finish, which is designed to feel velvety like satin with a slightly glossy sheen. If you're saying to yourself, "It's the thread count that matters," you won't be disappointed with the 480 thread count packed into every inch of these sheets. This thread count gives the sheets a medium-weight feel. Deck out your bed with this set, which includes one flat sheet, one fitted sheet, and two pillowcases.
How frustrating is it when you try to put a fitted sheet on your mattress only to find that you placed the long end on the short end of the bed? You won't have to experience this frustration again because Brooklinen designed these sheets with tags to identify the short and long ends. It's simple, but this company is one of the few that actually implements this useful practice.
Stats
Price: $149.00 (Queen)
Size: Queen, King, California King
Colors: White, Cream, Steel, Graphite, Smoke Stripe, Window Pane, Glacier, Graphite Grid, Rosé, Lilac, Mojito, Graphite, and Steel Oxford Stripe
Warranty: Lifetime warranty
---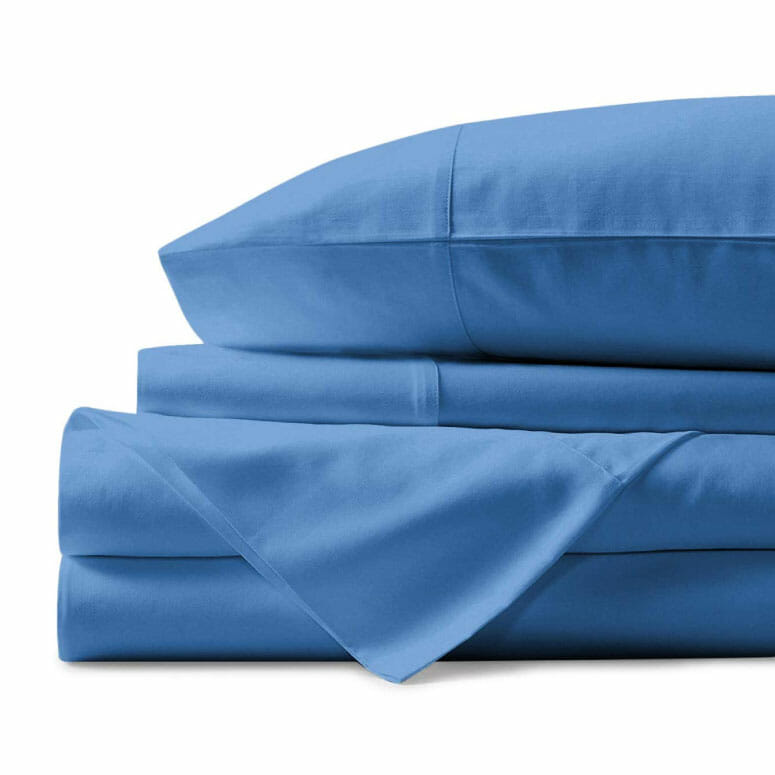 If you like getting into bed and feeling dense, soft, high-quality sheets against your body while you sleep, choose the Mayfair Linen 100% Egyptian Cotton Sheets. There is something incredibly soothing and relaxing about crawling into bed after a hard day of work and feeling cool thick sheets with enough weight to impart a feeling of security. These sheets may not be ideal for sweltering and humid weather, but they are the perfect bed companion for crisp or even moderate temperatures.
Made with some of the best Egyptian cotton on the market, woven into a 600 thread count, this set of sheets is dense. What's so great about Egyptian cotton, you ask? It's considered one of the best varieties of cotton on the market because of the length, strength, and softness of the fibers. These sheets are individually tailored and inspected to ensure only the best sheets, free from defects reach your bedroom.
They are designed to be anti-pilling and fade-resistant, allowing these sheets to be a part of your bed for many nights. Pilling is a common problem with low-quality products. Those tiny balls of thread that form rough areas on bedding and other types of fabric are called pilling and typically affect fabrics that do not use long-staple fibers. The soft long-staple cotton used in these fitted sheets can fit up to a 18-inch deep mattress. Unfortunately, these sheets are only available in full, queen, or king-sized. Those with California king beds will have to keep reading to find the best cotton sheets for their mattress.
Stats
Price: $50.99 (Queen)
Size: Queen, Full, King
Colors: White, Black, Taupe, Ivory, Sky Blue, Lilac, Red, Burgundy, Plume, Teal, Navy Blue, Silver, Sand, Deep Blue, Blush, Royal Blue, Sage Green, Dark Gray, Dark Gray Stripes, Silver Stripes, White Stripes
Warranty: 100% satisfaction guarantee, 30-day return policy
---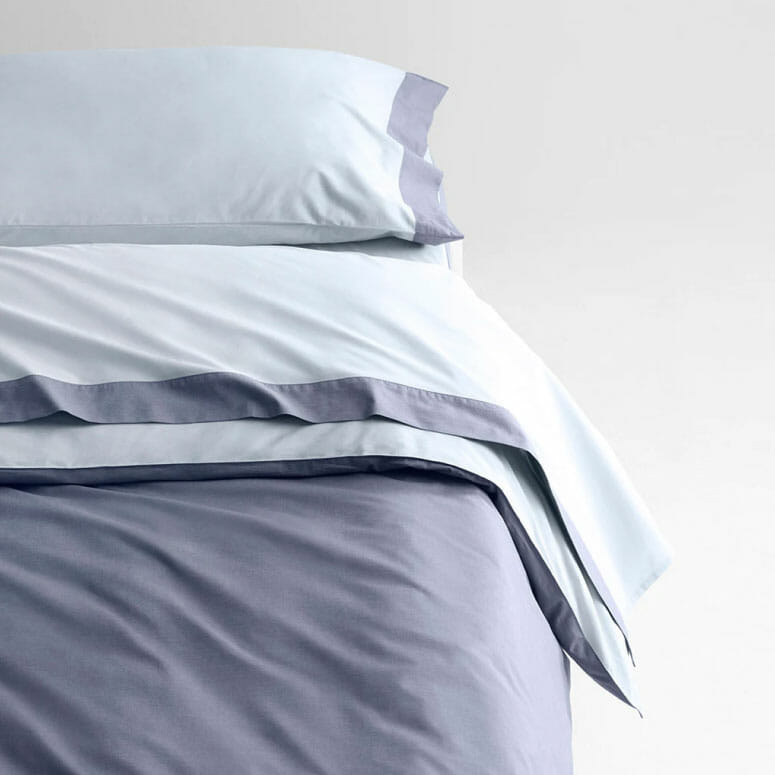 If you live in a hot climate or tend to wake up hot during the night, you need breathable sheets. However, sheets that are advertised as "breathable" are often cheaply made and poor quality. The good news is that Casper, the creator of Hyperlite sheets, created a breathable cotton sheet that stands the test of time. Although the name of the company may make you think of ghosts, you'll get a restful, uninterrupted night's sleep with this sheet set. If you don't believe us, keep reading and let us convince you!
These sheets sport an incredibly breathable and cooling 200 thread count, and you can expect a percale weave, which is often found in pillowcases. Additionally, if you are looking for a duvet cover to match these sheets and give your bed a clean, uniform look, you can purchase a matching duvet cover for an extra $119. The duvet cover is made similarly to the sheets, with a soft, breathable feel not often found in other duvets.  
Stats
Price: $119.00 (Queen)
Size: Twin, Twin XL, Full, Queen, King, California King
Colors: White, Cream, Blush, Gray, Azure, Slate, Pine, Emerald, Gold, Navy, Sky/Azure, Navy/Azure, White/Slate, Gray/Slate
Warranty: 100-night sleep trial
---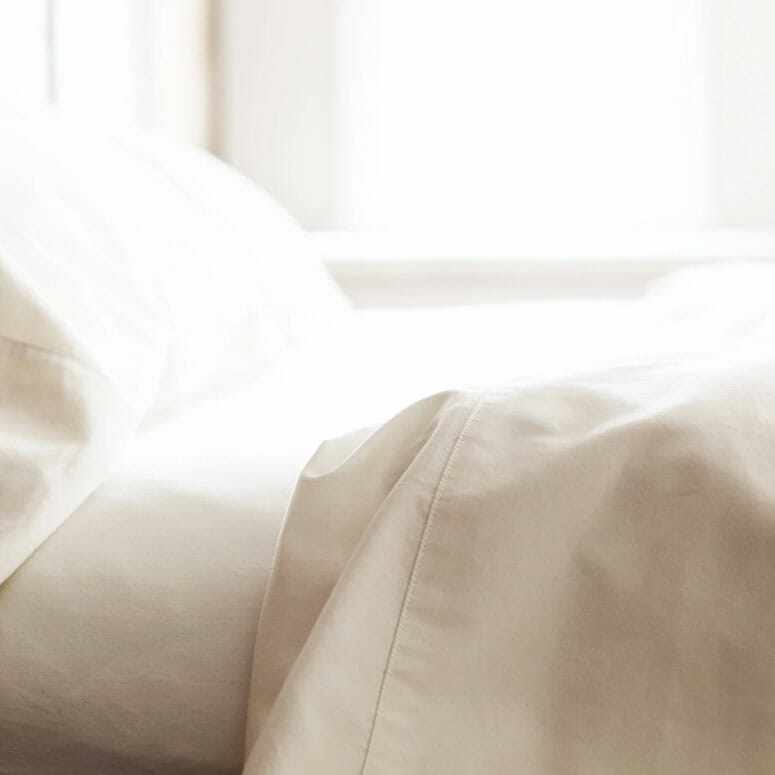 Sometimes it costs a little extra to own the best. While our fourth best cotton sheet set comes in at a considerable $240, you can be sure that you are getting one of the best sheet sets on the market. Boll & Branch, the maker of this sheet set, is a company founded on the mission of traceable supply chains direct to you, the consumer, at a competitive price. We find it refreshing that a company wants to deliver a quality, sustainable, and traceable product while still keeping the bottom line in mind.
When you purchase the Boll & Branch Solid Hemmed Sheet Set, you support a company that cares about and utilizes small textile and cotton suppliers. The cotton used to make these sheets is long-staple and Fair Trade Certified, meaning that the people who grow and harvest it receive proper compensation for their labor. Sometimes, doing the right thing is as easy as choosing to purchase products from responsible manufacturers.
A 300 thread count gives you breathable and lightweight sheets. You have your pick between seven modern, relaxing colors to complement your comforter. And don't worry about the sheets fitting your mattress: They fit most mattresses with a 17-inch deep pocket. This set comes with one fitted sheet, one flat sheet, and two pillowcases. However, the twin and twin XL sizes come with one pillowcase.
Stats
Price: $240.00 (Queen)
Size: Twin, Twin XL, Full, Queen, King, California King, Split King
Colors: White, Ivory, Natural, Dune, Shore, Pewter, Stone
Warranty: 100-day sleep trial
---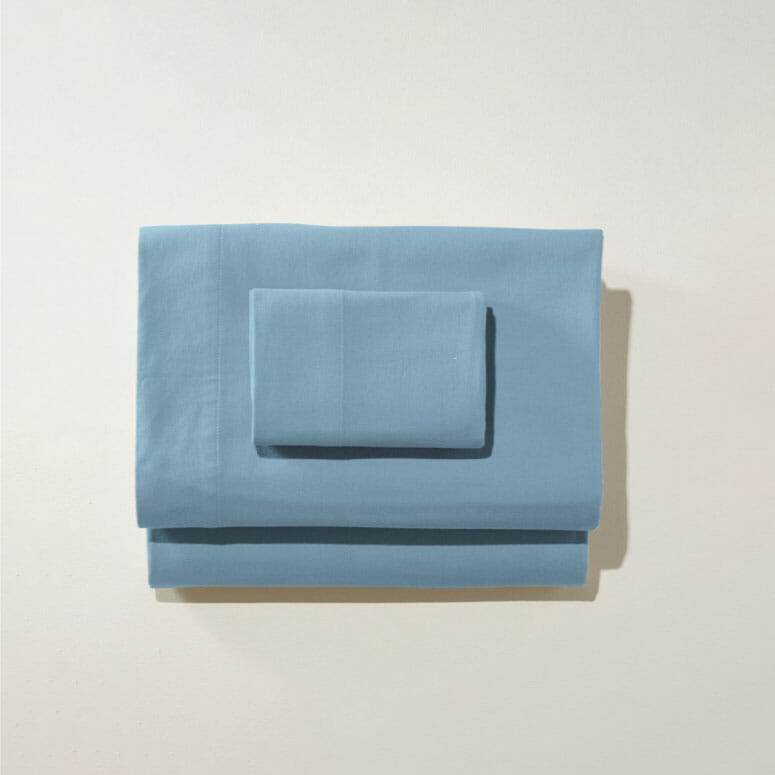 You can find the comfortable, unique feel of flannel in the Ultrasoft Comfort Flannel Sheet Set by L.L.Bean. If you think that a company headquartered in Maine who started out by making outdoor gear would be great at manufacturing warm flannel, you would be right. The beauty of these flannel sheets is that they are lightweight and can be used year-round. Weighing 5 ounces, these sheets help keep you warm on chilly nights and cool during warmer nights.
If you already knew that Portugal is one of the leading manufacturers of flannel, it comes as no surprise that these sheets are made in Portugal specifically for L.L.Bean. Flannel is a great choice for sheets because the more you wash it, the softer it gets. Some of the disadvantages of flannel include wrinkling and pilling. L.L.Bean made these sheets to be resistant to wrinkles, pilling, and fading. The only thing you have to worry about is whether you should purchase these sheets for your spare room as well as your bedroom.
If you know anything about flannel, you know that unlike other fabrics, flannel should be brushed to give it that ultra-soft feel. L.L.Bean double brushes their flannel in the factory for silky smooth flannel comfort. If you don't have much experience with flannel, we feel compelled to warn you that during the first machine drying of these sheets, there will be a significant amount of lint buildup. It's normal for this type of cloth, and the amount of lint will decrease with subsequent washing and drying.
Stats
Price: $119.00 (Queen)
Size: Twin, Full, Queen, King,
Colors: Bay Blue, Heather Gray, Mineral Green, Driftwood, Natural, White, Sunlight, Mariner Blue
Warranty: 1-year 100% satisfaction guarantee
---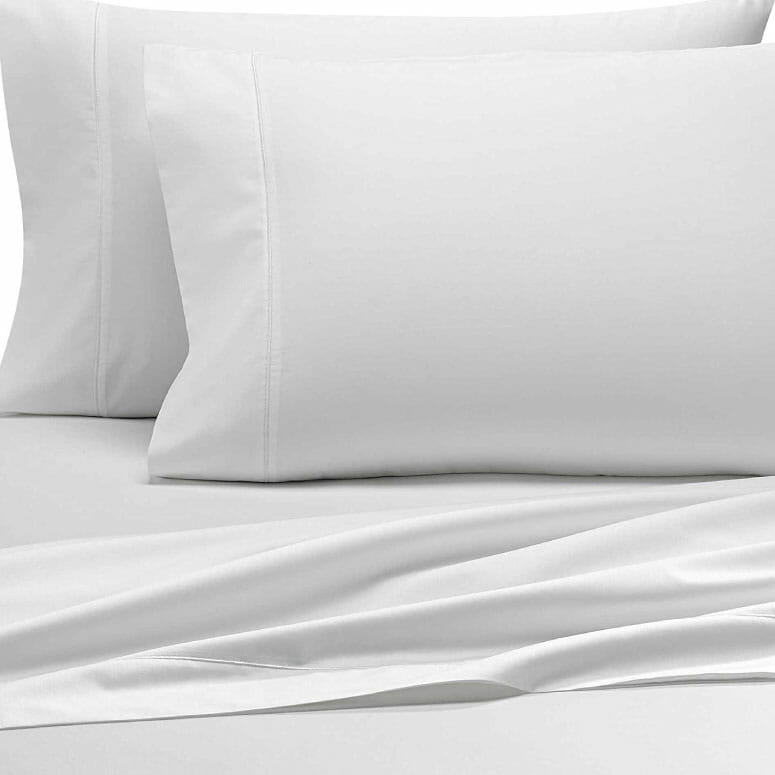 Living in a region with multiple seasons can make picking bedding a complicated and stressful process. If you purchase lightweight sheets, you may be too cold when winter comes around, and if you choose heavy bedding, you're going to wake up soaked in sweat during the summer. If you have faced this problem in the past, you should consider our sixth best cotton sheet set, the Wamsutta 500-Thread-Count PimaCott Sheet Set. The 500 thread count gives these sheets a mid-weight feel, granting you the best of both light and heavy weight sheets.
We have already discussed Supima cotton and Egyptian cotton, but what about Pima cotton? Pima cotton, like Supima and Egyptian, is made from long-staple cotton derived from the Gossypium barbadense cotton plant. Only about 10% of all the cotton comes from this species, and it is considered to be the highest quality cotton available. Similar to Supima cotton, the Pima cotton used in these sheets is grown in California.
For those of you that have a mattress over 17 inches deep, this sheet set is the only one so far that can fit up to an 18-inch mattress. The twin and twin XL sized sets only come with one pillowcase, but all of the larger sizes come with two.
Stats
Price: $79.99 (Queen)
Size: Twin, Twin XL, Twin XXL, Full, Queen, Queen XL, King, California King, Dual Queen
Colors: Aqua, Black, Gray, Honey, Ivory, Light Blue, Navy, Purple, Silver, Taupe, White
Warranty: 30-day return policy
---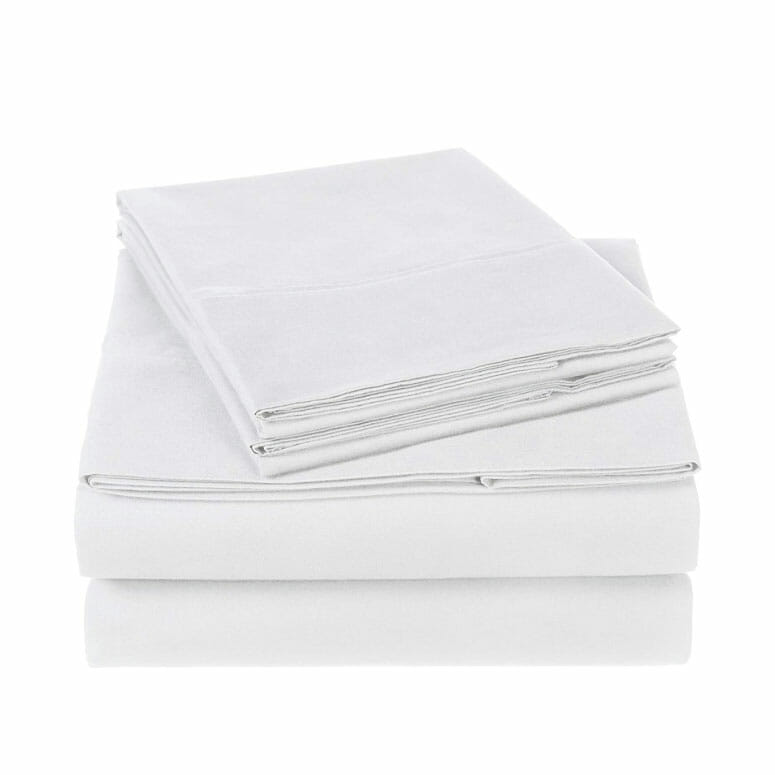 We mentioned in our number four pick for the best cotton sheets that sometimes you have to pay a little extra for quality. We'd like to add that… sometimes you don't. The Pinzon 300 Thread Count Organic Cotton Bed Sheet Set is available for even the most budget-conscious buyers out there. Smart and hybrid car drivers, environmental activists, and other individuals looking to purchase products that are organic and sustainable will be pleased to find that these sheets possess both of those qualities.
The cotton used to make these sheets is GOTS-certified organic, meaning that the cotton seeds are non-GMO and free from the harmful chemicals and pesticides commonly used to grow other types of cotton. The sheets are made with a 300 thread count, which may seem low, but it's perfect if you value breathability and durability above anything else. The 100% organic cotton threads are woven into a soft percale weave that will make you want to take naps during the day so you can roll around in this bedding.
Pinzon realizes that fitted sheets that tend to come off your mattress during the night are frustrating, so they use Technofit technology to avoid this problem. This technology uses an extra thick band to secure the fitted sheet to your mattress. These Pinzon sheets arrive at your doorstep in a cotton bag, which is great for storing an extra set of sheets for the blowup mattress, or to gift to others.
Stats
Price: $45.99 (Queen)
Size: Twin, Twin XL, Full, Queen, King, California King
Colors: White, Blush, Dove Grey, Flint Blue, Natural, Navy Blue
Warranty: 1-year limited warranty
---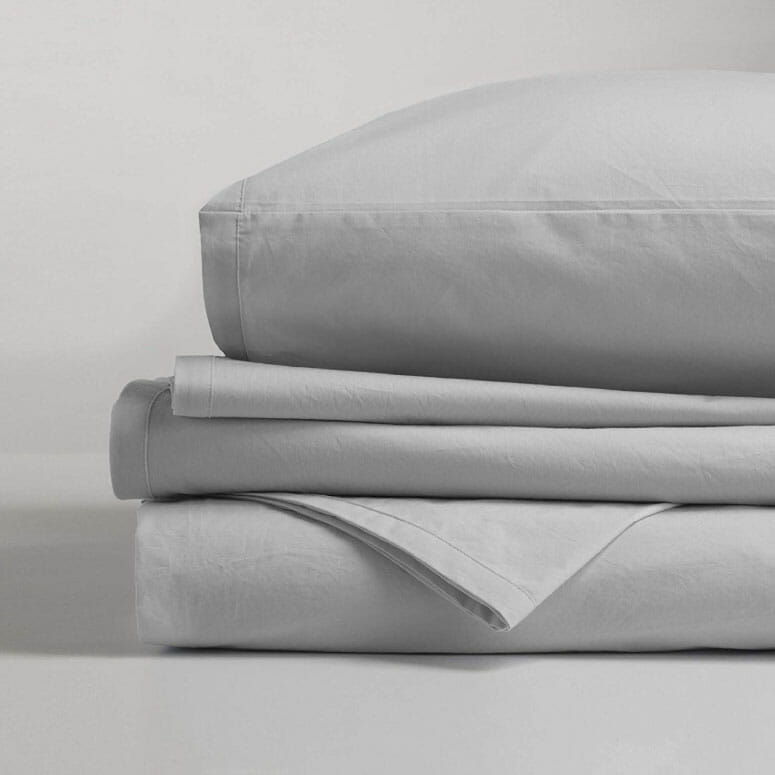 If you want sheets with the softness that comes from wear without having to wait months and washing the sheets multiple times, consider the Gryphon Home Comfort Washed Sheet Set. We chose this set as our number eight pick for the best cotton sheets because it has many of the same features of previously reviewed sets with the addition of the casual worn look of your favorite clothes.
These sheets are 100% Supima cotton, so plan on using them for many nights of sleep. While the sheets have a casual, lived-in look, they also sport a slight sheen to make them look polished. A 300 thread count keeps you cool and dry throughout the night while providing durability. Don't be scared off by the 300 thread count, because the Supima cotton makes these sheets as soft as a higher thread count.
Similar to our number one ranked best cotton sheet, the Gryphon Home Comfort Washed Sheets feature tags that help you place the fitted sheet on your mattress correctly the first time. Additionally, when you purchase this sheet set, you receive one fitted sheet, one loose sheet, and two pillowcases. Now, you don't have to go out and buy an additional pillowcase to coordinate with your bedding. According to the manufacturer's website, these sheets come with a 100-day satisfaction guarantee. Consider purchasing this sheet set directly from Gryphon Home's website to ensure that you can return them if you are not satisfied with your purchase.
Stats
Price: $137.95 (Queen)
Size: Full, Queen, California King
Colors: White, Navy, Sky Blue, Light Gray, Charcoal Gray
Warranty: 100-day satisfaction guarantee
---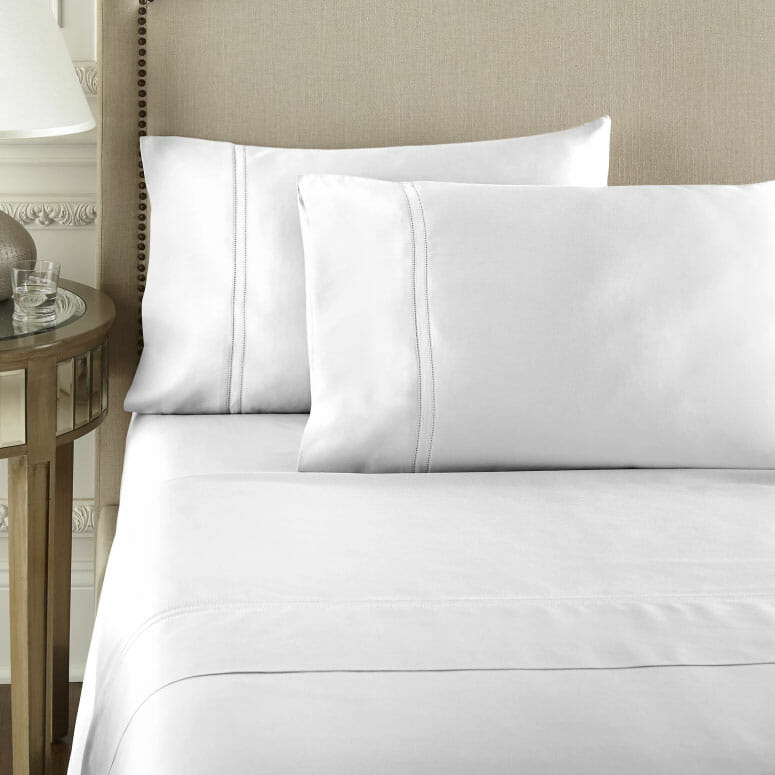 The Yalda Sheet Set radiates elegance and sophistication. When you get into bed, don't you want to feel like a king or queen? After all, if you are going to spend about a third of your life sleeping, you might as well do it in style. When you take this mindset, you have no choice but to choose the Yalda Sheet Set because everything about these sheets screams opulence, including the ribbon-wrapped box they are delivered in.
These sheets are made with long-staple Egyptian cotton, with the added assurance of the Cotton Egypt Association certification. You can sleep easy knowing that these sheets are free from potentially harmful chemicals, because they are also OEKO-TEX certified. A 400 thread count gives these sheets a medium weight that is perfect to use all year.
The double-hem stitching on the ends of the pillows and loose sheet adds elegance along with the shiny sateen weave. If you purchase luxury sheets, you likely have a luxury mattress. These sheets fit luxury mattresses up to 18 inches deep. Additionally, the envelope enclosures of the pillowcases create a clean, polished look and ensure that your pillows won't stick out the ends.
Stats
Price: $230.00 (Queen)
Size: Twin XL, Full, Queen, King, California King
Colors: White, Grey, Ivory, Tan
Warranty: 100-night trial
---
Those super thick sheets you find in hotels are some of the things that make hotel stays bearable. You now have the opportunity to purchase those high-quality heavy sheets with Royal's Stripe 1000 Thread Count Bed Sheet Set. Yes, you read that correctly: It is a 1000 thread count, which is the highest on our list of the 10 best cotton sheets.
You may need to keep your air conditioning a little bit colder than usual with these sheets. But let's be honest, who doesn't like getting into bed with crisp sheets and a warm comforter? This bedding is made out of long-staple cotton, which is sure to last for many seasons. Unlike other companies, Royal's Stripe includes two pillowcases in this set, so you don't have to go out trying to match pillowcase colors.
These sheets can be washed with similar colors and tumble dried on low, but the manufacturer advises against bleaching. This sheet set is an excellent choice if you have a thick mattress: It is designed specifically for 14- to 18-inch mattresses. At a reasonable $120, these sheets are worth trying out on your bed.

Stats
Price: $119.99 (Queen)
Size: Twin XL, Full, Queen, King, California King
Colors: White, Taupe, Beige, Blue, Gray, Ivory, Sage, Sea, Gold, Striped Beige, Striped Blue, Striped Gold, Striped Ivory, Striped Sage, Striped Taupe, Striped White
Warranty: N/A