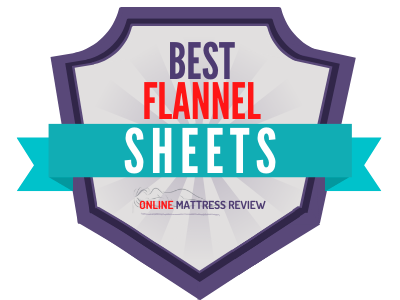 When you think of flannel do you also think about Celtic plaid? You're not alone! In reality, these two don't necessarily have to go together.
Flannel refers to a woven fabric, often cotton or wool, which is soft to the touch. Since flannel is often milled and raised, it retains heat well, making it an ideal fabric if you want to stay warm. 
While flannel may bring lumberjacks and tartan clothing to mind, it's often made in both solid and patterned designs. Finding a design or color that matches your existing bedroom decor is a cinch with our list of the top 10 best flannel sheets.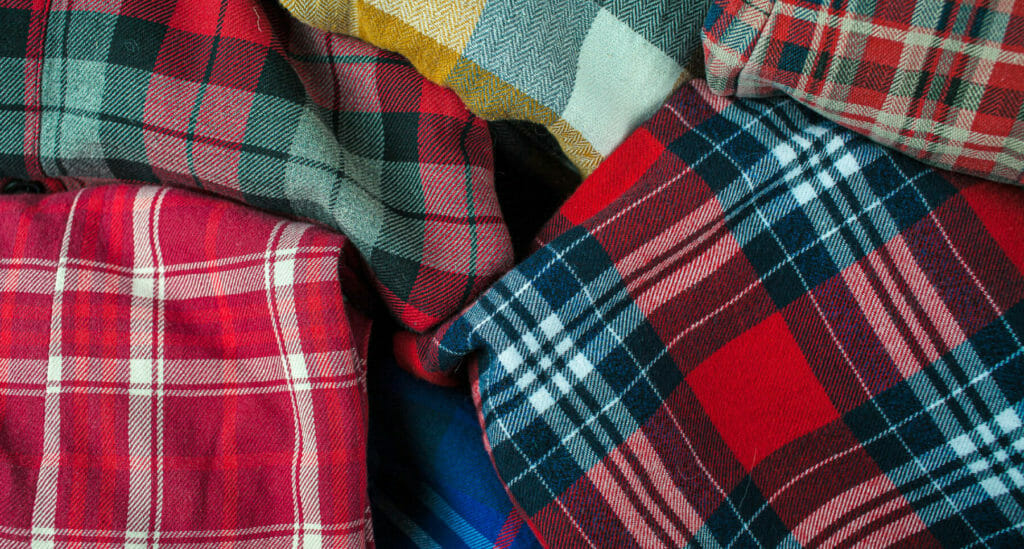 We're here to help you find the best flannel sheets, plaid or not, to pair with your mattress (or a new mattress) and keep you comfortable on chilly fall and winter nights.
---
Read on to find the perfect flannel sheets to complement your bed. 
The Pinzon Signature Velvet Flannel Bed Sheet Set is the best of the best, which is why it tops our list of the 10 best flannel sheets. With a reasonable price, and superior quality and comfort, this flannel sheet set is a must-have to blend sophistication with comfort.
Unfortunately, if you are still using a full or twin-sized mattress, skip ahead, because these sheets are only available for queen-sized mattresses and larger. However, you may want to keep reading anyway, because who knows, these sheets may be the deciding factor of whether or not you upgrade to a larger mattress.  
Weighing in at 190 grams, these sheets are on the heavier side, and perfect if you want to get that extra cuddly feel during crisp fall evenings. This sheet set uses 100% imported cotton from the cork capital of the world, Portugal.
The double-napped cotton material provides an unmatched velvety feel that will have you looking forward to crawling into bed. Furthermore, the cotton is combed, a process that arranges the fibers parallel to one another for a stronger, more durable fabric. 
These sheets come in a variety of colors and patterns, some more unique and modern than others. The sheets are machine-washable and able to be tumble dried, eliminating any excuses for dirty bedding –– sorry, fellas.
Stats
Material: 100% Cotton
Size: Queen, King, California King
Color: Aubergine, Chamois, Cream, Floral Amethyst, Floral Graphite, Floral Smokey Blue, Graphite, Italian Roast, Smokey Blue, Thyme Green, White
---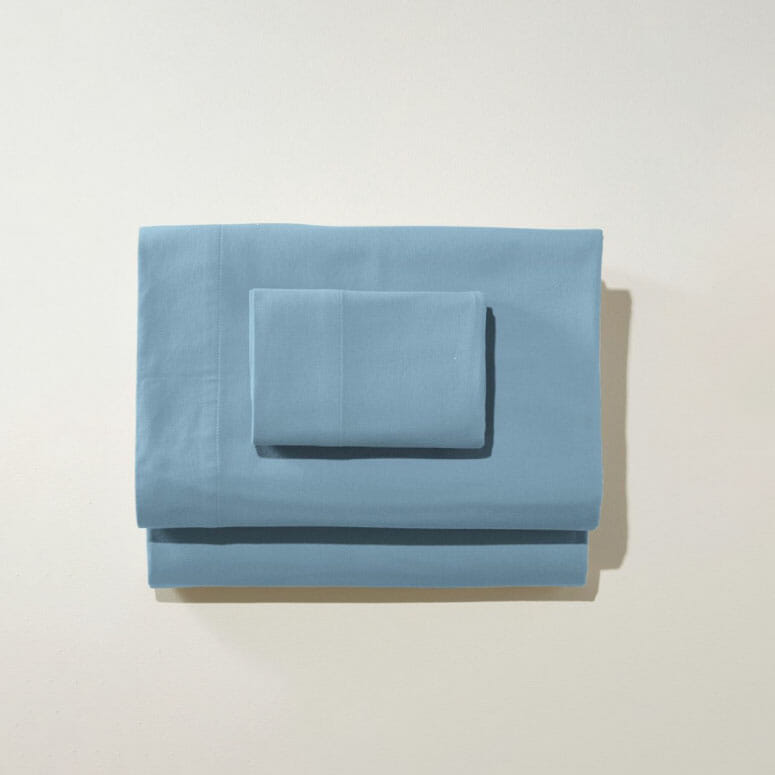 We expect some of the highest quality products from a company over 100 years old, and we are not disappointed in L.L.Bean, the manufacturer of the Ultrasoft Comfort Flannel Sheet Set. We also expect a company based out of Maine to create warm and comfortable products for cold winters, and again they didn't let us down.
Unlike our number one pick for the best flannel sheets, individuals with twin-sized and full mattresses can purchase a set of these sheets so everyone in the family can experience them. 
This flannel sheet set weighs in at a substantial 5 ounces (approximately 142 grams), and are about 25% lighter than our number one pick, the Pinzon Signature flannel sheets. This 25% reduction in weight makes this sheet a better option for year-round use. These sheets are also manufactured in Portugal. If you're starting to pick up on a common theme of Portugal and flannel products, it's because this country, along with China, is the world's leading producer of dyed flannel.
If soft pastel colors are what you look for in bedding, this flannel set was made for you. Choose between eight soothing and relaxing colors to complement your bedroom. If you've ever owned flannel bedding or clothing, you know that the first time you wash and dry them leaves copious amounts of lint in the dryer filter.
These sheets leave some lint in your dryer, but the buildup decreases with each washing, and is minimal compared to similar flannel. L.L.Bean's flannel was constructed to resist shrinking, fading, and those pesky balls of thread called pilling that seem to accumulate on flannel cloth. 
Stats
Material: 100% Cotton
Size: Queen, King, Twin, Full
Color: Bay Blue, Heather Gray, Mineral Green, Driftwood, Natural, White, Sunlight, Mariner Blue
---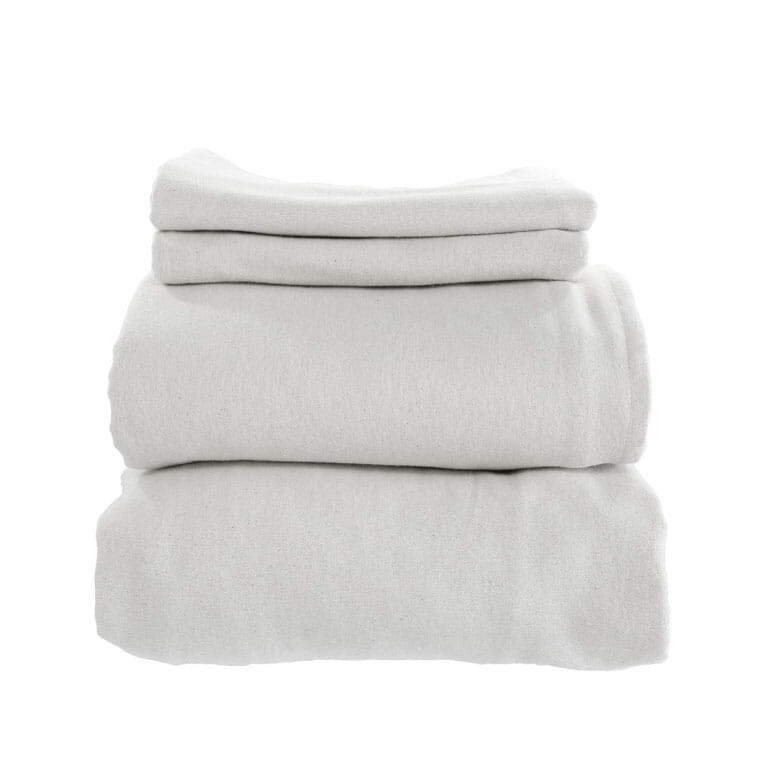 Recycling, using reusable grocery bags, requesting paperless receipts. Now you can add purchasing 100% organic and sustainable flannel sheets to the list of all the things you can do to support the planet. Whether you get a little tingling satisfaction knowing you are doing the right thing for the planet or just want to brag to friends and family, the Whispering Organics Cotton Flannel Sheet Set is a quality product you won't regret purchasing.
Many products advertise they are organic, but where is the proof? These sheets are Global Organic Textile Standard (GOTS) certified organic. At 170 grams in weight, these sheets may not be ideal for the summer months, but they're perfect for fall and winter. One of the great things about these sheets is that they are hypoallergenic and are not colored with artificial dyes. If you experience chemical sensitivity, give these sheets a spin.
Going along the lines of the whole organic vibe, you can purchase these sheets in three colors, including White, Natural, and Dark Grey. Sometimes simpler is better, which holds true for these flannel sheets. The downside? These sheets are only available for twin and full-sized mattresses, which leaves most adults wishing for larger sizes. They do come with a 90-day satisfaction guarantee, and if you are not happy with your purchase, return it for a full refund.
Stats
Material: 100% Organic Cotton
Size: Twin, Full
Color: White, Natural, Dark Grey
---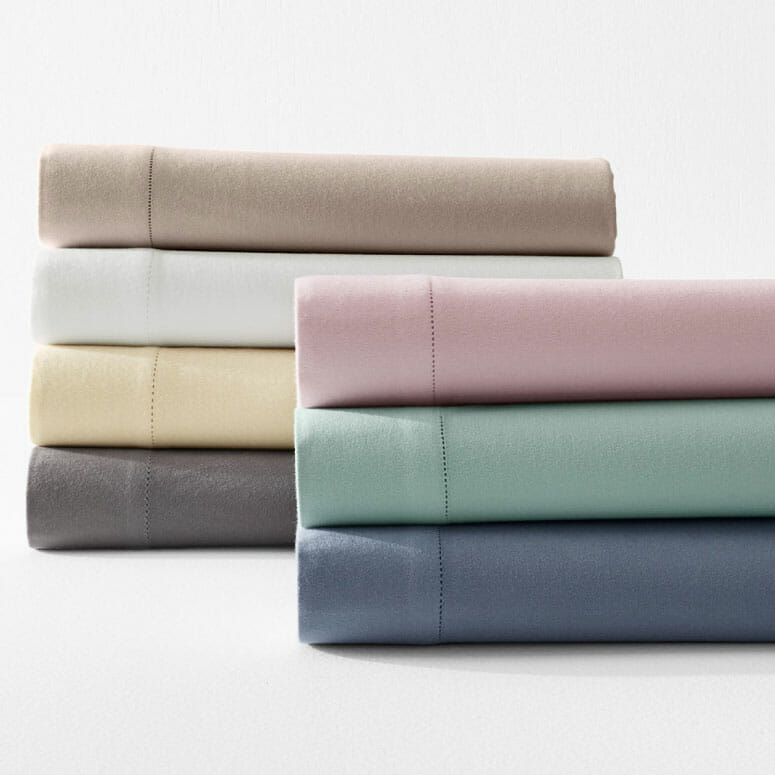 A classic hemstitch on your bedding can take it from drab to fab. The Garnet Hill Hemstitched Supima Flannel Bedding is sure to add supreme luxury. This bedding comes in at the number four spot on our list of the best flannel sheets because of the luxury material used in its construction.
This bedding is made of Supima cotton, which is grown in verdant California and manufactured in Portugal. What's so great about Supima cotton? Besides being produced here in the U.S., the material of these sheets is made of long-staple cotton, which is softer and stronger than short-staple cotton, and it does not fade as quickly. The long fibers aligned in rows minimize breakage and increase durability.
Both sides of these sheets are brushed during manufacturing for supreme softness. Whether you are lying on top of or under the sheet, you can feel the comfort and softness. The manufacturer does recommend washing the bedding before using it so that pilling is minimized.
Stats
Material: 100% Organic Cotton
Size: Twin, Double, Queen, King, California King
Color: Birch, Champlain Blue, Fountain Blue, Ivory, Light Charcoal, Pale Orchid, Stone Gray, White
---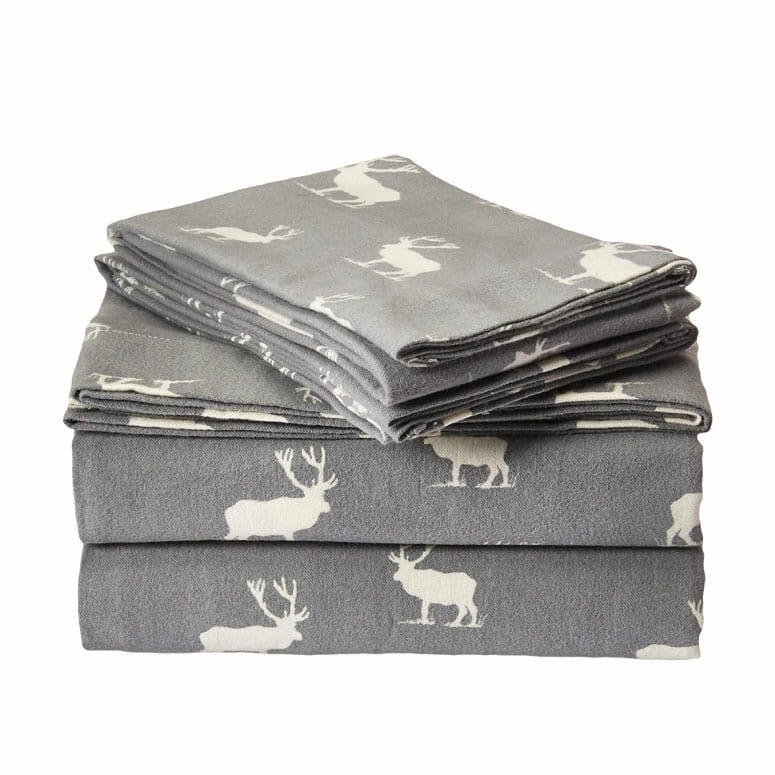 The right printed bedding can add warmth and comfort during the winter months. Consider the Eddie Bauer Flannel Sheet Set for a cabin or to add that cabin feel to your regular decor. Eddie Bauer started out by making adventure wear and expedition gear, so you know they can bring the feeling of the outdoors into your home.
The nice thing about these sheets is that they are made to be layered, and you can regulate how warm or cold you want to be by removing or adding sheets. This feature is great for crisp nights during which temperatures may change. This flannel uses an eight-step brushing process to ensure that your sheet set arrives at your door incredibly soft and moisture-wicking to keep you warm and dry all night.
These sheets feature a 15-inch pocket to fit mattresses up to 18 inches deep (which covers most mattresses). You're almost guaranteed to find a print to suit your taste and preferences with 15 different designs. This sheet set also makes an excellent Christmas gift. We can't imagine something that imparts your home with a cozy feeling more than these ultra-soft luxury printed flannel sheets.
Stats
Material: 100% Organic Cotton
Size: Twin, Double, Queen, King, California King
Color: Bear Family, Bears and Trees, Camping Mugs, Buckhead Ridge, Deer Hollow, Deer Lodge, Dog Friends, Elk Grove, Mt Mogul, Pine Ridge, School of Fish, Ski Patrol, Ski Slope, Queen, Winter Outing
---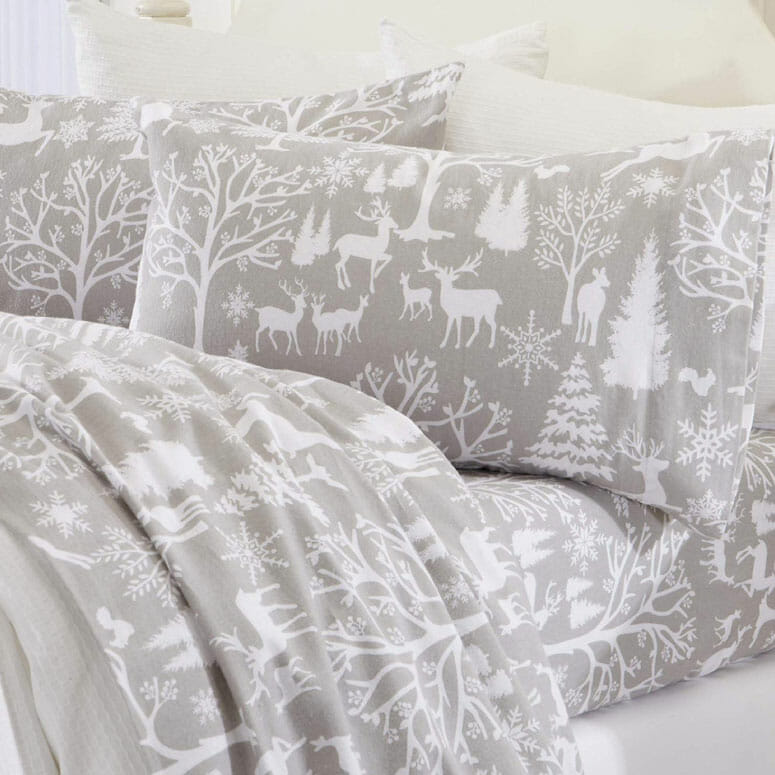 If you tend to sweat during the night but still want the softness of flannel sheets on your bed, consider the Great Bay Home Turkish Cotton Flannel Sheet Set. Why choose these sheets over some of the others we have discussed so far? Turkish cotton is known for balancing absorbency with softness.
Egyptian cotton tends to be superior to Turkish cotton at absorbing moisture, but it can become problematic when you sleep night after night with the same sheets. You want sheets that absorb dampness, but not too much moisture, while remaining incredibly soft to the touch –– enter Turkish cotton. 
At 150 grams, this flannel is the perfect weight for all seasons. And what better way to start your dreaming adventures than a mystical forest or December frost-decorated bedding? If that doesn't appeal to you, maybe traditional plaid or flowering greenery is more up your alley. Both males and females are sure to find a pattern they like with 16 different design options.
Deep pockets, machine-washable, shrink-resistant, and pill-resistant. What more could you ask for in flannel sheets? How about an affordable price, 100% satisfaction guarantee, and a three-year warranty to protect your purchase? You get all of this with your purchase of the Great Bay Home sheet set. So go ahead, gives these sheets a chance at little to no risk for your financial investment.
Stats
Material: 100% Organic Cotton
Size: Twin, Full, Queen, King, California King
Color: Grey Buffalo Check, Navy Buffalo Check, December Frost, Blue Enchanted Woods, Grey Enchanted Woods, Navy Polar Bears, Grey Plaid, Taupe Plaid, Pups in the Snow, Reindeer, Rustic Bear, Blush Pink Toile, Grey Toile, Taupe Toile, White/Navy Windowpane, White/Grey Windowpane.
---
Coming in seventh on our list of the best flannel sheets is a product specifically for children… or adults that are young at heart. With the Home Fashion Designs Flannel Sheets, you can tuck your child into a bed decorated with fun little penguins. This bedding may become a memory that your child will look back on in adulthood and share with their children.
These little fellas in tuxedos will be there to rescue your child from bad dreams. These sheets are made of top quality Turkish cotton, which is soft and durable enough to stand up to many nights of dream-filled tossing and turning. Ideal for either your son or daughter, the characters and colors are portrayed in a gender-neutral design. If your child is not into the penguin theme, check out the many other designs that are available.
With the purchase of this sheet set, you will receive one flat sheet, one fitted sheet, and two standard pillowcases. These are sure to be soft and cozy; however, lightweight and breathable. The deep pockets are great for thick mattresses.
Stats
Material: 100% Turkish Cotton
Size: Twin, Twin XL, Full, Queen, King, California King
Color: Assorted
---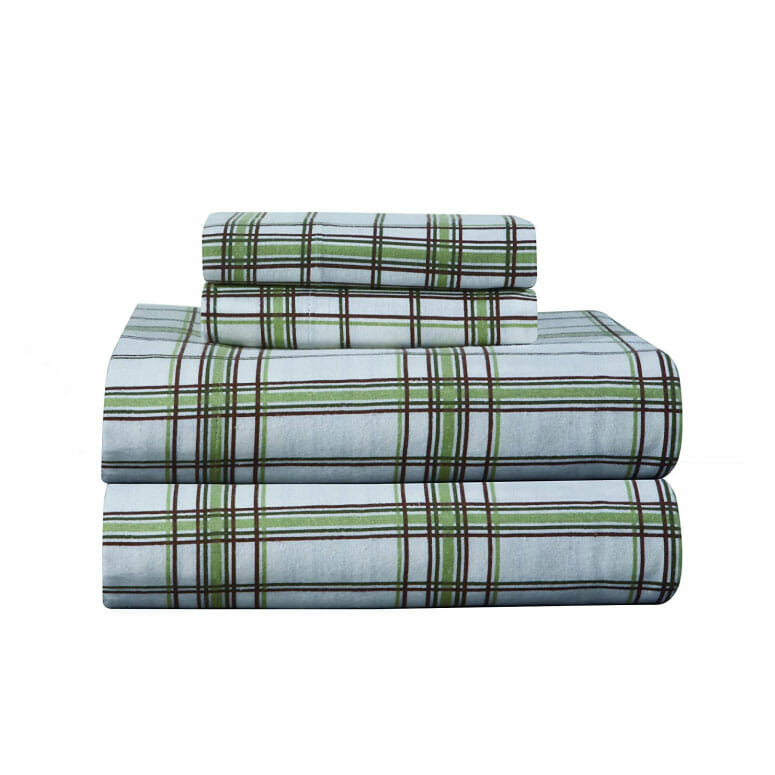 Pointehaven's groovy set of flannel sheets imparts a retro '70s vibe. Using chocolate browns, sunburst patterns, and shades of green, you may be transported back to your disco days while you sleep on these sheets. Choose the Chocolate Giraffe print if you're feeling playful and want a unique sheet set that will highlight your personality.
These sheets are made of 100% double-brushed cotton that may have you kicking off your extra covers during the night. These sheets are designed to keep you toasty during snowy nights. Whether you use them in your home away from home camper or your regular bed, you'll go to sleep thinking about what a great purchase these sheets are. Sometimes you can buy quality, like these sheets, at a reasonable price.
The flat sheet and pillowcase are made to be a little larger than usual to accommodate the shrinking that inevitably occurs with flannel. The European pillow enclosure gives a polished look to your nightly head cushion and prevents your pillow from slipping out of its case during the night.
These sheets fit mattresses up to 16 inches in depth. Some customers note that pilling does occur when washing, but if this is not a deal-breaker for you, these sheets are a very reasonably priced option that can add a funky flair to your bedroom. 
Stats
Material: 100% cotton
Size: Twin, Full, Queen, King
Color: Sage Plaid, Blue Plaid, Tan Snow Flakes, Sunburst Print, Winter Breeze, Chocolate Giraffe Print
---
Do you love the completely organic fabric of our third best flannel sheet set by Danjor Linens? We have it here in the Hotel Luxury Soft 1800 Series Premium Bed Sheets Set. And doesn't having the best mean having the best of all the features? You can look forward to receiving a product that is eco-friendly, organic, durable, and light.
If this sheet set is both organic and contains long-staple cotton, you may be asking yourself why we ranked it lower than the rest. It comes down to thread count: These sheets have a 1800 thread count, which means they are light and airy. Many people looking for flannel sheets want dense sheets to keep them warm during cold nights. But if you want durable, breathable, soft, and light flannel sheets, these are the ones for you.
These sheets come in five attractive muted colors that do not distract from your other bedroom decor. Your sheets aren't the centerpiece of your bedroom anyway. Like the Whisper Organics sheets, these are also 100% GOTS certified organic, plus they are also fair trade certified. The workers in India, where these sheets are made, are paid triple the industry standard because being human-friendly is just as crucial as being eco-friendly.
Stats
Material: 100% organic cotton
Size: Full, Queen, King, California King
Color: Natural, Pewter, White, Striped Ivory, Striped White
---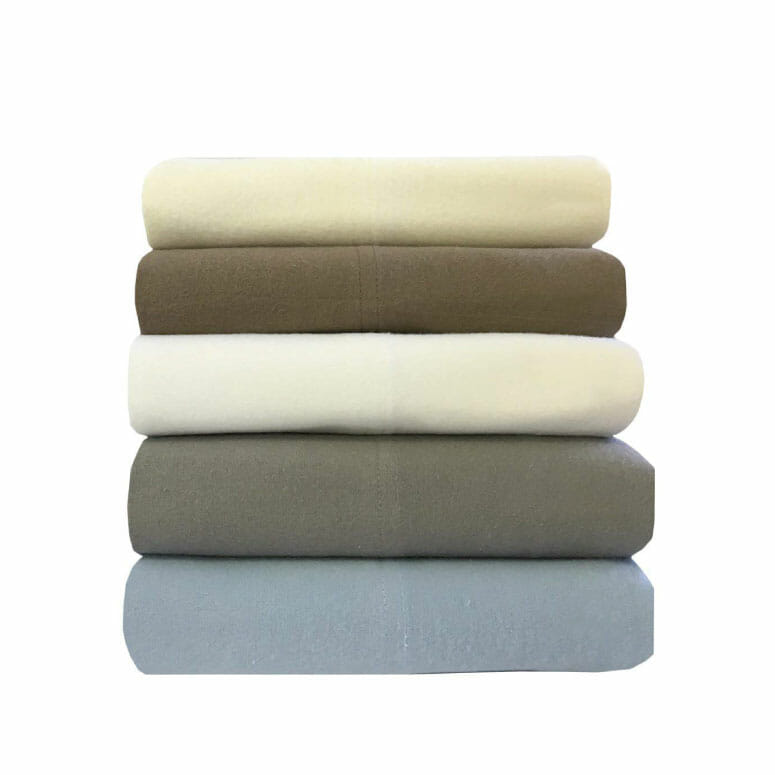 Imagine yourself on a business trip out of town, after a hard day of work. You're tired and all you want to do is to check into your hotel and go to sleep. When you're finally ready for bed, you pull back the sheets and get in. Those soft, dense, cool hotel sheets are the kind you will receive when you purchase Royal's cotton flannel sheets. Best of all, unlike the sheets at actual hotels, these are reserved just for you (and maybe your partner). You'll dread getting out of the simplicity and elegance of this product in the morning.
Weighing in at 170 grams, these sheets are some of the more substantial on our list. They are advertised as 100% natural cotton, but do not have the organic certifications that some of the other sheets we reviewed have. You may be surprised by the softness that increases after each washing, because as these flannel sheets are used, they continue to soften.
You can machine wash these sheets and tumble dry on low. However, the manufacturer advises against bleaching these sheets, even the white ones. While you can find some of the colors in other flannel sheets on our list, the sea green color is only available in Royal's cotton flannel sheets. Only one pillowcase comes with this sheet set, so you may want to consider purchasing another one, which you can for an additional $19.99.
Stats
Material: 100% cotton
Size: Twin XL, Full, Queen, King, California King, Split King
Color: White, Ivory, Blue, Taupe, Gray, Sea
---
CONCLUSION
Who doesn't love to be nice and cozy in their own bed, right? Studies show that sleeping with your bedroom temperature a little on the cool side promotes a better night's rest. Any one of the above sheets sets is made of quality fiber content, ensuring you the best and most restful sleep experience possible.
ADDITIONAL RESOURCES: