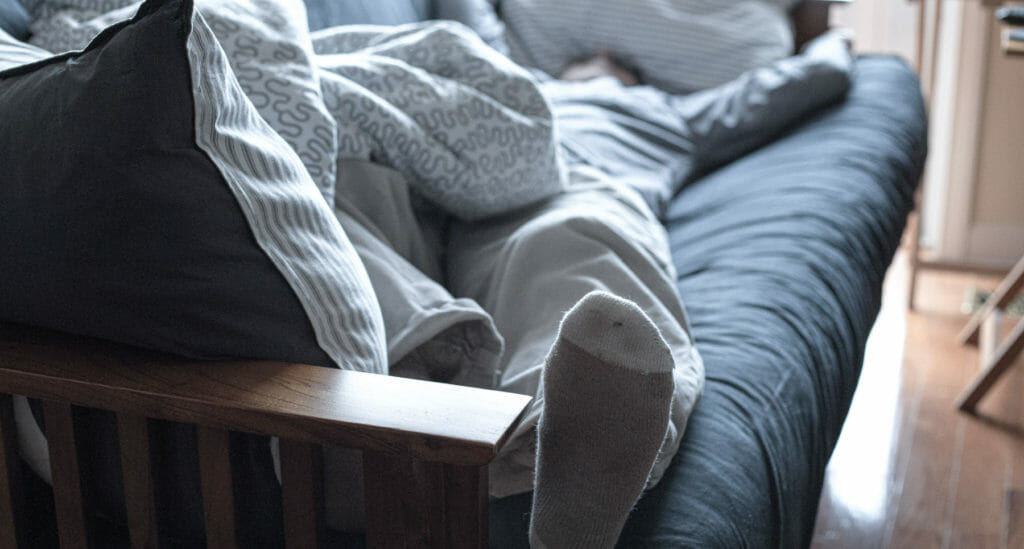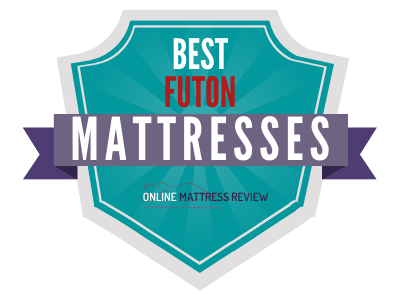 Futons have remained popular throughout the years, like the sofa bed. Multifunctional furniture, such as the futon, allows you to get more out of your limited space. 
Whether you put your futon in a spare room, a den, or your living room, you will be able to sleep at least one extra person in your house. And who doesn't want to be able to provide an extra sleeping space?
Having a futon is one thing, but having an extremely comfortable futon mattress is another. Since futons double as beds, you want a futon mattress that is comfortable and will give your guests a restful night's sleep. Wouldn't you want a futon mattress as comfortable as your bedroom mattress if you had to sleep on a futon?
There are many different options available, and like most things with too many choices, the process of picking the right one can be overwhelming. We did the heavy leg work for you and reviewed dozens of futon mattresses, compared them, and compiled the 10 best below.
Get into a comfortable position and relax as we guide you through the best futon mattresses.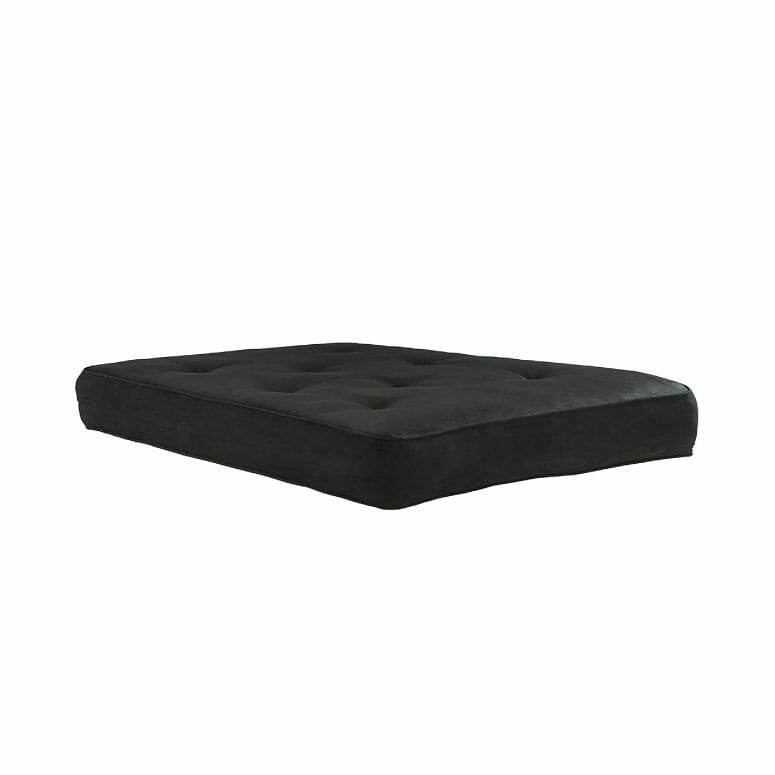 If you're looking for a futon mattress that genuinely doubles as a comfortable bed, look no further than the DHP 8-Inch Futon Mattress. And let's be honest, one of the best things about a futon is that it's both a bed and a couch, so why not get the best of both worlds with this futon mattress?
This futon mattress functions much like a real mattress because it is constructed with independently encased coils, just like the ones you may find in the mattress you sleep on every night. Coils provide resilience and airflow, properties that are not found in completely foam or polyester mattresses. Resilience refers to that bouncy feel you only experience with spring mattresses. Innersprings (or coils) also allow air to move into and out of the mattress, which is perfect for getting rid of excess heat.
The DHP futon mattress fits most standard futon frames, and the tufted design increases the mattress's longevity. The microfiber cover encasing the spring and foam is both breathable and durable, so you can use this mattress for years to come.
Stats
Price: $161.55
Filling: Coils, foam, polyester
Warranty: 1-year manufacturer's warranty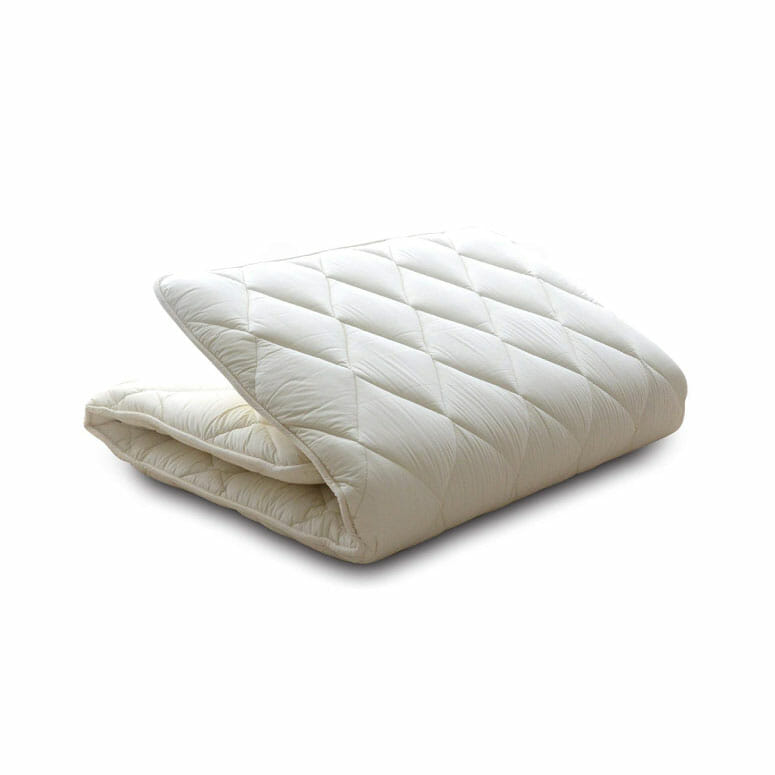 Take in the original meaning of "futon" with the EMOOR Original Floor Futon. Traditionally, futons are Japanese beds typically placed directly on the floor. The American version of a futon is a far cry from the original: Traditional futons are not placed on a wooden frame and don't function as both a couch and a bed. Japanese futons are designed to be rolled up during the day to maximize the amount of usable living space.
You may ask yourself, what use is a Japanese futon to me? The EMOOR floor futon is very versatile: It can be used as a bed for when friends and family come to visit, or even as a comfortable topper for your existing mattress. This product is made in Japan, so you know you are getting the real deal. This quality futon is built with a firm polyester pad that is sandwiched between soft polyester quilting.
These futons are not meant to be machine washed, so you may want to purchase a machine-washable cover. The manufacturers warn that it may take up to seven days for the mattress to reach its full 3-inch thickness. This pad is substantial at over 16 pounds, but can be rolled up for easy storage. Since this mattress is made and shipped from Japan, you only have 30 days to return it, which we find less than ideal. Frankly, you could simply return the product to Amazon, which offers the same return policy.
Stats
Price: $227.00 (Full)
Filling: Polyester
Warranty: 30-day return policy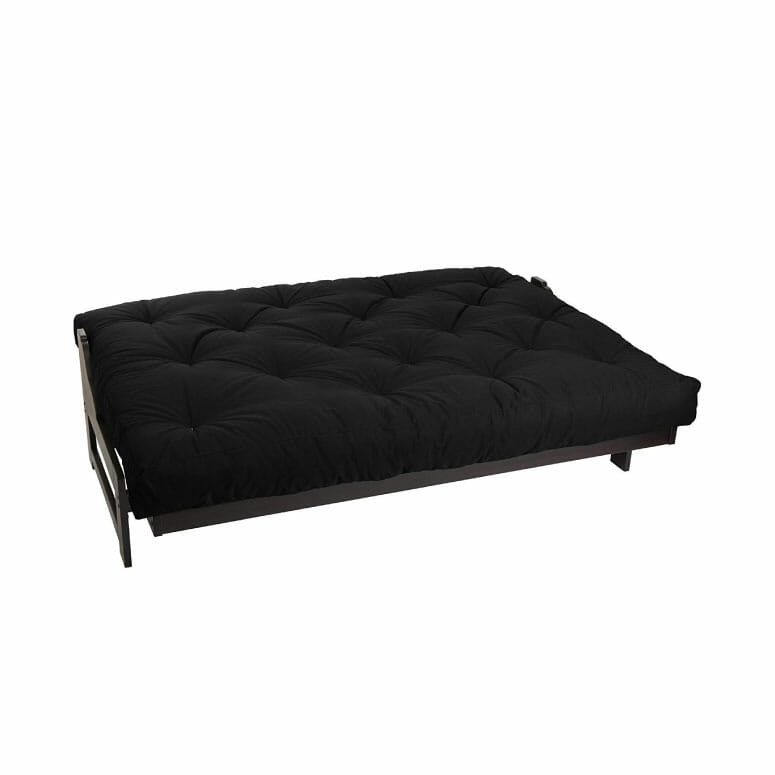 If memory foam is your cat's meow, the Mozaic Gel Memory Foam Futon Mattress is for you. This product comes in at our third best futon mattress because of its quality construction and premium materials. This mattress is unlike any you have likely experienced before and will entice you into spending a few more hours sitting or lying down.
What's so great about memory foam in a futon mattress? Memory foam conforms around any weight placed on it, cradling pressure points and relieving pain. One of the biggest complaints about memory foam is that it traps heat, but gel-infused memory foam can maintain a neutral temperature. Furthermore, the cotton fiberfill surrounding the memory foam also helps keep the mattress cool whether you are using it for sitting or sleeping.
You get three layers with this mattress, including a cotton fiber filling, a gel-infused memory foam, and a polyurethane foam. The polyurethane foam is toward the bottom, which helps provide a solid foundation to ensure you don't sink to the futon frame below. You have the option to choose between eight different colors, but strangely, some color choices are more expensive than others by around $10. Getting twice the life out of this futon mattress is simple by flipping it over to the unused side.
Stats
Price: $226.92 (Full)
Filling: Memory foam
Warranty: 30-day return policy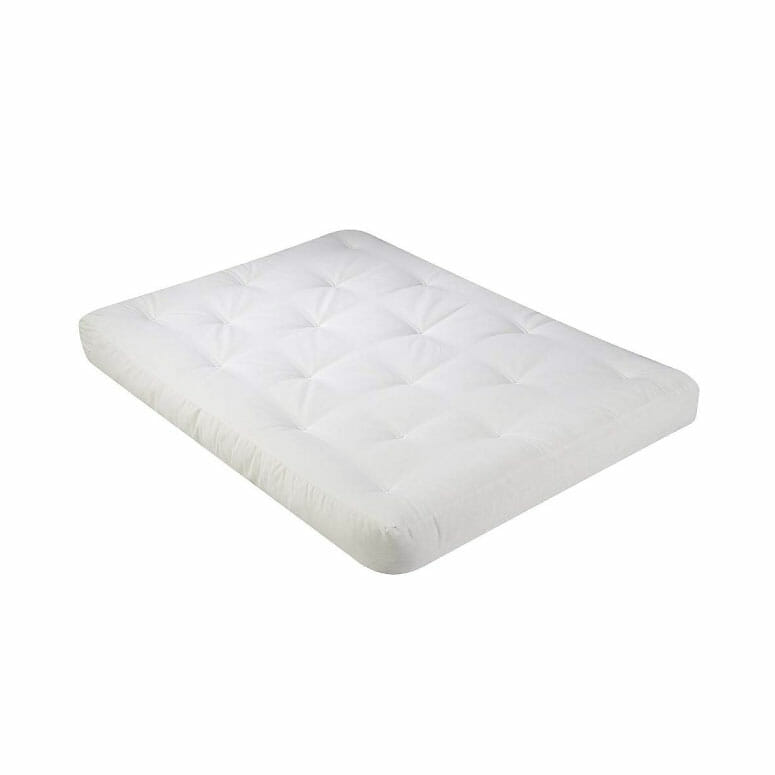 Serta has been making mattresses and other sleep products for decades, and their quality products are both incredibly comfortable and durable. The Serta Chestnut futon mattress is no exception. For a futon mattress that you know is going to be comfortable right out of the box, Serta has you covered. You can purchase this mattress in confidence from the oldest manufacturer of beds in the U.S. by a family-owned company.
It can be challenging to find a company that ensures no harmful harmful chemicals are used in the process of making their foam-filled mattress. The foam used in these futon mattresses is CertiPUR-US certified, meaning it contains no brain-damaging heavy metals or atmosphere-depleting chemicals. This mattress contains two pieces of foam surrounded by cotton batting, providing a softness you won't want to leave.
What's more, the batting is made using Cottonique, a material that combines polyester and cotton fibers to ensure softness, breathability, and durability. You can choose between five neutral colors, including black, brown, gray, khaki, and natural. Unfortunately, we were unable to locate a warranty that automatically comes with this futon mattress, but you can purchase a 3-year warranty for around $12.
Stats
Price: $143.39 (Full)
Filling: Memory foam
Warranty: 3-year warranty for an extra $12.49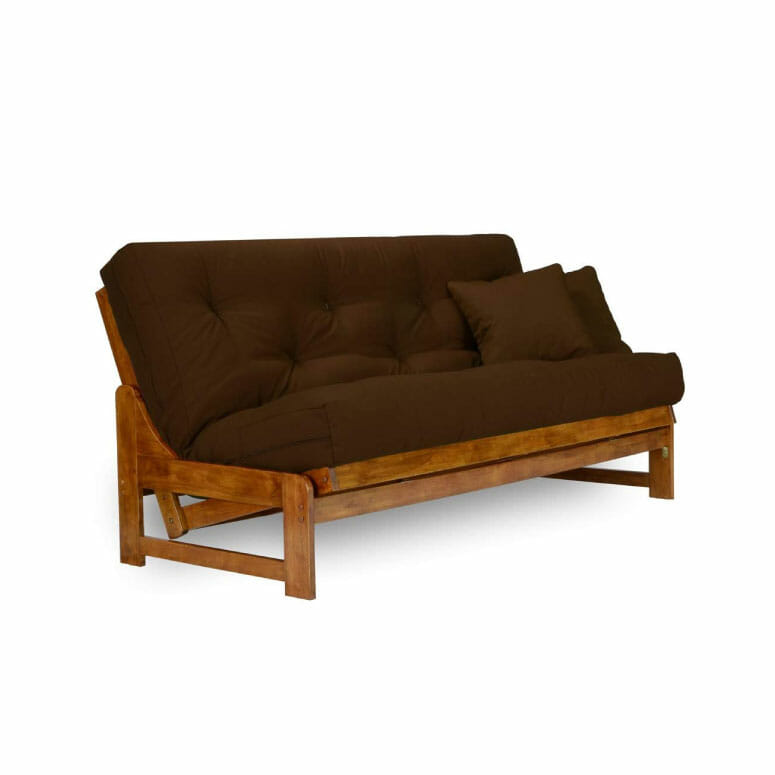 Our fifth best futon mattress is the Arden Futon Set by Nirvana Futons. Is there a better-named company for a futon mattress? Nirvana sounds pretty great to us, and the company makes comfortable high-quality products. If you're looking for both a futon mattress and a futon frame, give the Arden Futon Set serious consideration. These products are both high-quality and reasonably priced.
The frame is comprised of heritage finished sustainably harvested wood. Wondering what a heritage finish looks like? The hardwood is stained a light walnut color that matches medium and dark wood furniture perfectly. This frame is solidly constructed and can be used as a seat, lounge, or bed. The frame is manufactured in Indonesia, and strangely, the frame and mattress are shipped separately.
The futon mattress is 8 inches of medium to firm support stuffed with poly-cotton and foam. This poly-cotton is very similar to the Cottonique we mentioned in our fourth best futon mattress and has the same durability, breathability, and softness. Stuffed with four pieces of high-density foam, this mattress is on the firm side so you won't bottom out and end up sitting on the wooden slats. No matter your existing style, you can select a color that complements your decor from 10 color options.

Stats
Price: $524.00 (Full)
Filling: Poly-cotton, foam
Warranty: 5-year warranty (frame), 4-year warranty (mattress)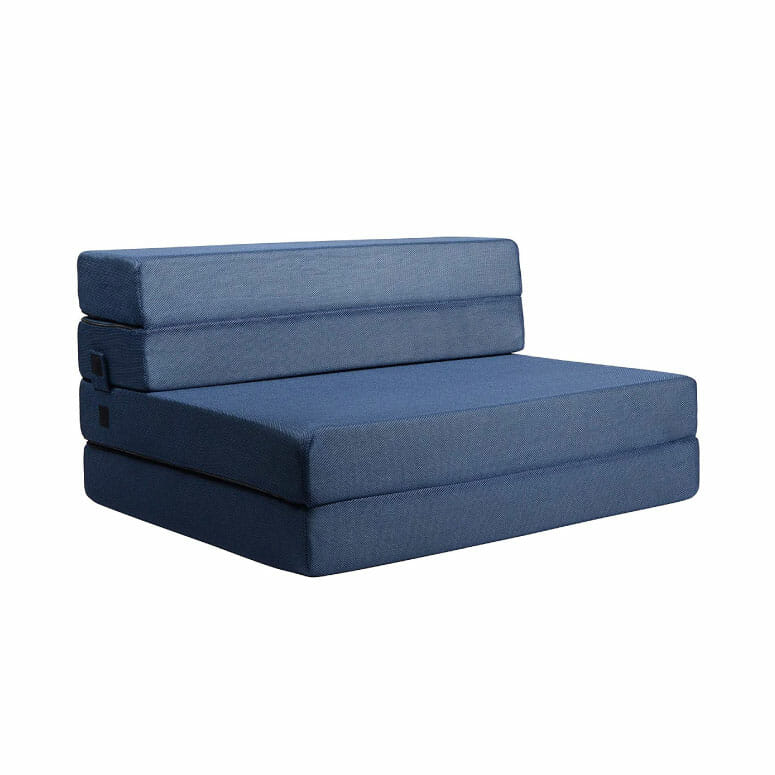 The Milliard Tri-Fold Foam Folding Mattress and Sofa Bed is a truly versatile piece of furniture… foam… both? This lightweight product is composed almost entirely of foam, perfect for dorm rooms, small apartments, or multifunctional guest rooms. If the thought of an all-foam sofa bed makes you nervous, relax because this piece of furniture is possibly like nothing you have imagined.
At first glance, this sofa bed gives off a very modern boxy appearance. The seat and backrest fold into sofa mode, which can quickly transform into a traditional Japanese style futon bed. When it's in bed form, the Milliard is the size of an XL twin mattress, which may be perfect for kid's rooms that need extra sleeping space for sleepovers. The high-density foam ensures that the foundation does not sag over time and comes with a 3D mesh 100% polyester machine-washable cover.
At only 21 pounds, you can take this sofa bed on camping trips and easily move it from room to room. Each piece of the foam is 4.5 inches in height, making the seat 9 inches tall from the ground. If that's too low to the ground, consider placing a platform underneath to raise the seat height. Reviewers say they would repeat their purchase, but agree that the headrest has very little support unless it's propped up against a wall for support.
Stats
Price: $114.99 (Full)
Filling: Foam
Warranty: 30-day Amazon guarantee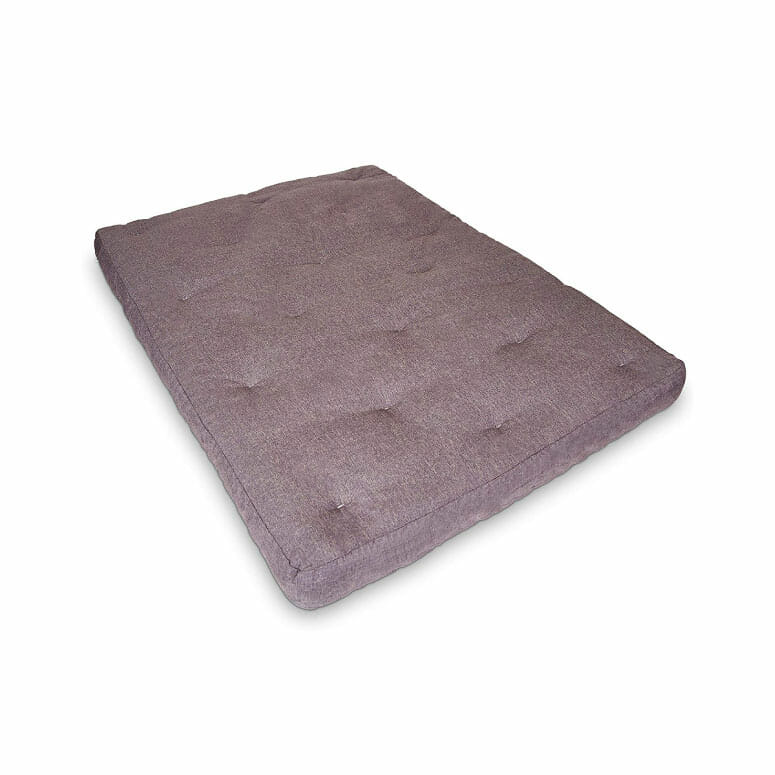 Our seventh best futon mattress is another Serta, the Cypress Double Sided Innerspring Futon Mattress. Like we mentioned before, Serta is an expert in the sleep and mattress industry with a stellar reputation for delivering quality, comfortable products — which makes it all the more surprising that they do not include at least a 1-year warranty with purchase like they do with their mattresses. You can purchase a supplemental warranty through Amazon for an additional $12. Besides the warranty issue, this futon is a great purchase.
The Serta Cypress is 8 inches of heavenly comfort. It is composed of three layers of cotton fiber blend followed by an inch of foam. The third layer is an innerspring unit followed by another layer of inch-thick foam. The final layers of cotton fiber filling supports all of these layers. The innerspring unit can adjust to differences in weight because each coil can act separately. If you sleep with a partner on this futon mattress, you won't wake them when you get up in the middle of the night to get a snack or use the restroom.
This mattress is advertised as having a medium feel, which back sleepers may find uncomfortable. If you're a back sleeper, consider our number four ranked futon mattress on this list. This futon mattress is delivered to your door in a box, and the manufacturers warn that it may take up to 48 hours to fully expand. They also recommend turning this mattress over every couple of months to reduce wear and tear and to prolong its lifespan.

Stats
Price: $215.99 (Full)
Filling: Foam, innerspring
Warranty: 3-year warranty for additional $12.49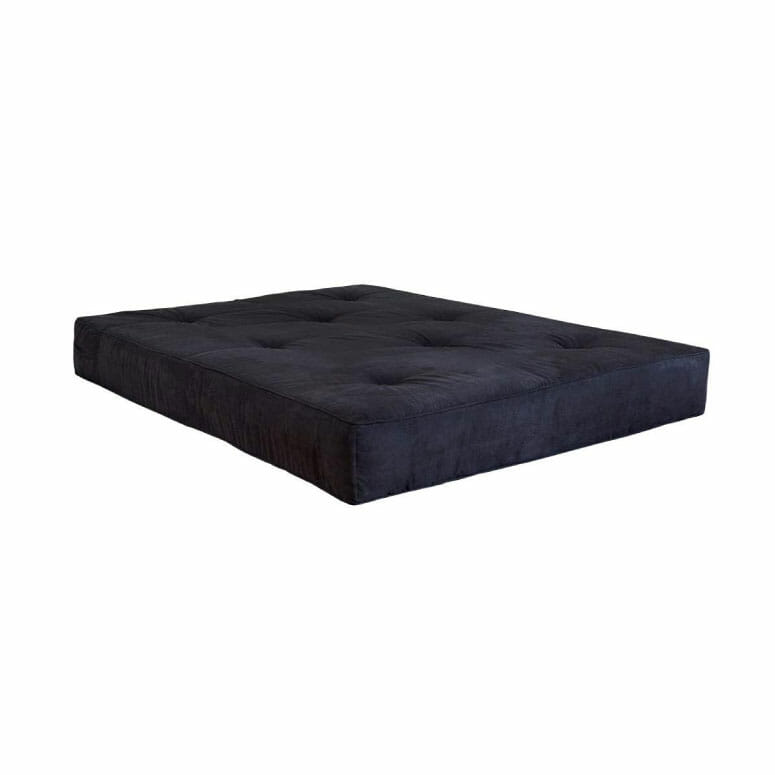 Classic Brands has been blowing up the mattress and sleep world over the past few years, and they are known for delivering products that customers love. The Classic Brands Classic Black 8-Inch Futon Mattress is like most things that become classic: a fan favorite. Just because this futon mattress is ranked number eight on our list of the best futon mattresses, does not mean that it is not a top-notch product.
At 63 pounds, this mattress is not some cheap product thrown together using scraps and second-rate materials. This Classic Brands futon mattress is an innerspring, and unlike other innerspring mattresses, the springs in this sleepmaker are 6 inches in height. These 6-inch tall individually wrapped springs are responsive and adjust to weight variation. The increased height of the coils also allows for more effective heat regulation, since there is more room for airflow.
At 8 inches in profile, this futon mattress can be used either on a futon frame or a standard bed box spring. The coils are covered with a 1-inch foam layer that helps buffer and soften. The mattress is covered by a cooling and durable microfiber polyester cover. Cleaning is a breeze by simply wiping it down with a damp cloth.
Stats
Price: $186.22 (Full)
Filling: Foam, innerspring
Warranty: 1-year warranty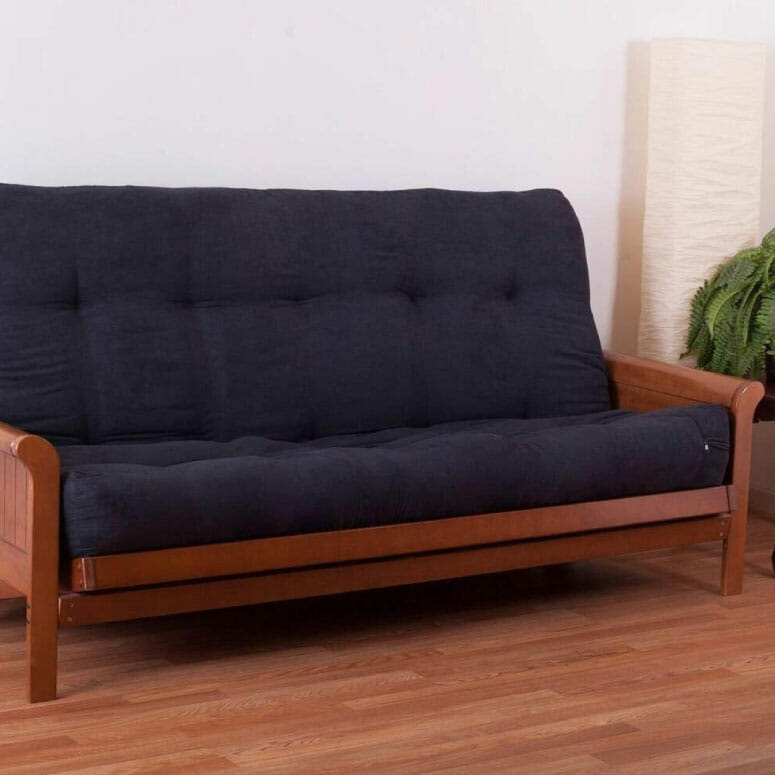 If you have a funky flair and want to spice up a room with unique colors, you can't do better than the Blazing Needles Renewal 9-Inch Microsuede Futon Mattress. This mattress is available in 18 vibrant color options — none of the futon mattresses reviewed so far has had this many color options, so you can genuinely select the mattress you want.
This futon mattress is constructed with a thick, dense foam core that gives a medium-firm feel. Cotton batting surrounds the foam core to help regulate temperature and add softness. Overall, this futon mattress is 9 inches thick, which is a lot of foam if you think about it.
The microsuede fabric covering is luxuriously soft and will last longer than you likely want to keep the futon mattress. This model is relatively light at only 48 pounds, so moving it is easy and can be accomplished by one person. This mattress is a full size and fits any standard futon frame.

Stats
Price: $151.99 (Full)
Filling: Foam
Warranty: 30-day Amazon guarantee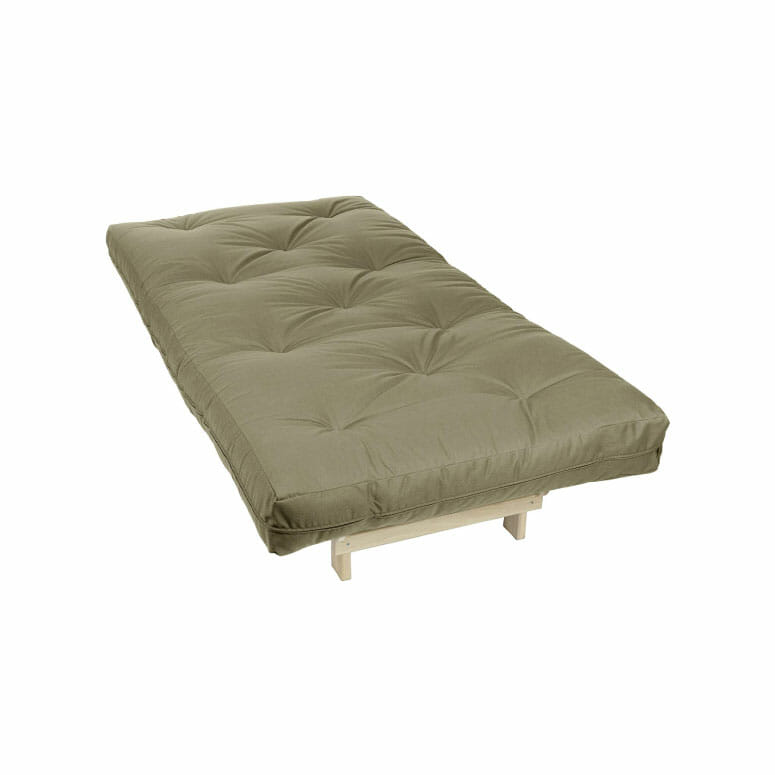 Wrapping up our list of the best futon mattresses is the Mozaic Twin Size 10-Inch Cotton Twill Futon Mattress. You might be saying to yourself, "Finally, a twin-sized futon mattress." Yes, we love twin-sized futons just as much as the rest of you out there. What's better than a futon for just one person? No more sharing your sleeping or sitting space with animals who crowd you off the side and onto the floor.
You can purchase this futon mattress in 6-, 8-, 10-, and 12-inch variations. The Mozaic futon mattress has a dense memory foam core made from polyester and the cotton twill tufted cover is soft and will stand the test of time. This mattress is reversible, so you can get twice the life out of your purchase.
There are eight colors available, including khaki, ivory, and hunter green to give your room a clean, sophisticated appearance. This purchase only includes the mattress, so if you don't already own a twin-sized futon frame, you will need to purchase one separately. One of the selling points of Mozaic futon mattresses is that they come with a 1-year limited warranty, which we think all futon mattresses should include with purchase.
Stats
Price: $146.37 (Twin)
Filling: Memory foam
Warranty: 1-year limited warranty