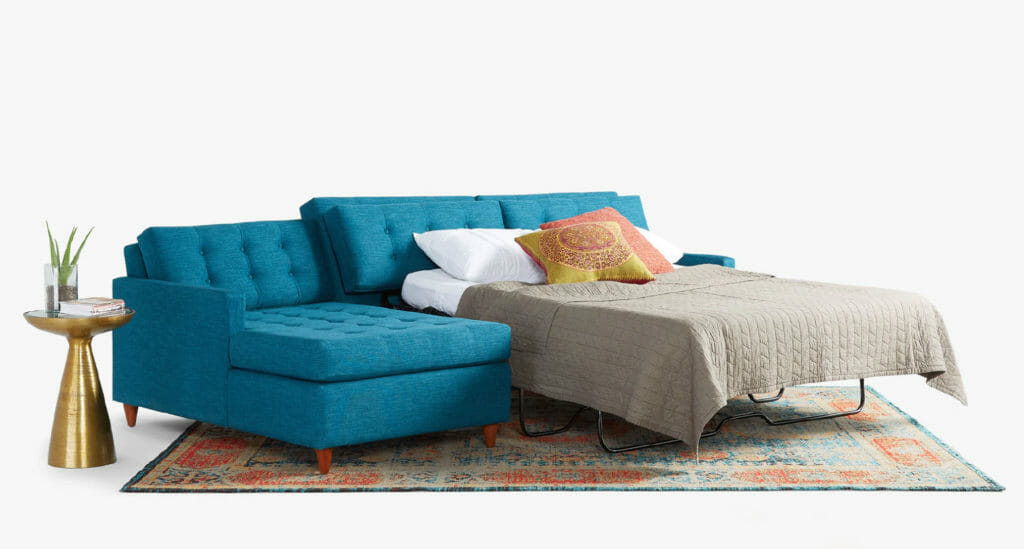 Not all homes have a spare bedroom or storage for an extra mattress, which can make it difficult to accommodate guests who need to spend the night at your house. Buying one of the best sleeper sofas on the market can help solve that issue, especially since sleeping on a regular couch isn't always exactly comfortable, cozy, or even enough space.
A sleeper sofa is a couch that can transform into a bed when needed, providing a comfortable place for guests to rest even in the smallest living spaces.
Unlike a futon, where you sleep on the same cushioning as you sit on, a sleeper sofa has a mattress and a foldable frame that you pull out from beneath the couch cushions.
The Best Sleeper Sofas
There are numerous options when it comes to selecting a sleeper sofa, and it's possible to achieve maximum comfort and style without sacrificing affordability. Below we've listed the 10 best sleeper sofas in different price ranges, highlighting various features that may be important for your individual needs.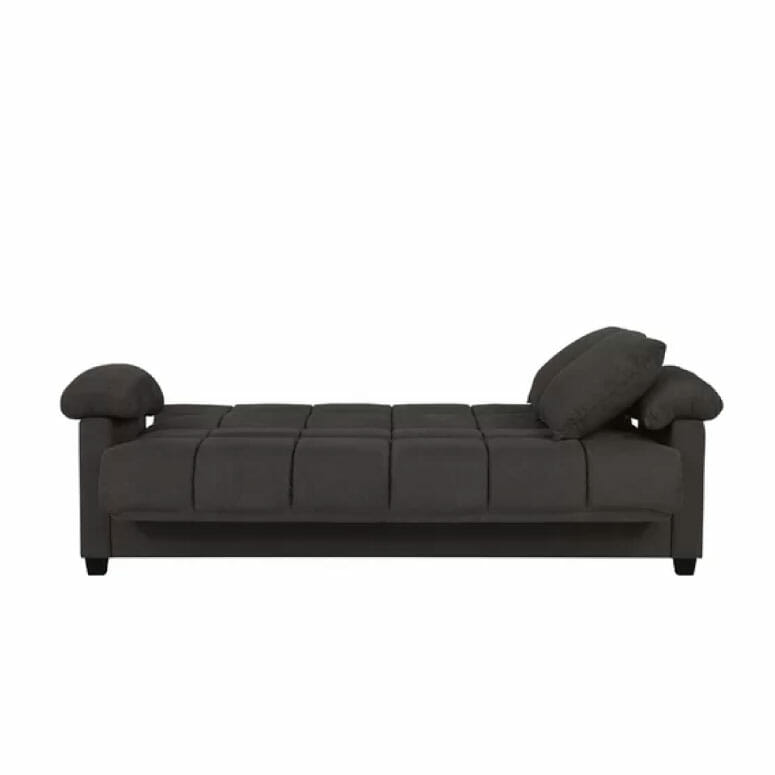 The Minter Sleeper is kind of a hybrid between a futon and a traditional sleeper couch. This sofa, when used for sitting, looks like any other couch. But when you remove the back pillows, you discover what looks like the mattress support frame of a bed. For the price and quality of build, this sleeper cannot be beaten—which is why it tops our list of the 10 best sleeper sofas around. If you are looking for a sofa that can transform into a full-size bed, the Minter Sleeper is definitely a good option to consider.
The dark wooden legs that support this couch allow it to fit in with multiple styles of decor, no matter what furniture already exists in the room you choose to place this piece in. Included in the purchase of the Minter Sleeper are two throw pillows that match the color of the couch you choose. This couch comes in six colors, including sage gray, grey, mocha, dark brown, black, and crimson.
Before you choose this sleeper sofa, be aware that you will need to have the same amount of space behind the piece that it needs in the sitting position—just like you would with a traditional futon. The sofa does not fold out forward like a traditional sleeper sofa, but transforms into a bed much like a futon. Customers who have purchased the Minter Sleeper say that the sofa gives the best bang for the bucks, but that the transition from sofa to bed can be a little tricky and take some getting used to.
Stats:
Price: $407.99
Material: 100% Polyester
Size: 36'' Height, 89'' Width
Lifespan and warranty: 1-year parts warranty (free), 3 years (+$36.99), 5 years (+$54.99)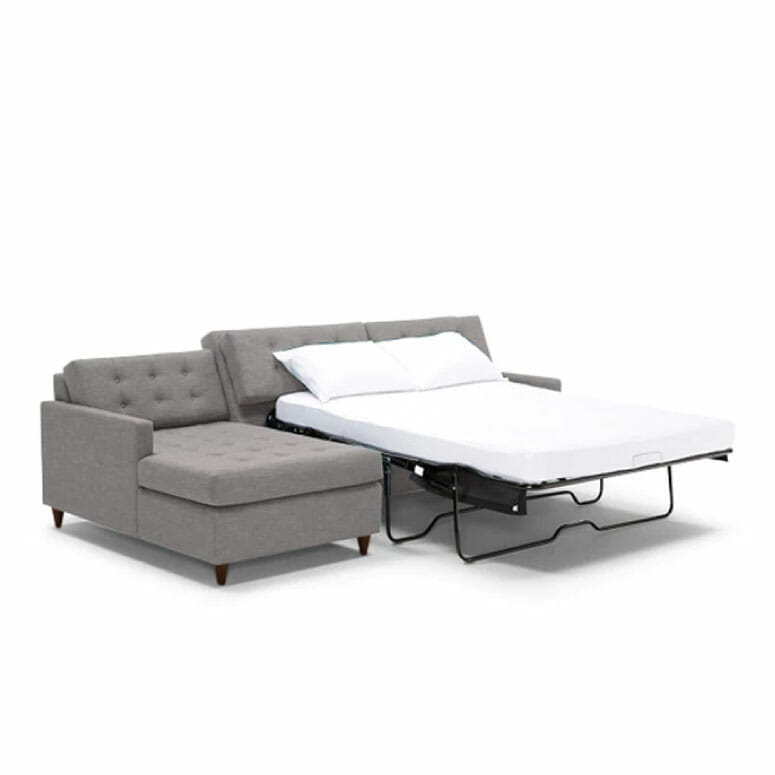 Any list of the top 10 best sleeper sofas wouldn't be complete without the Eliot Sleeper Sectional—the ultimate sleeper sectional. When the bed is out, there is still someplace to sit. The mid-century styling combines comfort with a modern look that will fit into most existing styles of a living room.
Although the Eliot is a bit pricey, you get what you pay for with this sleeper. Joybird stands by their products with a 360-day home trial and a lifetime warranty. If for some reason you are unsatisfied with your purchase, the Eliot Sleeper Sectional can be returned to the manufacturer for free. These sectionals can be custom made. You get to pick the fabric (or leather) and the color.
Customers rave about both the comfort and functionality of this sleeper sectional. In fact, it's hard to find lower than a 4-star review (on a scale of one to five stars). That's likely due to the quality of the sectional and the world-class customer service provided by Joybird.
Stats:
Price: $2,344.00
Material: 100% Polyester, leather, etc.
Size: 34'' Height, 113'' Width
Lifespan and warranty: Lifetime warranty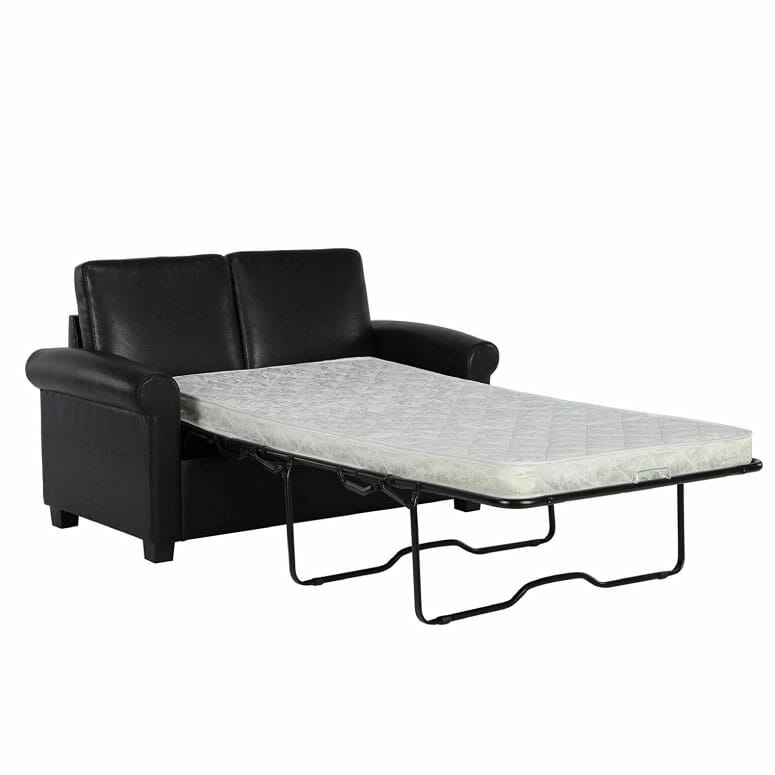 For those who are short on room for a sofa but still want extra sleeping space, the DHP Logan Twin Sleeper Sofa is a great option. This loveseat-size sofa can convert into a twin bed whenever the need arises, and it comes with a memory foam mattress for comfort. It's the perfect size for an office (for power naps between meetings) or for smaller apartments and living spaces. Weighing only 130 pounds makes moving this sofa easy with two people.
Customer reviews have mostly positive things to say about this small sleeper sofa. The main complaint about this sleeper is that some people may need another layer of padding when sleeping on the memory foam mattress. The manufacturers do indicate that the bed has a weight limit of 225 pounds, so that's something you might want to keep in mind.
Stats:
Price: $593.00
Material: Fabric
Size: 35.5'' Height, 31'' Width
Lifespan and warranty: N/A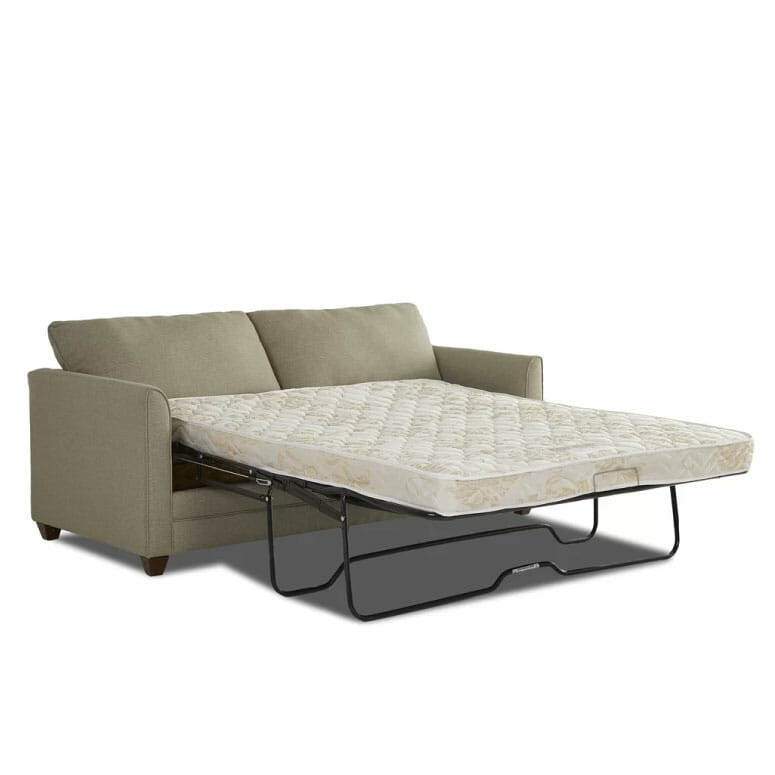 This understated sleeper folds out into a queen-size bed when sleeping space is needed. The Sarah Sleeper Sofa is the ultimate customizable couch, with 127 color and print options and six upholstery materials to choose from. Two matching toss pillows are included with every Sarah Sleeper Sofa, and you have the option to purchase an armchair, loveseat, and ottoman to match the Sarah Sleeper Sofa you choose.
Customer reviews say this couch can feel on the firmer side when sitting. It appears that it can take some time to break the cushions in, but once the break-in is complete the sofa is very comfortable. The coiled spring mattress that comes with this sofa is able to support up to 500 pounds, and reviews indicate that the mattress is very comfortable for sleeping and appears to be quite thick.
With the huge variety of customization options, comfortable mattress, and sturdy construction, is it any wonder that the Sarah Sleep Sofa made our list of the 10 best sleeper sofas?
Stats:
Price: $799.00
Material: Various options, including 100% Cotton, Microfiber/Microsuede, Velvet, Polyester Blend, Acrylic, Cotton Blend, Polypropylene/Olefin, 100% Polyester, and Sunbrella®
Size: 34'' Height, 77'' Width
Lifespan and warranty: 3-year warranty (+$63.99), 5-year warranty (+$96.99)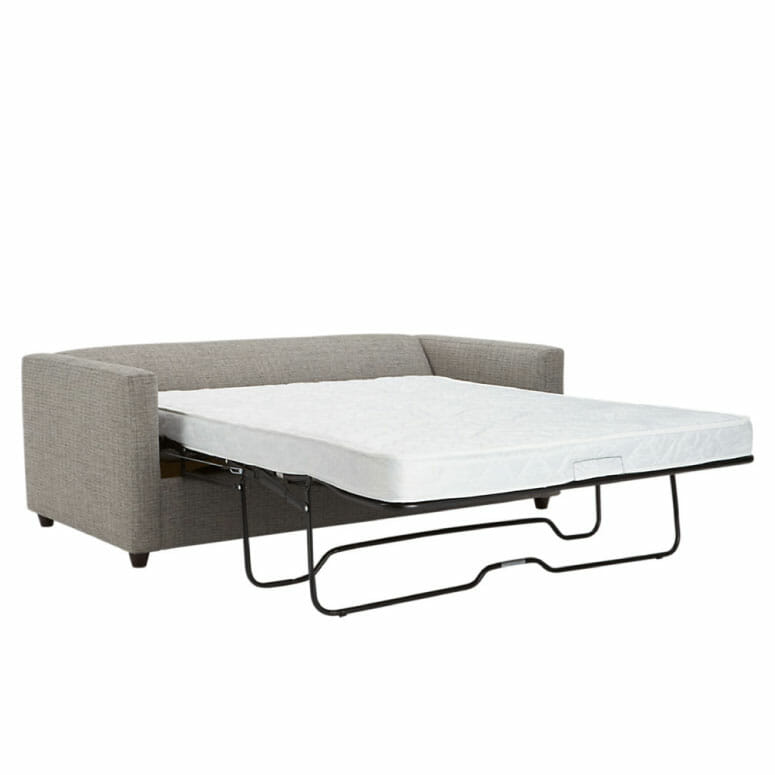 The Movie Queen Sleeper Sofa by CB2 has distinctive modern styling, with a design that has a sense of simple elegance. There are 29 color options (2 stock fabrics and 27 custom) included at the base price of $1,699. There are three additional price points, going up to about $2,100. At different points, you have more customization options (up to a total of 76 fabrics, colors, and designs). The Movie Sleeper converts to a queen-size bed when guests need a place to sleep.
Customer reviews are mostly positive about this sleeper sofa. The negative reviews surround the quality of the custom fabrics. Customers who ordered the custom fabric lament that fraying occurs after only months of use. These issues do not seem to be a problem with the standard fabric options that this sofa comes in.
Stats:
Price: Starting at $1,699.00
Material: Multiple options
Size: 27'' Height, 80'' Width
Lifespan and warranty: N/A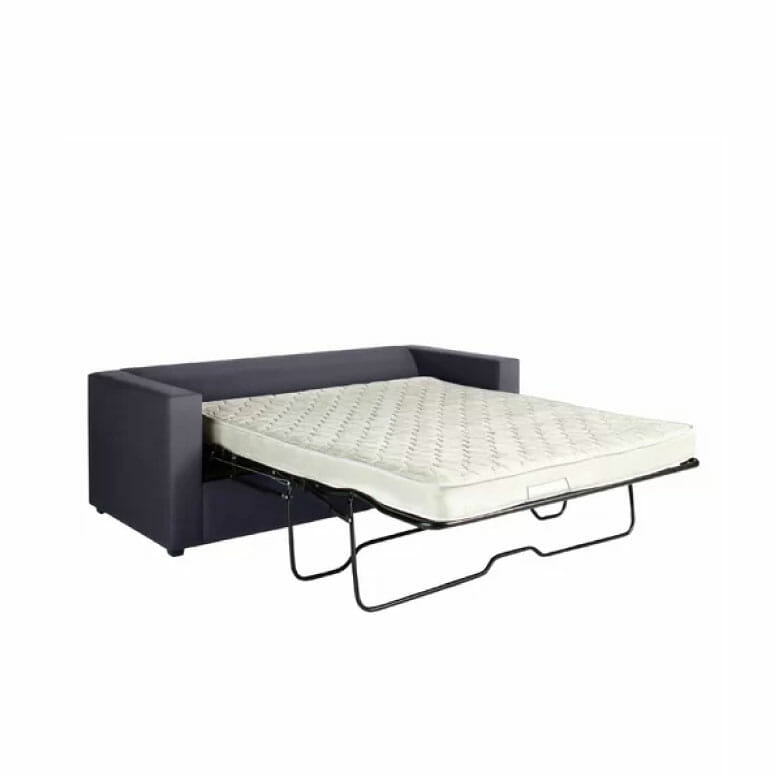 Here's another modern, sleek, simplistically designed sofa that converts into a bed when needed. The Mono Sleeper Sofa is currently available in three colors, including Packwood Gray (dark gray), Spitzer Gray (light gray), and Rostenkowski Blue (steel blue). One cushion covers the entire seating area, adding to the modern look and ease in which this sofa converts into a sleeper.
The Mono comes with an innerspring mattress and matching toss pillows. Don't worry about setting up this bad boy, because the sofa comes fully assembled and includes delivery to any room or floor of the house.
The only complaint by customers who have bought the Mono Sleeper Sofa is that it tends to be a little firm for the first few months. Other than the one criticism, buyers of this sofa praise the style and color options that are available for this couch. With pretty much nothing for buyers to complain about, the Mono was a must-have for our list of best sleeper sofas.
Stats:
Price: $2,299.00
Material: 100% Linen; Polyester Blend
Size: 32.5'' Height, 81.1'' Width
Lifespan and warranty: 3-year warranty (+$227.99), 5-year warranty (+$340.99)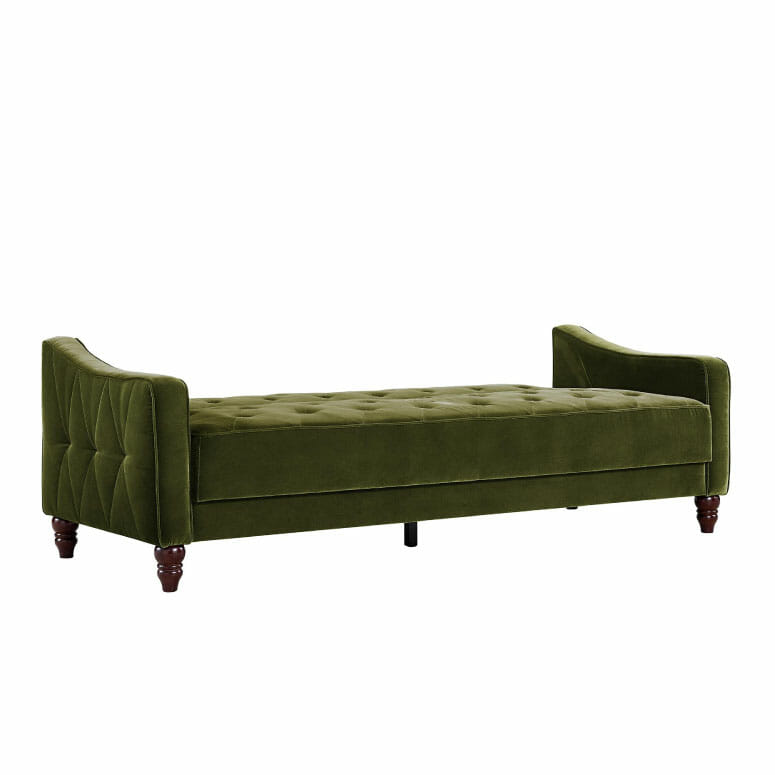 If you're in the market for a sleeper sofa with a vintage look, you have to check out the Novogratz Vintage Tufted Sofa Sleeper II. This sleeper sofa looks like it belongs in a Sherlock Holmes movie or a Victorian library. The sofa is available in four colors, including a shade of green that looks rather bright, but customers indicate that when placed in a room it looks more olive in color.
Converting this sofa into a bed is as simple as snapping the back of the sofa sleeper down. There's no hassle of a mattress or cushions that need to be removed when using this sofa as a sleeper. But you will need space for the back to fully recline into a flat surface.
Minimal assembly is required for this sleeper sofa, but customers indicate that it's a simple and straightforward process. The sofa is on the firmer side, so expect the bed to be firm as well (since there is no separate mattress).
Stats:
Price: $632.72
Material: Velour
Size: 81.5'' Height, 34.5'' Width
Lifespan and warranty: N/A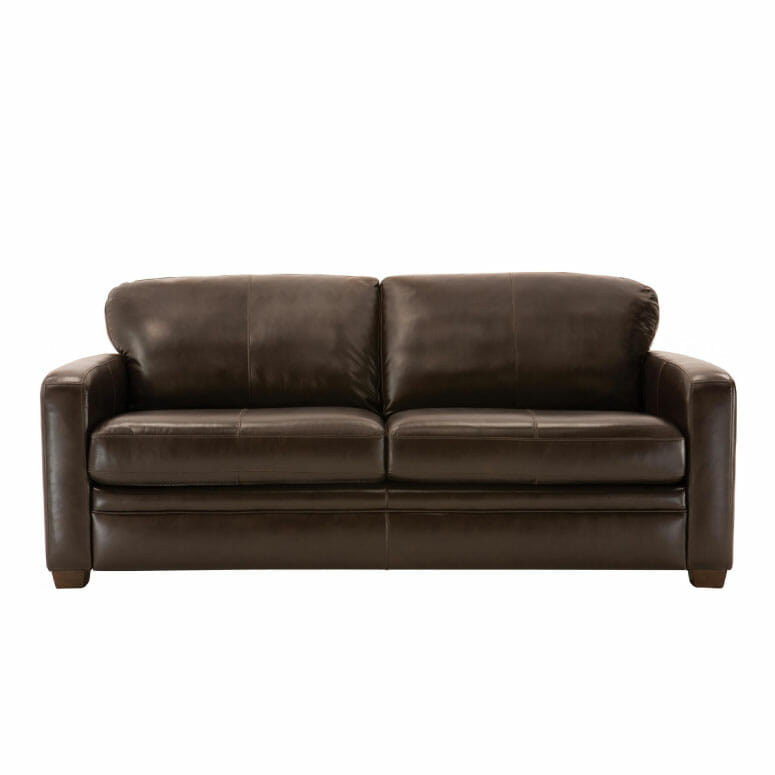 The contemporary Trent Leather Queen Sleeper Sofa is a quality couch covered in top-grain bonded leather. The dark chocolate color will complement most existing living styles and decor. Just looking at this sofa, you know this piece of furniture is made to last.
The couch converts to a queen-size bed by simply removing the seat cushions and unfolding the bed frame. The Trent Leather Sleeper Sofa comes with a queen innerspring mattress that provides both comfort and support for sleeping.
Customer reviews confirm that this sofa is both durable and comfortable. Many reviews indicate that it's a perfectly sized sofa for an apartment. The only review under four stars that can be found concerns the couch not being the exact softness as the store model. This is likely due to the store couch being broken in. Only the best sleeper sofas generate these types of positive reviews!
Stats:
Price: $1,229.00
Material: Leather
Size: 35'' Height, 78'' Width
Lifespan and warranty: 1-year limited warranty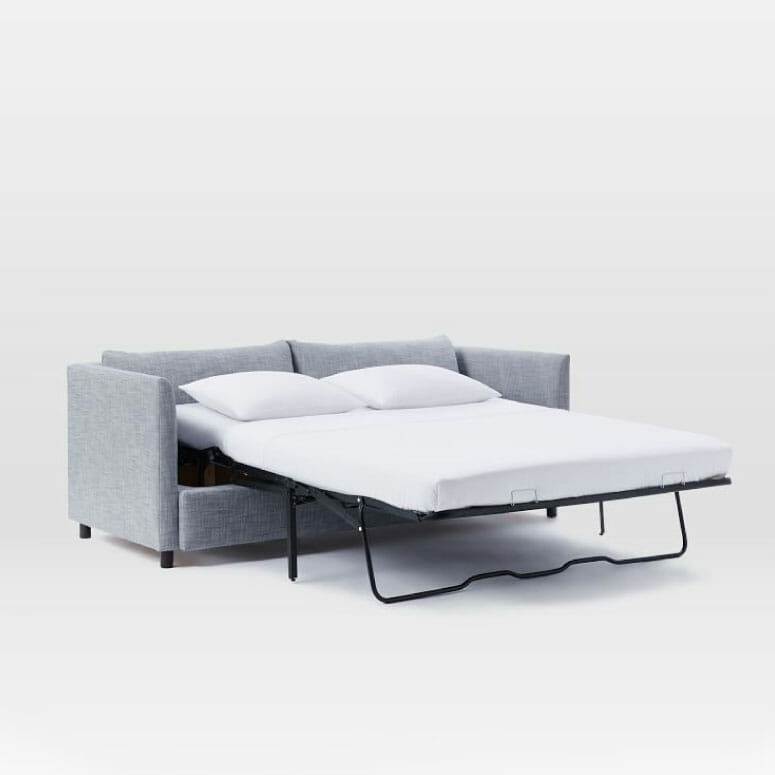 If comfort is your objective, the Shelter Queen Sleeper Sofa is a couch you need to investigate. This sofa sleeper comes in dozens of colors and materials, giving you the ability to pick a theme that complements the decor you already have—or completely makeover your existing style!
When the Shelter Sleeper Sofa is opened, it turns into a roomy, queen-size bed that's perfect for overnight guests. The mattress that's included with this sleeper sofa is made with a two-layer construction of high-density foam and gel-infused memory foam designed to wick away body heat. It's a great option for sleepers who tend to wake up or have difficulty falling asleep because they feel hot.
West Elm, which makes the Shelter Queen Sleeper Sofa, is located in Brooklyn, New York and prioritizes the use of sustainably sourced woods and organic cotton. You can rest easy knowing that when you purchase from West Elm you are also helping the environment.
Stats:
Price: $2,399.00
Material: Tweed, Twill, Basketweave, Velvet, Canvas, Linen, Faux Suede
Size: 30'' Height, 84.5'' Width
Lifespan and warranty: N/A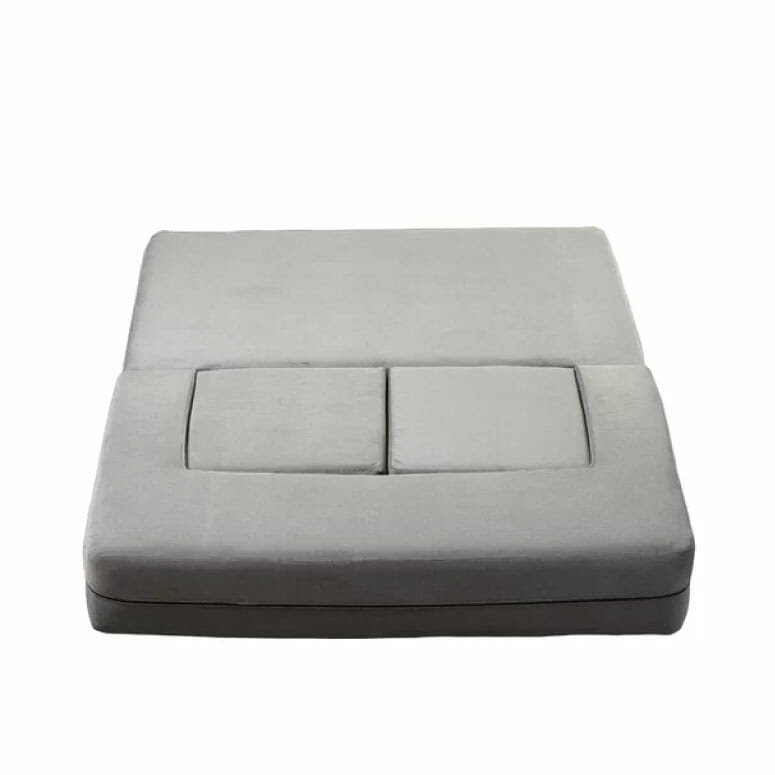 If space is an issue, the Eugene Modular Sleeper is an easy choice. This modular sleeper couch is basically foam wrapped in fabric. But before you dismiss this as an option, listen up.
This sleeper sofa looks like a modern piece of furniture. Blocky in design, it can fold and unfold into a bed or couch depending on your needs. Two of the "blocks" can be used as end tables when the piece is being used as a sofa. And they fit into a space within the border when it's all folded out, creating a queen-size bed.
The fabric covering can be removed and is machine washable. Pick from seven colors to match your decor or create an accent furniture piece to build your room around.
Customers who have purchased this sleeper are surprised at its comfort and versatility.. The only negative that purchasers seem to mention is that the sofa sits very low to the floor. If a low sofa is a deal breaker for you, choose from one of our other nine nominees for best sleeper sofa!
Stats:
Price: $599.99
Material: Polyester
Size: 22'' Height, 61'' Width
Lifespan and warranty: 3-year warranty (+$63.99), 5-year warranty (+$96.99)
Additional Sofa Reviews