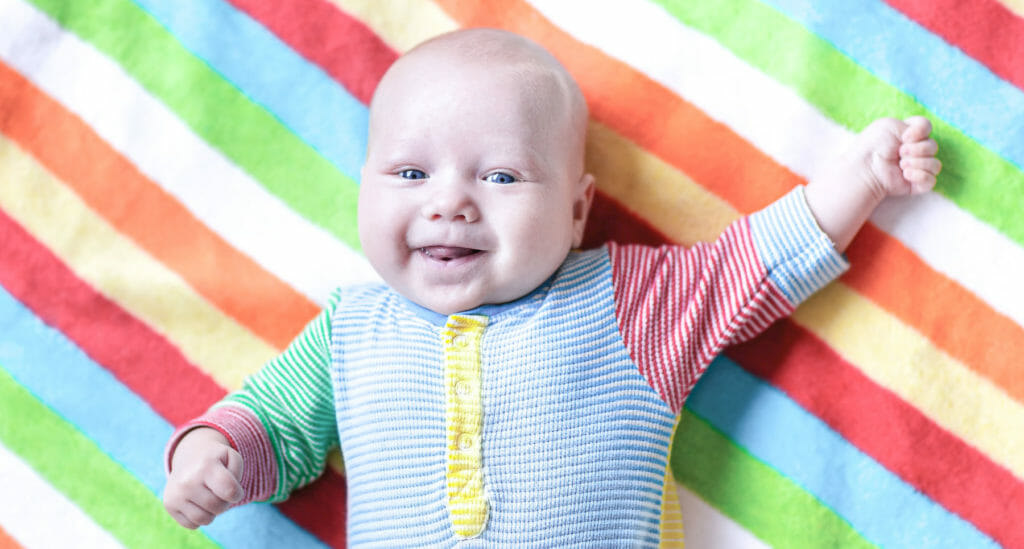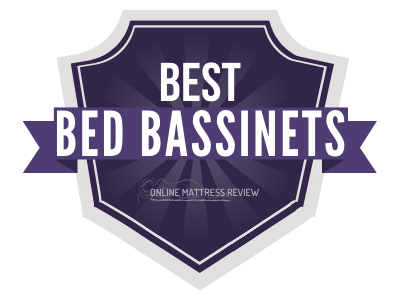 Bassinets are popular with new parents, with many choosing to have their newborn sleep in one before moving them to a crib. In most cases, the bassinet is placed next to the parents' bed so mom and dad know immediately if the baby wakes up at night or needs anything.
This particular piece of nursery furniture plays an important role in keeping your baby comfortable while they're sleeping, and while it's easy for a grownup to search online for one of the best online mattresses to help them sleep more comfortably, it's not quite so easy for an infant to find a good bed or crib. Mom and dad will have to help.
In this post, we help new parents find the best bassinets currently on the market. These products will all make great additions to your nursery, allowing your baby to have a comfortable, sturdy, and safe place to sleep before moving to a crib and eventually to one of the best mattresses for kids.
---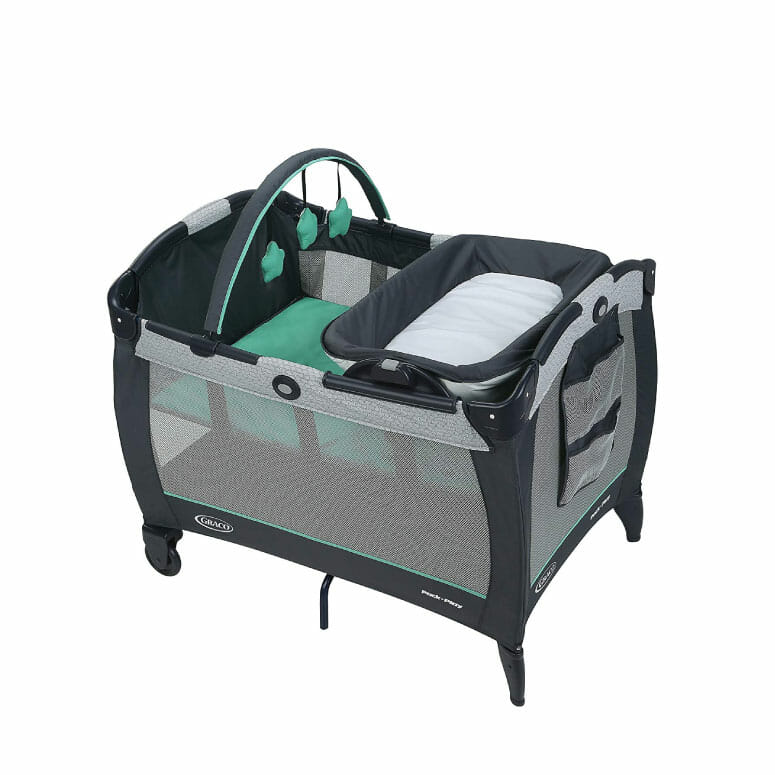 When it comes to getting your hands on one of the best bassinets for your newborn, you want a product that will keep your baby safe while providing a surface that is plush and comfortable. That's why we highly recommend starting your search with the Graco Pack 'n Play Reversible Napper & Changer Playard Basin. This particular option comes with a number of features including a built-in playard feature that will keep your baby entertained for hours on end.
The Graco Pack 'n Play Reversible Napper & Changer Playard Basin has a relatively affordable price tag. This is also a relatively lightweight option—weighing in at 25 pounds. The toy bar located at the top can be detached for your convenience. The product also comes with locking wheels so the bed won't move around when you're trying to get your baby in or out of it.
---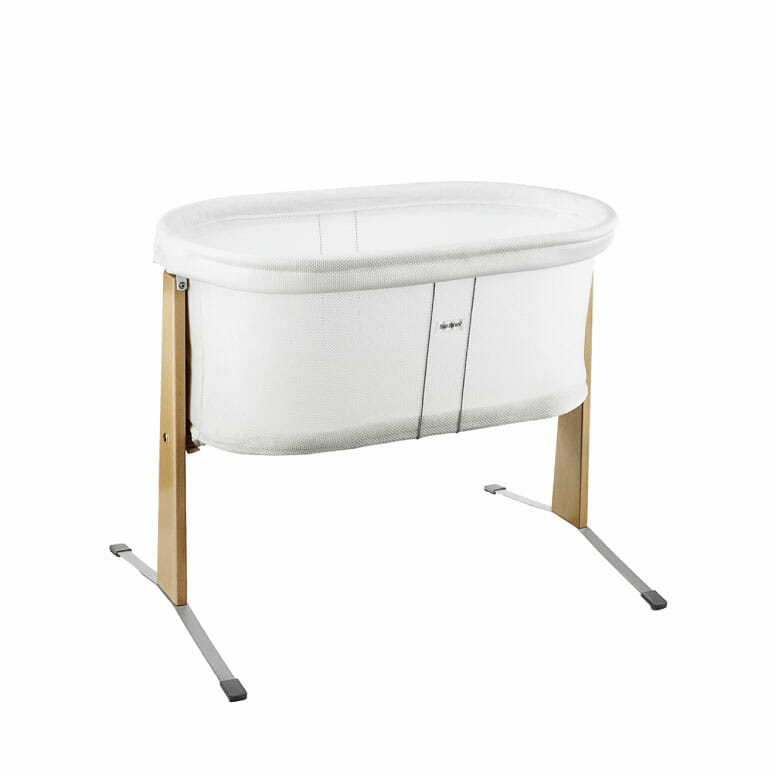 If you have a bigger budget for a bassinet, then you should definitely consider the BabyBjorn Cradle. This one comes at a price tag slightly higher, but its superior design comes with some convenient features that will help keep your baby calm and happy. This product is one of the best bassinets because it features the rocking motion of a cradle, and as most parents know, rocking is the best way to calm a restless baby.

The bassinet comes in white with natural wood cradle legs and is made from a breathable soft mesh—so no need to worry about your baby having to sleep on a hard surface. The fabric inside the bassinet can be removed and washed in a standard washing machine, making it easier to keep the bed clean.
---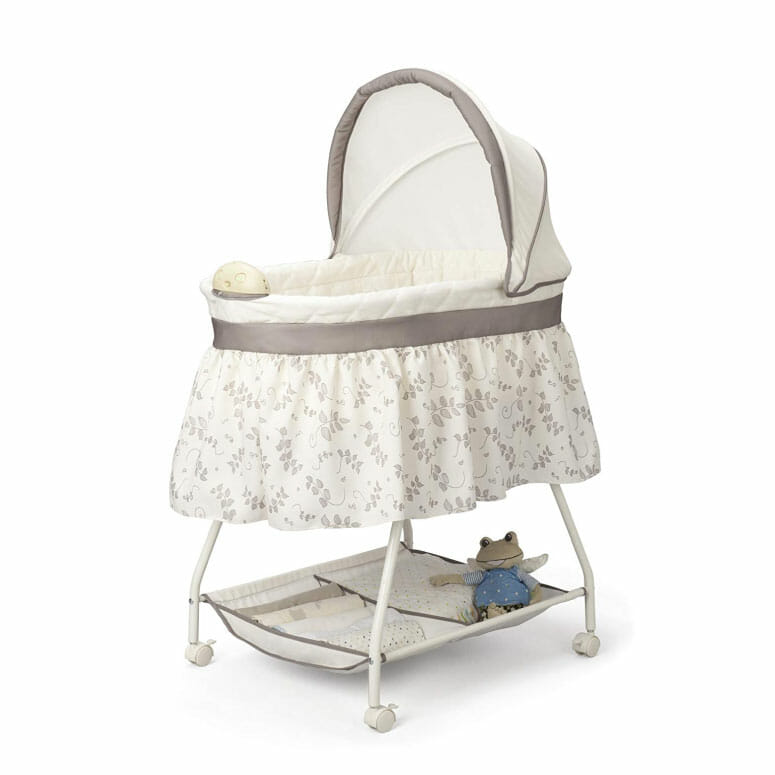 If you do find yourself on a somewhat tighter budget, but you still want a bassinet made of high-quality materials and equipped with lots of convenient features, then consider the Delta Children Sweet Beginnings Bassinet. The product comes in a variety of styles and designs, and while the price tag depends on the style you choose, it is generally affordable for everyone.
The Delta Children Sweet Beginnings Bassinet is also lightweight, with a maximum internal weight capacity of 15 pounds, so it is ideal for newborns. This bassinet comes with a detachable canopy and a music player built in, which is a really unique feature.
The music player is loaded with calming sound effects. And if that weren't enough, it also has a convenient nightlight, making this option one of the best bassinets for the money. 
---
The Arm's Reach Concepts Clear-Vue in Grey might look like a bulkier option compared to the other bassinets we've highlighted so far, but you should take a moment to consider its features. The product comes with a higher price tag, but the overall design focuses on quality and durability as well as soft materials for maximum comfort.
The Arm's Reach Concepts Clear-Vue provides mom and dad with a 360-degree view of the baby at all times. The legs are height adjustable, which means there is no need for additional extensions if you need the bassinet to come up a little higher, and the bottom of the bassinet features a storage basket that allows you to keep all of your baby's essentials close by. This is one of the best bassinets for babies up to 5 months old.
---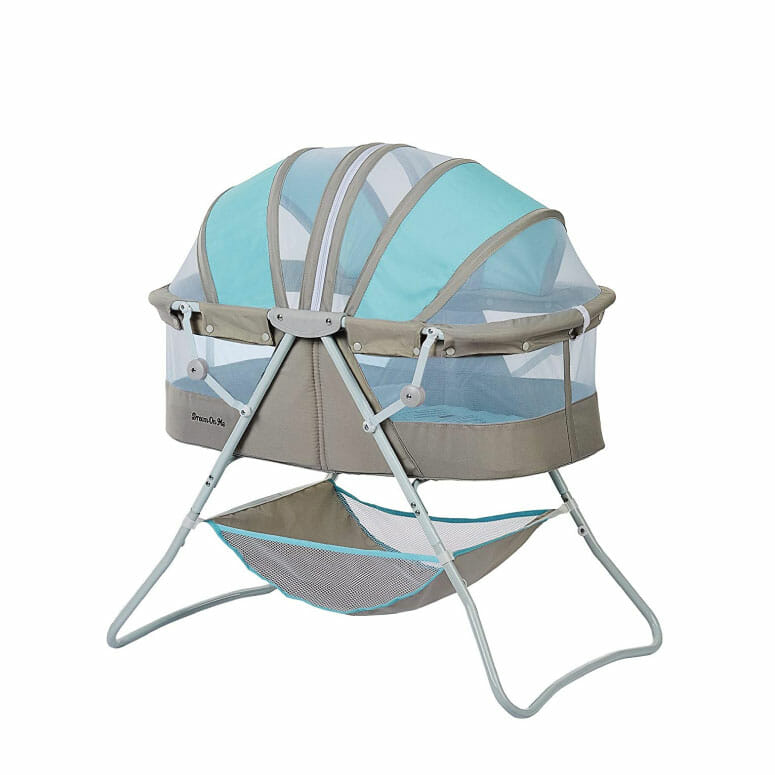 Next up on the list of best bassinets is the Dream On Me Karley Bassinet. This is one of the more affordable options and comes in seven different color schemes. The product also comes unassembled, but for an extra $20 you can pay during the checkout process, the company offers a professional assembly service to help you put it together.
The Dream On Me Karley Bassinet has a canopy that can close completely. And no need to worry about airflow when it's in the closed position because there is breathable mesh on the sides of the bassinet and canopy. Polyester foam is the primary material used in the production of the interior, so your baby has a soft surface for sleeping. You can use this particular bassinet for babies up to 25 pounds.
---
The HALO Bassinest Swivel Sleeper is another high-quality option to consider on our list of best bassinets— and reasonably priced. The swivel feature allows the upper part of the bassinet to rotate 360 degrees for easy access to your baby while recovering from childbirth. It features a unique pedestal, which has a mechanism that helps secure your baby and the bassinet as it swivels. The product comes in a soft grey color called Morning Mist, and the mattress pad is included.
The HALO Bassinest Swivel Sleeper is made primarily from wood and has a total weight of 30 pounds. This particular bassinet provides support for babies up to 5 months old with a total weight of up to 20 pounds.
---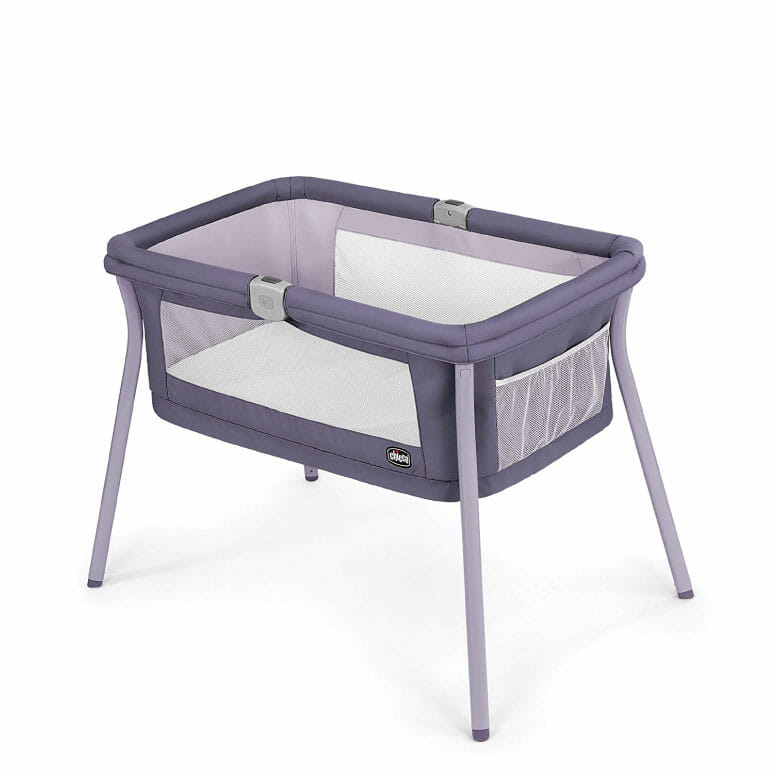 The Chicco LullaGo Portable Bassinet in Iris is a moderately priced option that is an ideal option for families that travel frequently. The product conveniently folds into a size small enough to fit into any car, ensuring it won't take up a significant amount of space. And it comes with its own carrying bag, enhancing its portability, which is one of the main reasons why this is one made our list of best bassinets.
The Chicco LullaGo Portable Bassinet in Iris features a design made from a breathable and soft mesh material, and it comes with a padded mattress, providing your baby with a more comfortable surface to sleep on. There is a washable cover included with the mattress. Materials used in the construction of the bassinet include polyester, plastic, and steel.
---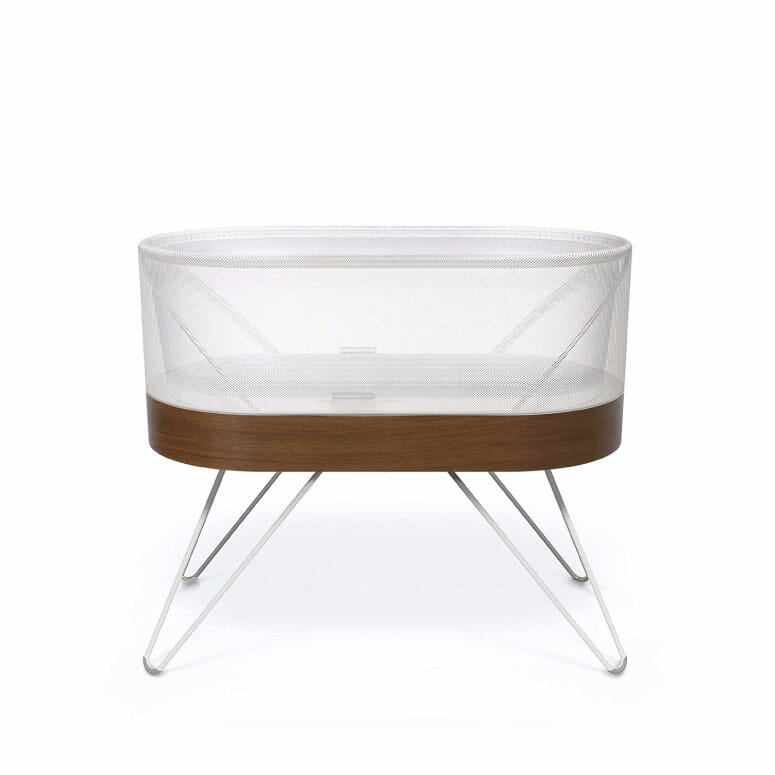 For those with a bit more money to spend, the SNOO Smart Sleeper by Happiest Baby is a great option. This one comes with a hefty price tag, but if that's in your price range, then you will surely get a lot out of its features. The SNOO Smart Sleeper has gotten a lot of national attention: It's been featured in Parents magazine and on CNN, the Today Show, The Doctor Oz Show, among more than 200 other media mentions. The bassinet has also received multiple awards.
The SNOO Smart Sleeper by Happiest Baby comes equipped with unique technology that helps your baby sleep better. According to the manufacturer, babies generally get at least one to two hours more sleep in the Snoo Smart Sleeper because of its automatic rocking motion and the soothing sounds it emits. It is also able to detect and respond when a baby cries.
---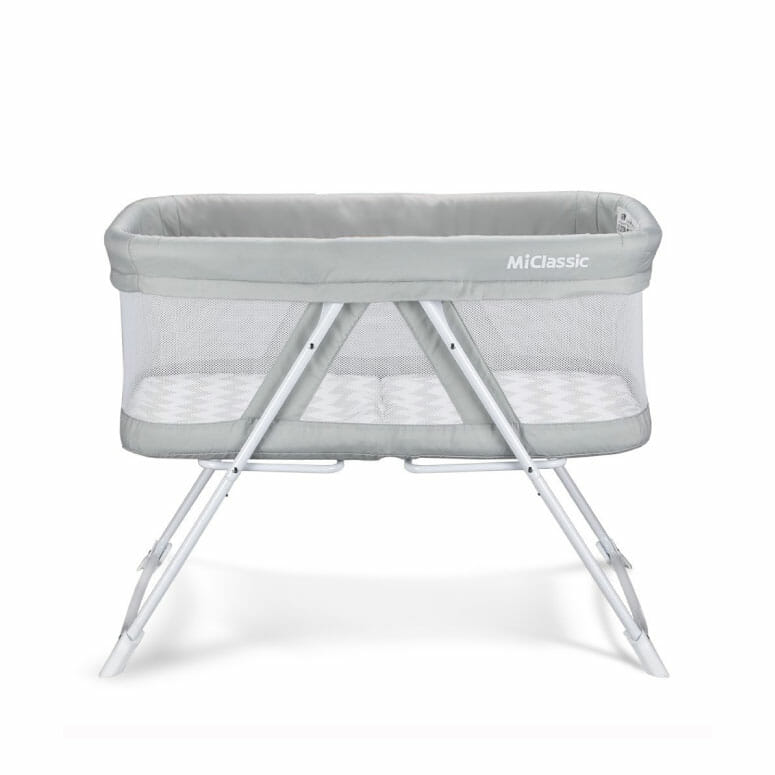 The next option on our list of best bassinets is a two-in-one product called the MiClassic 2in1 Stationary & Rock Mode Bassinet. As the name implies, it comes with two different modes: The first is a stationary position while the second allows you to provide your baby with a soothing rocking motion, which can potentially improve their sleep.
The MiClassic 2in1 Stationary & Rock Mode Bassinet features a modern design that is not only attractive but also functional and durable. The product is made from a high-quality material including added mesh at the sides that makes the inside of the bassinet more breathable. A carrying bag is also included for easier transport.
---
Last up on our list of best bassinets is a low profile portable option, the Simmons Ultra Compact Bassinet. This product comes with a reasonable price tag but offers a quality and convenient design, no doubt. It's perfect for taking a newborn on vacation or on a trip to see the grandparents. Are you taking your toddler on a playdate… but your newborn may need a nap? This one is a great choice!
The Simmons Compact Bassinet has a see-thru mesh that makes it easy to see your baby as they sleep and makes it safe allowing for easy air-flow. It also features a calming vibration, soft music, and a gentle glow nightlight option as well. It folds easily and includes a travel tote that you can carry on your shoulder. A machine-washable fitted sheet is included.
---
Conclusion
There are a lot of different bassinets on the market, and choosing the best one for your newborn is essential. You want your new baby to sleep comfortably, and you want the peace of mind knowing that your child won't fall out of their bed. Consider our list of best bassinets to help you find one that will be the ideal fit for you and your newborn.
ADDITIONAL RESOURCES: