Quality sleep isn't a luxury; it's a necessity. As such, choosing the right mattress to suit your needs is an important investment in your future health. We spend a good portion of our lives sleeping, and a good sleep regime promotes a healthy, balanced body and contributes to our overall well-being. Here we will discuss the important question, "What is a latex mattress?" We will also touch on the benefits that latex mattresses have to offer and give you useful tips to help you choose the right mattress for your needs.
Table of Contents
What is a Latex Mattress?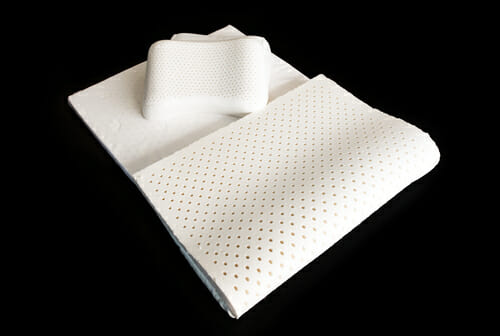 Latex mattresses have been in existence for several decades now and continue to be a favorite mattress type for many people. There are three different types of latex mattresses, and these are as follows:
Natural Latex
Blended Latex (part natural and part synthetic)
100% Synthetic Latex
The features and cost of each of these three choices will vary slightly, but in the paragraphs that follow, we will touch on some of the basic benefits these mattresses offer, according to Essentia.
What are the Benefits of a Latex Mattress?
As noted above, the latex used in mattresses can be from natural sources or synthetic ones. Many times a combination of the two are used to reduce manufacturing costs while still providing the many benefits that natural latex offers.
Natural latex is made from the sap of a tree and offers a wide array of benefits, as further addressed below.
Supportive but Comfortable
Latex provides a semi-firm surface while still offering a high degree of comfort. Latex also conforms to your body while still allowing for greater ease of movement than certain other types of mattresses offer. This means when you change positions during the night, a latex surface will move along with you rather than keeping you more confined to one spot. The firm but flexible surface also provides a great deal of support for the spine and allows for pressure to be taken off the joints, leading to less stiffness and pain when waking up, according to the Natural Sleep Store.
Anti-Allergy
A mattress made with latex is a good choice for those with environmental allergies. Natural latex is resistant to mildew, mold, dust mites, and a variety of other irritants that can cause flare-ups in those who suffer from allergies. Additionally, if you suffer from conditions that affect your breathing, such as asthma, the hypoallergenic nature of natural latex can be of benefit to you.
Durability and Customization
One of the best features of a latex mattress is the fact that it can be customized to meet your needs in many cases. While most other types of mattresses come as-is, a latex mattress can come in such a variety of configurations that it makes it easier to find one that suits your needs.
For example, a latex mattress may be layered with cotton, wool, or other organic materials to allow for even better comfort and breathability. Additionally, these additions can provide a degree of flame retardant protection to the mattress. A combination of natural and synthetic latex will provide a more cost effective mattress while still providing all the benefits that natural latex has to offer.
Even Distribution of Motion
If you sleep with pets or you have a partner who moves around a great deal, you will appreciate this particular benefit of a mattress made from latex. Because of its solid construction, this type of mattress will allow for an even distribution of motion across the mattress surface. This allows for a better night's sleep for you, even if your partner continues to move about frequently.
Are There Any Downsides to Choosing Latex?
Most of the things that would be considered potential drawbacks for choosing this type of mattress can be sorted out with a bit of education on the topic and proper handling and set up of the mattress. A few of these points are listed below.
Weight
Mattresses made from latex are quite heavy and can be difficult to maneuver. This is not too hard to work around since there are so many variations of this type of mattress available. Choose one that does not need to be flipped or rotated, and the weight of the mattress won't be a huge issue.
Heat Retention
Some owners of mattresses made from latex report that this type of mattress can retain more body heat that other mattress types. Again, some minor adjustments can solve this issue quite easily. Silk or satin sheets will provide a cooler feel to the mattress and allow for breathability. Additionally, using a fan or lowering the temperature in your sleeping quarters can be an easy fix to this issue as well.
Maintenance
While a mattress made from latex is not high-maintenance, a couple of tips can go a long way toward lengthening the lifespan of the mattress.
Latex will harden when exposed to direct sunlight, so it is important to protect your mattress from constant sun exposure. A great deal of heat supplied directly to the surface of the mattress can also cause damage, so use caution when using an electric blanket and don't let it sit directly on the mattress surface. It is best to also avoid ironing clothing on the surface of the bed.
Price
It's true that mattresses made from latex can be more expensive than other types of mattresses. This is especially true if you are choosing a 100% natural latex based mattress. However, it is important to remember that this type of mattress also provides a greater durability than most, giving it a much longer lifespan. When you understand that this type of mattress will last longer without needing to be replaced, it makes perfect sense why the initial investment may be a bit more.
CONCLUSION
Your sleep is a vital part of your recovery from life's day to day stresses. High quality sleep is important for your overall health and longevity. Choosing a mattress is a process that requires a great deal of research, especially since this is an item that you will likely keep for at least the next decade. Through education and research, starting with the pointers provided here, you are sure to find the mattress that best suits your needs and will provide you will restful, therapeutic sleep for many years to come.
Additional Resources on Mattress Types