Texas is a massive state, but we've tried our best to narrow down your options to include the best mattress stores in some of the largest cities.
Mattress Stores in Texas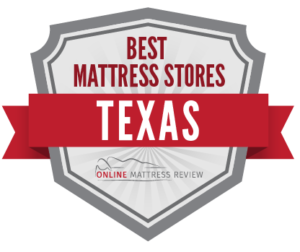 Texans need their sleep whether out working in some of the nations' major economies — Dallas and Houston — or working long hours in the sun out in West Texas. A good night sleep means another day doing what you love.
With a state that likes to go big or go home, it's no wonder this is a huge selection of options for getting yourself a little shut eye.
Houston, Dallas, San Antonio each have many mattress stores that offer quality and affordable mattresses to ensure that you are getting the best quality sleep. West Texas, though sparsely populated, is well-supplied with mattress chains and smaller mattress shops alike. Check out our individual city pages within the state, or a run down of mattress store offerings by region below.
---
Mattress Stores in Houston
If you were asking yourself, where can I find a mattress in Houston, you have come to the right place. Houston is vast and so are the options for purchasing a mattress. Some of the highest ranked mattress stores are Texas-owned.
4619 Navigation Blvd, Houston, TX 77011 Phone (713) 341-6252
If you're in the Second Ward in downtown Houston check out Texas Mattress Makers. They use quality customer service to help you find a mattress suitable for your budget. We know that Houston has a number of neighborhoods.
5810 East Sam Houston Pkwy N Ste A, Houston, TX 77049 Phone (281) 454-7400
1261 W 11th St, Houston, TX 77008 Phone (713) 869-1006
5320 Kirby Dr, Houston, TX 77005 Phone (713) 524-7887
2071 Westheimer Rd Ste C, Houston, TX 77098 Phone (713) 529-3606
and more
Mattress Firm has got you covered with several mattress shops in Houston.
---
Mattress Stores in Dallas
You're in luck if you want to know where to find a mattress store in Dallas because there are several fantastic options.
3007 N Henderson Ave, Dallas, TX 75206 Phone (214) 237-5294
5100 Belt Line Rd Ste 1052, Addison, TX 75254 Phone (469) 801-4000
Sleep Experts is a highly ranked mattress score with impeccable return policies, great customer service, and in-depth knowledge of mattresses and mattress technology. There is also one in Addison if you're looking for a mattress near Dallas. They really are experts.
11661 Preston Rd #301, Dallas, TX 75230 Phone (469) 232-2333
Dallas Natural Mattress is a great find if you are looking for cream-of-the crop organic and sustainable mattresses. Dallas Discount Mattress offers a number of mattresses at low price points.
6464 E NW Hwy Ste 514, Dallas, TX 75214 Phone (214) 613-4579
5400 E Mockingbird Ln Ste 101, Dallas, TX 75206 Phone (214) 826-7600
5000 Belt Line Rd Ste 110, Dallas, TX 75254 (972) 386-0670
2633 McKinney Ave Ste 110, Dallas, TX 75204 Phone (214) 953-3901
Mattress Firm does an excellent job supplying mattresses across several neighborhoods in Dallas.
1290 Conveyor Ln, Dallas, TX 75247 Phone (214) 631-3257
Mattress Outlet provides quality mattresses at an affordable price.
---
Mattress Stores in San Antonio
San Antonio has a great range of mattress options available including factory outlet options and company solely devoted to mattresses.
9815 Culebra Rd #104, San Antonio, TX 78251 Phone (210) 647-5878
6801 San Pedro Ave, San Antonio, TX 78216 Phone (210) 361-4687
For downtown San Antonio, Factory Mattress offers something for everyone with affordable prices and all types of firmness. Next Day delivery is an option here.
4915 McCullough Ave, San Antonio, TX 78212 Phone (210) 824-0201
Cantwell Mattress Company has great customer service and wide variety of mattresses and is located in Alamo Heights.
Other top mattresses stores in the area include Optirest Mattress and Factory Mattress.
5563 De Zavala Rd #150, San Antonio, TX 78249 Phone (210) 696-1122
6801 San Pedro Ave, San Antonio, TX 78216 Phone (210) 361-4687
309 Northwest Loop 410, San Antonio, TX 78216 Phone (210) 361-2505
13111 San Pedro Ave, San Antonio, TX 78216 Phone (210) 361-3973
17700, 281 North Dr #128, San Antonio, TX 78232 Phone (210) 361-3922
---
Mattress Stores in Austin
There are a couple of Mattress Firms and Mattress Firm Clearance stores in Austin.
311 S Lamar Blvd, Austin, TX 78704 Phone (512) 473-8631
3910 N Lamar Blvd, Austin, TX 78756 Phone (512) 371-0760
Clearance Center 12901 N Interstate Hwy 35, Austin, TX 78753 Phone (512) 989-9473
5403 N Interstate Hwy 35, Austin, TX 78723 Phone (512) 420-9303
Austin is home to these other mattress shops.
4001 N Lamar Blvd #200, Austin, TX 78756 Phone (512) 298-3043
5400 Brodie Ln #200, Austin, TX 78745 Phone (512) 730-1233
4701 183A Frontage Rd Suite A, Cedar Park, TX 78613 Phone (512) 354-7579
Urban Mattress is one of the top ranked mattress stores in the capitol and now has three locations: Central Austin, North Austin, and South Austin.
615 W Slaughter Ln #115, Austin, TX 78748 Phone (512) 836-1472
7524 Burnet Rd, Austin, TX 78757 Phone (512) 454-4897
7208 McNeil Dr. #202, Austin, TX 78729 Phone (512) 279-7777
Other popular shops include Discount Mattress, Matrezzz Guys and Austin Discount Mattress. All of these mattress shops offer quality and affordable mattresses to suit your specific needs..
---
Mattress Stores in Western Texas
2309 Scurry St, Big Spring, TX 79720 Phone (432) 267-8491
Western Texas has great options like Elrod Furniture in Big Spring- a great spot to get a mattress and frame set.
11835 Gateway Blvd W, El Paso, TX 79936 Phone (915) 590-5605
7610 W I-40, Amarillo, TX 79106 Phone (806) 353-1135
The highest ranked mattress store in El Paso is called Denver Mattress and they are also known for their friendly customer service and knowledgeable staff. There's also a Denver Mattress out in Amarillo.
---
These are our most popular mattress cities in Texas:
You can also review mattresses online at some of our favorite stores: