We've put together this handy reference for choosing quality mattress shops in the Austin area. Whether you're looking for the very best mattress option that money can buy, or looking for the lowest price mattress we've got you covered.
Most of these stores offer discounts to get the cheapest mattress you can. And if you check your local newspapers, chances are you'll find coupons that'll take a big chunk out of the cost off your purchase or at least provide you with free delivery.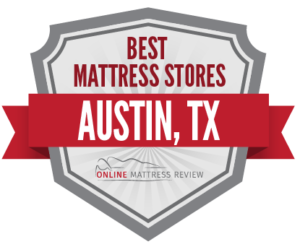 Austin is the fastest-growing city in the nation, the home of University of Texas at Austin, and, according to U.S. News & World Report, the #1 "Best Place to Live in the U.S." for 2017.
Whether you're a new transplant, a new university student, or just looking to enhance your quality of life, you may be looking at getting a new and better mattress.
Fortunately, there are an abundance of high-quality and affordable mattress stores near Austin. The city boasts a total of 72 mattresses shops, an unusually high density, even for the 4th most-populous city in Texas. This is largely a function of Austin's commitment to local businesses.
While big national chains certainly have a presence here, they are more than matched in number by local mattress stores, including Austin-based innovators like Austin Natural Mattress, as well as Mom-and-Pop mattress shops like Austin Discount Mattress. Read on to learn where to buy a mattress in Austin with a price, style and location that works for you.
---
Mattress Stores in Central Austin
7530 Burnet Rd, Austin, TX 78757 Phone (512) 452-4444
The mattress store in Austin's central area with the highest customer reviews is Austin Natural Mattress, and it's easy to see why. This green mattress shop is located up in the Allendale neighborhood, and was the first mattress store in Austin to begin carrying organic mattresses. Today, the mattress shop carries exclusively products made with natural materials, such as organic latex, cotton and wool.
While some natural mattress stores sell only standard mattresses at premium prices, Austin Natural Mattress also carries green versions of specialty products (such as pet beds and adjustable or medical beds), and promises that customers finding a lower price on a mattress will receive a refund of the difference plus an additional 10%.
Customers can feel doubly good about shopping at Austin Natural Mattress; this eco-friendly and sustainable business also support a number of local and global charities.
---
Mattress Stores in North Austin
There's no shortage of mattress stores in North Austin, with budget-friendly, local and big-box options throughout the area.
7524 Burnet Rd, Austin, TX 78757 Phone (512) 454-4897
A well-reviewed, locally-owned option is Mattrezzz Guys, which carries such big brands as Sealy, Tempurpedic, Stearns & Foster, and Optimum Sealy Posturepedic. Customers give positive reviews to the sales staff, who consult closely with each customer on their sleep preferences and budget.
9012 Research Blvd, Austin, TX 78758 Phone (512) 453-9923
Denver Mattress, which sells a wide selection of brand-name products and also manufactures their own mattresses at competitive prices.
7208 McNeil Dr #202, Austin, TX 78729 Phone (512) 279-7777
Budget shoppers should head to Austin Discount Mattress, a Mom-and-Pop mattress shop which promises affordable mattresses made in Texas.
There are also a number of options for those who prefer the security of shopping at a national chain.
9607 Research Blvd #450, Austin, TX 78759 Phone (512) 201-4734
9333 Research Blvd Ste D300, Austin, TX 78759 Phone (512) 231-0888
---
Mattress Stores in South Austin
There are a striking number of mattress stores in south Austin located within the same three-mile radius, just off of I-35. Savvy customers can easily visit multiple locations to comparison-shop in this area. The majority of these are big chain mattress retailers, which have set up shop alongside such furniture chains as Rooms to Go, Ashley HomeStore, and La-Z-Boy.
9300 S IH 35 Frontage Rd Ste A700, Austin, TX 78748 Phone (512) 291-4200
9900 S IH 35 Frontage Rd Ste 105, Austin, TX 78748 Phone (512) 291-8070
9900 Southbound IH 35 Suite W400, Austin, TX 78748 Phone (512) 291-9885
9900, I-35 Suite A200, Austin, TX 78748 Phone (512) 842-4343
Of these, Factory Mattress gets the highest marks with customers, who like the store's wide selection of brand-name mattresses, bed frames, adjustable bases and memory foam pillows, and praise the staff for providing knowledgeable service without any rushing or upselling.
---
Mattress Stores in East Austin
There are decidedly few mattress stores in Austin to the east of the downtown area.
5403 N Interstate Hwy 35, Austin, TX 78723 Phone (512) 420-9303
One reliable option is Mattress Firm Clearance Center. This chain retailer is the nation's largest, and has 20 locations throughout Austin. Mattress Firm sells a wide range of popular name-brand mattresses, such as Beautyrest, DreamBed, Simmons and Serta. Customers appreciate the quick and painless shopping experience, along with the store's various "sleep solutions," mattresses designed to alleviate such discomforts as snoring, back pain and night sweats.
---
Mattress Stores in West Austin
12600 Hill Country Blvd #135, Austin, TX 78738 Phone (512) 263-5050
The second of two Austin Natural Mattress stores can be found in the Bee Cave area of west Austin, where shoppers can make buy a green and and affordable mattress from a locally-owned store.
5400 Brodie Ln #200, Austin, TX 78745 Phone (512) 730-1233
Further to the south there's also an Urban Mattress showroom in the Sunset Valley neighborhood. Here, customers can try out various mattresses, purchase a new, then arrange for free delivery and free removal of their old mattress. The store carries classic pocket coil and latex mattresses, premium memory foam, and eco-friendly models, and offers a 10-year, no-sag guarantee.
12700 Shops Pkwy Ste 500, Austin, TX 78738 Phone (512) 402-9566
For those seeking a more traditional mattress store in west Austin, there's a Mattress Firm Clearance Center located in the Hill Country Galleria.
---
Also check out:
Best Mattress Shops in Texas
You can also review mattresses online at some of our favorite stores: