Looking for the best mattress stores near El Paso, Texas? We've put together this guide to help you out.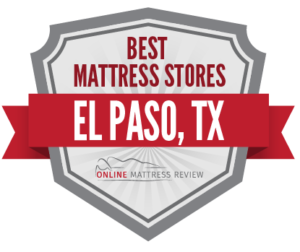 Waking up stiff, sore and grouchy? A 2006 study at Oklahoma State University found that subjects who switched from their old mattress to a new medium to firm mattress reported significantly more restful sleep, and relief from back and neck pain.
The Better Sleep Research Council recommends replacing your mattress every 7-10 years, and more frequently in the case of sleep problems.
If you're overdue for an upgrade, you're probably wondering where to buy a mattress in El Paso for the best quality, value and convenience. Not to worry- we've scoured the listings and reviews to bring you the best mattress stores in El Paso, all grouped by region. Some deliver value, others focus on luxury or high-tech specialty beds.
No matter your preference or neighborhood, we've got you covered. Read up and get started on finding the fresh, new mattress that will be your personal ticket to a more restful and restorative night's sleep.
---
Mattress Stores in Central El Paso
The overall scene for mattress shops in El Paso is dominated by big chains like Mattress Firm and American Mattress. But in the center of the city, independent mattress shops rule, and can be a very smart source for budget shoppers looking to land a bargain.
1025 E Missouri Ave, El Paso, TX 79902 Phone: (915) 771-7447
If you're not in a rush to get a new mattress, you can score a bargain by waiting until American Furniture Outlet opens. This large furniture, appliance and mattresses emporium is open for business just 10 days per month, which reduces the store's overhead and allows American Furniture Outlet to pass along significant savings on brands like Serta, Coaster, and Acme. Along with an affordable mattress, shoppers can pick up a traditional of adjustable bed, bedroom furniture, bedding and pillows.
Nearby, Mena Mattress and Sun City Mattress (1614 Texas Ave) are smaller, no-frills, mom-and-pop mattress shops with low prices and good selection.
Mena Mattress
3014 Magoffin Ave, El Paso, TX 79905 Phone: (915) 929-0586
No website
1614 Texas Ave, El Paso, TX 79901 Phone: (915) 588-9046
---
Mattress Stores in North El Paso
10771 Gateway S Blvd j105, El Paso, TX 79934 Phone: (915) 303-7384
4535 Woodrow Bean Dr, El Paso, TX 79924 Phone: (915) 751-3331
The area is home to two locations of Mattress Firm, the nation's most popular mattress chain. There's Mattress Firm North Hills Crossing and Mattress Firm El Paso North. This company is known for having knowledgeable sales associates, who are trained to diagnose sleep issues, such as inadequate lumbar support, and guide shoppers to mattresses that will improve their rest and comfort. Reviewers like that sales reps work within their budgets without rushing or upselling them. The store's huge selection includes all the top brands, like Sealy, Serta and Tempur-Pedic, and all sorts of specialty products, from gel memory foam, to hybrid mattresses and adjustable beds.
---
Mattress Stores in South El Paso
11835 Gateway Blvd W, El Paso, TX 79936 Phone: (915) 590-5605
The mattress store in El Paso south with the highest number of positive reviews is Denver Mattress Company. Like Mattress Firm, this national chain sells leading mattress brands, and carries a wide selection of specialty beds, including cooling gel foam, innerspring, hybrid, latex, organic and individual coils. Denver Mattress Company also manufactures their own brand of high-quality, low-cost mattresses, "Doctor's Choice," which come in a variety of models. Reviewers give big points to the store's customer service, saying that staff are knowledgeable and friendly, and provide a laid-back shopping experience with no sales pressure. For every mattress sold, the store also makes a donation to a global clean drinking water charity.
115 S Americas Ave, El Paso, TX 79907 Phone: (915) 307-5379
1325 George Dieter Dr H, El Paso, TX 79936 Phone: (915) 598-4700
Another reliable national chain store in the area with consistently great reviews is Mattress Firm, which has two locations in South El Paso: Mattress Firm The Americas and Mattress Firm El Paso Southeast. Customers praise the customer service and wide selections available at both locations.
11330 James Watt Dr, El Paso, TX 79936 Phone: (915) 599-2222
Still another chain mattress store in the area is American Freight Furniture and Mattress. This furniture and mattress store carries overstock, discontinued and liquidation inventory at highly affordable prices, and reviewers rave about scoring mattresses at closeout prices. The store stocks top brands like NordicRest and Simmons, but the models available at any given time vary greatly, as the inventory changes frequently.
---
Mattress Stores in East El Paso
There are plenty of places to buy a mattress in El Paso to the East.
1742 N Zaragoza Rd B, El Paso, TX 79936 Phone: (915) 307-4514
The highest reviews go to Shorty's Mattress Depot, which carries a variety of mattresses by BeautyRest and SpringAir. Those with sleep issues, such as overheating, insomnia, snoring or back pain, will appreciate the selection of specialty beds available, which include memory foam, plush, pillow top, adjustable beds, and even digital sleep monitors to track and improve rest patterns. Shorty's warehouse-style business keeps costs low and allows the store to sell highly affordable mattresses; the store promises to match any advertised price in the area.
1886 Joe Battle Blvd Ste 101, El Paso, TX 79936 Phone: (915) 856-7988
---
Mattress Stores in West El Paso
640 Sunland Park Dr, El Paso, TX 79912 Phone: (915) 584-3000
7500 N Mesa St, El Paso, TX 79912 Phone: (915) 261-7677
Popular Mattress has locations in Crestmont and Remcon. This local, family-owned store started in 1939, when the founder began selling mattresses to neighbors out of his garage. Popular Mattress sells Simmons and Tempur-Pedic mattresses, along with their own, in-house brand, which is manufactured in El Paso. The factory-direct pricing on Popular brand mattresses means they are exceptionally affordable, and customers of this store report high satisfaction with their quality, value and comfort. This community-minded mattress store also support a number of local charities, and offers mattress recycling.
801 Sunland Park Dr, El Paso, TX 79912 Phone: (915) 581-8888
Furniture City is El Paso's largest independent furniture store, and has a selection of basic and incredibly affordable mattresses by Ashley Sleep and Sierra Sleep. The store runs frequent specials and rebates, so customers would do well to check for available offers. Furniture City has nearly 100 thousand square feet of showroom space, and shoppers can easily find a bed or bedroom set to accompany their new mattress, all of which can be delivered the same day. Aarons and Sears also sell mattresses from reliable brands like Simmons, alongside appliances and furniture, and can be a great resource for those who want the security of shopping at a large department store
---
Also check out:
Best Mattress Shops in Texas
You can also review mattresses online at some of our favorite stores: