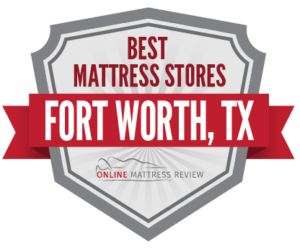 If you've had your mattress for 8 years, you've logged upwards of 30,000 hours in bed, and are likely starting to feel the effects of uneven support and sub-par sleep.
The lifespan of a mattress varies based on the type of model, quality and how often you've remembered to rotate it, and the Better Sleep Council recommends replacing your mattress every 7-10 years.
If you're reading this, you're probably in the market for a much-needed replacement, and want to know where to buy a mattress in Fort Worth. With no less than 43 mattress shops in Fort Worth to choose from, consumers have a number of options, with products for every budget, style and comfort preference.
If you're wondering where to buy a mattress in Fort Worth, read on. Our guide breaks down the best, most reputable and most affordable mattress store in Fort Worth in every area of the city.
---
Mattress Stores in Central Fort Worth
Most cities have crowded and cramped central business districts, with no room for space-consuming mattress showrooms. But everything's bigger in Texas, and that goes for downtown spaces as well- you'll find quite a number of sprawling mattress stores in Fort Worth based right in the center of the city.
855 Foch St, Fort Worth, TX 76107 Phone: (817) 244-3371
There's No Place Like Home Furniture, you'll find a Wizard of Oz theme running throughout this charming furniture and mattress shop, from the logo to the décor. Customers praise the great prices and personal attention offered by helpful staff, and the store has won "Best of Fort Worth" rankings for four years in a row. Come on a Friday after work and you'll likely get to enjoy light refreshments like popcorn and wine while browsing their selection of coil, foam and gel foam mattresses, along with Coaster and Glideaway beds. In addition to mattresses and furniture, There's No Place Like Home offers interior design services, making this a great one-stop-shop for those furnishing a new home.
501 Carroll St Ste 600, Fort Worth, TX 76107 Phone: (817) 348-9770
Mattress Firm Fort Worth. Customers of this top national chain love the store's wide selection of top name-brand mattresses and highly trained, solution-oriented staff. The showroom features a mechanized comfort analysis bed, where customers can lie down and get readings on the best models for their individual pressure points and sleep styles. All models at this popular mattress store are backed up by a 120-day return policy.
---
Mattress Stores in North Fort Worth
3308 N Commerce St, Fort Worth, TX 76106 Phone: (817) 403-0516
Mattress Distributors of Texas sells mattresses by appointment only. By avoiding the costs associated with a traditional showroom, this business passes on significant savings to consumers, with inventory including King Koil, pillow top and gel memory foam mattresses. In fact, the owner offers a price-matching guarantee, along with a 10-15 year warranty.
4250 Cambridge Rd, Fort Worth, TX 76155 Phone: (214) 630-3132
Sleeptronic is a family-owned mattress shop and factory, established back in 1896. Sleeptronic locally manufactures its own brand of "King Koil" mattresses, with over 150 models available at factory-direct prices. Customers give special praise to the prices and quality of Sleeptronic's natural latex mattresses, which are said to last up to 30 years. This mattress store also allows customers to visit the factory and see exactly how their mattress is assembled from top-quality materials.
---
Mattress Stores in South Fort Worth
There are a decidedly limited number of mattress shops in Fort Worth to the south of the city center. The few places to buy a mattress in this area are largely furniture stores which also stock mattresses.
4200 South Fwy Suite 1118 and 1128, Fort Worth, TX 76115 Phone: (817) 921-1690
Canales Furniture earns the greatest number of 5-star reviews. Shoppers here can choose from a great selection of affordable mattresses by Restonic, along with the company's in-house mattress brand, as well as a large inventory of contemporary home furnishings. This local chain specializes in affordable mattresses and furniture, and will beat any competitor's advertised price. Prospective buyers are advised to check the store's website for current promotions, as Canales runs frequent sales and special offers.
1116 E Seminary Dr, Fort Worth, TX 76115 Phone: (817) 924-0134
1203 E Seminary Dr, Fort Worth, TX 76115 Phone: (817) 923-7331
---
Mattress Stores in East Fort Worth
900 Haltom Rd, Fort Worth, TX 76117 Phone: (817) 834-1648
Shoppers looking to buy a mattress in Fort Worth in the East of the city can head to City Mattress Factory. This local business has been around for 60 years and, as the name suggests, is a mattress factory as well as a mattress store. Shoppers benefit from factory-direct prices and can even peek inside the plant to see the materials and processes that go into creating the mattress of their choosing.

1801 Eastchase Pkwy, Fort Worth, TX 76120 Phone: (817) 449-2777
Mattress Brothers, a no-frills showroom in the Hollow Hills neighborhood, carries popular brands like SierraSleep and Sherwood, along with beds, bedding and sleep accessories.
5050 E Belknap St, Fort Worth, TX 76117 Phone: (817) 665-5050
Over in the Haltom City neighborhood, Sam's Furniture & Appliance sells traditional and adjustable beds and other furnishings, along with appliances and mattresses. This family-owned store has been around since 1946, and has earned a solid reputation with shoppers for value and selection, and has a popular lease-to-own program. This mattress shop is a great option for those looking for a deal on a specialty mattress, such as gel memory foam, plush, hybrid or pillow top.
---
Mattress Stores in West Fort Worth
There are an abundance of places to buy a mattress in Fort Worth over to the west.
653 Sherry Ln, Fort Worth, TX 76114 Phone: (817) 806-5180
4965 Overton Ridge Blvd Ste 100, Fort Worth, TX 76132 Phone: (817) 263-7111
The mattress shop in West Fort Worth with the highest number of five-star reviews is Sleep Experts, which has locations in Westover Village Place and Stonehenge Clan. This popular mattress store earned the 2017 Consumer Choice Award for Business Excellence. Sleep Experts carries foam, innerspring, and gel mattress, as well as adjustable beds. This top-rated mattress store's staff use an "ExpertMatch" sensor bed to measure and analyze customers' sleep position, body measurements, pressure points and other comfort factors, and use this data to generate a selection of mattresses with optimal support. This Texas-based chain offers express delivery, free recycling of old mattresses, a 120-day comfort guarantee, and will match prices at not only the time of purchase, but up to 100 days afterwards.
4617 S Hulen St, Fort Worth, TX 76132 Phone: (817) 294-1881
4851 Citylake Blvd E, Fort Worth, TX 76132 Phone: (817) 732-4988
3700 Vision Dr Ste 100, Fort Worth, TX 76109 Phone: (817) 731-5019
4801 S Hulen St Ste 168, Fort Worth, TX 76132 Phone: (817) 292-6358
Another highly popular choice is Mattress Firm Clearance Here, customers can scoop up amazing deals on affordable mattresses from high-end brands such as TempurPedic and BeautyRest, provided they are flexible in terms of the specific product. The inventory at this popular chain's clearance centers includes liquidation stock, irregular merchandise, and mattresses which have been exchanged within to the store's 120-day return window. All have been checked against the stores strict quality standards, and are subject to the same 120-day return policy offered by all Mattress Firm locations.
---
Also check out:
Best Mattress Shops in Texas
You can also review mattresses online at some of our favorite stores: