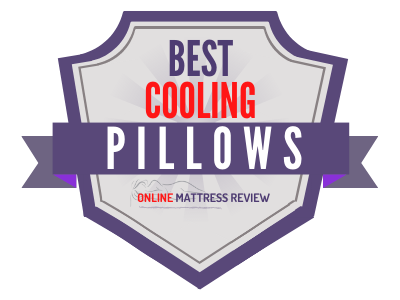 Attempting to fall asleep while you're hot and waking during the night with sweat-soaked sheets is a common occurrence for some sleepers who overheat during the night. Often the worst part of this experience is never genuinely feeling comfortable.
If you're a hot sleeper and the above scenario sounds familiar, don't waste precious hours not having a sound, comfortable, restful sleep. Finding a comfortable mattress and a cooling pillow is an effective solution for your sleeping woes. But how do you find the perfect cooling pillow with thousands of options on the market?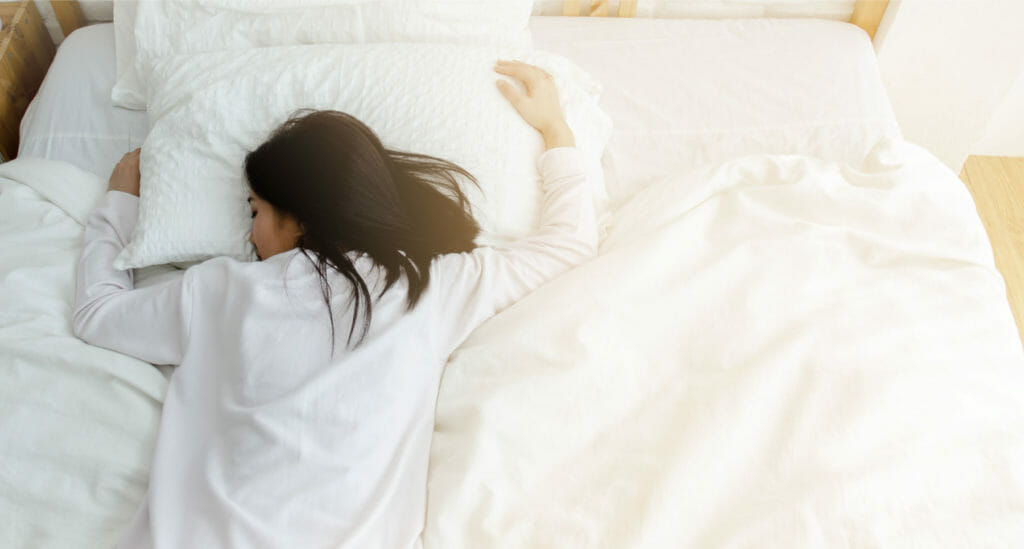 We've got you covered, because we scoured through tons of pillows that claim to be cooling, compared them, and listed the top 10 best cooling pillows on the market. Trust us to review the best cooling pillows and thank us later when you get the best sleep of your life.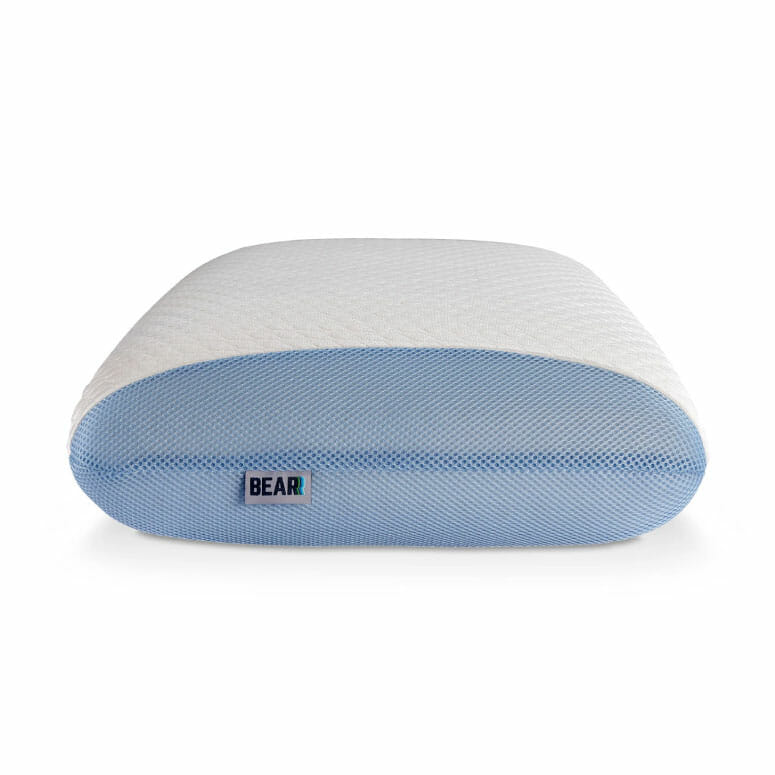 Coming in at our number one spot for the top 10 best cooling pillows is the Bear Pillow. If this Bear was in the tale of Goldilocks and the Three Bears, it would be too cold, because this pillow is built with hot sleepers in mind. Customers agree that this pillow keeps them cool throughout the night and its looks don't disappoint. This pillow is aesthetically very appealing with blue ends and a white center, evoking images of a cloud floating in the sky.
Doesn't Double Ice fabric sound cooling? This patented fabric is composed of a cooling yarn and polyester, making it cool to the touch to keep you from overheating throughout the night. The pillow cover features blue mesh on each end to allow for airflow and heat dissipation. Plus, you can machine wash and tumble dry this cover for easy cleaning!
With a name like Loft-X hybrid foam, you may expect a pretty comfortable pillow. You won't be disappointed, because this foam combines the best properties of memory foam and latex into one pillow. With pressure-conforming characteristics combined with the rebound of latex, this pillow is perfect for any sleeper. Try out this cooling dream-maker with Bear's 90-day sleep trial and if you are not satisfied, return it for a full refund.
Stats
Size: Queen and King
Material: Double Ice fabric covering, Loft-X hybrid foam
Warranty: 2-year limited warranty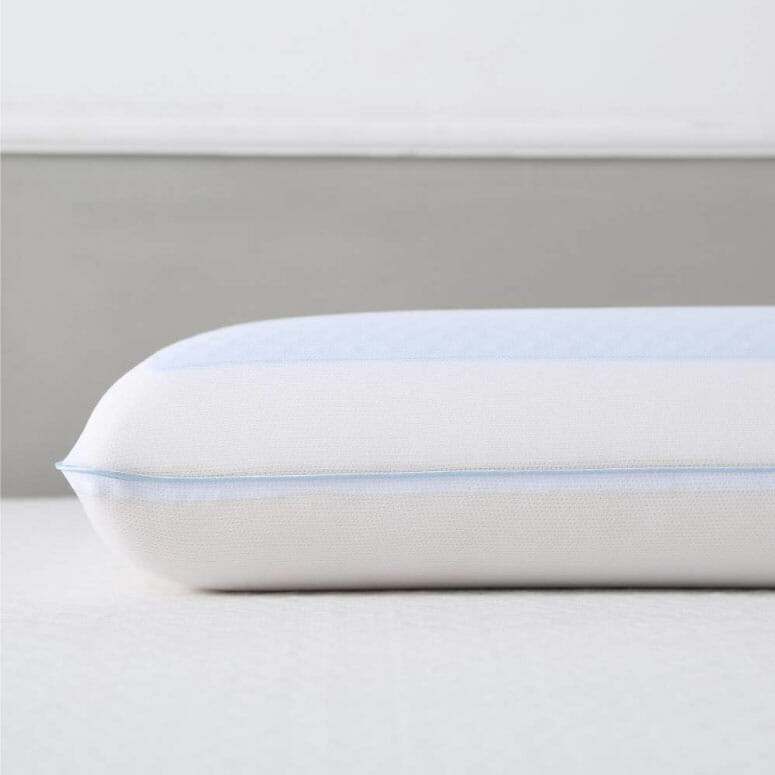 One look at the Classic Brands Reversible Cooling Gel and Memory Foam Double-Sided Pillow and you'll know why it is ranked as one of our best cooling pillows. Blue gel covers one side, while memory foam covers the other side. Unlike other gel memory foam pillows, when we say gel, we mean a complete solid blue gel layer. It's hard to beat the cooling and heat-dispersing properties of the cool gel, so if you sleep hot, you need to consider giving this pillow a whirl.
For individuals suffering from menopause, you can't beat the versatility of this pillow for sudden hot flashes at night. If one of these episodes occurs, all you have to do is flip the pillow from the memory foam side to the cooling gel side. The mesh pillowcase does not block the heat-absorbing properties of the gel because the cover is porous, so you get as much contact with the gel as possible. If you happen to find this pillow is too cooling, flip the pillow over to the memory foam side or replace the mesh cover with a cotton pillowcase.
This pillow has a 5-inch loft, which is ideal back, side, stomach, and combination sleepers. Individuals suffering from allergies who also tend to sleep hot will be relieved to find that this pillow is both antimicrobial and hypoallergenic. If you do suffer from allergies, you may want to wash the knit pillow cover more frequently than other sleepers to prevent allergens and dust from accumulating. If you happen to run into any concerns (which we doubt), you can contact Classic Brands for excellent customer support every day of the week.
Stats
Size: Standard
Material: Mesh knit cover and memory foam
Warranty: 3-year limited warranty
If you're a hot sleeper, the thought of sleeping in the cold of a blizzard may sound appealing. The Storm 2.0 Series pillows offer unique features to keep you cool and comfortable throughout the night. Some of these features include cool-touch fabric, patented Air-X airflow technology, dual-chamber construction, and Air-X panels, to name a few. Simply put, this pillow is designed specifically for hot sleepers.
This pillow features a unique dual-chamber construction, which our other best cooling pillows do not have. One side is constructed of shredded foam, which provides a softer surface for your head to rest. The other side of the pillow is solid foam, which is ideal if you need a firmer feel. Between these two layers, a hollow chamber allows air to flow freely and heat to dissipate.
The Ver-Tex fabric is composed of a proprietary weave of conductive fibers that pull heat away from your head. Once the warmth is drawn away, it is diverted out of the pillow through Air-X panels, which are three-dimensional and designed to vent warm air. You can purchase this pillow in four heights, depending on your preferred sleeping style. Don't worry about buying the wrong pillow height, because you have 100 nights to exchange this pillow if it is uncomfortable.
Stats
Size: Standard
Material: Ver-Tex fabric and REACT fill
Warranty: 100-night free exchange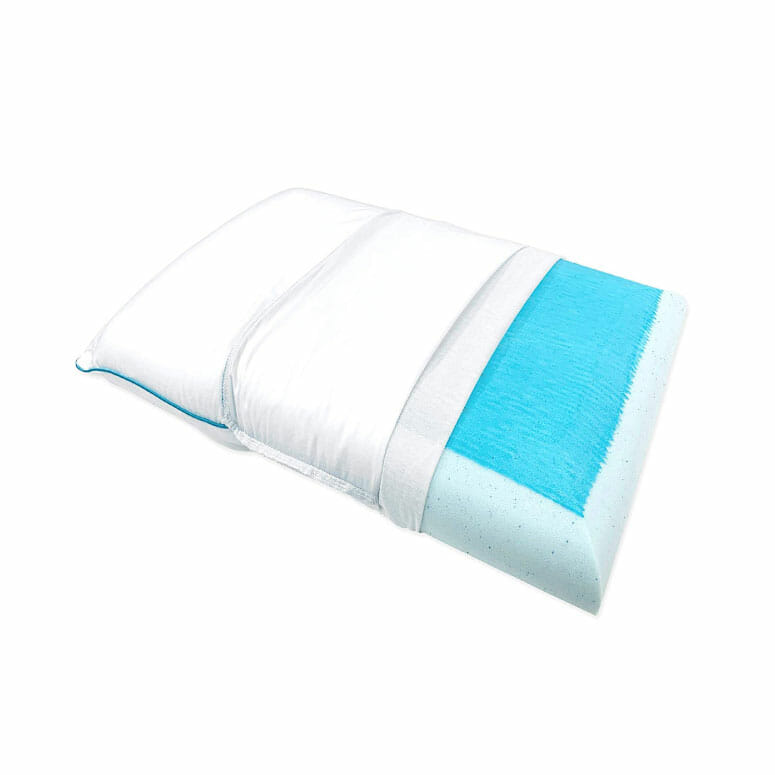 Surfing the icy blue waves of the pacific ocean is an excellent way to cool off during the summer, so why not try the Bluewave Bedding Cool Gel Memory Foam Pillow to cool you off at night? This pillow is constructed to keep hot belly sleepers and back sleepers comfortable, even during warm nights. With a 2.5 inch tall profile, this pillow may not be ideal for side sleepers. If you are a belly sleeper who snoozes with an arm under your pillow, this pillow may be perfect for you.
This pillow is infused with lavender-scented phase change material to soothe and relax. The phase change gel provides immediate cooling when touched and controls heat while you sleep. Combine the phase change gel with the silky 100% cotton 300 thread count cover, and you have a comfortable, cooling, and breathable pillow. The pillow cover is machine-washable and can be tumble dried with your other laundry.
You'll feel comfortable giving this pillow to your child, since the memory foam used in this pillow is CertiPUR-US certified and free from harmful toxic chemicals. The memory foam has a density of 3.25 pounds per cubic foot, so it is on the firmer side. Bluewave Bedding does offer a three-year limited warranty that you must register for online. Many customers are not aware of the warranty though, which seems a little deceptive.
Stats
Size: Standard
Material: VER-TEX fabric and REACT fill
Warranty: 3-year limited warranty (must register)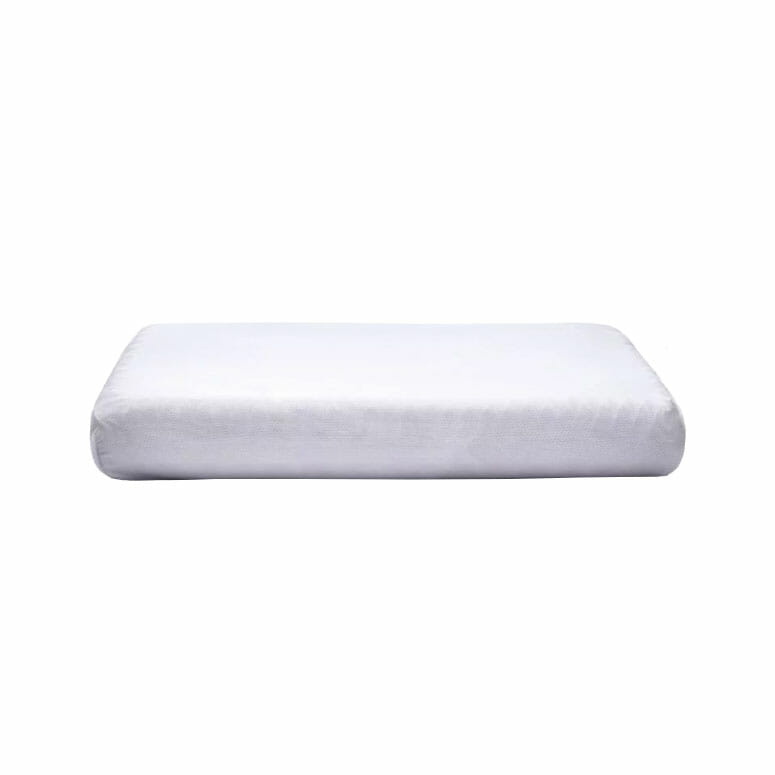 If you haven't heard of the Purple sleep company, you're in for a real treat. This company innovates some pretty cool sleep technology, like the Purple Pillow. What's so innovative about it? The Hyper-Elastic Polymer in their Smart Comfort Grid design cradles your head during the long hours of the night.
Purple's Hyper-Elastic Polymer is like a very soft rubbery material molded into a grid pattern to allow the polymer to cave under large pressure loads. The polymer is temperature-neutral, meaning that it does not accumulate heat, and the grid design allows air to flow throughout the pillow. What you end up sleeping on is a very soft, supportive, and cooling pillow. The pillow cover stretches tightly over the polymer material, and is composed of polyester, nylon, and spandex mesh.
At around 10 pounds in weight, the Purple Pillow is not light. If you're asking yourself if the pillow is actually purple, have no worries: The polymer material itself is purple with a white pillowcase, so matching your existing decor is not a problem. Take three months and give this unique pillow a try risk-free, since Purple offers a 100-night sleep trial. Since this pillow is constructed of non-traditional materials, allow yourself a couple nights to get used to it before you decide if it is right for you.
Stats
Size: Standard
Material: Smart Comfort Grid (Hyper-Elastic Polymer)
Warranty: 1-year limited warranty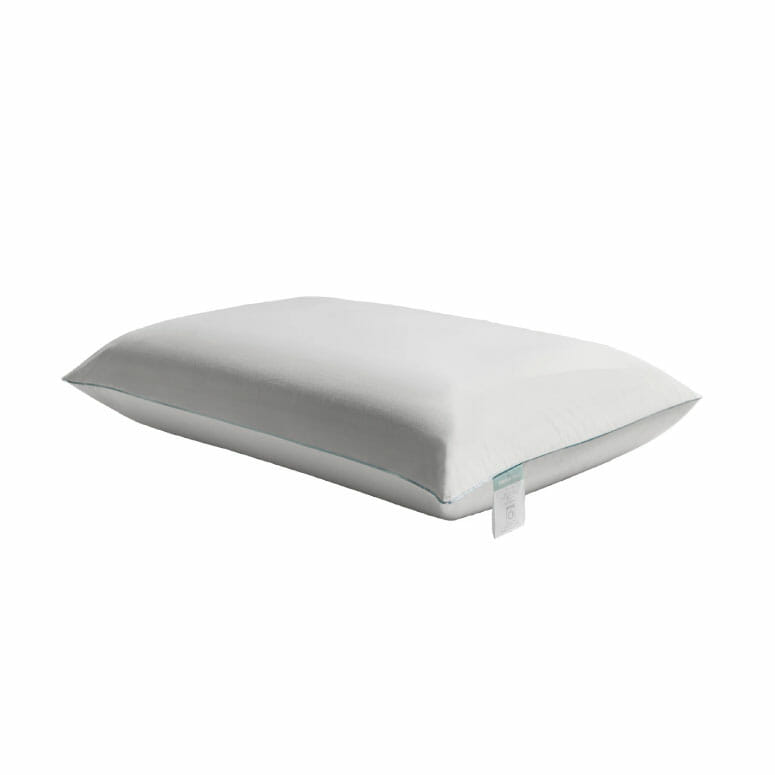 Space-age technology went into the development of Tempur material, because it was designed by NASA. That's right, those super-smart guys that can send people to the moon. Tempur-Pedic continues to innovate with its TEMPUR-Breeze line of mattresses and pillows. While their TEMPUR-Breeze mattress promises to keep you 8 degrees cooler at night, we expect nothing less from their TEMPUR-Cloud Breeze Dual Cooling pillow.
This pillow is filled with Tempur material, which has a consistency similar to traditional memory foam, and a medium firmness. If you are looking for a softer pillow, choose another option from our list. The cooling TEMPUR-Breeze Gel Layer is located on each side of the pillow, so no matter which way you flip it, your face will encounter the cooling gel.
The TEMPUR-Cloud Breeze Dual Cooling Pillow is wrapped in an incredibly soft and breathable 100% cotton quilted cover, which is removable and machine-washable. Customers who have bought this pillow say it's on the firmer side, but extremely cool at night. At $169, this pillow isn't cheap, but you get both quality and a solution for your overheating problem.
Stats
Size: Queen and King
Material: TEMPUR material, TEMPUR-Breeze Gel Layer, 100% Cotton Quilted Cover
Warranty: 5-year limited warranty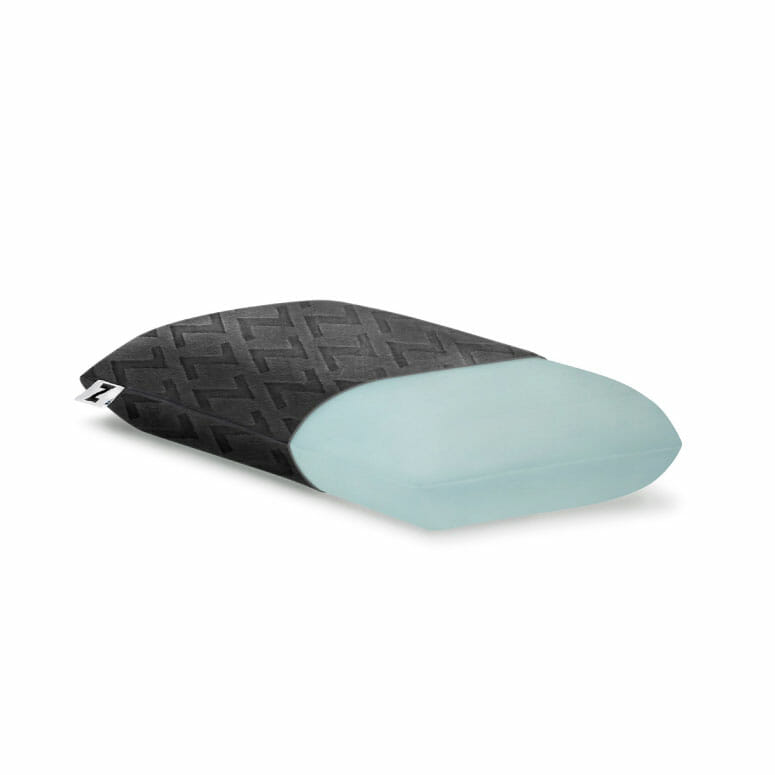 Navigating a busy airport and listening to other passengers' music choices in the car can be frustrating and tiring. Tune everything out and drift away with the Z Travel Gel Dough Memory Foam Pillow. Now, hot sleepers have a pillow to keep them cool throughout their journeys with this portable pillow. Small enough to place in a backpack, this 16 by 12-inch pillow is the only travel companion you need.
This cooling travel friend is constructed of open-cell memory foam with gel infusion. What's so special about open-cell memory foam? It's designed to dissipate heat much more efficiently than closed-cell memory foam. As we discussed above, gel incorporated into the memory foam is excellent at moving heat away from the body.
This travel pillow is covered by bamboo velour, which is known to be incredibly soft, moisture-wicking, and breathable. Bamboo is also more eco-friendly than cotton, so environmentally conscious individuals can have the added satisfaction of knowing they are purchasing a sustainable product. A five-year warranty protects against defects in the material or workmanship.
Stats
Size: Travel
Material: Gel memory foam, bamboo velour cover
Warranty: 5-year limited warranty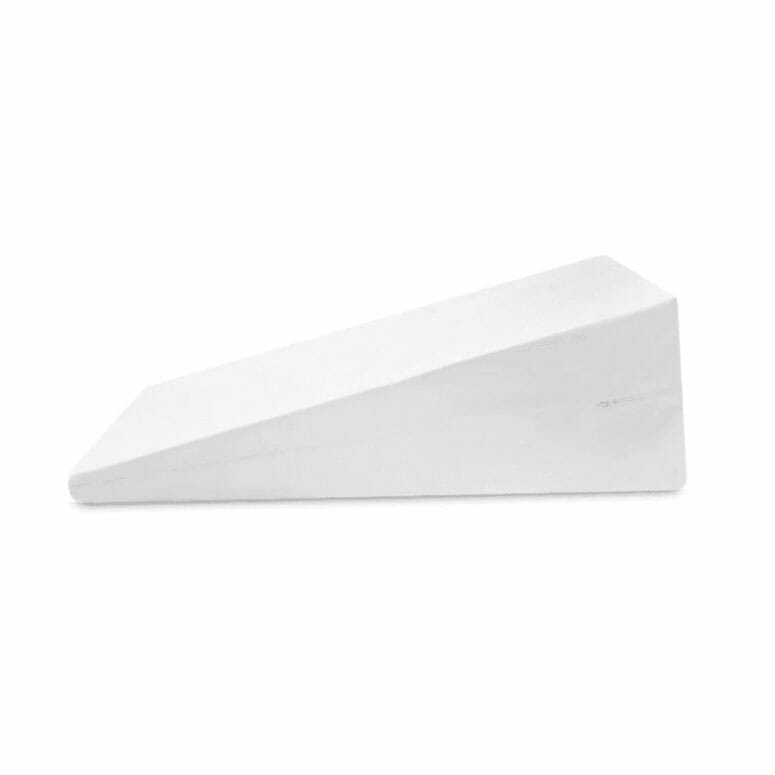 If you are a hot sleeper experiencing GERD (gastroesophageal reflux disease), snoring, or congestive heart failure, try the Therapedic Cool Gel Wedge Body Pillow. Often, individuals with these conditions benefit from sleeping with their upper body slightly higher than their lower body. Side sleepers may also find this pillow comfortable, because the wedge shape fills the space between your shoulders and head, providing spinal alignment and support. We chose this pillow for our number eight best cooling pillow because it offers unique support for these conditions.
Since this pillow is shaped like a wedge and made to support heavy weight, it's on the firm side. Stomach sleepers will be more comfortable choosing another one of our best cooling pillows. The pillow itself is made with foam and synthetic fill and a gel layer coating the outer top surface, where your head rests.
The outer cover is made of 100% polyester that is not machine-washable, ranking this pillow lower on our list. The manufacturer advises spot cleaning to remove dirt and grime that may accumulate. You can purchase a replacement wedge pillow cover for around $17. Though for $17, we recommend looking around for a machine-washable wedge pillowcase.
Stats
Size: Wedge
Material: Foam and synthetic fill, 100% polyester
Warranty: 5-year limited warranty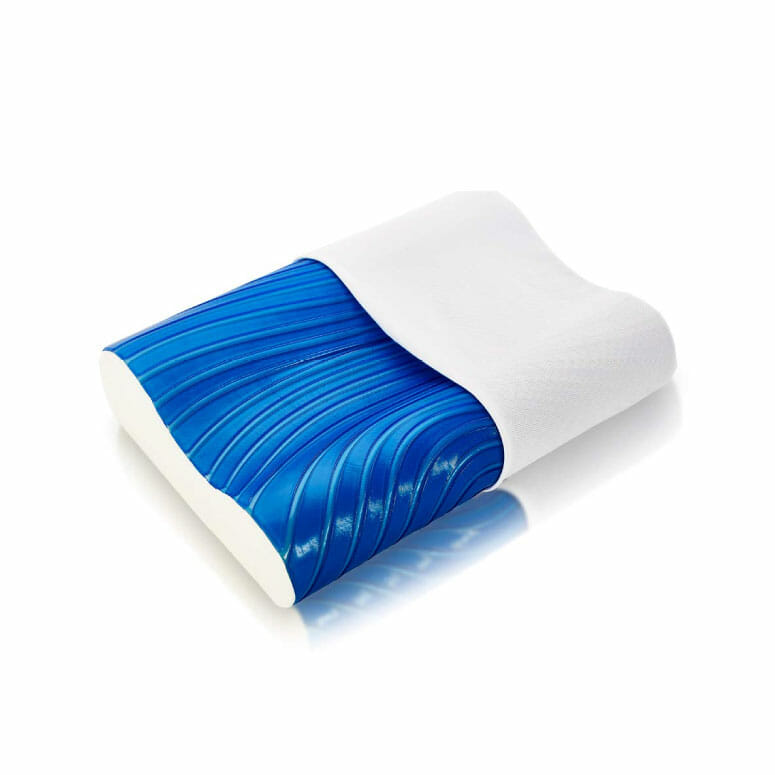 There isn't much more disorienting than waking up hot with neck pain, and this is where the ViscoSoft Cooling Arctic Gel Contour Pillow comes in to save the day (or night). The pillow is shaped to ensure optimal spinal alignment throughout the night for back and side sleepers. If you're like most people, you have enough things in your life stressing you out. You don't need your pillow being a literal pain in the neck. Plus it helps keep you 30% cooler than comparable pillows if you're prone to overheating.
The ViscoSoft Cooling pillow is made of one large solid piece of foam rather than the shredded foam that fills many other pillows. The problem with some shredded foam-filled pillows is that you can't be sure if the foam used in your pillow is scrap foam from other products. The firmness or softness of these pillows is inconsistent, especially as the foam shifts.
How does ViscoSoft ensure you stay cool compared to other pillows? It's simple: They incorporate 30% more cooling gel into each pillow. The outside of the pillow is covered in over 2 pounds of cooling gel, and the COOLMAX mesh pillowcase allows heat to transfer from your head into the gel.
Stats
Size: Standard, Queen
Material: Gel memory foam and COOLMAX fabric
Warranty: 3-year limited warranty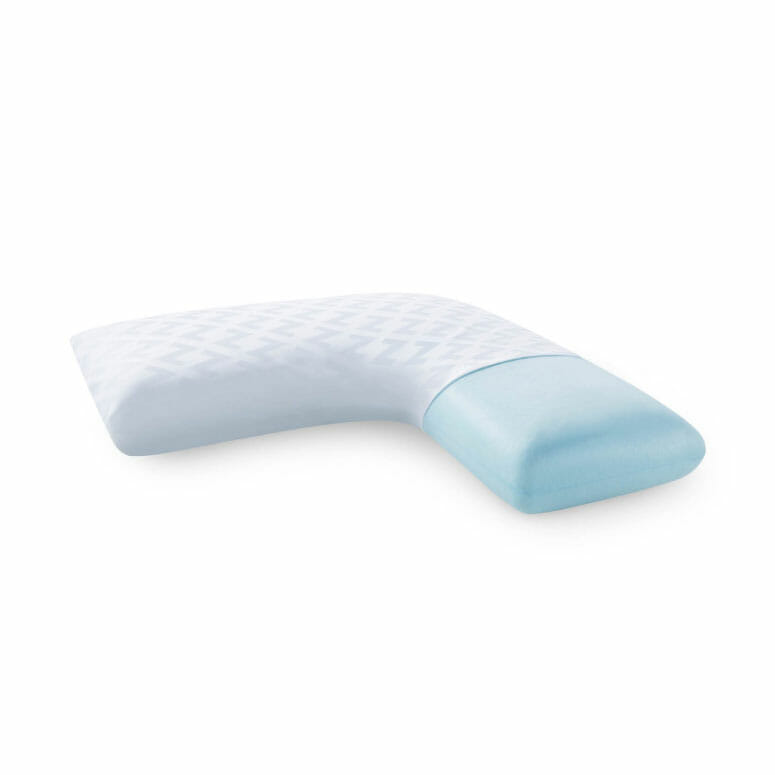 Love sleeping with a body pillow? Do you like hugging your pillow during the night? Rounding out our list of the Top 10 Best Cooling Pillows is the Gel Memory Foam L-Shape Pillow manufactured by Z. Ideal for side sleepers, this boomerang-shaped pillow supports your head, shoulders, and back during the most important eight hours of your day.
The 100% polyurethane foam is made with a gel dough formula that provides the perfect amount of body-conforming properties while still maintaining structural support. The gel injected into this foam safeguards against waking up to a sweat-soaked pillow. The Tencel pillowcase also protects against moisture accumulation. What is Tencel?
Tencel is a fabric made of pulp from farmed trees. The material is strong, durable, moisture-wicking, and sustainably grown. Customers who have purchased this pillow rave that it is a game-changer for hot sleepers, especially if you need extra shoulder and back support. Since the pillow is made with 100% polyurethane foam, consider placing it in a well-ventilated area before using it. The chemical smell is non-toxic, but can be nauseating for some.
Stats
Size: L-shaped
Material: 100% Polyurethane Foam, Tencel pillowcase
Warranty: 5-year limited warranty
CONCLUSION
Are you a pillow flipper? Do you enjoy the cool side of the pillow on your face? Who doesn't, right? With our comprehensive list of the 10 best cooling pillows, you will surely find one that will suit your needs. Sleeping in a cool and dark room seems to encourage a better night's sleep. The pillow you select should offer the right support for your neck and back… and, don't forget to purchase the right mattress that is designed specifically for a hot sleeper, as well.
ADDITIONAL RESOURCES: