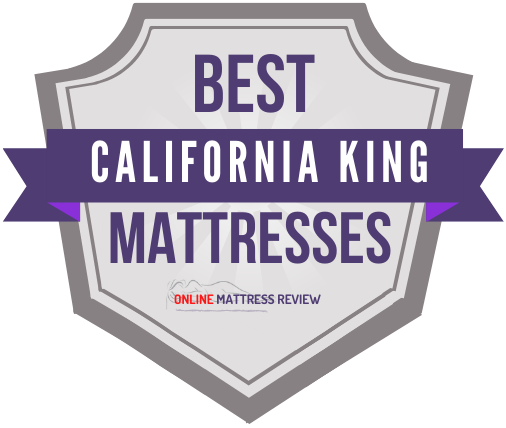 Upgrading to a big bed is one of the finest experiences ever!
Mattresses have an unusual characteristic in that they grow together with us. Therefore, mattress updates are crucial as we grow old – from the time we first sleep alone as children to the teen years and eventually adulthood!
Most of us would choose a larger bed if we had the option. It feels nice to sleep like royalty! Plus, having extra room on your bed allows for a better sleep day or night.
There are several common causes of sleep loss when you are in a relationship. One of them is partner disruption. Most couples do not have the same sleeping habits. Some couples experience sleep apnea, which is dangerous. But once you upgrade your mattress size, most of these problems will go away.

Methodology in Choosing California King Mattresses on Our List
The following criteria guided our selection of the top California king mattresses:
California king mattresses with high-quality foam and hybrid materials were sought for and incorporated.
Most people looking for big beds are side sleepers. If you are a side sleeper, all the products listed below are best for you. A firmer mattress should suffice if you sleep on your back or stomach.
Sleeping on a mattress is the best way to test it. So, we chose brands with long trial periods and free or fair returns. In addition, every product on our list comes with a warranty that you can find on the company's website.
There are hundreds of mattress brands available online for everyone. Since we do not want you to regret anything, we took extra precautions in choosing the best California King mattress out there. We only recommend brands with a good reputation and transparent business methods.
To ensure that we recommended the most popular mattresses on the market, we carefully researched user reviews and feedback.
---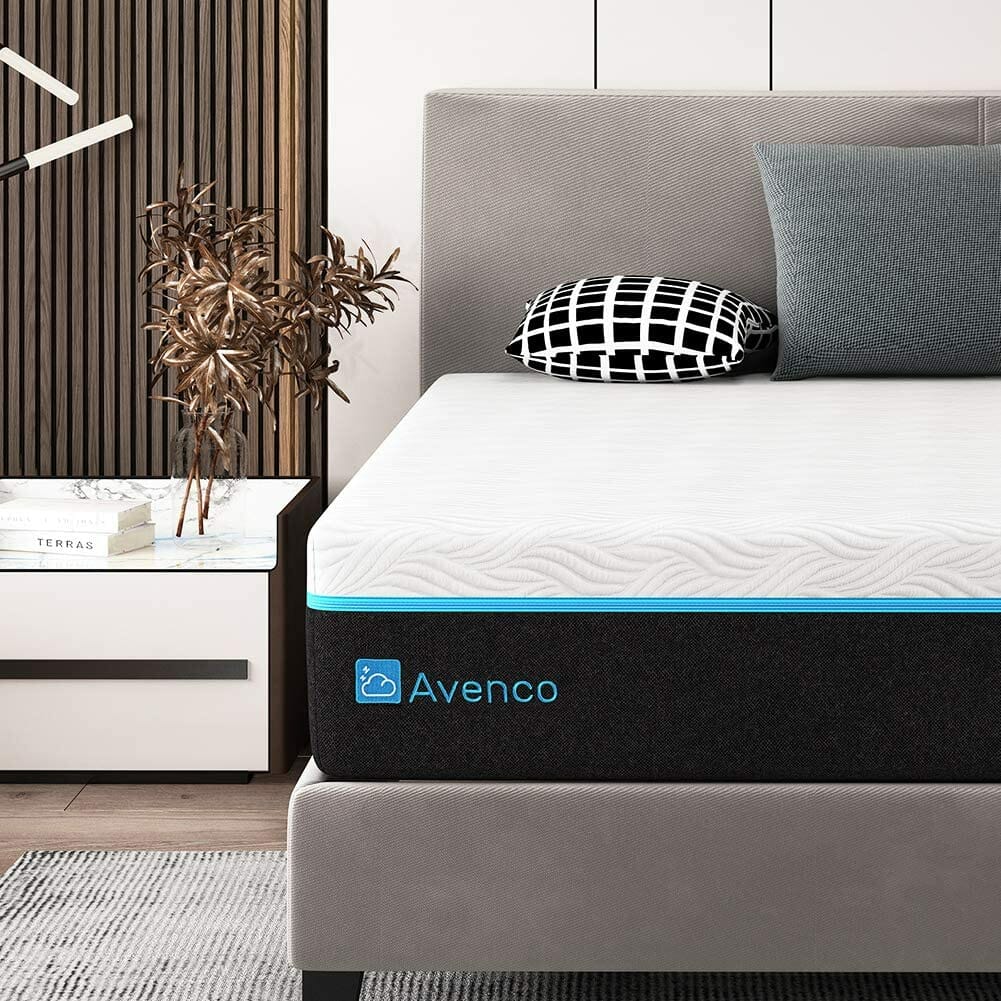 Product Highlights:
Double airflow wave
Latest in sleep technology
100 nights trial
Memory Foam with Stretch Knit Modal Fabric
Freshly poured T and N Adaptive foam
Non-toxic Certified
Greenguard Gold and CertiPUR certified
Avenco could be an excellent option if you want a nice California King Tempurpedic mattress. It features a two-layer design for added comfort.
This mattress is 10-inches thick and has a two-layer design with high-density support foam and cooling gel memory foam. It provides you with the best night's sleep possible. The innovative shape cutting technique retains your body's natural form, allowing you to sleep comfortably in any position.
It is an improved gel memory foam that will keep you cool and dry. For smooth airflow, the design has proper upper layer ventilation to make it more breathable. This aids in the regulation of your body temperature as you sleep.
This mattress will be beneficial to those who suffer from frequent body and backaches. The high-density memory foam molds to your body and gives you just the appropriate amount of support. It alleviates discomfort and allows you to sleep well.
This bed provides unrivaled support, which makes you more comfortable sleeping. The cover of the mattress is removable, making it easier for you to clean it. It is crucial to regularly clean it since it is the layer that protects and maintains the surface of the bed clean.
It has a 100-night risk-free trial for everyone willing to buy, which gives you enough time to decide. And if you do decide to purchase, you have a worry-free 10-year warranty from the manufacturer.
---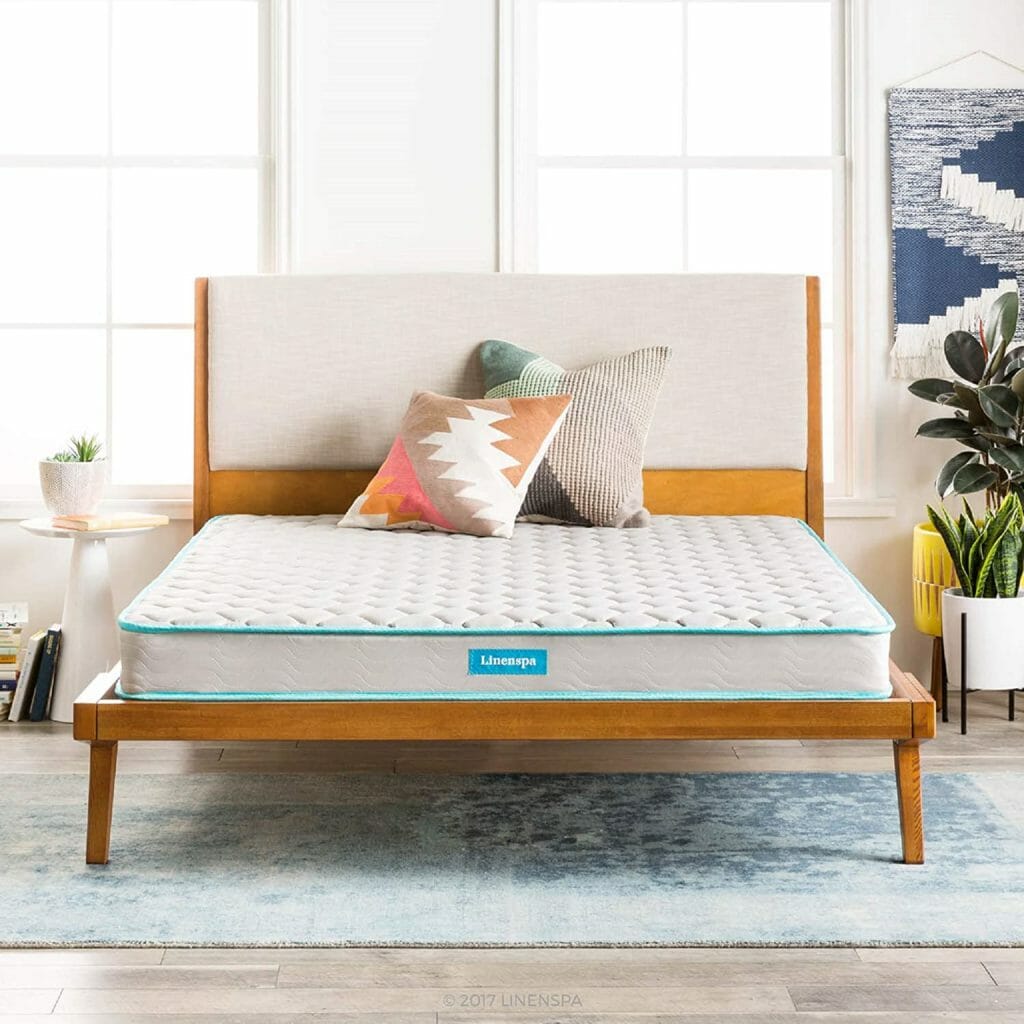 Product Highlights:
Exceptional support and durability
Easy shipping
10-year warranty
Comfort Foam with Springs
Very affordable
CertiPUR-US Certified
LinenSpa's conventional spring mattress will provide you with a comfortable sleep during the night. This California King mattress provides a resilient quilted fabric cover and an interior foam layer. It also comes in long-lasting support provided by high gauge steel coils.
This bed has a winning blend of support and comfort from its foam layers topping the innerspring. This firm mattress gives a thick and firm sensation to anyone who sleeps on it.
It arrives in a sealed box, which can be hard to remove. The purpose of the box is to keep the bed from damage. But once you manage to remove it, you will see how good this bed is.
This spring mattress features a fire-resistant barrier tested to guarantee it satisfies safety regulations. This brand believes that your family's safety is as vital as its comfort. This mattress is compacted and rolled for convenient delivery and setup.
---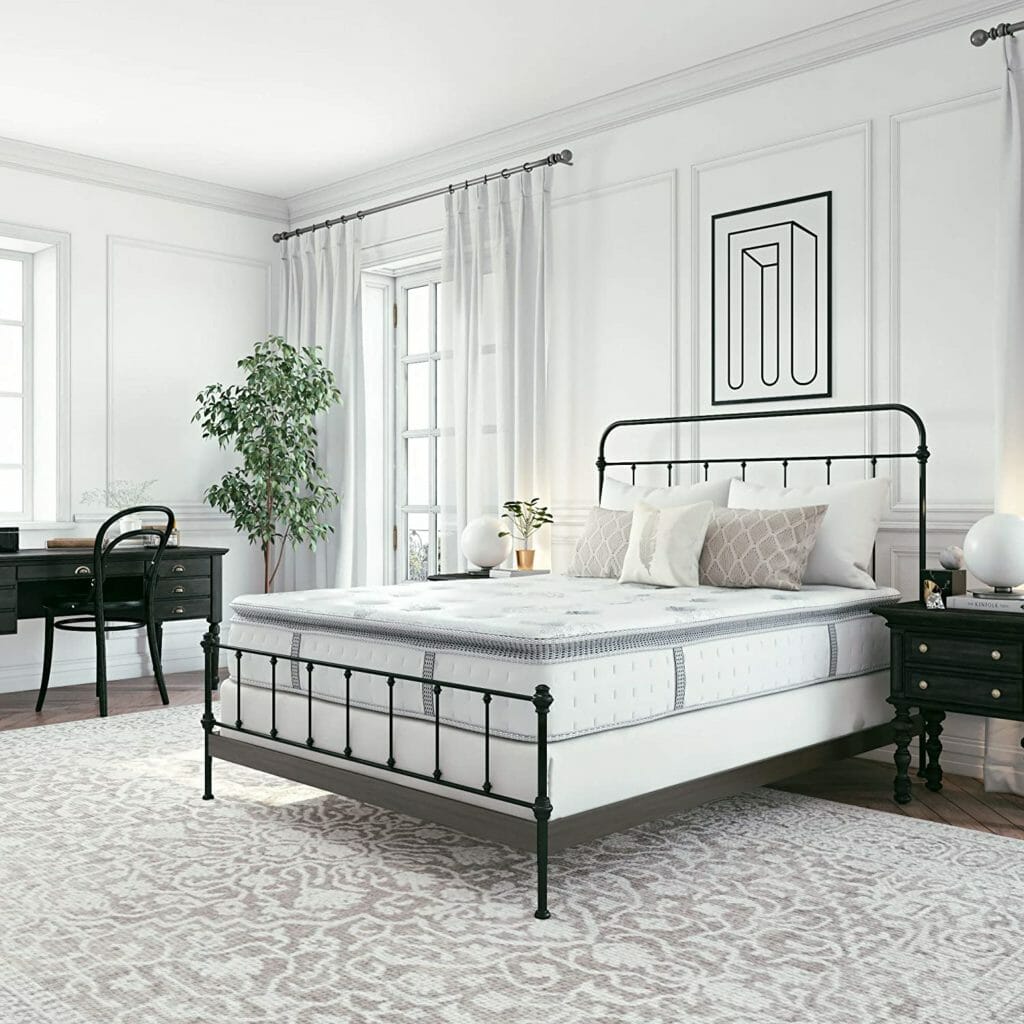 Product Highlights:
Beautifully detailed quilted pillowtop knit cover
Low motion response
Self-ventilating
10-year worry-free warranty
Gel Memory Foam
Very affordable
Some of you are not planning on spending a fortune or breaking a bank for a new mattress. The Classic Brands may be the one for you! This brand offers high-quality memory foam for a more comfortable sleep at an affordable price.
This California King bed has three layers to make the user feel more comfortable in getting sleep – day or night.
The top layer of memory foam provides the sleeper with the initial level of comfort and contour. In addition, this layer helps with cooling the bed by dispersing heat more evenly across the mattress.
This second layer serves as a transitional support layer. It smoothens the transition from the top layer of memory foam to the previous base layer while also giving support to the sleeper. In addition, this layer of poly foam works in conjunction with the memory foam layer to prevent excessive sinkage.
The mattress's bottom layer serves as a fundamental and supportive base. It keeps the mattress's overall shape while giving support and deep compression.
The mattress cover is uncomplicated in terms of appearance. The white top, paired with the solid grey sides, gives a simple yet modern design that many other online mattress retailers have copied.
The feel of a medium-firm to slightly-firm mattress will vary depending on body weight.
A sleeper weighing 150 pounds or more will feel slightly firmer. This is because they would sink through the top layer of memory foam and into the former layer of transition foam. This category of sleepers will most likely obtain a firmness rating of 7 out of 10.
The same is true for sleepers approaching 200 pounds but especially for those who are over 200 pounds. These sleepers may compress the memory foam top layer more dramatically. It can result in a firmer mattress, perhaps in the 7.5 to 7.5 out of 10 range.
---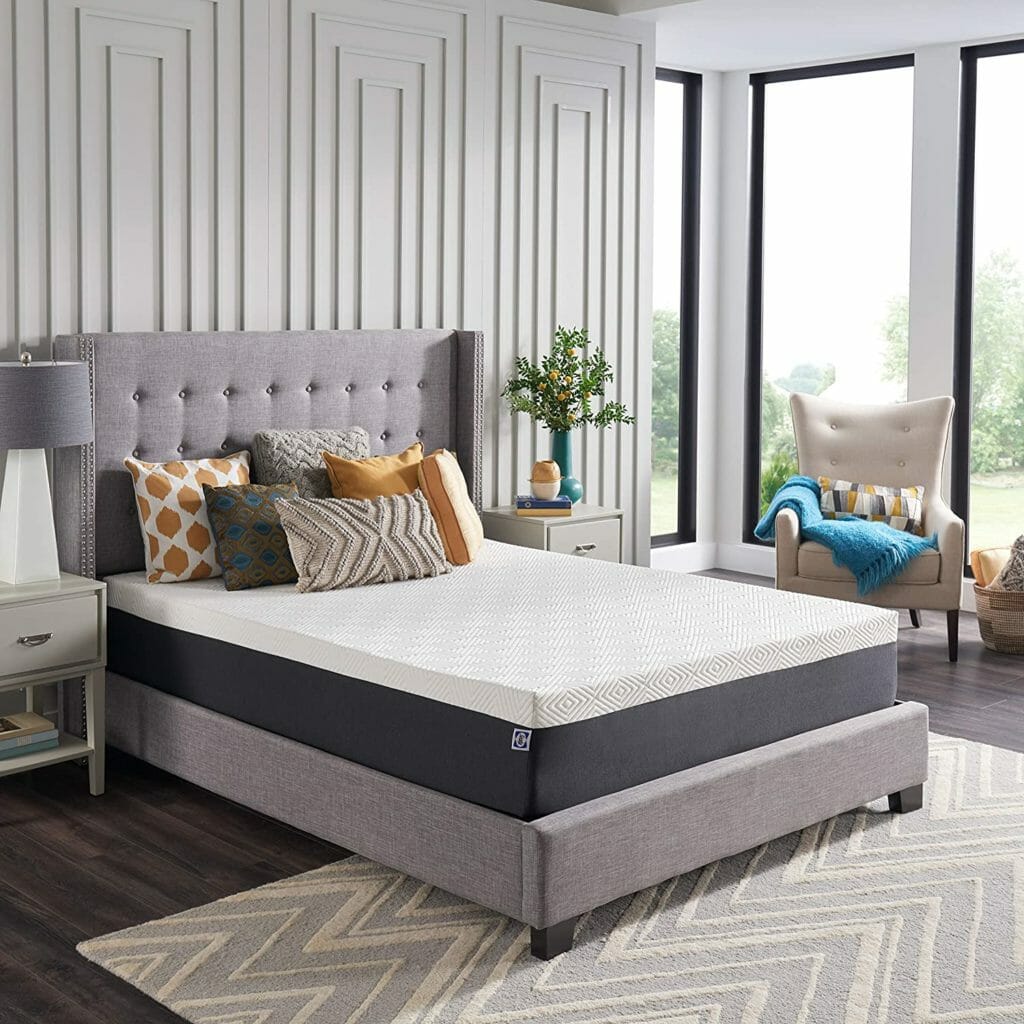 Product Highlights:
10-year warranty
Copperhill-infused foam top
Affordable
Innerspring & foam hybrid
Exclusive Posturepedic Technology
Certified by the CertiPUR-US
The Sealy 12-Inch Hybrid Bed-in-a-Box is one of the best California King mattresses. This brand makes buying a mattress with the best quality easier.
This mattress will arrive in a package measuring 16.5 x 16.5 x 44.5 inches. This package is a bit heavy – weighing 60 pounds. A plastic roll is shrink-wrapped around the mattress within.
The mattress has four layers:
Individually encased coils
Comfort foam
Premium memory foam
A removable cover
This 12-inch Californa King mattress has a medium-firm feel. The upper memory foam layers of the 12-inch are thicker, resulting in a softer feel level. In addition, the removable zippered outer cover offers a quilted texture on the upper surface.
Because the memory foam layers are only on one side of the mattress, you cannot flip it. However, you can rotate it if you need to in the future.
The coil layer is different from the rest of the California King mattress. This mattress is made from pure memory foam mattresses and will not make you feel like sinking into it. In addition, the mattress will not retain your body heat, allowing you to sleep cooler. Customers are also blown away by how quickly the mattress expands and becomes usable.
---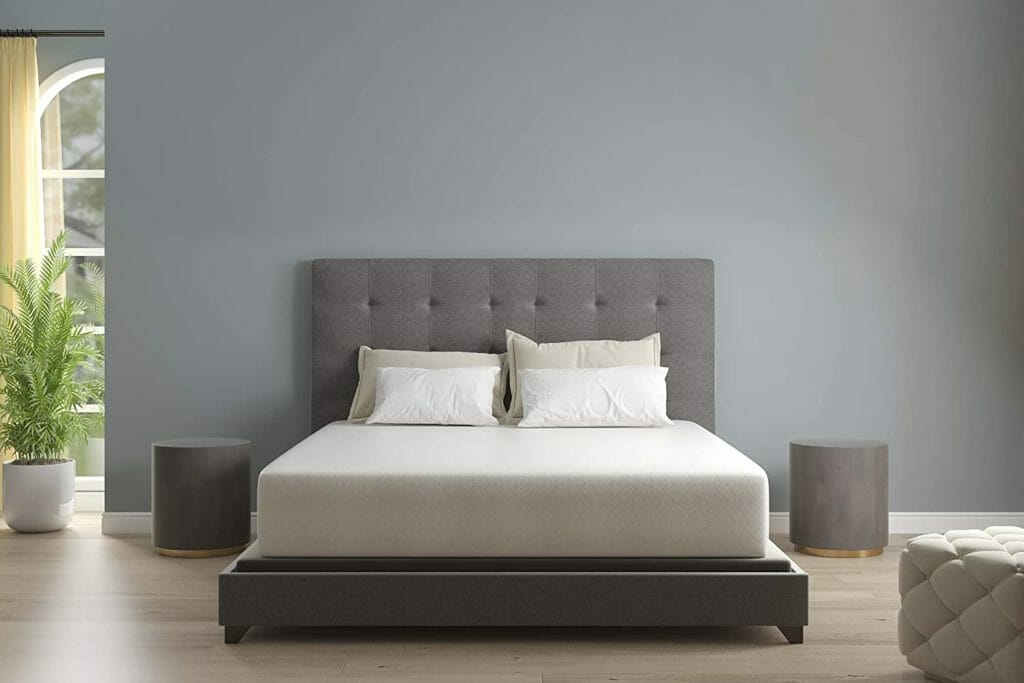 Product Highlights:
Innerspring and memory foam options
Competitive pricing
Tight top mattress
Firm comfort level
CertiPUR-US Certified
The Signature Design is the thickest 12-inch Hybrid Plush Mattress in Ashley Mattress' Chime Collection.
This bed is the heaviest and softest of Ashley Mattress's hybrid beds in the Chime line. However, because the Chime 12 Inch Hybrid Plush mattress has a softer feel, it will not suit someone who prefers a firmer bed.
This type offers several plush comfort foams, such as gel memory foam and soft quilted foam. It also has an upholstery-grade foam. Individually wrapped pocketed coils work in tandem with the foams to provide dependable support all night.
This mattress, which sells for roughly $200-$300 in stores and online, has several comfort materials. The price is a steal for its high-quality value.
This mattress is a good choice for a new bed because of the high-quality materials and reasonable price. This bed comes highly recommended to anyone looking for the benefits of a hybrid type without paying an exorbitant price.
---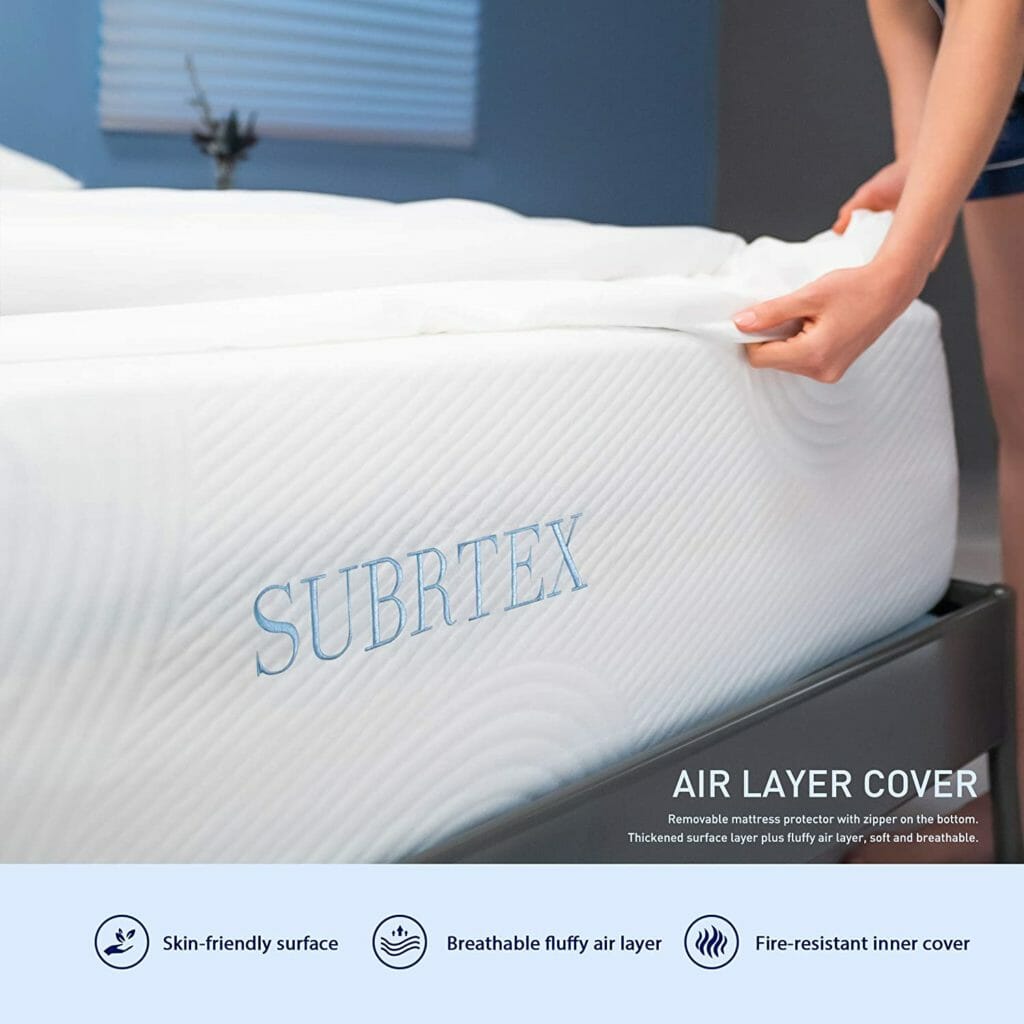 Product Highlights:
Three foam layers
Meet the standards of CertiPUR-US
Scientifically proven foam structure formula
10-year warranty
The 10-inch California King size mattress's revolutionary design features the best density memory foam. As a result, it helps extend the product's lifespan.
It has three layers:
Two inches of memory gel-based foam
Two inches of pleasant foam
Six inches of base foam
The gel foam provides a cooling environment for sleeping and supports the base layer of the body.
All of the materials and foam layers in the bedding meet the CertiPUR-US safety standard. So, it contains no harmful chemicals, VOCs, or formaldehyde.
The foam layer's scientific structure optimizes the many functions of the various layers. It has two coverings with the mattress: a microfiber fireproof inner cover and an anti-slip detachable outer cover.
If you have a propensity of moving around a lot while sleeping, your partner may be bothered. But don't worry! This bedding has low motion transference and anti-interference features, so your companion won't be disturbed while sleeping.
Now is the time to purchase this mattress and enjoy a stress-free sleep! It has a 365-day return policy that starts the day after you buy it. So when you lie down on this miraculous substance, you may regain your strength, decompress, and rest.
---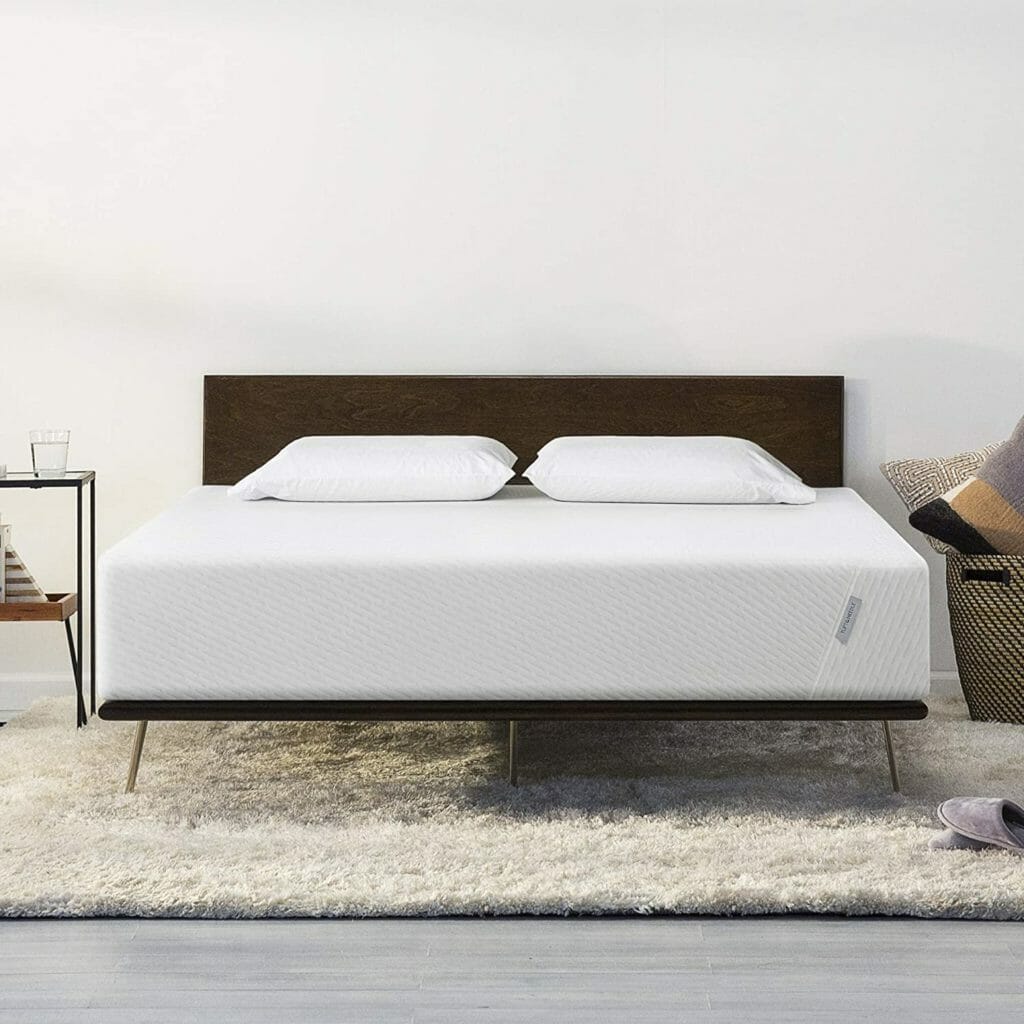 Product Highlights:
Freshly poured T and N Adaptive foam
Non-toxic Certified
Greenguard Gold and CertiPUR certified
10-year warranty
100-night sleep trial
The Mint Mattress from Tuft & Needle has two layers of adaptive, graphite-infused polyfoam over a high-density polyfoam base. This construction builds on the two-layer design of the Tuft & Needle flagship bed, resulting in a plusher feel for the Mint Mattress.
The top layer offers noticeable contouring. However, the overall feel of the bed is medium-firm, and the polyfoam will not cradle the body or sink like memory foam. It creates a balanced feeling of sleeping on and sleeping in. It will assure you of a comfortable combination of pressure relief and even support.
The Mint has an antibacterial protectant integrated with the cover fabric. In addition, the Mint Mattress's comfort system has open-cell foams that shouldn't absorb or retain too much body heat. It makes it an excellent choice for folks who sleep hot on all-foam beds.
The mattress's other top advantages are superb motion isolation, above-average durability, and no noise when bearing weight. In addition, it provides enough support for most sides and back, even for heavy people (up to 260 pounds), thanks to its medium-firm texture.
This brand of California King mattress is a budget-friendly bed. But despite its affordability, it does deliver a high-quality California King mattress. It has high-quality materials and consistent performance across multiple sleep areas. In addition, it offers a 100-night sleep trial for everyone. Plus, it comes with a 10-year warranty!
---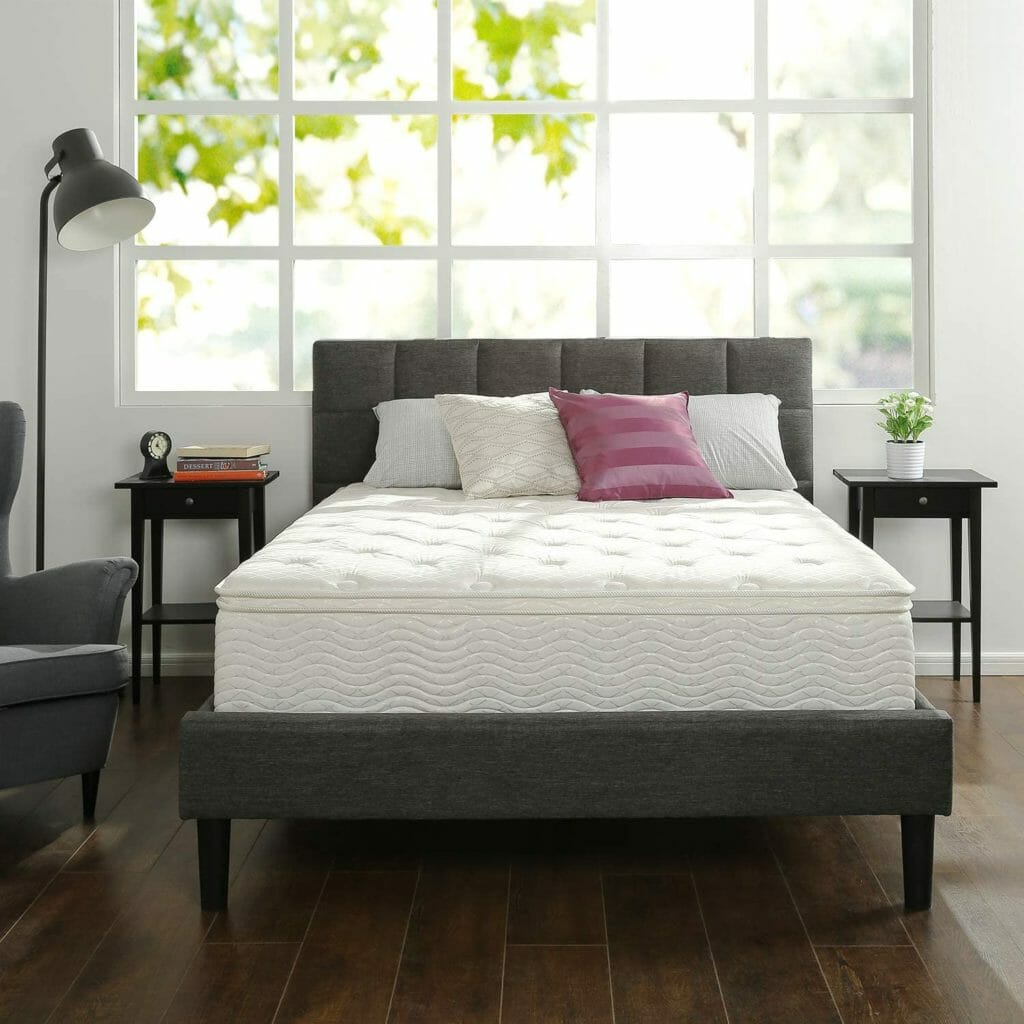 Product Highlights:
CertiPUR-US Certified Foams
Worry-free 10-year limited warranty
Affordable Price
Easy delivery
ViscoLatex technology
With this go-to quality, Zinus does it again. As a result, it has much positive feedback from real people who like the price and the performance.
For optimum back and pressure point support, Zinus starts here with ViscoLatex technology. Verified reviews believe this memory foam is responsive and the ideal firmness for the whole family. To cap it off, it's 12″ tall and thick.
This latest option from Zinus combines all of the technology buyers expect with an inexpensive pricing point. In addition, if you choose, there is a free haul-away option for your old mattress.
For convenient shipping and setup, the manufacturer compresses the Zinus Gel-Infused Cali King mattress. Meanwhile, it's CertiPUR-US certified, which means it meets the most stringent safety requirements –– something that buyers appreciate.
You should feel the responsive support in one of the cushions of this bed. Its upper layer feels like the softest pillow you have ever had. However, its softness does not hinder comfortable neck support. It also has contoured high-quality density foam and innerspring coils.
The springs and foam combine to make this bed ideal for couples and combination sleepers. The bounce is ideal for adult activities and changing positions, while the foam dampens motion transfer.
---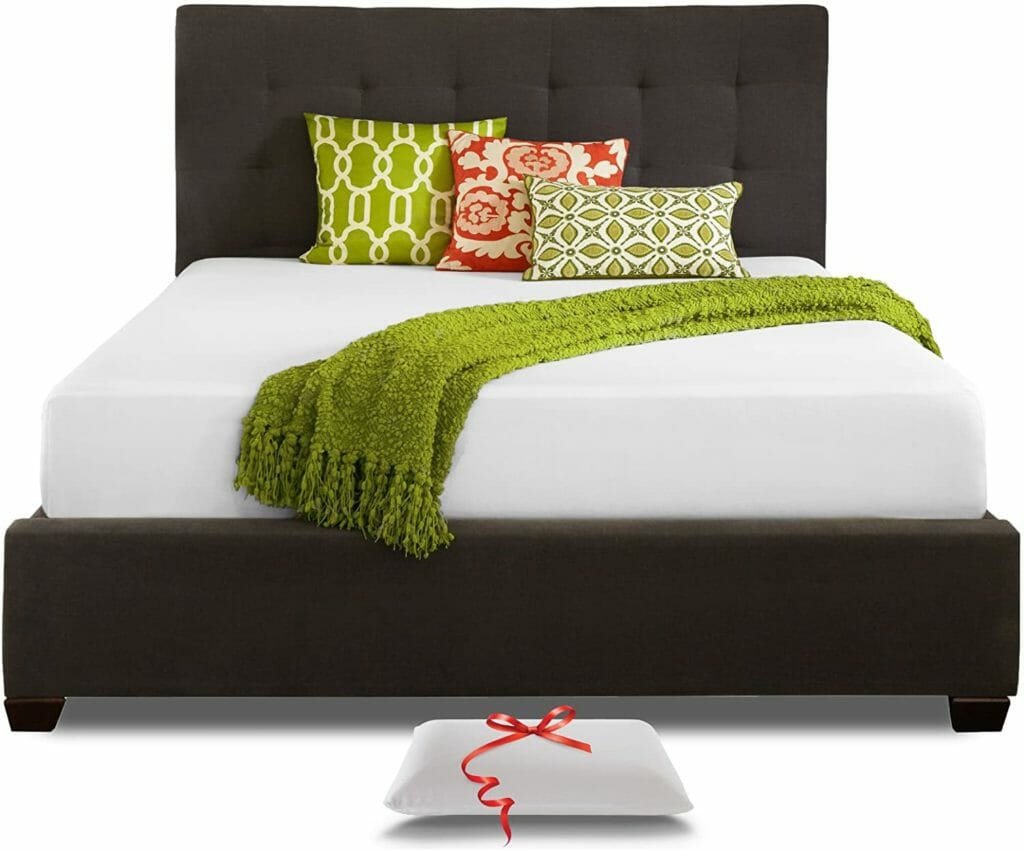 Product Highlights:
CERTIPUR-US CERTIFIED
Eco-Friendly
Full refund guarantee from the 30-day trial
20-year warranty
If you plan to share your mattress, this is one of the most crucial considerations to keep in mind. When applied with heavy weight, the Live and Sleep Classic Mattress structure responds nicely.
The disruption on the other side of the bed changes one drop of a 10-pound ball at various heights. For example, dropping the ball from a height of 4-8′′ causes minor disruption. However, if dropped from a height of 12 inches, expect worse disruption.
Regardless, the memory foam and TriSupport technology did an excellent job of preventing motion transmission throughout the entire surface.
You will be happy once you hear the temperature of the mattress. Memory foams can trap heat. As a result of the trapped heat, people sweat while sleeping.
However, with a few more materials, such as those found in the Classic Mattress, this is no longer a problem. In addition, LiveandSleep developed its stretch-knit cover light and airy to prevent the mattress from trapping heat.
Even in the summer, the cover keeps the mattress cool and comfortable. Its comfort layer also has an open-cell structure, making it more breathable than traditional memory foam.
---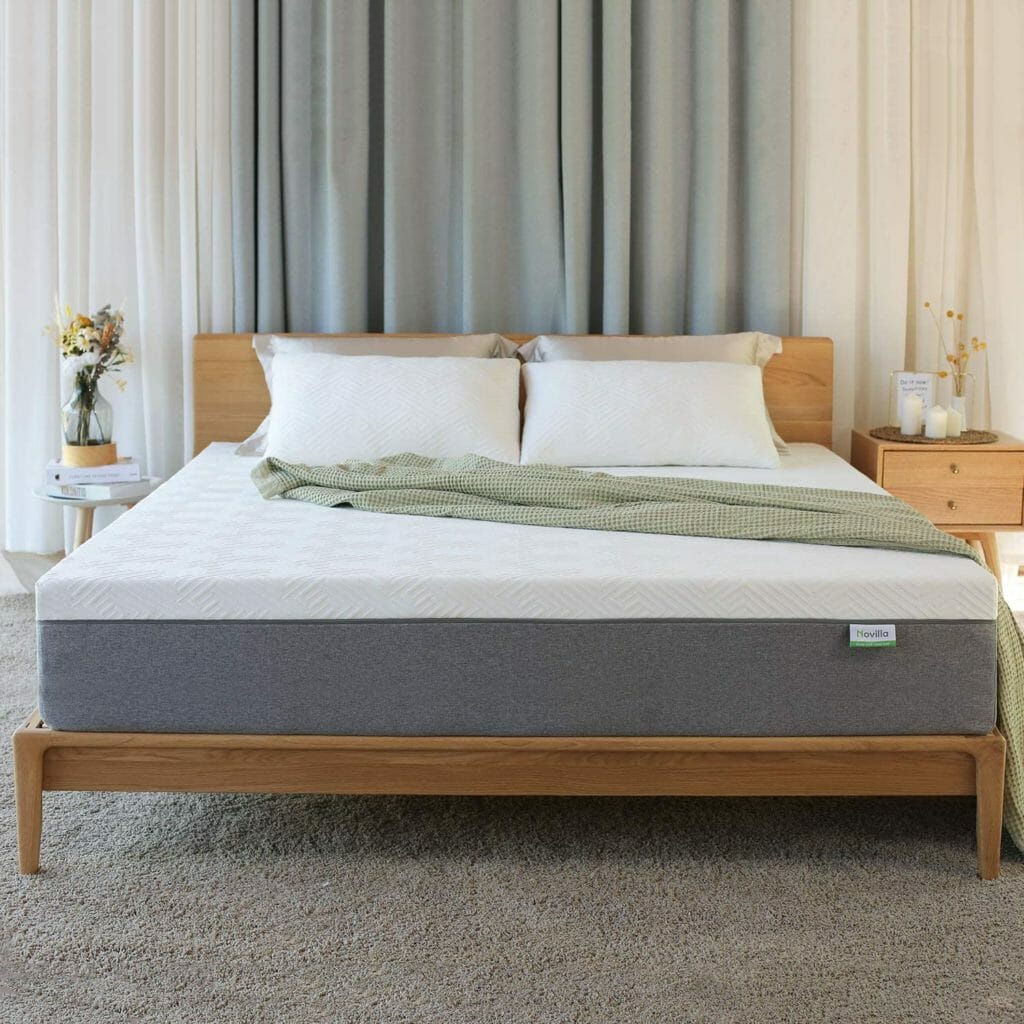 Product Highlights:
Bamboo Fabric Cover
4 Gel-Infused memory foam, comfort layer
High-density foam
Warranty: 10-year limited, 30-day money-back guarantee
CertiPUR-US Certified
The four layers of Novilla's gel memory foam mattress provide maximum support and cooling as you sleep.
The first layer is gel-infused memory foam, which keeps you cool while keeping you comfy. The support foam is fashioned like an egg crate to allow for improved ventilation during the night. It absorbs heat to go in and out and prevents overheating.
This bed uses bamboo to make the cover. Regardless of the ambient temperature, this fabric wicks moisture away from the body and keeps you dry at night. As a result, it's ideal for night sweats.
Your weight is evenly distributed throughout the surface, thanks to the comfort foam. Two layers of high-density comfort foam are present. These layers help to keep the mattress's strength and support for long-term pain treatment and comfort.
You won't roll off or have difficulties getting in and out of bed since the mattress resists sagging and gives edge support. It arrives in a box, rolled and squeezed. It's best to allow 72 hours to air out and reconfigure itself.
---
FAQs About California King Mattresses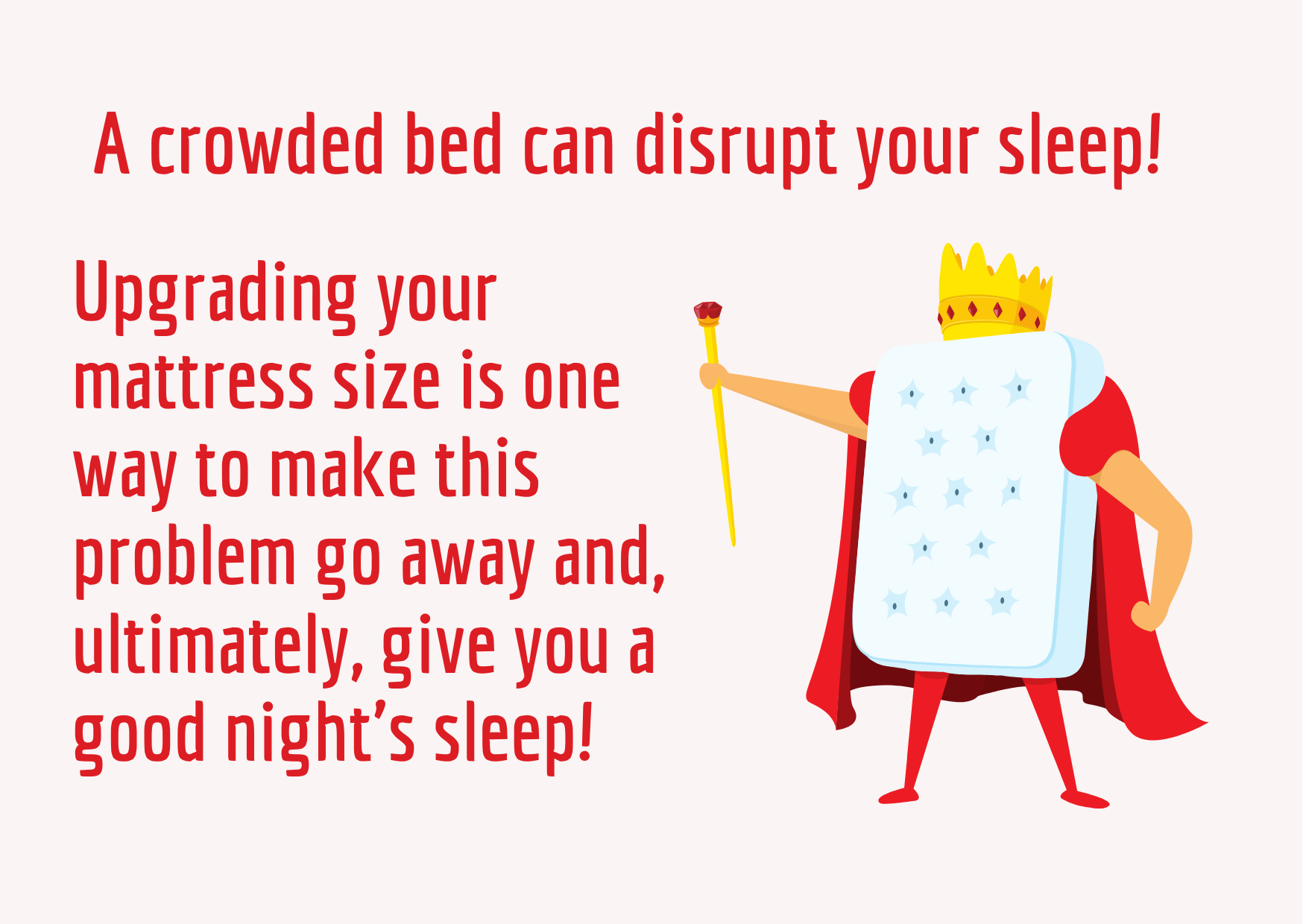 1. How big is a California King mattress?
A California King mattress has a width of 72 inches and a length of 84 inches. These beds are ideal for both individuals and couples.
If two individuals use this bed, each of you will have nearly a twin-size mattress to yourselves. That offers plenty of room for kids, cats, and dogs to play and spend valuable time together!
2. What makes a king-size bed different from a California King Mattress?
One of the most common queries and misconceptions people have is about the sizes of California King vs. King-sized mattresses.
We suggest California King for:
Anyone taller than 6 feet (particularly for back and stomach sleepers)
Those who sleep at the foot of the bed with their dogs
Bedrooms with a smaller footprint
We suggest King size mattresses for:
Couples with tiny children who share a bed
Bedrooms with much space
Shoppers on a budget
3. What is the recommended room size for a California King mattress?
The suggested room size for this bed would be 12″ x 12″ – 14″x 12″ depending on how much walking room you desire.

4. What's the best size of beddings for a California King mattress?
A California King can fit any king-size comforter's width, but the length may be a difficulty. Choose comforters created expressly for a California King mattress or a king-size comforter that is about 110 inches in length.
5. How comfortable is a California King Mattress?
A California king-size mattress can be composed of a variety of materials. The level of comfort relies on the brand and construction method, in addition to the constituent elements.
It is often thick and has interior springs to ensure that you sleep in good posture. The top layer gives you a sense of cloud-like luxury and comforting coolness, allowing you to sleep better all night.
6. Is a California King mattress worth it?
California Kings are ideal for large families who enjoy sleeping in one bed. This bed size will give you more family time on a chilly Saturday morning. When you have a bed as big as this, you can snuggle up with the entire family.
The area on the bottom of the bed would still be enough for pets to curl up. If you are tall, a California King mattress might be the best bed size option. Thus, California king mattresses are well worth the investment!
CONCLUSION
You already know that quality sleep is just as important as nutrition and exercise, which is why finding the appropriate mattress is so important. But, for many people, bigger is better. And this is why California king beds are appealing and even practical solutions.

All of the California King Mattresses mentioned above are the top deals online. While the final decision is entirely personal, we assure you that you cannot go wrong with this list.
ADDITONAL RESOURCES: