Live in Washington State and looking for a new mattress? Check out some of our picks for where to buy your new mattress.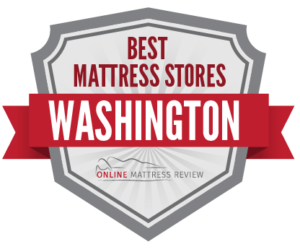 You spend one third of your life sleeping- or at least you should! Some of you may be tossing and turning in the night and not sleeping in a position or angle that helps you get the energy you need to have a good day.
Purchasing a mattress is essential, and can be daunting. If you are wondering "where can I purchase a mattress in Washington State?" then you have found the right spot. Welcome!
We combed through mattress stores and some family-run mattress shops to help you find a mattress that fits you. No matter what you budget you deserve a good night's rest.
We listed some of the best mattress stores in Washington- mattress shops that offer quality customer service, a wide range of products, and have a no pressure sales team that will ensure that you leave with a mattress that is perfect for your budget. Below are mattress shops listed by city.
---
Mattress Stores in Seattle
If you're looking for a mattress store in Seattle, you have a ton to choose from! We did the work for you and found the mattress shops that were the highest ranked for comfort, convenience, and customer service.
6019 15th Ave NW, Seattle, WA 98107 Phone (206) 632-2240
Seattle Mattress provides some of the best customer service in town and will price match. They offer a wide selection of mattresses including eco-friendly options that are not treated with chemicals. There's something for everyone at Seattle Mattress.
1310 N 131st St, Seattle, WA 98133 Phone (206) 523-0061
If you're in Northern Seattle you could try Bedrooms and More Outlet. This family-owned business is a great mattress shop that offers quality mattresses for a great price. If you are in need of an affordable mattress, check this place out.
3650 WA-16, Port Orchard, WA 98367 Phone (360) 373-4367
When looking for a mattress near Seattle you could try Mattress Ranch where you'll find a knowledgeable staff, eco-friendly mattresses and an affordable product. This is a great option for those living in Port Orchard.
300 NE 45th St, Seattle, WA 98105 Phone (206) 523-0062
Bedrooms & More sells quality mattresses without the hassle. If the mattress does not work for you after a few months, an exchange is not a problem. They also have a wide array of mattresses.
---
Mattress Stores in Olympia
7941 Martin Way E, Olympia, WA 98516 Phone (360) 438-3936
When searching for a mattress in Olympia we recommend you check out Mattress Ranch where you will find a wide array of mattresses for every type of sleeper. The sales representatives have no problems with you taking your time and trying out each mattress. If you know of a better price elsewhere, Mattress Ranch can match your price. Who could ask for anything more?
5765 Littlerock Rd SW Ste 103, Tumwater, WA 98512 Phone (360) 352-1635
Mattress Firm Tumwater is a great option if you are looking for a mattress near Olympia. They stock all of the brand names that you have come to know over the years and will not pressure you to purchase a mattress that doesn't work with your budget. Oh! And Mattress Firm Tumwater also offers financing if needed.
---
Mattress Stores in Spokane
If you have ever wondered where to find a mattress in Spokane, try our list!
3104 E Palouse Hwy B, Spokane, WA 99223 Phone (509) 474-9800
Mattress Depot has a great selection of mattresses for all types of sleepers. This location is known for its helpful staff, great customer service, and next day delivery. If you are unsure of which mattress is the next best fit for you, try Mattress Depot.
2915 N Division St, Spokane, WA 99207 Phone (855) 998-7667
Is your budget a little tight? Perhaps you need something fast as you move into your new dormitory. Wallaroo's Overstock Furniture and Mattresses is a great place to head if you are in need of an affordable mattress fast. The staff knows the product, and in many instances they offer same or next day delivery.
15 E Boone Ave #1704, Spokane, WA 99202 Phone (509) 326-1600
Walker's Furniture and Mattress is where to head if you are looking for an honest family-run mattress shop. Prices will vary, but the staff are willing to work with you to ensure you find a mattress that fits your budget.
---
Mattress Stores in Kennewick
If you need to find a mattress store near Kennewick, that's no problem! There are a number of options directly downtown.
1395 George Washington Way, Richland, WA 99354 Phone (509) 371-5565
Mister Mattress is located near Kennewick and offers quality mattresses at affordable prices. The pressure is off when you shop here and the staff truly want to ensure that you leave with a mattress that works for you.
231 Vista Way, Kennewick, WA 99336 Phone (509) 374-3290
Mattress Firm Kennewick is a great option for those looking for the convenience of shopping in town. The staff are knowledgeable and patient. You can take your time trying various beds, and the delivery service is prompt and reliable.
731 N Columbia Center Blvd #130, Kennewick, WA 99336 Phone (509) 374-1581
Mattress Depot USA offers all of the name brand mattresses you love at a range of prices. No matter what you budget, Mattress Depot USA has something for you.
---
Our most popular mattress city in Washington:
You can also check out mattresses online at some of our favorite stores: