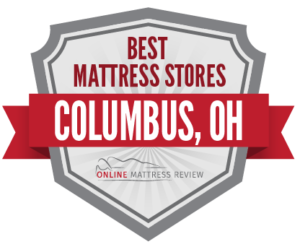 New research from the Better Sleep Council finds that almost 75% of Americans feel that "mattresses are too expensive" in general. Yet over 90% agree that a good mattress is essential to good sleep, and the cost of poor sleep is well-established.
Research from Harvard Medical School shows that lack of sleep costs the average U.S. worker $2,280 in lost productivity. Folks in Columbus are out to get the best bang for their buck.
Shoppers here know the bottom-line value of a good night's sleep, appreciate the importance of a decent mattress, and don't want to pay a dollar more than they have to. Fortunately, the city has over 40 mattress retailers, all competing to offer the best prices in town. The great number of highly competitive mattress shops in Columbus is great news for consumers, who benefit from a buyer's market.
Folks who put in a little extra research, by tracking sales and comparison-shopping, can score an even better deal. If you're wondering where to buy a mattress in Columbus, read on. We've scoped out the reviews and listings for every mattress ship in Columbus to bring you the best of the best in each neighborhood.
Read on to find out where to find the mattress of your dreams- at an affordable price- and get on the fast track to a good night's sleep.
---
Mattress Stores in Central Columbus
You'll find four mattress stores in Columbus in the University District, all within a one-mile radius.
1430 Olentangy River Rd, Columbus, OH 43212 Phone: (614) 299-2064
1475 Delashmut Ave, Columbus, OH 43212 Phone: (614) 407-5710
CBUS Mattress' business model- a simple showroom and patient staff who provide plenty of information without pressure or up-selling. CBUS also sells bedding, bed frames, and other furniture as well.
851 W 5th Ave, Columbus, OH 43212 Phone: (614) 291-8085
With multiple affordable mattress shops located close together, this is a great destination for university students to do a little comparison-shopping in search of a great bargain.
---
Mattress Stores in North Columbus
Wondering where to buy a mattress in Columbus up in the northern area of the city? Head to Polaris. Here, you'll find convenient comparison-shopping with a cluster of five mattress shops crammed into a matter of a few city blocks.
8669 Lyra Dr, Columbus, OH 43240 Phone: (614) 785-4986
1141 Polaris Pkwy, Columbus, OH 43240 Phone: (614) 846-2770
There are two branches of the popular chain Mattress Firm in this area: Mattress Firm Polaris and Mattress Firm Fashion Place.
8747 Lyra Dr, Columbus, OH 43240 Phone: (614) 840-0322
Original Mattress Factory is popular with shoppers for providing top quality products at affordable prices. This chain manufactures their own mattresses using high-performance materials and sells them directly to consumers, eliminating the middleman and passing on the savings.
1279 Polaris Pkwy, Columbus, OH 43240 Phone: (614) 468-0003
Sleep Number with its signature customizable beds, is a great option for shoppers in the market for an adjustable bed, especially those with sleep issues such as back pain or snoring.
1516 Gemini Pl, Columbus, OH 43240 Phone: (614) 436-4115
Sleep Outfitters carries top brands like Tempur-Pedic, Sterns & Foster, Sealy and Comfort Revolution, along with bedding and accessories. The staff guide customers through "sleep assessments" to fit them to mattresses that suit their sleep style and comfort preferences, without pushy sales tactics.
1900 Ikea Way, Columbus OH 43240 Phone: (888) 888-4532
A little to the East, shoppers can multi-task at IKEA, by purchasing furniture, housewares, and linens, along with an affordable mattress. This Swedish chain specializes in some-assembly-required furniture, but also has a good selection of mattresses, including traditional, foam and latex, at reasonable prices. Stop by the in-store lunch counter after browsing; the store serves meatballs, smoked salmon and other traditional Swedish treats.
---
Mattress Stores in South Columbus
If you're shopping for a mattress in Columbus to the South, you'll likely be able to pick up other furniture in the same trip. That's because the top mattress stores in South Columbus also sell appliances and furniture, and specialize in low prices.
1942 Parsons Ave, Columbus, OH 43207 Phone: (614) 445-8840
Appliance and Mattress Center sells highly affordable and locally-manufactured Solstice pillow top mattresses, along with regular and adjustable beds.
1967 Lockbourne Rd #1460, Columbus, OH 43207 Phone: (614) 443-6867
Harmony Furniture Mattress sells wholesale Ashley furniture and Southerland mattresses, and customers appreciate their low prices. Bring bungee cords and prepare to tie down your new purchase, though- the store doe not offer delivery.
3823 S High St, Columbus, OH 43207 Phone: (614) 813-3382
Midwest Mattress and Furniture Outlet is a closeout, overstock clearance center. This no-frills mattress store earns great reviews from customers for its low prices as well. Here, the store is able to offer highly affordable mattresses by cutting the costs of staffing. The store is open by appointment only, and all products are priced 50-70% below retail.
---
Mattress Stores in East Columbus
5055 E Main St, Columbus, OH 43213 Phone: (614) 861-5300
American Freight Furniture and Mattress earns some of the highest reviews of any mattress store in this part of Columbus. Customers are consistently satisfied with the knowledgeable sales staff, who provide patient guidance without pressure or up-selling. This store sells name-brand mattresses, such as Nordic and Simmons, at prices as low as $39.
5610 Cleveland Ave, Columbus, OH 43231 Phone: (614) 818-3480
To the north, Mattress Land is another no-frills showroom where customers can get a great deal on furniture and mattress, along with fast service.
5139 E Main St, Columbus, OH 43213
2455 S Hamilton Rd, Columbus, OH 43232 Phone: (614) 866-9755
Payless Furniture and Mattress and Discount Furniture & Mattress Outlet have similar business models; independent stores with competitive pricing on affordable mattresses in a no-frills, warehouse-style setting.
2032 Baltimore-Reynoldsburg Rd, Reynoldsburg, OH 43068 Phone: (614) 755-470
8146 E Broad St, Reynoldsburg, OH 43068 Phone: (614) 755-3851
Customers who prefer the polished showroom and reliable service of a national chain can check out Mattress Firm Reynoldsburg or Reynoldsburg West.
---
Mattress Stores in West Columbus
1796 Hilliard Rome Rd Ste 102, Hilliard, OH 43026 Phone: (614) 876-9102
Mattress Firm is the nation's leading mattress store, and sells brand-name spring, memory foam & adjustable mattresses. Knowledgeable staff and a wide selection at this chain earn loyal customers and solid reviews, and the Clearance store has especially good deals on closeout inventory.
---
Also check out:
Best Mattress Shops in Ohio
You can also check out mattresses online at some of our favorite stores: