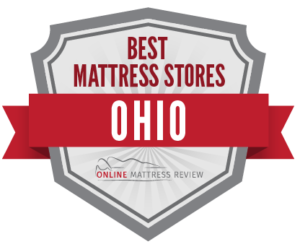 If you're looking for mattresses in Ohio, you're in the right location. We have a collection of mattresses stores that cover the major metropolitan areas across the state.
Whether you're looking for something to save you from a lifetime of back pain, a second mattress to finish off your guest bedroom or something all natural and toxic-free, we have got you covered. Check out some of the highest-ranked mattress shops in Ohio below.
---
Mattress Stores in Cincinnati
Are you looking for a mattress store in Cincinnati? Well, you have come to the right place! There are a number of locations throughout the Cincinnati area that offer affordable mattresses that fit you and your budget.
7336 Kenwood Rd. Cincinnati, OH 45236 Phone (513) 791-9888
9853 Waterstone Blvd. Cincinnati, OH 45249 Phone (513) 583-5252
The Original Mattress Factory has two locations: one on Kenwood Rd and one near Mason. At each location you will find great customer service and quality and affordable mattresses.
8154 Montgomery Rd. Cincinnati, OH 45236 Phone (513) 792-0212
4459 Eastgate Blvd. Cincinnati, OH 45245 Phone (513) 753-5300
Sleep Outfitters provides a wide range of mattresses that will not break the bank. Whether you're looking for a mattress for your dorm or something for the master bedroom there's a little something for everyone here including quality customer service and delivery fees included within the price. There's a separate location in Eastgate.
5555 Glenway Ave. Cincinnati, OH 45238 Phone (513) 922-6979
Mattress Firm has multiple locations throughout and near Cincinnati. If you're looking for convenience and quality, try Mattress Firm. Their location in Westwood is particularly known for exceptional customer service.
---
Mattress Stores in Columbus
You are in luck if you're looking for a mattress in Columbus.
1475 Delashmut Ave, Columbus, OH 43212 Phone (614) 407-5710
CBUS Mattress and Furniture is located in Upper Arlington and has a wide-range of options and a very knowledgeable staff. They use an appointment system, so it is important to book online in advance. From there a helpful staff member will allow you to try several mattresses that fit your specific sleep requirements. CBUS offers same day delivery.
7370 Sawmill Rd. Columbus, OH 43235 Phone (614) 793-1048
If you're looking for a mattress shop in Dublin, Mack Mattress Outlet covers those who live in the Dublin area. This is a great mattress shop if you are looking for an easy and affordable approach to purchasing a mattress.
4555 N High St. Columbus, OH 43214 Phone (614) 230-2477
If you're in need of an organic mattress, you will find many options near Columbus. In Upper Arlington head to T.Y. Fine Furniture for an organic non-toxic mattress or set of mattresses for your family.
When in Cleveland you will have a wide-range of mattress options from which to choose including big mattress store and small mattress shops.
3356 Steelyard Dr. Cleveland, OH 44109
13991 Cedar Rd Ste B South Euclid, OH 44118
Mattress Firm Cleveland offers a wide-range of mattresses from high end to budget friendly. The prices are competitive and customer service at Mattress Firm Cleveland is top notch. An additional Mattress Firm location is Mattress Firm South Euclid.
4617 Lorain Ave. Cleveland, OH 44102 Phone (216) 939-8718
If you're looking to shop local, you could try Lorain Furniture and Appliance that offers a unique collection of home goods and mattresses. The customer service is run a little differently here, much more like a mom and pop shop. You'll be greeted with warm smiles and a knowledgeable staff that can answer all of your mattress-related needs.
1443 Som Center Rd. Mayfield Heights, OH 44124 Phone (440) 461-1050
Fish Furniture is a well-established family-run business that originally opened on Euclid Ave in 1925. Today Fish Furniture continues to supply quality mattresses that supply all price points. If you're looking for a mattress shop that will supply not only the perfect mattress to fit your needs and budget but also quality customer service, try Fish Furniture.
16925 Park Cir Dr. Chagrin Falls, OH 44023 Phone (800) 917-3342
Naturpedic is an organic mattress gallery located in Cleveland (16925 Park Circle Drive.). Here you will find custom-built organic non-toxic beds to suit your needs. Customer service is excellent at Naturpedic. For not only a good, but healthy night sleep try Naturpedic.
---
Mattress Stores in Toledo
If you're wondering: "where can I find a mattress in Toledo?"
1220 E Mall Dr. Holland, OH 43528 Phone (419) 861-2204
If you're looking for a mattress near Toledo try Denver Mattress located in Holland, Ohio. Here you'll find all of the trusted mattress brands you have come to know and an extremely helpful sales team.
5290 Monroe St. Toledo, OH 43623 Phone (567) 455-6500
Mattress Firm supplies mattresses across the state of Ohio including Toledo. At Mattress Firm you will find great mattresses and convenient and efficient customer service from the moment you walk in the door to the moment your mattress is delivered and assembled in-home.
---
These are our most popular mattress cities in Ohio:
You can also check out mattresses online at some of our favorite stores: