Are you looking for where to buy a new mattress in the state of South Carolina?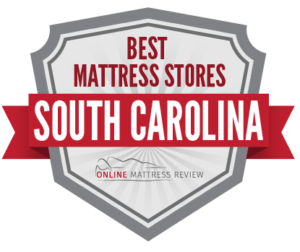 Getting a good night's sleep means so much more than just a productive work day- sleep helps our immune system's function, and helps us maintain the ability to fight off diseases.
You should spend about one third of your life asleep, and a quality mattress is one key ingredient to getting a quality night's sleep.
We understand that shopping for a mattress can get stressful: high prices, mattress toxins, impatient sales teams, and bad delivery installments are a nightmare in and of themselves. With the number of mattress store competitors, how do you know you are going to find a product that works for you?
Here is what we did to help: we examined a number of the top-ranked mattress shops across the state of South Carolina, and looked for locations that offered a wide variety of mattresses made with quality materials, and a customer service team that is patient and knowledgeable.
We also factored in other essentials- like convenient and efficient delivery options as well as shops that offer reasonable return policies.
With the mattress industry so large now, you can find a quality mattress in larger metropolitan areas like Charleston, Columbia, and Greenville as well as other smaller cities across the state like Myrtle Beach, Florence, Clemson, Aiken, Hilton Head, and Rock Hill. Here are our picks for best mattress stores in South Carolina.
---
Mattress Stores in Charleston
If you need to find a mattress near Charleston, we're here to help. Lots of folks put off purchasing a mattress for good reasons: a mattress can be costly, a mattress sales associate might not be honest, and at the end of the night if you don't like your purchase, can you even return it? We examined the highest-ranked mattress shops in Charleston and looked for stores that provided a wide selection of mattresses, great customer service (we factored in how knowledgeable the sales teams are, and their levels of hospitality), and convenient perks like next-day delivery, and return policies. So, if you are looking for a mattress in Charleston, you can relax. There are a number of great options to choose from.
1045 Wappoo Rd suite b, Charleston, SC 29407 Phone (843) 568-4545
Charleston Bedding Mattress is located in West Ashley and is known for their reliability. In fact, this is a locally run business that has operated since 2009. The sales team are experts and are delighted to work with each customer to ensure they find a mattress to fit their sleeping needs and their budget. If you need to round off your mattress purchase with frames, and bedding supplies, Charleston Bedding Mattress has those too.
1078c E Montague Ave, North Charleston, SC 29405 Phone (843) 303-2478
The Charleston Mattress is the place to head if you live in North Charleston. This informed sales team will give you the scoop and then back off to let you browse and test mattresses, no hovering! Like their mattresses, their style of sales is customizable, so if you would rather have an associate close by to answer all of your questions, that's not a problem either. Typically, this store ships their custom built mattresses in just 4 days. Not only that, but if you shop here you avoid shopping at a chain, and support instead support a locally run mattress shop.
---
Mattress Stores in Columbia
If you are looking for a mattress in Columbia, you've come to the right place. Mattress shops are everywhere, and it's not exactly easy to weed through what's quality and what's bogus these days. We want to take the guesswork out of purchasing a mattress. We examined a number of mattress shops located in and near Columbia, South Carolina and looked for places that sold a good variety, had a knowledgeable and kind staff as well as had some convenience perks. Let's take a look at what we found.
368 Harbison Blvd Ste A-B, Columbia, SC 29212 Phone (803) 781-0497
Not all big box experiences are cookie cutter. In fact, when it comes to reliability, large and long standing business are hard to beat. Mattress Firm stands out for its quality of customer service. Not only that, but with over 55 different mattresses to choose from you're likely to find something that fits everyone's needs. As always Mattress Firm offers a 120 day money back guarantee. The Mattress Firm location we recommend is Mattress Firm Clearance.
Big Deal Mattress Warehouse
8807 Two Notch Rd #F, Columbia, SC 29223 Phone (803) 238-6288
If you are shopping on a budget (and let's face it- we all are) take a look in Big Deal Mattress Warehouse. There are a number of fantastic options at affordable prices. If you are the type of person who is just looking for an easy going no hassle sale where you can get in, and get right out, head here. They do not have a website.
---
Mattress Stores in Myrtle Beach
It doesn't matter if you are looking for a mattress to furnish your vacation home, or this is your home. At the end of the day, you are going to look forward to a good night's sleep. We understand that the last thing you want to feel when you're at the beach is stress. This is why we took a close look at some of the highest ranked mattress shops in Myrtle Beach. What set these locations apart is the quality of their customer service, the quality of the mattresses, and other important factors to consider, like rate of delivery, and reliable return policies.
1116 3rd Ave S, Myrtle Beach, SC 29577 Phone (843) 800-8699
1219 N Retail Ct, Myrtle Beach, SC 29577 Phone (843) 443-6677
Myrtle Beach Mattress is a locally run mattress shop that opened in 2016. Since then the owner, Joel has worked hard to ensure that he offers quality mattresses with a local touch. You won't be pressured to purchase something out of your price range, and you can take as much or as little time as you want in his store. If that weren't sweet enough, Myrtle Beach Mattress also offers affordable competitive pricing.
900 A Hwy 17 N, North Myrtle Beach, SC 29582 Phone (843) 663-2337
For those in North Myrtle Beach, we want to talk about a shop called Mattress Experts where you will find an incredible sales team. This locally run business really understands their product, and really understands customer's needs. Most individuals shopping for a mattress in this area are not in a position to wait around. If you are just in town for a week and you can't get your mattress in that time, your vacation could be ruined. Which is why we loved reading about this great locally-run business. The store owner works to meet your demands. If you need something shipped the next day, Brian will work to get your mattress in place. The delivery team are fast efficient, and will haul your old mattress. The products are high quality for affordable prices. There is no catch, this mattress shop is just that good.
---
Mattress Stores in Greenville
If you are looking for a mattress in Greenville, you're in luck! There are a number of really fantastic options for every style of sleeper and every price range. We know that what's "just right" for one is completely wrong for someone else. Which is why we took a look a wide-range of mattress stores. The highest ranked mattress shops seemed to have a running theme- people appreciated mattress stores that not only sold a wide variety of mattresses but also had a no hassle sales team. Take a look at our top mattress store picks for Greenville, South Carolina.
627 Congaree Rd, Greenville, SC 29607 Phone (866) 244-0898
If you are looking for a customized mattress, try Engineered Sleep a mattress factory that builds your mattresses while you're in the shop. You can choose each material from the springs to the top, and prices are generally below average retail. For those who have yet to find something "just right," a customized option may be the route to go.
---
Mattress stores may also be found throughout the state of South Carolina in areas not mentioned thus far. Cities, towns, and regions around the following locations also have many quality mattress stores in South Carolina: Myrtle Beach, Spartanburg, Florence, Hilton Head Island, Rock Hill, Summerville, Mount Pleasant, Aiken, Beaufort, Lexington, and others.
You can also check out mattress online at some of our favorite stores: