Are you searching for the best mattress store option near Portland, OR to find the best deal on a great new mattress? We've done some research to help you out.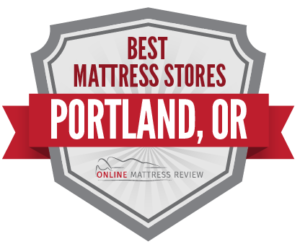 We all know how important a good night's sleep is for our physical health, mental health, and general well-being. Weight loss, exercise recovery, pain management, even longer life expectancy are all associated with sufficient rest.
Of course, experts recommend getting 7-9 hours of rest per night, but most upgrading to a new mattress improves sleep quality and reduces symptoms of stress and back pain.
If you've had yours for 8 years, are noticing sagging, or are simply waking feeling groggy or stiff, it may be time to replace your old model with a new mattress.
Wondering where to buy a mattress in Portland? We've got you covered. Our review of the best places to buy a mattress in Portland is based on a wide survey of local listings, rankings, and reviews, all grouped by neighborhood. Read on to discover the best place to buy a mattress in Portland, right in your neighborhood.
---
Mattress Stores in Central Portland
There are quite a few places to buy a mattresses in Central Portland. Of these, two stand out for a high number of five-star ratings. Mattress Lot and Cotton Cloud Natural Beds & Furniture.
2406 NE Sandy Blvd, Portland, OR 97232 Phone: (503) 896-1072
Mattress Lot is also locally-owned, and sells mattresses made in Oregon and Washington. Natural and organic mattresses are available, as well as an economical "value line" of affordable mattresses which include memory foam, traditional connected coils, and individually wrapped pocket coils. Customers give great reviews to the friendly staff and budget-friendly prices, and the store also offers bike delivery.
701 NE Broadway, Portland, OR 97232 Phone: (503) 335-0758
Cotton Cloud is a large warehouse-style retailer stocking comfortable, functional, affordable futons, furniture, and accessories, plus wool futons and mattress toppers. The store is known for natural and sustainable products, including organic cotton, wool and 100% organic latex products, and supports the local community, as well as the environment, though fundraisers and charitable giving. The majority of their materials are locally sourced and most furniture in stock is made in the USA.
1625 SE Hawthorne Blvd, Portland, OR 97214 Phone: (503) 232-5222
Nearby, PJ Sleep Shop is a spacious mattress store carrying brand-name mattresses and box springs, plus beds and bedroom sets. There's a wide selection, and the potential to save more when buying mattress and furniture together.
---
Mattress Stores in North Portland
Hayden Island is packed with places to buy a mattress, many of which sell furniture as well.
12425 N Starlight Ave, Portland, OR 97217 Phone: (503) 546-3325
BedMart Mattress Superstores, which calls itself Portland's #1 Tempur-Pedic retailer, has earned a 4.8-star rating on Google and 4 stars on Yelp. Customers praise the store's staff for their detailed knowledge of the inventory and willingness to work within each customer's budget.
2028 N Tomahawk Island Dr, Portland, OR 97217 Phone: (503) 459-5500
Jantzen Beach Center Ashley Homestore has a wide selection of furniture, traditional and adjustable beds, and mattresses. Ashley is the nation's leading furniture retailer, and stocks name brands in mattresses like Stearns and Foster, Serta, Simmons, and Beautyrest, as well as the store's own line of highly affordable mattresses.
---
Mattress Stores in South Portland
6800 SW Beaverton Hillsdale Hwy, Portland, OR 97225 Phone: (503) 850-0808
Mattress Megastore in the Raleigh Hills is a locally owned and operated mattress shop that promises top selection, prices and service. Customers agree, giving the store a 5-star Google rating, and praising Mattress Megastore's value and helpful staff.
7353 SE 92nd Ave, Portland, OR 97266 Phone: (503) 760-1598
Further to the West, shoppers in search of a particular mattress type can visit Bedtime Mattress Co which features custom mattresses made to order to requested dimension, with a variety of fillings and comfort options. Customers love the unparalleled personal service and service and product customization, and appreciate knowing that their mattress has been handcrafted right in Portland.
4409 SE 24th Ave, Portland, OR 97202 Phone: (503) 828-8927
Another option in the South Portland area is Boxdrop Portland Mattresses, which offers affordable mattresses in a warehouse-style setting. Customers give positive reviews to the friendly staff at this small, local business.
---
Mattress Stores in East Portland
East Portland is home to a few scattered mattress shops.
4409 SE 24th Ave, Portland, OR 97202 Phone: (503) 828-8927
One of these is Mattress World Northwest Glisan, which boasts a 5-star customer rating on Google. This locally owned business gives back to the community by supporting local charities, and is popular with customers for their expert sales staff. Each sales associate works closely with each customer to assess their sleep history, comfort preferences, and habits, and works within their budget to match them with the best mattress. This mattress shop stocks popular, high-quality brands like BeautyRest, Hathaway, and Aireloom, and sells box springs, bases, beds and pull-down beds as well.
9732 SW Washington St Ste E, Portland, OR 97216 Phone: (503) 255-2296
Another option in East Portland is Mattress Firm 205 Place in the McMenamins Mall. This chain store is the nation's leading mattress retailer, and stocks a broad selection of spring, memory foam, and adjustable mattresses. The store not only allows returns and exchanges within a 100-day period, but will also refund the difference if a customer finds the same product at a lower price during this period.
13120 NE Airport Way, Portland, OR 97230 Phone: (971) 279-5577
Still another place to buy a mattress in East Portland is Furniture Shack, located out near the airport. In this warehouse-style setting, shoppers can score a deal on a discounted mattress, with twin mattresses priced as low as $89 and queen pillow tops as low as $279. In addition to basic models, this furniture and mattress shop stocks gel, memory foam, latex, and foam mattresses.
---
Mattress Stores in West Portland
536 NW 14th Ave, Portland, OR 97209 Phone: (503) 894-8159
Shoppers in West Portland can visit Parklane Mattresses, which has earned an impressive 5-star rating on both Google and Yelp. This locally-owned mattress shop designs and manufactures their own line of mattresses and foundations using superior materials like higher density foam and natural Talalay latex. Their Oregon—based factory and material sourcing are environmentally conscious and sustainable, and the store has been in business for almost 100 years. Factory-direct pricing allows Parkland to sell its high-quality mattresses at very affordable prices, and customers give top reviews to the value and comfort of their products.
---
Also check out:
The Best Mattress Shops in Oregon
You can also review mattresses online at some of our favorite stores: