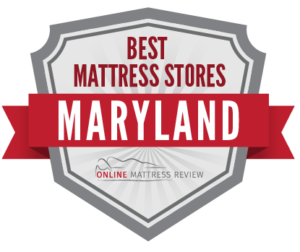 Are you looking to find a mattress in Maryland? We know it can be daunting. Whether you're interested in a custom built mattress, memory foam, eco-friendly or economically friendly purchase, we have you covered.
We took a look over some of the highest ranked mattress stores in the state and divided our review by region. Below you will find some of the best mattress shops for customer service, price, and quality.
---
Mattress Stores in Baltimore
1605 Eastern Ave, Baltimore, MD 21231 Phone (410) 881-0187
If you need to find a mattress in Baltimore head to MiY Home in Fells Point where you'll find a great selection of mattresses, bedding and more for your home. This is a fun place to shop, and the sales team will not pressure you into a purchase you are going to regret. If you like supporting local business, try MiY!
Canton Crossing 3757 Boston St, Baltimore, MD 21224 Phone (410) 276-0407
Towson 813 Goucher Blvd, Towson, MD 21286 Phone (410) 296-1631
There is a Mattress Firm conveniently located in almost every neighborhood in Baltimore. The two we want to highlight are on opposite ends of town. Mattress Firm Canton is known for its great selection, knowledgeable sales team and affordable pricing. You can even secure next-day delivery. The other location is near Baltimore in Towson. Mattress Firm Towson is a great place to shop as a student or otherwise. If you head in during one of the major holidays they regularly have discounted mattresses.
529 S Cam Meade Rd STE B107 Linthicum Heights 21090 Phone (410) 570-8424
If you are looking for a great deal on a mattress you could try Mattress By Appointment in the Baltimore area where you will find overstock prices. Whether furnishing a dorm or a home, there's a great value here.
---
Mattress Stores in Columbia
Are you wondering where you can find a mattress store in Columbia, Maryland? We can certainly help with that!
8835 Columbia 100 Pkwy, Columbia, MD 21045 Phone (410) 730-2575
For those of you who are looking for something eco-friendly you could try Mattress Organic by Rhintek. Here you can purchase custom-built organic latex mattresses. Each mattress is tailored specifically to meet your sleep requirements. Be sure to make an appointment as this is a specialized shop. The staff are knowledgeable and passionate- they work hard to ensure that you find a mattress to meet your needs. This is a great option for individuals with allergies.
14635 Baltimore Ave, Laurel, MD 20707 Phone (301) 490-0146
Mattress Firm Laurel is a great place to head if you need to find a mattress near Columbia. You will always receive a 120 day return guarantee and the sales team will not pressure you to purchase. If you are looking for quality and convenience, head here.
---
Mattress Stores in Frederick
Looking for a mattress store near Frederick?
10 Walnut St, Middletown, MD 21769 Phone (301) 371-6800
You could try Gladhill Furniture. Gladhill Furniture has served the area for over 100 years and offers high quality furniture, mattresses, bedding and more. The staff are friendly, highly knowledgeable, and not pushy. If you need to find a mattress or an entire bedroom set, this is a great reliable option.
Frederick Osprey Way 2430 Osprey Way S Suite A, Frederick, MD 21701 Phone (301) 228-3816
Frederick Buckeystown 5010 Buckeystown Pike, Frederick, MD 21704 Phone (301) 228-2785
There are two Mattress Firms in Frederick- Mattress Firm Frederick North and Mattress Firm Frederick South. Both locations ranked highly for customer service and quality of product. Delivery is convenient and timely. If you are looking for a wide selection of mattresses, or just want to shop somewhere with trusted name brands, either one of these locations is a good option.
---
Mattress Stores on the Eastern Shore
If you live on the Eastern Shore, no need to cross that bridge to find a mattress!
2630 N Salisbury Blvd, Salisbury, MD 21801 Phone (410) 219-1149
Mattress Warehouse carries a large number of mattress brands and types like hybrid, memory foam, innerspring, futon, adjustable and more. The staff are extremely knowledgeable and will help you find a mattress to fit your sleeping needs and your partner's. If you have two different requirements- no problem, Mattress Warehouse has the technology to help you find a mattress that works for all parties.
2721 N Salisbury Blvd Unit A, Salisbury, MD 21801 Phone (410) 572-8899
Mattress Firm Salisbury has over 50 mattresses to choose from and competitive pricing. The sales team at this location are helpful, friendly, and do not push you to purchase. You also receive a 120 day money back guarantee. We recommend heading in during a major holiday for a steep discount- try Labor Day.
---
These are our most popular mattress cities in Maryland:
You can also check out mattresses online at some of our favorite stores: