After a late night in the city that never sleeps, having a dream mattress is crucial. We've put together this guide to choosing the best mattress stores in Las Vegas to help you on you get the best night sleep for the best price.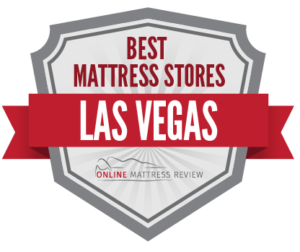 Citizens of a city famed for its nightlife need their rest as much as anyone. If your sleep isn't as restful as it used to be, it may be time to replace your old mattress. How often should you do so?
The Better Sleep Council recommends replacing your mattress every 8 year or so- more often for economy models, less often for high-quality or latex mattresses. A small study from the same source demonstrated that subjects who switched to a new mattress reported enhanced sleep quality, lower stress and relief from back pain.
Most Americans put off replacing their mattress for closer to 10 years, with the expense and hassle of mattress shopping as their primary reasons. You may be considering an upgrade to a new model but are stuck wondering where's the best place to buy a mattress in Las Vegas?
We've scoured the listings and reviews of mattresses stores in Las Vegas to bring you the highlights in each geographic area. Read on and find out the best place to buy a mattress, in your budget and comfort style, and right in your neighborhood.
---
Best Mattress Stores in Central Las Vegas
There are quite a number of places to buy a mattress in central Las Vegas. As with other parts of the city, branches of Mattress Firm and Best Mattress can be found in this area.
495 S Grand Central Pkwy, Las Vegas, NV 89106 Phone: (800) 896-2802
In contrast to these traditional chain mattress retailers, Dormeo sells alternative and innovative "hydracool" mattresses, constructed as a fusion of coil and memory foam technology, resulting in an extremely breathable mattress. This type of model is well-suited for those seeking a cool, breathable mattress, such as customers who have night sweats.
455 S Grand Central Pkwy, Las Vegas, NV 89106 Phone: (859) 455-1000
Sterns and Foster, the popular mattress manufacturers, have a showroom in the same area, where customers can browse their full line of models, which include collections at several price points, as well as crib mattresses and bedding.
---
Best Mattress Stores in North Las Vegas
Bargain hunters can score an affordable mattress in North Las Vegas, which has several discount options.
3960 W Craig Rd #109, North Las Vegas, NV 89032 Phone: (702) 790-2254
Mattress Warehouse Plus Furniture sells name-brand mattresses, along with beds, futons and other furniture, at steep discounts. Customer reviews rave about incredible deals at this mom-and-pop mattress shop, as well as super-fast delivery.
1829 W Craig Rd Unit 1, North Las Vegas, NV 89032 Phone: (702) 642-1281
6482 N Decatur Blvd #H100B, Las Vegas, NV 89131 Phone: (775) 227-0212
6515 N Buffalo Dr STE 120, Las Vegas, NV 89131 Phone: (702) 396-4573
There are also three Mattress Firm locations in the area: Mattress Firm North Las Vegas, Mattress Firm Alliante, and Mattress Firm Clearance. At the Clearance location, customers can find an extremely affordable mattress if they are flexible as far as the particular model. Mattress Firm Clearance stocks overstock, closeouts and discontinued models, cosmetically imperfect mattresses, as well as those mattresses returned by customers within the stores 120-night exchange period.
---
Best Mattress Stores in South Las Vegas
1214 Wigwam Pkwy, Henderson, NV 89074 Phone: (702) 664-2199
One of the best-reviewed places to buy a mattress in South Las Vegas is Half Price Mattress Warehouse, where customers appreciate the great customer service and affordable mattresses. This locally owned and operated wholesale mattress store sells deeply discounted closeout inventory in pocketed coil, hybrid, gel and memory foam models, and customers save an average of 50%-80% on their purchases.
2960 Westwood Dr Suite 1, Las Vegas, NV 89109 Phone: (702) 762-0519
Another top-rated option is Sleep Well Las Vegas. This independent, locally-owned mattress shop gets excellent reviews for high-quality and low-priced products, which come in memory foam, coil, latex and even custom mattresses, as well as beds and cox springs.
Best Mattress has the greatest number of mattress stores in South Las Vegas overall, with a store in Warm Springs Promenade, by Sunset Park, and by Enterprise.
1211 W Warm Springs Rd Ste 103, Henderson, NV 89014 Phone: (702) 436-7733
9945 S Eastern Ave #100, Henderson, NV 89183 Phone: (702) 492-4640
4120 Blue Diamond Rd, Las Vegas, NV 89139 Phone: (702) 456-0700
---
Best Mattress Stores in East Las Vegas
196 N Nellis Blvd, Las Vegas, NV 89110 Phone: (702) 531-5198
410 Marks St Ste 100, Henderson, NV 89014 Phone: (702) 433-1099
There are two locations of Mattress Firm in the area: Mattress Firm Las Vegas East and Mattress Firm Warm Springs. This chain is the nation's leading mattress retailer, and customers at both locations praise the wide selection and attentive, knowledgeable sales associates, who work patiently with each customer without pressuring them to make a purchase.
1124 W Sunset Rd, Henderson, NV 89014 Phone: (702) 433-5335
Sleep Number is another longstanding and widespread national chain. Sleep Number uses a special bed with high-tech sensors, as well as customer consultations, to determine each shopper's ideal mattress, and match them with the best fit. Their beds include options from luxurious comfort layers to innovative temperature balancing fabrics to address conditions from snoring and night sweats to back pain and insomnia.
---
Best Mattress Stores in West Las Vegas
6045 S Rainbow Blvd #102, Las Vegas, NV 89118 Phone: (702) 857-8450
Half Price Mattress Rainbow Store has an almost-five star Google rating, with customers praising this locally-owned furniture and mattress-store's low prices, same-day delivery, no-pressure sales assistance, and professional customer service.
There are plenty of good Las Vegas mattress stores to choose from and we hope you find the perfect night sleep.
---
Also check out:
Best Mattress Shops in Nevada
You can also review mattresses online at some of our favorite stores: