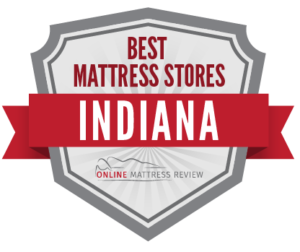 "Laugh and the world laughs with you. Snore and you sleep alone."- Anthony Burgess. If you are looking for a restful night of sleep, we understand why.
Sleep and proper nutrition power your day, and without a good night's sleep it's like walking around with a hole in your bucket.
We know that everyone needs a mattress that suits their sleep requirements and that finding the mattress that is the perfect fit can be daunting.
If you are looking for a mattress in Indiana, we have options! We combed through the state, divided it by regions that were more heavily populated and then read about mattress shops in each region.
We found the mattress stores that had quality mattresses for all sleeping needs, affordable prices, and great sales representatives that did not pressure individuals and were knowledgeable about their product.
For quality and affordable mattresses in Indiana, try the following listed by region.
---
Mattress Stores in Indianapolis
Are you wondering: Where can I find a mattress in Indianapolis? Then you have come to the right place! We took a gander through all of the mattress stores in and near Indianapolis and found the top-ranked mattress shops to help you find a quality and affordable mattress.
5727 W 85th St #1330, Indianapolis, IN 46278 Phone (317) 228-2337
Best Value Mattress Warehouse is a great mattress store if you are looking for an affordable mattress. There's more here than just a great bargain, you're getting a quality mattress for an affordable price which equals great value. The sales team are very knowledgeable and will not pressure you to purchase before you are ready!
4909 E 82nd St, Indianapolis, IN 46250 Phone (317) 594-5900
American Mattress Indianapolis is a great place to head for a completely stress-free mattress purchasing experience. You can find a quality mattress delivered to your home within just a couple of days.
1760 E 86th St, Indianapolis, IN 46240 Phone (317) 548-1818
If you are looking for a great affordable mattress without the hassle, definitely give this location a try. The Clean Bedroom is the place to head if you are looking for chemical-free organic mattresses and bedding. The staff understand the products and will be able to answer any and all of your questions.
---
Mattress Stores in Fort Wayne
If you are looking for a mattress in Fort Wayne, look no further!
4916 Illinois Rd, Fort Wayne, IN 46804 Phone (260) 247-7656
American Mattress Fort Wayne is a great option if you are uncertain about this big and important purchase. The sales team is extremely patient and knowledgeable and will not pressure you to purchase right away. If you are looking for quality mattresses to fit your sleeping needs, try American Mattress.
1808 N Coliseum Blvd, Fort Wayne, IN 46805 Phone (260) 424-8800
Mattress Warehouse Coliseum offers a number of mattresses at affordable prices. We like this location as delivery is reliable and efficient. The prices are right at Mattress Warehouse Coliseum and they will help you find a workable payment plan.
5811 W Creek Blvd, Fort Wayne, IN 46818 Phone (260) 416-0924
Denver Mattress offers a 120 day exchange and a cure for your back pains or sleep requirements. Denver Mattress has something for every size and style as well as quality customer service. If you are looking for a great selection of mattresses and a customer service team that is friendly and knowledgeable, this is a great option.
---
Mattress Stores in Evansville
Have you ever wondered where you can find a mattress in Evansville, Indiana? We took a look through a number of mattress shops located in and near Evansville and this is what we found.
6216 Vogel Rd, Evansville, IN 47715 Phone (812) 476-7661
People's Furniture & Mattress Outlet is a locally run business that offers great customer service and all of the mattress brands you have come to know. This is a no-pressure sales business. If you are finding it tricky to purchase a mattress, definitely shop here as the selection is wide and the customer service is patient.
5010 Vogel Rd, Evansville, IN 47715 Phone (812) 473-5464
King's Great Buys Plus is a fantastic option if you need a new mattress and a bedroom set. You are lucky if you live in Evansville as there are a number of quality locally run business to select from. King's Great Buys Plus carries a number of top name-brand mattresses and has a fantastic and friendly sales team.
---
Mattress Stores in Bloomington
If you are looking to get a good night's rest in Bloomington, you'll want to find the perfect mattress. Finding a mattress in Bloomington just got easier. We looked through the top-rated mattress shops in the region and found some great options. Rest easy and take a look at what we came up with.
1 Auto Row Dr, Bloomington, IL 61704 Phone (309) 661-2938
Mattress Firm Bloomington is one of the top rated mattress stores in the city. You always have 120 days to test your mattress with Mattress Firm. The customer service team does a great job helping you to find an affordable mattress that works within your budget and will even call around and price match with you.
5167 East State Route 46, Bloomington, IN 47401 Phone (812) 332-5888
If you are looking to shop local, Long's Landing Furniture may be the perfect option. Long's Landing furniture has sold to the Bloomington area for over 3 decades and will help you find a mattress to fit you and your wallet. We like this mattress shop for the convenience and quality customer service. You can furnish your entire bedroom here.
2634 N Walnut St, Bloomington, IN 47404 Phone (812) 334-1236
Furniture Exchange is a family-owned and operated business that will help you find an affordable mattress. This is a great place to check out if you are a young couple, student, or anyone really. If budget is something that concerns you when purchasing a mattress, Furniture Exchange is worth a glance.
---
These are our most popular mattress cities in Indiana:
You can also review mattresses online at some of our favorite stores: