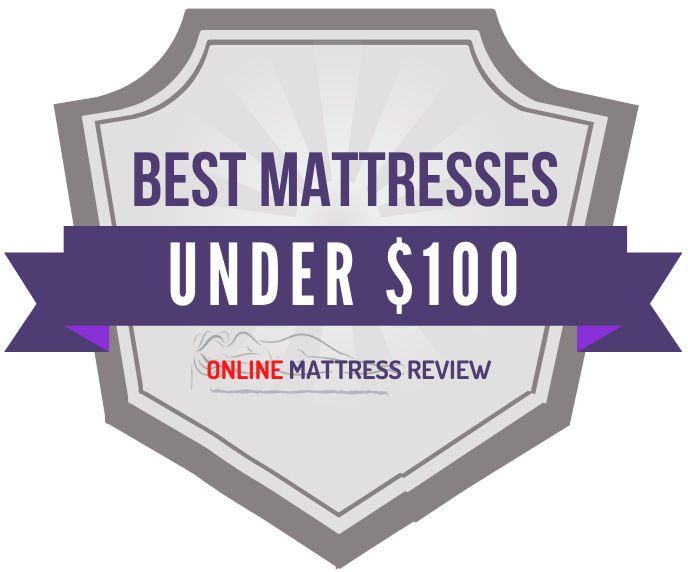 Mattresses come in all types. Beds-in-a-box mattresses, for example, can come in all-foam construction foams that are easily compressed and rolled into a tight roll and then stuffed into a regular box.
Hybrid bed-in-a-box mattresses—or a combination of foam and innerspring coils—are also available, these aren't as common as all-foam ones. The reason: Steel coils don't lend themselves well to compression and, in a worst-case scenario, become deformed, resulting in the negation of their main benefit – support.
Gel memory foam itself comes in several versions so it can be confusing for the ordinary customer. Gel-infused memory foam means that a liquid gel substance and foam are mixed during the manufacturing process. Gel beds are small particles in the foam that have similar cooling properties. Manufacturers may also use graphite, copper, and charcoal to increase the cooling effect by dissipating heat away from the body or preventing heat retention.
Poly-foam and memory foam have a similar feel, but their price and durability are different. The former is more affordable, but it isn't as durable as the latter, meaning memory foam gives the best value for your money. Memory foam is also known for its visco-elastic property resulting in its exceptional pressure relief benefit.
But memory foam is so responsive to body pressure and temperature, resulting in its high sinkage. This means you're likely to sink more into it than on latex foam or poly-foam. Memory foam mattresses must then have thick and sturdy support cores as a means of pushing back, so to speak, against the body's pressure.
Latex foam also has a similar feel to memory foam but with a few significant differences. In terms of durability, latex can last for 15 years, while memory foam has a 10-year expiration. When harvested from the rubber tree – its sap is used in latex production. It is an eco-friendly choice over memory foam.
All these mattress types can come in top-quality at cheap mattress price tags!

the Best Mattresses Under $100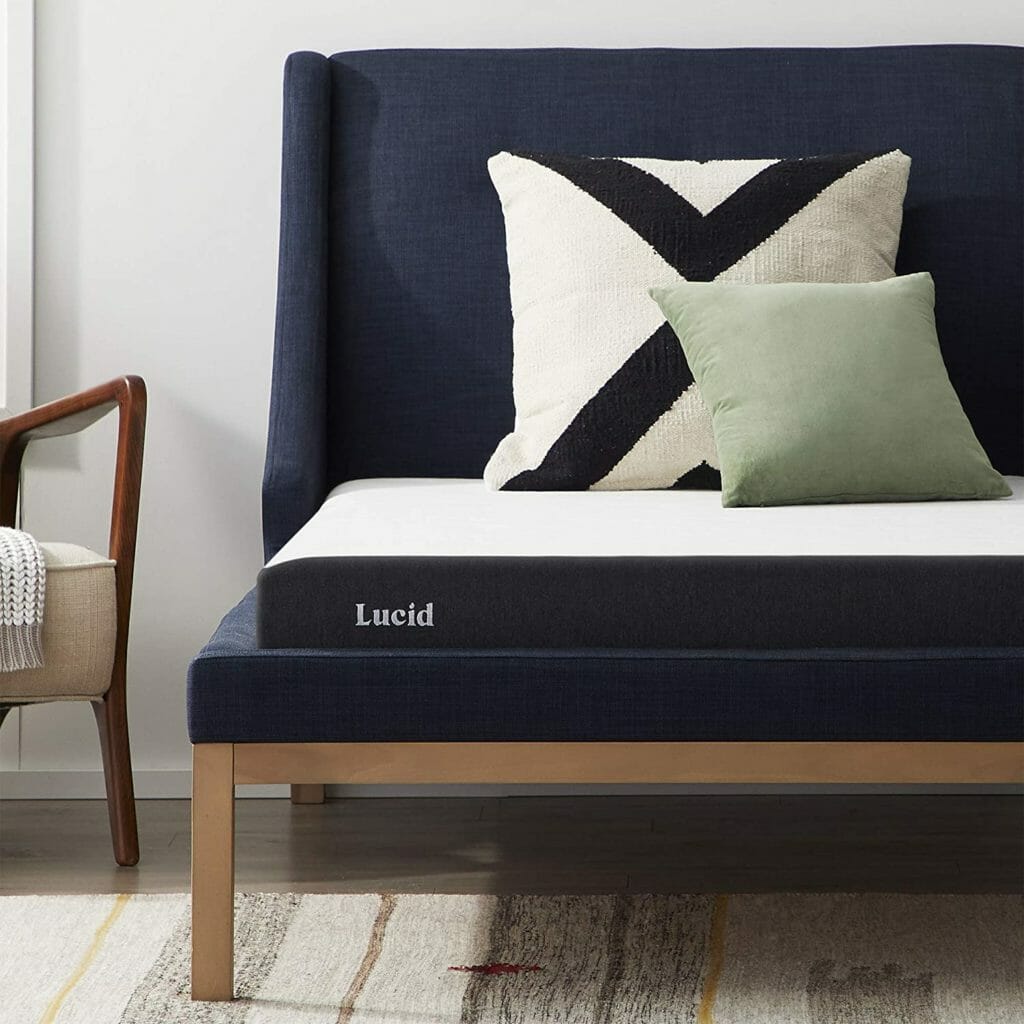 Life transitions can be hard on young children, including the transition from crib to a regular bed. The Lucid 5-inch memory foam mattress will sweeten the deal with its sweet balance of comfort and support.
Don't worry about the 5-inch thickness because it's just right for most children's beds with railings. Too thick, and it will be higher than the frame's border and, thus, less safe for your child. The under $135 price is also within your budget, and that's a good reason as any to buy it.
Strengths We Love:
The 1-inch layer of gel-infused memory foam is a comfortable and supportive sleeping surface for children. It's just the right thickness, too, since your child will benefit from its exceptional contouring and pressure relief benefits while still moving easily. Its topmost layer is also ventilated, meaning it's a breathable material with little heat retention issues.
The 4-inch dense foam underneath has a firmer feel than the gel-infused memory foam for good reasons. The foam pushes back, so to speak, against your child's body, so there's little sinkage. The push-back effect also contributes to spine support, meaning your child's spine maintains its neutral S-shaped alignment.
This is a low-profile mattress, so it's a great choice for bunk beds and trundle beds. Its 5-inch thickness will not interfere with a bunk bed's safety railings or with the push-pull motion of trundle beds.
The set-up itself is so easy since there are no special tools necessary when opening the mattress-in-a-box. Just be careful about puncturing the mattress itself. Let your child watch the process, too, and be amazed by the decompression happening before his eyes. The decompression lasted for less than eight hours, and there were no strong odors, stains, and bugs.
This is a CertiPUR-US certified memory foam mattress, so your child's safety from potentially harmful chemicals is guaranteed. The foam also lasts for several years so that you will get the best value for your money.
The mattress can be used on a couch/sofa bed, too. It's thin enough for this purpose yet comfortable enough as a bed.
Things to Consider:
This may be too firm for some children, so a mattress topper is necessary.
OMR Advantage Score: 9.5/10
---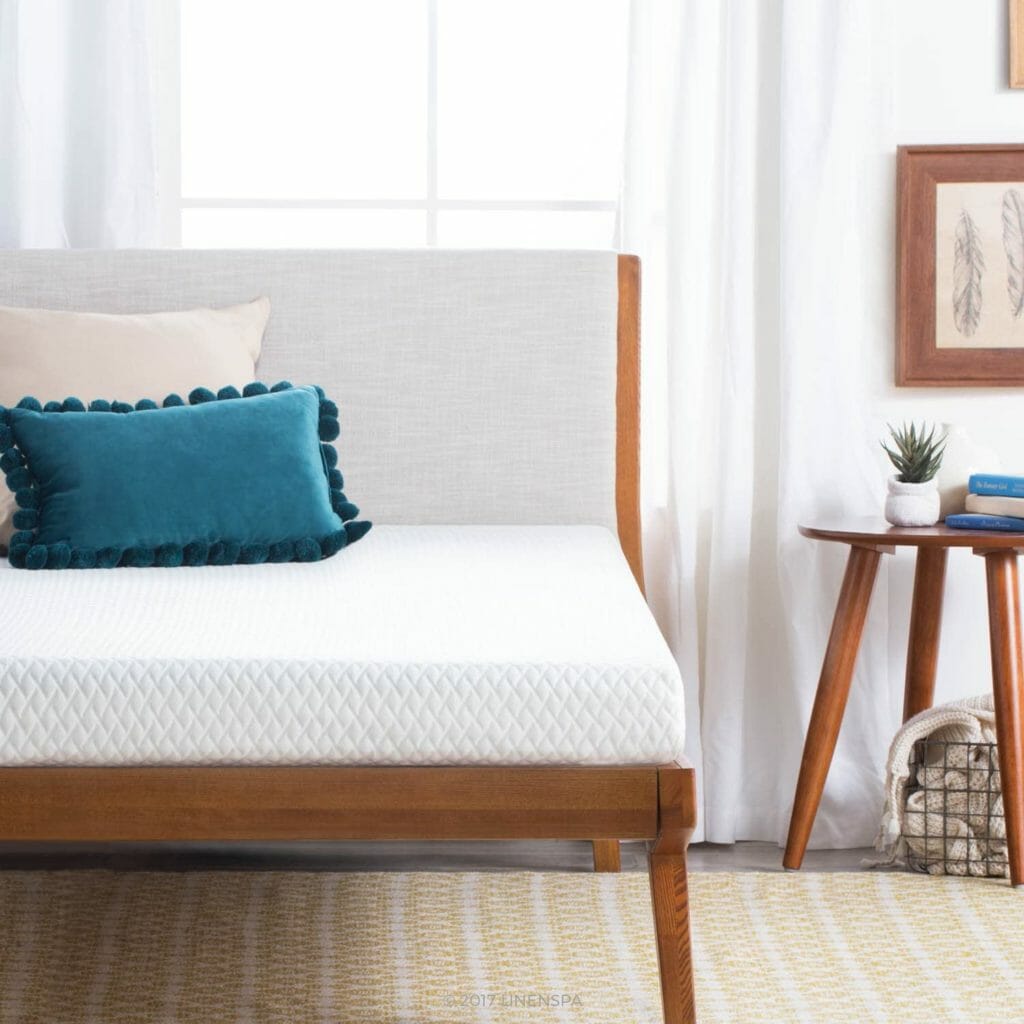 Often, finding the best frame for your child's mattress can be a tricky thing, especially during a crib-to-bed transition. Fortunately, there's the Linenspa 5-inch gel memory foam mattress as the answer! This can be paired with nearly every frame in your home, provided that it's of the same size, whether it's a slatted base or a solid platform.
When it's delivered to your home, it's in a compressed and rolled form that can be easily carried on your own, thanks to its light 20-pound weight. This is also easy to set up because it's just like any other mattress-in-a-box – open, release and wait for it to reach full height.
The 10-year warranty covers manufacturer defects, quality assurance, and the opportunity to return it if needed. The price of under $110 means it's a great value for the money since it will last for a few years.
Strengths We Love:
The breathable cover feels cool to the touch, particularly with the gel memory foam as the first layer. A mattress protector is recommended to lessen the number of washings necessary; spills and stains are more common in children. The cover itself is removable and washable so that stains can be removed.
The 1-inch gel-infused memory foam has a moderate hug and soothing pressure relief that translates to excellent comfort for children. There's little risk of overheating since gel-infused memory foam dissipates heat away from the body, and the 1-inch thickness is just right for children.
The base layer consists of a quite thick 4-inch high-density foam that provides support and stability, and strength to the mattress. Your child's spine will have the sufficient support it needs to ensure good back health. Meanwhile, you have peace of mind knowing the mattress will not move around too much with your child's vigorous movements.
Things to Consider:
A few customers complained about the strong off-gassing when the mattress is released from its plastic packaging. But it soon dissipates in a day or two inside a well-ventilated room.
There's an unexpected sound when first lying down on it, and it's similar to crushing thin cling film or fizzing soda. But this, too, goes away in less than a minute.
OMR Advantage Score: 9.5/10
---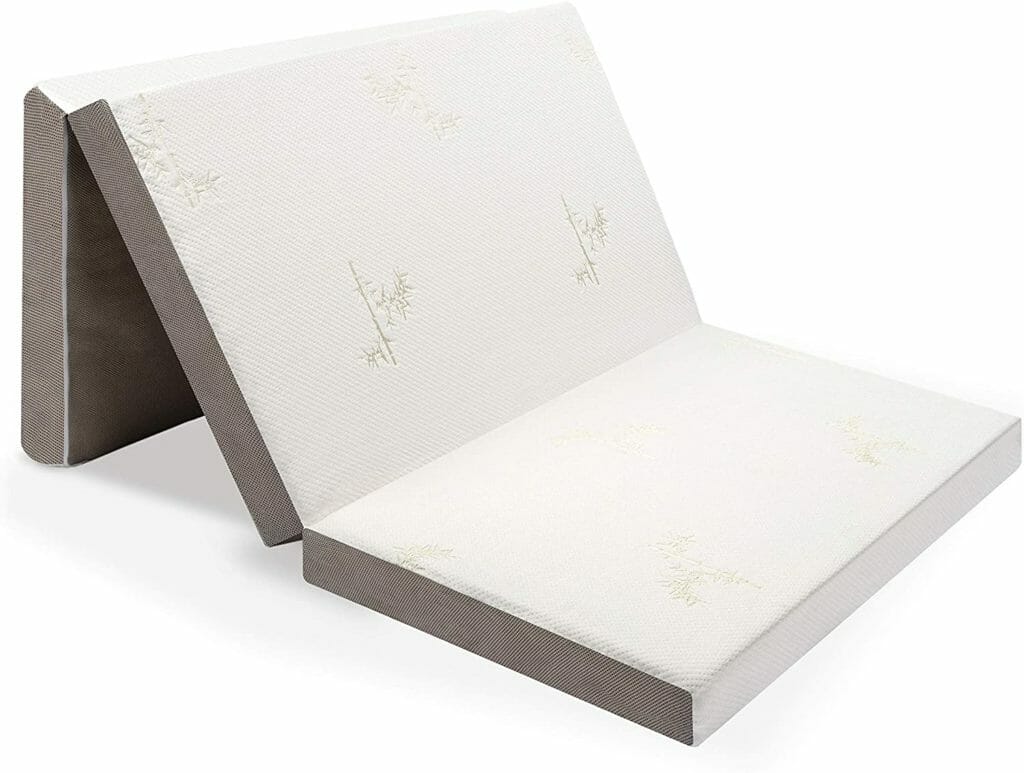 Folding mattresses are typically thinner than their non-folding counterparts since folding a thin object is easier than a thick one. But don't dismiss tri-folding mattresses like this Milliard mattress because these have their merits, too! One of these merits is that it's so affordable at under $120 that you can buy a few for different purposes.
This can be used as a spare bed for sleepovers, camping in tents and trucks, long-haul trucks, and other traveling purposes. Of course, it's also a great mattress for children since it's thick enough for comfort and support yet light enough to be moved from bed to floor during playtime.
Strengths We Love:
The tri-fold design and lightweight make it so easy to move between places, even by children. Many parents say that their children use it to make DIY forts at home, camp in their tents, and playtime. Storage is easy, too, whether it's in a cabinet or the trunk of a car.
The 4-inch foam is thick enough to provide comfort and support for children using it. (This isn't a suitable mattress for adults unless for emergency or out-of-town purposes, such as camping) Children say that it's soft and comfortable to sleep on, so it's a great mattress for their beds.
There are no springs to worry about, meaning no coils to poke the skin or creaks to annoy the ears. The simple one-layer design makes it more durable, thanks to even wear and tear across the foam.
The cover will be removed and washed in the washing machine when it gets too dirty from your child's regular use. A mattress protector may be used to reduce the risk of liquid spills seeping through to the foam. A mattress topper may also be placed over the mattress for extra softness to the medium-firm mattress.
There are no harmful chemicals in the foam, such as PBDE flame retardants, heavy metals, and ozone depleters.
Things to Consider:
When it's first opened from its box, there's a slight smell, but it dissipates in a day.
OMR Advantage Score: 9/10
---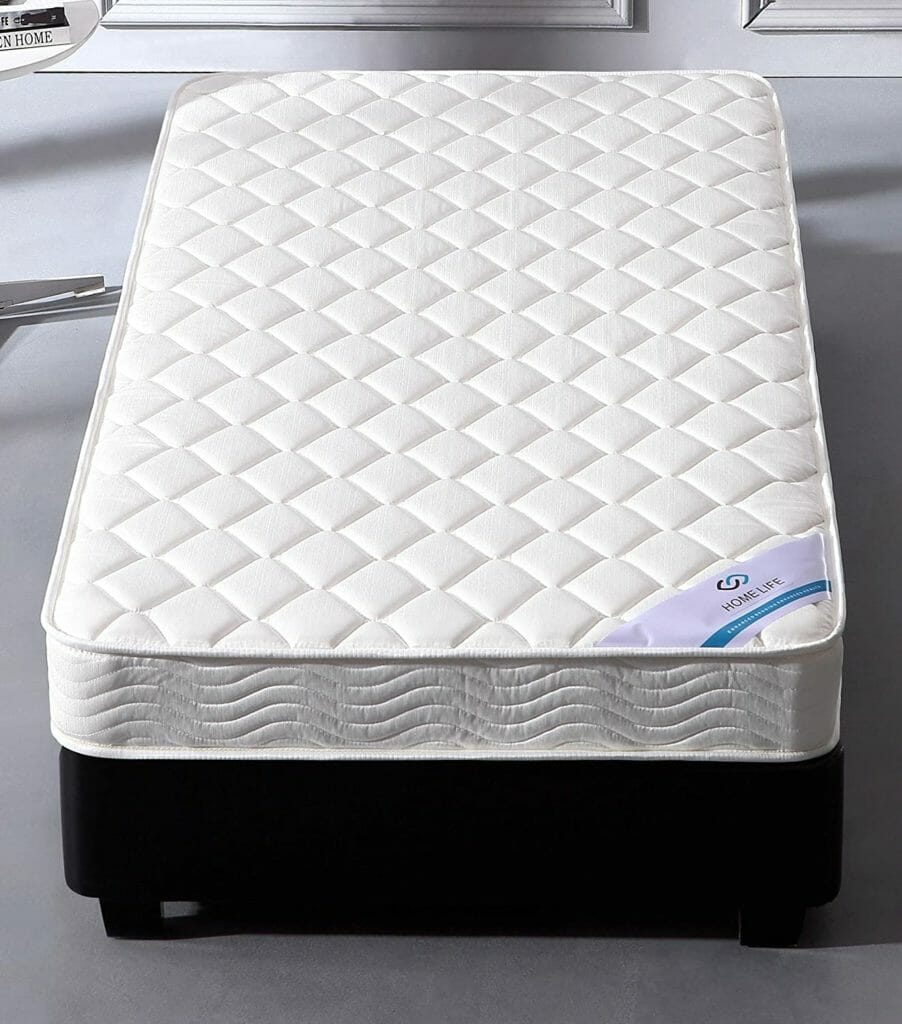 Hybrid mattresses can be tricky to compress and roll into a tight cylinder due to their innerspring coils. The coils can become damaged, resulting in compromised support and safety. The coils can become broken, and their sharp edges poke into the skin. The foam may also become damaged with punctures resulting in its compromised quality.
It is not the case with the Home LIfe Mattress! Even with its thick coils, it will arrive at your doorstep in pristine condition. Once it's reached full inflation, its foam and coils will look, feel and function as expected, too. But in the rare case when it isn't, the manufacturer offers generous return policies. This is an ultra-affordable mattress with an under $100 price, too.
Strengths We Love:
This is a 6-inch hybrid mattress, so it has a higher profile than many mattresses on this list. Older children will likely appreciate it more since it makes getting on and off their beds easier.
The foam and polyester layers over the coils are thick enough to provide a soft and comfortable sleeping surface. The foam is 100% GreenFoam certified, too, so children aren't exposed to harmful substances. There's the option of placing a mattress topper for extra softness and a mattress protector for preventing liquid spills from staining the topmost layers. The quilted pattern on the cover adds to its aesthetic appeal.
The pocketed 15-gauge coils are sturdy enough to hold the weight of two children, both as they sleep or as they bounce on the bed. This mattress, however, is designed for a single sleeper due to its size, but it can accommodate two small children during naptime, if necessary.
The pocketed coil design means a bouncier bed, but it still provides a comfortable and supportive sleeping surface. There's little hug since there are no multiple layers of foam, but the foam-and-polyester layer has a soft feel while the pocketed coils ensure spine support.
The mattress comes in a compressed form for fast shipping and easy DIY assembly. It will only take an hour or less for it to reach full inflation after opening.
Things to Consider:
A faint unpleasant odor was detected, but it dissipated in an hour or two.
OMR Advantage Score: 8.5/10
---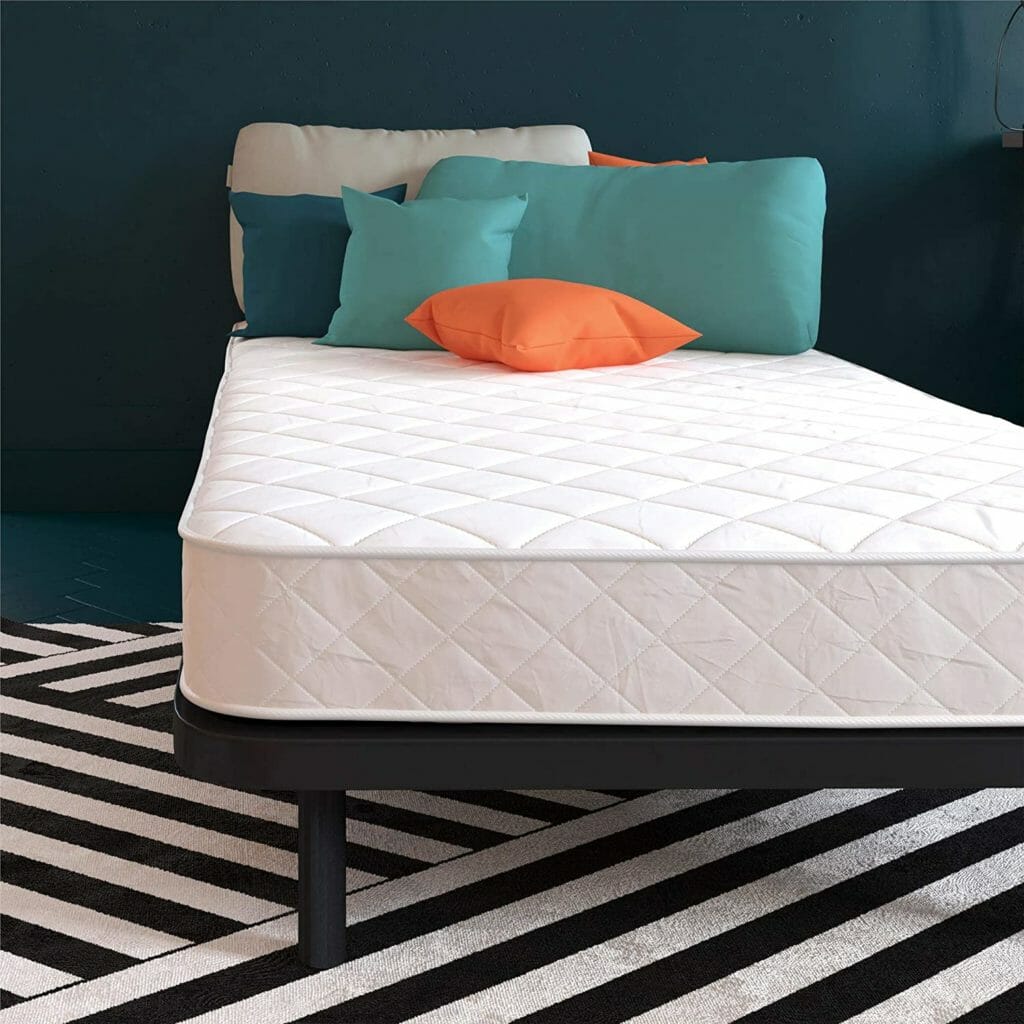 Children need comfortable and supportive mattresses since these products will impact their physical and mental development. Indeed, they deserve no less than what their parents and older siblings enjoy during the night – an excellent mattress! But it doesn't mean that you have to spend hundreds of dollars, thanks to this under $100 Signature Sleep coil mattress.
This is a mattress-in-a-box, too, so it's fast and easy to ship to your home and assemble in your child's bedroom. Don't worry about the coils being damaged upon delivery since the manufacturer seems to have found a clever solution. The coils will spring back to life, so to speak, after being compressed and function as well as expected.
Strengths We Love:
The quilted pattern on the cover makes it such an attractive mattress in children's eyes. Just be sure to cover it with the right beddings, perhaps a mattress topper and protector for extra softness and protection. The soft cover is made of polyester and easy clean material that can be spot cleaned.
The top layer consists of 1-inch high-density foam that provides a medium-firm feel. The foam will cradle your child's body for pressure relief, while its soft property will feel good against the skin. This is CertiPUR-US certified foam, so it's free from PBDEs, heavy metals, and other toxic materials.
There's a fire retardant barrier made of non-toxic materials for your peace of mind. The edge support is also better than all-foam mattresses for kids.
The 5.5-inch layer of 13.5-gauge coil springs is designed and arranged to ensure optimum performance. These are thick to withstand the pressure from a teenager's body and vigorous physical activity. Think of the ways that your child jumps on, changes positions, and plays on the bed.
Things to Consider:
This isn't suitable for adults due to their heavier weight and larger size.
OMR Advantage Score: 8.5/10
---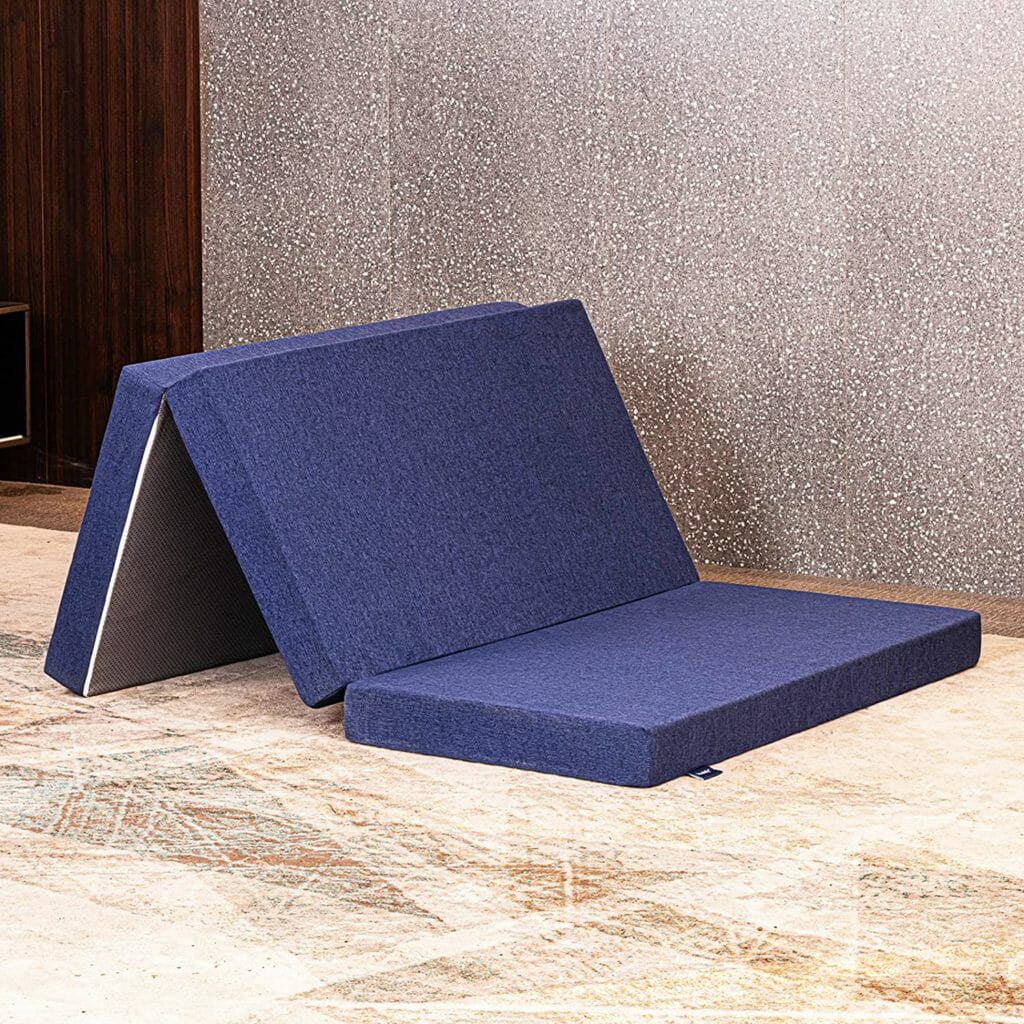 There are times when we need to bring a mattress to our homes and during our travels. But while an air mattress may suffice, it isn't as convenient and comfortable as we hoped for. The good news is that there's the Molblly Tri-folding Memory Foam Mattress, a portable and lightweight mattress that addresses our on-the-go demands.
This has three folds, so it can be stored in the cabinet or car trunk and weighs just 20 pounds to carry around easily. You can fold and unfold it easily, too, since the folds are distinct and the foam is flexible. You have plenty of uses for it, such as an exercise mat, for the children's play area, and as a sleeping mat for nap times and camping.
This comes with a 30-day money-back guarantee and a 10-year limited warranty. These policies are quite generous considering its two size and 4-inch thickness
Strengths We Love:
Every panel of the tri-fold mattress is made of 1-inch gel memory foam and 3-inch high-density foam, the standard combination in quality mattresses of this size and thickness. With a price under $100, it's an excellent buy for parents on a budget yet who want to get quality products.
The 1-inch gel memory foam may seem thin, but it's enough for children as a mattress as well as for adults for non-sleeping purposes. The contouring property of gel memory foam becomes evident with the soothing pressure relief followed by the cooling experience. Sleeping hot shouldn't be an issue with this mattress.
The 3-inch high-density foam at the bottom offers good spine support that's surprising for a 4-inch mattress. Children won't feel the surface of the bed frame since it's thick enough for their weight.
Things to Consider:
This takes at least 24 hours to inflate, so it isn't an immediate-use mattress.
When it's opened, there's a slight odor, but it's a typical issue with gel memory foam.
OMR Advantage Score: 8/10
---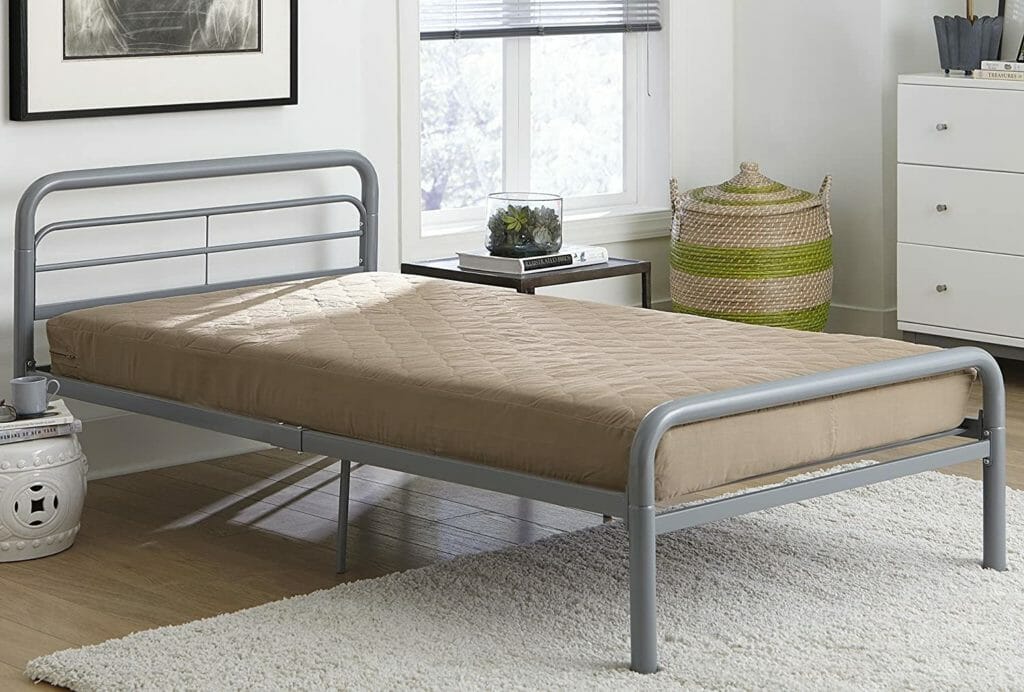 There are good reasons why mattresses have quilted covers, and these reasons also explain their popularity even when the quilted pattern adds to the cost.
The quilted pattern adds thickness and softness to the mattress' surface, so getting to sleep faster is possible. The tight stitching necessary to make the quilted pattern also prevents the foam layers below the cover from shifting out of place too much.
These benefits are also applicable to the DHP Quilted Mattress, which is sold at the ultra-affordable price of less than $100. If you have a bunk bed or a trundle bed for your children, you may want to consider buying two of them. Their low profile will fit in the frame so well that there's no need for adjustments.
Strengths We Love:
The quilted pattern adds to its overall appeal, although the mattress must be covered with the right beddings. Since it's a 6-inch mattress, a topper may be needed to add more softness. If a child is going to use it, then a mattress protector also makes good sense.
This is available in tan, navy, and pink. Not many mattresses are available in different colors, so it's a bonus.
The mattress is a bed-in-a-box, so it's compressed and sealed when it's delivered to your doorstep. Releasing it from its box and packaging, followed by allowing it to reach its fullest size, is easy-peasy. Full inflation is within 30 minutes or so.
The mattress's comfort and support level are surprising, too, considering its affordable price and relative thickness. Children will benefit the most from its use.
Things to Consider:
While it can be flipped, it tends to wear out faster on whichever side is used most.
The cover isn't removable for washing purposes.
OMR Advantage Score: 7.5/10
---

Sometimes, first impressions aren't true to form! This is true for the AC Pacific Foam Mattress – it looks so simple that you will likely pass it over for fancier mattresses. But a closer look shows it's a great purchase when you're looking for good value for your money. The under $100 price tag combined with its durability and versatility is the main reason we recommend it.
The 6-inch foam is a great choice for children's beds, too. Thanks to its low profile, this can be used in single beds or in bunk and trundle beds.
Strengths We Love:
The cover is water-resistant fabric, a thoughtful feature considering that the mattress is intended for children. The cover seems to repel moisture and liquids, although only in small amounts. Parents whose children have wet accidents during the night will find it convenient, although a mattress protector is still recommended.
This is an all-foam mattress with a low 6-inch profile, so it's suitable for children whose developing legs won't be able to climb a high mattress. The standard foam has a soft feel under the body, too, so children sleep on a soft yet comfortable and supportive surface. Even if children have little to no soreness in their pressure points, particularly on their shoulders, back, and hips, more cushiony comfort means better sleep.
The mattress also seems to distribute weight more evenly. This isn't just great for spine support and pressure relief but also for even wear and tear. For under $100, nonetheless, this is a good purchase since it will last for a few years.
This can be flipped so that both sides are exposed to wear and tear evenly, too. There are many ways to be used, too, including as a regular mattress or as a mattress topper.
Things to Consider:
Adults will find it comfortable enough for a couple of nights' use but not for everyday use due to its size and thickness.
OMR Advantage Score: 7.5/10
---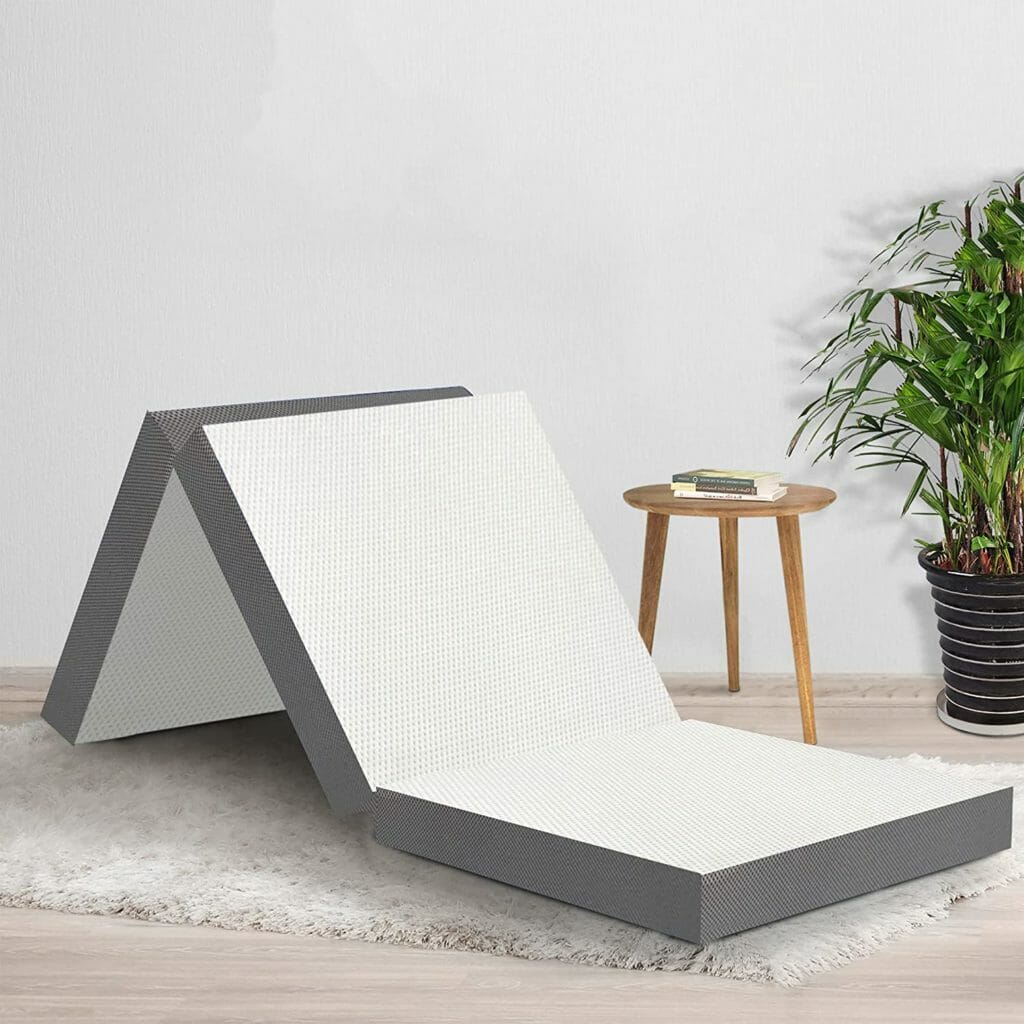 Tri-fold mattresses are popular among camping and traveling set because of their portable convenience, affordable price, and relative comfort. These are also useful among college students, parents with children, and budget-conscious individuals for these same reasons.
The Mayton Tri-fold Gel Memory Foam Mattress checks all these boxes, too. With a price under $100, it's as affordable as possible without significant quality and durability compromises.
Strengths We Love:
This is a 3-inch mattress that can be used on its own for sleep needs and non-sleep purposes, such as for exercise and relaxation. However, keep in mind that its thickness is best for children of lighter weight than their adult counterparts. This can also be used as a mattress topper for an existing mattress that's either too firm or with one too many sagging areas.
The gel-infused memory foam provides comfort for aching joints and support for the spine in a way that's surprising considering its 3-inch thickness. The foam responds to human touch and heat by conforming itself to its specific shape resulting in soothing relief for sore pressure points.
Since it's an all-foam mattress, it can be rotated and flipped to prevent uneven wear and tear. A mattress protector can also be placed over it to prevent liquids from staining the foam.
Things to Consider:
Due to its thickness, it's best to place it on a solid base. Some of it falls through the bars when it's placed on a slatted base, although not by a significant amount. The best surface is a flat one, and it can even be used on the floor.
OMR Advantage Score: 7/10
FAQs
Is it possible to test a mattress first before buying it?
Regardless of its kind, the best way to buy a mattress is to lie down on it for 10-15 minutes and determine its suitability for your sleep needs. Trying is a crucial aspect of buying, as any savvy consumer knows, particularly since mattress surveys have shown that it increases the likelihood of satisfaction.
For mattresses that are typically sold and bought online, there's little opportunity for the "trying-and-buying" cycle! How are you then supposed to judge whether a mattress is a great buy? Fortunately, there are two ways that manufacturers have made it possible for consumers.
First, some manufacturers have brick-and-mortar stores and display centers where interested individuals can check out the line of mattresses available. Some makers also have partnerships with retailers, such as Target, where the mattresses can also be tested for quality.
In both cases, you can physically test the mattresses, choose the right one for your needs, and order it for door-to-door delivery online.
Second, manufacturers usually have a 100-day trial period. You can order whatever mattress fits your needs and then test it for 100 days after delivery. You can return it if you find the quality unsatisfactory.
But remember, too, that returning a mattress that's already out of its box has its fair share of hassles. There's no way of getting the mattress into its box unless you have a special machine. You may also have to coordinate with the company about shipping it back or donating it to a local charity.
What are firmness, density, and ILD ratings?
Indentation Load Deflection (ILD) refers to the foam's recovery time. Without getting into technical terms, the softer the mattress, the lower its ILD rating. But don't rely solely on the ILD rating since it's only applied to a single layer of the mattress, so it isn't the entire picture.
The ILD rating isn't also common information provided by manufacturers to consumers due to the technical aspect. But the firmness level is typically provided because it's easier to understand and explain. While firmness is subjective, manufacturers use a scale from 1 to 10, with one very soft and ten very firms.
The more popular firmness levels for mattresses are medium to medium-firm because of their universal appeal. Their numbers on the firmness scale are 5 and 6, respectively, but their overall feel may be similar. While there's little sinkage into the mattress, the contouring property results in a moderate hug.
The density refers to the compression level in the material, and it can be affected by the natural property of the foam itself. Generally, the higher the foam density, the more durable it is.
What are the common sleep trials, warranties, and return policies in mattresses?
These are freebies that manufacturers give to consumers as a way of making their products more saleable. The sleep trial refers to the specific period wherein you can use the mattress, determine its suitability for your needs, and then make a decision to return it or not. The period differs between manufacturers, from as short as 30 days to as long as 100 days.
The warranty is a form of quality assurance and insurance that the mattress will be covered under certain terms and conditions but only for a specific period. Most mattresses come with a limited 10-year warranty, meaning not all damage will be covered. Basic manufacturing defects, however, are usually covered, including:
Indentations and sagging
Broken zippers
Broken or burst coils
Bunched-up foam
The return policies are tied up with the sleep trial and warranties. You may be able to return a mattress but only under certain conditions, including refunds, shipping, and replacement.
Conclusion
These twin-size mattresses are versatile products that can be used by children of all ages and paired with most bed frames. Your choice will depend on which one fits your children's existing bed frames and their needs in a mattress.