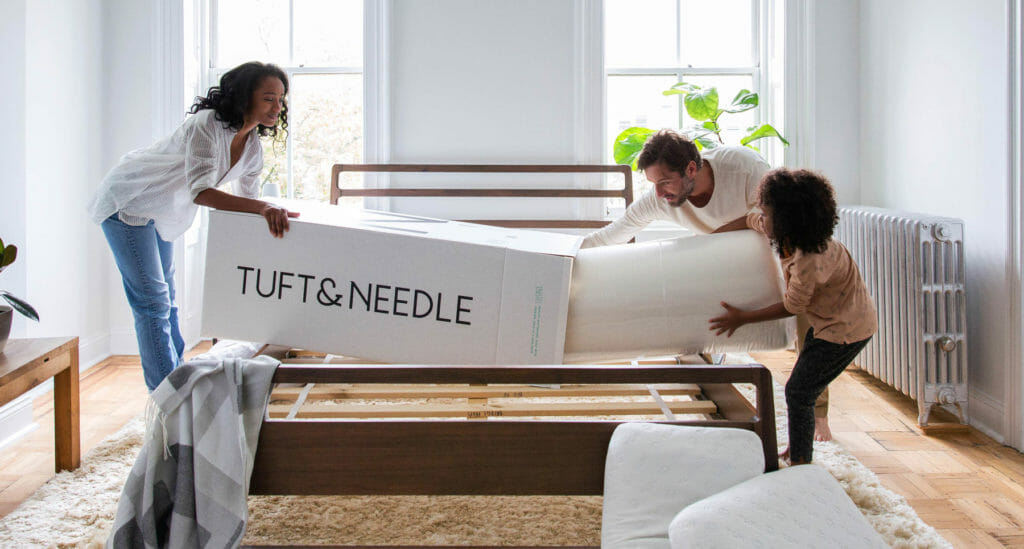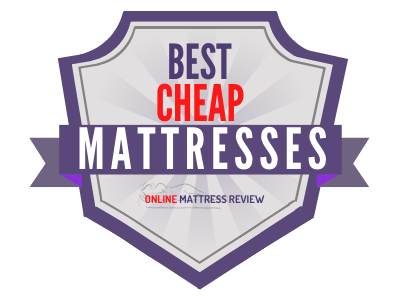 If you need a new mattress and have limited funds, you may find the prospect of looking for a mattress in your price range overwhelming. You want the best cheap mattress you can find, but you also need it to be a quality bed.
Besides the price, there are other factors to consider in your mattress purchase decision, including the materials used, the thickness of the mattress, and warranty included with your purchase.
Below are listed what we consider to be the best mattresses on the market that can be had for less than $900 (for queen size models). These are the best cheap mattresses with the highest quality we could find—to help you with your mattress purchase decision.
1. Tuft & Needle Mattress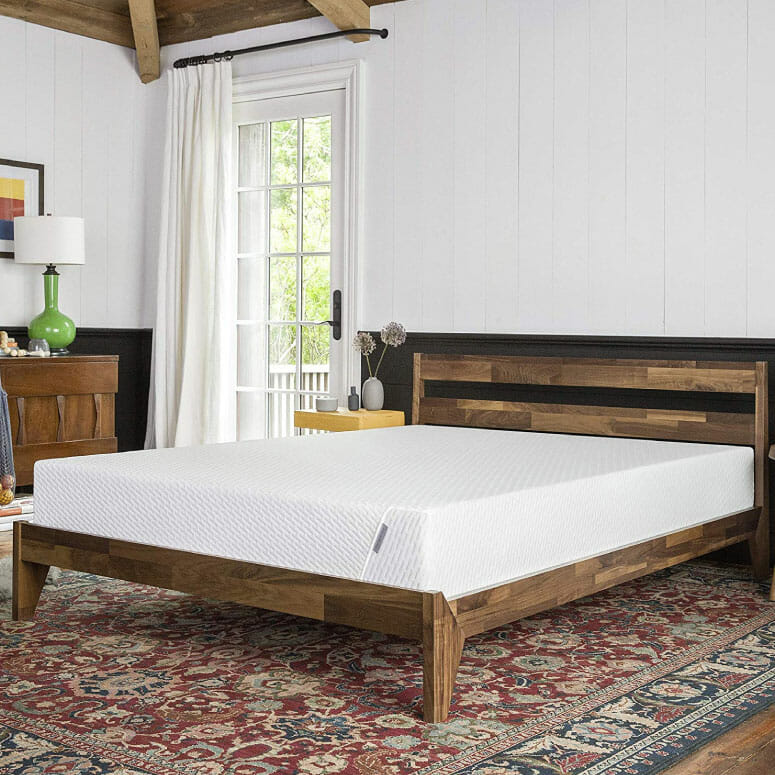 The Tuft & Needle Mattress is the perfect mattress if you're looking for a soft memory foam mattress that also has a supportive base to keep the mattress from being too soft. Fewer than 5% of people who have purchased this mattress returned it. Now that says a lot!
Tuft & Needle decided not to pile layer upon layer upon layer of memory foam, as many mattress manufacturers do. Instead, they focused on the quality of their memory foam and found they only need two layers. The top layer provides the softness that's expected in memory foam mattresses. The base layer is made of T&N Adaptive Foam, and it provides the top layer with the firm support needed to keep you from sinking too far into the mattress. In fact, this specific type of foam provides more support as more pressure is put on it. 
Tuft & Needle offers a 100-night sleep trial period to make sure you're happy with your purchase. If you aren't, Tuft & Needle will give you a full refund and help you donate the mattress you don't want (at no cost). Tuft & Needle believes in their mattresses and stands behind the quality of their products with a 10-year warranty.
Tuft & Needle has a dedicated following—more than 1 million people sleep on their mattresses every night and rave about how comfortable the mattresses are and how pleased they are with both the product and the company.
Stats:
Price: $595
Material: Memory Foam and T&N Adaptive® Foam
Weight: 72 lbs
Warranty: 100-night sleep trial and 10-year warranty
2. The Casper Mattress
If you're looking for the best cheap mattress that not only has the softness of memory foam, but also the support you find in spring mattresses, check out The Casper Mattress. This is a hybrid mattress with four layers of foam and spring support.
The base layer contains hundreds of steel springs. They allow air to circulate, keeping the mattress (and you) cool. Sitting on top of the base layer is a foam layer that has specific firmness zones for your legs, torso, and head, to support every part of your body as you sleep. Above this layer is a layer of pressure-relieving memory foam. This foam molds to your body weight, allowing the support layers to really do their thing most effectively. And then there's the top layer. Breathable comfort foams disperses heat, working along with the air circulation provided by the springs in the base layer to keep you sleeping without overheating.
As an added bonus, Casper reinforces the edges of this mattress with firmer springs, keeping edges from sinking when you sit to get in and out of bed, put your shoes on, or whatever you do sitting on the edge of your bed.
If you're on the edge of uncertainty about buying a hybrid mattress, go ahead and take the plunge. Casper offers a 100-night sleep trial period with their mattresses. If you're not satisfied with your purchase, Casper will pick up the mattress free of charge and donate it to a charity—as well as refund your money.
In addition to the 100-night sleep trial, Casper stands behind their mattresses with a 10-year warranty, so you can sleep easy.
People who own The Casper Mattress rave about how comfortable it is, how well it keeps them cool, and the exceptional motion isolation that allows them and their partners to toss and turn, and get in and out of bed without disturbing each other's sleep.
Stats:
Price: $896
Material: 4-Layer Foam and Spring Hybrid
Weight: 85 lbs
Warranty: 100-night sleep trial and 10-year warranty
The CoolBreeze mattress by Dynasty Mattress is composed of four layers of foam. The top layer is made of 3 inches of high-density gel memory foam. That's followed by two 2-inch layers of Cool Airflow foam, and those are underscored with 5 inches of high-density base foam—giving you 12 full inches of sleeping comfort.
The gel infusion disperses body heat, helping you stay cool all night long. This mattress has a medium-firm comfort rating, making this one of the best cheap mattresses for those who like a firmer mattress. The CoolBreeze mattress is wrapped in a 100% polyester, zippered, washable cover that not only helps you keep your mattress clean and fresh, but it works as a fire barrier as well. And, as a bonus, every CoolBreeze gel memory foam mattress comes with two gel memory foam pillows.
Most customers who've bought this mattress are happy with it and agree that it's incredibly comfortable (even for heavier folks).
Stats:
Price: $489.00
Material: Gel Memory Foam
Weight: 110 lbs
Warranty: 30-year limited warranty and a 30-night sleep trial period
4. The Nectar Memory Foam Mattress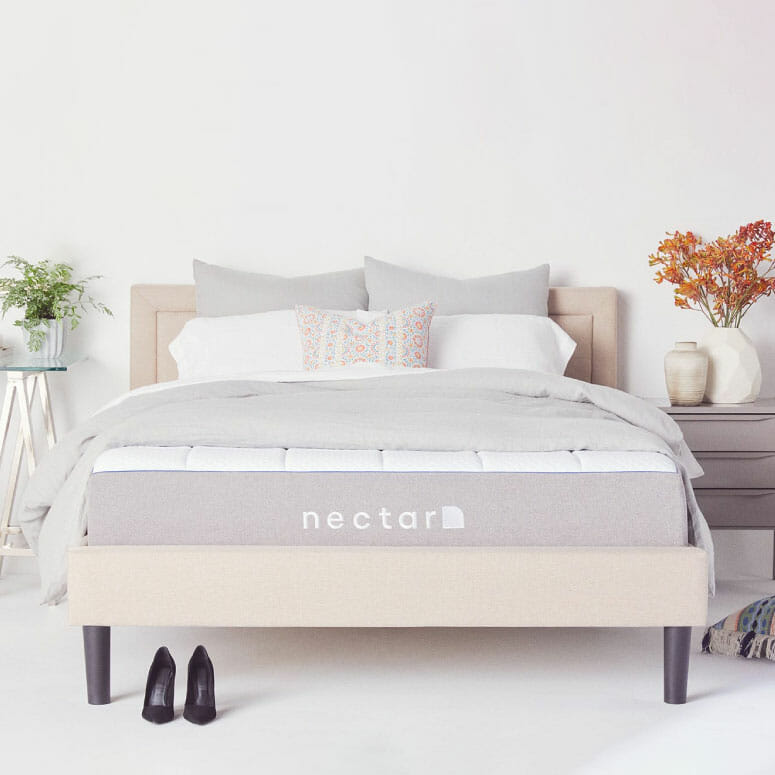 The Nectar memory foam mattress may not initially seem like a cheap mattress at just under $800, but its value is in the 365-night sleep trial (yes, a full year!) and the forever warranty. If you are not 100% satisfied in the first year of using this mattress, simply contact Nectar and they'll help you dispose of the mattress and give you a full refund.
A quilted gel memory foam cooling cover surrounds the three layers of memory foam that compose the mattress. Directly underneath the quilted cover is semi-open gel memory foam that helps distribute heat and keep you cool all night. Adaptive high-core memory foam makes up the next layer, and it simultaneously supports and conforms to your body to provide comfort. Finally, the breathable base layer provides a stable foundation for the upper layers.
The Nectar memory foam mattress is a medium-firm mattress, which will suit the majority of sleepers looking for the best cheap mattress.
Customers who have purchased the Nectar mattress have great things to say about the comfort, price, and how easy it is to get set up. The only customer concerns we found concerned shipping issues—not the mattress itself. Some orders have taken as long as two weeks to arrive, but unless you're really under a time crunch is that really a huge deal?
Stats:
Price: $799.00
Material: Gel Memory Foam and High-Core Memory Foam
Weight: 74 lbs
Warranty: 365-night sleep trial and a forever warranty
5. Green Tea Memory Foam Pressure Relief Mattress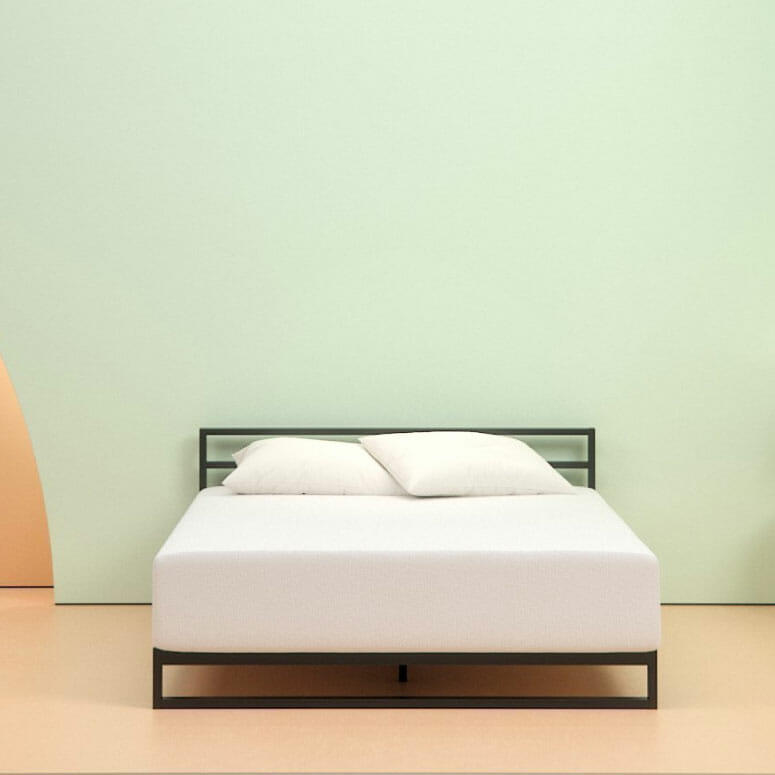 This mattress is infused with green tea and charcoal. If you're asking yourself why you would want green tea and charcoal infused into your mattress, it comes down to sanitation. The green tea neutralizes odor while the charcoal absorbs moisture and prevents odor-causing agents to accumulate.
This mattress comes in four thicknesses, but we suggest going for the biggest option. The mattress is composed of four layers: a 3-inch memory foam top, a 2-inch pressure relief high-density foam second layer that sits atop another 3.5 inches of high-density foam, and all that rests on a 3.5-inch base of of high-density foam. These layers add up to 12 inches of memory foam sleeping comfort.
While the majority of customers who have purchased this mattress say that it's extremely comfortable, there are some concerns about the foam losing structure over time. Customers say that if this happens it tends to be around the one year mark. Zinus, the company that makes this mattress, covers compression of the foam over 1.5 inches.
Stats:
Price: $344.00
Material: Memory Foam and High-Density Foam
Weight: 62.5 lbs
Warranty: 100-night sleep trial and 10-year limited warranty
6. Cypress Bamboo Gel Mattress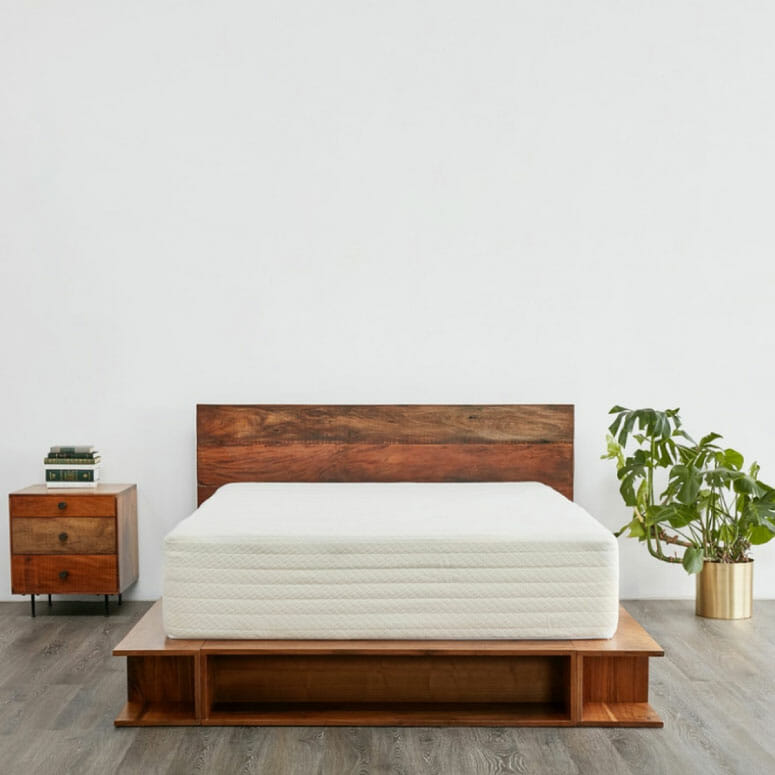 The Cypress Bamboo Gel Mattress is an eco-friendly, reasonably priced gel memory foam mattress. The removable bamboo-derived mattress cover helps keep you cool throughout the night and makes it a breeze to keep this mattress clean.
These mattresses are handcrafted in Southern California. They start with a 2.5-inch gel-infused memory foam top layer, which sits on top of a 2-inch Airlux foam layer that allows for increased airflow to keep you and your mattress cool. Under those layers are 6.5 inches of support base foam. This particular model (the 11-inch mattress) is suited to back and stomach sleepers who occasionally sleep on their sides, and it has a medium-firm feel.
Cypress also makes a 13-inch-thick version of this mattress that has a medium feel that is more suited for individuals who primarily sleep on their sides. It may help you sleep better at night knowing that for every purchase of a Cypress Bamboo Gel Mattress, Cypress donates part of the proceeds to the National Forest Foundation to plant three trees.
Owners of this mattress say it allows them to get a good night's sleep and feel good about being eco-friendly at the same time. Interestingly, the few negative customer reviews we found concern the mattress either being too firm or too soft. This mattress is advertised as medium-firm in feel and most buyers feel this is an accurate description.
Stats:
Price: $500.00
Material: Gel Memory Foam and Airlux Foam
Weight: 50 lbs
Warranty: 1-year sleep guarantee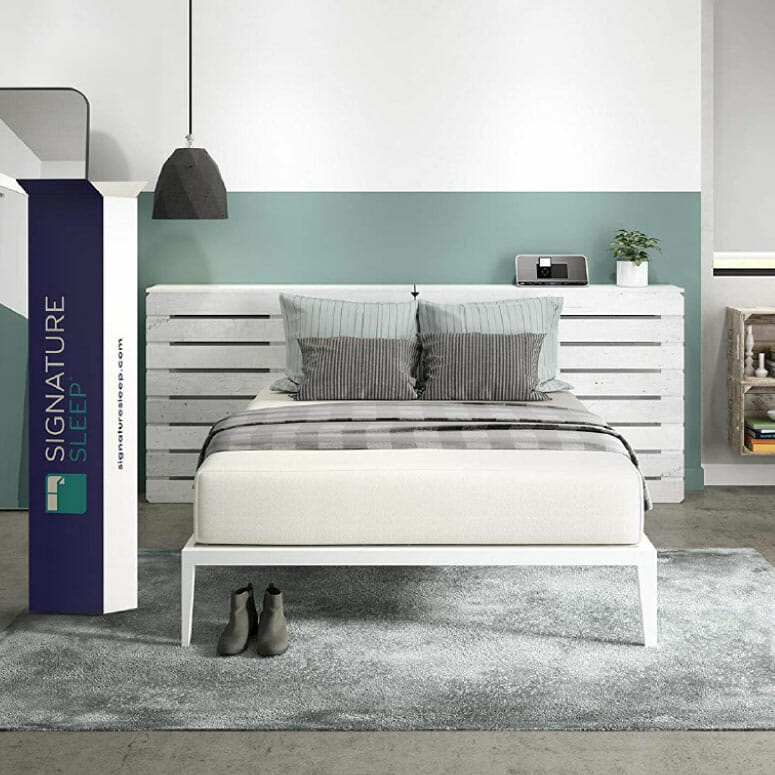 The Signature Sleep Mattress sold over 1 million mattresses last year. Obviously,this company makes quality mattresses. Signature Sleep has been making mattresses for over 50 years, and their 12-inch memory foam mattress is not a letdown.
The Signature Sleep 12-inch memory foam mattress is made with a 4-inch top layer of Memoir Foam that sits atop 8 inches of high-density foam, which allows the mattress to adjust to your body's natural shape. The memory foam is covered with a soft, breathable, knit fabric. It isn't removable, but at this price, you can definitely afford to buy a separate mattress cover for it.
More than 9,500 people reviewed the Signature Sleep 12-inch memory foam mattress on Amazon, and almost all of them think their purchase was a good buy. Negative reviews surround the issue of attempting to remove the mattress's knit cover.
The manufacturer states the cover is not removable, but people try to do it and then complain they can't. The inner lining of the mattress cover is composed partly of fiberglass and should not be removed at any time. If you try, fiberglass will get everywhere. Don't ruin this mattress, just buy a mattress protector separately.
Stats:
Price: $317.03
Material: Memoir Foam and High-Density Foam
Weight: 68.2 lbs
Warranty: 1-year limited warranty
8. The Allswell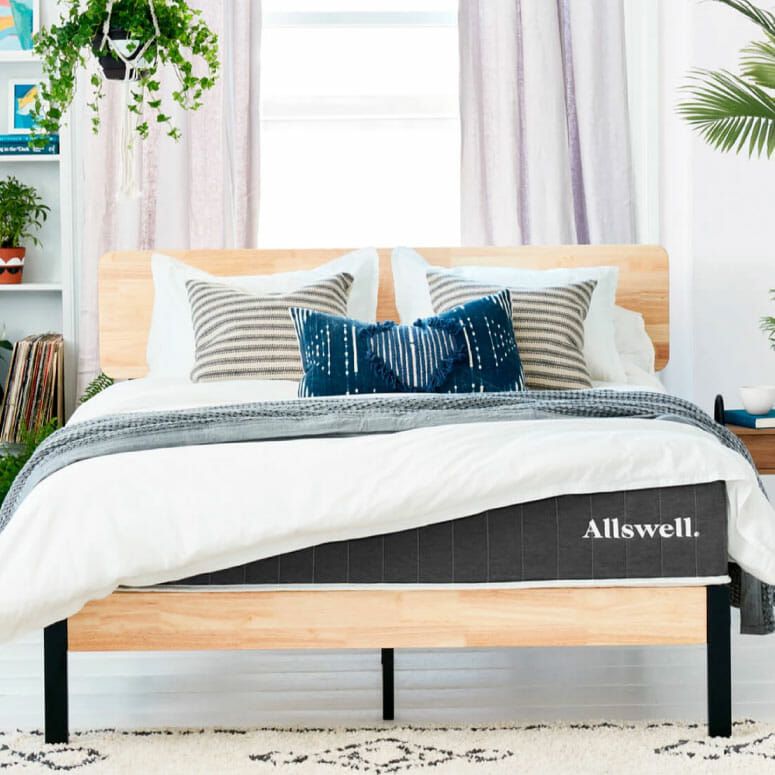 The Allswell mattress gives you all the comfort of a memory foam mattress and all the support of a spring mattress. The top layer is made of CoolFlow foam that's infused with graphite and copper gel, which dissipates body heat and increases breathability. And the base is made of individually wrapped coil springs for firmer support.
The Allswell mattress has additional support at the side edges, making it easier to get in and out of bed and not feel like you're going to slide off if you get too close to the edge of the mattress while you're sleeping.
If you're looking for a medium-firm feel with the bounce characteristic of a spring-coil bed, this mattress is a good option for your consideration. And even with their low prices, Allswell has a financing option available with payments as low as $29 per month.
Buyers of this mattress agree that it is one of the best hybrid mattresses on the market. With its high ratings, super reasonable price, and financing options, the Allswell was a shoe-in for our list of the best cheap mattresses, even though we found some negative customer comments saying the mattress isn't particularly cool to sleep on at night.
Stats:
Price: $345
Material: Memory Foam and Spring Coil hybrid
Weight: 85 lbs
Warranty: 100-night sleep trial and 10-year limited warranty
9. Brooklyn Bowery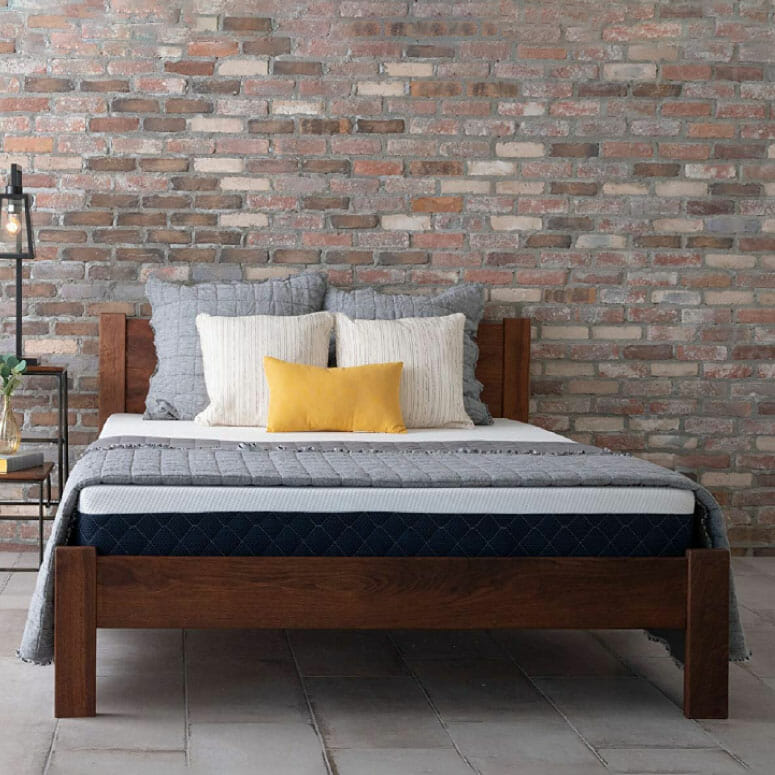 Individuals looking for a medium feel memory foam mattress won't go wrong with the Brooklyn Bowery mattress. Brooklyn Bedding was founded by two brothers in 1995, and was one of the first companies to launch the "bed in a box" industry in 2008. Their mattresses are made in the U.S. and shipped direct to customers to keep their quality high and prices low.
The Brooklyn Bowery is composed of three layers of memory foam, including a 3-inch top layer of Energex™ foam, which is a combination of memory foam and latex. Its open-cell construction promotes airflow and breathability. The second layer consists of 2 inches of transitional memory foam that supports the softer top layer. The base layer is 5 inches of high-density foam that gives the mattress support and increases durability. The memory foam layers are encased in a premium, smooth top weave that is both luxurious and soft.
Brooklyn Bedding has a strong fan following and received very few complaints from individuals who have bought this mattress. The only concerns that we found were from customers who felt the mattress is too soft for their' preference.
Stats:
Price: $699.00
Material: Memory foam
Weight: 70 pounds
Warranty: 120-night sleep trial and 10-year limited warranty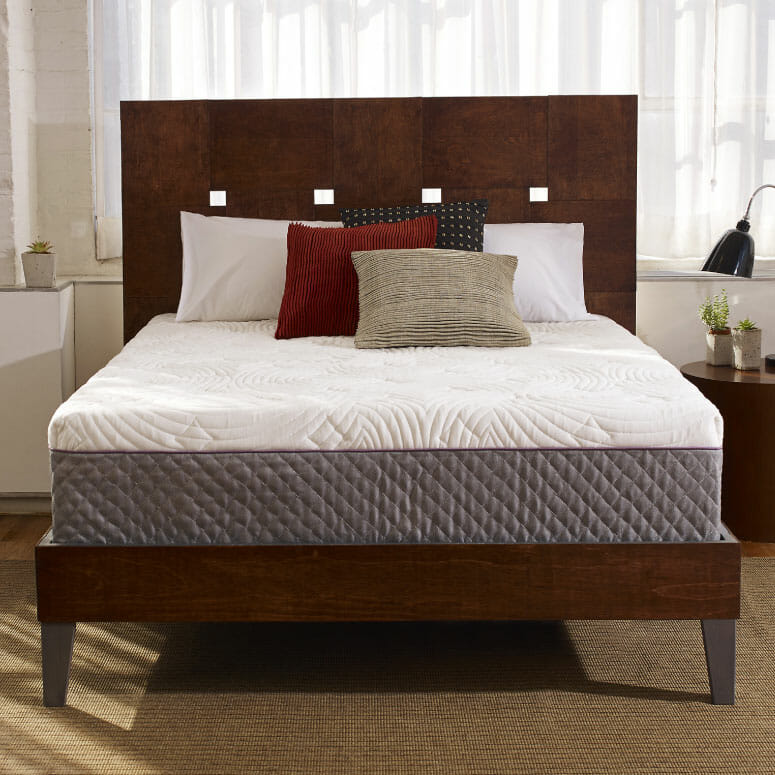 The Sleep Innovations Shiloh mattress has a medium feel, which most people prefer, and gives you a feeling of lightly cradling support. The quilted cover is beautifully tailored and has a luxurious feel you'll love to sleep on.
Like another entry on our list of the best cheap mattresses, the Shiloh is composed of only two layers. The base is made of 9.5 inches of premium support foam, and that's topped with 2.5 inches of SureTemp memory foam. The memory foam conforms to your body and relieves pressure points while the top layer of foam is specifically constructed to dissipates body heat.
Sleep Innovations is a well established and reputable company in the sleep industry, and they stand by the quality of this mattress with a 100-night risk-free sleep trial and a 10-year warranty.
Customers who have purchased the Sleep Innovations Shiloh mattress agree that it's a mattress that's extremely comfortable to sleep on. Some customers express concerns about the mattress maintaining its structure and firmness over time, but all mattresses wear out. With a 10-year warranty, we don't think you can go too wrong here.
Stats:
Price: $450.00
Material: Memory foam
Weight: 80 lbs
Warranty: 100-night sleep trial and 10-year warranty