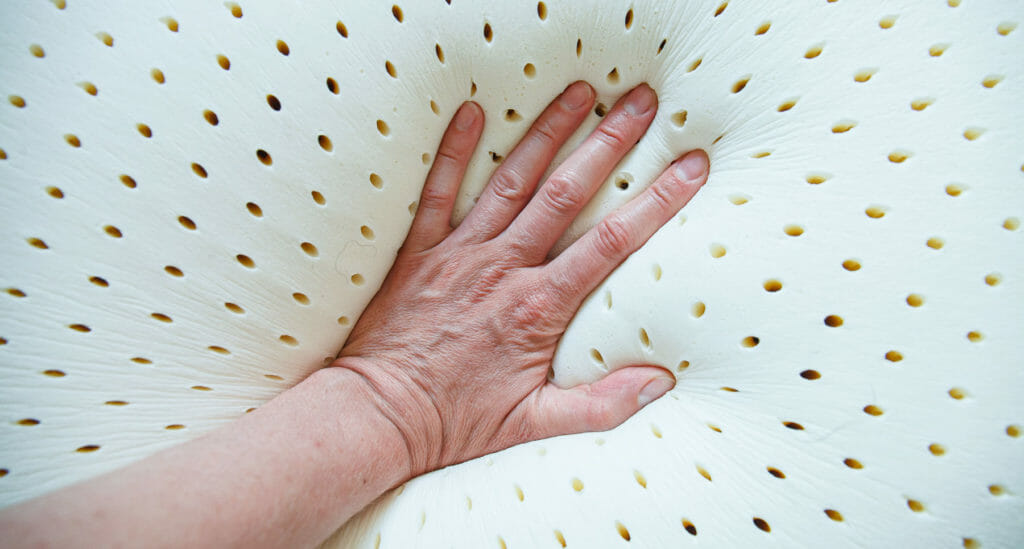 For those who like their mattress on the firmer side and want a responsive bounce when getting into bed, a latex mattress is likely perfect for you. And, if that's the case, you certainly want the best latex mattress you can afford, right? We're here to help.
Of course, not every mattress is for every person. Some people need an adjustable bed, while others need a mattress made for easing back pain. Whatever your situation is, make sure you have the best mattress for your needs and sleep preferences.
Latex has body-hugging properties, as compared to the body-conforming characteristics of memory foam. It's all about the degree to which the mattress cradles your body.
Latex, which is a type of rubber, has bounce—which is especially useful for those who change positions frequently throughout the night. The latex eliminates that stuck-in-the-mud feel and sluggishness you may have experienced when changing positions while sleeping on a memory foam mattress.
Are you starting to see the perks of latex mattresses yet? Read on to discover our top choices.
The 10 Best Latex Mattresses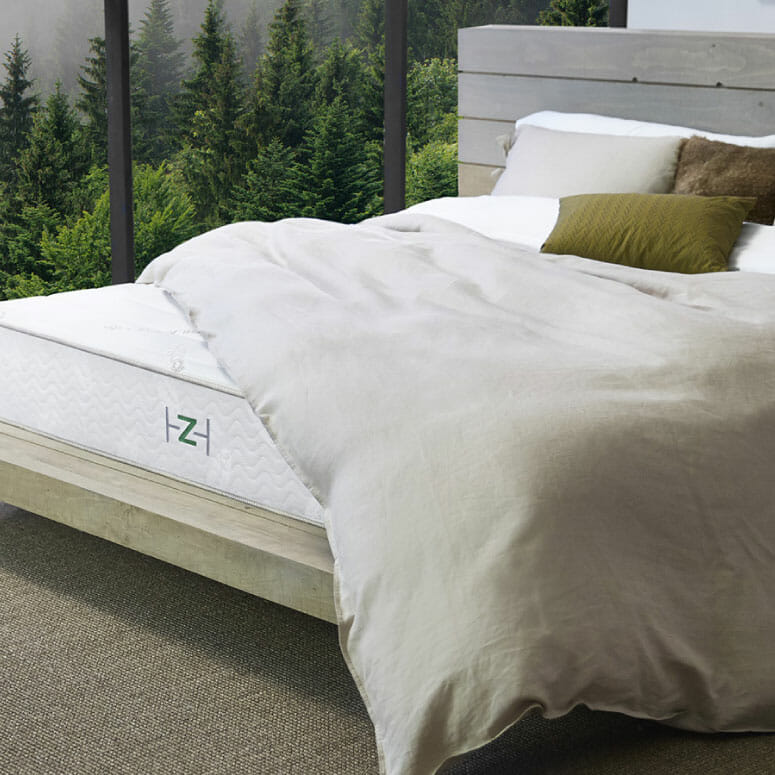 The Zenhaven mattress is our #1 pick of the best latex mattresses we looked at. It tops our list because of the quality of the Talalay latex, versatility of the mattress, environmental sustainability, and outstanding warranty.
If you're wondering what Talalay latex is, I'm sure you're not the only one. Talalay refers to how the latex is manufactured, as compared to the Dunlop method. Talalay latex has two additional steps added to the process to increase the quality of the end product: the creation of a vacuum, and flash freezing. Both of these other processes allow the latex particles to be dispersed more evenly, allowing more airflow and more springiness.
So what else besides the Talalay latex is excellent about this mattress? We're glad you asked, because there is a lot to love about the Zenhaven Mattress. The organic cotton cover that wraps this mattress is both soft and breathable. The Talalay latex (located under the organically derived cover) is designed with five zones of your body in mind, with the mattress's firmness differing in each of these zones for optimal support of your body.
One of the best features of this mattress is that it has two different firmness levels, depending on which side of the mattress you use. One side is considered the "luxury plush" and is rated at 4-5 in firmness; the other side of the bed is called the "gentle firm" and provides 7-8 on a 10 point scale in firmness.
One thing we really love about this company is that they skip local retailers and sell directly to their customers from their website. Skipping the retail stores saves you, the consumer, time and money when searching for a mattress. If you're hesitant to purchase a mattress without trying it out first, don't worry—the company offers a 120-night sleep trial and a 20-year warranty.
Stats
Price: $1,899.00 (Queen)
Sizes: California King, King, Queen, Full, Twin XL, Twin
Warranty: 120-night sleep trial, 20-year warranty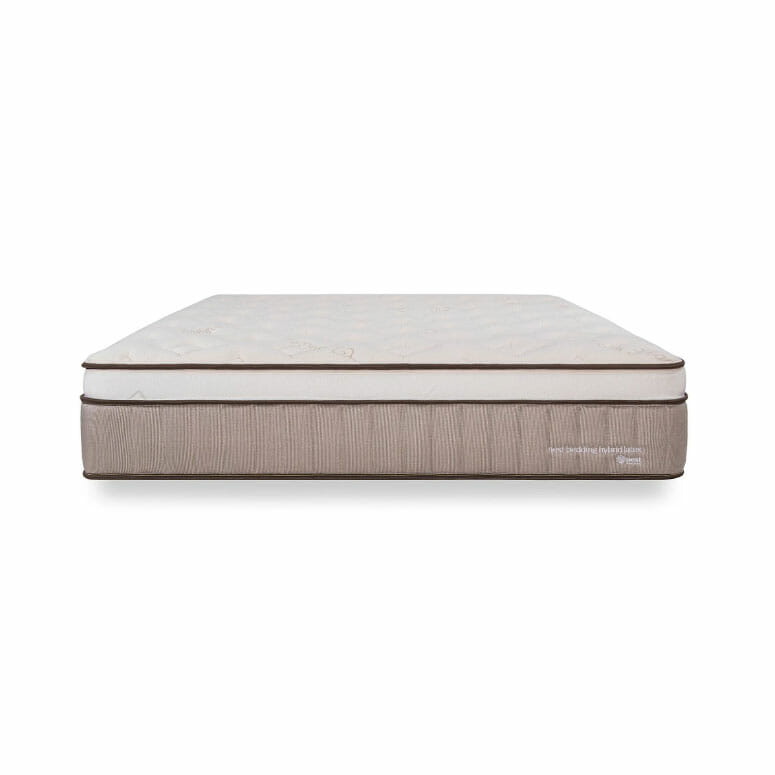 A hybrid mattress is quite possibly the mattress you've been searching for your entire life, but never knew existed. The Natural Hybrid Latex mattress combines all the excellent properties of latex with the bounce and spring of memory foam and pocketed coil springs. What does this really mean for you? More breathability and durability in your mattress.
Those who toss and turn throughout the night will appreciate the responsiveness of the latex and spring combination. An organic cotton knit encases the mattress, while a 1.5" layer of flex foam cushions your body. The incredible responsiveness makes this bed more ideally suited to back and stomach sleepers—at least in the medium firmness version.
But wait! There's more than one firmness option? Yep, the mattress can be purchased in a plush (4.5 firmness), medium (6.5 firmness), or firm (8.5 firmness), so you get the feel you want.
One of the truly unique features of this mattress is the lifetime comfort guarantee. If at any time the original purchaser of this mattress feels the bed is becoming uncomfortable, Nest Bedding will make it right with you. That's a guarantee that should make anyone feel good. If you're strapped for cash, Nest Bedding offers the ability to finance this mattress. Additionally, they offer fast and free shipping for those who need a new mattress yesterday.
Stats
Price: $1,499.00 (Queen)
Sizes: Split California King, California King, Split King, King, Queen, Full, Twin XL, Twin
Warranty: 100-night sleep trial, Lifetime warranty, Lifetime comfort guarantee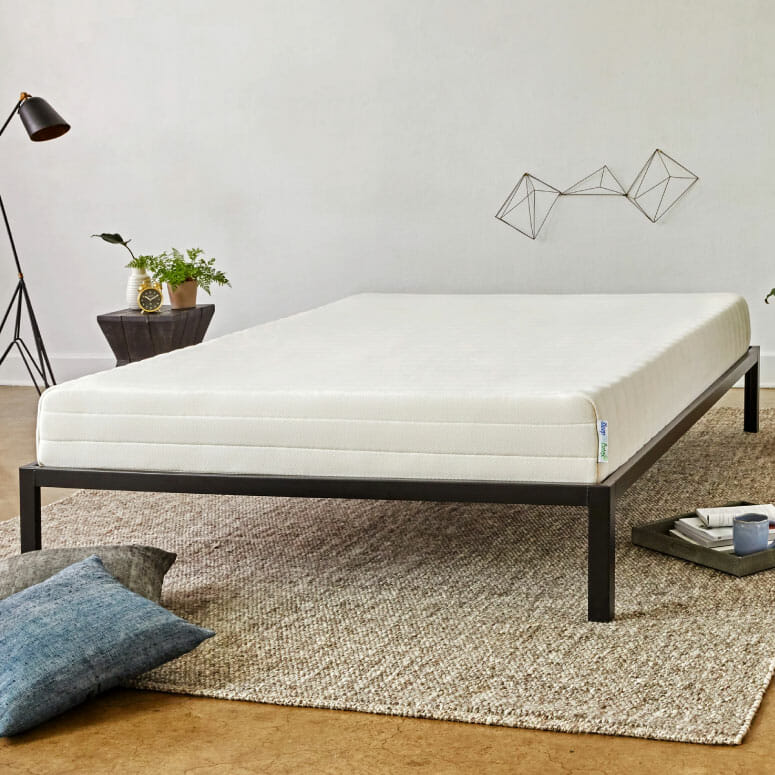 Global warming, mass deforestation, smog, pollution—these are all real problems. And doing your part to help sustain the environment for today and future generations is commendable. Purchasing the Pure Green Natural Latex Mattress makes it easy for you to be eco-friendly because this mattress is designed to be exactly that!
Oh, and if you're passionate about supporting craftsmen (and women), you should know that these mattresses are hand-sewn and assembled, so you receive the highest quality mattress.
The latex used in these mattresses is harvested from rubber trees in Sri Lanka, Thailand, and Malaysia. You may be thinking out loud that it's a long ways from these countries to the U.S., and you're right. But Thailand and Malaysia actually account for the majority of the rubber produced in the world.
The latex is also free from synthetics and other additives and is certified by Oeko-Tex and ecoInstitut, so you know you are purchasing high quality and sustainable latex.
An organic cotton mattress covering, organic wool batting, organic cotton quilt backing, and natural latex layers are some of the features found in this highly recommended mattress. You may have noticed that almost every component has the word "organic" or "natural" associated with it. That's right, this mattress is about as green as it gets.
This mattress is available in three firmness models, each of which is suitable for a particular type of sleeper. The soft option is perfect for side sleepers who need a little sink to relieve points of pressure, and the medium firmness mattress is ideal for back and side sleepers who want a bit more firmness. Consider buying the firm mattress if you are a belly sleeper, as this mattress will give you the most support for your sleeping style.
Is there any way a list of the best latex mattresses could exist without this high quality, eco-friendly option? Not on our watch!
Stats
Price: $795.00 (Queen)
Sizes: California King, King, Queen, Full XL, Full, Twin XL, Twin
Warranty: 100-day trial, 10-year warranty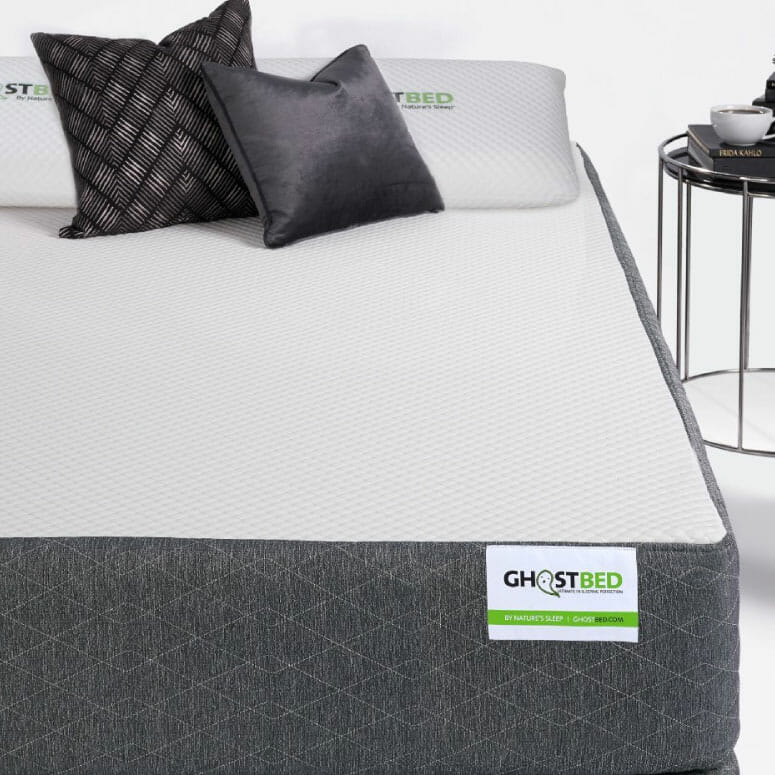 Memory foam lovers and those who prefer latex now have a place to meet in the middle and resolve their differences—with the GhostBed Mattress. This mattress uses a combination of latex foam and gel memory foam to create the perfect combination of pressure conforming and resiliency (bounce). The mattress has a blended viscose and polyester fabric cover that is both extremely breathable and durable.
We know that this is a review about the best latex mattresses, and although this mattress is a blend of latex and memory foam, it feels more like a latex mattress. This is because the first layer (the one you sleep on) is made of aerated latex foam, so your body's first impression of this mattress is the bounce of the latex. The company aerates (pokes holes in) the latex so that heat can more easily be dissipated, ultimately keeping you cooler while you sleep. Under this latex layer is a 2" gel-infused memory foam layer that also helps pull heat away from the body.
The latex and memory foam layers sit on top of a 7.5" high-density memory foam base that provides the support and a little give that will keep you comfortable. The GhostBed mattress is rated as a medium-firm (6.5 firmness) in feel and is 11" tall, meaning you don't have to go buy a new foundation for your mattress to sit on.
Love your existing bedding? You don't have to scrap your existing bedding when you purchase this mattress, because your fitted sheets fit snugly on this mattress. All these features come with 20 years of peace of mind with the warranty GhostBed provides.
Stats
Price: $895.00 (Queen)
Sizes: Split King, California King, King, Queen, Full, Twin XL, Twin
Warranty: 100-night sleep trial, 20-year warranty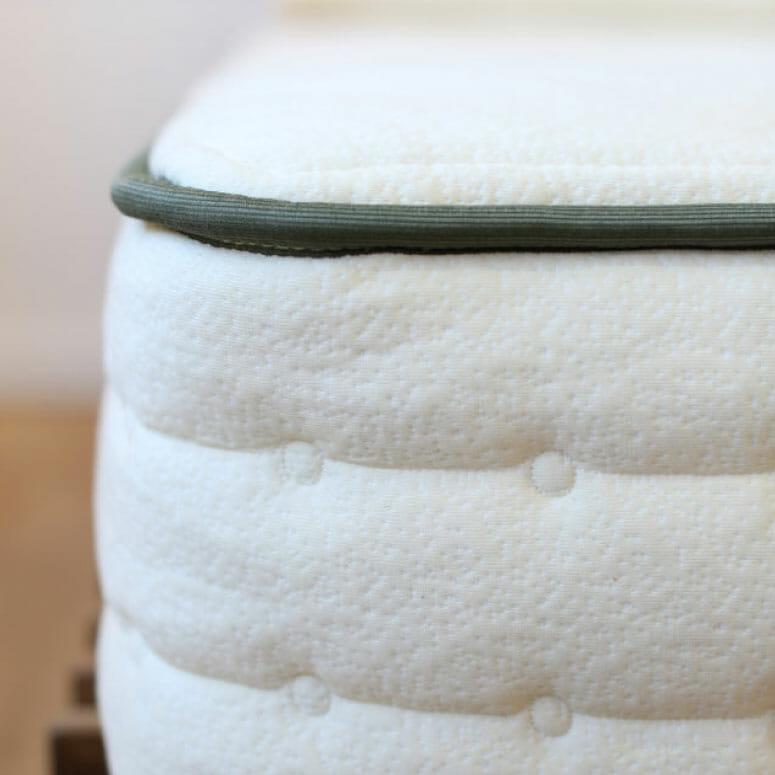 Free of polyurethanes, toxic fire retardants, and other potentially harmful chemicals, the Avocado Green Mattress is the latex mattress you should choose if you have any chemical sensitivities. Mostly biodegradable and recyclable, these mattresses will leave little to no sign that they ever existed a thousand years from now.
The company that makes the Avocado mattress also jointly owns a farm that grows all their organic cotton, and we think that's a pretty cool relationship that's not seen with many other mattress manufacturers. You won't have to think about how to recycle this mattress for a very long time, because the mattress comes with a 25-year warranty.
The Avocado Green Mattress is an eco-luxury mattress that combines comfort with environmental sustainability. That impressive hybrid feature we talked about earlier, you know the latex and innerspring combination, is also found in the Avocado mattress. You read that right—it's a completely organic hybrid mattress, a novelty I hope we will see more of in the future. One great feature about the inner springs are that they are zoned, so you get the support each part of your body needs.
Each of these mattresses is needle tufted by expert craftsmen, which allows the company to dispense with using harmful chemical adhesives and also increases the durability and longevity of the mattress. Pillow top? Yes, please! You can choose the standard or pillow-top option. The pillow top option includes an additional 2" layer of organic latex foam. It will set you back an additional $400, but the pillow top could be a good investment for side sleepers and back sleepers.
Stats
Price: $1,399.00 (Queen)
Sizes: Split King, California King, King, Queen, Full, Twin XL, Twin
Warranty: 1-year sleep trial, 25-year warranty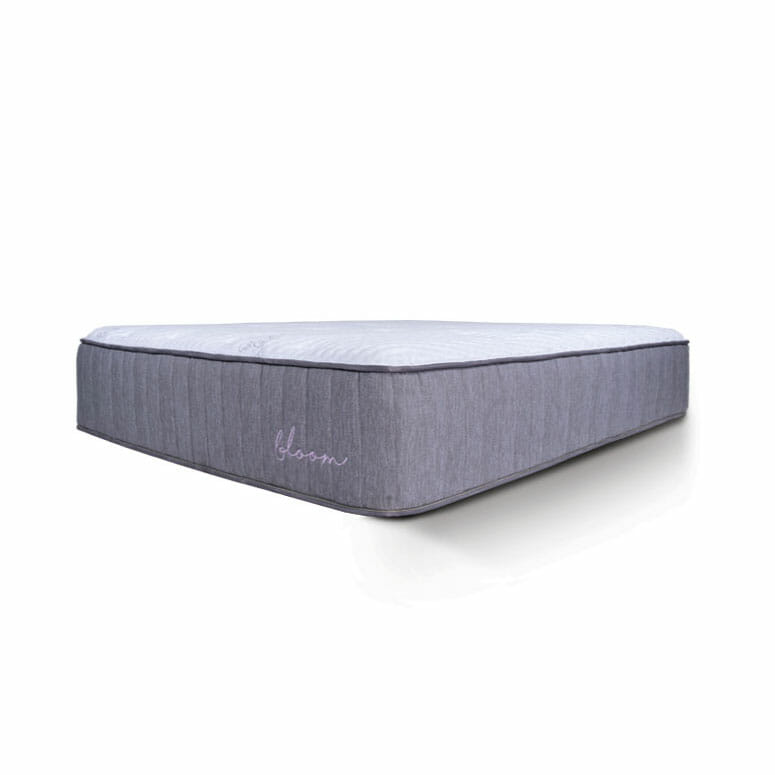 Another hybrid? There must be something to this spring-latex combination. You may automatically assume that this company (Brooklyn Bedding) is based in Brooklyn, New York, but you would be wrong. The company was named after the founder's daughter, way back in the company's early days, and since then they have been producing and innovating high-quality products such as the Bloom Hybrid Mattress. How do they provide high quality and reasonably priced products? They manufacture their mattresses themselves, as opposed to many other mattress companies that make their products overseas.
Let's get back to the mattress though, and the Talalay latex (which we talked about in our discussion of our #1 pick of today's best latex mattresses). The top layer of the Bloom Hybrid is made of 3" of Talalay latex. That's followed by an 8" base composed of around 1,200 individually wrapped coils. All of this sits on 1" of high-density foam, which provides a solid foundation for this dream mattress. The mattress is topped with a quilted wool and organic cotton blend that they call Joma Wool™, likely to wick moisture and cool better than cotton or wool separately.
This mattress is aesthetically appealing with a white top, grey sides, and the word "bloom" elegantly embroidered on the end. The mattress looks high quality, which it should with a price tag of just under $1,800. The Bloom Hybrid is an expensive mattress that may make some people feel uneasy when there are less pricey options available, but try it out for 120 nights, and you may find it worth every penny. If you don't think it's worth the price during that time, Brooklyn Bedding will refund or replace your mattress free of charge.
Stats
Price: $1,799.00 (Queen)
Sizes: California King, King, Queen, Full, Twin XL, Twin
Warranty: 120-night sleep trial, 10-year warranty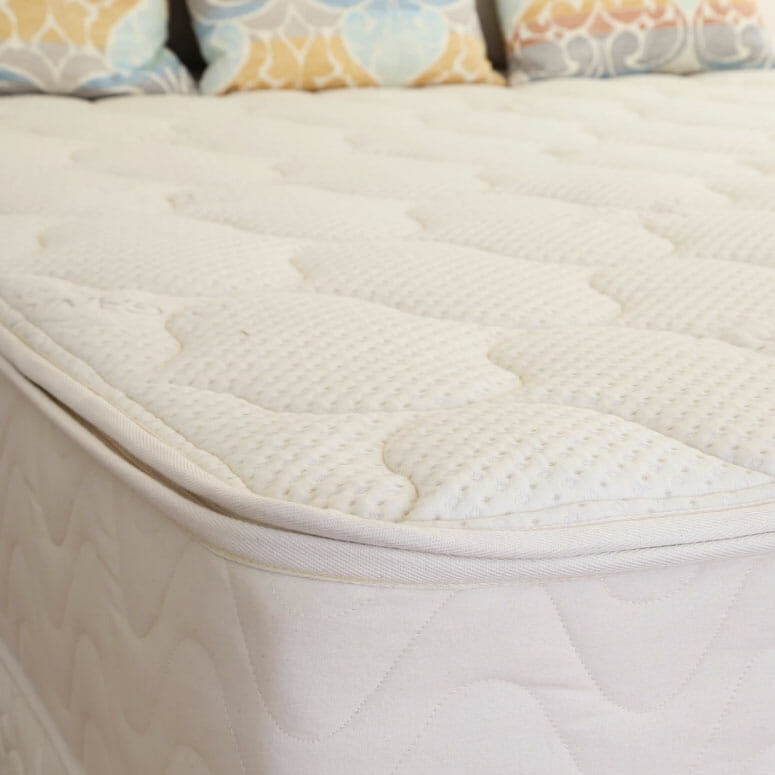 Spindle has done something genuinely innovative with its 10″ Natural Latex Mattress by allowing you to customize the feel of the mattress by rearranging the layers. Simple, intuitive, easy… why did no one else think of this idea? Sometimes the best ideas are the ones that require people to think outside the box, and Spindle did this with their latex mattress.
Spindle recommends that most sleepers purchase their medium firmness mattress. The medium firmness option comes with three latex layers that are each 3" high. Two of the latex layers are medium, and one is firm. The rearranging of the latex layers allows for adjustments to the feel of the bed. For example, for a firmer feel with this setup, the firm latex layer should be sandwiched between the two medium firmness layers. For a softer feeling, place the firm layer under the two medium firmness latex layers. Pretty ingenious, if you ask me.
If you are unable to find a combination while rearranging these layers that gives you the ideal mattress feel, Spindle will send you additional layers to either firm up or soften the mattress within the first year—at no cost to you.
Once you purchase from Spindle, you will save 30% on any replacement layers of latex you may need in the distant future. Are you not convinced yet? Try their 365-day comfort guarantee and take a full year to figure out if this is your ideal mattress.
Stats
Price: $1,499.00 (Queen)
Sizes: King, Queen, Full, Twin
Warranty: 365-day comfort guarantee, 10-year warranty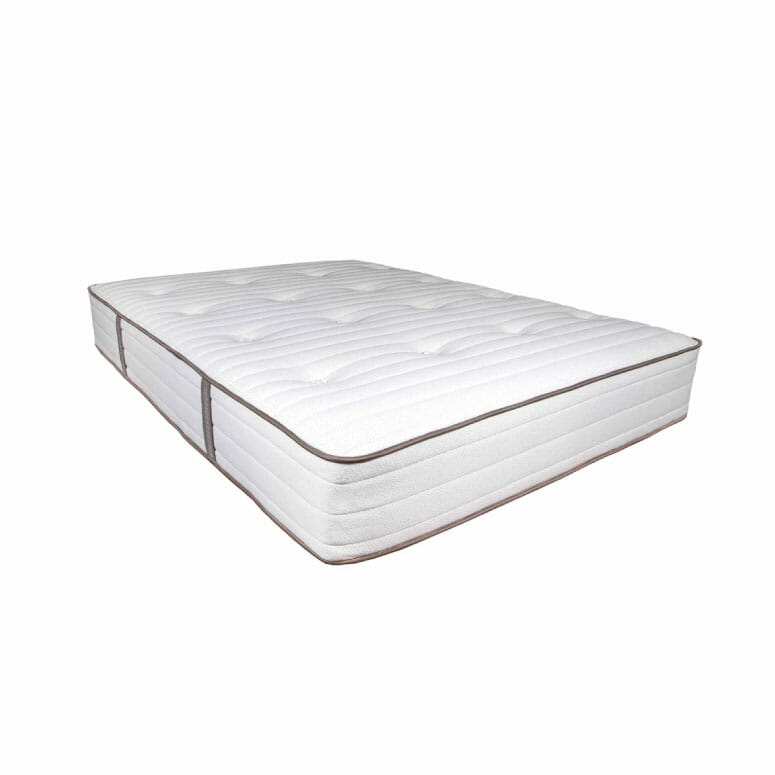 If you're looking at latex mattresses because you have low back pain issues, the Natural Escape Mattress provides all the support of latex—with inner springs specifically designed to support the lumbar region.
My Green Mattress, the manufacturers of the Natural Escape Mattress, alternate 14.5 gauge and 15.5 gauge coils that are spaced closer together in the area of your mattress where your back lies when sleeping. The alternating coil sizes and spacing provide extra support and ensure there isn't sagging in the middle of the bed.
The mattress has a tufted button design similar to our #5 ranked best latex mattress. And, as it does with the Avocado mattress, the button tufting makes this mattress durable and increases its longevity.
The combination of the Dunlap latex and the inner springs prevents motion transfer, so you won't wake your partner every time you get into and out of your bed, and the edges of the mattress are reinforced by placing coils closer together along the perimeter of the mattress. This mattress has a medium-firm feel that some side sleepers and most back sleepers will find comfortable.
With more certifications and acronyms than can be listed here, it's safe to say that this mattress is green and exceptionally environmentally friendly. The metal innersprings can even be recycled, and some states (such as California) have programs aimed at recycling mattress coils. This is a strong contender among the best latex mattresses, and worth taking for a spin with a 100-night sleep trial.
Stats
Price: $1,299.00 (Queen)
Sizes: California King, King, Queen, Full, Full XL, Twin, Twin XL
Warranty: 100-night sleep trial, 25-year warranty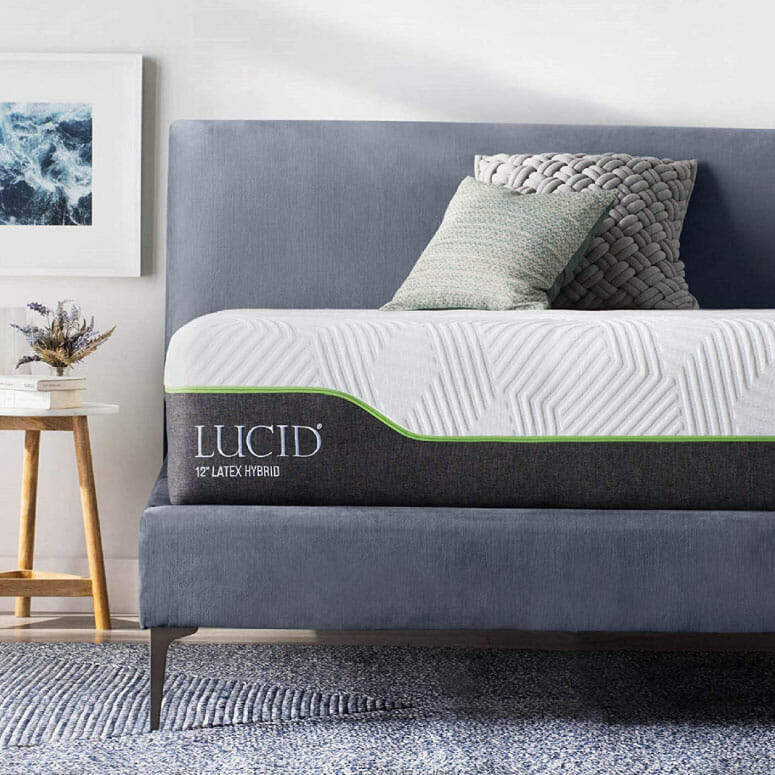 This may be the least expensive latex mattress on this list, but the Lucid 12-inch Latex Hybrid Mattress is a quality mattress. This mattress may even give you the best bang for your buck when it comes to purchasing a latex mattress, ensuring it a place among the best latex mattresses on the market.
This mattress includes features found in some of the other mattresses on this list, such as the combination of memory foam and latex that's found in the GhostBed, and the reinforced edge found in the Natural Escape Mattress. This is a hybrid mattress, so you also get the responsiveness of an innerspring mattress.
An aesthetically pleasing exterior capped with a white top and black sides give this mattress an elegant, clean look. The top surface of the mattress has a raised line pattern that is pleasing to the touch and looks sleek.
This mattress runs on the firmer side of a medium-firm feel, which may be uncomfortable for some thinner individuals and side sleepers. The inner springs circulate air well, which may allow hot sleepers to turn off the bedside fan at night.
The Lucid Latex Hybrid Mattress arrives at your doorstep in a box, which is surprising because of the innersprings and its thickness. Since this is a bed in a box, moving this mattress from your doorstep to your bedroom is a breeze. Plus, you get to cut the vacuum packaging and watch the bed expand, which is a satisfying experience unto itself.
As far as comfort goes, customers who have purchased this mattress are surprised at how comfortable and high quality the mattress is for the low price. This deal may seem too good to be true, but with a 100-night sleep trial, it's definitely worth checking out.
Stats
Price: $529.00 (Queen)
Sizes: California King, King, Queen, Full, Twin, Twin XL
Warranty: 100-night sleep trial, 10-year warranty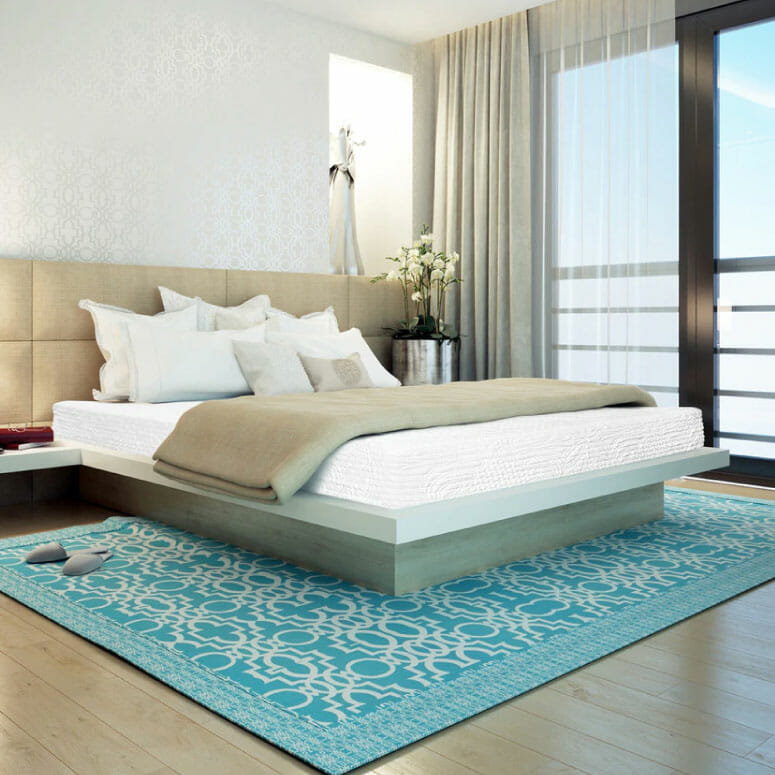 Closing out our choices for the best latex mattress is Natures Novel Latex Mattress. Now, just because this mattress is in the #10 spot, that doesn't mean that this is not an extremely high-quality latex mattress. The mattress uses Talalay latex, that uniform polymer that is more durable and softer than Dunlap latex.
Unlike some of the other mattresses on this list, this is an example of a latex mattress without springs, memory foam, or any of the other bells and whistles.
Since we just mentioned that there are no innersprings, you may be wondering if this mattress is hot. It probably would be if the latex was not designed with 50% larger cells, which allows for increased airflow and heat dispersion. But that is the way it's designed, so… no, it shouldn't run hot.
To choose a firm or medium-soft option—that is the question! If your first instinct is not to select the firm choice, go with the medium-soft, which rates at a 6 in firmness. The firm option is considered very firm, with a rating of 8.
A respectful person shouldn't pass gas in the presence of others, and neither should your mattress. There is no off-gassing or unpleasant odors with this mattress like may be experienced with some other latex mattresses. And if you don't want to go through the hassle of setting this mattress up in your bedroom, you can pay for in-home set up for around $149 and mattress removal for $199.
Stats
Price: $1,199.00 (Queen)
Sizes: California King, King, Queen, Full, Twin, Twin XL
Warranty: 100-night sleep trial, Lifetime warranty