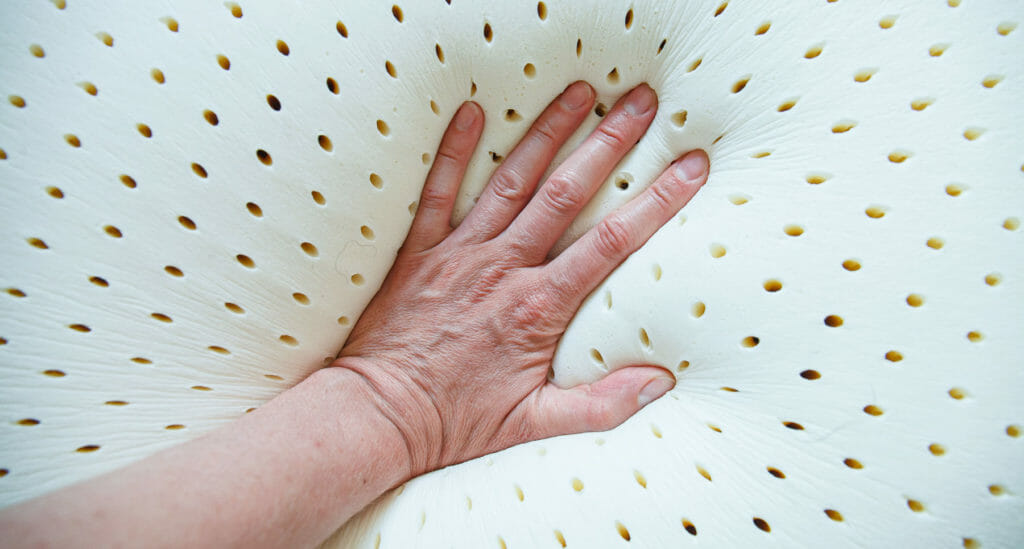 For those who like their mattress on the firmer side and want a responsive bounce when getting into bed, a latex mattress is likely perfect for you. And, if that's the case, you certainly want the best latex mattress you can afford, right? We're here to help.
Of course, not every mattress is for every person. Some people need an adjustable bed, while others need a mattress made for easing back pain. Whatever your situation is, make sure you have the best mattress for your needs and sleep preferences.
Latex has body-hugging properties, as compared to the body-conforming characteristics of memory foam. It's all about the degree to which the mattress cradles your body.
Latex, which is a type of rubber, has bounce—which is especially useful for those who change positions frequently throughout the night. The latex eliminates that stuck-in-the-mud feel and sluggishness you may have experienced when changing positions while sleeping on a memory foam mattress.
Are you starting to see the perks of latex mattresses yet? Read on to discover our top choices.
THESE ARE OUR TOP 3 BEST LATEX MATTRESSES
Memory foam lovers and those who prefer latex now have a place to meet in the middle and resolve their differences—with the GhostBed Mattress. This mattress uses a combination of latex foam and gel memory foam to create the perfect combination of pressure conforming and resiliency (bounce). The mattress has a blended viscose and polyester fabric cover that is both extremely breathable and durable.
We know that this is a review about the best latex mattresses, and although this mattress is a blend of latex and memory foam, it feels more like a latex mattress. This is because the first layer (the one you sleep on) is made of aerated latex foam, so your body's first impression of this mattress is the bounce of the latex. The company aerates (pokes holes in) the latex so that heat can more easily be dissipated, ultimately keeping you cooler while you sleep. Under this latex layer is a 2" gel-infused memory foam layer that also helps pull heat away from the body.
The latex and memory foam layers sit on top of a 7.5" high-density memory foam base that provides the support and a little give that will keep you comfortable. The GhostBed mattress is rated as a medium-firm (6.5 firmness) in feel and is 11" tall, meaning you don't have to go buy a new foundation for your mattress to sit on.
Love your existing bedding? You don't have to scrap your existing bedding when you purchase this mattress, because your fitted sheets fit snugly on this mattress. All these features come with 20 years of peace of mind with the warranty GhostBed provides.
There's no need to flip the mattress, which would be a laborious task otherwise considering its size and weight. This is because the comfort layers, or the memory and latex layers, are already the topmost layers. But the manufacturer recommends rotating the mattress every three months (i.e., head-to-toe) to increase its longevity.
Strengths We Love:
Provides the best possible balance between comfort and support resulting in better sleep as well as lesser back pain and moisture buildup
Made of high-quality materials including a plush cover, aerated latex and gel memory foam with a sturdy, high-density core foam as the base
Lasts for several years and gives excellent value for the money
Little to no risk of allergies due to use of natural materials
Has great edge support, too, for minimum motion transfer when getting on and off the bed
No off-gassing from the memory foam
Things to Consider:
Bed takes a few hours to expand during the warm months and up to five days during the cool months, but it can be immediately used once fully inflated
May take a couple of nights to get used to its new medium-firm feel but it's normal
OMR ADVANTAGE SCORE: 9.5/10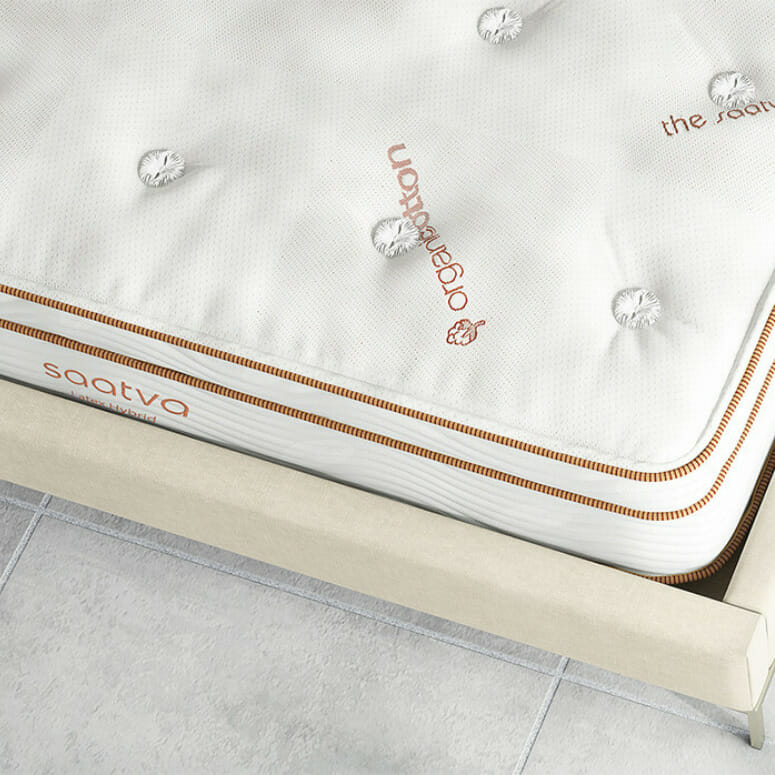 Do you want to sleep "in" or "on" the mattress? The difference lies in the firmness level of the mattress – sleeping "in the mattress" means it's on the softer side with emphasis on comfort; sleeping "on the mattress" means it's on the firmer side with support as the primary quality. Oftentimes, there's no middle ground.
But the Saatva Latex Hybrid mattress is the exception! Most users say that their sleeping experience is akin to floating on a cloud, a hallmark of comfort, yet getting significant relief from back, shoulder and knee pain.
Even if you and your bedmate prefer different firmness level, you will likely love sleeping on it together. The mattress provides a happy balance between soft and firm so exceptional comfort and support are guaranteed.
This is achieved through the strategic use of five layers of different materials with each layer /material chosen for its specific benefits. The first layer, an organic cotton cover, feels soft to the touch as well as easy to wipe with a damp cloth in case of accidental spills. Plus, it has a botanical antimicrobial treatment that prevents bacterial buildup and their resulting icky smell.
Made of organic New Zealand wool, the second layer prevents moisture buildup in both the mattress so there's less risk of mold and mildew buildup. Aside from being a natural flame retardant, it's also a natural temperature regulator that wicks moisture away from your sleeping body. You won't wake up in a cold sweat, and that's important for good sleep, too.
The third and fourth layers are the heart and soul of the mattress, so to speak, since these are the comfort and support layers, respectively. The Talalay latex foam, a 100% natural and hypoallergenic material, provides optimum comfort for your back and pressure points. You will love its bouncy softness, too, which makes bed-bouncing such a fun activity.
The pocketed recycled steel coils are necessary for support, as well as for minimum motion transfer and maximum edge support. In short, you or your bedmate may like to move around in your sleep but neither of you will be disturbed too much about it.
The manufacturer also offers several bed accessories for this mattress. Choices include a mattress topper and queen-sized pillows. You may also buy a Saatva foundation or adjustable base.
Strengths We Love:
Medium-firm mattress suits most people, from fairly healthy individuals to persons with moderate back-related issues
Made of five layers of durable materials chosen for their complementary benefits of moisture wicking, comfort and support, and minimum motion transfer
Comes with free white glove delivery including set-up of foundation and mattress as well as old mattress disposal
Can be returned in case of unsatisfactory performance
Things to Consider:
Has a $99 return fee in case you want to return it
May not be as supportive as gel memory foam for people used to it
OMR ADVANTAGE SCORE: 9/10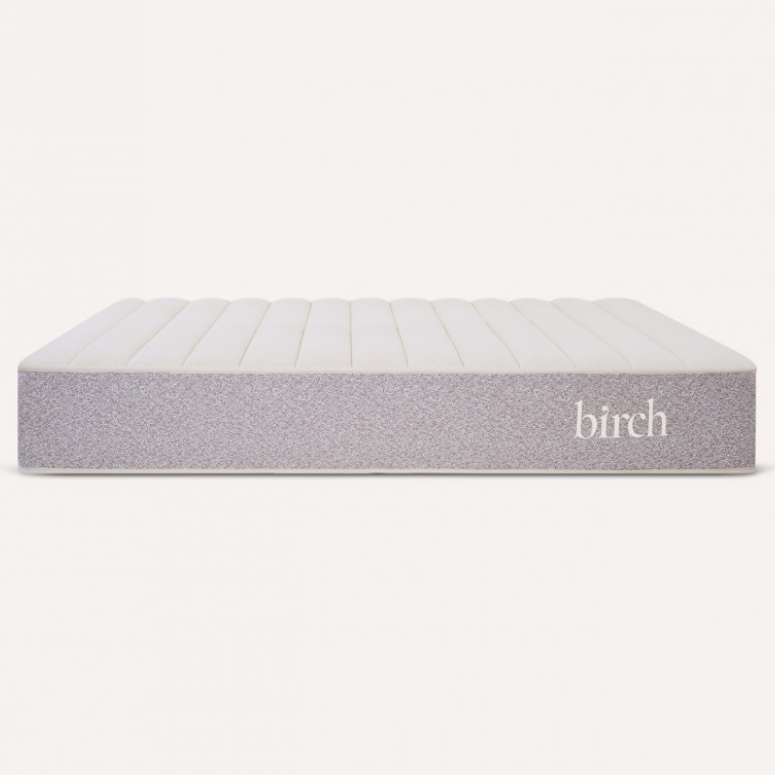 Nowadays, most products are a combination of raw materials sourced from several countries around the world. The Birch Natural Mattress is a typical example with its raw materials sourced from New Zealand (wool), Southeast Asia (latex) and the United States (cotton and wool). But there's one thing in common that these raw materials share: Each one is free from toxins, harsh chemicals and other possibly harmful substances with adverse health effects!
Indeed, every Birch mattress comes with the assurance of certification from GreenGuard and GOTS, the standards for non-toxic, safe products in the U.S. This is important since nobody wants to sleep on a mattress filled with all sorts of harmful substances for 6-8 hours.
Aside from the safety factor, we like it that the Birch mattress has all the hallmarks of an excellent mattress. You will sleep cool, so to speak, because every layer of the six-layer mattress is designed for better airflow and, thus, improved breathability. Everything from the natural cotton cover and wool to the breathable Talalay latex and individual steel coils allows for air circulation within the mattress.
Of course, every mattress worth its price must provide optimum comfort, support and pressure relief. The Birch mattress is #3 on our list because of its above-par performance in all three aspects, not to mention that it's a durable mattress that will last for years. Over time, the medium-firm consistency of the natural Talalay latex and the bounciness of the steel spring coils are maintained, too.
What is it actually like to sleep on the Birch mattress? We have to say that it cradles the body where it's supposed to, such as the joints, while also supporting the spine. Think of it as sleeping on a firm cloud, if you will.
Strengths We Love:
Thick 11-inch mattress made of high-quality wool, latex foam and innerspring coils proven to last for several years
Has handmade quality that elevates it from the rest of mass-produced mattresses
Provides good balance between comfort and support, as well as good bounce and resistance
Maintains its performance even after years of regular use, perhaps abuse like kids jumping willy-nilly over it
Things to Consider:
There may be a 1-inch variation in size on any given side due to its handmade nature
Needs an hour or more to fully inflate after removing its final plastic cover, but it's still a fairly short waiting time
OMR ADVANTAGE SCORE: 9/10
Honorable Mentions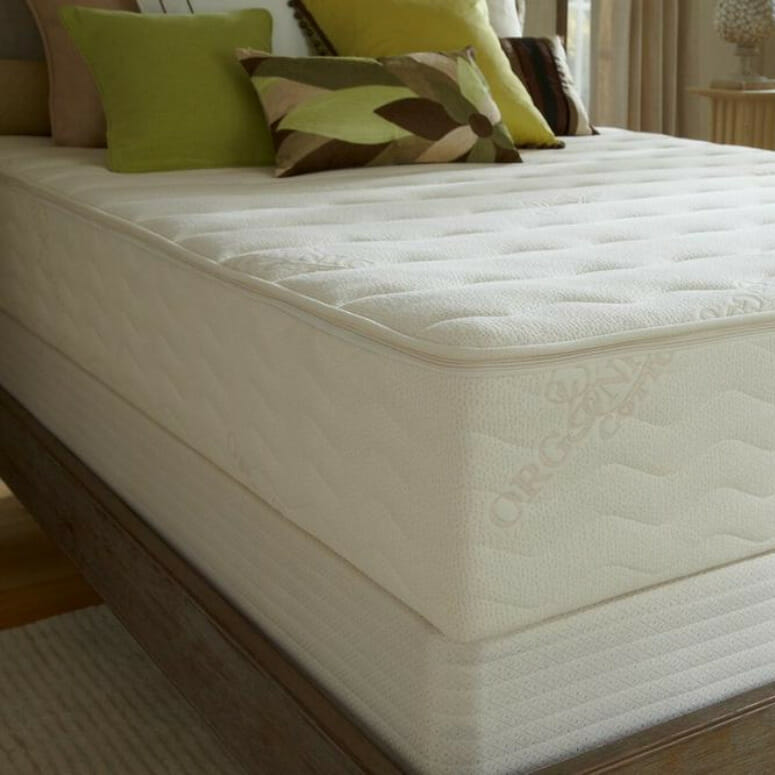 If a wide range of choice is what you want, then you will find it in the PlushBeds Botanical Bliss mattress! Not only are there more choices in sizes – we highly recommend the queen-sized mattress because it's the Goldilocks size – but you can also choose your level of firmness and mattress height.
The medium-firm mattress is best for most sleepers including side sleepers and, in fact, it's the most popular type. It has two layers – a comfort layer made of Talalay latex and a support layer made of Dunlop latex.
The firm mattress is also made of these two layers but with a firmer feel than the medium-firm mattress. Back and stomach sleepers will find it suits their sleeping needs better while persons weighing 275-plus pounds say that it's firm enough to hold their weight without sagging.
But you don't have to stuck with whatever of these two mattress types you bought! You can change its firmness level, from medium to firm, by switching the position of the top and middle layers. The top has a softer feel while the middle layer has a firmer consistency so swapping them will immediately change the mattress' overall feel. Few other mattresses of this quality have this ingenious feature that extends their versatile use.
Then, there's the choice in thickness that affects the overall feel of the mattress, too. The 9-inch and 10-inch mattresses have the same 1-inch organic cotton cover, two layers of 3-inch latex foam, and 10 pounds of organic wool batting. The main difference is in the Talalay latex layer – the former has a 2-inch layer and the former has a thicker 3-inch layer.
If you have more money and a desire for more variations in level of firmness, you may want to check out the 12-inch mattress. Regardless of your choice, however, you will find that it's an exceptional mattress for the price.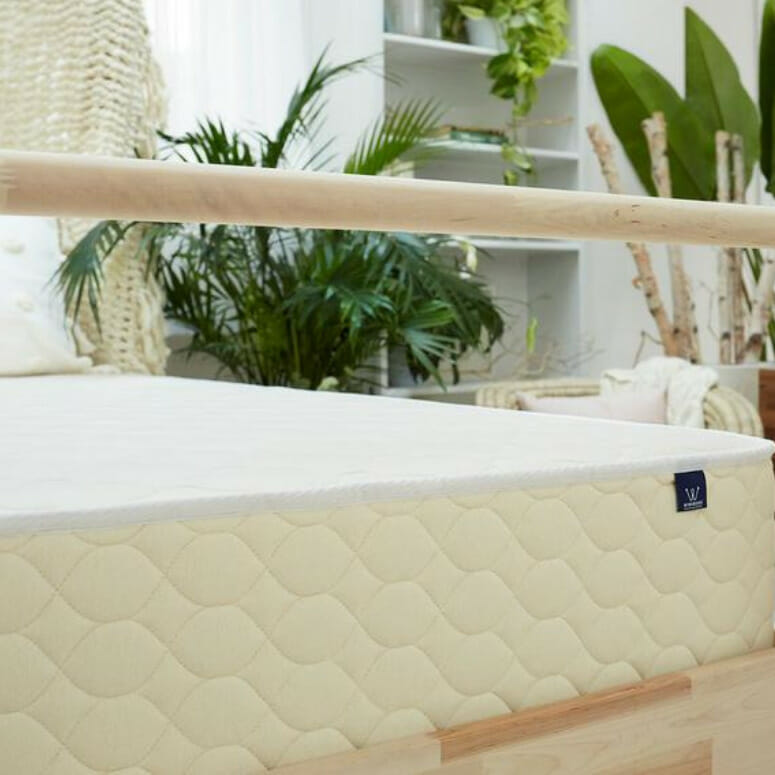 Who would have thought that mattresses can be engineering marvels, too? This is the case with the WinkBeds EcoCloud mattress, which was designed with eco-engineering in mind. The mattress is made of eco-friendly, sustainable and non-toxic materials that were then assembled to guarantee the best sleep possible.
Thanks to its eco-engineered design, it's the perfect mattress for individuals who like the least possible resistance when changing positions. There's less physical effort required to change from a side sleeping position to a back sleeping position, and when getting off the mattress. This is also a great mattress for side sleepers and people who sleep hot because of its aerated design.
In keeping with its eco-friendly nature, it's also highly recommended for people who want to reduce their carbon footprint through the products they buy and use. Since it will last for several years to come, past a decade with proper use and maintenance, it not only provides great value for the money but can decrease your landfill contribution.
The mattress also uses Talalay foam as its comfort layer, and it's thicker at 4 inches, too. The great thing about Talalay foam is its versatility in terms of targeted comfort and support for different parts of the body.
While it has a firmer feel in the lower back and spine areas, it feels softer when in contact with the hips and shoulders. Such seeming contradiction is actually possible because Talalay foam is springier than other types of foam and, thus, it has an extra-responsive quality that lends itself well to better pressure relief.
Spindle has done something genuinely innovative with its 10″ Natural Latex Mattress by allowing you to customize the feel of the mattress by rearranging the layers. Simple, intuitive, easy… why did no one else think of this idea? Sometimes the best ideas are the ones that require people to think outside the box, and Spindle did this with their latex mattress.
Spindle recommends that most sleepers purchase their medium firmness mattress. The medium firmness option comes with three latex layers that are each 3" high. Two of the latex layers are medium, and one is firm. The rearranging of the latex layers allows for adjustments to the feel of the bed. For example, for a firmer feel with this setup, the firm latex layer should be sandwiched between the two medium firmness layers. For a softer feeling, place the firm layer under the two medium firmness latex layers. Pretty ingenious, if you ask me.
If you are unable to find a combination while rearranging these layers that gives you the ideal mattress feel, Spindle will send you additional layers to either firm up or soften the mattress within the first year—at no cost to you.
While the manufacturer provides technical information, such as the specific ILD and density of the medium and firm mattresses, keep in mind that optimum comfort and support are subjective. Perhaps the more important aspect here is that the Spindle mattress isn't a health risk since it doesn't have chemical flame retardants, harmful VOCs, and other toxins. Plus, its latex has a long-lasting springiness that contributes to a good bounce.
Once you purchase from Spindle, you will save 30% on any replacement layers of latex you may need in the distant future. Are you not convinced yet? Try their 365-day comfort guarantee and take a full year to figure out if this is your ideal mattress.
Global warming, mass deforestation, smog, pollution—these are all real problems. And doing your part to help sustain the environment for today and future generations is commendable. Purchasing the Pure Green Natural Latex Mattress makes it easy for you to be eco-friendly because this mattress is designed to be exactly that!
Oh, and if you're passionate about supporting craftsmen (and women), you should know that these mattresses are hand-sewn and assembled, so you receive the highest quality mattress.
The latex used in these mattresses is harvested from rubber trees in Sri Lanka, Thailand, and Malaysia. You may be thinking out loud that it's a long way from these countries to the U.S., and you're right. But Thailand and Malaysia actually account for the majority of the rubber produced in the world.
The latex is also free from synthetics and other additives and is certified by Oeko-Tex and ecoInstitut, so you know you are purchasing high quality and sustainable latex.
An organic cotton mattress covering, organic wool batting, organic cotton quilt backing, and natural latex layers are some of the features found in this highly recommended mattress. You may have noticed that almost every component has the word "organic" or "natural" associated with it. That's right, this mattress is about as green as it gets.
This mattress is available in three firmness models, each of which is suitable for a particular type of sleeper. The soft option is perfect for side sleepers who need a little sink to relieve points of pressure, and the medium firmness mattress is ideal for back and side sleepers who want a bit more firmness. Consider buying the firm mattress if you are a belly sleeper, as this mattress will give you the most support for your sleeping style.
The mattress is shipped in a single piece and fully assembled so there's no assembly required. This is an excellent feature since latex foam has a tendency to tear apart when handled incorrectly. Be sure to place it on top of its intended bed frame first before unrolling its plastic wrap, and then allowing the mattress to fully inflate on its own.
Is there any way a list of the best latex mattresses could exist without this high quality, eco-friendly option? Not on our watch!
Another hybrid? There must be something to this spring-latex combination. You may automatically assume that this company (Brooklyn Bedding) is based in Brooklyn, New York, but you would be wrong. The company was named after the founder's daughter, way back in the company's early days, and since then they have been producing and innovating high-quality products such as the Bloom Hybrid Mattress. How do they provide high quality and reasonably priced products? They manufacture their mattresses themselves, as opposed to many other mattress companies that make their products overseas.
Let's get back to the mattress though, and the Talalay latex. The top layer of the Bloom Hybrid is made of 3 inches of Talalay latex. That's followed by an 8-inch base composed of around 1,200 individually wrapped coils. All of these layers sit on 1" of high-density foam, which provides a solid foundation for this dream mattress. The mattress is topped with a quilted wool and organic cotton blend that they call Joma Wool™, likely to wick moisture and cool better than cotton or wool separately.
This mattress is aesthetically appealing with a white top, grey sides, and the word "bloom" elegantly embroidered on the end. The Bloom Hybrid is an expensive mattress that may make some people feel uneasy when there are less pricey options available, but try it out for 120 nights, and you may find it worth every penny. If you don't think it's worth the price during that time, Brooklyn Bedding will refund or replace your mattress free of charge.
Then again, you will likely keep the mattress because it's such an excellent buy! As soon as you run your hand over its cover, you will agree that it's something that you will have no issue letting in contact with your skin.
Then, as you lie on it for a few minutes to test its quality, the Talalay foam layer works its magic by giving a sleeping-on-a-cloud sensation. After a while, you may not even want to get off the bed because it's so comfortable as it is!
We suggest getting the mattress on a box foundation or box spring to prolong its usable life. There's also the need to rotate it, head-to-toe or 180-degree turn, every six to eight months, but it should never be flipped as doing so will negate its intended benefits.
Free of polyurethanes, toxic fire retardants, and other potentially harmful chemicals, the Avocado Green Mattress is the latex mattress you should choose if you have any chemical sensitivities. Mostly biodegradable and recyclable, these mattresses will leave little to no sign that they ever existed a thousand years from now.
The company that makes the Avocado mattress also jointly owns a farm that grows all their organic cotton, and we think that's a pretty cool relationship that's not seen with many other mattress manufacturers. You won't have to think about how to recycle this mattress for a very long time, because the mattress comes with a 25-year warranty.
The Avocado Green Mattress is an eco-luxury mattress that combines comfort with environmental sustainability. That impressive hybrid feature we talked about earlier, you know the latex and innerspring combination, is also found in the Avocado mattress. You read that right—it's a completely organic hybrid mattress, a novelty I hope we will see more of in the future. One great feature about the inner springs is that they are zoned, so you get the support each part of your body needs.
Each of these mattresses is needle tufted by expert craftsmen, which allows the company to dispense with using harmful chemical adhesives and also increases the durability and longevity of the mattress. Pillow top? Yes, please! You can choose the standard or pillow-top option. The pillow top option includes an additional 2" layer of organic latex foam. It will set you back a few hundred dollars, but the pillow top could be a good investment for side sleepers and back sleepers.
Take note that this is an all-foam mattress without the innerspring coils in other mattresses on this list. The 9-inch organic latex foam, nonetheless, provides support for the joints as much as it provides comfort for the entire body. The bounce dampening layers also contribute to minimal motion transfer without taking too much away from the comfort aspect.
Since this is an all-foam mattress, it's also the firmest mattress on this list. The sleeping experience is akin to floating – or sleeping on – instead of sinking or sleeping in the mattress. For this reason, it's the best mattress for back and stomach sleepers, for active couples and children, and tall or large persons.
This may be the least expensive latex mattress on this list, but the Lucid 12-inch Latex Hybrid Mattress is a quality mattress. This mattress may even give you the best bang for your buck when it comes to purchasing a latex mattress, ensuring it a place among the best latex mattresses on the market.
This mattress includes features found in some of the other mattresses on this list, such as the combination of memory foam and latex that's found in the GhostBed, and the reinforced edge found in the Saatva mattress. This is a hybrid mattress, so you also get the responsiveness of an innerspring mattress.
An aesthetically pleasing exterior capped with a white top and black sides give this mattress an elegant, clean look. The top surface of the mattress has a raised line pattern that is pleasing to the touch and looks sleek.
This mattress runs on the firmer side of a medium-firm feel, which may be uncomfortable for some thinner individuals and side sleepers. The inner springs circulate air well, which may allow hot sleepers to turn off the bedside fan at night.
The Lucid Latex Hybrid Mattress arrives at your doorstep in a box, which is surprising because of the innersprings and its thickness. Since this is a bed in a box, moving this mattress from your doorstep to your bedroom is a breeze. Plus, you get to cut the vacuum packaging and watch the bed expand, which is a satisfying experience unto itself.
There's little to no smell once it's removed from its box and plastic packaging, too. It should take no less than two hours for it to fully inflate, and then it's ready to be used with the usual linens.
As far as comfort goes, customers who have purchased this mattress are surprised at how comfortable and high quality the mattress is for the low price. This deal may seem too good to be true, but with a 100-night sleep trial, it's definitely worth checking out.