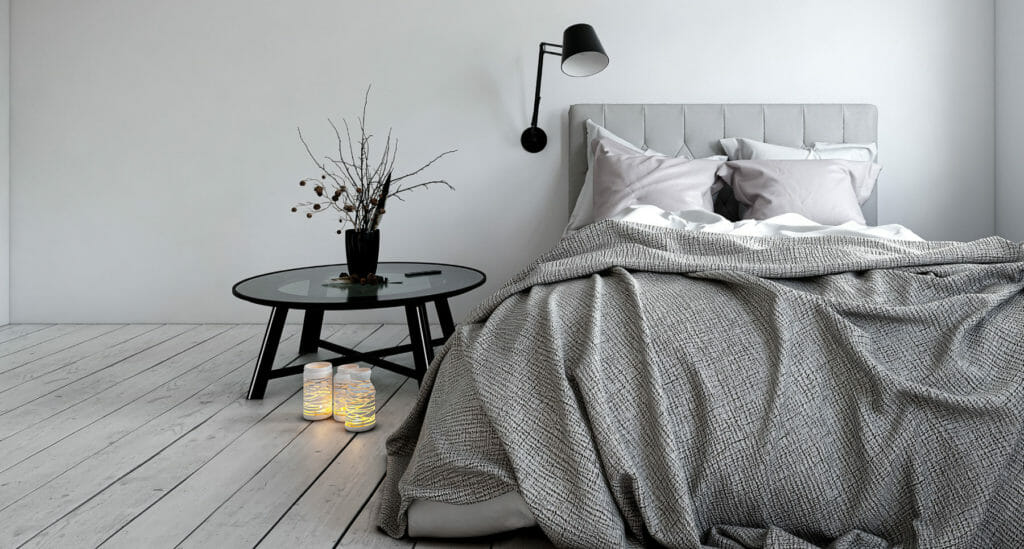 Have you ever heard of a hybrid mattress? The word hybrid can conjure images of supernatural beings such as Klaus Mikaelson (from The Vampire Diaries) or Renesmee (from The Twilight Saga).
And, like these fictional characters, a hybrid mattress combines the best aspects of two things — in the case of a hybrid mattress, those things are a memory foam mattress and an innerspring mattress. Finding the best hybrid mattress for your needs can be a challenge, but we're here to help.
Memory foam is extremely comfortable due to the foam's inherent body-molding properties, while an innerspring mattress allows airflow through the mattress and that satisfying bounce when you plop into bed. Memory foam mattresses are known to trap heat more than innerspring mattresses, and many people find memory foam mattress more comfortable than their springed counterparts.
Combining the best of memory foam and innerspring mattresses is what the hybrid mattress was created to do. If you're looking for a new mattress and want one that will be comfortable while keeping you cool throughout the night, read on! We combed through dozens of hybrid mattress to find the best, so you won't have to. Below are the 10 best hybrid mattresses that we found in our search.
1. The Saatva Classic Mattress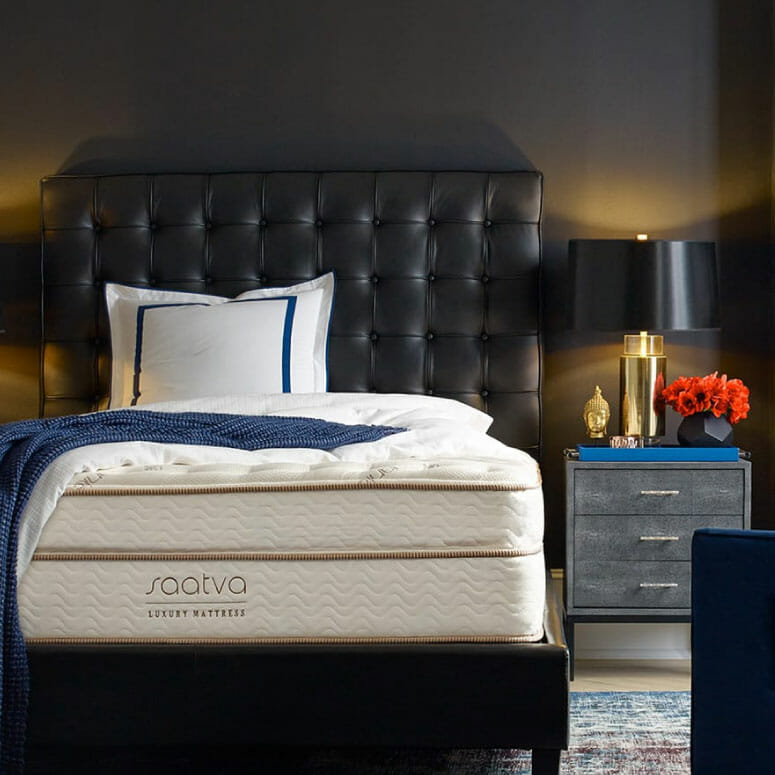 Who wouldn't want to purchase from a company that utilizes environmentally-friendly and sustainable practices? Saatva uses 100% organic cotton and CertiPUR-US certified memory foam in their mattresses. In 2018, Saatva received an award from Business Intel for the most sustainable product of the year.
The organic cotton covering of this mattress is treated with Saatva's Guardin® botanical antimicrobial treatment to ensure you're not sharing your mattress with bacteria and dust mites. A memory foam layer helps support your body and relieve back pain by absorbing pressure exerted by specific regions of your body.
The Saatva Classic Mattress is constructed with two levels of spring support — only Saatva uses recycled steel to make their springs. Under the memory foam layer, 416 individually-wrapped mini-coils provide responsive cushioning for your body while you're lying on the mattress. Under those coils is a base of 884 hardened steel springs providing a combination of stability and bounce for the layers above. The steel springs are hardened three times so this mattress won't sag over time like standard spring mattresses typically do.
Saatva eliminates the things that cause mattress prices to become inflated (such as commissioned salesman and retail store markups). Streamlining the process and selling directly to the customer allows them to create an affordable mattress that you purchase online and have delivered to your home.
With Saatva, you don't just get one of the best hybrid mattresses on the market. In addition, you can feel good about buying from a company that looks out for our children's future — and at the very least, you can brag about your eco-consciousness to your friends and neighbors.
You also have three choices in firmness level – soft, medium and firm – and each one appeals to different needs. The great thing about it also is that all three options have the same quality and cost depending on the size. With Saatva, you're not just buying a premium mattress – you're also buying into a luxurious lifestyle without being a Kardashian.
The plush soft version provides a body-hugging feeling as you sink deeper into the mattress, a feeling of being enveloped in a cloud. This is a great choice for people who like a cushiony experience, who are of lighter weight, and who prefer sleeping on their sides. The extra contouring is a bonus.
The luxury firm version, which has a 5-7 firmness rating on the 10-point rating scale, is the most popular. Not only does it replicate the luxurious sleeping experience in five-star hotels but it also hits the Goldilocks spot in comfort and support. We recommend it for every type of sleeper – side, stomach, back and combination – and for couples with different firmness preferences.
The firm model is an 8 on the firmness scale and, as such, is perfect for people who want an extra-firm mattress without actually feeling like being on a concrete floor. This is also highly recommended for back and stomach sleepers as well as for heavy sleepers. Take note that it provides an on-the-mattress experience but still provides good cushioning and pressure relief.
Regardless of your firmness preference, be sure to place the Saatva mattress on a stable and sturdy foundation. This can be a box spring type, a platform bed or an adjustable base. You may also buy a foundation from Saatva although your existing frame will suffice for as long as it will fit the mattress.
Strengths We Love:
Made of high-quality materials including recycled materials
Proven durability
Provides exceptional sleeping experience
With excellent edge support and temperature cooling
Recommended by chiropractors
Things to Consider:
Below-par motion transfer
Premium price
OMR ADVANTAGE SCORE 9.5/10
Who better to buy a mattress from than a company called DreamCloud? If you're looking for the best hybrid mattress — one that's high quality and long lasting — look no further than the Luxury Hybrid Mattress by DreamCloud. Whether you're a side sleeper, back sleeper, or stomach sleeper, this mattress will provide you with comfort throughout the night.
This hybrid mattress provides eight layers of comfort between your body and the box spring, platform, or floor (depending on your bed setup). The mattress's cover is made from a blend of cashmere and polyester that provides the softness and breathability needed for you to get restorative sleep.
The second layer is gel-infused memory foam designed to ensure you don't overheat while you're sleeping. The third layer may be where the "cloud" part of the DreamCloud name is derived, as this layer is a soft, quilted memory foam specially designed by this company to feel like you're lying on a cloud.
The quilted memory foam layer is supported by a natural latex layer that provides bounce to the mattress. The next two layers are memory foam of varying density, to support the layers above while continuing to mold to your body's unique shape.
Layer seven is what makes this mattress a hybrid — five zones of micro coils surrounded by foam give this bed the characteristic bounce and support of spring mattresses. All these layers rest on a base of high-density memory foam.
The combination of innerspring coils and memory foam results in getting the best of both worlds, thus, the popularity of hybrid mattresses. The coils provide the optimum support for the body, particularly for the spine, while the memory foam with its contouring quality provides the cushioning effect. Every night, your body benefits from the comfort of sinking into a soft mattress without compromising on spine alignment.
You get 15 inches of sleeping comfort with the DreamCloud Luxury Hybrid Mattress. The firmness of this mattress is rated at 6.5 out of 10, which is the firmness typically see in the mattresses used in luxury hotels.
If you've never tried sleeping on a hybrid mattress, take advantage of the 365-night sleep trial provided with every purchase of DreamCloud mattresses. Rest assured, DreamCloud guarantees the workmanship of their mattresses for as long as you sleep on this luxury hybrid.
Since it's a medium-firm mattress, it's a great choice for side, back and combination sleepers. We also recommend it for couples and people who sleep with their pets since it has little motion transfer while also addressing their different needs in firmness. The low motion transfer is due to the combo of individually-wrapped coils and memory foam – again.
Memory foam is notorious for giving a sleeping hot experience, but it isn't the case with the DreamCloud mattress. The gel beads in its memory foam dissipate heat while the coil system promotes better airflow. The result: You will be sleeping cool throughout the night!
Strengths We Love:
Excellent motion isolation perfect for people who sleep with a partner or pet
Great balance between support for the body and a hugging feeling
Little to no sleeping hot experience
Easy setup with a suitable frame
Luxurious sleeping experience
Things to Consider:
Unsuitable for heavy sleepers
Less pressure relief for side sleepers may be experienced
OMR ADVANTAGE SCORE: 9/10
Whether you're a side sleeper or a back-and-stomach sleeper, Helix has a hybrid mattress that will give you the best sleep of your life. Helix makes choosing the perfect mattress for you and/or your partner easy — just fill out an online survey that asks your preferred sleeping position and mattress feel, and if you suffer from back pain. Helix then analyzes your answers and presents you with the mattress that's best suited to give you a great night's sleep.
Now, you may be thinking that a customized mattress feel may be great for one person, but you sleep with a partner. Worry not. Helix offers a Dual Balance and a Dual Extra option, both of which are designed to have a softer feel on one side and a firmer feel on the other.
If you're like me, you already know what you want in a mattress. If this sounds like you, skip the survey and go directly to the mattress of your choosing. Choose between a soft, medium, and firm feel, whether you sleep on your side or on your back and stomach. A mattress with a soft feel lets your body sink into the mattress; a medium feel has a slight amount of sink with a solid base; and firm feel has no give.
Now, let's look at the mattress itself. Four foam and coil layers are used to create Helix mattresses. Helix manufactures its own unique blend of memory foam for the top layer to give you the soft, medium, or firm feel you desire. A transition layer of foam is placed underneath the top layer for support before reaching the body-molding third layer of wrapped coils. The mattress is reinforced by a base layer composed of DuraDense (high-density) foam. And wrapped around it all is a Soft Touch Design covering that allows airflow and wicks moisture away from the body.
As comfortable as memory foam tends to be, getting out of these mattresses can be difficult due to collapsing edges. Helix makes their hybrid and memory foam mattresses with a reinforced edge that offers best-in-class edge support.
The mattress may look huge when it's fully expanded but it's shipped in a more manageable size. Like all of the mattresses on this list, it comes rolled and vacuum-sealed in a box for easy transport from your front door to your bedroom. You should consider getting assistance in moving it, nonetheless, so you don't get muscle pain afterwards.
The mattress takes about an hour to fully expand. You may or may not notice a slightly unpleasant chemical smell while it's expanding. Don't worry as it will dissipate within a day or two, and it isn't harmful to your health.
Strengths We Love:
Addresses the desired firmness level of most people
Provides significant pressure relief and comfort
Gives a cooler sleeping experience than traditional memory foam
Comes with a 10-year limited warranty and 100-night trial period
Can be bought via monthly installments
Things to Consider:
High-end price (But it's well worth it)
Ease of movement may be a bit trickier with the plush version
OMR ADVANTAGE SCORE: 9/10
While Casper may bring to mind the lovable fictional ghost from childhood that adventured at night, the Casper Mattress helps you get a restful night's sleep so you can have your adventures during the day.
The Casper Mattress is made with open-cell memory foam that doesn't trap heat like closed-cell memory foam does. The company calls its AirScape, a perforated breathable foam wherein tiny holes allow air to move through the foam better. The heat then dissipates away from your body so you sleep cooler than usual.
Two layers of memory foam top this mattress. Both are of premium quality so you have the assurance that they will last for several years. Both memory foam layers have a plush quality that provides an enveloping feeling almost as soon as you lie down. With its cushioning effect, you will immediately feel the pressure relief on your neck, shoulders and hips, too.
They're followed by a zoned-support layer that's designed to provide optimal comfort to your shoulders, torso, and lower body. A slightly firmer memory foam is used under the hip region to ensure your spine is properly supported.
The spring layer is located under the three foam layers, allowing air to flow through the bed to keep you cool throughout the night. The hybrid mattress models have reinforced perimeters so you can gracefully get out of bed in the morning — or at least not spill out of the bed and onto the floor.
The cover, which is made of recycled materials, can be removed for cleaning and washing. But you may want to consider placing a mattress protector over the cover for extra protection against liquid and solid accidents.
The Casper Mattress is only 12 inches in height, making it especially useful for those who have a tall bed frame and box spring. The memory foams used in this mattress are CertiPUR-US® certified, which means the foam is made without atmosphere-destroying chemicals.
This comes with a 100-night trial and free returns. But with such a lovely experience every night, you're unlikely to even think about returning it, free of charge or not.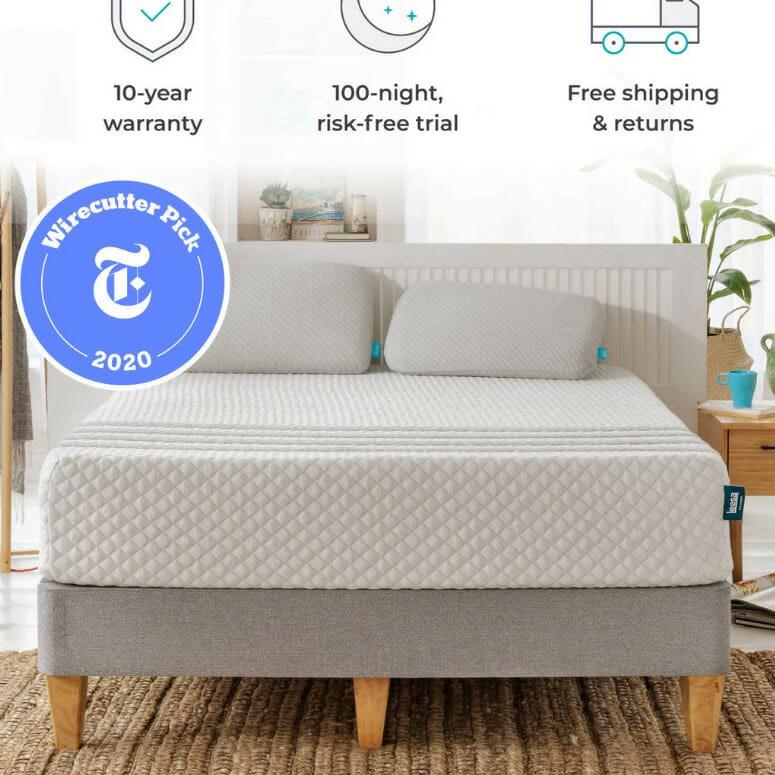 Side and back sleepers will appreciate the pressure relief combined with the comfort provided by the Leesa Luxury Hybrid mattress. Your shoulders and hips won't be subjected to undue pressure, thanks to the foam's soft cushioning effect, but you won't sink far into the mattress either. Your back will maintain its neutral spine alignment, too, a must if you want to wake up without back pain.
People who sleep with a partner or a pet will also benefit from this mattress. The edge support and motion isolation are exceptionally well. There's less likelihood of rolling off the bed if you find yourself being near its edge, thanks to the reinforced edge support. There's also less likelihood of being awaken by your partner's or pet's sudden or frequent movements.
With that said, the Leesa mattress isn't recommended for stomach sleepers as it's too soft for their needs. Their best choice is a firmer mattress that will keep their shoulders and hips in neutral alignment.
We also don't recommend it for memory foam fans who love the extra-soft feel in a mattress. The lack of deep sinkage comes from the innerspring coils that form the support layer.
This is also not suggested for people who like extra-bouncy mattresses. While it has a fairly responsive feel, it isn't as bouncy as some may like.
There are multiple layers in this mattress, too. The quilted mattress cover has a cozy and comfortable feel with a striped design. Underneath it is the foam and innerspring layers that form the heart and soul, so to speak, of the mattress.
The hole-punched polyfoam and the memory foam are the comfort layers that provide the pressure relief and cushioning sensation. The polyfoam has a fairly high responsiveness that works well with the cushioning effect of memory foam. The result: You will enjoy significant pressure relief on your shoulders and hips while also sleeping cooler than usual.
Yet another layer of polyfoam acts as the transition layer with two main functions. First, it acts as a barrier so you don't feel the innerspring coils beneath it. Second, it aids in the transition from the plush foam layers to the hard innerspring coils system.
The only non-foam layer is the support layer consisting of pocketed coils. These provide the mattress with a balance of firmness and bounce so you feel "lifted" out of it. These are also designed to promoted airflow within the mattress and, thus, dissipate heat away from it.
The thin but high-density foam at the base adds structure and durability to the mattress, aside from giving the coils sufficient protection.
6. The WinkBed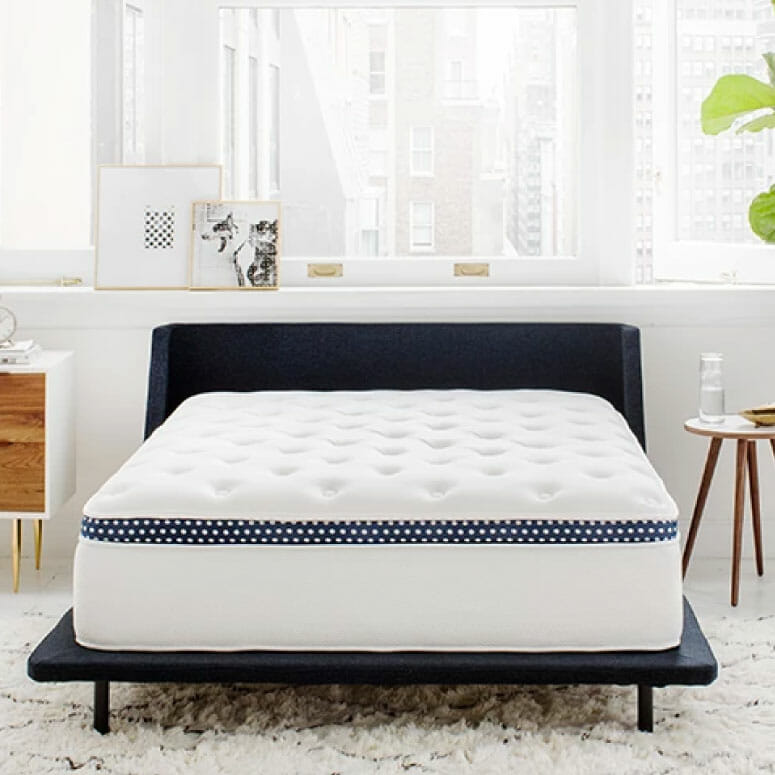 Lumbago sufferers take heart! The WinkBed may just be the remedy to your ailments. The WinkBed is unique in offering a mattress with a 3-Step Back-Relief System™.
The Euro-pillow top, combined with the Tencel© cover that wraps this mattress, is designed to relieve pressure on high-stress areas of your body. The Euro-pillow top is gel-infused, so it also aids in moving heat away from your body.
The Micro Air-Springs™ layer ensures that your lumbar region has extra support, and it also provides extra airflow through the mattress while you're sleeping. A high-density foam layer is followed by a second layer of springs, which account for differing pressure exerted by various regions of your body. Yes, you read that right — there are two layers of springs that both provide support and move heat throughout the night.
It should come as no surprise with two layers of coils to prevent motion transfer that you likely won't be woken up by your partner getting into or out of bed. And the WinkBed has been called the best mattress for hot sleepers and for heavier individuals.
This hybrid mattress is rated an 8/10 in firmness and is constructed with comfort and durability in mind. Believe it or not, this mattress is shipped to you in a box — and if you're not happy with it in the first 120-nights, simply call WinkBeds for a full refund.Unlike most mattress manufacturers with just three firmness options, the WinkBed manufacturer offers four firmness levels. These are soft, luxury firm, firm and plus versions with each one offering different benefits. The luxury firm version is the most popular because of its medium-firm rating and its luxury hotel-like quality.
7. Luxury Bear Hybrid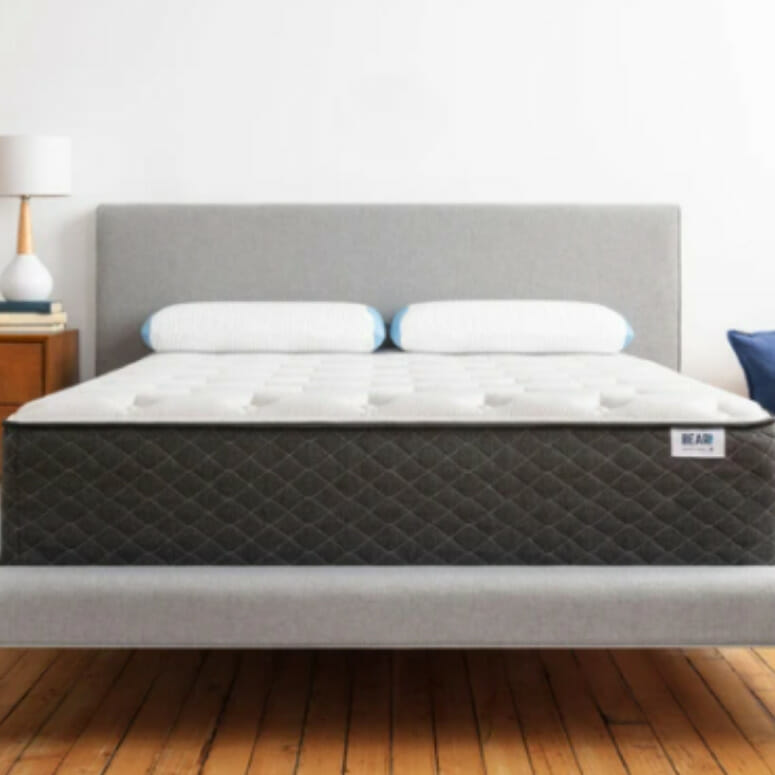 Grizzly bears can hibernate for seven months out of the year, and with a mattress like the Bear Hybrid, you just might want to as well! The cover of this hybrid mattress is made with Celliant® infrared yarn technology, which converts body heat into infrared light and brings oxygen to the cells of your body to decrease recovery time from athletic activities and increase your overall sense of well-being.
So far, five clinical studies have looked at Celliant and found beneficial effects on sleep and the body. The FDA has determined that products made with Celliant are medical devices and classifies them as general wellness products.
Underneath the Celliant fiber mattress top is a gel memory foam layer and two additional layers of memory foam. The innerspring layer is just beneath the three memory foam layers and is capable of moving heat away from the body more than 25% better than memory foam. Extra-strong spring coils are placed around the perimeter of the mattress for enhanced edge support.
Sleeping on the mattress is such a great experience due to the premium comfort foam used. Every type of sleeper, from side, back and combination to stomach sleepers, will find it comfortable to sleep on. But while the manufacturer says that the mattress is suitable for all body types, we don't recommend it for heavy sleepers.
For average-weight sleepers, however, the sturdy edge support will carry their weight whether they are sleeping near the edge or sitting on it. Reinforced edge support is crucial for people who sleep with a partner or pets since it reduces the risk of rolling down the bed.
Over time, the mattress doesn't show signs of significant sagging in its middle and edge. Be sure to rotate the bed so that there's even pressure applied on it. Flipping it isn't recommended as it will change the firmness level and, thus, the sleeping experience.
Wisconsin is notable as the home of the Green Bay Packers and the Bear Mattress company. The Bear Mattress company was founded by a fitness enthusiast, and this mattress was built with athletes in mind. This is why Celliant® fiber is incorporated into Bear mattresses. Whether you're an athlete or just a weekend gym warrior, you may want to do yourself a favor and try the Bear Hybrid for a 100-night sleep trial.
8. GhostBed Flex Mattress
GhostBed may initially sounds ominous, but don't let the name scare you away. The GhostBed Flex Mattress is a hybrid worth your serious consideration, because it combines the best of a memory foam mattress and the best of a traditional innerspring all in one place.
Seven layers of gel memory foam, high-density foam, and springs are combined into a mattress that excels in comfort and support.
The GhostBed Flex Mattress is constructed to feel on the softer side of the firmness rating, at a 5.5/10. Ghost Ice Fabric is combined with a 1-inch fiber layer to increase the flow of air — with the goal of keeping you cool. Three layers of gel memory foam are supported by individually wrapped coil springs that are over 8 inches tall, as well as a high-density foam base.
And the 2 rows of springs that edge the mattress are reinforced for firmer support while getting in and out of bed, as well as sitting on the side.The memory foam is made using eco-friendly processes and is certified CertiPUR-US.
With these qualities, GhostBed Flex is highly recommended for people who like to sleep on their back and sides as well as for combination sleepers. It offers a fantastic balance between ease of movement, pressure relief and spine support for their preferred position.
Hot sleepers will also love it because of its "sleep cool" experience. This is among the most breathable mattresses and it's thanks to the gel-infused foam and cooling cover.
Couples as well as those who sleep with their pets or children will like the low motion transfer quality, too. Despite its fairly plush feel, the memory foam does a good job of keeping motion transfer within acceptable limits.
But while it's a great bed for some people, it may not be as suitable for others. Stomach sleepers, for one thing, will have issues with spine alignment; they need firmer mattresses than the GhostBed Flex. Heavy sleepers above 250 pounds are well-advised to look for another mattress, an advice that also apply to people who want extra-soft or extra-firm beds.
GhostBed offers a sleep trial period so you can test out the mattress for yourself. You will have to sleep on the mattress for at least 30 nights (or at least keep it in your house that long). If you aren't happy with the bed, that's fine, but GhostBed does not accept returns without a month sleep trial. This ensures you've given your body enough time to adjust to the new mattress (or not).
If you're not satisfied with the mattress after 30 days, and before day 101, simply call GhostBeds for a full refund. When ordering this mattress online you will receive the product within five days. GhostBeds are completely manufactured in the United States, which ultimately allows for faster shipping times.
9. Brooklyn Signature Hybrid
The #1 selling mattress by Brooklyn Bedding is the Brooklyn Signature hybrid mattress. Released in 2018, customers can't stop saying enough good things about this hybrid.
Using TitanFlex™ foam, Brooklyn Bedding has created a mattress that's both durable and responsive to changing body positions. TitanFlex foam has the pressure-molding qualities of memory foam with the responsiveness of latex. That combination, as well as the mattress's rave reviews, helped bring it to #5 on our list of the best hybrid mattresses on the market today.
The 2 inches of TitanFlex foam that crown the mattress are followed by a 2-inch layer of Energex™ foam. Just what is Energex foam, you ask? Energex foam is Brooklyn Bedding's version of high-density foam and, like certain other high-density foams, it's great for transitioning between different firmness levels.
Underneath the transitional high-density foam is a layer of 952 individually encased coil springs. The springs are supported by another 1-inch layer of high-density foam for a solid base.
The medium-firm option is an excellent choice for combination sleepers since it provides optimum comfort and support in most sleeping positions. Couples will also benefit from it since it has a nice edge support, low motion transfer and in-the-middle firmness. Back sleepers who prefer an on-the-bed sleeping experience also recommends this mattress.
On the other hand, this Brooklyn mattress may not be a suitable one for side sleepers. The slightly softer structure isn't good for pressure relief for the hips and shoulders. This is also true for stomach sleepers whose needs in terms of spine alignment are best addressed by a firmer mattress.
If, for whatever reason, this mattress sinks at any place more than one inch in 10 years from the time of your purchase, Brooklyn Bedding will replace the mattress free of charge.
10. Nest Bedding Alexander Signature Hybrid
If I could rename this mattress, I'd call it Alexander the Great, because of its ability to make dreams happen.
Five layers are used to construct this marvel of the bedroom. The first layer uses four pounds of gel-infused memory foam, which is known to keep sleepers cool and dry better than regular memory foam.
The second layer has copper-infused memory foam called TitanChill Endurance Foam®, which aids in moving heat away from your body. That's followed by a support layer of foam, which sits atop a layer of 8-inch tall coil springs, which is the component that makes this mattress a hybrid. Finally, a one-inch base layer of foam provides extra support.
These five layers are wrapped in Thermic Phase Change Cooling fabric created by Nest Bedding. If you're paying attention, you may have noticed that this bed is designed and built to keep you and your partner cool and comfortable all night long.
The medium firmness of this mattress is rated at a 6/10. Nest Bedding uses a reverse firmness scale compared to other mattress companies, which means this mattress will feel more like a 7/10 in firmness. Other firmness options are available to choose from, including a split firmness option in case you and your partner prefer different firmness levels.
The TitanChill Endurance foam can also be exchanged if you think that what you originally ordered was too firm or too soft. You can exchange the foam during the 100-night trial period free of charge, too. You will find that the exchange process is straightforward, which adds to your pleasant experience with the company and its product.
All the foam materials used in this mattress are CertiPUR-US certified, which means these are made with safe, non-toxic materials. There should be little to no off-gassing since the company has already aired the foam in the factory.