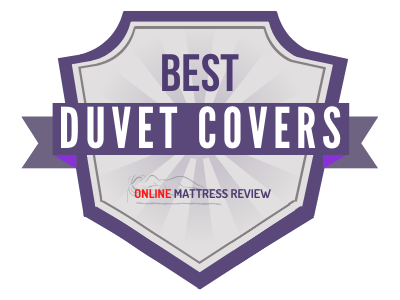 The soft coziness of a down comforter needs the protection and style of a quality duvet cover. A duvet cover is a removable cover that encloses your comforter (also known as a duvet). A duvet cover can add style to your existing bedroom decor and make it easier to keep your down comforter clean.
Cleaning a duvet cover is much easier and less time consuming than laundering a down comforter, which can be a real hassle. This is one reason many individuals with down comforters purchase a duvet cover. Additionally, duvet covers are typically less expensive than the comforters they enclose, so changing a bedroom color theme is as easy as buying a complementary duvet cover.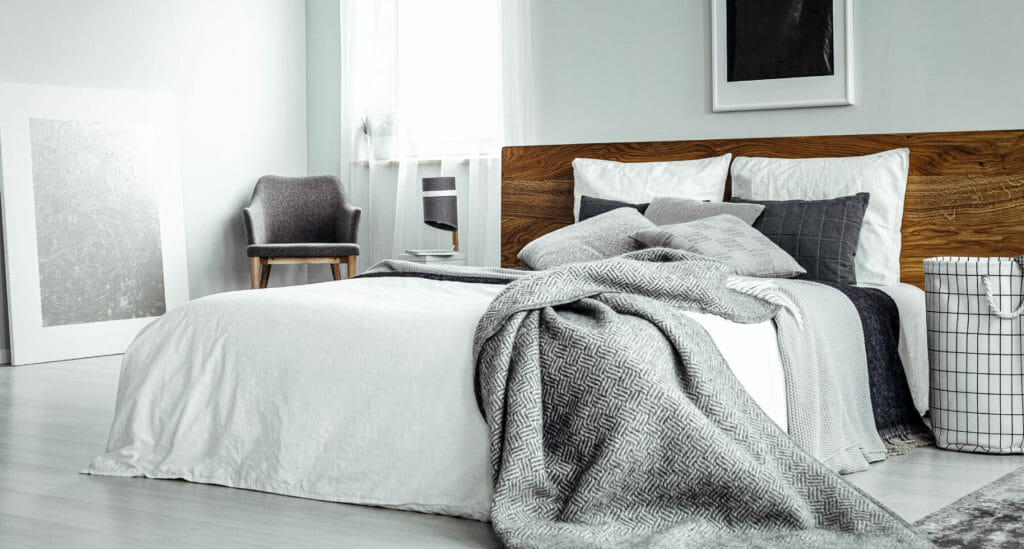 Picking the right duvet cover can make as much of a difference in the quality of your sleep as a comfortable mattress. Not all duvet covers are created equal, however, which is why it is necessary to perform your due diligence when researching various types of duvet covers.
---
We have made this easy for you by analyzing dozens of the best duvet covers on the market and providing you with our top 10 choices.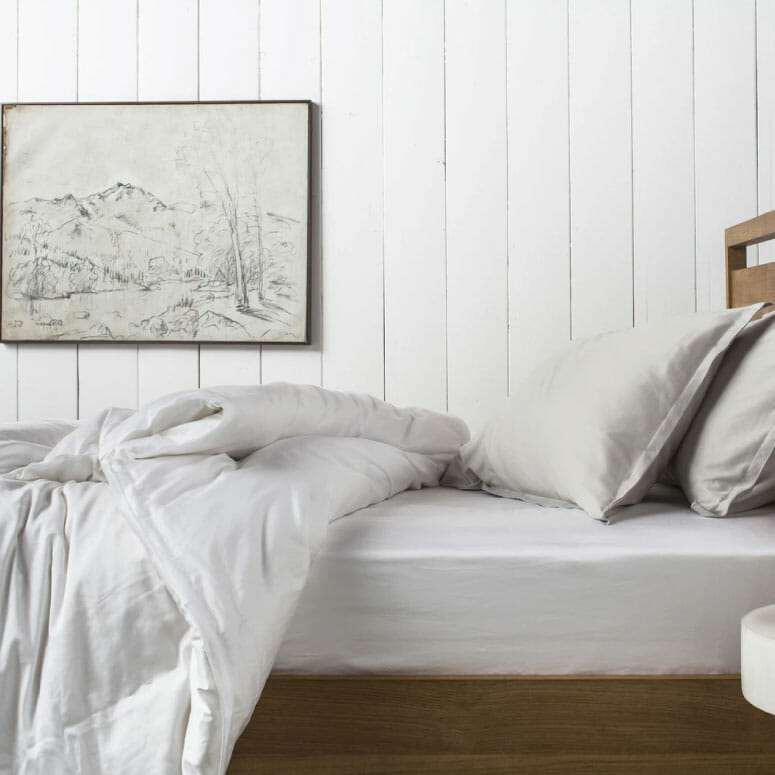 Put this duvet cover around your blanket and feel like an Egyptian god with a Sateen Duvet Cover by Parachute. This duvet cover comes in at our #1 spot among the best duvet covers because of its high quality 100% Egyptian cotton, sleek modern colors, and soft, silky look and feel.
Are you curious what Sateen is? Sateen is cotton that is woven using a particular technique that gives the material the softness of silk without the sheen of silk. The use of Egyptian cotton is of special significance because unlike other types of cotton that use machines to separate the cotton from the seed, Egyptian cotton is hand picked. Hand picking cotton leaves the cotton fibers more intact and strong, which leads to more durable finished fabrics.
Individuals looking to only purchase products from companies that are eco-friendly will rejoice when they find out that the cotton used in these duvet covers are Oeko-Tex certified — which means there are no harmful chemicals or dyes used in making these covers. You can also feel good about supporting small businesses, because Parachute only utilizes European family-owned small factories to produce their products.
While these duvet covers are not made in Egypt, they are made with unparalleled quality by master craftsmen (and craftswomen) from Portugal who have been perfecting their cotton weaving for over eight decades. Unlike 100% silk sheets, which generally require hand washing, there's no need to worry about hand washing or other special cleaning precautions with your Sateen Duvet Cover. You can machine wash this cover using cold water and machine dry on the low heat setting.
Stats:
Material: 100% Egyptian cotton
Colors: White, Sand, Light Grey, Slate
---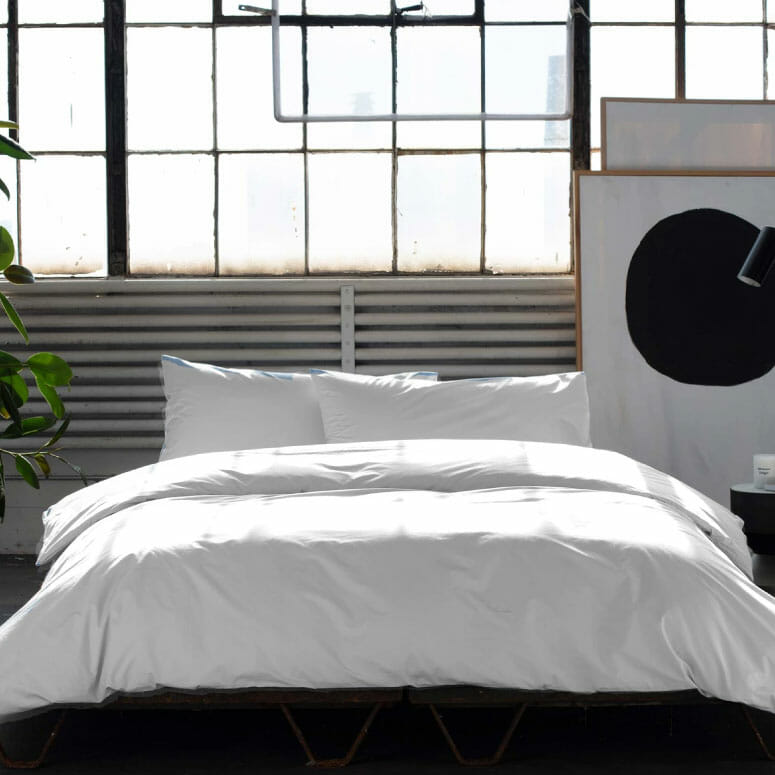 Classic is sometimes just another way of saying the "good stuff" that has stood the test of time. This is exactly what is meant with the Classic Duvet Cover by Brooklinen. It has stood the test of time, which is why it's so high on our list of the best duvet covers. This cover is made with 100% long-staple cotton that is woven into a 270 thread count.
If you're asking yourself what long-staple cotton is, you're probably not alone. Long-staple describes the length of the individual cotton fibers that compose your fabric. Compared to short-staple cotton, long-staple cotton feels more luxurious and is more durable. This is one reason why you tend to pay more money for products made with pima and Egyptian cotton, which are both made with long-staple cotton.
One potentially frustrating aspect of duvet covers is the tendency of the comforter to shift within the duvet cover during the night. This problem is eliminated with the Classic Duvet Cover by Brooklinen, because the duvet has four corner ties that ensure the blanket does not shift. The large buttons on the end of the duvet cover ensures that your comforter doesn't poke out the end.
Finding a duvet cover to match your existing bedroom decor or adding a new style or color scheme has never been easier. Choose between 15 colors, ranging from classic white to funky mojito waves on cream.
Stats:
Material: 100% Long-staple cotton
Colors: White, Cream, Steel, Graphite, Smoke stripe, Window pane, Glacier, Graphite and steel oxford stripe, Graphite grid, Mint, Rosé, Lilac, Mojito, Mojito waves on cream, Chili windowpane on Rosé
---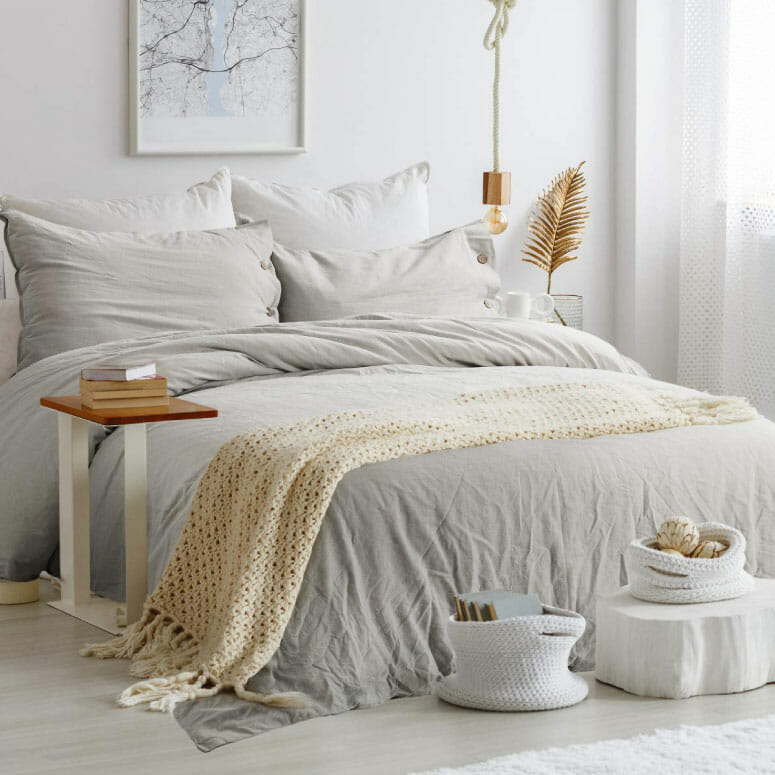 We hear the word linen used frequently, but do you know the difference between cotton and linen? Linen is made from the fibers of the flax plant, while cotton is made from the Gossypium plant. Linen is known to be more breathable than cotton, which makes it ideal for hot or humid weather. Combining linen with cotton creates a hybrid that has the softness of cotton with the coolness and breathability of linen.
This Bedsure linen duvet cover utilizes coconut button enclosures to ensure that your comforter is not seen. The coconut buttons have a natural wood appearance that will complement bedrooms outfitted with natural and raw woods. For those who don't know, greige is the color of raw, unprocessed or dyed textiles. Choosing the greige color combined with coconut buttons will give your room that cool textile look characteristic of panama.
Two pillow shams are included with the purchase of this duvet cover, which makes pulling this style together even easier. The greige color looks especially fresh with white pillowcases and sheets. The thread count of this cover is 108, which means that this cover is going to be breathable and cool, particularly useful in scorching summer months.
Customers who have purchased this duvet cover love the softness and breathability. There are some concerns about the coconut buttons falling off soon after purchasing. Luckily, Bedsure includes a few extra buttons so you don't have to go out and try to find one that matches if one should fall off and get lost.
Stats:
Material: 45% cotton, 55% linen
Colors: Greige, Light green, Light pink, Light grey, Natural beige, Pink, Dark grey
---
This is a duvet cover that's ready to use straight out of the box. The Casper Sleep Down Duvet cover is everything you need to change the decor of your bed. The duvet set is made with a 100% cotton shell, including down that has 600 fill power, (ethically-sourced of course), in the chambers creating a cozy, yet lightweight feel.
This down duvet cover comes in Twin/Twin XL, Full/Queen, as well as King/California King sizes, sure to fit anyone's needs. And, the nice crisp white fits anyone's decor! When it's time to clean it, just pop it in the washer and tumble dry. Casper offers a one-year limited warranty. Both the quality and customer service this company provides ensures them a high ranking with the best duvet covers we could find.
Stats:
Material: 100% Cotton
Colors: White
---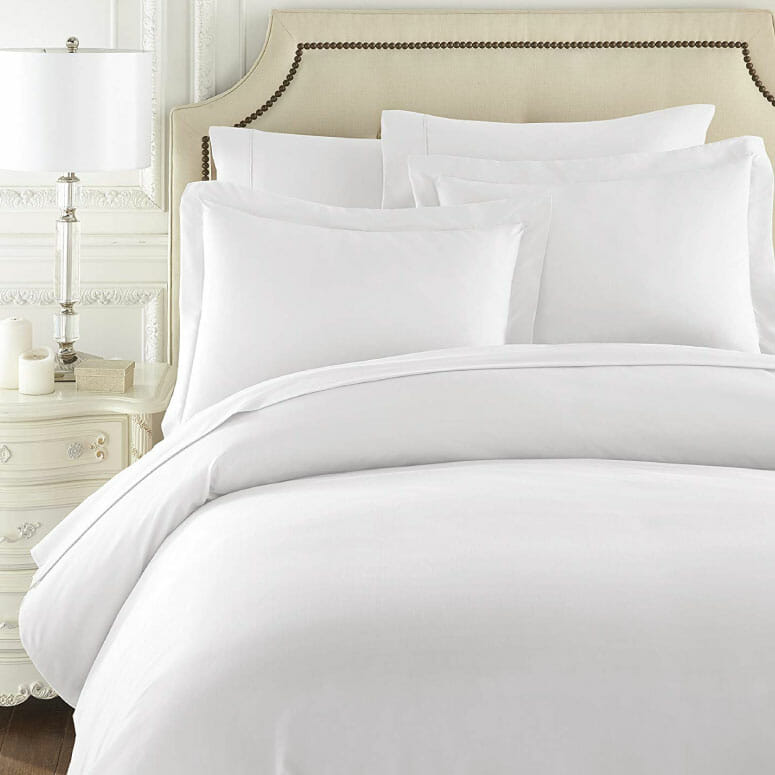 The Hotel Luxury duvet cover set makes changing out your bedding for the summer months easy. You can afford to change your duvet cover set every time your mood changes with this awesome set.
This set is made of 100% double-brushed microfiber that has a 1500-thread count. Softness and durability is what you are buying when purchasing this duvet set. Even with just-washed bedding, wrinkles can give the appearance of neglect.
The microfiber used to construct this set is both wrinkle and fade resistant, so your bedding always looks vibrant and new. Simply wash and dry this set like the rest of your colored laundry. No need to go to the dry cleaners or memorize a special washing routine with this duvet cover set. 
Allergies can make changes in seasons dreadful. You don't need your bedroom duvet cover adding to your allergies and dust mite sensitivities, which is why Hotel Luxury has made this microfiber set hypoallergenic. Unlike cotton, which takes large quantities of water to manufacture, microfiber uses minimal water and is considered more eco-friendly.
Stats:
Material: microfiber
Colors: Artic ice blue, White, Burgundy, Camel, Chocolate brown, Cream, Eggplant, Gray, Lavender, Navy, Taupe, Sage
---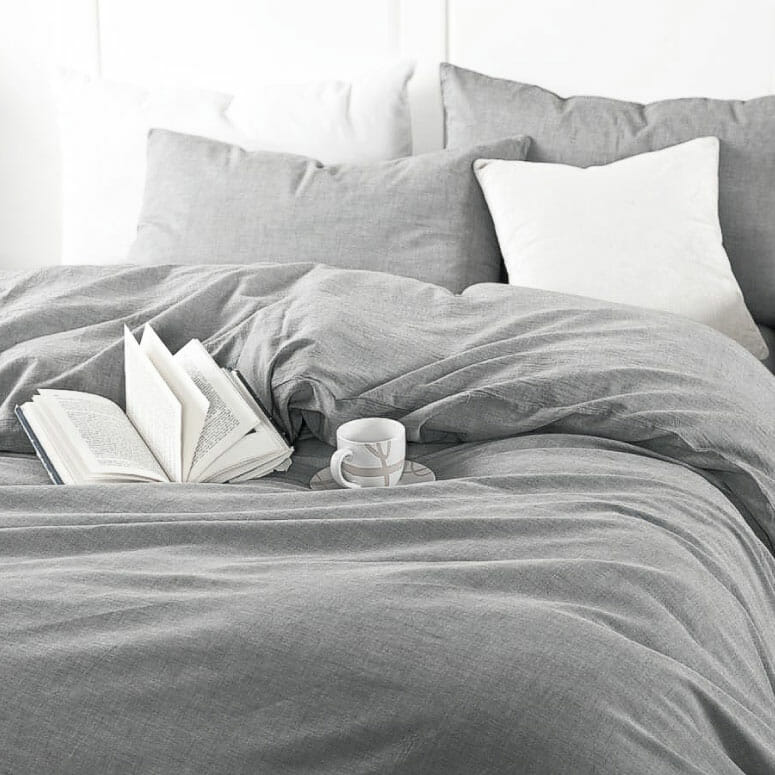 Modern hipsters will love the look of the Eikei Washed Cotton Duvet Cover, Styled to have that worn-in, cozy feel that makes you want to fall into bed and never come out. This oversized looking duvet cover would perfectly complement a platform bed, a mattress that sits on the floor, and other more relaxed feeling bedroom sets.
Made with 280 thread-count cotton, this duvet cover is both breathable and durable. Just an FYI, thread count is a measure of the number of threads within one square inch of fabric. Generally, the higher the thread count the heavier the fabric and less breathable the fabric becomes. The cotton used in these duvet covers is wrinkle-resistant, which gives off that soft cozy vibe without a sense of laziness a wrinkled bed can impart.
Two pillow shams are included with the Eikei Washed Cotton Duvet Cover to polish your new bedroom look. The duvet cover includes four corner ties and buttons along the bottom of the cover to secure your blanket.
Most customers are very happy with their purchase of this duvet cover, but some say that the colors pictured are lighter and more faded the ones that they receive. Plan your color choices with this in mind.
Stats:
Material: 100% Cotton
Colors: White, Sky blue, Charcoal, Celadon, Neutral, Pine, Barely lilac, Cloudy blue, Cool grey, Blue denim, Desert sand, Honey wheat, Ice grey, Lime olive, Grey
---
You may think that bamboo is a grass suited only for panda bears, but give the LINENWALAS Organic Bamboo Duvet Cover a try and we are sure you will change your tune. And yes, bamboo is technically a grass, not wood. Furthermore, bamboo has properties that make it better than other fabrics like cotton—such as being more ecologically sustainable, more moisture absorbent, and hypoallergenic. 
The fact that bamboo is lighter than cotton, makes this duvet cover extremely breathable and cooling compared to its cotton competition. Choose this duvet cover if you live in a warm climate or are heading into the summer months. 
The anti-microbial properties of bamboo rayon should make the germaphobe rejoice. Those prone to allergies may want to consider either bamboo or microfiber duvet cover, as both of these materials are hypoallergenic. These come in several sizes and color options, as well!
Stats:
Material: 100% Organic Bamboo
Colors: Assorted
---
A hybrid with the best properties of a bamboo rayon duvet cover and a microfiber duvet cover has emerged! This soft duvet cover uses fabric made from 40% bamboo rayon and 60% microfiber, imbuing this duvet with a soft, durable, light, and breathable feel.
The Zen Bamboo Duvet Cover Set has the stain- and wrinkle-resistance characteristics of microfiber fabric and the softness of bamboo. Unlike the other duvet covers we've reviewed thus far, this duvet cover has a zippered edge in place of buttons. If you're like me, buttons can feel like a hassle and a cumbersome process (with large fingers); a zipper can eliminate the button dilemma. The zipper and the fabric that's used make this one of our top choices for the best duvet covers on the market.
You may need to plan some time for cleaning this duvet cover set. The duvet cover can be machine washed in warm or cold water with similar colors, but you're going to have to tumble dry on a low setting or place out in the sun to air dry. We recommend air drying because of the zippered enclosure. Zippers on duvet covers are notorious for breaking, and why take that chance with machine drying? Also, air drying will prevent wrinkling that may occur when using a dryer.
Customers who have bought the Zen Bamboo Duvet Cover Set say that the duvet cover is soft and feels like a high thread count. There is some concern about the zipper quality, as it may have a tendency to break after several months of use, so you'll want to handle that with care.
Stats:
Material: 40% bamboo, 60% microfiber
Colors: Black, White, Cream, Sky blue, Burgundy, Taupe, Gold, Brown, Navy blue, Gray, Purple, Olive
---
Corduroy comes back in style with the Eikei Pure Cotton Velvet Corduroy Duvet Cover. This cotton duvet cover will give your bedroom a throwback vintage flair. The duvet cover is pre-washed by the manufacturer so it's soft and supple from the moment you take it out of its package. The tactile corded outer cotton shell just may relax you and help you fall asleep.
Let your eyes indulge in one of the five beautiful colors available, which include blush, grey, terracotta, nude, or olive. It also is reversible to a solid matching color. The Eikei Pure Cotton Velvet Corduroy Duvet Cover has inside ties and a button closure that are hidden used to keep it in place. In addition, this set comes with two matching pillow shams!
This corduroy duvet cover is machine washable, so there's no excuse if this duvet cover hasn't been washed in months. We do think it's important to note that the corduroy only makes up the shell of the duvet over on one side. The other side is made of regular cotton fabric.
Stats:
Material: Cotton
Colors: Gray, Blush, Terracotta, Olive, Nude
---
10. Welhome Percale Duvet Cover
Rounding our list of the best duvet covers is the Wellhome Percale Duvet Cover. Simplicity and elegance are combined to create this duvet made of 100% Egyptian cotton, front, and back. It comes with two pillow shams, too, for a matching look. With its percale weave, this duvet cover will get softer over time.
The 300 thread count is breathable to keep you cool, especially if you are a hot sleeper. The cotton used in this duvet cover wicks away the moisture. the Wellhome Percale Duvet Cover has button closures and inner ties in the corner to keep it in place. If you're someone who needs perfection in everything you do (including laundering your duvet cover), simply iron the wrinkles away using the cotton setting on your iron.
Popular colors, such as ivory, powder blue, storm cloud, taupe, and of course white complement any decor. It's available in Full/Queen or King/California King. This is machine washable and dryer friendly… Who doesn't love that?
Stats:
Material: 100% Egyptian Cotton
Colors: White, Ivory, Powder Blue, Storm Cloud, Taupe
---
conclusion
There are several reasons that you may be in the market for a new duvet cover. Whether you are changing your color theme or just want to protect your expensive down comforter, a duvet cover can be a quick answer and very affordable. It's great for changing the vibe of your bedroom without investing a lot of money in redecorating. At Online Mattress Reviews, we searched for the best of the best as we know our consumers want the most for their money!
additional resources: